The latest trend in Olympic Sailing saw two national teams fail to send two strong crews to Rio despite their qualifying their country in their events.  49er Class Manager Ben Remocker is one of the most analytical writers currently scribbling about the sport, and he took a look at these policy decisions by Yachting Australia and the Swedish Sailing Federation – and why they are completely shortsighted, and may be damaging to the sport. We're sorry we're just getting this to you now, but it's still just as relevant as it was at the end of May when posted, if not more so.  From the 49er Blog:
Sailing is facing very tough issues right now.  The Olympic movement has already removed Paralympic sailing from 2020 and given World Sailing a clear warning to make sailing:
More universal (more countries participating)
50-50 gender equity
Increase the appeal to youth (largely seen as a request to make sailing interesting/attractive)
There have been years of slow progress in World Sailing often traced to MNA's protecting their competitive edge in Olympic competition instead of pursuing reforms for the best interest of the sport.  The IOC is threatening to remove sailing events and/or reduce sailor quotas if World Sailing does not make significant progress for 2020.  The IOC recently added 5 events and 485 athletes (baseball/softball, surfing, skateboarding, rock climbing, and karate) all 50-50, and all with great 'sport presentation' possibilities.  Given the IOC will not go above 10,500 athletes in total, sailing really should be worried.
June 1st, 2016 was the final day for MNA's to accept or reject their Olympic berths.  It should have been a day to review the full competitor lists for Rio.  Instead, it marks a day of heartbreak for two top skiff teams.  Stunning news came from SSF (Sweden) and Sailing Australia saying they will not send teams to Rio in the 49er & 49erFX respectively.  While the IOC looks for serious reform from sailing, sailing leadership continues to make news on small ball issues.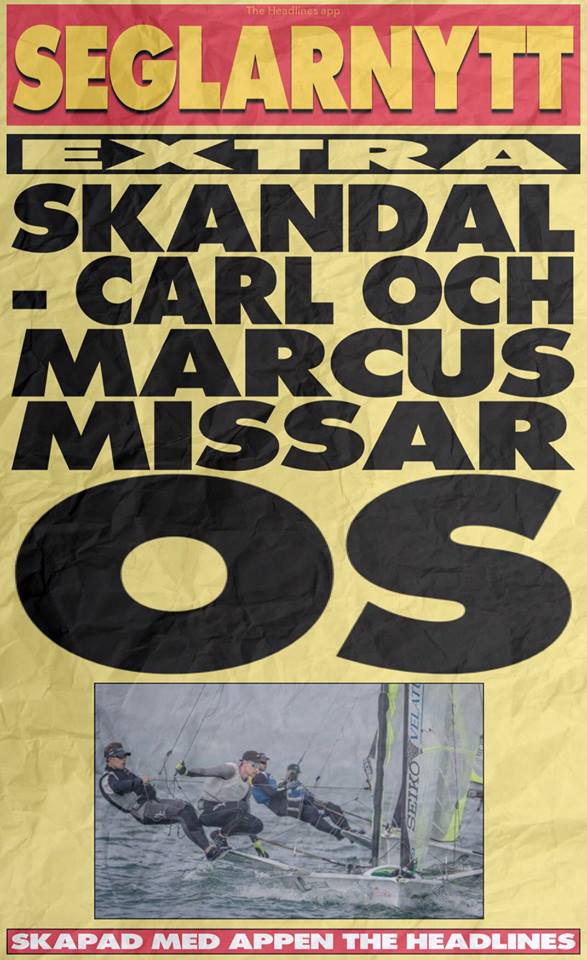 Carl Sylvan and Marcus Anjemark (SWE) finished in 12th place at the 2016 World Championship out of a full field of the worlds best.  Further, they won the Bronze medal at the Sailing World Cup Miami 2016 in an almost complete field.  The Swedish duo, and squad in general, has put up solid if not outstanding results all quadrennial long.  The SSF takes its lead from the Swedish Olympic Committee and requires all Olympic participants hit the standard where they could finish within the top 8.  Sylvan/Anjemark was not deemed to have met this standard and board of the SSF upheld the decision.  The Swedish Olympic system has this common top 8 benchmark in all Olympic sports and it has been like this for close to 30 years.
Looking through the results of Sylvan/Anjemark since they started sailing together in September 2015 they missed the top 8 mark but hit, 11th, 11th, and 9th in the regattas that were on the SSF list.  The 3rd place finish in Miami was not set up as one of the events that would be looked at, and therefore would only have been used as a secondary supporting piece of data, according to team leadership.  It was within the SSF capacity to decide to include the Miami result in their formal review but since they published ahead the list of events it would consider they excluded the teams medal winning finish.  A protest page set up a few weeks ago when the groundwork for their exclusion was laid out has almost 1500 follows and much of the commentary refers to distrust of the Swedish System.

Sailing Australia's also decided  to forego sending any of their three 49erFX teams to Rio.  Tess Lloyd and Caitlin Elks took the best results in 2016 marginally ahead of 2012 Silver medalists Olivia Price with Eliza Solly.  Tess and Caitlin finished 14th at the 2016 Worlds and Olivia with Eliza finished in 16th (both 11th nation) and both teams were coming off injuries that held them back for much of 2015.  A page in support of sending an Australia 49erFX squad to Rio gained over 3000 followers in the first 48 hours.  Of the many comments from top Australian sailors posted there one noted that Silver medalists Price and her team of match racers were not ranked in the top 10 heading into London and another noted a similar story from the 470 teams in the 90's, where ultimately Australia has dominated for two decades based upon ongoing generations of sailors.
What is clear in both of the Swedish and Australian cases, and also likely applies to the New Zealand board sailors and radial and the Canadian team, is that their MNA leadership believe very strongly that their policy of setting high standards and restricting their Olympic teams will deliver better performances.  Despite appeals sighting fairness, efforts, legacy, example, and gender equality, and in the face of highly charged conflict, the MNA's are sticking to their core belief that high standard influence results.  It is not always obvious how one boat on one course can effect he performance of another boat on another course other than through spread of funding, but the MNA's remain confident of their strategy.  They do not offer berths if teams can fund raise the money necessary to ensure top teams maintain full funding, instead they limit the size of their Olympic teams.  The Olympics is big business now, especially the hunt for medals.  However, if teams are unwilling to compete if they don't win a medal, then what becomes of the competition and the Olympic movement?
The core of the social media outrage stems from the imbalance of power held by athletes and MNAs.  A common thread of four of the major cases in discussion is that all of the effected sailors already felt like 'outsiders' of their federations systems in some way or other.  In each case sailors did recieve some support but deemed the support incomplete and felt like the bulk of the effort and burden born was their own.  Yet even while qualifying for the games still, the sailors must clear the MNA's hurdles and feel hard done by when held up by them.
From a process point of view, there is no moment when the MNA does not hold all the power with regard to Olympic decisions.  With sailing being basically non-commercial, all funds flow through the MNA's and the MNA's systems are the only route to Olympic dreams.  It is not clear what the current version of the World Sailing Athletes Commission thinks on the matter as it has so far it has stood by without comment on the topic.  One thing is clear is that the lack of nomination by a federation creates bad blood between sailors and their supporters and the federation.  These MNA's deem the conflict caused worth it in pursuit of every edge heading into the games.
Lloyd/Elks (AUS) split early on with the AST and used personal coaches almost from the beginning of their campaign.  Sylvan (SWE) was supported through national programs in 2013 and was on the team through 2015  until he and his former partner split in May 2015.  As he teamed up with Anjemark in September of 2015 they did earn their way back onto the Swedish team after the 2016 Worlds performance.  They ended up as the top team from Sweden by a clear margin, but did not overcome the long term view of their Federation that they could not earn an exemption to the top 8 rule as prospects.  The windsurfers from New Zealand have for a long time been at odds with YNZ over support, even though JP Tobin finished 6th at the last games.  Zac Plavsic from Canada, is also facing relegation from Rio despite qualifying for the third straight time and despite receiving almost no assistance from Sail Canada over his career.  Are these MNA's sticking to their principles or following up pre-existing biases, well, that depends a lot on which side of the fence you sit on.  Sailing Australia issued this statement to explain how the case was handled and Swedish administrators believe that they operate and execute within a system that has been in place for the long run and that was communicated clearly to all the athletes ahead of time.
From a long lens, the Australian situation appears to be an example of the global sailing system being fragmented and without common vision.  Sailing Australia is unwilling to send a qualified team to compete in Rio.  At the same time Sailing Australia expects the Worlds top sailors to attend the Sailing World Cup Final in Melbourne this coming December.  Sailors compete against one another on the water but they are also great friends off the water.  There is a chance that 49erFX sailors will factor in their friends 'harm' while deciding whether to the SWC Final, which may deal another blow to an already fragile SWC Final property.
For an MNA to hold a World Cup event is a huge advantage in the sailing world.  The worlds best come to sail on an MNA's home waters spreading learning opportunities widely through the home country at a fraction of the cost compared to sending them abroad.  US Sailing has financially supported Sailing World Cup Miami for this very reason.  Yet the Australian team likely does not include logic in their determination to put maintain a higher threshold for their Olympic team.  The high standards system has it's supporters, like 2012 Gold medalist Mathew Belcher (AUS) who was quoted saying, "we are in the business of Olympic sport, after all," while defending the selection panels decision to exclude the 49erFX sailors.
The cascading issue of these Olympic berths is that both Australia (49erFX) and Canada (RSX-M, RSX-W) have formally accepted their berths and plan to withdraw their acceptances should the athletes appeals be denied.  The knock on effect is that the June 1st deadline is being pushed later and closer to the games giving the next teams  in line less time to prepare.  In the case of the 49erFX, Croatia is the next team in line and would have to organize a boat along with everything else that goes along with competing, and the time they were to be allotted is being cut into through other MNA's.  The order that teams get passed over spots is based on being the next highest paced countries at the 2015 World Championship (eligible teams highlighted in Blue).  There are close to a dozen cases across all Olympic classes where sailors have hit the World Sailing standard for Rio and their MNA's are refusing to send them.
Assuming no last minute changes to the above, Canada is set to inherit the Swedish 49er berth and Croatia is set to inherit the Australian 49erFX berth
From the 49er class perspective, we aim to support every one of our members as best we can and fight for their interests.  Classes are only periphery members of World Sailing as the structure and power of the Olympics goes through IF's and MNA's and does not spread down to the events themselves.  Who knows, maybe with the IOC's vision 2020 that too might change, but in the mean time we aim to support these sailors bids to fulfill their goals and dreams and hope that World Sailing in general can start looking beyond national interests and embrace the changes required to keep sailing int the games at all.  One can only assume that these small scale fights we are waging can only hurt our image in front of the IOC.