Say hello to Theresa Brandner, Commodore of St. Francis YC, and this week's Sailor Chick Of The Week. Here she is driving her J-105 in Frisco. It is our understanding that she is only 1 of 3 Commodores to helm their own boat in the BBS since 1993. In addition, she's been actively racing (24 race days so far this year) and has sailed on the Sonar, J/80, J/22, and J/105, and supporting 12 women's sailing events and clinics during her year as Commodore of StFYC.
So we absolutely think Theresa Brandner is an amazing woman. We've had a few phone conversations, and have gotten to know her through some of the most bizarre circumstances imaginable…
Last week, we received a Contact SA e-mail from [email protected], nominating Theresa for SCOTW. The email included a photo that, while we liked it, we later learned was never meant for publication. We don't know about the picture, but upon checking the STFYC website, we confirmed that the photo was indeed of her.
Cool, we thought, the rear commodore, from a yacht club of which many members loathe us, is reaching out. Great, we thought, let's run it. All good, right?
Wrong.
It seems the photo was not actually sent by the Rear Commodore at STFYC; rather, someone sent us this email on our contact form, [email protected], and sent said picture that is, again, one that she never wanted published.
Why would someone do that? Was it sent with the intention of trying to fuck with this woman?  It sure seems like bullshit to us.
And yes, we got yoked, but we didn't think this level of assholery was coming from someone at STFYC, and we don't yet have any proof that it did. But from what we know, it is possible that someone (perhaps more) from the Good Ol' Boys club there doesn't like Theresa as Commodore. You see, Theresa won the election to become Commodore by a 2/3 majority, beating someone who apparently was favored by a board member or members.
We have been told that someone has engaged in a bizarre pattern of sending strange emails from phony e-mail addresses to the entire membership. Sending us the picture and pretending it came from the Rear Commodore of STFYC may be related to this.
We asked around – the people that we talked to love Theresa. This is such a cowardly and chickenshit move, and we are trying to find out who it actually is from.
But you arrogant, judgey and self-important a-holes in that club simply confirm that while we dig Theresa, we absolutely can't stand Stuffy Saint Francis Yacht Club. Besides, any club that won't let anyone wear hats inside their hallowed halls has to suck.
She's far too good for the likes of you.
September 23rd, 2018
In July 2019, a large fleet of yachts will start Transpac 50, the 50th edition of the classic Los Angeles- Honolulu ocean race. Already there are nearly 50 entries, the strongest turnout in the event's 113-year history.
'We knew the 50th would be popular and we are preparing many special features,' said Transpacific Yacht Club commodore Tom Hogan, 'but we had no idea the interest would be so strong, so fast. Not only are there many return entries who still find this race attractive, but also newcomers who want to test themselves and their crews on a 2,225-mile race to paradise.'
Besides the iconic Barn Door firstto- finish trophy now being open to all monohulls under 30 metres in length, other new features include a new Corinthian Trophy awarded to the topfinishing all-amateur team. As with most ocean racing, amateur sailors form the backbone of the fleet and Transpac wants to recognise the efforts they make, given that many months, or even years, of intense planning and preparation are necessary to be competitive.
September 23rd, 2018
A friend and I took the Topper Topaz Race X out for a spin on a puffy, shifty San Diego day. Good news: We didn't capsize. Better news: It is a cool little thing. Bad news: It's not made for old men like us!
The Topaz Race X. At 12.7 long and a hull weight of 132 pounds, it is a tidy, nicely laid out and equipped,  rotomold constructed (virtually indestructible) fun one or two person dinghy. Main, jib and kite are fun for two, but ditch the jib, adjust the mast position, take the shrouds off and you have a nice little singlehander that you can easily sail with minimum hassle. We took a shot of the asso on land to give you an idea of how it looks.
Being two old and less than agile men, the boat was very sensitive to our lumbering weight movement, confirming that this boat needs to be sailed by kids or young and skinny adults! It had some nice quality fittings, was easy to launch and sail, and think that, at $6,100, it is  a good competitor for that price point.
We liked it, but are just looking for a way to turn back the god damn clock, say 30 years or so!
September 23rd, 2018
A man has died after a yacht capsized off Sydney's south this morning. Emergency services were called after reports a woman swam to shore from the stricken vessel at Boat Harbour, near Kurnell at about 5am.
NSW Water Police and a rescue helicopter conducted a search of the area and located the body of a man near Wanda Beach just before 6am. Thanks to 9News.
September 23rd, 2018
Heading down to SDYC to take this brand new Topper Topaz for a little spin and will post a review later. Big thanks to Dan Avina, a new Topper rep in SoCal…
September 22nd, 2018
China Club Challenge Match – Xiamen
Day one of the event kicked off with the usual speechifying and scene setting that one gets used to at a Chinese regatta. Sponsors and those who helped make it possible were thanked then the current trophy holders official returned the trophies they had held for a year to the organizing committee.
Then in a move which echoes the spirit in which this particular event is run a representative of the officials followed by a representative of the competitors took an oath on behalf of their respective groups that they would rule fair and play fair it the four days of competition that would follow.
And so to the water. During the days the early portent of the growing cumulus clouds gradually bore fruit as the initially gentle breeze grew into a nice sailing wind.
The three schedules races were keenly but fairly contested under the on the water judges team led by IU/IJ John Rountree (NZL). No surprise there as with 2 America's Cups and 8 Sydney Hobarts under his belt little was likely to get past him and his team.
Starts were crowded with a line that was even but as always so many people seemed to favour the committee boat while the further down the line boats went the closer to the favourable tidal current they were. It is funny how lemming like sailors can sometimes be when it comes to that right hand end of the line. Lots of shouts but few red flags in evidence with some of them somewhat lacking in the "conspicuously" department.
They were certainly keen to get going with no fewer than 3 general recalls across the races with the "U" flag frequently going up at the 4 minutes in an attempt to curb the apparent enthusiasm to cross the line early. In fact a lot has to be said for the patience of the Race Officer in that he didn't go to the black flag at any point in the day.
In fact the only black flag of the day went to a competitor who, having been penalised didn't complete his penalty ( he did  part of one) and sailed on and, sadly for him, rules are rules.
He gave some verbal to the judge boat which frankly wasn't considered an issue but such is the spirit this regatta is run along with the respect for the rules that the skipper then contacted the Race Committee to apologise, an apology that wasn't required but welcomed in any case as his rule infraction was considered to be through a lack of knowledge rather than a deliberate rule breach.
So one day and three races of a programmed 4 days and 11 races down, 3 days to go. Already shaping up to be another China Club Challenge Cup to remember. – SS.
September 21st, 2018
From the GBR press report:
Solo sailors in the 2018 Golden Globe Race have been hit by a vicious storm mid way across the South Indian Ocean. The 70knot winds and 14m seas have left India's Abhilash Tomy and Ireland's Gregor McGuckin's dismasted, and twice knocked down the yacht of 2nd placed Dutchman Mark Slats.
Both McGuchin and Slats report that they are OK, but 39-year old Tomy, a Commander in the Indian Navy making his second solo circumnavigation has been injured. A CODE RED ALERT was issued after Race HQ received his message at 12:09 UTC today: ROLLED. DISMASTED. SEVERE BACK INJURY. CANNOT GET UP.
September 21st, 2018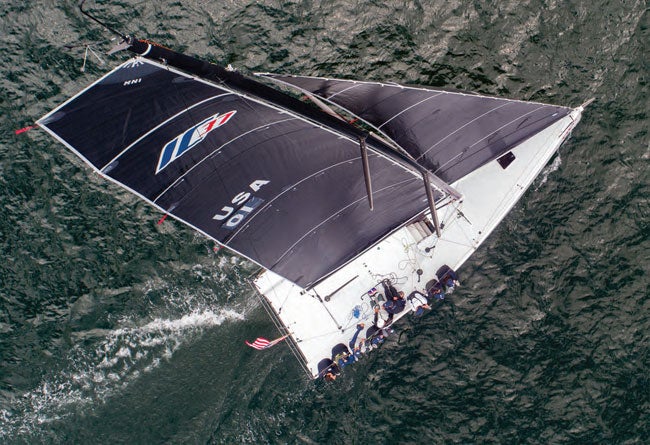 Big Pimpin'
Competitive big-boat one-design racing is clicking up a notch at New York Yacht Club (NYYC) and soon elsewhere around the world with the new Mills-designed IC37. This affordable, strict one-design speedster will be making its competitive debut in the 2019 season, and the order books at Melges are already filling up fast.
It's been 20 years since the last big wave of offshore-sized one designs hit the marketplace and helped foster a revolution in big-boat racing. The excitement and enthusiasm of these designs and their class-managed racing brought thousands of sailors around the world into competitive sailing at a level hitherto enjoyed only by a handful of Grand Prix enthusiasts. Since then, most other new one designs have focused on high performance at an athletic level that is out of reach for many otherwise competitive pro-am sailors.
Perhaps just as important to NYYC's vision of the sport, as reflected in the IC37 design itself, will be the emphasis placed on class rules to give incentives to a diverse array of Corinthian sailors. Women, juniors and other emerging sailing talent will all be encouraged to join in the fun so that the next generation will be given the opportunity to continue to enjoy this great game.
When the NYYC initiated the search for a new keelboat design that could be raced competitively in a fleet of 20 boats for its second decade of racing in its premier Corinthian event, the biennial Rolex New York Yacht Club Invitational Cup, a veritable dream team of marine industry talent was assembled to fulfill the NYYC's mandate.
Mark Mills and his team at Mills Design were chosen due to their success in everything from the high speed, yet affordable C&C 30 one design to custom designs for various high-tech super yachts, demonstrating their ability to be abreast of the latest technology in addition to being well-versed in working with builders to help create efficient and cost-conscious production designs.
September 21st, 2018
Last Saturday, clear skies and fair winds greeted the many Lane Cove 12ft Skiff Club sailors, young and old, for the Opening of the 100th Season of racing boats on the river, the joy and expectation of a landmark season were shattered in the early hours of the following morning when the primary storage shed for all the clubs junior boats was razed to the ground.
No boats stored in the shed or adjacent dinghy lockers were able to be saved, arson is suspected. Over 60 boats have been lost.
See news reports here. 
Up in flames went boats, many built by club members, that had been passed from family to family, been lovingly cared for and some had competed in every State and National Champions for more than 10 years. A number of families lost two and one family three boats. The shed was also the childhood cubby house for generations of sailor kids.
You cannot go and buy a fleet of boats off the shelf to replace what has been senselessly lost, so rebuilding and reequipping the sailors will take time and money. Lane Cove is a small community volunteer run club, racing on the waters west of the Sydney Harbour Bridge. The club is strongly focused on the promotion of junior sailing – starting out in Sabots, then move to Flying 11s and on to Cherubs and Laser and finally 12ft Skiffs. This even is a setback for the club, its members and the wider sailing community but;
We will rebuild. We will keep sailing
As Commodore Max Gundy says in his newsletter update – This Saturday sees us return to the water after what has simply been an awful week. What has been written up on FaceBook as the, "Farewell BBQ and Re-Build Project Launch," is going to be a day for all of us to get together and rally around our friends who lost boats and to give friendship to all of us who have enjoyed our club so much over the years. Read on right here. 
In the time since the fire the Club has been overwhelmed with offers of help, but if you would like to help this club's junior sailors get back out on the water a  gofundme page has been set up.
September 20th, 2018
Looks like they already did! On the spot shot at the 52 Super Series in Valencia from Max Ranchi.
September 20th, 2018