Posts Tagged 'youth sailing'
Big Pimpin'
For generations, families have gone into the woods to dig up time capsules. Relics of the past, to see how things were done way back when. For anyone who dug up an old Club 420, they were able to take it straight to the racecourse and give it the whip.
So many of us wonder why our kids are racing the same boats we buried in the backyard years ago, which is why it's so encouraging to see some brilliant moves by Class leaders that have allowed the Club 420 to hit a sharp upswing in popularity.  Series scoring, smart championship and event venue choices, and creative work in partnership with builders Sturgis, Zim, and LP continue to add value to one of the foundations of youth sailing in America.
Managing a one-design class is a difficult balance between honoring history and keeping up with the times, and improvements can be painful in the short term even while they make the boat better, newer, and more exciting again. We've seen it with the E-Scow, Laser, Sunfish, Thistle, J24, and Melges 24, among others, and over this past winter season, the Club 420 has seen a unique and successful effort by the Builders and the Class, working together, to modernize the gear while adding a bit to the safety and ease of use.
The changes may be minor, but for 420 sailors, they give us some new gear to geek out on. There's a new spinnaker cut to make the reaches more fun, plus a new rig package from Seldén which offers a lighter boom, plus updates the mast to replace the high-maintenance items with smarter and stronger parts.  Now the kiddos can even fly around the course with the same boom their Team USA heroes Stu and Dave took to Rio in the 470; if you've got young ones- the new gear is available from each of the class Builders. (Sturgis, Zim & LP).  Click the photo above or go here for a closer look at the new boom with Club 420 ExecDir John Vandemoer.
It shouldn't be understated how important the C420 class is for the future of Sailing, and we're all lucky for the current board of innovators and lifelong class stalwarts, so if you see one of them at the bar or in the boat park, buy 'em a round and see if there's an event in your area you can help out with next year! You may leave the weekend with new inspiration from Youth Sailing.
For a discussion about Selden and the growth of youth sailing in the USA, check last month's Sailing Anarchy Podcast with Tim Fitzgerald, and keep an eye on Selden Mast Facebook page for more innovations over the coming months.
March 24th, 2017 by admin
If those of us who love the sport do not spread that love to new prospects, we have ourselves to blame when our fleets dwindle and it becomes impossible to find good crew.  One 28 year old sailor – Anarchist "North253" – is doing his best, and he and all his generation-mates need your help.  
My generation is, as near as I can tell, a bunch of entitled idiots. I love sailing, and was raised by sailors. But the truly unobservant things I have been asked about sailboats and sailing by people my age is mind boggling. I answer all of their questions tirelessly and patiently, because the more interest I can generate the better, and the slow decay of my favorite pastime especially among people my age and younger saddens me, because it is oh so cool!
I bought a flush deck Cal 28 recently with the intent to take as many people as I can get sailing, because they clearly don't get it. (This is my second full size sailboat).  But this takes the cake:  I was recently asked by a 29yo lawyer friend, who is generally not a moron, "yeah they are cool but can't you only sail on rivers, you can't take sailboats onto like the ocean right?"
Other amusing questions include:
-"But sailboats can't have engines, so you're screwed when there is no wind"
-"can't you only go the same direction the wind is blowing"
-"is there a way to steer it? What happens when you hit land?"
-"what about sharks?"
While a fair question by the uninitiated, my favorite to answer has to be,"won't it flip over"
Christ, who raised us?  Apparently, I have work to do…Maybe, just maybe I can recruit some new sailors.
Share your secrets for lighting a fire of sailing inspiration in the younger generation in the buzzing thread here.
December 18th, 2016 by admin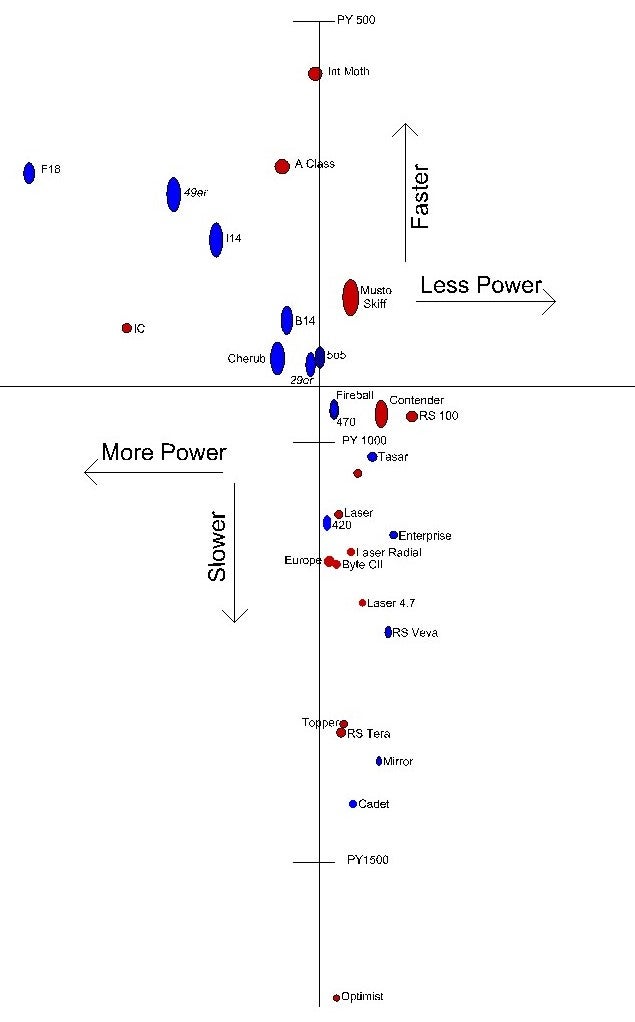 We're always happy to hear from longtime SA'er and high performance guru Julian Bethwaite.  He checked in with this interesting infographic, and here's why.
For the umpteenth time, I was asked 2 weeks ago what boats should a 12 year old Opie kid sail to best place him in a 49er when he gets into his late teens, early 20's.  This mum was very smart, with a far greater grasp of numbers than I, spreadsheets, etc., but I still struggled to get the flow across, so I generated the following graphical representation, and she has come back and said, and I quote  "Thanks for following up. Interesting graphical depiction of the relative properties of these classes of boats, brings the stats to life."
So, what I am seeking from you guys/gals is a peer review!
I could give you all my figures, but I think that would predispose a bias, which I have little doubt I will be accused of.   Instead, I plan to explain my rationale, and asked others to have a go at there own interpretation and maybe we can blend them and end up with something meaning full.
So what I have done is go to the RYA site and dig out the relevant PY [Porthsmouth Yardstick] numbers.  I have picked the boats mostly on simplicity, firstly if I did not know them, then I could not represent them.  I then went into the ISAF site and looked up the technical data.
So I have exclusively used that information unless the RYA/ ISAF data was simply wrong, in which case I went into that class's rules and gleaned it from there.
An example, 470 appears not to have a PY number, so I worked out approx where it should be.  I included the IC because its too interesting not to.  And we all know a moth sails heeled to windward and greatly increases its RM by doing so, where as a Laser, when sailed "flat" is actually heeled about 6° to leeward.  I have not imputed these shifts in CoB, I have assume the boats are all bolt upright as per their numbers.
Finally I have used the ISAF high performance definition about sailing faster than the wind, downwind, most of the time, to draw the red line. Not sure why a 470 does not do it more often (Tack down wind), but we also know a 29er does, most of the time, (and yes, I know why).
What is irrefutable is that a 5o5 and to a lesser extent a I14, spend a lot of money and effort setting their boats up so they can quite deliberately switch to HP modes both upwind and downwind, so, from my POV I consider the 5o5 to be the tipping point boat. It has has a foot in both camps, one could say the best of both worlds.
Get the full explanation from JB here in the thread.
August 17th, 2015 by admin
While its international appeal is fairly diverse, the American A-Cat Class has long been regarded as the province of athletic but greying sailors, so it's surprising that we've got not one but two teenagers racing their own boats at the A-Class NAs in the OBX.  Here's a Rachel Jesperson/OceanImages look at the excellent Jeremy Herrin, who nailed a second place yesterday sailing an A-Cat he built himself in his Sarasota, FL garage with his dad.
Here's the Day 1 Highlight Video with a short chat from Jeremy; three more days of sailing are ahead with Bruce Mahoney leading the fleet after two light air races.
June 12th, 2014 by admin