Posts Tagged 'wreck'
The ignorance and rank incompetence of some people who do stupid things on boats is mindblowing. Watch how they ended up here. Comment here.
January 3rd, 2018 by admin

The yacht Quokka shows us all just how not to round The Needles during this clip of the Round The Island (UK) Race.  You can see a bunch of whacked our wreck dancers standing on the same bricks in the very cool video here.
July 10th, 2017 by admin
The multiple-fatality wreck of the Dipiu we told you about last week was hauled off the Rimini jetty over the weekend as documented by Manual Migliorini from Il Resto Di Carlino here. The Italian Coast Guard is now focusing on engine issues as the primary cause of the wreck.  One source told us the on-deck crew was actually washed off the boat in a breaking wave that also flooded the boat and shut down the engine, and the only crew to make it out alive were those stuck inside the boat when she was thrown onto the rocks.  We're also told one sailor tried to rescue his girlfriend, whose foot was stuck between two rocks on the jetty…they both drowned.  All in all, a horrible story that could have been entirely prevented by listening or reading one of dozens of forecasts and warnings available to everyone in the area for days.  One Anarchist says undue respect for a senseless tragedy doesn't do anyone any favors.  "Skol" writes in the thread:
My condolences to the families that are affected.  Given the comments in the forum, I feel somebody should speak up.  Terrorism is a tragedy. Gun violence is a tragedy.  This particular accident was caused by a suicidal, murderous asshole. The skipper paid the price? And what about his son-in-law or his grandchildren, or his (ex) wife?  What are they paying – respects? Bullshit.
The conversation here should be about the living and keeping them that way if facing similar conditions.  If that's done in acerbic and unpleasant terms, well tough shit. It's not a disrespect for the dead. It's a wakeup call to the people who potentially don't take their safety and their crew's safety seriously enough.  You know there was probably words of respect and moderation on board that boat before 4 people lost their lives, when what there should have been was a fucking mutiny.
So – how many of us have been out on a daysailing on a 30~40 foot pleasure yacht without adequate storm gear?  I'm guessing that's most of us. Putting aside the boneheaded choices that got them (or you) out there in the first place, what would you have done? 
[  ] not enough sea room for a sea-anchor, even if they had one 
[  ] not enough sea room to run downwind.  NE gale was perpendicular to the coast 
[  ] attempt to heave to (… on a fin keel boat close to lee shore, not the wisest option)   
[A] motorsail to windward under reefed main, sliver of furled jib, or any combo thereof. 
[B] attempt a broad reach parallel to the coast under reefed main 
[C] combo of a & b to maintain searoom until reasonable window for port entry 
Running for port just isn't on the damned list. Running for port under power without a scrap of sail up is doubly not on the goddamned list. If they left port with a damaged rig while under storm warning in the forecast, I'm sorry, but it was a suicide run from the beginning. It really makes my blood boil.  So again – for the sake of the living, please note!:
NO SAIL and NO MOTOR is NO CONTROL.  Add that recipe to a lee shore and you're finished.  
A sailboat auxiliary engine is just that: auxiliary.  Trust it only at GRAVE and MORTAL fucking peril! 
And finally, if the skipper is on a suicide mission, speak the fuck up. I don't care if it is your daddy, I don't care if it's your daddy's best friends. For fuck's sake say something. 
April 24th, 2017 by admin
April 20th, 2017 by admin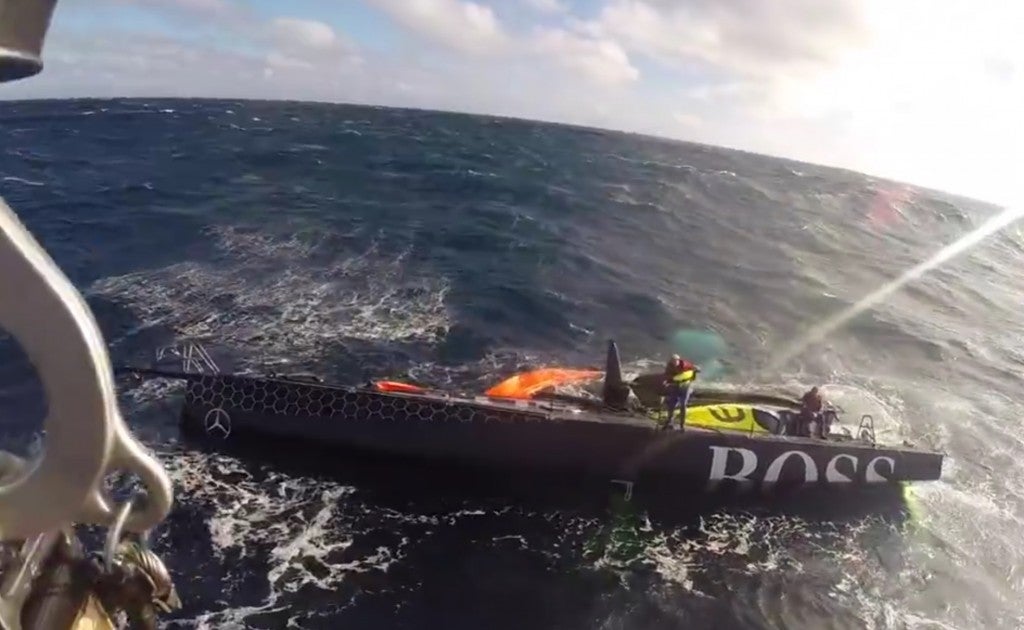 Sinking, dismasted – basically, fucked!  That's the Hugo Boss as shot by the Spanish Salvamento Maritimo crew who winched the IMOCA duo to safety.  First look at the boat is a screenshot from the video – complete with random rockin' soundtrack – of the rescue, shot from the sky.
Jump in the discussion thread here.
October 31st, 2015 by admin
BREAKING NEWS (courtesy of 9news NSW):
September 4th, 2015 by admin
It's hard to argue with a serial number, and this one starting with "VO65" does indeed dispel any doubts that the debris discovered washed up on Reunion comes not from the lost flight MH370, but from the broken-off ass-end of the Vestas Wind wreck.  Whodathunkit?  Thread here, with props to SA'er geekatlrg for the find on Reddit.
August 12th, 2015 by admin
In 2006, the Pindar team launched the most powerful Open 60 ever built – a title the boat would never relinquish.  Unfortunately for Mike Sanderson (for whom the boat was designed and built) and later Alex Thomson, the boat was never a contender.  Too powerful and draggy, too hard to sail, and too physically demanding for even the strongest IMOCA men, Pindar was plagued by drama, failure, and weak results.  
Even in the hands of Alex Thomson, the JuanK boat was a dog (imagine that, a JuanK boat being a dog), relegated to corporate and PR sailing duty while Alex and his team sourced other boats for his racing.  And while losing a racing boat is never a good thing, we have to say that the world may be a better place without more JuanK grand prix boats around.  The embattled Argentine has to be relatively happy with this calamity; at least this one didn't break in half, lose a keel, or kill anyone.  More on the wreck from Alex Thomson management team 5West boss and long time Anarchist Stew Hosford:
The boat had been laid up in LA since the end of a tour last year for our sponsor, and we chartered the boat to a new IMOCA team in Europe to who were going to enter this winter's Barcelona World Race. Our team were bringing her back to Europe via Panama for a re-fit when TS Odile started to appear in the Pacific. We had worked out a number of stopping-off points in case of hurricanes with the team securing her in Cabo San Lucas well in advance of the hurricane strike, and given the forecasts, it was a massive shock to the team, city, and nation when the storm intensified into a hurricane and bore straight down on Cabo.
By all accounts, the storm was brutal; "The End of the Earth", as locals called it, shocked the entire region, and the morning after the storm hit, the picture you see above is what greeted our delivery team.  The boat was remarkably still in her berth, but took serious damage from flying debris and boats that had come loose, floating around while still attached to big chunks of dock and pontoon.
For the first few days, the team used what they could salvage – freeze dried food, water, diesel, and satphones – to help locals near the marina.  But without comms, electricity, or any way to get off the peninsula, the situation began to deteriorate badly into the looting and later, military response that's been widely reported.   It rapidly became a crisis situation for us, and the guys on the ground somehow managed to get a small plane out of Cabo and return safely to the states.
So now what?  To be honest, it is not clear; while we are used to dealing with crisis at sea, this is something of a new problem for us.  The boat is most definitely not seaworthy and remains tied to her slip, but until the local government gets control over security and infrastructure, there's not much we can do besides work on a plan for what happens next.  Given the intensity of the hurricane, the loss of life and property, and the fact that there are many people still trapped there, it is a stark reminder of what can quickly go wrong.  Everyone here has great hopes for the people still on the ground, and we wish them all the best of luck.
September 21st, 2014 by admin