Posts Tagged 'WOXI'
In the best Aussie tradition of having the biggest, sharpest knife in the bush, the legendary machete that is Bob Oatley's Wild Oats XI is going back under the knife for a massive refit before the 2015 Hobart.  And when we say massive, we mean cut in half and rebuilt from the mast forward, with a huge DSS-style fin at the beam…and that's only part of the job.  Will the WOXI boys continue to stay just ahead of the new curves from VPLP, Verdier, and the Juank?  Apparently, all it takes is money, hard work, money, great crews, money, skilled boatbuilders, and a little more money.  Gotta do something will all that cash meant for an Aussie AC team, perhaps? (A team which, hilariously, continues to publish a website, hosted on the Americascup.com domain, that loads with a huge image of the Harbour with the words "2017 – Australia Gets Back In The Ring" as of a few minutes ago).
Check out the details over here, and WOXI's Facebook is always good for something interesting.
August 7th, 2015 by admin
Are you getting stoked for the Sydney Hobart Race?  We sure as shit are, and judging from longtime Sydney-Hobart photographer Andrea Francolini's Facebook Page, he is too (and thanks AF for sending over a higher-res shot of this 2006 dunking for the SA'ers).  It's not just the long-awaited US vs. AUS showdown between the wily, old, rarely-defeated veteran Wild Oats XI (going for her record-breaking eighth overall win) and the bleeding edge Kenny Read-led star-spangled Comanche.  Even better than this tête-a-tête is a big upswing in the typical fleet size (up to 117 boats for this year) thanks to the extra buzz of the race's 70th anniversary.  Relive some of the great shots of the past with Andrea as well as some non-sailing Sydney vistas over here. The CYCA is on board with the nostalgia too – how about a movie from the 1974 race?
And for some classic SA shit talking between the Aussie fanboys and the yank shit-stirrers anxious to prove their maxi is bigger than yours, start here.
November 24th, 2014 by admin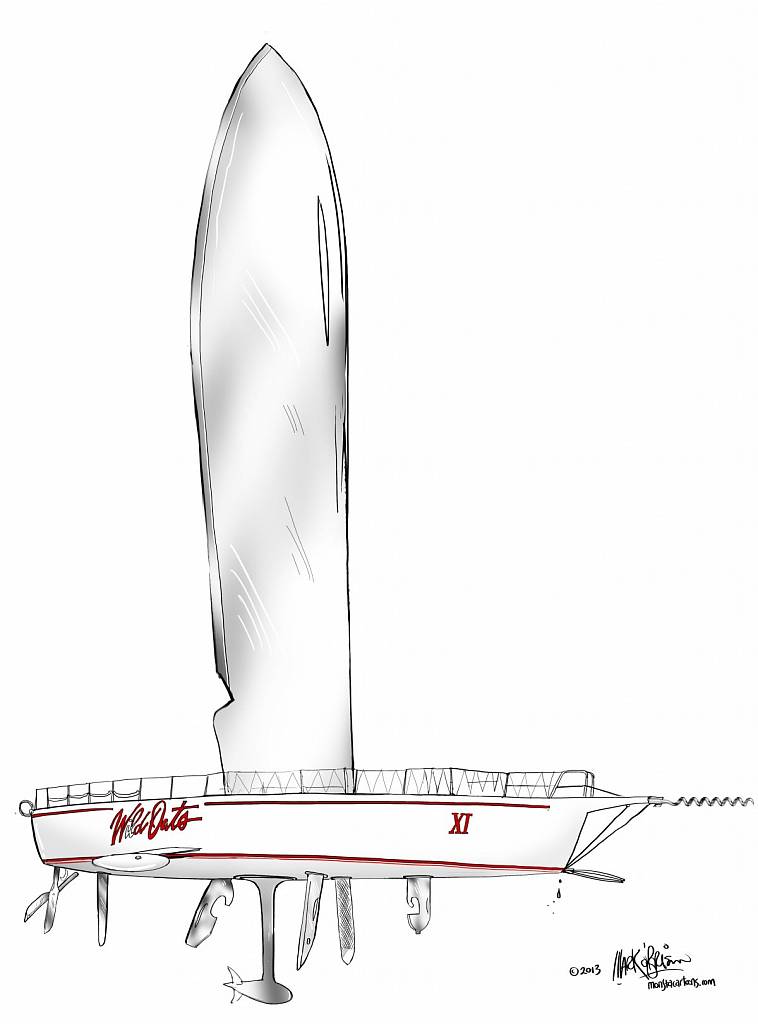 Mark O' Brien put his Monstacartoon pen to the Wild Oats XI appendage package, and as usual, it's awesome.  Wanna buy a print of any of his work, or a cartoon of your own boat?  Hit him up here!  Credit to the great composer Kurt Weill (via Louis Armstrong here).  And get in the Sydney Hobart thread to post your own predictions for the race, and win brand new SA swag, and don't forget our McConaghy Boats-sponsored coverage of the 69th Sydney Hobart Race, coming at you live from Oz in just a few days.  Like McC's Facebook Page now, or you might well miss something….
December 19th, 2013 by admin
With the Speedboat and a pile of Volvo 70s grinding and scraping their way to readiness for the 2013 Sydney-Hobart Race, Bob Oatley's Wild Oats XI is looking both long in the tooth and a bit iffy for that all-important first-to-finish trophy.  What's a billionaire to do when his 100′ Super Maxi starts to look old and tired?  There ain't enough time to build a wider, more powerful boat, and you've already added yet another steering appendage up front to go with the canting keel, rudder, and two daggerboards.  Maybe you just need a little more cowbell.
That's apparently what WOXI skipper Mark Richards thought, and the result is a nearly 3-meter DSS horizontal stability fin.  We've seen them before, and they're performing with varied results, and the consensus is that, for the right boat, the DSS system is pretty damned sweet.  WOXI will test out the new foils next month at Hamilton Island Race Week.
We think this is the biggest DSS deployment yet, and you can bet your sweet ass that, if the Aussie "Swiss Army Knife" works, you'll see a lot of retrofitting very soon; with the worldwide economy less stable than even Rolex's sailing future, it's a lot cheaper to cut a new hole in your boat than it is to build a new one.
There's one massive problem we can see here:  One big fish or one waterlogged timber is going to tear a hell of a hole in a boat that averages 20 knots and touches 40 regularly.  Do they really need another point of failure?
August 14th, 2013 by admin