Posts Tagged 'Worlds'
We believe that hell may have actually frozen over a few hours ago.
We're not sure how else to explain the fact that of the seven teams just thrown out of the J/70 World Championship for measurement violations – in Italy – five are Italian!  Organizers even have the support of the J/70 Italian Class despite the stature of the excluded owners, which includes the current Alcatel J/70 Cup champion and several top teams.   It's a sign that the folks running the J/70 are taking their little boat as seriously as they have long needed to, given how prominent and huge the class has become since their first Worlds barely 3 years ago.
As past competitors in the Class, we're not surprised to see the hammer finally drop on some of the over-the-top mods that have been creeping in since the get go, but we are definitely surprised and quite impressed to see it happen in a place that's notorious for 'turbo" Italian one-design entries that get away with it (anyone remember the Melges 24 bulb with chines or the Farr 40 that floated 2″ high of her lines? We do).  We're also not saying that the DSQ'd boats are full of outright cheaters rather than opportunists taking advantage of Class Measurement guidelines and tools that were less than precise, but the hammer doesn't care what the nail looks like, as long as it is a nail. Those rules and tools have now been tightened up, which should mean fairer racing for everyone in this huge fleet.  Bravo, J/70 Class admins and measurers, and bravo, Italia!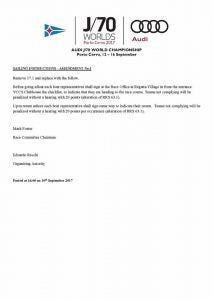 Anyway, the official notice is on your left.  From Italy, the DSQ'd boats are Achille Onorato's Mascalzone Latino Jr (Francesco Bruni, tactician), Allesandro Molla's Viva (Nicollo Bianchi, tactician), Marco Salvi's Vertigo (from Porto Cervo, the event host, with Charlie Mckee, Tactician!), Claudio Dutto's Asante Sana, prior Worlds podium finisher Carlo Alberini's Calvi Network (Branco Brcin, tactician), Mauro Mocchegiani's Rush Diletta (Matteo Ivaldi, tactician), and the Alex Semenov's Russian-owned New Territories (tactics by Portuguese J/80 and SB20 World Champion Hugo Rocha).  We're not sure whether this makes those pros more marketable or less marketable, but you might want to double check their work the next time they say 'it's legal, don't worry' before your big regatta!
Is this another case of pro sailors ruining a class, or does this kind of thing only happen when Classes slack on their measurement controls?  And is the J/70 Class's action signs of great governance to come?  We'll find out when SA brings our coverage to the J/70 Worlds on Wednesday (if the Mistral has shut down by then, that is!) . Until then, there's of course a thread…
September 11th, 2017 by admin
This future skiff star is getting more sailing in than the Worlds fleet…watch his Lego video here.
August 30th, 2017 by admin
In an interesting bit of offshore racing news dropped today, ORC announced that the first-ever Offshore Racing World Championship will take place in the Netherlands in 2018 under a joint IRC/ORC scheme.  It's a fascinating conclusion (subject to change, of course) to a conflict that nearly came to blows at World Sailing's Annual Conference in Barcelona late last year.  Our own reporter watched Stan Honey scold the IRC and ORC representatives and send them off without their supper to work out their issues, and it seems they've reached that agreement to try to mend offshore wounds and bring handicap ocean racers together.
We all know the sport has been in trouble for a long time, and with a few noteable exceptions, handicap racing is struggling harder than any other sector to stem its losses, which result as much from unhappiness with handicap rules and complicated, competing ratings systems.  That's why we applaud the ORC and IRC brass for putting aside their self-interest and doing right by the sport for once. Now, if the boatbuilders and classes would just follow their lead, we might start getting somewhere!
Here's the Worlds site, and here's the ORC release. Max Ranchi photo of the last ORC Worlds.
February 9th, 2017 by admin
As usual, it takes an Anarchist to put things much more rationally than the hothead editors of Sailing Anarchy.  Longtime SAer and solo racer "Railmeat" gives us a sober answer to the question we've now been asked by several hundred readers: "What can I do about ISAF and the Israeli visa situation?"
ISAF, on its own, won't be able to change a country's policies. But what it can and should do is use its influence to ensure that the sport under its purview is kept free of those politics. And that starts with ensuring that it does not sanction events in countries that to not welcome athletes from all UN recognized countries, and welcome them on equal terms.
ISAF is funded through several revenue streams, but in no small part through all of us, the sailors. They receive revenue streams from associations, and through national sailing authorities, and those organizations are directly funded by all of us.
If you agree that sports should hold to the naïve but worthy goal of being free of these types of politics, then the answer is simple. Take action with your national authority, and the associations you are part of. Make them put pressure on ISAF to do the right thing. Make them commit that if their representatives, our representatives, are part of the decision making process then they are making the right decision on which countries are rewarded with sanctioned events.
Make those thoughts known by emailing your representatives, and make it known by with holding your dues. Speak your mind, and speak loudly.
The USA Class 40 will not be renewing it's US Sailing membership until they forcefully and publicly state that their reps will not vote for events in countries that engage in this type of discrimination and that they, as our national representatives insist that ISAF make a similar commitment. I will also be sharing that action with the full board of the Class40.
Likewise, my own personal membership renewal arrived in the mail this past week and I will not be renewing that membership to US Sailing until they take those actions. I will also suggest to every organizer of an event that I participate in this year that they should not make US Sailing membership a requirement for participation, nor confer benefit for such membership until US Sailing takes a stand against this type of behavior.
Make your voice heard, and not just in these forums.
Michael Hennessy
More answers here, and don't forget the power of your social media account!  Twitter and Facebook activism WORKS, especially when you include the big sponsors in your hashtags. 
December 29th, 2015 by admin
When Sperry told us they wanted to support coverage of events we thought made a difference to the sport of sailing, we instantly thought of the J/70 Worlds.  Sure, there was a 95-boat Melges 24 Worlds two weeks ago in Denmark and a 100-boat SB20 Worlds in Lake Garda last week, but with nearly a thousand boats sold in three years, nothing comes close to the impact on racing made by the new and exploding class from the J0hnstones. And as evidenced by the 16-nation field in the boat's second-ever Worlds in La Rochelle, the effect is spreading far, and fast.
So we put together a 6-man crew to bring live video of all the racing to you guys, and we didn't skimp.  The live feed included commentary from SA's Senior Editor and Adventures of a Sailor Girl's Nic Douglass, along with daily highlight reels from Petey Crawford, and huge high-quality photo galleries from Sander Van Der Borch.  Why'd we go so big? Because we want to see more of the family-friendly, female-inclusive, youth-engaging vibe this little boat is giving to people all over the world, and the infrastructure J/boats have created to deliver well-built, good-looking, quick-ish little racers that are all damned similar to one another is something we admire.  And we felt privileged to be able to document it all.
Above you'll find our final movie from last week's Championship, and we really, really hope you'll sit through it until the end.  And don't be drinking coffee near the end.  If you laugh as much as we did, share the link with your friends. For the full interview with new World Champ Julian Fernandez, hit this link.  The full chat with Marty Kullman including the drama with North's DNE request is in here.  You can grab any one of the dozen-plus interviews and highlight reels in our Vimeo index.
As always, huge thanks to Sperry for their support, and to J/Composites Europe for all their support on the ground and on the water.  More thanks at the end of the video.
July 17th, 2015 by admin
It's been another interesting week in the wide world of sailing on screen; here are the pieces we liked the most:
brand new friend
The number of Americans going sailing is still very near an all-time low, but as of this week, we're in what may strike you as a surprisingly good mood about the state of the sport here in the good old US of A.  Why?  Because, based on Senior Editor Mr. Clean's time at the 3-day US Sailing Leadership Forum in San Diego, we truly believe that, for the first time since Sailing Anarchy's birth 15-odd years ago, our sport's governing body seems to be on the right track – a track that, if it continues, will lead to real growth in the part of the sport that really matters – the base.
All the Yacht Clubs and all the regional racing authorities and all the 'welcome newbies" programs can't change the fact that we need far more people sailing recreationally to get more people racing, and one of the most impressive parts of the Leadership Forum was the makeup of the 600-odd attendees; almost half were female, with a median age of less than 40.  US Sailing doled out over $7000 in travel subsidies to help dozens of community sailing staffers show up, and they were overwhelmingly young and often female; these are the folks in the trenches bringing thousands of new faces into sailing every year.
If there is one criticism of the event's format, it's that there were perhaps too many seminars and breakouts in too short a time, and while the vast majority consisted of valuable, engaging content and speakers, a handful were nothing more than disguised corporate promotions for various service providers – something tough to tell from the titles of each session, but easy to tell when you sat down and found a business card on your chair.  But aside from that – and perhaps from the Hilton's price-gouging that left the younger folks and community sailing staffers unable to have a single drink at any of the parties or even the hotel bar – Event Director  Katie Ouelette seems to have found a formula for an annual meeting of stakeholders that's fun, exciting, and advances the sport forward in a way that's been both sorely lacking and desperately needed.
Even the Yacht Club crowd was a younger and more vibrant group than we've ever seen at any non-youth US Sailing gathering, and like everyone else, they were treated to an information smorgasbord from a distinguished group of young and old speakers including our very own Mr. Clean.  That fact alone should tell you that US Sailing is clearly on a new path; it's taken more than a decade, but we welcome them to the 21st century.
If you'd like to know what US Sailing is up to, and why we think you should drop the 60 bucks and join them for 2014, watch the 16-minute interview between Clean and US Sailing Executive Director Jack Gierhart above.  Give them a shot at doing good things with your money, and we'll circle back around in early 2015 and tell you if they are living up to their promises – and you can get into the spirited discussion about it all here.  Title shout to Lloyd Cole, and look for the full directory of both the interviews we did and the useful videos posted by US Sailing next week – including Clean's face off with other leading sailing media peeps.
find out why
Until November (and beyond, really), the Volvo Ocean Race is only as good as the stories it tells.  That's why we're overjoyed that they've pilfered one of SA's videographer gems – young Sam Greenfield sucks you into the US/Turkish Team Alvimedica in this excellent piece posted yesterday.  Check it out above, and go and like Sam's page here.  Whether or not the Volvo can handle his unconventional and no-compromise style, he'll always be welcome here.
may the force 10 be with you
Who says you can't sail in a hurricane?  Not the Red Bull Storm Chasers, and after a ridiculous 3rd stop in winds of ludicrous speed, France's Thomas Traversa is the new king of the hurricanes.   There's an excellent full report of the final stage of the three-event world-girdling event here.
mind over matter
Big money and big restrictions flowing from the Cup has stagnated most sailing videography over the past couple of years, and that only makes the sexy stuff coming out of UK production house RedHanded TV look even better; check out this trailer from the upcoming windsurfing movie Brutal Addiction.
neither fish nor fowl
The boys from ETNZ continue to crush the A-Class Cat Worlds fleet, in an odd Takapuna Worlds where some of the fleet is foiling some of the time, and none of the fleet is foiling in anything you'd call 'control'.  This is largely because the daggerboard designs are limited to the non-acute angles of board that can be 'fit in from the top', as required by A-Class rules, and without a stable Groupama C or ETNZ-style 'J' board, or a sophisticated system of controlling the more open "L" boards (like OTUSA or Hydros), the boats fly in fits and starts.  It's still faster to fly than drag in the breeze they've had, and aside from one DNF due to a rudder hardware failure, Ashby is on the verge of adding another one of these to his trophy closet.  This vid from Argentina Marine Media is the best we've seen yet, and you can find some great Cathy Vercoe pics here, and some video from Beau Outerridge here.  Of course there is plenty more first-hand reporting and debate about the recently defeated vote for a proper foiling rule in the thread, which will continue to rage on until someone makes a bold move either towards, or away from, the light. 
Former US A-Class Prez Bob Hodges put together a succinct note summarizing his views:
For those on this thread who are currently not active A-Class sailors and/or who have never sailed the boat.
The decision of the class as a whole to not change the current rules is because we are a cautious and conservative lot that do have a vested interest in how the boat and class evolves. I don't think you can appreciate that perspective until you own an A-Class and you actively sail and race it.
It's important to note that the top five at the WC currently are paid pro sailors. Theyare great guys, very approachable, and very supportive to their fellow sailors. But they do enjoy the advantage of someone else paying the bills when it comes to the equipment they are racing in this event. They understand the implications of what can happen if the class rules are changed to where the average A-Class sailor's financial means cannot keep up with the development. How many of you can afford to race a C-class?
I consider myself in great physical condition for my age (55 years old). We have a huge range of sailors in this class from their 20's to their 70's that have been able to race the boat across the wind range of our class rules (5-22 knots). The boats have become much easier, safer, and more enjoyable to sail with the addition of curved daggerboards and rudder winglets. But there is no doubt that foil packages that actually fly the boat will raise the physical requirements to sail the boat. I'm excited but at the same time concerned that I may not have the physical stamina and agility to competitively race the boat at the performance levels I am seeing at this WC. If the physical requirements to sail the boat increase by say 25%, we could see a vacuum created that would need to be filled by younger sailors who probably do not have the financial means to own the boat (a Moth is 1/2 the price if you want to foil).
As the boats start to fly and the speeds increase to the low to mid 20's, mistakes will be harsh on not only the sailor's bodies but on the structure of the boat itself. The current boats are amazingly strong and durable. If we start to routinely fly, it remains to be seen whether the boat's can handle the different load and torque dynamics on a routine basis. Crashing at over 20 knots of boatspeed will be hard on a boat that only weighs 75 kg and has a 29′ tall lever arm pushing the bows down, totally different dynamics than a Moth going over the cliff. If breakages and failures get out of control as the boats begin to fly, there is the potential for another vacuum to get created both in terms of losing sailors but also builders who get driven out of business because they cannot keep up with the warranty claims. There is also the insurance question. If the A-clas becomes a boat that has the potential for substantial damage in a routine "crash", no insurance company will want to offer coverage. Some will not insure our boats due to mast breakage claims.
From my own standpoint, I don't need to foil for the pure sensation of speed. I own a quiver of sailboards that in 15-18 knots are capable of sailing faster that an A-Cat will ever go even on foils and I can do that at a lot cheaper cost and at much less risk to my body and my financial investment in equipment. That is a perspective that I believe many in our class share.
I'll speculate that it's possible Landy's strategy for racing a "conventional" boat is to not only sail what he is the most comfortable with but also to be a benchmark in this championship that will be important for the direction he leads the class as its class president. Scott Anderson's performance so far is a great reference point as he typically does not trapeze downwind nor is he sailing a foiling package I believe. Scott is also in his late 50's so represents what is possible competing against the younger guns in the top five that have the financial support of TNZ. If the breeze truly lightens to the 5-8 knot range for racing later this week, it will be very interesting to see how Landy and Scott perform. This is an exciting but kind of scary moment for the class. I hope we make the right choices to keep the class as vibrant as it currently is.
Bob Hodges – A-Class USA 230
February 13th, 2014 by admin
With temps hitting 100 on the dock yesterday and humidity near max, it's likely at least one trimmer will burst into flame at some point during this week's Farr 30 Worlds in Newport RI.  Will past SCOTY Deneen Demourkas take her third consecutive World title despite not having set foot in the boat since Sweden last year?  Will T Hutch finally bring the elusive title to a long-suffering Jim Richardson and Barking Mad?  Will 2009 M32 World Champ and perennial shit-stirrer Pieter Taselaar surprise everyone on his home turf? Or will German light-air specialist Dr. Harald Bruening – the only Euro team here – take out the big dogs?
Clean and Mer are covering their fourth M30 Worlds in a row; check out daily reports right here, and watch their real-time-ish video/photo/text coverage on the F30 Facebook page.  Meredith Block photo of da bronx's Just Plain Nutz doing some late night hatch repair and more setup photos here.
July 17th, 2013 by admin