Posts Tagged 'world sailor of the year'
Well, there you have it, folks.  ISAF has shown that it knows exactly where its bread is buttered, once again selecting olympic class sailors over everyone else for the sport's highest honor.  Out of 40 recipients of the award since its inception, this marks the 25th and 26th time that Olympic class dinghy sailors have won.  This year's pick:  I-470 helm Mat Belcher and I-470 helm and crew "Jolly" as its male and female 'World Sailors of the Year'.  That's the same ISAF that, without funding from the International Olympic Committee and IOC partners,  would consist of three old guys in an office wearing blue blazers and nice watches.
Neither of the teams selected for the award won an Olympics during the qualification period, because there was no Olympics.  So what, exactly, did they do?  They won their respective dinghy class Worlds in 2013, along with some other ISAF-pimped events that no one in the world – except for 470 sailors and their families – cares about, or will ever care about.  Yes, they are great sailors, the best in the world in their classes.  But the World Sailors of the Year?  Gimmeafuckingbreak.
Hey, at least ISAF is consistent. Consistent in their ability to screw up anything they touch.
New name suggestion for next year's award?  The 2014 ISAF WORLD SAILOR OF THE YEAR PRESENTED BY THE INTERNATIONAL OLYMPIC COMMITTEE®.
November 12th, 2013 by admin
Mad Men
It doesn't matter how lazy, nepotistic, incompetent, or corrupt you think ISAF is; its World Sailor Of The Year award is still the biggest honor that can be bestowed upon a sailor for his or her performance over the course of a year.  So it's kind of a big deal (even though you win some shitty mid-range watch as an award).  The public nominated the slate of potential awardees, but of course the only voting happens at this week's ISAF meeting in the bastion of yachting that is Muscat, Oman.
We think it would be a miscarriage of justice if anyone besides Paul Larsen wins the men's award this year.  To so utterly destroy the most important record in the sport (by 20%!), and then go on to sail a recreation of Shackleton's voyage weeks later, is just incredible.  Adding to all that is Larsen's undeniable stature as one of sailing's best communicators and cheerleaders; he does more for the sport every time he gets in front of a news camera (and it happens a lot) than any other talking head.
Francois Gabard's accomplishment winning the Vendee at age 29 could have landed him the award, but ISAF delegates don't like the French; you'll note that no French man has ever won.  Besides, he'll get one when he breaks Francis Joyon's solo RTW record with his new boat in a couple of years.  As for the rest of them, Heineken's accomplishments are awesome, but in a discipline that's in its infancy with extremely inconsistent competition.  Williams wins the WMRT in a year when much of his best competition is racing catamarans.   And Matt Belcher had some kind of good results in something called a 470, whatever that is.  Go Larso!
Pro-Choice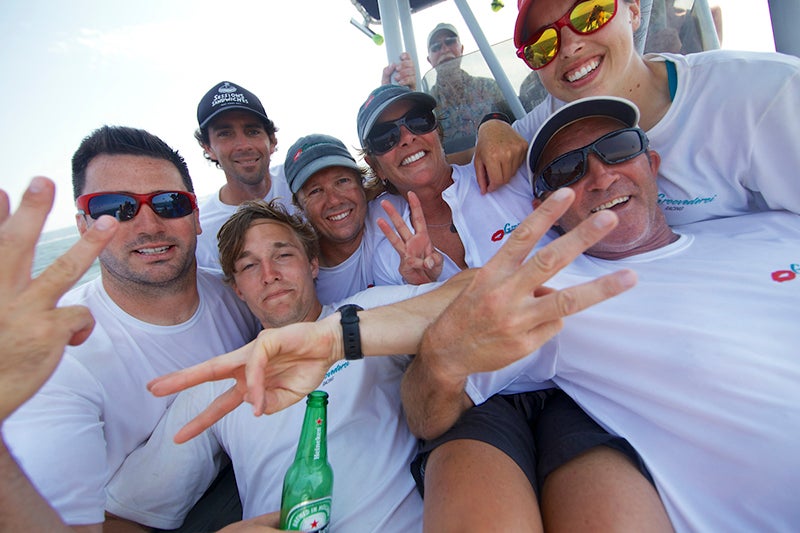 For the women, the choice is even easier; Deneen Demourkas dominated the Farr 30 Worlds, becoming the first 3-time World Champion in the class, beating some of the world's top male owner/drivers and tacticians in the process.  She also brought the class back from the brink of disaster, leading it to new growth in the US as well as Southern Europe and Scandinavia.
Competing with Deneen for the award is a Omani girl whose sole accomplishment seems to be that she is female and a sailor (quite an accomplishment in arabia, but still), another course-racing kiteboarder (same family name as Johnny, same reason she shouldn't win), and a couple of girls that got some kind of good results in something called a 470, whatever that is.
So there you have it:  The two sailors that should, without a doubt, win this year's mid-range luxo-watch.
And all joking aside, every one of these nominated sailors wins our respect.
November 12th, 2013 by admin