Posts Tagged 'World Championship'
We reported extensively on 'keelgate' at the J/70 Worlds in Italy over the summer, and while there were some irregularities in the way it was handled, we praised the Classes – both the International and Italian J/70 Classes – for getting ahead of the story and addressing the average sailors' concerns with 'cheater' boats.
The International Class has taken the Italian recommendations to heart and suspended a whole grip of Italian and Russian sailors from the incident.  It's the first time we've seen a mass ban in recent memory.  One thing that is really interesting: Neither the guy who did all the modifications in Lake Garda nor the pros who advised the owners gets any penalty whatsoever.  Should they?  Answer here.
The International J/70 Class Association (IJ70CA) Executive Committee (EC) has unanimously agreed to the J/70 Class membership suspensions listed below"…"The J/70 EC has found that the individuals below have been involved, to different degrees, in the "Intentional violation of the Class Rules" and/or "unsportsmanlike conduct" at the 2017 World Championship and/or some extended period prior to the World Championship.

-Carlo Alberini owner of hull #949, Class membership is suspended for 12 (twelve) months commencing on 1 December 2017
-Claudio Dutto owner of hull #922, has been warned that although the EC did not suspend his membership, he needs to be more diligent that his boat is in compliance with the Rules at all times
-Mauro Mocchegiani owner of hull #1088, Class membership is suspended for 4 (four) months commencing on 1 December 2017
-Alessandro Molla owner of hull #570, Class membership is suspended for 4 (four) months commencing on 1 December 2017
-Achille Onorato owner of hull #1269, Class membership is suspended for 4 (four) months commencing on 1 December 2017
-Alessio Querin former owner of hull #922, Class membership is suspended for 24 (twenty four) months commencing on 1 December 2017
-Marco Salvi owner of hull #910, Class membership is suspended for 12 (twelve) months commencing on 1 December 2017
-Alexey Semenov owner of hull #667, has been warned that although the EC did not suspend his membership, he needs to be more diligent that his boat is in compliance with the Rules at all times

In addition to the suspensions, the following boats have had their Manufacturers Declarations withdrawn and are not permitted to sail in J/70 events until the boats are inspected and corrected by the Licensed Manufacturer.
Hull/sail #949 owned by Carlo Alberini
Hull/sail #1269 owned by Achille Onorato
Hull/sail #570 owned by Alessandro Molla
Hull/sail #910 owned by Marco Salvi
Hull/sail #667 owned by Alexey Semenov
January 26th, 2018 by admin
Clean Report
In a decision that will sound alarm bells across dozens of international sport governing bodies, the European Commission yesterday ruled that the International Skating Union's rules preventing skaters from competing in 'unauthorized' events are illegal and must be abolished within 90 days.  What does this have to do with sailing?  If you really don't know, here's our last big story on this case, and the short version is this:
World Sailing's Eligibility Rules allow the body to revoke a sailor's eligibility to compete if they compete in a 'prohibited event', which is basically any major competition that doesn't pay World Sailing or seek its approval.  In other words, if you use the word "World Championship" in your fun regatta, World Sailing may ban every sailor in the event from racing in other competitions.  It's not theoretical, either – the IKA has been using this bullying tool in their battle with the IFKO, enlisting World Sailing CEO Andy Hunt to write threatening letters to those daring to compete in their own event, and back when we organized the tongue-in-cheek World Sportboat World Championship of the World, ISAF actually sent a letter to one of the hosting organizations and threatened them with all sorts of penalties.
With World Sailing's rules very similar to the ISA regs that were thrown out by the EC, Those days are over now, and World Sailing will now know that it's on notice.  So call your random event "Worlds" without worries now, and if you get a letter from Andy Hunt, submit it to the European Commission's confidential Whistleblower Tool and watch the sparks fly.  And now that there is a Commission directive, you can go for damages.
December 9th, 2017 by admin
Big Pimpin
The SAP 5O5 Worlds has everything you'd want from a big event: Container accommodations, spectator boats, live race coverage on the SAP youtube channel,  and the event website is a great source of information.  So far, all that's missing is the wind. Like Outkast so wisely said, "You can plan a pretty picnic, but you can't predict the weather."  The next few days are looking better with breeze coming in for the final days.
Seldén Mast has been on site all week in support. Their "Alto" 505 mast has won about everything there is to win in the 5-Oh class and they're raffling a brand new one this week. This Alto is from their new "XPS" aluminum alloy, which is harder, stronger. better against corrosion, and can take more bend without a permanent set – ideal in a dinghy mast. You can jump in the raffle at the link below.
From the SAP 2017 International 5O5 World Championship event:
Dear Competitors,
Our Partners at Selden are going to run a raffle for their brand new Alto Mast Section.  Each ticket is $1.00, 6 tickets for $5.00, or 12 for $10 to be entered and randomly drawn for this great prize.  We will announce the winner at the closing ceremony on Friday.  Selden has also agreed to generously donate all proceeds to the Olivia Constants Foundation (link).  The Olivia Constants Foundation was founded in honor of Olivia Constants, a talented young 14 year old whose life was taken away on June 23, 2011 in a tragic sailing accident. Olivia lived her life with such joy and has impacted so many people that we have been encouraged to continue her legacy through this foundation.  The Foundation is run by Steve Constants a longtime member and leader at SSA.
You can buy as many raffle tickets as you like to maximize your chances of winning this great prize!
To buy your tickets please use this Paypal link.
And if you don't know about the 505, now ya know, Sailor.
September 28th, 2017 by admin
A quick correction to Snapper's awesome report from the 6m Worlds, thanks to a Facebook reader: You wrote :"Fridolin's keel lead was used by the Russians in WW2 for bullets". This needs to be straightened out, it was the other way around – not used by the Russians but used against the Russians. Many fine Finnish yachts lost their keels during the WW2,  as their owners donated the keels to the Finnish army to be used as bullets. Many boats sailed with concrete or iron keels for decades before being refitted.
With the third Ukrainian weapon depot in a year blowing up mysteriously yesterday and the country still fighting to hold its borders against a newly adventurous Russia, we figured the Finns wouldn't want anyone to forget their own battle against illegal Russian expansionism, and the fierce fighting of WW2 enabled by Finnish resolve and thousands of lead keels.
Photo from this 6m Class post.
September 28th, 2017 by admin
With only one race firing off before the Mistral shut down yesterday, the J/70 Worlds in Sardinia has been a frustrating look at too much breeze and not enough.  It doesn't seem to be bothering Peter Duncan though – his main competition had deep results in the finicky race on Friday, and his Relative Obscurity – crewed by Victor Diaz, Creature Van Waay, and Jud Smith – has a ten point lead going into the final two or three races.
As long as they get two in before the wind dies off, one throwout will make its presence known, and with 81 boats in both Gold and Silver fleets, a hero can become a zero in one mark rounding.  Still if Duncan can hang on, that'll make 3 out of 4 existing world champions all coming from the US of A – something the Italians won't be happy about at all.
Watch it all live – from the boat with commentary from Clean on the J/70 Italian Class Page, and from the air with Zerogradinord's drone over here.
September 15th, 2017 by admin
We believe that hell may have actually frozen over a few hours ago.
We're not sure how else to explain the fact that of the seven teams just thrown out of the J/70 World Championship for measurement violations – in Italy – five are Italian!  Organizers even have the support of the J/70 Italian Class despite the stature of the excluded owners, which includes the current Alcatel J/70 Cup champion and several top teams.   It's a sign that the folks running the J/70 are taking their little boat as seriously as they have long needed to, given how prominent and huge the class has become since their first Worlds barely 3 years ago.
As past competitors in the Class, we're not surprised to see the hammer finally drop on some of the over-the-top mods that have been creeping in since the get go, but we are definitely surprised and quite impressed to see it happen in a place that's notorious for 'turbo" Italian one-design entries that get away with it (anyone remember the Melges 24 bulb with chines or the Farr 40 that floated 2″ high of her lines? We do).  We're also not saying that the DSQ'd boats are full of outright cheaters rather than opportunists taking advantage of Class Measurement guidelines and tools that were less than precise, but the hammer doesn't care what the nail looks like, as long as it is a nail. Those rules and tools have now been tightened up, which should mean fairer racing for everyone in this huge fleet.  Bravo, J/70 Class admins and measurers, and bravo, Italia!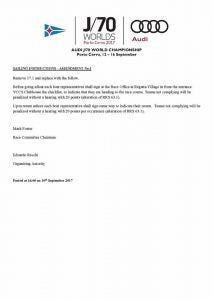 Anyway, the official notice is on your left.  From Italy, the DSQ'd boats are Achille Onorato's Mascalzone Latino Jr (Francesco Bruni, tactician), Allesandro Molla's Viva (Nicollo Bianchi, tactician), Marco Salvi's Vertigo (from Porto Cervo, the event host, with Charlie Mckee, Tactician!), Claudio Dutto's Asante Sana, prior Worlds podium finisher Carlo Alberini's Calvi Network (Branco Brcin, tactician), Mauro Mocchegiani's Rush Diletta (Matteo Ivaldi, tactician), and the Alex Semenov's Russian-owned New Territories (tactics by Portuguese J/80 and SB20 World Champion Hugo Rocha).  We're not sure whether this makes those pros more marketable or less marketable, but you might want to double check their work the next time they say 'it's legal, don't worry' before your big regatta!
Is this another case of pro sailors ruining a class, or does this kind of thing only happen when Classes slack on their measurement controls?  And is the J/70 Class's action signs of great governance to come?  We'll find out when SA brings our coverage to the J/70 Worlds on Wednesday (if the Mistral has shut down by then, that is!) . Until then, there's of course a thread…
September 11th, 2017 by admin
Clean Report 
The most democratic of big one-design racing fleets gets underway tomorrow in Porto Cervo, just days after the most exclusive racers in the world go home.  And unlike the Maxis, you can't just buy your championship with champagne and briefcases full of cash – not that some J/70 owners aren't trying!  In fact a number of top boats failed to measure in during the Worlds measurement.  It's nothing new for a J/70 Worlds, as there has been nasty chatter, cheaters called out, protests, and even measurement DSQs at every J/70 Worlds (who can forget the famous Greenwald carbon rudder in Newport?).  Never has it been at an event this big – at least not since the J/24 days and the infamous keels of a certain RI family…
With an astounding 175 boats from 24 countries on the entry list, the measurement issues at the YCCS are extreme, according to Italian sailing blog Adesso Vela, which writes that [paraphrased/translated] "almost no one will tell you about dozens of boats who disappeared after they found out boats were being failed at measurement, while others are replacing their keels completely in order to race at Worlds."
We dig the response of the Italian J/70 Class, which is not the organizer of Worlds but sure does seem pissed off about the cheaters.  And those cheaters may just include a past World Champion or two, some Olympians, and at least one of Italy's most illustrious yachting families…
September 11th, 2017 by admin
It's all up for grabs on the final day of the 2017 49er Worlds, and for the men at least, its the first time in ten years that anyone not named Burling, Martinez, or Outerridge will be crowned master of the men's skiff.  Plenty of breeze for the four men's gold fleet races, and if we don't get another afternoon gale, the medal races for the men and women will be a sight to behold.
Watch it all unfold above, and be sure to check out Clean's dock walk a few minutes ago for the forecast, format, and a look at the fleet launching.
September 2nd, 2017 by admin
With safety and reliability sorries skyrocketing after Bora's injury and the Nacra 17 bearing issues still fresh in World Sailing's mind, the sport's governing body, under pressure from the IOC, has pulled the foiling cat from the market and replaced it with Julian Bethwaite's long-awaited full foiling 49er.  Seen here testing under the able hands of Kiwi 49erers Isaac McHardie and Bill McKenzie, the boat has a simple and robust flapped t-foil daggerboard and twist-grip rudder, and it's already reached speeds  20% higher than any 49er in history.
When asked if it was maybe a little late to introduce a new foiling class for Tokyo 2020, World Sailing President Kim Andersen was nonplussed.  "We did it before, we can do it again!"
YES, WE'RE KIDDING. Happy September Fool's Day. 
Ricardo Pinto photo of the dogs-off-chains conditions at the 49er Worlds with a big ass gallery over here. Watch the full replay from Big Day 4 hosted by Mr. Clean over on Youtube, and stay tuned right here on the front page for today's still breezy action beginning at 1030 local time/1130 CET and running til they're done.
September 1st, 2017 by admin
Two days of 49er and FX Worlds gone with zero racing, but at least there are piles of gorgeous racer chicks around to talk to!  Here's a half hour of Clean's Adidas Morning Show – first with super hot European champs Tina Lutz and Sani Beucke, then a chat with the entire 6-woman strong Dutch FX squad, and finally a preview of the top sailors by Class Manager and Beijing Olympian Ben Remocker.  And it's all shot right in front of one of the most famous Olympic boats of all time: Rodney Pattison's three-medal winning Flying Dutchman Supercalifragilisticexpialidocious – which he named to annoy the press.
Three days of fully livestreamed action are coming your way from Porto starting tomorrow…wind or no wind.  It might end up being a surfing competition instead of sailing….
More Clean interviews, pics from Ricardo Pinto and Maria Muina, and contests at the 49er Facebook Page.
August 30th, 2017 by admin