Posts Tagged 'World Championship'
This is NOT some high-end riggers supply drawer.  It's not the remains of four skiffs crashing into each other, either.  Nope – it's the meat in the middle of the modern Mach 2 Moth – the junction between flight and control.  With canting rigs added to the already silly amount of controls on the world's fastest dinghy, racing a Moth at the top end is tougher than it's ever been.  Meanwhile, racing around the bay is easier than ever, thanks to the same advancements that are helping the front of the fleet, like Zack Maxam, from whom we stole this shot.
With just under 160 entries, the 2015 Worlds are set to be not only the biggest ever, but the deepest as well.  And we'll be there to bring you every minute of it live.  Shhhhhh!  Don't tell anyone, but make sure you can stay up late for a few days in the middle of January…
December 11th, 2014 by admin
A dozen naked body-painted dancers, mermaids, and sailor-outfitted hostesses, a full steel drum band, a junior sailing auction, and every single crew partying their collective asses off despite the final race of the Melges 32 Worlds starting the next morning signals a return to the lighthearted party days that helped it become the top grand prix class in the sport.  It's a good sign for the future of a boat that still owns the niche, and with 125 boats out there in the world and rumors of a new World Tour floating around, keep your eyes out for a resurgence.
Today's racing highlight reel features some of the most intense action yet from the 2014 Melges 32 World Championship, produced by videostylist Petey Crawford and Penalty Box Productions.
Patience was the key for every team that held it together on this long, 3-race day, and with one final race remaining, reigning World Champion Jason Carroll (ARGO) leads Edoardo Lupi (Torpyone) by four points with all other competitors out of the running for the title. The final podium position is completely up for grabs, with 5 teams vying for the all-important bronze.
The final race will fire off at noon, local time on Sunday, and the 2014 Champion will be crowned an hour later. Follow Clean's live commentated video on the Facebook Page.
December 7th, 2014 by admin
The offset leg was a three-lane highway  at times during Day One of the 2014 Melges 32 World Championship, with the Japanese/Spanish Mama Aiuto! taking the early lead.  Pierre Casirighi – taking over the helm for injured eccentric driver Roberto Grinover – caught a bullet and will receive average points through Saturday for Race 2.  Want to hear how a Race Officer should handle himself in an OCS/Redress?  Listen to Anderson Reggio over here for how it's done by the world's best.
John Kilroy's Samba Pa Ti could barely have started their world title bid worse, grabbing a DSQ after a top mark incident with the DeVos teams Delta and Volpe.  Go here for the full news story, and get over to Facebook to see near real time videos of every race, tons more photos like this Carlo Borlenghi shot above, and plenty more.
Stop, collaborate, and listen to the title inspiration here.
December 4th, 2014 by admin
You might get sick of all of our Melges 32 coverage this week, but let's be honest: It looks like five days of awesomeness in South Beach, and what else do you have to do?  Peter Crawford gives you some Pre-Worlds action along with a preview of some of the teams.
Get over to Facebook to follow the racing in real time.
December 3rd, 2014 by admin
The Farr 40 Worlds pulled together its best fleet in half a decade for this week's action in San Fran, and after 3 races, Alex Roepers' three bullets is obviously crushing it.  Roepers' Plenty benefits from taking nearly most of the now-defunct Barking Mad crew – including Hutch, Trubie, and Skip B – the wide variety of skill levels in the rest of the fleet make the 2014 title a bit of a foregone conclusion for the 4-time (we think) F40 World Champ tactico Hutch.  Meanwhile, Hutch's perennial helm and boss Jim Richardson (whose divorce scattered the multi-boat Barking Mad program to the wind)  quietly stepped in to charter Lang Walker's Kokomo after a business distraction pulled Walker away – he lies in eighth with an all Oz crew after a day of light to moderate San Fran autumn breeze.
For those of you who like to talk about how amateurs are just as good as pros, have a close look at the results; not a single non-pro team is ahead of any of the pro teams (and F40 rules mean just 4 pros are allowed aboard), but if trends continue apace, next year should see the first Worlds in a decade with more amateur than professional teams.
As usual, despite Rolex feeding the Class with six-figure sponsorship dollars every year, the best coverage ain't coming from them; instead, there's a sweet high-res photo stream here and a really nice Livestream video feed from Mauro and Janna at Zerogradinord who've been brought over by the Enfant Terrible team.
October 16th, 2014 by admin
Rossi Milev's final report from last week's J/24 Worlds has reappeared from the hole it fell down, and here it is. Congrats to Rossi and the team on a solid 7th place, and a big thanks to all of them for contributing to 6 great reports from yet another strong J/24 WC.  Also a big congrats to winner Will Welles and his crew on their first J/24 Worlds victory, especially long time Anarchist and contributor Luke Lawrence, who becomes one of the year's super successful one-design sailors.  Luke adds the Worlds to a list of diverse overall wins including the Bacardi Cup (Viper), Charleston Race Week (Viper), Celebrity Pro-Am Nantucket (IOD), J/24 Nationals, and the Medal Race in the Finns at the Miami OCR, as well as 6th in the J/70 Worlds and 15th at the Jaguar Cup. Here's the report from our favorite Canadian Bulgarian.  Vote on your favorite photo from J/24 Worlds at the Class Facebook page.
Brad Read made the call at 830 AM – it's the Worlds, and that means we're going out to the ocean again.  And what an EPIC day it was!  Very windy on the way to the course, and we were thinking the jib was the call again.  Waves were 90 degrees to the wind and looked a lot like day one, but the wind was from the NNE.  I wished it was day one and I could start this regatta over again from the beginning…
We had a nice 30-minute tune up with Will, with our boat finally moving really well upwind.  We'd moved the mast butt forward a bit to get less forestay sag, and the boat felt lit up. It's always amazing when you find the sweet spot with the tune just right, and the boat just transforms herself into something beautiful.  Maybe she is called a 'she' for a reason!
In Race One, we again had a solid start just under the midline boat, burning boats off our hip until we looked good again.  The breeze was dying a bit since we tuned up and the shifts becoming bigger and more unpredictable.  We tack to port and look launched – until the next righty came in again and we can't cross.  A few more tacks back to the left and we've gotta win our side.  Some things never change.
A very tight fleet at the top with Mollicone rounding ahead by a length or two over Will, with Tar Heel following.  We rounded fifth, and with good right shifts on the downwind it was a drag race to the mark and the new course change.  Not much changed for the rest of the race, with the order at the finish mostly matching the order at that first rounding.  With Mauricio Santa Cruz out of the top ten, it was now a three boat regatta – not gonna be a lot of match racing in the last race!
As we grabbed another good start – five in a row now – I found myself wishing again that the regatta started on Monday.  We went straight again, looking good and playing the left, though the leg repeated the first race; right with more pressure and left shifts short but strong, making you put the bow just high enough to clear the waves and grab the lift.  Climbing up the ladder was tricky.
Mauricio was very patient on the left, surviving to round on Chile's Matias Seguel stern.  Welles in third again, and we were top ten.  With Helly Hanson in the twenties and not a lot of passing lanes, the race between Will and Mauricio was on – but the boats behind suffered in few-to-no-gybe drag race.  A big left shift on the second upwind inverted the fleet, and some corner bangers made huge gains on the left; we went middle right and lost twenty boats.  Not the way we wanted to finish!
On the other hand, we were overjoyed for our long time friend and tuning partner Will Welles and his crew for fighting right to the end and winning a title that's eluded Will for decades.  Well done, guys.
The awards ceremony was a class act and a great finishing touch to a Worlds that celebrated the 35th anniversary of the first one.  Can you imagine predicting that the J/24 would still provide some of the world's best keelboat racing a third of a century after its first Worlds?
Feel free to question that by coming to Germany next year and trying to win.  If you do, your name will be in some great company.
A huge thanks to Lavalife.com, Sailing Anarchy, and DryUV for their support of our Toronto-based team, which included Trimmer Chris Ball, Mast Mike McKeon, Bow Whitney Prossner and Tactician Chris Snow.  We hope you enjoyed our stories.
October 6th, 2014 by admin
While our good friend Rossi and the Clear Air/Lavalife/Sailing Anarchy team didn't win the J/24 Worlds, they sailed a strong top-ten regatta while writing daily reports for all you J/24 fans, and we're damned proud of them.  Here's the report from the penultimate day of the event – come back tomorrow for the final report. Paul Todd photo and some huge galleries to browse from Worlds at this link.  
Day Four
The RC made a good call racing us inside the Bay, North of the Newport bridge, with wind forecast to increase to upper teens gusting in the twenties – too rough for the RC to anchor outside (and here is a good time to thank all the volunteers  on and off the water – without you, we can't race so thanks!).  The bay is plenty big and made for a good tricky race course for 70+ boats.  The local guys maybe had a small advantage, but conditions were very tricky for everyone.
We had a good start and headed to the left shore with Will Welles, Hillman, and Tony Parker  just to leeward.  It looked like our side was favoured and we could tack and cross the fleet but we were convinced the left was the way to go and did not want to give that up. Well, a 20 degree right shift came in half the way up the beat and we went from wining to salvage mode in a hurry.  We took many transoms to make it to the right and rounded the mark in the 40s or 50s.  On the other hand, team HH and few others that I could not even see were well ahead of the fleet.
We gybed on the mark and few more righties helped us pass a pack of boats that went straight. Rounded the bottom mark in the mid 20s, finally a small break for Clear Air!  A few more breaks came our way on the upwind, and we passed a few more to finish 14th.   Again out of the top ten but we were happy about decent recovery.  A few boats got stuck on the left and could not get out – one of them was regatta leader Will Welles, making life harder for his team with a 46.
Race 2  gave us another good start on the boat, feeling good until the boats that started in the middle tacked and were crossing.  We tack to leeward and head back to the right, favored all day.  We tack back short of layline, anticipating it to be very busy place.  That worked out very well for us and a small left shift at the top put us in fifth around the mark.  Has our luck changed?
Motorhome with local fleet fifty sailor and past world champion Jens Hookanson calling the shots rounded the mark first with a small lead, with Will behind and Mauricio just behind him. Will and Mauricio started fighting (they had been 1-2 for most of the week) and that opened up some space for us to sail our own race. Mauricio managed to get inside at the bottom mark and passed Will, while we went to the right gate and once again, a shift came our way and we were gone from the fleet. Motorhome won the race comfortably, while the Japanese boat Gekko passed us to get second.  Behind us the fight was on; Mauricio ,Will, and Hillman finished overlapped at the finish line and Mauricio got the all-important two points on Will.
Racing on the bay felt much more like the lake conditions we know so well.  Check back tomorrow for the final day's report!
September 30th, 2014 by admin
It wouldn't be a J/24 Worlds without controversy, with Helly Hanson and several other top teams getting redress/AVG for their black flag DSQs while others didn't after a marathon multi-day protest bonanza.  Check the thread over here for protest forms and jury decisions, and thanks to Paul Todd/Outside Images for the great shots with a massive Day 3 gallery here.
We had an on-time start on Wednesday for three scheduled races thanks to an unpredictable forecast for Thursday.  Another gorgeous Newport fall day on the ocean course, with wind at 75 true on the way out and 90 soon after passing R4.  12 knots with trending right breeze and the RC again had a hard time lining the three-boat startline up.  Around 1230 we went off with a few U flags awarded.  I have no idea what a U flag is but I'm happy we didn't have to learn it.
We again had to tack to port and duck a couple of boats, but within a few minutes of the start we were going to the right with a great lane and following our game plan.  We got a nice right shift, tacking over together with Helly Hanson and Will Welles.  It looked great under the boom (though I'm no longer allowed to look under the boom) until only one boat crossed…and tacked on our lane.  Two tacks and a new layline was expensive, and we lost out to everyone leeward who didn't need to tack.  And of course the left came in strong at the final approach.  And of course, we round in about 10th – again!
I don't understand why gybing immediately at the offset under this big fleet has been working consistently but Mauricio won the race doing the same thing and HH got into second.  Travis Odenbach had a great race to take 3rd; we stayed only long enough to clear the fleet and then gybed, but it was too late – we lost ten boats in that one and had to play catch up again.  17th place.
The second race started in a bit less breeze and we were happy to have eased the rig at the last minute.  Best start of the regatta for Clear Air, a neat split in the fleet, and we got to go straight for the longest we have all week.  We worked the left and looked great until the right shift came back, and the port side caved.  Travis had it right again and led around the mark with Welles second, with the rest mixed up.  We rounded in…wait for it…tenth again.  Not bad for being on the wrong side, but most amazingly, the leaders from both sides converged at the weather mark bow to bow in both races!
The one time gybing on the mark didn't pay, and the boats that stayed on starboard had a nice lead at the bottom mark.  Some passed us.  It is time for us to get a break!
The wind kept tracking right and the second and third upwind was pretty one-sided, Odenbach again played the right and won by a good distance over Alejo from Argentina and Mike Ingaham.  Will now has a nice little lead cushion against Muauricio in second.   Team Tarheel consistently strong and comfortably in third.  I have not seen this many letters on a scoring sheet before.  Many boats are dropping DSQ/BFDs (or U flags) and scoring penalties; forecast is changing fast from light to windy with gusts into the 20s for Friday.  Stay tuned for more action from the course.
Huge thanks to Lavalife.com, Sailing Anarchy, and DryUV for their support in our quest, and an even bigger thanks to our hosts Adrian and Matthew Buechner and the many families in Newport that embrace sailing and have put J24 teams in their houses.  You have made the Worlds experience possible for many sailors.
Rossi
CAN 5483
September 25th, 2014 by admin
Rossi checks back in for a Day 2 report from the J/24 Worlds.  Full results here, more great Paul Todd/OutsideImages shots over here, and some real time coverage at the J/24 Facebook Page here.
After two hours of postponement for Day Two, we were off the dock at 11 – the best call the RC made all day!  By the time we got out on the ocean, the Newport sea breeze was building nicely.  We waited for a short little postponement on the water while the wind shifted between 200 and 230. Waves were much smaller if any factor at all.
The RC had a tough time holding the three-boat line on station, with one end always favored; Race Three for the championship hit a few General Recall snags; finally, a Black Flag start sent the fleet off with a handful picking up BFDs.  I again screwed the start up, and we were hosed – tacking to port to salvage.  Halfway up the beat I second-guessed my tactician Chris Snow and made him go hard right; that was expensive at the top mark when the left came in hard on our approach.  Oops.
Carter White led the race at the mark with Mike Ingaham in second or third; I lost track after that looking for a place to dig into the starboard tack train.  After an average downwind and a great second beat – we tacked maybe 6 times on that shortened leg but still somehow passed a few boats – we finished 14th.  We'll take that, and move on.
Race two was a messier story for many; after two general recalls and around ten boats getting the BFD boot off the line, we took a seventh in the last race and moved up to the top ten.  Team Tarheel won the day and is looking solid now, while Tony Parker is on the move.  Will Welles is looking untouchable and Mauricio may be the only one with a shot at him, but it's still early days and the throwout comes in after today's first race.
A number of top competitors – including Day One leader Mark Hillman's boat and the Helly Hanson team- were still in the protest room at 10 PM.  Not sure how they can get rid of the BFD but you never know what happens in the room.
With the lighter northerly breeze forecasted for the next few days the dogfight is on, and will be a good one until the last leg on the last race. Things are just warming up here in Newport.
Rossi Milev,  CAN 5483 Clear Air/Lavalife.com/Sailing Anarchy
September 24th, 2014 by admin
Clean Report
The B-Squared Racing/Sailing Anarchy J/70 nestles into her mobile 34-foot barn as the inaugural J/70 Worlds ends, along with any notion I had of being a world-class tactician.  The team of Brian Elliott, Bryan Cameron, Whitney Prossner and me managed a 33rd out of 86 boats and 6th of 38 amateur teams.  I'm still licking my wounds as I head north along the Maine coast to check out the new VPLP 100′ canter Comanche at Hodgdon Yachts today, and when I can find some time tonight or tomorrow along the highway back to Detroit, I'll get my full regatta download online for you to read.  The first J/70 Worlds had a bit of everything, and I'm damned glad I made it, even if I left unsatisfied on a number of fronts – especially my own performance.
Read the full event press release here in the meantime.
September 15th, 2014 by admin
We are frequently frustrated by the low-quality videos put out by ostensibly 'world-class' organizations (see the link in the BBS BS story below for a great example), so when someone does it 'just right', we notice.  And that's what this is – a short but intense look at the people of the Melges 20 Class from their recent Lake Garda Worlds.  Doesn't it make you want some?
September 15th, 2014 by admin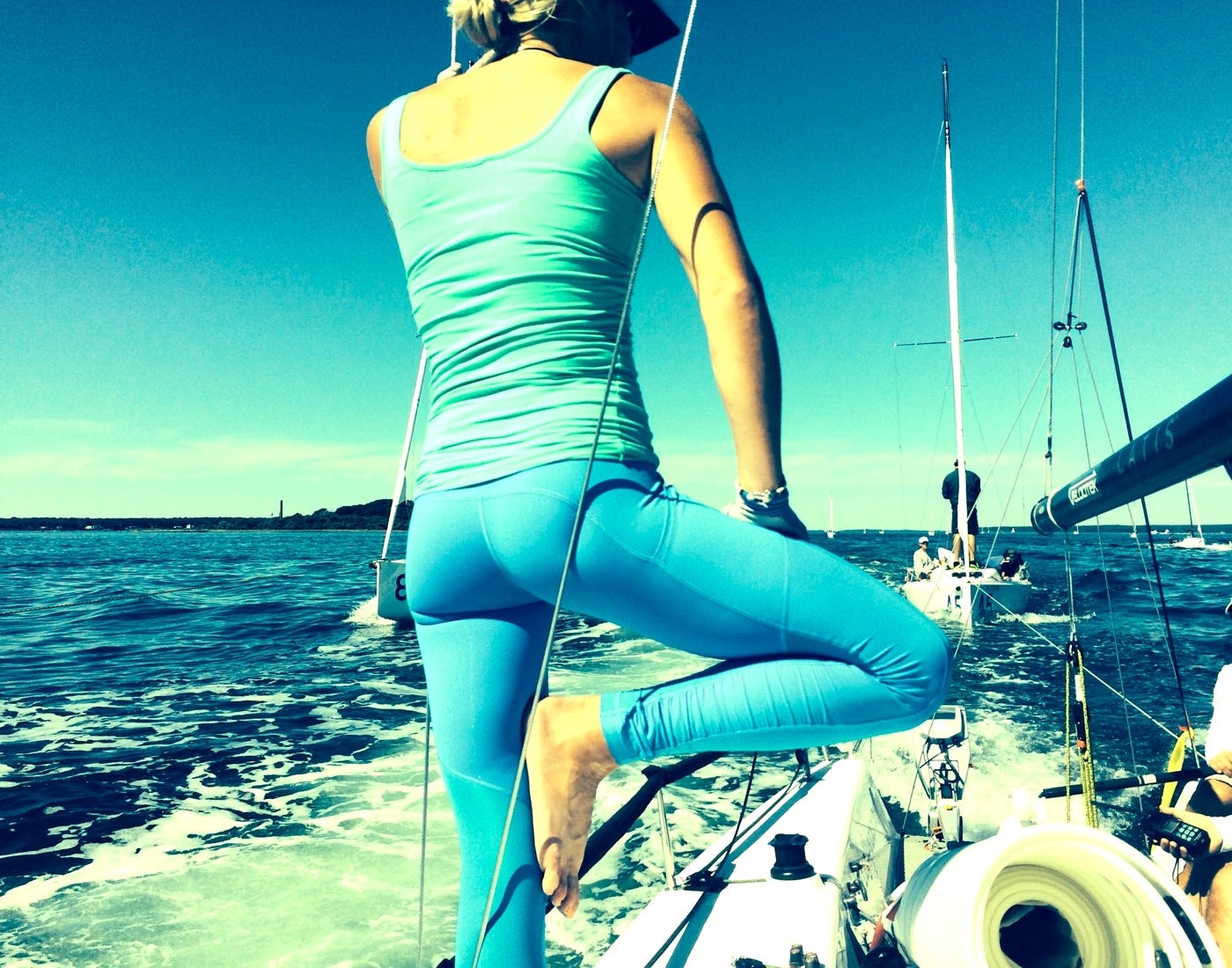 Like a Ferrari 250 GTO or an original M3, nothing will ever quite approach the perfection of the original SA Tensiometer c. 2006, but B-Squared bowchick Whitney Prossner comes pretty close.  This one shot at the end of the penultimate race day of the J/70 Worlds, where Clean once again proved he should be trimming instead of calling tactics, and Tim Healy is walking away from the fleet, while longtime SA friend Marty Kullman (first Quantum boat) is knocking on the podium door with two more races likely on the final day.
Look for the full story of the regatta – including an update on the rudder issue, a few words on the future of the class, and our customarily comprehensive analysis of the good, the great, the bad, and the ugly for the first Worlds in the world's hottest one-design class.
September 13th, 2014 by admin
Clean Report
After two days of qualifiers, we've downgraded our expectations at the J/70 Worlds from top ten to top 25, and we're not even sure that's enough!  My tactical shortcomings have become obvious, as has the absolutely ridiculous level of competition we're up against.  We take some solace that we are well ahead of all sorts of world champions and olympic talent, but we'll keep grinding on the B-Squared so keep an eye out for us.
We'll be trying to hurt the livers of some of our competitors tonight with beer provided by Torqeedo motors and rum, vodka, hot dogs and burgers and a couple of t-shirt giveaways sponsored by Eelsnot hull coatings and Sailing Anarchy.  If you're in the Newport Area, come by the big red trailer in the Fort Adams parking lot and share a drink and a story or two.  6′o clock or earlier depending on the racing.
As for "ruddergate" – we heard there is a protest, even though the rudder was not used during a race.  Stay tuned.
Results here.  More great Paul Todd pics here.
September 11th, 2014 by admin
The final race for the second Melges 20 World Championship went off during Garda's crisp, beautiful northerly morning wind with John Kilroy, Paul Goodison, and Jeff Reynolds taking the easy bullet and the title; after winning M32 Worlds in San Francisco a couple years ago, Kilroy now owns two Melges Worlds titles in the builder's only two amateur owner/driver classes…we can only imagine what's next in the owner/driver bucket list for JK.  Meanwhile, four nations in the top four spots is a great indicator of this classs's international strength, though the Italians can't like being smacked down on their home turf.  Hey – there's always next year!  Watch the full awards show here, and scroll down on the Livestream Page to check out the racing as it happened; apparently (at least from their numbers), they forgot to tell anyone they were live streaming the racing.  There's also an 11-minute video over here from the Riva Sailing Club, but we haven't watched it because our attention span is max 4 minutes.
Above is another fab Stefano Gattini shot – the galleries from this event have been some of the most beautiful we've ever seen, so check them out here.  Thanks to Melges Europe and Studio Borlenghi for the exclusive coverage this week;  According to the sailors we spoke to, "This is how a World Championship should always be."
August 30th, 2014 by admin
With six races down and one throwout already counted, John Kilroy along with pro trimmer Jeff Reynolds and UK Olympic golden boy Paul Goodison is walking away with the second-ever Audi Melges 20 World title.  Meanwhile, Monaco's Guido Miani won the breezy day yesterday with a 1,3,1 and sits tied with Italian standout Fremita D'Arja, both 14 points behind Kilroy.  The Kilroy nipper continues to excel, though he's dropped back to sixth, while Aussie gold medalist Mal Page has helped young Achille Onorato climb back up to fourth…three more days of action ahead and get over to Facebook to watch it all unfold.  Yesterday's photo gallery is here.
August 29th, 2014 by admin
Big Pimpin'
We welcome our friends from the Melges 20 Class back to Sailing Anarchy, stepping up to make sure the biggest community of sailing freaks anywhere has complete coverage of one of the summer's most exciting regattas; it's the Melges 20 World Championship in the most exciting sailing town anywhere: Riva Del Garda in mountainous Trentino.  This piece of sailing paradise at the north end of the famous lake is loaded with big breeze, awesome views, and some of the best food in the region, and if you've ever been here, you know why 57 boats from 10 countries are on the entry list: Because it's Garda.  Those who haven't need to revise their bucket list, because for small boat racing, there is nowhere else like it.
Just under 60 boats are making the trip, including some great unfolding stories: Father against a very young son in the Samba Pa Ti boats, John Taylor trying to defend his title in a massively tough fleet, the young Onorato looking to see his name up in lights, the burgeoning Russians on Synergy due for a big win, and a strong US fleet up against the best that Italy can offer – on their home turf.
We think Taylor will have his work cut out for him, though we think a US Team is likely to take this one…but considering the ridiculous level of Olympic/Cup/World Champ talent spread throughout the owner/driver fleet, there are probably ten boats that could take the trophy.  Thumb through the crew list to see what we're talking about.  we're not going to list them here, but a quick look through the crew list will tell you what you need to know.
Racing begins Wednesday, and we'll preview the fleet that morning.  The best place for our exclusive reports is right here on the Front Page, while the daily action will unfold on the M20 Facebook Page here.  Zerogradinord photo.
August 25th, 2014 by admin
Thanks to an entire crew of AC superstars, Luna Rossa Challenge principal Patrizio Bertelli embarrassed the Puig 12-Metre Worlds fleet last week in Barcelona in his beautiful Nyala, taking bullets in 5 of 7 races he sailed.  That's not really news (though this gorgeous photo from Martinez Studio might be), but certainly newsworthy were LRC Director Max Sirena's comments about Team Australia's challenguss interruptus, as translated by SA'er 'Xlot' in the "Another Incredibly Bad AUS Challenge' thread:
Max Sirena got to Barcelona for the 12M Worlds (won by PB's Nyala, btw) straight from LA where last Sunday a meeting was held with representatives of challengers and defender for the next Cup. – Were you informed in LA about the Australians' decision to withdraw from the competition? Sirena: Absolutely not. This came out of the blue for all of us". – When will the next CoR be selected?: "Formally, it should be the first one who challenged. For the time being it's just us and Artemis". – Does this mean LR is aiming for that role? "I'm not a candidate, we are sitting on the sidelines. I have already spoken with Russell Coutts and Ben Ainslie and I proposed we should have a videoconference already next Wednesday."

Expectations – "I'm not a pessimist. Already in LA last week I had noted in the defender a certain willingness to negotiate and I believe that this new situation might be exploited to bring about changes, even significant ones concerning the future". Do you mean that even the Venue choice for the event could be rediscussed? The two left (Bermuda and SD) do not convince Sirena: "I'm not ruling that out". For the second time running Coutts got the CoR selection wrong. The Australians, like Mascalzone Latino in the previous event, dropped out before even starting. "This cannot be denied. But like I said I'm an optimist, from this mistake may come positive consequences for all"
July 22nd, 2014 by admin

UPDATE:
For the first time in the 75-year history of the JJ Giltinan, the first day of racing was abandoned after two races were started and sailed in a shifty and dying breeze – watch above for the call.  Monday's lay day will likely become the replacement for the abandoned race day, and we'll have it all live starting at 1430 Sydney time;10:30 PM US EST.  The coverage from yesterday is still damned good, especially for a team that's doing its first fully live stream of 18 footer racing; go here to check out the videos from the day. 
Bob Killick hits us with the race report and the first Pick The Podium winner from a funky practice race on Sydney Harbour.  Register and get your entries in NOW: Just an hour and change left before the deadline!  Racing starts at 11:30 PM on the US East Coast; perfect for you drunken knuckleheads just coming in from the bar.  Or plug the computer into your club's HDMI port and away you go!  Can't watch it live?  Eyes on Facebook and Twitter for the latest updates.
What can I say? yesterday's Invitation Race was a practice race, and at this stage the Livestream gadget is 1 and and we are at 0.  Something about the brain to web interface…in other words, the 'software' that is us.  See, there you go:  The geeks are winning again!
Apparently the live tracking didn't live up either, so 2 for the Geeks and still nought for the Camera Cat boys and girls.  To make matters worse, whilst heading into the Double Bay wharf the Camera Cat and Brett Van Munster's 18 footer Kenwood Rabbitohs came together with a crunch.  Brett was not happy and we certainly should've had eyes on him with so many on the cat, but it could have been a lot worse as it sounded like we had taken his bow off.  Great evidence that Van Munster-built boats are tough [Bret builds the 18 footers and high performance carbon racing yachts at his shop North of Sydney -Ed].
Yesterday's race video will be uploaded asap today, and is a must watch for you more serious players, because of the next two day's weather forecasts.  We noted especially the ability of C Tech NZ, Yamaha NZ, and Mojo Wines' ability to push it to the big rigs – something that shouldn't happen.  Also, the performances of Pica UK and CST Composites USA who look to have the measure of the Sydney boats.  So look at their work when the video goes live and factor that in with the forecasts for today and Sunday before you Pick Your Podium!
So Gotta Love It 7 was a no brainer for most, but Pica UK was not on anyone's radar, and as a result we had a stand alone winner yesterday. Congratulations go to Jimmy Flemming, who was the only entry with two boats in the correct finishing order: 7 in first, and Fisher & Paykel in third, nice job Jimmy! He wins the  Java sunnies from Barz Optics, takes the Bragging Rights for the race AND is our first winner to go into the draw on Sunday 9th for a crack at the best-ever set of major prizes for this JJ competition.  Prize donors listed over here along with the form guide for you P-T-P aficionados, and a big THANKS to them.
Entries close off for today's JJ Race 1 at 1200hrs local Sydney time so get cracking and have a shot…..here's an obvious tip: Just enter Gotta Luv it 7 as your 1st place pick, and at least you will get one right.  Good luck!
-BK
February 28th, 2014 by admin
We promised it to you…and not unexpectedly, the practice race for the 18 Foot Worlds found all the bugs in the live streaming system and shut the live stream down.  Our friends at 18 Footers TV promise us the first points-scoring race will go smoothly and we'll have it right here.
In the meantime, the three "S" boys – Seve, Sammy, and Scotty – crushed it, with the new Gotta Love It Seven looking as strong as pre-race indicators and the form guide said, winning over UK challengers PICA by around a minute and a half.   The full report on the Invitation Race is here, and thanks to Michael Chittenden for the speed shot.  You can get updates from yesterday's action via Facebook, enter the Pick-the-Podium competition here, and check this story for all the links.  If you're having issues with any of it, get over to Twitter and send a message to @18Skiff and they'll get it answered.  Tonight's race coverage will start around 11:30 PM on the US East Coast; that's 3:30 in the afternoon on Saturday in Oz.  Huh?
February 27th, 2014 by admin
Whether you're in the middle of the Southern Summer or like most of us, you're still locked into the hellish landscape of ice and snow that is Winter 2013/14, we have got something extremely special for you beginning this Friday!  After our begging for it for years, the good folks of the 18 Foot Skiff Class have finally bitten the bullet to bring you FULLY LIVE COVERAGE of the entire week-long JJ Giltinan/18 Foot Skiff World Championships, and as their Exclusive Streaming Partner, we'll bring it to you every day, right here on the front page of Sailing Anarchy!
This ain't no stop-and-go stadium sailing surrounded by wind-blocking buildings, either – this is full-speed, full-on racing in beautiful Sydney Harbor at the height of sea breeze season, and if you thought 'Eyedeens" were just for Aussies, you haven't been paying attention: There are an amazing 34 teams from seven countries on the beach, with seriously credible challenges like the ass-hauling boys from the UK's Haier Team in the video above as well as a veritable smorgasbord of America's Cup, Olympians, Extreme 40′ers, Volvo Ocean Racers, and more.  You read that right: 34 of the fastest, flipppingest, launchingest, most acrobatic racing dinghies every created, picking their way through islands, ferries and spectators for the right to be known as the baddest boys (or girls, 'cause they've got them too) in all of dinghy-dom.  They may not be as fast as an AC45 or fly over the waves like a Moth, but let's be frank here: There's just nothing on the water that looks quite as awesome as an 18 Footer caught out with the big rig in a building breeze, careening from wave top to wave top, bows pointed skyward, crews leglocked together and hanging onto a tiny thread of spectra for dear life as they dodge sharks, crocodiles, and satan himself.
The format is simple:  There's just one race each day with a lay day somewhere in the middle, and the first day is the Invitational – a non-points scoring practice race that lets some of the many visitors get to know the Harbour, and lets the streaming video team and RC get up to full speed.  Racing begins at 3 PM daily in Australia except for the two Saturdays, when it starts an hour later, and the live stream will start 30 minutes before that.  Never mind the time conversion – we'll do it for you:  That means that for the next week, each night at 10:30 PM EST (7:30 PST) you'll get a full 2 hours of live action from one of the most colorful and exciting regattas in the entire world, commentated by the hilarious and knowledgeable team of Bob Killick and Mark Heeley along with a stream of guest stars to help along. Here's a little excerpt from 2010, with Killo explaining just what the Invitational is all about, and you can explore the past four years of JJ Giltinan racing videos in the archives here.
We'll have the live player up a couple of hours before each day's start, but in the meantime, now's a good time to register at 18footersTV.com so you can enter the Pick the Podium Competition, where the sponsors are giving away a bad-ass retro bar fridge worth literally thousands of dollars and shipped to whoever wins it regardless of your nationality, cases full of high-performance Barz sunglasses, and more; there's no cost to enter and each day you simply enter your three podium picks to be eligible for each day's prize.  Will Seve Jarvin defend his title and tie the all-time wins total of the legendary Iain "Big Fella" Murray?  We certainly don't know, but it will sure be fun to find out, and you might as well win some swag while you're at it.
Run over to the 18 footers Twitter page if you can't get to a real screen, and check into Facebook for a constant stream of info, including some soon-to-be-released shots of some of Sydney's most beautiful sailor chicks that you'll have to see to believe.
This event really does have it all, and we can't wait.
February 27th, 2014 by admin