Posts Tagged 'World Championship'
Long before she was the CYC's head of Comms, sailing cheerleader Morgan Kinney was sharing her passion with the Anarchists.  She continues with this great story from last weekend's Chicago Yacht Club hosted IFDS Blind Sailing World & International Championship, presented by Wintrust. Here's her report, with gorgeous shots from Zachary James Johnston, with more here.
Fourteen teams from as far as New Zealand came to town for four days of racing in hopes of winning the Squadron Cup for their country and being crowned the new World Champion. Each boat had visually-impaired skippers and main trimmers, and two sighted crew – one tactician and one jib trimmer. Teams were then divided into three classes dependent on the extent of their vision loss, ranging from completely blind (Blind 1) to legally unable to drive (Blind 3).
In true Chicago fashion, the fall weather was completely unpredictable and two days of racing were canceled due to no wind, storms, high winds and higher waves.
After no wind and looming storms canceled racing on Thursday, Friday's course featured 22 knots of wind and six foot waves. Teams raced four to five races in their respective sections while I sat in awe, getting soaked onboard my 12′ photo boat. All I could think was how tough it was to just chase these yachts around the course; in the meantime, they were expertly sailing over, around, and through the huge waves. "It's a lot about the feel of picking the bow up and knowing how to drive to that," explained 2013 Blind Sailing Champion Lucy Hodges (GBR). "Downwind was a huge amount of fun. If you caught the wave just right and come off the top, you were surfing down to the finish."
Dave Allerton (NZL), remarked, "That piece of sea out there is more than just a lake – you could fit the whole country of New Zealand in there." When fellow Kiwi skipper, Russell Lowry heard that Saturday's wind and waves were supposed to be heavier and higher, he declared, "Bring it on, Chicago!"
And that, the Windy City did… Eight foot waves and 30 knots of breeze from the northeast squashed all hopes of another big day of racing.
With only one day left in the competition, the pressure was on the Chicago Yacht Club Race Committee to make up for the two days lost. With calmed seas and a rotating breeze, RC started firing off races one after another until a fourth race was started and promptly abandoned due to a sudden 90 degree wind shift. As boats reached back to the start line, our watches read 1:15 P.M., and we were looking at a 2:00 P.M. cutoff. Race Committee attempted to save the race and run one more, but the wind had died.
Duane Farrar (USA) was crowned the 2015 Blind Sailing World Champion. It wasn't easy for Farrar, though, as Canadian David Brown was giving the American a run for his money. "The Canadians were very competitive, and we started the day in a virtual tie with them. Before we got enough races for a drop, we were just about a point apart," said Farrar. "We  smoked the fleet in what turned out to be the last race of the day. We really needed that race to solidify our position."
Despite earning top slot in two out of three classes, the US lost the Squadron Cup to Team GBR. This is the fourth time that Great Britain has won the Cup in 18 years. Hodges, who was on the team the last time they won in Japan, said, "It was a very close running this time around – USA put on a really great performance. It will be great to take this Cup to Houston for the next running of the Cup in 2017."
September 17th, 2015 by admin
The Melges 32 Class rebounds to a 22-boat fleet - deep as hell – for their 2015 Worlds this coming week.  Longtime SA'er and pro trimmer Sam Rogers reports from Trapani:
Together with Audi-Tron, Torqeedo and Melges Europe, the 7th Edition of the Melges 32 World Championship welcomes 22 fiercely competitive teams to the heart of the Mediterranean in Trapani, Sicicly.  Flanked by an arid backdrop with mountains jutting out from the sea, and crystal blue waters providing an idyllic race course, Trapani truly is a 'bucket list' venue and the perfect battlground for the 5th stop on the Audi-Tron Sailing Series, and the highly prestigious Melges 32 World Championship.
Although not the largest Melges 32 World Championship fleet, the 2015 edition is arguably the deepest with a roster boasting the world's best helmsmen, amateur and professional sailors.  With 3 different winners at the previous 4 stops on the 2015 Audi-Tron Series, picking a winner for the worlds is an arduous task.  A team from the US could be a popular option as the 'Stars and Stripes' have claimed 5 of 6 World titles thus far, but with several crafty, world-class Italian tacticians at home on Mediterranean waters, it is truly anyone's title to grab.
Looming large on the minds of the fleet is the presence of the current World Champ and first-ever back-to-back Melges 32 title holder Jason Carroll's ARGO, with Cameron Appleton calling tactics. Securing titles in Porto Rotundo in 2013 and Miami last year, Jason and the Argonauts have returned to Italy with one mission in mind; to become the most dominant Melges 32 team in the history of the class.
Trying to slow down the force from USA are several well seasoned teams including ROBERTISSIMA helmed by Roberto Tomasini Grinover with the wiley Vasco Vascotto on tactics.  Claiming the European Championship earlier this season, Robertissimo is looking to create triple crown of its own by securing the Audi-Tron Series title, and the prestigous World title all in the same calendar year.
Taking 2nd place in the 2014 Worlds, The colorful characters on TORPYONE skippered by Lorenzo Lupi with tactician and 2010 World Champ Lorenzo Bressani, won Act 2 of the Audi-Tron Sailing Series in a tight battle in Portovenere, and is looking to dance their way back on the podium in Trapani.
STIG helmed by Alessandro Rombelli comes in hot with two victories in four stages of Audi tron Sailing Series, overtaking current World-Champs Argo in Act 4 to grab the title in the final race.  The ultimate weapon for STIG is the name of his tactician, the crafty Sicilian Francesco Bruni that has the capabilities to unlock the secrets of Trapani moreso than any other tactician.
The list of contenders continues and includes the reigning champion of the ​​Audi-Tron Sailing Series 2014, the Russian team of Synergy GT of Valentin Zavadnikov with Andy Horton as tactician. From Sweden comes the challenge of INGA FROM SWEDEN Richard Goransson with Michael Buckley on tactics.  And from the small Island of Bermuda, Hedgehog helmed by Alec Cutler with current Melges 24 World Champ Chris Rast on tactics relies on years of Melges 32 experience to boost its World Title hopes.
Looking to bring back another World title to North America, USA fleet has a few bullets in the chamber both hailing from the same extended family; VOLPE by Ryan Devos with tactician Mark Mendleblatt and DELTA helmed by Dalton Devos supported by the legend Jonathan McKee.
Longtime Melges 32 veterans and representing the flag of Japan, YASHA SAMURAI Yuschiro Ischida (tactician Hamish Pepper) and SWING Keisuke Suzuki (Nicolai Sehested) are ready to battle every race and can make a surge at anytime.
Hailing from Turkey and enjoying his first full season in the Melges 32, Turkish entrant Emet Eker continues his steep learning curve and is looking to apply lessons learned earlier this season to his World Championship bid.
Grabbing a 2nd place in Portovenere, G Spot helmed by Giangiacomo Serena Lapigio with Branko Brcin on tactics has a podium finish in their sights. The lone German entry on Wilma helmed by Frist Homann will rely on Italian tactician Nicola Celon to help improve their chances, and rounding out the Russian contingent, Pavel Kuznetsov and his Tavatuay team are always a challenge on the racecourse.
The Italian fleet is clearly the most numerous among the nine nations at the start and is highlighted by BRONTOLO Helly Hansen helmed by Filippo Pacinotti, the veteran of this class since the first world edition 2009. SPIRIT OF NERINA skippered by Andrea Ferrari, MARGHERITA of Roberto Mazzucato, AUDI E-TRON F.lli GIACOMEL by Mauro Mocchegiani, VITAMINA of Andrea La Corte, FRA MARTINA skipper by Edoardo and Vanni Pavesio, LEA helmed by Marco Cali are the other Italian teams lining up to dethrone Argo.
August 22nd, 2015 by admin
The Melges 24 Class ushered in a new way of thinking about one-design racing, and without it, we might never have the kind of big fleet sportboat action that's one of the high points of the sport today.  Melges sailors – including our own Senior Editor – have been a big part of Sailing Anarchy since the beginning, and that's why we're so stoked to see the class continue to rebound after the lows of the past five years.  You wanna know how big a rebound?  How about an incredible 46 teams already registered (some 16 months early) for the Miami Worlds next December! Thanks to the support of Sperry and the Sailing Anarchy World Tour, Petey Crawford reports from the wild US Nationals at the Gorge.  His photos, too.
Over the past 2 months, I've attended the Melges 24 World Championship in Denmark and this past weekend's US National Championship at the Gorge. My main focus on both of these trips was to get back in touch with my own Melges 24 roots while promoting  the 2016 Melges 24 World Championship in Miami. I'm glad to say that the positive trends in Melges 24 racing are evident, and that the entire Miami Worlds team will be working very hard to continue stoking the flames that are clearly burning in the Melges 24 class.
The most positive trend I'm referring to is the constantly increasing Corinthian participation numbers. The total entries at both events have been very high compared to previous years, and this is mainly due to non-pro teams getting on the line. 56 Corinthian teams showed up for the Worlds and 25 of the 36 teams at the Gorge were Corinthian as well.  While the AC and VOR guys get the headlines, it's the average Joe or Josie and their family who've always made up the bulk of the fleet and have provided both the strength and the future of the class, and that's what we are working so hard to promote.
I've been working on some exciting new ideas to promote the '16 Worlds with IMCA Class President Jens Wathne, and have already begun plotting and scheming with new US Grand Poobah Steve Boho who took over just last week.  I can promise that we've got some stellar stuff in the pipeline, and of course you will see it here first.
Until then, there's a gallery I shot at the Gorge here, and full results here.  We'll have a Sperry/Sailing Anarchy video show from the Gorge for you as soon as my computer allows.
-The Rev (and 2016 Melges 24 Worlds Chairman) Petey Crawford – out….
August 12th, 2015 by admin
When Sperry told us they wanted to support coverage of events we thought made a difference to the sport of sailing, we instantly thought of the J/70 Worlds.  Sure, there was a 95-boat Melges 24 Worlds two weeks ago in Denmark and a 100-boat SB20 Worlds in Lake Garda last week, but with nearly a thousand boats sold in three years, nothing comes close to the impact on racing made by the new and exploding class from the J0hnstones. And as evidenced by the 16-nation field in the boat's second-ever Worlds in La Rochelle, the effect is spreading far, and fast.
So we put together a 6-man crew to bring live video of all the racing to you guys, and we didn't skimp.  The live feed included commentary from SA's Senior Editor and Adventures of a Sailor Girl's Nic Douglass, along with daily highlight reels from Petey Crawford, and huge high-quality photo galleries from Sander Van Der Borch.  Why'd we go so big? Because we want to see more of the family-friendly, female-inclusive, youth-engaging vibe this little boat is giving to people all over the world, and the infrastructure J/boats have created to deliver well-built, good-looking, quick-ish little racers that are all damned similar to one another is something we admire.  And we felt privileged to be able to document it all.
Above you'll find our final movie from last week's Championship, and we really, really hope you'll sit through it until the end.  And don't be drinking coffee near the end.  If you laugh as much as we did, share the link with your friends. For the full interview with new World Champ Julian Fernandez, hit this link.  The full chat with Marty Kullman including the drama with North's DNE request is in here.  You can grab any one of the dozen-plus interviews and highlight reels in our Vimeo index.
As always, huge thanks to Sperry for their support, and to J/Composites Europe for all their support on the ground and on the water.  More thanks at the end of the video.
July 17th, 2015 by admin
Despite plenty of organizational touting of 'a new world record' fleet of nearly 200 F-18s for this week's Kiel Worlds, the actual fleet fell far short, but you've gotta love the strength of a fleet that's disappointed by 'just' 167 entries.
Meanwhile, it's a real battle royale at the front between 7 different nations, but after 6 races, it's the Spanish-flagged father/son team of Mitch and Ruben Booth leading reigning World Champ Gunnar Larsen on the tiebreak.  The Booths are on a fresh-from-the-factory Wildcat; if you're looking for a fast fleet that allows out-of-the-box boats and decade-old designs to race competitively, this is the one.
There's live tracking here, decent but low-res photos over on the event Facebook page, and some truly awful videos here.  Find our title inspiration over here, and if you have daddy issues, bring a tissue.
July 16th, 2015 by admin
Just two races remain, and it's all live thanks to Sperry and J/Composites France.  Breeze, waves, and fireworks on the starting line.  What more could you want?
July 11th, 2015 by admin
More black flags?  More better-than-expected breeze, anyway.  Nic and Clean with the early morning broadcast from J/70 Worlds.  Check it.
July 10th, 2015 by admin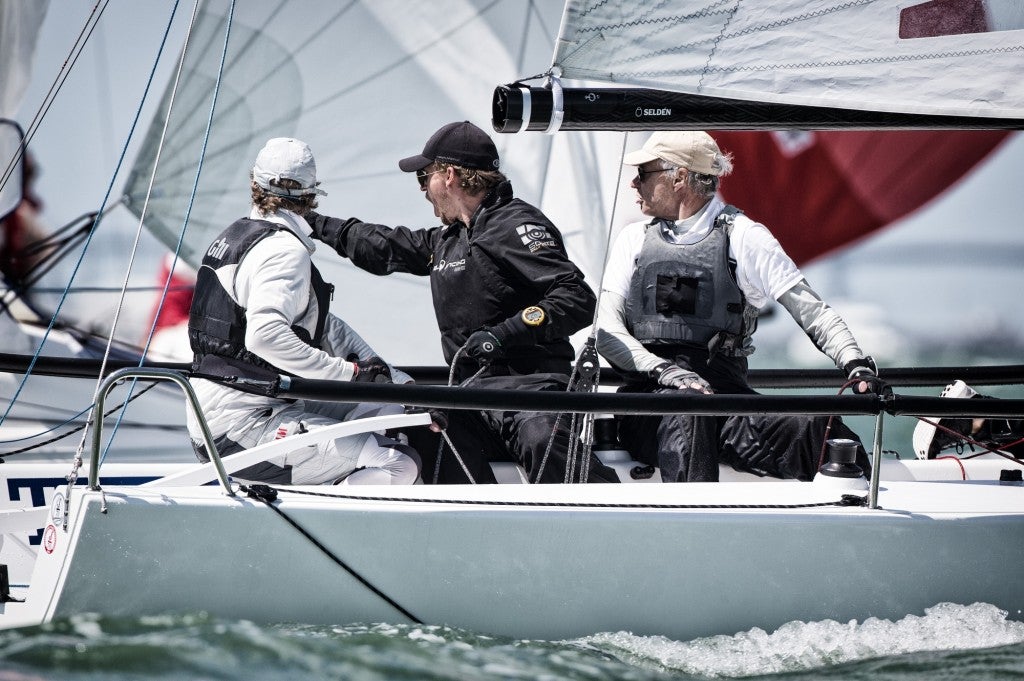 With every one of the 6 starts (and several general recalls) firing off under the black flag, a little bit of conservatism is going a long, long way at the J/70 Worlds.   With current WC Tim Healy dropping a BFD, Julian Fernandez is looking strong for the class's second ever Worlds.  Sander Van Der Borch is making it look simply gorgeous; have a look at the monster jellyfish in this above/below water shot.  And look at the contrast on these spinnakers.  Or maybe you prefer some spray?
Here are the Day 2 Highlights from Penalty Box Productions.
July 10th, 2015 by admin
We've sorted the various technical issues and now it's time for some hot racing action in 720p HD from the waters of La Rochelle, and with flat water, perfect sun, and moderate breeze, it should be one to watch.  Hit up the Sailor Girl on Twitter if you've got questions or comments for us and enjoy the show, with three more scheduled for day 2 of the J/70 World Championship.  All thanks to Sperry, of course, with some serious help from J/Composites France and the fine folks at the
Direct link for your phones or to get the Youtube chat room functionality – over here. Facebook for up-to-the-minute pics.
July 9th, 2015 by admin
The first day of the second-ever J/70 Worlds lit up with gorgeous sun and an unexpected 15 knots from the NW.  But when the chop stacked up with almost two knots of outgoing tide running right over the starting line, it was always going to be a bad day for some people.  We just didn't know it was going to be bad for the SA live video team!
As anyone in sailing knows, the French do things just a little bit differently.  That's why their food is so much better than anyone else's – because they keep it the way they like it, and change is the enemy.  That attitude carries over to everything, and on the race course, that meant doing everything a bit differently than most of us are used to in big fleet sportboating.  While nearly every major sportboat worlds over 50 boats has run a midline boat for years, that's not the French way, so rather than a tidy start with three different vantage points to call OCS boats, we saw the exact opposite: 5 general recalls for race 2, with two of them under black flag, and an astonishing 19 boats starting off their Worlds with a BFD, including several championship contenders.  To add insult to injury, at least one top US boat only looked on the first chalkboard for their number, and the Race Committee only called the numbers on the radio in French…at a regatta where english-speaking boats outnumber French by 3 to 1.
A late night saw no redress given for any of the 19 BFDs, which changes the nature of the regatta considerably for quite a few, but unsurprisingly, Julian Fernandes (MEX), Tim Healy (USA), and Carlo Albierini (ITA) are mixing it up for the lead after three.
Our live coverage was dotted by French internet issues, but that was nothing compared to our full electrical loss a minute into Race 3; a quick check at the inverters revealed 50 gallons of water sloshing around in the bilge, flowing in via a blow out raw water pump seal.   Our broadcast ended with no power, no stream, and a last-second anchoring practice to keep us off the beach before a two-hour tow-in from the RC.
Fortunately none of that kept Sander Van Der Borch from putting together a gorgeous gallery of the day just like his photo above (and the less gorgeous one on the left).
Watch it all unfold live today (with a bit less drama behind the lens, hopefully) over here, or check back on the front page for the embedded vid.
July 9th, 2015 by admin