Posts Tagged 'World Championship'
Clean Report
The B-Squared Racing/Sailing Anarchy J/70 nestles into her mobile 34-foot barn as the inaugural J/70 Worlds ends, along with any notion I had of being a world-class tactician.  The team of Brian Elliott, Bryan Cameron, Whitney Prossner and me managed a 33rd out of 86 boats and 6th of 38 amateur teams.  I'm still licking my wounds as I head north along the Maine coast to check out the new VPLP 100′ canter Comanche at Hodgdon Yachts today, and when I can find some time tonight or tomorrow along the highway back to Detroit, I'll get my full regatta download online for you to read.  The first J/70 Worlds had a bit of everything, and I'm damned glad I made it, even if I left unsatisfied on a number of fronts – especially my own performance.
Read the full event press release here in the meantime.
September 15th, 2014 by admin
We are frequently frustrated by the low-quality videos put out by ostensibly 'world-class' organizations (see the link in the BBS BS story below for a great example), so when someone does it 'just right', we notice.  And that's what this is – a short but intense look at the people of the Melges 20 Class from their recent Lake Garda Worlds.  Doesn't it make you want some?
September 15th, 2014 by admin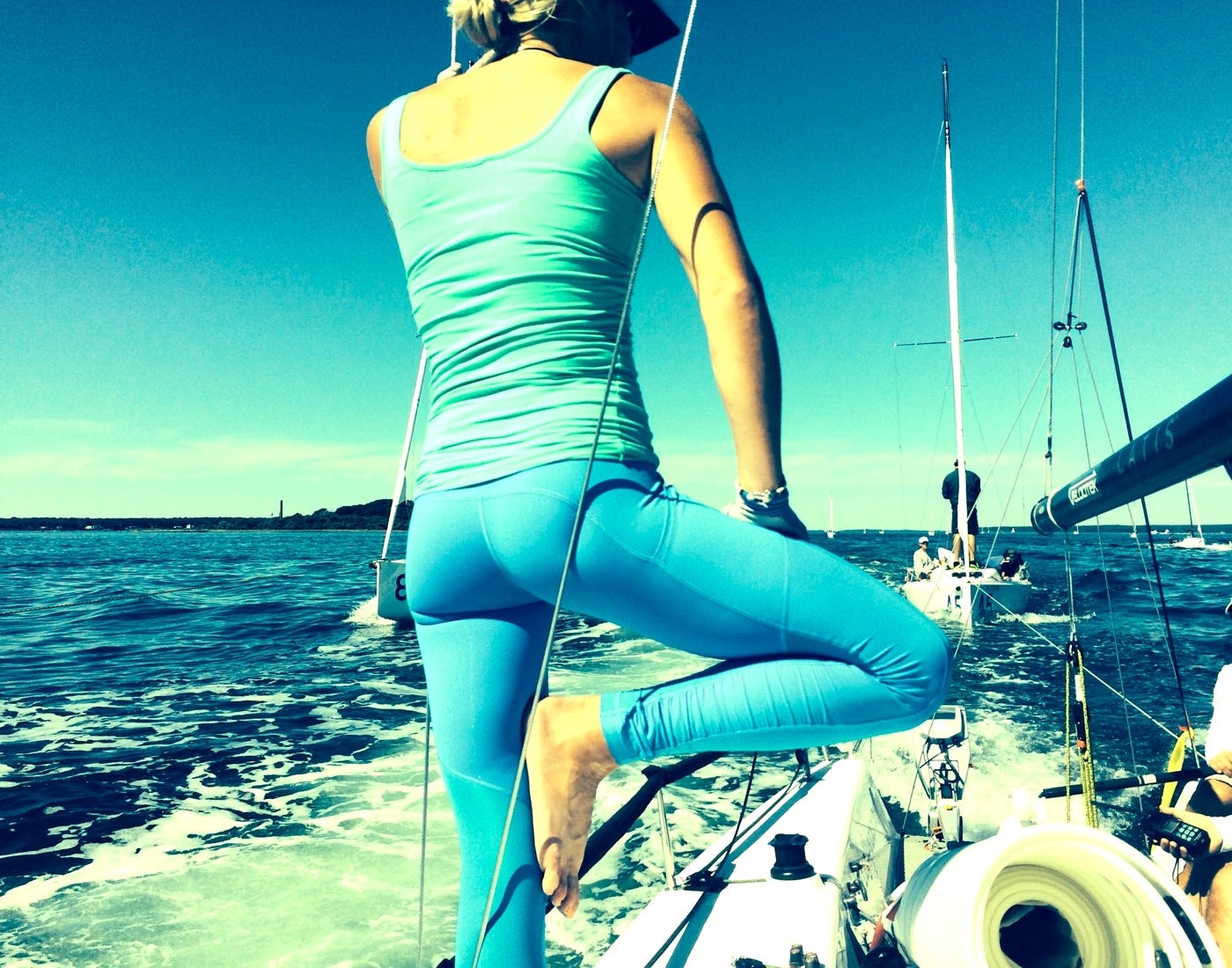 Like a Ferrari 250 GTO or an original M3, nothing will ever quite approach the perfection of the original SA Tensiometer c. 2006, but B-Squared bowchick Whitney Prossner comes pretty close.  This one shot at the end of the penultimate race day of the J/70 Worlds, where Clean once again proved he should be trimming instead of calling tactics, and Tim Healy is walking away from the fleet, while longtime SA friend Marty Kullman (first Quantum boat) is knocking on the podium door with two more races likely on the final day.
Look for the full story of the regatta – including an update on the rudder issue, a few words on the future of the class, and our customarily comprehensive analysis of the good, the great, the bad, and the ugly for the first Worlds in the world's hottest one-design class.
September 13th, 2014 by admin
Clean Report
After two days of qualifiers, we've downgraded our expectations at the J/70 Worlds from top ten to top 25, and we're not even sure that's enough!  My tactical shortcomings have become obvious, as has the absolutely ridiculous level of competition we're up against.  We take some solace that we are well ahead of all sorts of world champions and olympic talent, but we'll keep grinding on the B-Squared so keep an eye out for us.
We'll be trying to hurt the livers of some of our competitors tonight with beer provided by Torqeedo motors and rum, vodka, hot dogs and burgers and a couple of t-shirt giveaways sponsored by Eelsnot hull coatings and Sailing Anarchy.  If you're in the Newport Area, come by the big red trailer in the Fort Adams parking lot and share a drink and a story or two.  6′o clock or earlier depending on the racing.
As for "ruddergate" – we heard there is a protest, even though the rudder was not used during a race.  Stay tuned.
Results here.  More great Paul Todd pics here.
September 11th, 2014 by admin
The final race for the second Melges 20 World Championship went off during Garda's crisp, beautiful northerly morning wind with John Kilroy, Paul Goodison, and Jeff Reynolds taking the easy bullet and the title; after winning M32 Worlds in San Francisco a couple years ago, Kilroy now owns two Melges Worlds titles in the builder's only two amateur owner/driver classes…we can only imagine what's next in the owner/driver bucket list for JK.  Meanwhile, four nations in the top four spots is a great indicator of this classs's international strength, though the Italians can't like being smacked down on their home turf.  Hey – there's always next year!  Watch the full awards show here, and scroll down on the Livestream Page to check out the racing as it happened; apparently (at least from their numbers), they forgot to tell anyone they were live streaming the racing.  There's also an 11-minute video over here from the Riva Sailing Club, but we haven't watched it because our attention span is max 4 minutes.
Above is another fab Stefano Gattini shot – the galleries from this event have been some of the most beautiful we've ever seen, so check them out here.  Thanks to Melges Europe and Studio Borlenghi for the exclusive coverage this week;  According to the sailors we spoke to, "This is how a World Championship should always be."
August 30th, 2014 by admin
With six races down and one throwout already counted, John Kilroy along with pro trimmer Jeff Reynolds and UK Olympic golden boy Paul Goodison is walking away with the second-ever Audi Melges 20 World title.  Meanwhile, Monaco's Guido Miani won the breezy day yesterday with a 1,3,1 and sits tied with Italian standout Fremita D'Arja, both 14 points behind Kilroy.  The Kilroy nipper continues to excel, though he's dropped back to sixth, while Aussie gold medalist Mal Page has helped young Achille Onorato climb back up to fourth…three more days of action ahead and get over to Facebook to watch it all unfold.  Yesterday's photo gallery is here.
August 29th, 2014 by admin
Big Pimpin'
We welcome our friends from the Melges 20 Class back to Sailing Anarchy, stepping up to make sure the biggest community of sailing freaks anywhere has complete coverage of one of the summer's most exciting regattas; it's the Melges 20 World Championship in the most exciting sailing town anywhere: Riva Del Garda in mountainous Trentino.  This piece of sailing paradise at the north end of the famous lake is loaded with big breeze, awesome views, and some of the best food in the region, and if you've ever been here, you know why 57 boats from 10 countries are on the entry list: Because it's Garda.  Those who haven't need to revise their bucket list, because for small boat racing, there is nowhere else like it.
Just under 60 boats are making the trip, including some great unfolding stories: Father against a very young son in the Samba Pa Ti boats, John Taylor trying to defend his title in a massively tough fleet, the young Onorato looking to see his name up in lights, the burgeoning Russians on Synergy due for a big win, and a strong US fleet up against the best that Italy can offer – on their home turf.
We think Taylor will have his work cut out for him, though we think a US Team is likely to take this one…but considering the ridiculous level of Olympic/Cup/World Champ talent spread throughout the owner/driver fleet, there are probably ten boats that could take the trophy.  Thumb through the crew list to see what we're talking about.  we're not going to list them here, but a quick look through the crew list will tell you what you need to know.
Racing begins Wednesday, and we'll preview the fleet that morning.  The best place for our exclusive reports is right here on the Front Page, while the daily action will unfold on the M20 Facebook Page here.  Zerogradinord photo.
August 25th, 2014 by admin
Thanks to an entire crew of AC superstars, Luna Rossa Challenge principal Patrizio Bertelli embarrassed the Puig 12-Metre Worlds fleet last week in Barcelona in his beautiful Nyala, taking bullets in 5 of 7 races he sailed.  That's not really news (though this gorgeous photo from Martinez Studio might be), but certainly newsworthy were LRC Director Max Sirena's comments about Team Australia's challenguss interruptus, as translated by SA'er 'Xlot' in the "Another Incredibly Bad AUS Challenge' thread:
Max Sirena got to Barcelona for the 12M Worlds (won by PB's Nyala, btw) straight from LA where last Sunday a meeting was held with representatives of challengers and defender for the next Cup. – Were you informed in LA about the Australians' decision to withdraw from the competition? Sirena: Absolutely not. This came out of the blue for all of us". – When will the next CoR be selected?: "Formally, it should be the first one who challenged. For the time being it's just us and Artemis". – Does this mean LR is aiming for that role? "I'm not a candidate, we are sitting on the sidelines. I have already spoken with Russell Coutts and Ben Ainslie and I proposed we should have a videoconference already next Wednesday."

Expectations – "I'm not a pessimist. Already in LA last week I had noted in the defender a certain willingness to negotiate and I believe that this new situation might be exploited to bring about changes, even significant ones concerning the future". Do you mean that even the Venue choice for the event could be rediscussed? The two left (Bermuda and SD) do not convince Sirena: "I'm not ruling that out". For the second time running Coutts got the CoR selection wrong. The Australians, like Mascalzone Latino in the previous event, dropped out before even starting. "This cannot be denied. But like I said I'm an optimist, from this mistake may come positive consequences for all"
July 22nd, 2014 by admin

UPDATE:
For the first time in the 75-year history of the JJ Giltinan, the first day of racing was abandoned after two races were started and sailed in a shifty and dying breeze – watch above for the call.  Monday's lay day will likely become the replacement for the abandoned race day, and we'll have it all live starting at 1430 Sydney time;10:30 PM US EST.  The coverage from yesterday is still damned good, especially for a team that's doing its first fully live stream of 18 footer racing; go here to check out the videos from the day. 
Bob Killick hits us with the race report and the first Pick The Podium winner from a funky practice race on Sydney Harbour.  Register and get your entries in NOW: Just an hour and change left before the deadline!  Racing starts at 11:30 PM on the US East Coast; perfect for you drunken knuckleheads just coming in from the bar.  Or plug the computer into your club's HDMI port and away you go!  Can't watch it live?  Eyes on Facebook and Twitter for the latest updates.
What can I say? yesterday's Invitation Race was a practice race, and at this stage the Livestream gadget is 1 and and we are at 0.  Something about the brain to web interface…in other words, the 'software' that is us.  See, there you go:  The geeks are winning again!
Apparently the live tracking didn't live up either, so 2 for the Geeks and still nought for the Camera Cat boys and girls.  To make matters worse, whilst heading into the Double Bay wharf the Camera Cat and Brett Van Munster's 18 footer Kenwood Rabbitohs came together with a crunch.  Brett was not happy and we certainly should've had eyes on him with so many on the cat, but it could have been a lot worse as it sounded like we had taken his bow off.  Great evidence that Van Munster-built boats are tough [Bret builds the 18 footers and high performance carbon racing yachts at his shop North of Sydney -Ed].
Yesterday's race video will be uploaded asap today, and is a must watch for you more serious players, because of the next two day's weather forecasts.  We noted especially the ability of C Tech NZ, Yamaha NZ, and Mojo Wines' ability to push it to the big rigs – something that shouldn't happen.  Also, the performances of Pica UK and CST Composites USA who look to have the measure of the Sydney boats.  So look at their work when the video goes live and factor that in with the forecasts for today and Sunday before you Pick Your Podium!
So Gotta Love It 7 was a no brainer for most, but Pica UK was not on anyone's radar, and as a result we had a stand alone winner yesterday. Congratulations go to Jimmy Flemming, who was the only entry with two boats in the correct finishing order: 7 in first, and Fisher & Paykel in third, nice job Jimmy! He wins the  Java sunnies from Barz Optics, takes the Bragging Rights for the race AND is our first winner to go into the draw on Sunday 9th for a crack at the best-ever set of major prizes for this JJ competition.  Prize donors listed over here along with the form guide for you P-T-P aficionados, and a big THANKS to them.
Entries close off for today's JJ Race 1 at 1200hrs local Sydney time so get cracking and have a shot…..here's an obvious tip: Just enter Gotta Luv it 7 as your 1st place pick, and at least you will get one right.  Good luck!
-BK
February 28th, 2014 by admin
We promised it to you…and not unexpectedly, the practice race for the 18 Foot Worlds found all the bugs in the live streaming system and shut the live stream down.  Our friends at 18 Footers TV promise us the first points-scoring race will go smoothly and we'll have it right here.
In the meantime, the three "S" boys – Seve, Sammy, and Scotty – crushed it, with the new Gotta Love It Seven looking as strong as pre-race indicators and the form guide said, winning over UK challengers PICA by around a minute and a half.   The full report on the Invitation Race is here, and thanks to Michael Chittenden for the speed shot.  You can get updates from yesterday's action via Facebook, enter the Pick-the-Podium competition here, and check this story for all the links.  If you're having issues with any of it, get over to Twitter and send a message to @18Skiff and they'll get it answered.  Tonight's race coverage will start around 11:30 PM on the US East Coast; that's 3:30 in the afternoon on Saturday in Oz.  Huh?
February 27th, 2014 by admin
Whether you're in the middle of the Southern Summer or like most of us, you're still locked into the hellish landscape of ice and snow that is Winter 2013/14, we have got something extremely special for you beginning this Friday!  After our begging for it for years, the good folks of the 18 Foot Skiff Class have finally bitten the bullet to bring you FULLY LIVE COVERAGE of the entire week-long JJ Giltinan/18 Foot Skiff World Championships, and as their Exclusive Streaming Partner, we'll bring it to you every day, right here on the front page of Sailing Anarchy!
This ain't no stop-and-go stadium sailing surrounded by wind-blocking buildings, either – this is full-speed, full-on racing in beautiful Sydney Harbor at the height of sea breeze season, and if you thought 'Eyedeens" were just for Aussies, you haven't been paying attention: There are an amazing 34 teams from seven countries on the beach, with seriously credible challenges like the ass-hauling boys from the UK's Haier Team in the video above as well as a veritable smorgasbord of America's Cup, Olympians, Extreme 40′ers, Volvo Ocean Racers, and more.  You read that right: 34 of the fastest, flipppingest, launchingest, most acrobatic racing dinghies every created, picking their way through islands, ferries and spectators for the right to be known as the baddest boys (or girls, 'cause they've got them too) in all of dinghy-dom.  They may not be as fast as an AC45 or fly over the waves like a Moth, but let's be frank here: There's just nothing on the water that looks quite as awesome as an 18 Footer caught out with the big rig in a building breeze, careening from wave top to wave top, bows pointed skyward, crews leglocked together and hanging onto a tiny thread of spectra for dear life as they dodge sharks, crocodiles, and satan himself.
The format is simple:  There's just one race each day with a lay day somewhere in the middle, and the first day is the Invitational – a non-points scoring practice race that lets some of the many visitors get to know the Harbour, and lets the streaming video team and RC get up to full speed.  Racing begins at 3 PM daily in Australia except for the two Saturdays, when it starts an hour later, and the live stream will start 30 minutes before that.  Never mind the time conversion – we'll do it for you:  That means that for the next week, each night at 10:30 PM EST (7:30 PST) you'll get a full 2 hours of live action from one of the most colorful and exciting regattas in the entire world, commentated by the hilarious and knowledgeable team of Bob Killick and Mark Heeley along with a stream of guest stars to help along. Here's a little excerpt from 2010, with Killo explaining just what the Invitational is all about, and you can explore the past four years of JJ Giltinan racing videos in the archives here.
We'll have the live player up a couple of hours before each day's start, but in the meantime, now's a good time to register at 18footersTV.com so you can enter the Pick the Podium Competition, where the sponsors are giving away a bad-ass retro bar fridge worth literally thousands of dollars and shipped to whoever wins it regardless of your nationality, cases full of high-performance Barz sunglasses, and more; there's no cost to enter and each day you simply enter your three podium picks to be eligible for each day's prize.  Will Seve Jarvin defend his title and tie the all-time wins total of the legendary Iain "Big Fella" Murray?  We certainly don't know, but it will sure be fun to find out, and you might as well win some swag while you're at it.
Run over to the 18 footers Twitter page if you can't get to a real screen, and check into Facebook for a constant stream of info, including some soon-to-be-released shots of some of Sydney's most beautiful sailor chicks that you'll have to see to believe.
This event really does have it all, and we can't wait.
February 27th, 2014 by admin
The A-Cat Worlds fires up this week in Kiwi-land, and 2014 marks the sexy singlehander's first flirtation with full foiling thanks to new rudder winglets and trickle-down tech from the big and little America's Cups.   There's plenty of top-end competition as well as plenty of controversy on hand; will the class outlaw the flexi C boards or the J and L-shaped foils currently being used to fly above the water during their AGM?  Does the 'cassette' system meet the Class rule requiring all boards to be dropped in from above?  Will the new foilers be stable enough to beat more conventional boats?   No one has the answers just yet, but David Haylock is keeping his finger on the pulse of the event, and he checks in with us here. Photo also thanks to David, with a full gallery from setup here.  Team NZ has a full team playing in the fleet as well; their first video from the event is here.  And finally, get up-to-the-minute updates and talk about it in the forum here.
With the remnants of a tropical cyclone coming past Takapuna the last couple of days the pre-worlds has turned into a bit of a non event. The winds have been consistently above 20knots for the first two days of the regatta and there have been gusts of 40 and massive chop. Tonight it is supposed to ease and the race officer will try to get up to five races in tomorrow with a change to the sailing instructions to get a valid NZ champs/pre-worlds.The weather for the start of the worlds on Tuesday is looking the complete opposite to the current situation with about 5-10knots predicted for the first two days of racing.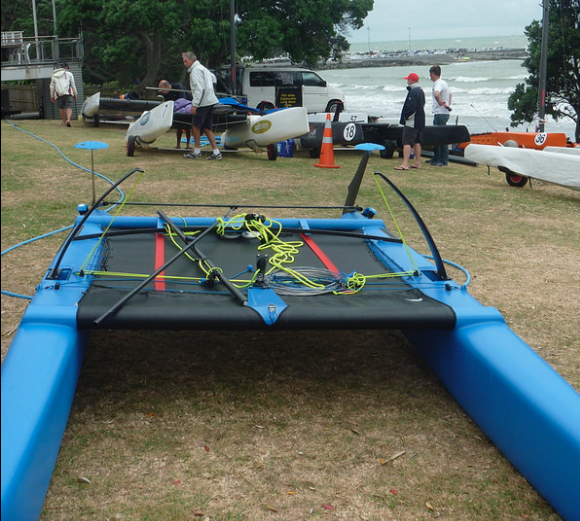 The ETNZ guys still haven't popped their heads out of the Waitamata harbour yet with all their development and testing taking place out of their inner city base. The measurers have been around there today and it will be interesting to see if all their developments measure up.
The Exploder with the large moveable cassettes has been given a measurement certificate and is good to race in the worlds, however the technical committee is contemplating whether the cassette is part of the hull or a hull appendage. So things could change. Today the boats have started to be checked and weighed in with a large variation of weight, I've just been down to the fishing shop to get 3.5pounds of lead to add to my boat.
February 7th, 2014 by admin
You may not know who these two characters are, but their years-long feud nearly tore the vibrant, ultra-strong Italian Melges 24 fleet to pieces, and the International Class down with it.  Somehow, though, last month Franco Rossini (owner of Blu Moon, on the left) and Riccardo Simonesci (owner of Audi Ultra) buried the hatchet, and the world's best sport boat can once again move forward. From the minutes of the AGM:  "…In a joint statement, [the two] advised the meeting that they acknowledged that they each have the best interests of the Class at heart, and that in the best interests of the Class, they wish to work together going forward to rebuild the Italian Class and the bonds between the Italian Class and the International Class. Having shaken hands, Riccardo and Franco made a toast to the future success of the Melges 24 Class with glasses of Palinka, a traditional Hungarian liquor, that had been made by the grandfather of Arkos Riko, the Hungarian Class representative. The entire meeting joined them in toasting the success of the Class and welcoming this excellent news.
How You Hike Me Now?
The ultra-high level of competition and the unrestricted status of crews and helms in the 20-year old M24 Class has always put the pocket rocket at the forefront of sport boat technique and development within its one-design restrictions.  When Brian Hutchinson's hiking line pads became universal in the fleet, it became feasible to hike your entire body well over the rail for an entire race, no matter how painful, stupid, and nerve-destroying it could be.  And now, like Ricky and Franco's feud, this too, is over!
Thanks to about 5 years of lobbying and plenty of testing and development, the new Melges 24 Rules require shorter stanchions and 'tight' lifelines.  This means asses on the deck, no 'climbing the stanchions' for the #1 and # 4 spots, and, according to Bora Gulari and Harry Melges, 'no loss in upwind speed at all, with a massively better experience for the entire crew'.  And not that it needs it (few designs have aged as gracefully as the Melges 24), but the lower stanchions look better too, and may allow backwater PHRF areas like Lake Erie to rate the archetypical sportboat, which celebrates its 21st birthday this spring.
Way Over Yonder In The Minor Key
2014 also sees the first-ever Class World Championship down under, the Class Association deciding to take the attendance hit by bringing the annual event to Geelong for a 'fleet-building' Worlds, and with barely 30 boats registered so far, we'd say Bora Gulari may be a shoo-in for his first Worlds but for the attendance of a ghost from Worlds Past – it's 2002 World Champion "Star", and we think it'll be the O.G. team of Harry Melges driving, Andy Burdick on tactics, and Federico Michetti and Jeff Ecklund up front.  America's top high-speed pilot versus the original gangstas with a little Blu-Moon flavored Italian sausage and some Aussie croc meat thrown in for good measure…we'll have reports from Bora and team when the US Air Force arrives in a few weeks.  Next year things go back to normal, and we should see 100+ boats on the line in the best-named regatta venue ever: Middlefart, Denmark.
Check in with the rules and other new development in the M24 Rules thread, and take a look at the very interesting 'Builder's Vision" document here.  Title shout to the Vampire song dude.
December 23rd, 2013 by admin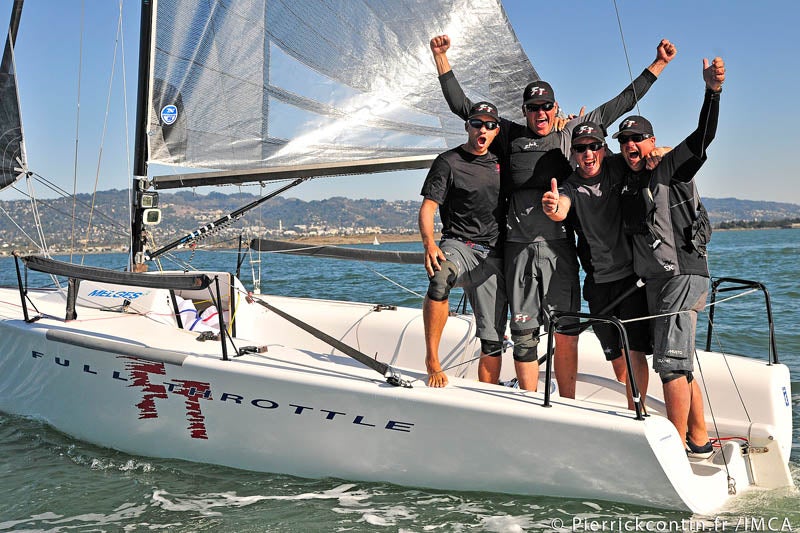 Brian Porter is the first Cat 1 helmsman to win the Melges 24 Worlds in exactly a decade, and along with crew Matt Woodworth, Andy Burdick, and Federico Michetti, he edged out Flavio Favini by just 3 points to take the title last week in San Francisco.  In a fleet of somewhat agro, type A tiller handlers, Brian is one of the kindest, gentlest guys you could ever meet, and he sat down for Sailing Anarchy's classic "Innerview" to answer some of Mr. Clean's questions after winning the title that's eluded him for more than 15 years.   Go here to see who Porter beat, and enjoy this Pierrick Contin photo with full gallery here, and go here and here for a couple of great highlight reels from the event from Vibrant Films.
SA: You've been trying to win the Melges 24 Worlds since they first began before the turn of the century.  How does it feel to finally pull something like this off that's been motivating you for almost two decades?
BP: It feels really good to win. I have worked hard at this sport my whole life. I got the monkey off my back, finally! The greatest moments in my life were the births of my four children. I don't think anything compares to seeing a healthy baby come into the world. But I am definitely walking in the clouds.
SA: You are a trader on the CBOT (is that right?), a seriously high pressure job.  Is racing M24s at this level still a relaxation, a break from that job, or is it just as pressurized as work?
BP: I find racing extremely relaxing. The pressure is nothing like trading. It has always been a haven for me to relieve life's pressures.
SA: You are the first non-pro driver to win the M24 Worlds since Shark Kahn did it, though he was part of a three-boat team spending literally millions per year on the M24 program.  What special prep did you put into this thing?
BP: We spent 12 days total out there for the worlds. We had one day of practice and then 4 days of the big boat series. We also did short practices on the two days in  between. The last time I raced the boat was Key West. However, I did crew for my son RJ on Lake Geneva all summer where we have a 12 boat fleet. That was actually helpful to give me a chance to really look at sails and rig while not driving. I spent time talking to Vince, Andy, and Federico about sail selection. We kept it pretty simple all in all. We made our sail selection the day before the worlds.
SA: In Santa Cruz you were leading with one race left, and a last-leg broach ended your run, giving you your third or fourth runner-up spot at a Worlds. Was it easier being one point behind Flavio going into the last race?
BP: Actually in Santa Cruz we were one point back as well. For me it doesn't make a big difference if you have to beat the other guy anyway. Having that tack line cleat blow on the kite and the resulting broach was tough but I think that was one of the best races I ever sailed so I didn't feel that bad.
SA: Freddy Michetti, president of Melges Europe, continues to show that no one in the world has a 'Silver Bullet" like he does when it comes to winning major Melges titles. He replaced Sam Rogers who was busy increasing the Midwest's population…This was your first major regatta with Freddy – can you tell us the secret ingredient that Fred brings to the table that has allowed him to own an unbelievable 5 M24 World Titles, including 4 of the last 6?
BP: It was one of the single greatest privileges of my life to sail with Federico. He spent an incredible amount of time loving my boat. He made it perfect. His feel for the small adjustments is uncanny. His greatest attribute by far is his attitude. He carries himself so well in all situations. Very positive. We had many difficult moments during the worlds and the demeanor on our boat never changed.
SA: We were surprised to see Harry Melges back behind the helm, and we know all about your friendship and rivalry with him going back to the invention of the automobile.  Is it more special to take a Worlds knowing your old friend and longtime rival and crewmate alike is driving around somewhere in your wake.
BP: Harry Melges III has been a great friend of mine for many years. I have sailed with and against many of the best sailors in the world. Harry is the best I have sailed with hands down. After all the regattas that he has dragged me around with him I hated not to have him on the boat. The same goes for my brother John. Those two were with me for all those seconds. Fortunately I was able to invite them up on the podium to share our victory. So, I was glad they were there to be part of it.
SA: After a few quiet years the M24 seems to be reinventing itself.  A new Rules proposal is likely to make the boats a bit more like the smaller sportboats flooding the market, and the top pros, many of them now making a living in the M20/J70/M32 fleets, are coming back to the 24 as, perhaps, still the best cross-training platform in the world.  T Hutch, Madro, Harry, Bora, Rast, Nath W – is this a temporary thing, or are we seeing a sustainable rebirth of the M24 as the "superior" sport boat?
BP: I sure hope it keeps coming back. We really need to take care of the hiking and weight rules to make the boat a little friendlier. I love these boats because they are high performance yet easy to sail. My favorite thing about them is that they create such a challenge to achieve maximum performance, and when you reach it, it's just so incredibly rewarding.
SA: You certainly do your share of Scow sailing in the summers, but with your biggest albatross now free of your neck, Will we see a Full Throttle trying its hand at another major class?
BP: I will sail scows and 24′s as long as I can. I would love to try some other major classes but it is difficult to do the sailing I do now. If I had my way I would probably sail every day. So, you never know!
October 9th, 2013 by admin
Did you know you can fit 45 moths in a 40′ container?  Apparently no one did, but that is part of the secret sauce in maxing out your registration at a World Championship on an island in the middle of the Pacific.  It's a brilliant move, really, for the McDougall/Maconaghy Moth Worlds next week in Hawaii.   Kaneohe Bay has perfect weather, flat water, and is about as centrally located as anywhere to the big Moth fleets in Australia, Kiwiland and the US.  And it's an ideal 'bucket spot' for Europeans looking to explore the Pacific; so much so that entrants had to join a waiting list once the fleet reached 80.
The Moth Form Guide has become something of a tradition over the years, and past Moth World Champ and longtime foiling humorist Si Payne – apparently resting his old bones and spectating this time around – gives us his hilarious view at the fast, the furious, and the funked up for the 2013 Moth World Champs.  There's a website, but this is firmly a Facebook Generation event, so go there for what ails ya.
OK here we go! We confidently reveal the top 10 with the same authority and precision as in (ahem) previous years!
Firstly the venue! Kaneohe Bay Hawaii! It's on the windward side of the island, but its inside a bay, so its sheltered and therefore flat water. It's seemingly perfect for Moth sailing with its lovely wind and clear warm water.
However a note of caution. If you're not a good tacker then you are going to struggle. We haven't heard the word "cone" in sailing until this summer but it seems now it's everywhere. We are told that there is a kind of a cone here too, specifically as it gets shiftier and the oscillations get faster and more extreme towards the windward mark.
Clearly it's best to tack on the shifts, but if your tacking is so slow that they play the "Chariots of Fire" symphony every time you put the helm down, then it's going to be a long week.
Still, here we go, our top ten with a hint of fun:
1.     Peter Burling, NZ.  Yes he's on it! Peter is the 2012 49er Olympic silver medalist. He recently cleaned up in the Red Bull Youth AC, and the other week he won the 49er worlds.  Young, gifted and just like his Mach2, All Black!
2.     Nathan Outteridge,  AUS. 2011 World Champion. Will he sail or will he commentate? We assume the former. The 2012 49er gold medalist is back in the Moth class!!  If he shouts "Boundary!" and tacks, for goodness sake just get out of the way…
3.     Anthony Kotoun, ISV. An outstanding worlds last year marked him out as America's best. Unflappable, unconventional and highly likely to be unstoppable.  Rumored to have found a secret short cut through the reef after last year's recce. Would be a highly popular winner.
4.     Josh McKnight, AUS. Current World Champion. Just got on and did it last year as no one said he couldn't. Fast, fit and mature beyond his years on the racecourse. Big but… No one has defended on foils yet, – could he be the one?  Recently been messing about on rafts. Not ideal prep..
5.     Bora Gulari, USA. "Airforce One you have permission to take off" Bora likes home soil. He won at the Gorge in 2009 and so Hawaii could be his turn again. You always feel he might be working on something important. Rarely is.
6.     Scott Babbage, AUS.  Mr Consistent. Sooo close last year in Garda, but 2013 could be his year.  He's the class president though, which means he has to chair the AGM, and it takes a strong man not to let that sap the will to live out of you. Would be a very popular winner though.
7.     Rob Gough, AUS. Rumored to be going very fast. He's the Aussie alternative choice in a "Mac" versus "PC" kind of way. Rob has invested more time and more money than anyone else. He's strong, innovative and with good boat handling.  Rumor has it he's bringing his own personal trainer.
8.     Rob Greenhalgh, GBR.  Been winning things of considerable note across the sailing spectrum for a number of decades. Rob dominated the UK nationals this year. If the first couple of races go well and it's not too windy, the British flag could fly over the Hawaiian Islands for the first time since Captain Cook banged into them.
9.     Chris Rashley, GBR. Current European Champion. If he keeps it together then he will be in the mix. Lots of years left in him. Very organized. In fact the most organized Moth sailor we've ever seen. Find him by following the trail of multicoloured Post-it notes…
10. Iain "Goobs" Jensen, AUS. 2012 49er Gold medalist and straight out of the AC. Will have that trademark "thousand yard" star that all those AC72 guys have. Used to being 12 foot in the air and so he could unwittingly pull his ride height adjuster right off! Timing might be off in a boat 61ft shorter than he's used too.
THE WILD CARDS
Brad Funk, USA. Nanu Nanu! Something funny will happen. He'll either accidently eat his car keys or inadvertently win 6 races.
Eric Arkhus, USA. Fresh from winning Melges 32 world championships, Eric could well break into the top 5. Anyway stay out of his way too! At the US Nationals at Kaneohe last year, he took out a J-105 and ran straight over a Bladerider.
Dave Lister, AUS. Once hailed as the fastest man in the world on foils.  Possibly the first ever to foil tack a moth.  Older than God.
Andrew McDougall, AUS. A freak. Take out the seemingly greater importance of tacking at this event and we'd put him right up there.
THE EXTREMELY WILD CARDS
John Harris, AUS. 2008 World Champion and 18ft skiff legend. Resides in the USA where he's been building a business, and also, we hear, a waistline.
Just not practiced enough to get in the top 10, but form is temporary, and class is permanent.  Could be another great comeback in this iconic summer of 2013.
Julian Salter, AUS. The Charge of the light brigade!  Clever sailor, foils in a Turtles sneeze. If it's a very light week then he's the best equipped to take advantage of it.
So will we be right? Almost certainly not, but it will be a great event!
Good luck to all.
October 7th, 2013 by admin
Update: Argo (fuck yourself) has taken a nice little 6 point lead after 4 races…
Richard Goransson's Inga From Sweden is off to a good start at the Melges 32 Worlds even if the week isn't.  A nasty Mistral has seen two of the first four days shortened or cancelled with winds recorded up to 74 knots.  Below is the report from Inga trimmer Richard Mason's report after a single race yesterday, and the video is above.  UPDATE:  Argo leads after three more races today…latest results here and you can watch the Worlds streaming live on the Melges website here.
With no racing yesterday the pressure was on to get racing underway today. The forecast was for the breeze to start the day at 25knots plus and drop from there. Racing got underway on time at 11.00, with the wind gusting up to 30 knots.
The first race was a survival test. Just keep it cool and don't make the mistakes. Race one proved to be a big payoff for Helly Hansen Inga from Sweden, for the time we have spent on the water over the past year getting to grips with this tricky, overpowered boat.
The first race in the 2013  saw us starting at the pin with Team Argo winning the start a half boatlength to weather.  A long port tack in building breeze saw us on the left side of the track. We were third around the first top mark, with it all on for the run. We managed to survive a couple of on-the-edge gybes to make it around the bottom mark in 2nd hot on the tail of Bombarda Racing. Looking back upwind at the fleet there were some major wipeouts, with quite a bit of damage to the fleet on the first run.
Bombarda Racing lead up the second beat showing some serious speed on the wind, and led around the top mark with us about 20 seconds back.  A wild second run followed, and the deciding maneuver for the race was the final gybe, just 200 meters from the finish.  Bombarda missed theirs while we thankfully nailed ours, and that was the race.
So a great start for the Helly Hansen Inga form Sweden team. An attempt was made at a second race, but the breeze was gusting over 34 knots, which saw the fleet return to the dock, postponing racing for the day.  It is going to be a long 3 days!  The pressure  is on to keep the consistency in the results required to stay at the top of this fantastic fleet.
We look forward to getting back on the race track tomorrow.
-Richard & The Helly Hansen Inga from Sweden Team.
September 20th, 2013 by admin
Sometimes just getting on the water is enough to stand out, and as the only female Worlds helmsman in a class that's regarded as one of the most traditional of all, College of Charleston senior Laura Beigel does exactly that.  She's lying in 54th position in a tough, light air Star Worlds fleet with dad Read, and we wish her luck.  She's not the only sailor chick at the Worlds either, but she's the only driver and we dig it!  Photo credit Marc Rouiller/StarWorlds2013.
September 4th, 2013 by admin
The first-ever Melges 20 Worlds gets underway in just 3 months down in the Florida Keys.  36 are registered, 50+ are likely, with Samba Pa Ti, Mascalzone Junior, Bacio, and Stig the favorites.  Check out this little promo video and tell us again:  Will you be there?  If so, register!
September 4th, 2013 by admin
Can't get the proxy server for the Youth AC running and tired of looking at "YOU CAN'T WATCH THIS HERE" messages?  Like us, ESPN3′s app ain't working for ya?  Or maybe you just hate children and catamarans?  Well we've got something for you too.
The Star Sailors League is sponsoring live 3D race tracking from the San Diego Star Worlds, which starts in a few minutes.  Click the pic to go to the live viewer.
Title inspiration to the incredibly cheesy, somewhat obscure TV show that most stoners will remember…
September 1st, 2013 by admin
The breeze came in on day 3 of the Farr 30 Worlds, up to 20 knots with steep waves gave everyone some good times and bad, with Groovederci dropping back to third, Barking Mad once again in second, and Annapolis boatyard owner Rod Jabin leading the way.  Two races in a forecast 15-20 tomorrow will decide it, perhaps inside Narragansett Bay  - just 4 points separates the three boats and you can watch it happen on their Facebook page tomorrow starting around 1030 AM.  At the same time, there's a three-way battle for supremacy amongst the Aussie expats; Jeremy Wilmot is in 8th as tactician aboard Just Plain Nutz, cousin David Chapman is aboard Topas in 6th, and cousin Pauly Atkins is in fifth, shown here aboard Bliksem, getting a bit wonky.  Meredith Block photo; day three gallery is here.  Clean interviews Jabin here.
July 19th, 2013 by admin