Posts Tagged 'wingsail'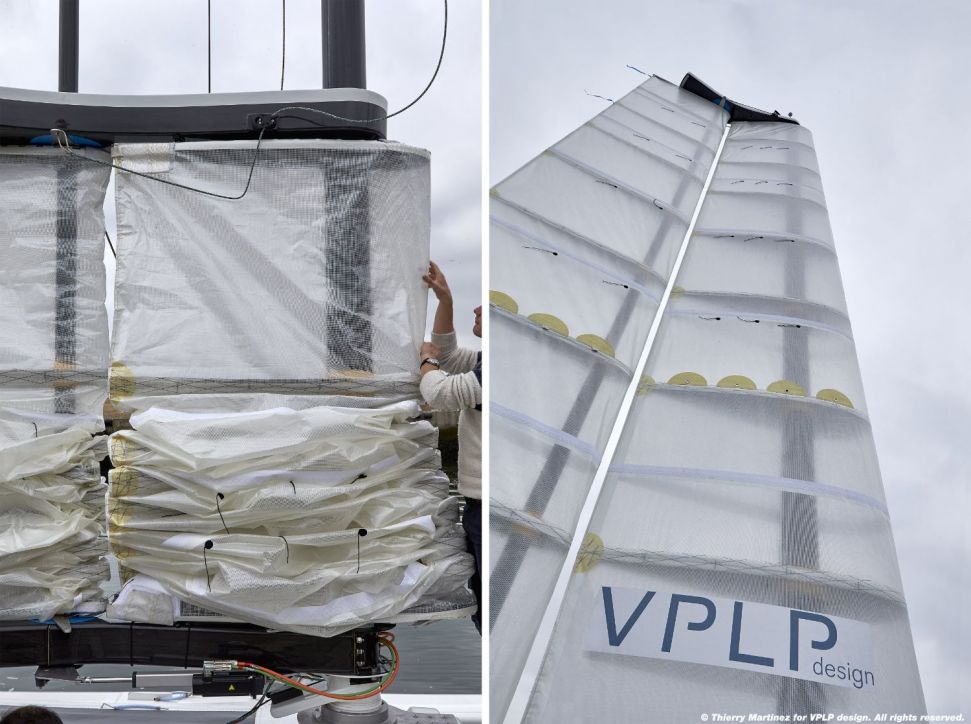 VPLP principal Mark Van Petegham has been super cagey with the development of the wing/sail prototype they French designers think may revolutionize open water cargo shipping but news and PR is now trickling out on what may finally solve the problem with the uber-efficient shapes of semi-rigid wings; reefing. Note from the photo that the solution isn't nesting flaps or morphing shapes – it appears to be a plain old, 19th century, halyard-and-sail-material solution.
Entirely automated, self-supporting and rotating 360°, Oceanwings® adapts its angle of incidence to the vessel's point of sail to ensure optimal propulsion. Power is managed by trimming camber and twist. "Not only does it provide exceptional control," explains Nicolas Sdez, the engineer in charge of the project, "it's also efficient to the point of halving the surface area required to propel a vessel under conventional sail." VPLP design is developing several concepts which use this patented technology, such as the Komorebi range, Komorebi 200' and EMC cargo ships.
We'll have more on it when we can get the tight-lipped VPLP to open up, but until then, check Marc's article on LinkedIn.
April 29th, 2017 by admin
When longtime Anarchist and now world cruiser BJ Porter joined Sailing Anarchy, his son was probably too young to talk.  And now, a decade and a half later, Will Porter is now a Naval Architecture student and the author of one of the most interesting threads on the Sailing Anarchy Forums in some time.  We'll feature a new post from Will's thread "Southampton Solent University Model Yacht Competition" all week, beginning with this one:
My design was one of the most unusual in the race because it had a wing sail (which took an extra 100 hours to build). It also is one of the only that use modular construction (think structure module like Francis Lee) and 3D printed parts. In addition, my boat was the only one designed entirely in 3D using Rhino because we're not supposed to learn how to use that software until year 2.
My idea for that was to make the boat sail better upwind as that's where all the points in the races are. It worked very well, apparently combining a skinny monohull with a wing gives good pointing ability. My boat sailed almost into the wind, the first race I started on the leeward side of the start line and finished first to weather of all the other boats. When I was testing the boat I had problems with it sailing so high the jib would collapse but the boat would keep going in a straight line into the wind. I think most of the time the wing was doing all of the work. You can see how high she was sailing in the photo below (relative to the ripples in the lake).
May 24th, 2016 by admin
With gasoline at around $2.00/gallon in much of the USA, commercial wind power is rapidly receding into the world of science fiction, but we're not ready to give up just yet, so we dusted off our favorite VLCC rendering from just a couple of years ago when fuel was twice the price.  It'll happen again, and when it does, we hope this rigid-winged Panamax-size concept comes alive.  It comes from Sauter Carbon Offset Design, and between the wings, solar power, and a narrower, shallow-draft hull, designers calculate the Deliverance to use less than half the fuel and earn billions more over her life than a non-hybrid ship of the same size.
More over here.
September 22nd, 2015 by admin
Long the place for the dreamers and tinkerers to play, the evolution of top-end sail racing has finally made winged catamarans not only technologically interesting, but actually cool.   How else do you explain all the good looking youth engineers throwing their souls into the Quebecois Rafale Little America's Cup project? Here's an update from Canada, and head over to the thread for the latest likely entry list and chatter about the Little AC.

Our hulls are in the last stage of fabrication, i.e. just adding the daggerboard cases. Plateform assembly should be well advanced by the end of the week, depending on a few missing bits and pieces.  A prototype set of our hydrofoils has been tested by the Mystere Composites team on their Espadon Air Design 20ft catamaran. Results have been very encouraging with some good speed and stability. Our set of foils and rudders are being built as we speak by the Mystere team.  The wing is also at an advanced stage of completion. The front element is 90% complete. The flap / rear element is 60% or 70% complete. Most of the wing assembly should be complete by next weekend.
We are on track to be hitting the water on the weekend of July 4th and 5th. We should have 1 months testing and debugging before we ship the full kit to Switzerland.  There are still some questions marks on some key elements, especially shipping and budget. We are keeping our head down and hoping for the best.
I have to give a big shout to all the people who have supported us and helped us get this far, especially all our sponsors who have trusted us to deliver! We hope to make a good showing in Geneva and make them proud.  Overall I have been really impressed by the resourcefulness of the team and what we have manage to achieve considering where we started from. Few would have given us much chances of making it this far. For sure we have had to make many compromises along the way to save time and/or money. The result will be a boat that is slightly heavier than we would have liked but it's not a bad effort for a first attempt. It will be a tremendous plateform to work from in the future.
-Juls.
July 1st, 2015 by admin
Never mind the problems with it (and they are myriad), how cool would it be if the Ro-Ro of the future looked like this? Norwegian engineer Terje Lade says his Wind Ship (did he mean "Wing Ship"?) could be an economic reality sooner than you think; 3 or 4 years until the first one splashes.  "It will give you a positive pull in the direction of the ship more than fifty percent of the time, as an average, without doing anything," he said. "You don't have to think about it. It's so simple."
Simple until the first storm, apparently.  Discuss here.  There's even some video.
November 1st, 2013 by admin