Posts Tagged 'wind power'
The Agustsson brothers are just $50,000 away from turning this clever little Vertical Axis Wind Turbine into reality; If their Kickstarter campaign raises a total of $50k, just two-fitty will get you one of the first production units of the Trinity wind turbine mini USB charger (another hundred bucks will reserve you a limited edition version.  Minnesota-based Developer Skajaquoda says it wants to become the world leader in sustainable products; check out the oddball shit in their online store to ascertain whether they are getting there.
Here's the Kickstarter page if you want to get involved.  Thanks to Treehugger for the heads up.
April 16th, 2014 by admin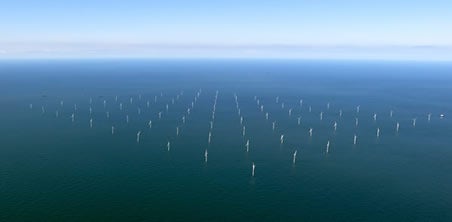 Coal and petcoke billionaire Bill Koch may have finally lost the last battle in his NIMBY war against the Cape Wind project that he and the 'environmental group' he founded has been fighting for more than a decade to keep off Nantucket Sound.  Koch, who admitted to Commonwealth Magazine last year that his problem with the 138-turbine wind farm was that it would "interfere with the aesthetics" of his home and the family compound he's creating (and who also complained that his power bill might go up), has spent several million dollars in an attempted war of attrition against Cape Wind that likely ended this past Monday with a decision from US District Court Judge Reggie Walton.  The judge upheld the Department of Interior's review of the process, rejecting a laundry list of pseudoscientific claims propounded by Koch's group, and paving the way for the project to secure the financing it needs to go forward this year.
The whole case is fascinating and is a great lesson in what's broken with America; even with no valid claim, truth, or science on their side, the ultra-wealthy can ruin almost anything or anyone.  Kudos to Cape Wind CEO Jim Gordon for having a massive set of nuts and sticking to his guns, something that even Koch is amazed with.  As the billionaire told Commonwealth, "Christ, this has been delayed for 10 years and any rational guy would have said there's a time value of money and say, 'Why am I doing this?"  At least Koch is clear about his part: To Koch, it seems that owning a palatial mansion on the water gives him the right to prevent anything from changing his view, right up to the point where rising sea levels and increasingly intense storms wash the whole mess into the sea.  Don't count Koch out just yet though – this is, after all, the guy who went to war against his own family for more than a decade.
March 18th, 2014 by admin
The Sicilian businessman known as the "King Of Wind" had his kingdom stripped last week when Italian police seized nearly 2 Billion worth of assets from the renewable energy developer in Italy's biggest-ever seizure of mafia-linked assets.  While we (and most sailors) have a soft spot for wind-power advocates, this dude – Vito Nicastri – was essentially a bagman for the Sicilian Mafia's most-wanted fugitive, investing money made from extortion, drug sales and other illegal activities for Matteo Messina Denaro, who is believed to be the [Mafia syndicate] Cosa Nostra's head boss.
With their seizure of 43 wind and solar energy companies, 98 properties and 66 bank accounts, Italy becomes one of the largest alternative energy producers in the Mediterranean.  Any bets on how long it takes Italian bureaucrats to fuck it all up completely?
For a deeper look at the dirtier side of clean energy, have a look at this good Proedgewire.com piece.
April 10th, 2013 by admin