Posts Tagged 'Whitbread'
We've reported on Vlad Murnikov's cursed ex-Whitbreader Fazisi many times over the years, and her sketchy past never ceases to amaze.  Hell, she had an entire New York Times feature written about her in 1990 that's worth reading, and her skipper in the 89/90 race, Skip Novak, penned a fairly brilliant book on the 89/90 race aboard.
But the Russian canoe can never seem to get out of trouble, and while we thought her grounding in Brooklyn two years ago might be the end, somehow Fazisi made it back to the Florida Keys…just in time for Hurricane Irma to end it all.
At least that's what longtime Anarchist Tom Weaver told the International Brotherhood of Nautical Anarchists (or whatever that acronym means) when he found this pic of Fazisi on a junk barge, headed to the same destination as the 2500+ other boats picked up during the past couple of months of storm salvage: the landfill.  Is this finally the end of the storied yacht or will someone find a way to save her?  Should they?
January 3rd, 2018 by admin
Millions of sailing fans – Kiwis and foreigners both – have wondered why Grant Dalton remains at the head of the most famously choking team in the history of sailing.  After some fatefully wrong calls in San Francisco – including some really personal inter-team shit that still hasn't seen the light of day – you'd think the New Zealand public, who partially funded the team, would have gotten their calls for blood answered.
But that never happened, and in a rare instance of good journalism rearing its head inside yachting, the boys from Canvas published a deep and interesting look at one of the hardest working – if deeply flawed – individuals in the sport.  His marriage woes, that fateful call to allow Oracle the lay day, his sailing ability, and plenty of other sticky subjects; here's an excerpt:
It was at his grandparents' waterfront house that Dalton had an epiphany. He was at the window when Heath's Condor, with Peter Blake on board, hoved into view as it completed a leg of the 1977 Whitbread Round the World Race.
"It came around North Head with this giant yellow spinnaker and I thought, 'holy shit'. Right down to where every seagull was sitting I can remember that place in time and I knew that was what I wanted to do."
He rang his mum, Rose, another huge influence, to tell her he was chucking in his accountancy job that Christmas to do a Fiji race. On his return, he went the tried-and-true method and started sailmaking to broaden his skill base. He got a spot on a round-the-world boat, loved it, and decided to get his own boat for the next one. "And that's what I've been doing ever since, basically."
And here we enter another tricky port-tack in the Dalton story: his skills as a sailor. You do not have to go far to find someone who will denigrate Dalton's yachtsmanship. Montgomery, who has known Dalton since his early Whitbread days, says the man himself would never confess to "being a rock star round-the-buoys sailor", and he will correct anybody that claims Dalton won a Whitbread by saying he won the maxi class only.
Read the full story here.
August 12th, 2015 by admin
Fazisi has one of the oddest histories of any racing yacht, but her durability has allowed her to transcend her basic weirdness to become a true piece of ocean racing history.  Co-skippered by Skip Novak and Alexei Grishenko in the 1989-1990 Whitbread (until the latter hanged himself during the Punta Del Este stopover), the first-ever Russian entry in any major international race was lucky to get to the line, and still luckier that the oddball design and team held together despite the Uruguay tragedy or the loss of the team's main sponsor mid-race.
Fazisi's led an interesting life since all that, most lately as a sort-of mascot for the Polish Sailing Club of New York.  She ostensibly went through some kind of refit to prepare her for the '2015 Volvo Ocean Race' – an event the boat apparently missed despite being in good enough shape to play in the Caribbean a couple of months ago.
Whatever her plans, under skipper John Kedzierski, the Munikov design was at anchor on Saturday as a big front rolled through, and 30-knot winds (with no one on anchor watch) meant the boat is now high and dry in Brooklyn near the Gateway Marina. We'd ask 'is this the end?', but by now we know better.  Fazisi is destined to survive stupidity and carelessness forever, and she'll keep looking like the odd old bird she is.
There's a little presence on Facebook, but go to Youtube to see what Fazisi – and Skip – were like in their prime.
June 1st, 2015 by admin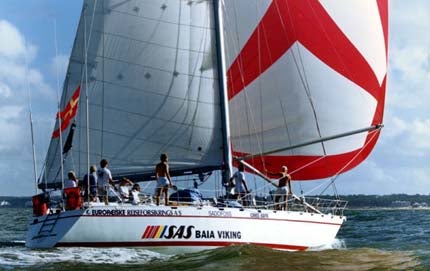 Sailing Anarchy only logs about 30,000 readers annually from beautiful Denmark, but we do love our Scandinavian friends – and one of them took issue with our Vestas Wind story yesterday. 
Dear Sir:
I would like to draw your attention to a small error.  You reported yesterday that the Vestas Wind boat is the "the first-ever Danish-flagged Volvo entry", but this is not true.  SAS BAIA VIKING, a Kjaerulff  50, competed in the '85/86′ Whitbread with skipper Jesper Norsk.
While we were technically correct (and mostly due to the handicap vs. box rule situation, we have always felt as though the Volvo Ocean Race was more of a descendent of the Whitbread than the same race),  our new friend Niels is certainly correct to point out the Danish history in this race; one boat, the smallest in that year's Whitbread, and it crossed the line last.  We hope and expect the Vestas Wind team to do quite a bit better…
The full story is here in "BaadMagasinet", including links and time stamps from the archived movie of the '85 race.
August 28th, 2014 by admin
Our pals at Volvo Ocean Race HQ are struggling a bit this time around; usually, by this time in the typical VOR race cycle, there would be tons of speculation and new boat launches and crew musical chairs to focus on.  But the new Volvo One-Design 65 changes all that, and it's hard to get excited when there isn't anything to talk about.  The boats are mostly built, the well-funded teams are mostly formed, and the stragglers  – including a young and hopeful US team with some rumored Eastern European backers – are keeping their mouths and their computers completely closed for fear of screwing up their tenuous deals as the start date looms ever closer.
But Rick Deppe and the media folks at the VOR are nothing if not resourceful, and for Christmas, they delivered this gift for your viewing pleasure – a beautifully done, perfectly preserved and remastered documentary of the 73-74 Whitbread Round the World Race.  Enjoy.
January 22nd, 2014 by admin