Posts Tagged 'weather'
SA's resident Wx expert 'DryArmour' checks in with a report on El Nino.  For more, check the thread, and if one of the hundreds of uninformed news reports on the weather phenomenon has you confused, read this primer on the state of the Pacific.
The Eastern and Central Pacific are as active as I can recall over the last 20 years. A generally moist environment is increasing the chance for tropical storm
development. Two areas are of particular interest at the moment. One 800 mi SSE of the Bog Island of Hawaii is marginally likely to turn into something that requires watching. The second area is just east 140 degrees west and is already showing some rotation and cloud tops near the center are cold to very cold. Some SW shear is slowing rapid development for the moment. Both systems are moving generally westward @10-15mph. If you live in the Hawaiian Islands or are traveling there in the next week pay attention to the weather and local notifications. The Sea Surface temperatures are also much warmer than the average over the last 20 years and getting warmer and spreading northward.
July 28th, 2014 by admin
Every sailor sees fog now and again, but we can't recall ever seeing photos of a fog bank like this one rolling in so perfectly.  Gorgeous work from a salmon fisherman on the Eastern shore of Lake Michigan, with the full gallery here.  Thanks to MI Anarchist 'Geff' for the tip.
May 24th, 2014 by admin
SA'er "DryArmour" checks in from his weather lab at the start of the normally docile NOSA 2014 Newport to Ensenada with this monster forecast.  Stay safe, people!
Good Friday morning to everyone from the WxRouting weather center. The 66th annual Newport to Ensenada Yacht race kicks off today around noon off the Balboa Pier off Newport Beach, CA. A late season storm is dropping southward and a GALE WARNING* has now been posted for the inner waters and includes part of the race course. This warning may be extended southward as winds and seas build. A 50% chance of rain is also in the forecast so the challenges will be many for the racers. For Saturday morning through Saturday afternoon there is a chance of thunderstorms over the coastal waters.
At 0300 PDT, winds in the coastal waters of the northern channel islands are in the 29 knot sustained range and gusting into the mid 30s. The wave heights are already 8.5 feet with a very short period of just 9 seconds. A southerly swell at four feel will add to the washing machine effect.
At this time I will make the recommendation that racers unprepared for these conditions or vessels not thoroughly outfitted consider your options carefully with regard to sailing the course. Safe ports of harbor along the way should also be thoroughly inspected and charts consulted in advance of departure so that you are familiar with fairways and range markers should seeking refuge from the potentially hazardous conditions become a good idea in the team's estimation. Remember that it is the skipper and crew's sole responsibility to determine whether it is safe to race at the start and at any time while on the race course.
As Dirty Harry told us, A good man (or woman) knows their limitations. But in a sport where we've seen far too many tragedies over the past few years, it applies in spades today. For race teams and vessels who are prepared, this may be an epic race – one of those 'once-in-a-lifetime' heavy-air run that many of us cherish from our past, precisely because they are so few and far between…but the utmost care needs to be given with regard to safety. Jacklines run and tested.  Harnesses inspected and WORN with PFDs included.  MOB/COB drills.  Safety briefings and all crew given the chance to speak their mind prior to finding themselves in a  situation they are unprepared for.
The biggest challenge for the N2E could be returning home, so plan  accordingly. Winds and seas remain a big concern right through Sunday, and care and prudence should be used in abundance when choosing a day and time to return to port here in the states.
Be safe everyone and many thanks to those of you who have selected WxRouting race forecasting to make your voyage as fast and safe as possible. For those of you who have purchased the race forecast package the details will lag by about 15 minutes today as there is a lot of data coming in and I feel it more important to get the forecast right than to get it to you 15 minutes earlier.
DISCLAIMER- WEATHER FORECASTING IS AN INEXACT SCIENCE. CONDITIONS MAY NOT MATERIALIZE AS FORECAST BUT THE PRUDENT MARINER UNDERSTANDS THAT THE CONDITIONS MAY ALSO EXCEED THE PROJECTED WINDS AND SEAS BY AS MUCH AS 20-50%. BE SAFE, MAKE GOOD CHOICES PEOPLE.
April 25th, 2014 by admin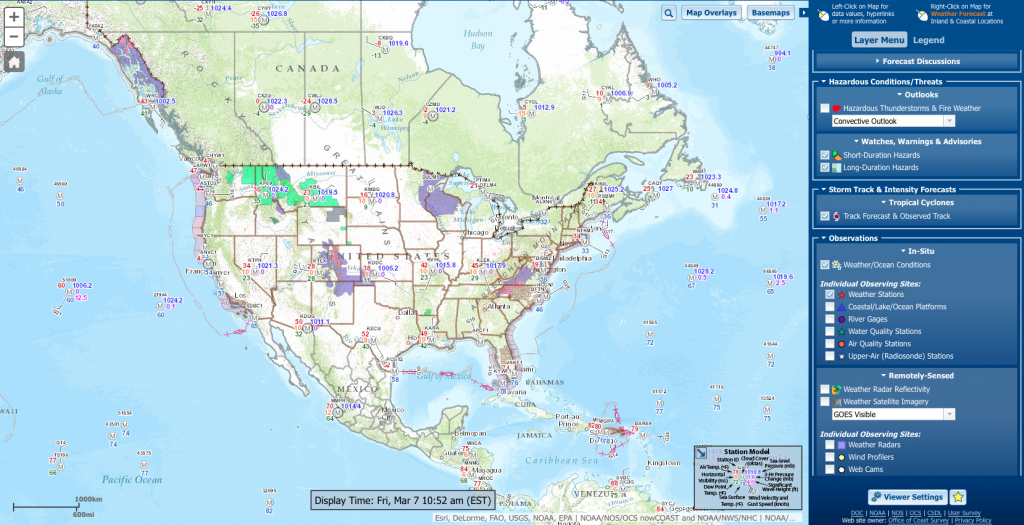 It's so rare to have anything useful come out of the US government lately that we were almost shocked to find an intricate new tool available from the friendly folks at NOAA.  Called NowCOAST, it's a forecasting tool that has similar capabilities to the tools that NOAA forecasters have on their own computers, and is a huge upgrade to the dated and crappy forecast functionality that's been anchoring the NWS for years.
NOAA says that "nowCOAST provides situational awareness on present and future environmental conditions for coastal and marine users by integrating data and information from across NOAA, other federal agencies and regional ocean and weather observing systems. For example, users can assess present conditions by creating maps of the latest in-situ weather/marine weather observations, weather radar reflectivity mosaics, cloud images from satellites, surface wind and sea-surface temperature analyses, and precipitation amounts for the last few hours. In terms of future conditions, users can obtain maps of critical weather and marine weather advisories, watches, and warnings, weather forecasts, tropical cyclone track and intensity forecasts, and forecast guidance of water levels, temperature, salinity, and currents from oceanographic forecast models."
There's more details on what the NowCOAST is about here, and after just a few minutes of playing around with it, we encourage you to do the same.  It's powerful, very rich with information, and looks quite good.  Thanks to SA'er "Estar" for the heads up; bounce ideas off him and the rest of the meteo-obesessed Anarchists in the thread.
March 7th, 2014 by admin
The coolest toy we've seen on the inter webs in ages, this living global wind map is moveable and spinnable and zoomable anywhere on the globe.  That would be cool enough for hours of contemplation, but author Cameron Beccario and team are constantly adding new features too; you can check winds all the way up through the stratosphere and play with multiple projections of the world.  For extra holiday fun, plug it into the big screen between games (or Cast it if you've got one of these cool new toys) and wow your family with the trippie snow globe. Keep tabs of new developments on their Facebook page or in the SA thread.  Once again the Pixies are our title inspiration.
December 21st, 2013 by admin
NASA's super computing was one of the stars of SC13, the international supercomputing conference held this year in Denver, and we liked this shot the best; it's a full-world model of surface and upper winds spat out by the GEOS-5 system run by the Discover supercomputer, which is capable of far more detailed resolution than even this 10km detail.  Surface winds are white, upper levels are colored by speed, and this is something of a dry run for the 2-year "Nature Run" simulation, which will model Earth's atmosphere with accuracy never before possible.  Image courtesy of Bill Butman/NASA Goddard Space Flight Center, with a shout-out to Giz for the news.
November 22nd, 2013 by admin