Posts Tagged 'VPLP'
A cool, multi-cam 360 degree look at the latest-launched Ultim, Banque Pop XXXWTF.  Foiling on the ocean last week to 42 knots in this drone vid.
And Vincent Riou (longtime open 60 PRB skipper) says he's joining the Ultim game too.  The world's fastest fleet of racing boats may soon be the world's biggest offshore multihull fleet!
December 2nd, 2017 by admin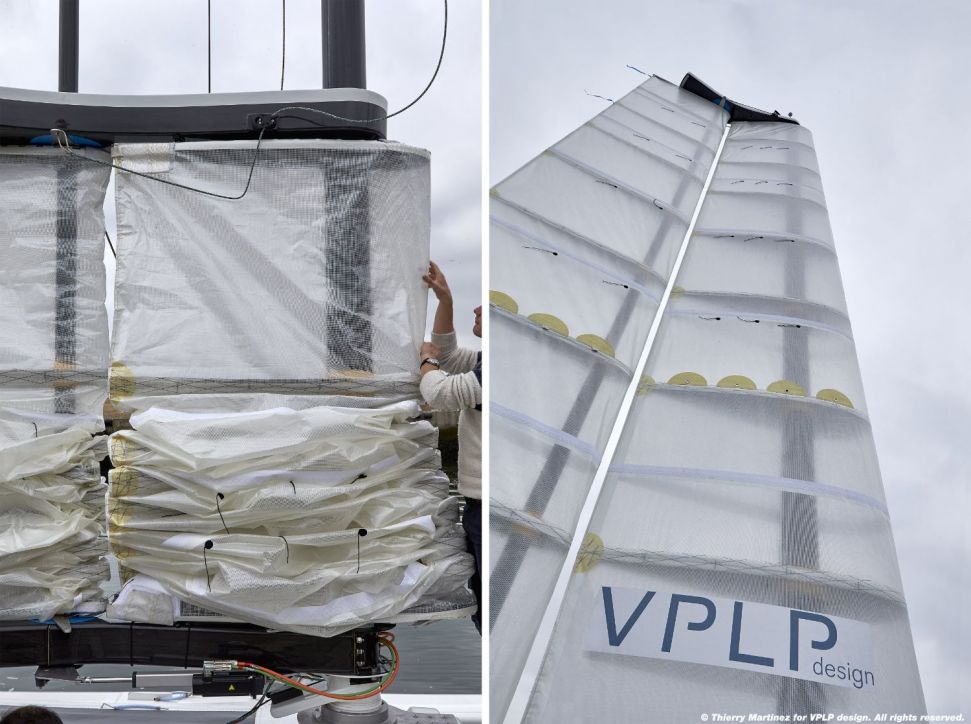 VPLP principal Mark Van Petegham has been super cagey with the development of the wing/sail prototype they French designers think may revolutionize open water cargo shipping but news and PR is now trickling out on what may finally solve the problem with the uber-efficient shapes of semi-rigid wings; reefing. Note from the photo that the solution isn't nesting flaps or morphing shapes – it appears to be a plain old, 19th century, halyard-and-sail-material solution.
Entirely automated, self-supporting and rotating 360°, Oceanwings® adapts its angle of incidence to the vessel's point of sail to ensure optimal propulsion. Power is managed by trimming camber and twist. "Not only does it provide exceptional control," explains Nicolas Sdez, the engineer in charge of the project, "it's also efficient to the point of halving the surface area required to propel a vessel under conventional sail." VPLP design is developing several concepts which use this patented technology, such as the Komorebi range, Komorebi 200' and EMC cargo ships.
We'll have more on it when we can get the tight-lipped VPLP to open up, but until then, check Marc's article on LinkedIn.
April 29th, 2017 by admin
With the Solitaire Du Figaro (née Course L'Aurore) getting close to it's half-centennial birthday, the brilliant illustrators at Chevalier Taglang have put together a beautiful pictorial history of the of the world's most prestigious solo coastal race.  The post itself (with thanks to  Donan Raven for the translation) includes line drawings and more on every winning Figaro design since the beginning way back in 1970, while above you'll find drawings of the three one-designs that have made up the competition since 1989.
Most top sailors we've spoken to have expressed reservations about the effectiveness of the brand new VPLP Figaro design that we've coined the "Figaro FF" (for Fishhook Foil), but you can't say it doesn't look like a goddamned weapon.  Here's an excerpt, and we encourage you to head over to Raven for the smart, comprehensive look at the history-making race.
Class rules often prevent more than they allow innovation. They are continuously created and adjusted to avoid rulebeaters that would obsolete the existing yachts in a racing fleet. Those yacht designers that would have established themselves in a given fleet but had least success in establishing their latest ideas are sometimes the first to limit the rise of new trends in the class where they have achieved popularity. History gives us plenty of ideas which seem new, whilst they are in fact more often the result of a greater freedom allowed by the class rules that have the fewest limitations.

The race was first named Course de l'Aurore, after the French newspaper for which the founders of the race, Jean-Michel Barrault and Jean-Louis Guillemard, worked. The guidelines of the competition were very simple and achieved immediate success in her first edition in 1970. It was an offshore race, raced in single-handed 9 metre yachts on elapsed time only. On August 6th of that year, twelve series production yachts took the start in Brest (France), and eight completed all three legs, with Joan de Kat winning the overall event on a Super Challenger, ahead of runner-up Michel Malinovsky.

From 1977 onwards, the race used either Half Ton cup yachts, series production yachts, or custom International Offshore Rule (IOR 21.7 raters) with an overall length of about 9 metres. Gilles Gahinet won the event on Rally, designed by New Zealander Ron Holland. In 1980, French newspaper Le Figaro became the title sponsor of the event, when Jean-Michel Barrault was a news correspondent for the company. That year, Gilles Gahinet won the race on Port de Pornic, his own design.   Young French yacht designers won all the races from from 1978 to 1990: one victory each for Jean Berret, Jean-Marie Finot, Gilles Gahinet and Jacques Fauroux, five victories for Michel Joubert and his partner Bernard Nivelt, and three victories for Daniel Andrieu. However, the sophistication of Half-Ton Cuppers had become a real problem, with team budgets skyrocketing and the IOR rule coming to an end.

For the 1990 event, the race organisers submitted a call for tenders to shipyards to enter a design competition: the race would now be a strict one-design. The winners of the competition, French shipyard Bénéteau, the World's largest builder of sailing yachts, made two proposals: The overall design of Jean-Marie Finot, which included water ballast tanks, was retained, whilst the jury gave special mention to Jean Berret for the elegance of his design's sail plan. Subsequently the jury asked both designers to team up to design the future Figaro Solo.
January 30th, 2017 by admin
UPDATE: French sailor Armel Le Cléac'h has today won the Vendée Globe, setting a new record for the solo non-stop round the world race in the process. Le Cléac'h, 39, from Brittany, crossed the finish line of the race in Les Sables d'Olonne, France, at 1537hrs UTC after 74 days, 3 hours, 35 minutes and 46 seconds at sea on his 60ft racing yacht Banque Populaire VIII.
His time sets a new record for the race, beating the previous record of 78 days 2 hours 16 minutes set by French sailor Francois Gabart in the 2012-13 edition by 3 days, 22 hours and 41 minutes. Le Cléac'h, the runner-up in the 2008-09 and 2012-13 editions of the Vendée Globe, covered 24,499.52 nm at an average speed of 13.77 knots during the race, which began from Les Sables d'Olonne on November 6 last year.
Armel benefitted significantly from the early-race foil breakage of what most believe to be a much faster design in Hugo Boss, but despite Alex Thomson pushing Armel as hard as maybe any human could have, we once again will have to wait another four years for the chance of a non-French winner to emerge from this quintessentially French race.
We continue to be amazed at Thomson's ability to remain glued to Le Cle'ach's transom for the better part of 70 days despite the damage to his boat, but Le Cle'ach played the game more as a wise owl than a sneaky jackal, and sailed a masterful covering match race from Cape Town all the way home.
While Armel had all the pressure of the favorite, once again, Alex has proved he belongs in the solo racing Hall of Fame with the performance of a lifetime.  Beating his own 2012 race time by nearly 10 days and setting the Vendee Globe and outright solo monohull 24 hour distance record in yet another edition (only exceeded by four crewed boats in the record books), Thomson really is the only hope for taking the title away from the French – and only if he comes back and gets it right, this time without the bad luck.  Photo © Jean-Marie Liot / DPPI / VENDEE GLOBE
Ask Alex and Armel ANYTHING!  We are 99% sure that we'll be doing audio or video with both these top dogs in the next day or two for the Sailing Anarchy Podcast, and as usual, we like your questions better than our own.  Ask Alex and Armel your own questions in this new thread and we'll see if we can get them answered.
Join the Vendee thread for the latest chatter.
Title should to the movie adaptation of a classic Forsyth spy thriller.
Tags: alex thomson, armel le cle'ach, banque populaire, finish, hugo boss, imoca, open 60, record, Vendee Globe, verdier, VPLP
January 19th, 2017 by admin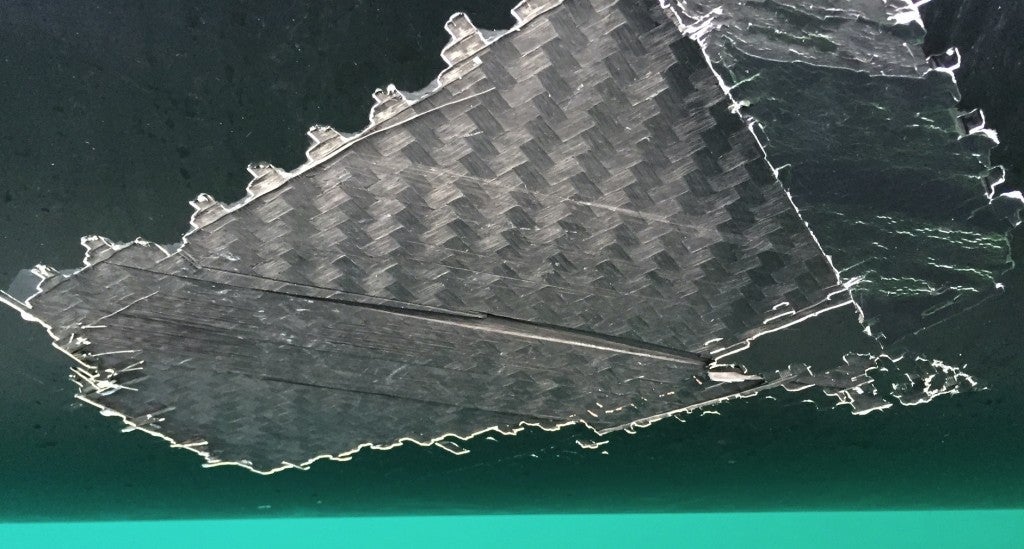 This shot of the outside of Hugo Boss's hull shows the impact that broke the ribs of Alex Thomson's brand-new Open 60; the first in a series of cascading failures that led to their near-sinking in the Bay of Biscay a few days ago.  Alex is 99.9% sure this presumed collision was the root cause of the rest of the issues,  but that's not the most surprising thing we learned in our Skype interview with him this afternoon.  You'll have to tune back in to this page for the rest of the story early tomorrow, exclusively on Sailing Anarchy.  It's a good one!  We're also pleased to report that VPLP and Verdier seem to be completely on top of it, with their top guys working hand in hand with all the teams with issues.  Stand by for more.
TJV thread here.  Boss Sinking thread here.
November 3rd, 2015 by admin
This shot from the floor of Jean-Pierre Dick's Virbac St.Michel shows the broken ribs that knocked the new-gen foiling Open 60 out of the Transat Jacques Vabre last night; the fourth retirement out of the 5 VPLP/Verdier fliers and a clear sign that someone in the design office seems to have gotten these multi-million-dollar beats wrong – very, very wrong.
One of the major innovations in the new boats is a transverse version of the approach to hull design that we first saw in Comanche; instead of a few large stringers in a structural grid over a relatively thick hull, the VPLP solution uses these small semicircular ribs to support an extremely thin hull (4mm in some spots).  It's a significantly lighter way to do it, but if the difficult production process isn't micron-perfect or if the ribs aren't taking the load in unison, things go ugly quickly, as JP and Fabien discovered when they went down into the sail locker.
While four foiling boats are out, the final "Mustache" boat is showing why they all bothered, with the new Banque Populaire XVCCIVXIICL sailing an average of more than a knot faster than the ultra-quick previous generation PRB in the same stretch of ocean on a nice run.  In a Vendee, that would translate to a couple of weeks' lead…assuming BP can avoid the speed bumps…
To The Orphanage For You
Our sentimental favorites aboard Adopt-A-Skipper have unfortunately also pulled the plug thanks to a blown out backstay, with Ryan and Nico headed back to Concarneau.  What a yard sale this TJV has become!  Chat and crowdsource all the TJV news here.
Thanks to SA'er 'chasm' for grabbing the shot from Virbac before they pulled it from their site.
October 30th, 2015 by admin
While the Macif foils have finally been revealed, details on the latest and greatest VPLP/Verdier Open 60s remain scant, in part because the secrecy in IMOCA world is exceeded only by that of the America's Cup.  Fortunately we've got connections, and our Senior Editor headed over to England last night to become (we think) the first reporter in the world to sail on an offshore foiling monohull.  He's headed offshore tonight with the one guy who continues to keep the torch lit for anyone who wants to see a non-Frenchman take the Vendee Globe trophy: Alex Thomson.
Alex and his Hugo Boss team have had unprecedented success with sponsors and the media over the past decade, but less so on the race course, with Alex able to grab a few victories in low-profile events and a couple of hard-fought 24-hour solo distance records. Bad luck ended his two strong chances to win the Barcelona World Race, but his 3rd place in the last Vendee (with a now 3-generations old boat) cemented his credibility as a potential race winner, if he could only build a competitive ride.
That has now happened, and we've got a couple of days to dig into Alex's program and his new boat, and more importantly, to answer any questions you guys can come up with – as long as they're not about the details on the foils, and if we told you about them, we'd have to kill you.  We'll have a report on the boat and on the new Mercedes-Benz stickered Hugo Boss before the TJV begins, and if you ask your questions today over in this thread, we'll put them to the team. 
For a fond look back at the two-generations old Farr Open 60 that Alex took his Vendee podium with (and Ryan Breymaier is about to doublehand across the ocean), check out the very cool video above. 'cause boats have souls…
October 13th, 2015 by admin
The wide-open development world of the Ultimé trimarans means ultimate secrecy, especially when it comes to the most important performance part on the boat: the foil.  And sure enough, after months of testing and sailing with only highly edited photos and videos making it to the public, the J-foil on Macif has finally been revealed.  It's fat, short, and looks like it'll survive a whale or seal filleting session well enough, but will it be fast enough to bring wunderkind Francois Gabart RTW gold?
With the even more extreme near-sistership Banque Pop IX not far behind, we fully expect quite a bit about these rockets to change before their solo round-the-world race begins in a couple of years.  In the meantime, this monster is off to Le Havre to compete in the doublehanded TJV in just a couple of weeks; here's a pretty sexy video promo for their challenge.   Thread here.
October 13th, 2015 by admin
Alone in the sea of brand-new foiling(ish) Open 60s is the UK's Alex Thomson and his new Mercedes-Benz sponsored Hugo Boss, the sort-of sistership to the new VPLP/Verdier monsters that are dropping in the water seemingly every week as the TJV gets close.   Speaking of the French doublehanded classic, there are a jaw-dropping 21 IMOCAs registered for the start in Le Havre.  Will you be there?  Sailing Anarchy will.
We're a bit shocked to see the Hugo Boss change color from the silver that we assumed was such a perfect fit for Merc (and its silver arrows racing brand) but we forgot to check in on the team that HB seems to get all its design inspiration from.  Sure enough, they just turned black this year as well.
More pics on the ATR Facebook page, and the world's best source of breaking information about the IMOCA fleet is, of course, right here in the Ocean Racing Anarchy forums. Title shout to a great song for a blind date…or a stalker.
September 5th, 2015 by admin
Need somewhere cool to park your 100′ supermaxi for a couple months?  Come on down to South Carolina, where the men are men and the girls outnumber them…heavily.  We're not saying that's why Comanche just splashed in Savannah, but we're not saying it ain't, either!
Jim Clark's monster maxi (and the most 'American' of any major team in yachting) is just now motoring her way from Savannah up to Charleston, where she'll hang out at SeaBreeze marina until late March, when she'll head down to St. Bart's for Les Voiles and a fleet of boats she should crush.
Huge thanks for this shot and three more we've stuck in the Comanche thread to our old Charleston pal Kurt Oberle,  founder of High and Dry Boatworks, the best carbon/fiberglass fixit guys in the Charleston area.
February 8th, 2015 by admin