Posts Tagged 'volvo ocean race'
Millions of sailing fans – Kiwis and foreigners both – have wondered why Grant Dalton remains at the head of the most famously choking team in the history of sailing.  After some fatefully wrong calls in San Francisco – including some really personal inter-team shit that still hasn't seen the light of day – you'd think the New Zealand public, who partially funded the team, would have gotten their calls for blood answered.
But that never happened, and in a rare instance of good journalism rearing its head inside yachting, the boys from Canvas published a deep and interesting look at one of the hardest working – if deeply flawed – individuals in the sport.  His marriage woes, that fateful call to allow Oracle the lay day, his sailing ability, and plenty of other sticky subjects; here's an excerpt:
It was at his grandparents' waterfront house that Dalton had an epiphany. He was at the window when Heath's Condor, with Peter Blake on board, hoved into view as it completed a leg of the 1977 Whitbread Round the World Race.
"It came around North Head with this giant yellow spinnaker and I thought, 'holy shit'. Right down to where every seagull was sitting I can remember that place in time and I knew that was what I wanted to do."
He rang his mum, Rose, another huge influence, to tell her he was chucking in his accountancy job that Christmas to do a Fiji race. On his return, he went the tried-and-true method and started sailmaking to broaden his skill base. He got a spot on a round-the-world boat, loved it, and decided to get his own boat for the next one. "And that's what I've been doing ever since, basically."
And here we enter another tricky port-tack in the Dalton story: his skills as a sailor. You do not have to go far to find someone who will denigrate Dalton's yachtsmanship. Montgomery, who has known Dalton since his early Whitbread days, says the man himself would never confess to "being a rock star round-the-buoys sailor", and he will correct anybody that claims Dalton won a Whitbread by saying he won the maxi class only.
Read the full story here.
August 12th, 2015 by admin
Talk shows, live sporties, SCOTWs, flying scows, and one of the biggest races in the world.  It's another Sailing Anarchy video tour!
kind of a big deal
Ian Walker and Jamie Boag began their Volvo Ocean Race adventure way back in the Green Dragon days, and if anyone's earned the victory in the world's premier sailboat race, it's them.  Clean grabbed Walker and Boagie (both late to their own show, of course) as well as Phil "Wendy" Harmer and best overall OBR Matt Knighton for 45 minutes of chat just before the final awards show last weekend.  Plenty to learn and plenty to laugh about as these boys depressurize after a well-deserved few days of R&R in Sweden.  As all of our VOR coverage, this one is thanks to Sperry, where Odysseys Await.
better late than never
It's only been 6 years since On-The-Water Anarchy broadcast the first-ever live racing action from a Melges 24 Worlds, and thankfully the cameras are better, the network's better, and the location and fleet size are both far better than those dismal grey days from the Chesapeake Bay.  The racing, unfortunately, is just as bad – ultra light air began the first four shitty races without much improvement in the forecast – but if you dig sportboats, you'll still enjoy this live action with 95 boats on the line (half of them Corinthian), and significantly more than the next week's J/70 Worlds in France.  More links here, and results here.
straight talk sally
Remember all that debate about Saving Sailing?  Team SCA standout Sally Barkow gets to the answer in just a few minutes.  One of our favorite all-time sailor chicks…listen to Sally talk about the race, about inspiring the next generation, about sailing instructors and mentors, all here.
the genny fan club
Who knew when superstar skiff/sportboat/match racer/SCOTW Genny Tulloch came to commentate with Clean and JC at the 2010 America's Cup that it would be the start of a new career?  While we think the TeamSCA boat might have done well to add her to the race crew, Genny did a lovely job of sharing the 2014-15 VOR with the world through her daily shows and live-finish commentary.  Always a great chat and good chemistry with her old friend Clean, the brilliant GT is always worth watching.
23 proof
We've seen the stills, but until there's video, it never happened.  Last week, the world's first foiling sportboat proved that, indeed, she does.  Where to from here for the Q23? 
July 1st, 2015 by admin
Don't expect a lot of excitement from the conditions of the final Volvo Ocean Race In-Port, but do expect some fireworks between MAPFRE and Alvimedica, for whom the final silliness means the difference between 4th and 5th overall.  Plenty of pride is in play as well, with four boats separated by just four points in the final In-Port tally.  Live soon.
June 27th, 2015 by admin
Mr. Clean's final dock walk of the 2015 Volvo Ocean Race is a doozie.  The king of Spain, the princess of Sweden, and plenty of last minute inside knowledge of the boats, the crews and what's to play for on what is likely a very light air race in the land of the Vikings.  Shot by the legend, Petey Crawford.
June 27th, 2015 by admin
Big Ben Ainslie popped over to Gothenburg for a short break from the business of foiling to receive the Mange Olsson Award (and give two more out to a pair of standout junior sailors), and we grabbed him to catch up on his new sponsorship deal, on Bermuda's status as 'home turf' for Land Rover Team BAR, on multihulls and the next generation of sailing, and much, much more.  Always a great chat with Sir Ben, and keep your eyes on this page for more interviews from the last day of the #volvooceanrace.
June 27th, 2015 by admin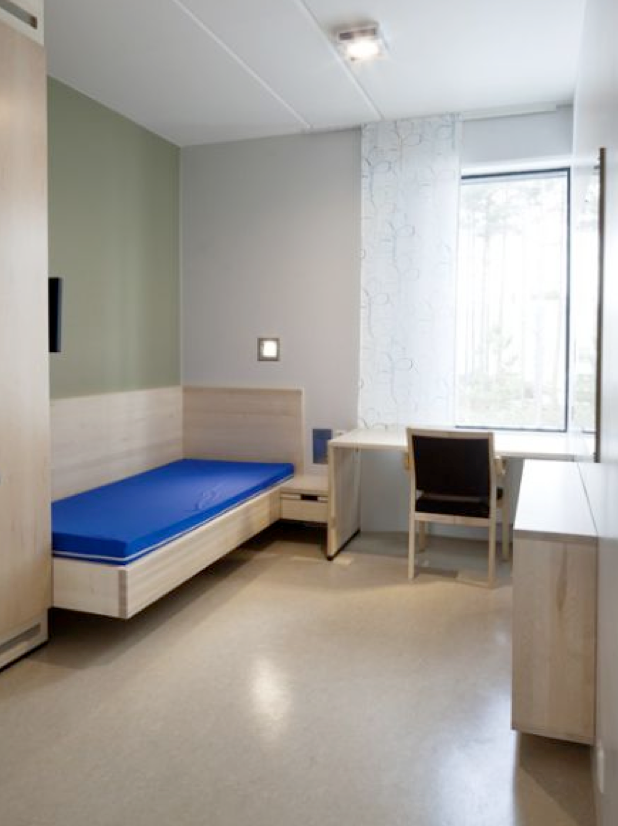 No, this is not a new micro-room in your local IKEA – it's actually a real, live Swedish jail, perhaps similar to the view of two Volvo Ocean Race sailors who were allegedly arrested last night for assault.
In a story that reminds us that the race is still (thankfully) made up of living and breathing sailors, Gothenburg broadcaster SVT Väst reported that two racers allegedly got into a good one last night with several security guards and police officers, and ended up in the pokey, where they remain.
Our own inquiries revealed that a couple of overzealous security guards decided to show how tough they were when the possibly overserved racers asked for more drinks in the exclusive Ocean Race Club.  According to SVT, two guards were taken to the hospital, one after being kicked in the head and chest, the other after having a chunk taken out of his thumb.
When local police showed up, one of the sailors allegedly resisted arrest, assaulting an officer and guaranteeing it wouldn't be just an overnight cool-off in the drunk tank.
Several witnesses told Sailing Anarchy that both sailors were from MAPFRE. There's just something about those (allegedly) fiery latinos.
VOR's official word is typically sparse: "Two men, who suffered minor injuries, have been released from hospital after being examined as a precaution.  We will follow the Swedish police procedure in not naming those involved. We are working with the authorities to establish the facts. It would be inappropriate for us to comment further while the investigation is continuing."
This and everything else we can find is in the thread, and stay tuned for interviews, a live talk show, and more during our Sperry supported coverage of everything Gothenburg this week.
June 23rd, 2015 by admin
It's your final chance to catch Genny Tulloch and the VOR Live Arrivals team as they welcome in leg winner Alvimedica and VOR winner Abu Dhabi!  We'll be out on a RIB to bring in the fleet; go to SA's Facebook Page for our own take on the finish, and be sure to check back in this week for a live talk show with the winning team, some great interviews, and maybe a hard-hitting question or three.
June 22nd, 2015 by admin
The first spectator video is up from the nasty amputating accident in Lorient, and while the foreshortening of a long lens makes it less than ideal for unraveling exactly what happened, it's obvious that neither Spindrift 2 nor the AFP photographer were accurate in their accounts of what happened.  Reality is, as usual, somewhere in between.  What do you see?
Spindrift was somewhere they shouldn't have been, and the RIB driver appears to have been engaged with other traffic when the world's fastest ocean racing boat came screaming in at about 20 knots.  And the VOR's exclusion zone is about to get a lot more exclusive…
June 22nd, 2015 by admin
Charlie and Mark's Team Alvimedica have a nice buffer for the Hague restart to the final leg of the 2015 Volvo Ocean Race, which means the live coverage is unlikely to be all that interesting, especially if the VOR production team continues to rely on piss-poor phone-call-level sound and the thick Norwegian accent of Knut Frostad (what's up with that?). But Mark Covell's back on the microphone and the atmosphere on the ground is electric, with spectators coming out in massive numbers to support Brunel and Bouwe and the kind of racing that fits the steel-headed Dutch mentality to a T.
Mr. Clean got some local flavor during a quick check-in with the Lemster aak (bilge-board racing barges) fleet just before the VO 65s got in the other day, a prelude to hours of Sailing Anarchy live and video coverage from he and Petey Crawford over the next week from Sweden, including a full hour of live chat with ADOR's Ian Walker and Jamie Boag, the guys behind three long campaigns that finally resulted in the long-cherished VOR win.  In the meantime, enjoy Genny and friends from the studio and the water.
INJURY UPDATE: The French site 20 Minutes writes that the woman injured in the horrific accident between a VOR Lorient marshal RIB and the maxi-trimaran Spindrift 2 has indeed had her leg amputated.  She lost a tremendous amount of blood, but thanks to emergency services, is apparently stable.  The Spindrift team have suspended training and pulled out of the GC32 Cowes Cup 'out of respect for the victim and those close to her'.   It brings the GC32 Cowes fleet back down to 5, marking yet another bit of bad luck for a Class that just can't seem to escape it – though they are being considered as one option for the 2016 Extreme Sailing Series fleet, so there's that.

June 20th, 2015 by admin
UPDATE DIRECTLY FROM SPINDRIFT 2: While sailing under reduced sail, the Spindrift 2 trimaran collided with the RIB that crossed her path.  A person who was on board the motor boat was seriously injured before being taken over by the rescue and transported to the hospital Scorff Lorient. "We are primarily concerned about the health of the victim. All our thoughts are with her and her family," said Spindrift 2 skipper Yann Guichard. "The team is deeply affected by this incident and of course, we are cooperating fully with the ongoing investigations."
Two photographers were thrown from a Volvo Ocean Race marshal boat and one woman reportedly sliced open by the rudder of the RTW Jules Verne record-owning Spindrift 2 during the Lorient start of the final leg of the Volvo Ocean Race.  There is precious little actual news about the incident, though one eyewitness told us it was 'grisly', and the three shot sequence of the knife-like rudder of the monster trimaran as it passed through the RIB (shot 1, shot 2, shot 3 via Getty/AFP) doesn't need too much imagination to see just how bad the wounds probably are.
The woman, in her 40s, was airlifted to hospital, and the other three crew were brought in separately.  The VOR has something of a non-statement here, and we've been pestering the Spindrift 2 team for something from them as well.
Having seen the lack of awareness from the 'stake' or marshal boats at almost every stopover, we're shocked this hasn't happened sooner, and the ease with which the inexperienced underestimate the closing speeds of the latest flying and foiling boats makes it inevitable.
This whole thing brings up a much deeper problem that every organizer must now step up and accept; faster sailboats mean support boat drivers MUST BE BETTER TRAINED, and drone operators must be checked out and permitted by each event.  There is no way around it, and the longer we wait, the more people will lose their fingers, their toes, their limbs…or worse.
Photo from AFP via this story in Le Telegramme.
June 17th, 2015 by admin