Posts Tagged 'volvo ocean race'
The Sailing Anarchy/VOR "Show Us Your Boatyard" competition is off to a blazing start, with over 50 submissions coming in over the past few weeks.  They've been so good that the SUYB leaderboard (left) is now a permanent part of the traveling VOR race village show – be sure to check it out when you come down to visit the race.
Your submissions are also providing plenty of entertainment to the awesome girls of the Boatyard (the competition's judges), and they remind you that Leg 3′s Boatyard T-shirt winners will be announced immediately after the Sanya In-Port Race.  Keep sending in your submissions, and if you want extra consideration, post 'em straight on the Boatyard Facebook Page with a hashtag #showusyourboatyard.
Full contest details over here.
January 30th, 2015 by admin
Stern-steerers, litigation (not ours, thankfully!), luscious Hannah, the slickest metal in the world, the boys in Orange coming on, and the boys in Bermuda flying high.  Another edition of Video Anarchy is all yours.
Magic Carpet Ride
Yacht designers and racers have been searching for some breakthrough in hull coating technology for as long as boats have raced; so much so that the  fluid-emitting system on the BMW/Oracle 90 is illegal in every other type of racing.  But what if the perfect hydrophobic hull was a single sheet of metal?  And what if you could etch metal foils so the water literally ran away from them?  We don't know what the long term outlook would be, but we sure are interested, and we know the AC guys are, too.  Check this incredible video above, and you will be too.
All Hannah, All The Time
We were going to post an interesting kiteboarding movie here by the awesome Broken Head Film guys, but then we noticed one of their stars (and an avowed SA reader) Hannah Whiteley – had a new video up herself. And since we're head-over-heels in love with her, we'll feature that one.  Follow Hannah here.
Big Ben's Bermuda Base
Is this just an easy winter vacation for a team whose backers probably all have winter mansions in Bermuda, or are Ben & Friends the most serious Cup team of all right now?   Time is the one thing that matters most for the AC, and here's a slickly produced video showing Ben and the team getting feet wet in Bermuda with Nacra F20C foilers.  UK 1, everyone else: 0.
Orange Is The New Bronze
If you're like us, you're proud of Charlie and Mark and the youngest VOR team for their hard-fought podium finish in Sanya.  But if you're like us, you didn't pay much attention to this long, light-air leg, and you don't understand how they got there.  Watch this video and catch up.
 Section 68
Former OTUSA sailor Mattie Mitchell is taking Larry and Russell to court for being thrown headfirst under the bus during the 2013 AC's Kingpostgate (and hung out to dry for $68K),  and now that it's in court, all the OTUSA/ACEA/ISAF secret meetings, back room deals, and 'confidential' submissions are finally going to see the light of day. Mattie sat down for a 10-minute interview with NZ's  Good Chaps the other day, and it's definitely a good listen for anyone who likes a good AC dustup.
We're excited for the discovery process to begin, and we think the world will get to see just what kind of folks were running the show over in San Fran and at ISAF headquarters for the past few years.  Stay tuned for more developments coming soon, and let's all hope Mattie doesn't settle!
Lords Of The Deuce

54 feet. 104 MPH. 6 crazy dudes.
Total Anarchy.
January 29th, 2015 by admin
Charlie and the Anarchists aboard Dongfeng Race Team are minutes from the finish in Sanya and a momentous occasion for the most Chinese team we've ever seen in any major event; watch the homecoming live here with (we think) the wonderful past SCOTW Genny Tulloch MC'ing them in.  To chat about it, hit the latest page of the thread here.  And for a cool new feature the VOR doesn't have (but should) from yet another Anarchist taking the matter into his own hands, check out "dglad's" VOR Social Content Aggregator here.
January 26th, 2015 by admin
Vestas is the blue-hued spice that gives zest to this edition of the Volvo Ocean Race, and we're rapt with attention at the rebuild saga.  At times, it's as interesting as the race itself, especially with Brian Carlin back on the camera and edits.  Check it.
January 26th, 2015 by admin
We thank everyone who entered our Line Honors/Moth Worlds Flexfit Cap giveaway, and your hats will be on their way next week.  And now, we've something just as cool – a chance to win an exclusive Volvo Ocean Race "The Boatyard" t-shirt!  We call this one "Show Us Your Boatyard," and all you have to do is send us a picture or video of your own personal Boatyard.  Be as creative as you can, send your entry to clean@sailinganarchy.com, and the beautiful and accomplished girls of the Boatyard will choose their favorite SA Boatyards for each leg and get you a sweet bit of kit.  Watch the video for details, and game on!
January 20th, 2015 by admin
Future SCOTW Clare Bright grabbed a press spot with the inshore-blitzing Team SCA boat during the practice race in Abu Dhabi last week on the condition that she tell us their story; given how many fans Samantha and the team have here at SA, we were stoked when it hit the inbox the other day.  Track the girls, as they hang on for dear life at the back of the Leg 3 standings.  Photos from proud hubby Jeff Bright.

OK, this is me…I'm a Brit, grew up on the North Kent coast and crewed Condor Cats as a kid, found it all too cold in that part of the world and gave up for many years, then moved to Abu Dhabi and started again on keelboats.  That was just over 3 years ago and now I'm a mad sailing addict, race regularly in IRC and one-design fleets, sometimes against my better half (yes, I can beat him!) and could not believe it when I got the opportunity to go out on the TeamSCA Volvo boat thanks to Sailing Anarchy.  Here's my story:
Sailing with 'the girls' for the practice race was an amazing experience. The Volvo boats are stunning and the top end of the sport has gone too long without all-girls team. I run my own female team, albeit a much smaller one, on my SB20 and the dynamics are quite different to being out with a male crew.  We focus on a clean race, finding our own lane, clear air and smooth maneuvers to tack, gybe or set/drop sails.  There are no port tack starts on a busy start line just to look macho, or legs spent chasing other boats downwind to try and take them up and out (which usually results in the aggressor taking herself out) or other such testosterone-loaded tactics.  And the result? Very often we quietly and smoothly gain places and end up with a podium finish and smiles on our faces.  It works!
Back to the Volvo race, that's exactly what I saw with team SCA.  From the moment I stepped on board there was full focus on teamwork, the race, discussing tactics, practicing the starts, learning from every move and a subtle but firm, quiet and concentrated attitude.  With a couple of changes amongst the crew there was an air of needing to get back into a rhythm and it sure didn't take long.  The girls were a little early at the start, killing time to the line, then they played the course perfectly going left first, which often pays off in Abu Dhabi while the offshore wind is settling, and rounding the first mark in the lead.  From that point their tactics were about getting ready for every maneuver early and to keep things clean. Looking back, the guys were desperately trying to catch up and clearly not so calm. I was smiling as I watched spinnies with bad sets or late drops causing mark roundings that weren't so clean, the girls showed everyone how to do it that day.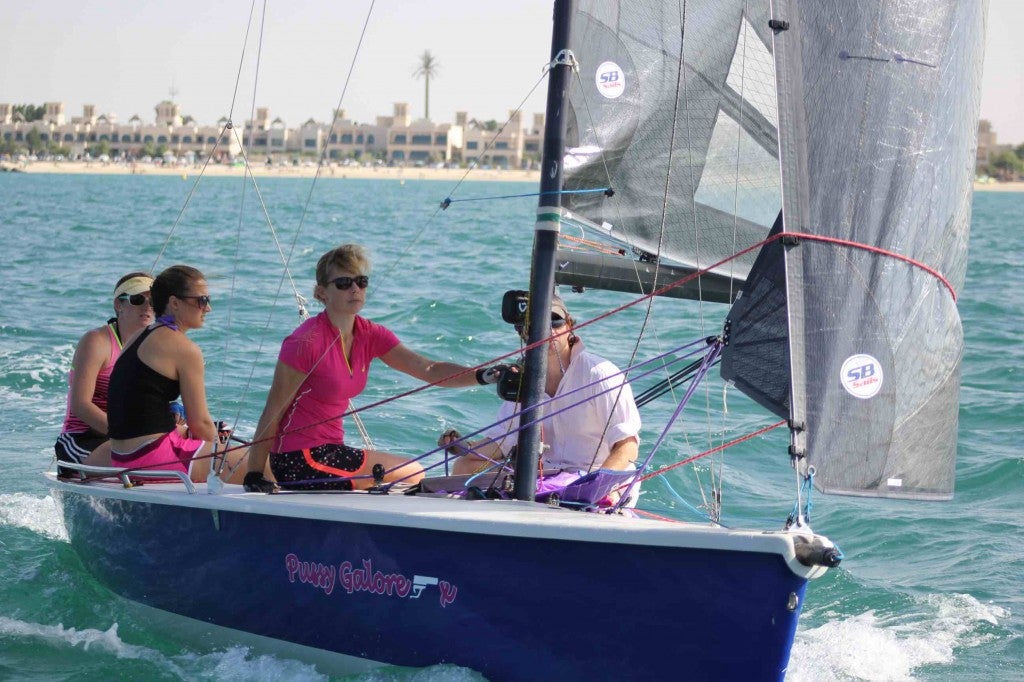 Plenty of people thought the team got lucky…until they did it in the In-Port Race.  This time watching from one of the media boats, we saw the girls peel off early and the general commentary out on the water was that they probably had no choice given their position after the start.  How wrong could they be! What the locals know is that there's a narrow channel running across the bay near the gate end of the course.  Going right early they took both an advantageous wind shift and current help, taking them around the top mark with a solid lead. They won on excellent tactics, navigation and skill – both times.
I'm sure you'll be wondering if any of the crew really stood out, but the truth is that they all did.  Pure teamwork is a joy to watch, with everyone playing an important and integral role. Libby as navigator called the lines perfectly, then Carolijn would add some fine tuning as she spotted a wind shift or wanted a better position while driving.  Up front, the foredeck team was incredibly smooth and there was great communication between them and the rest of the crew.
Foredeck is my favorite place to be on my SB20, and I would love to have been up there helping out!  Sadly, I had to stick to the guest role, watching from the back.  Next time, eh? The trimmers worked constantly, and everyone from mainsheet to bow made sure to always keep the boat tidy, never leaving a chance to mess up from a tangled sheet as they were all back in the bags when needed.   Even OBR Corinna Halloran played a fundamental role, looking out for the guests
and snapping great pics for all of us.  If there's one thing I noticed that possibly use improvement, it would be for the girls to make sure they always know who's in charge when it hits the fan.  A gentle inshore race in Abu Dhabi might be fun and the consultation amongst the girls is always going to be valuable, but the challenges on the next leg may need a fast, clear decisionmaker in the crew.
The Volvo Ocean Race Abu Dhabi stopover has been an incredible week!  Over a hundred thousand people checking out these awesome boats, some great racing for the participants, the VIPs, and the spectators.  The way the shore teams, Boatyard staff, and VOR HQ support the teams and public is outstanding, and I just hope that both Abu Dhabi and SCA sign up for another go, because we would love to have them back in three years.
January 7th, 2015 by admin
After receiving thousands of applications for the On-Board Reporter program, and with a high likelihood that at least one of the seven OBRs would be knocked out of the race for one reason or another, you'd think that VOR headquarters would have a solid list of qualified replacements – but you'd be wrong.  And when doctors diagnosed Dong Feng OBR Yann Riou's wife with a life-threatening illness and he left the race two weeks ago, a mad scramble ensued in Alicante and Abu Dhabi to find someone to fill his brilliant shoes.
Thankfully, that lack of preparedness opened the door for a kid who we consider one of our own, and one of those talents who will help define the sport over the next decade: Longtime SA contributor Sam Greenfield was working in the video edit room for the VOR tv army – he was there, he was ready, and he was raring to go.
If you've read anything over the past few years here, you know we think Sam is sailing's version of a young Warren Miller, and his work has the same potential to revolutionize the perception of a sport just as Miller did for backcountry and extreme skiing.  Despite our hearty endorsement, there was a palpable fear from quite a few VOR and team staffers; Sam is undeniably talented, but he's never dealt with the specific pressure of on-board race coverage, with all the obstacles it brings.  We didn't doubt him for a second, and after watching his first dispatch from the now-leading Dongfeng Race Team, we're glad to see that, as usual, we were right.
This kid is money, as are the subjects in his first video – Kevin Escoffier and the hazards of fishing nets. Clicky the video above, and keep your eyes on the Leg 3 thread for upcoming interviews we did with all 6 OBRs just hours before the start, as well as everything else you need to know about the VOR.
January 4th, 2015 by admin
Clean Report
After trailing into the UAE, and trailing in the practice and In-Port Races, Ian Walker's Abu Dhabi Ocean Racing team finally did exactly what the big-spending Emirati sponsors wanted most: They turned a brilliant first beat move into a massive lead at the sendoff buoy as Leg 3 of the Volvo Ocean Race began.  Relive it above,  chat about it in the Leg 3 thread, and revisit the Stopover Thread for all the interviews and pics from Abu Dhabi. And get to the Vestas thread for a great press conference that should answer all your questions about the return of the Blue Boat.
Head over to Facebook in a few minutes where you can check out my morning Dock Walk, and thanks to all of you for tuning in.
MORE LIVE ACTION NEXT WEEK
If you're a fan of live sailboat racing, now's the time to start pumping yourself up for our world-beating coverage of next week's Moth Worlds, an On-The-Water Anarchy/Perpetual Shit Show Production.  Remember when we used to bring you our own brand of irreverant and fun live video, high-quality photos, daily writeups, highlight reels, wet t-shirt contests, and so on? Well, we're back, and this time, we've got the full all-star OTW Crew to go along with the most star-studded fleet in the history of the Moth Class.  Petey Crawford on the HD reels, Sander Van Der Borch on the HQ photography, Ronnie Simpson on writing and live feed production, Nic Douglass and yours truly on the microphone, a pregnant Mer working the social angles from back home, and an army of local enthusiasts helping us get 'er done.  All brought to you thanks entirely to a sponsor who may surprise all of you.
Don't expect to get a lot of work done from the 10th to the 16th.  You'll find it all right here on the front page.
January 3rd, 2015 by admin
Screw football:  Let's watch some boat racing!  Team SCA, with 3-time Olympian Carolijn Brouwer taking over the stick from Sam Davies (who moves to trim and big-picture stuff)  gets their first In-Port Race win today in Abu Dhabi!  With the In-Port Races getting more and more important as the fleet's parity becomes evident, this was some of the most aggressive racing we've seen yet from the 2014-15 Volvo Ocean Race. Team Brunel finished second, and the local favs in third, with MAPFRE's woes continuing and Alvimedica caught along with the Spanish team on the wrong side of a big first-beat righty.
Check out Clean's raw interviews with Sally Barkow, Carolijn Brouwer, Bouwe Bekking, Anderson Reggio, Nick Bice, and Patrick Shaughnessy as well as dozens of pics from Anarchist JeffB starting about here in the Abu Dhabi stopover thread.
And be sure to tune in at the same time on Saturday for all the action from the Leg 3 Start – with Chris Nicholson alongside Knut and Clean for the OTW commentary. We'll have it right here on the front page, of course.
January 1st, 2015 by admin
Clean Report
Like almost everyone, I hate awards ceremonies, even when I win something.  And since the ceremony for the VOR leg 2 awards in Cape Town was a 3 hour long snoozefest, I purposefully didn't bring anything dressier than a ripped pair of jeans to Abu Dhabi, figuring it was a convenient excuse to avoid another parade of dignitaries who like to hear themselves speak. But when VOR media boss Jon Bramley told me 'you're my guest tonight', the writing was on the wall, and jeans would have to do.
And boy, am I glad I went, because it was certainly the most dramatic awards ceremony I've ever attended, thanks to a crushing, then heartlifting presentation from OBR Brian Carlin, a choked up speech from Nico, and then the bombshell: Team Vestas Wind CEO and CMO of Vestas Group Morten Albæk's nnouncement that Team Vestas Wind would be rejoining the fleet with a mostly new boat before the finish.   If you've been under a rock for a month, get the full story from my interview with skipper Chris Nicholson in Australia a couple weeks ago.
Details remain a little thin until tomorrow's Vestas presser after the In-Port Race, but we can tell you a few things we found out:
1) The decision was literally made 24 hours ago.  A week ago they were almost sure it was over.
2) Nico has full control over selecting the crew for the rest of the trip.
3) He will take a few weeks to really mull it over.
4) Themes of redemption and unity in both Nico and Albaek's speeches lead us to believe that the crew could remain entirely the same
5)  Lisbon may be too soon, but it's the target.  Lorient is the backup, where we can be mostly certain to see the new blue boat begin her redemption song.
6) Vestas is 100% committed, as is co-sponsor Powerhouse.  They love this race and feel there is really only one choice for them if they want to send the right message to their employees, customers, and the world.
7) We will be able to follow the 'race to rejoin the race' via webcam and through updates, and the team's sponsors are working on a documentary of the whole affair.  In many ways, this wreck – and the way it was handled – are the best and most important things that have happened to the race since the introduction of the Volvo 70.
Got questions for Team Vestas at the presser? Post 'em in the Resurrection Thread here and we'll do our best to get them answered, and don't forget we've got a great team bringing you live video coverage of the In-Port Race starting tomorrow at 0950 UTC.  That means an early morning for East Coasters and a late night for you Pacific Time folks.
Go here for some title-inspired redemption of your own, and thanks to GCaptain's story (via shippingnews and the salvors) for the photo.
January 1st, 2015 by admin
We get a lot of fun Christmas cards every year, but this one from SA'er iTa303030 made us chuckle the most.  Share your Kwanzaa, Hanukah, and yeah, Christmas wishes in the thread, and remember: Just 'cause you ain't working doesn't mean we ain't!
So what's in store for the end of the year?  Plenty! 
We've got boots on the ground in Sydney and Hobart, and we'll get you everything you need to listen to both Nic Douglass's all-day live radio show and the official Yahoo/Channel 7 streaming video start of the Sydney-Hobart Race on December 26th (25th in the US and Europe)
Mr. Clean hits the road for Abu Dhabi on Sunday to bring you his customarily awesome interviews, analysis, and live commentary from the In-Port Race and Leg 3 start of the Volvo Ocean Race on January 2 and 3.
Our favorite cornbelt photojournalist Jen Edney is off to Barcelona to get all the inside stories from the 3rd Barcelona World Race.
and Petey Crawford's International Date Line troubles means he's missing Christmas entirely as he heads to Melbourne, Australia at this very moment to scout for our world-leading coverage of January's Moth Worlds.
If you love sailing, 2015 is going to be one hell of a year.  Don't change the channel.
December 24th, 2014 by admin
The SA'ers grabbed a few shots of Rambler 88 from Instagram going through her post-launch checklist on a cold New England day; latest rumors are that Oracle grinder and bow scion Rome Kirby will be boat captain for the crew's workup in the Caribbean in preparation for the 2015 Transatlantic Race.  Everything else on this orphan-sized racer over here.
 Title shout to an electronic orphan from the 80s.
December 23rd, 2014 by admin
In a fairly amazing salvage operation, Coxy, Nico and the team somehow managed to free the Volvo 65 Team Vestas Wind from the grips of the reef, and she's already loaded on a MAERSK container ship and bound for Malaysia in incredibly good shape, considering.  The boat will be offloaded and transshipped directly to Italy, where all the ducks are all in a row to put humpty dumpty back together again.  We have no word on whether Vestas management have decided to pull the trigger, but we know Volvo wants to see it happen, and so does the world.  Tell 'em so on Facebook, and help the big blue boat get back in the race!  Talk about it in the Vestas Resurrection thread.
Photo thanks to MAERSK, with more shots and the story of the salvage op over here.
December 22nd, 2014 by admin
Team Vestas Wind Navigator Wouter Verbraak has been quiet since his early mea culpa on Facebook, but he's not shying away from the camera here; our pals from NOS Sport got him for a good interview in Dutch, and then they went to the trouble to subtitle it just for the Anarchists.  And the story of the blue boat continues…
December 22nd, 2014 by admin
Finally, here is the full story, as only the skipper could tell it.  55 minutes of everything about the why, the how, and the what next after the shipwreck that shocked the world.
Huge thanks to the M32 Series, Gosford Sailing Club, Redhanded TV, Penalty Box Productions, Morten and Team Vestas Wind, and Megan, the blonde groms, and Rusty for helping make it happen, and of course thanks to the Anarchists for giving us mostly excellent questions for Nico.
And if you want to see the boys in blue back in the race, tell them so on Facebook. 
December 17th, 2014 by admin
Mr. Clean's headed over to Abu Dhabi next week to bring you more of what a sailor wants to see, but already, SA Middle East Bureau Chief Jeff B is on the ground putting his own slices of life together with some Canon L glass.  He ain't Borlenghi but he's got a good eye, and we can definitely say we've got the only VOR-accredited photographer who flies fighter jets!
Jeff caught this awesome Lego Team SCA boat in the race village, and we learned the (now old) story of why it's going with them around the world; very cool stuff that you can learn too if you get to the Abu Dhabi Stopover thread for all sorts of pics of the haulouts, the teams, the race village, the Boatyard, and much more.
And don't forget to check out the live feed when Clean and the VOR team bringing you the In-Port Race and Leg 3 Start on the 2nd and 3rd of January.
December 16th, 2014 by admin
We were so motivated by the youth-centric feel at last week's Melges 32 Worlds (and stay tuned for the full movie from that one coming soon) that we arranged a little trans-oceanic conversation between M32 alums Charlie and Mark and the Worlds fleet on Team Alvimedica.  Petey Crawford and the Alvi editing crew put it together into a little story.  Maybe your school kids or sailing organization wants to chat to them too; can't hurt to ask them on Facebook...
December 16th, 2014 by admin
From a healthy-looking yachtie to a meth-addled trucker in just 3 weeks; Abu Dhabi Ocean Racing war correspondent Matt Knighton shows just how hard life is at the extreme – and there hasn't even been an extreme leg yet.  And he's got the least physically demanding job on the boat.
Nice work from Ian Roman.  Now get that man a burger!
December 15th, 2014 by admin
Dongfeng Racing hangs on to a slim lead over Bouwe and the Brunel boys, with Ian Walker's Abu Dhabi team just a few miles back with a hair over 100 miles to the finish.  And when the sun comes up in Abu Dhabi today, the Volvo Ocean Race folks will bring the last piece of the Leg 2 puzzle to you live. Click the link above for the countdown timer, and look for videos, analysis, and share your predictions and banter in the thread.
December 12th, 2014 by admin
Chris Nicholson sat down with us on Friday for his first real interview since his return to civilization, and with the help of about a hundred Anarchist-sourced questions we had an emotional, hour-long discussion that should answer all your questions about the grounding, the evacuation, the cleanup, the rescue, the salvage, and the future.  With both Clean and the Redhanded TV shooters in the air right now, the full edit will take a few days – but here's a little teaser.
Be sure to check back right here on Wednesday for the full cut – it's some of the best work we've ever done with one of our favorite skippers, and we owe a huge thanks to the following folks for helping to make it possible: Team Vestas Wind, the M32 Series, Redhanded TV, the Extreme Sailing Series, the Gosford Sailing Club, and of course Chris and Megan for making the long drive down to meet us.  If you want to see Nico back on the line in Newport, it's time to start showing your support for TVW over on their Facebook Page.  You may very well make the difference…
December 12th, 2014 by admin