Posts Tagged 'volvo ocean race'
When it comes to reporting on sailing in the Med, no one is better than Pierre Orphanidis.  The quick-witted, multilingual founder of Valencia Sailing (now called Vsail.info) is one of precious few sailing scribes unafraid of telling it like it is, even if that means fewer press junkets or PR writing gigs on his calendar.  For us, this makes Vsail required reading, and a few days ago, he took aim at the Volvo Ocean Race organization after a somewhat awkward "Stakeholder Meeting" held in Alicante.  Below you'll find Pierre's piece, and here's the place to talk about it.

Three days ago, on April 1st, we had the opportunity to assist in the opening session of the conference the Volvo Ocean Race and all its stakeholders are holding in Alicante. It is a a four-day meeting, until Friday, where nearly 200 people from the organization, teams, sponsors and stopover cities, gather to discuss all aspects of the round-the-world race. It is meant to provide a platform for debate and exchange among all participants and a mean for the organization to convey its ideas and philosophy on the race.
Unlike the previous editions, media were allowed to participate in the first hour of the conference and listen to a nearly one-hour long speech by Knut Frostad. Although we didn't learn anything extraordinary, it is always interesting to listen to the CEO of what is considered to be on of the top three events of the sport, together with the America's Cup and the Olympics. Whatever Frostad and his team decide to implement, certainly has an impact on the sport overall. Their success or failure will, undoubtedly, have a positive or negative result.
Seven entries confirmed – Sixth team with "Spanish flavor" to be announced soon
Frostad opened his speech by being adamant on the fact that seven boats will be on the starting line next October in Alicante and admitted it would be too late now for an eighth entry as their boat would be ready. Although he didn't reveal the identity of the two remaining teams to be presented, he hinted that the sixth entry would have a "Spanish flavor". No information whatsoever was given in regards to the seventh entry.
Storytelling
As one can observe from the conference agenda, and as it was repeated countless of times by Frostad in his opening speech, the fundamental axis of the race's communication policy and philosophy in this edition is storytelling. Stories will be the cornerstone around which the race will evolve. As Frostad pointed out, gone are the days of frequent race updates and press releases where navigators would go on and on, saying "today we lost 10 miles" or "today we gained 15 miles". This will be the "human" edition of the race. With all boats being strictly equal, technology now becomes nearly irrelevant and sailors, the "human factor", will take center stage. Frostad boasted he had the best storytellers in business that would produce very attractive and interesting content. The most important issue for him is to engage the audience with stories that go well beyond the conventional sailing jargon and try to win sailing and non-sailing fans alike.
All that sounds wonderful if it weren't for the fact it isn't the first time Frostad made those claims. In fact, the "human stories" are always mentioned in his speeches at the World Yacht Racing Forum. In addition, even if we are six months away from the start, the stories by the onboard reporters have been dismal so far, especially at Team Brunel. Here is an example. The Dutch team, skippered by Bouwe Bekking, achieved a remarkable feat on their delivery from Southampton to Lanzarote, just a week after receiving their brand new boat from Green Marine.
They sailed 540 miles in 24 hours, that is 56 miles, or less than 10%, short of the 596.6nm world record established by the Volvo Open 70 Ericsson 4 in 2008. This is an astonishing figure for a crew going through a selection process on a brand new boat that no sailor has ever sailed before. Wasn't that story important enough for Feike Essink, the team's onboard reporter, to write about? Where are the videos or photos taken during that achievement? Where are the videos of the helmsman commenting while the Brunel VO65 is being slammed by winds of 45 knots? What about photos and videos from inside the boat when sailors come back from their watch, wet and exhausted? Or the rookies talking about their maiden experience in what is supposed to be the premier round-the-world race? Aren't these "engaging stories"?
Instead the "stories" and photos on the Team Brunel website are about what groceries they went buying in Lanzarote, what paella they ate or the arrival of a new recruit at the Lanzarote airport! In an increasingly image-driven world of communication, the only video there is, doesn't last more than 25 seconds… We wish them good luck if they think this kind of content will engage non-sailors.
Urban connectives
If you scratch your head, trying to figure out who the urban connectives are, don't worry. As Frostad confessed himself, he didn't have the slightest clue until recently. However, urban connectives will now become one of the primary targets of the Volvo Ocean Race communication strategy. Apparently, the are people that might have nothing to do with the race or even sailing but they are considered to be very influential and followed by hundreds of thousands of people. According to Frostad, they are mostly critical but when they endorse a view or opinion, their followers will do as well. As a result, if urban connectors get hooked on the Volvo Ocean Race, millions of people around the world will follow suit.
That might very well be a brilliant strategy but it certainly will not be easy and to our humble opinion it won't be done thanks to the stories being told so far. Maybe it still is too early to make a judgement but it reminds us of the same strategy the 34th America's Cup was envisioning in 2011 when it was even prohibited using the terms port, starboard or knots but instead the mainstream left, right or km/h. A year later, and after millions of dollars spent, they realized that no matter how much they wanted to deny it, sailing had its own terms and switched back to them. It is a slippery path to follow when one thinks that by alienating your core audience you hope you will attract non-fans. At least, Frostad stressed more than once that he and his organization love sailing and that the Volvo Ocean Race will remain first and foremost a sailing event.
Again, the "human factor" is an excellent idea and the all-women team could be a fantastic tool but still there is hardly anything from there.
"Crop for diversity" and Instagram filters
This is the point that puzzled us. Given the date, April 1st, we thought Frostad was joking as we couldn't believe the CEO of a major, global sporting event would spend more than 1 second on such a frivolous issue. However, Frostad dwelled on that and even mentioned it as a key communication policy!! What is "Crop for diversity"? It is the, apparently, magic solution that allows us to make ten photos out of one. According to Frostad, the Volvo Ocean Race will attend the needs of its different audiences with the same photo by cropping it in different ways. As one can observe from the photo here below, the photo of Camper's helmsman in the previous edition of the race has been multiplied by seven.
How anyone can really think this is something to be proud of and present it in a conference that gathers the event's stakeholder is beyond our understanding. Not to be outdone, Frostad went on, stating that another innovative communication and marketing strategy will now be the application of Instagram-like filters on the photos. While so far, it was unthinkable to retouch a photographer's work, apparently the application of filters will engage more audience. Depending on what your target is, you apply the corresponding filter and you have an impacting photo. Again, we are bewildered by such statements. If it were so easy to attract fans and non-fans any other sport can also do it, rendering void any advantage it might have… We can't even believe those slides made it to Frostad's presentation.
Despite our criticism, we sincerely hope the Volvo Ocean Race, as well as any sailing event, becomes much more popular. Everybody, including ourselves, will benefit from such a success. Let's hope Knut Frostad didn't over-promise and then under-deliver a year from now…
April 7th, 2014 by admin
The rapidly changing face of sponsorship in a post-GFC world requires new thinking and new alliances, but it also is brings new problems to the table.
Example 1:  All Americans are stoked to see the All-American Offshore Team boys running the show for the first Volvo Ocean Race challenge with a Turkish sail number.  Turkish sponsor Alvimedica is a young, cutting-edge medical tech company from Istanbul, and the entry hopes to build and grow interest for offshore racing in the near East nation.  But what happens to that effort if both Youtube and Facebook can't even be accessed from Turkey, as an Associated Press story today reported might be coming soon?  Check out what the Turkish Prime Minister said on censoring the internet here.
Example 2:  The whole world has eyes on the Black Sea as Russia continues what seems like an empire-building exercise in Crimea.  With sanctions on Russian individuals already imposed by the US and EU, suddenly those Greenpeace protests of the Gazprom-sponsored Esimit Europa Maxi seem almost quaint.   Why's that?  Because the massive Russian-owned energy utility is already sponsoring an Extreme 40 team, and solid inside rumors have them looking at entering the next America's Cup with a big Gazprom logo on the wing.  ABC Madrid reporter Pedro Sardina says that Gazprom will be on the world stage even before that (though we haven't been able to confirm); Sardina writes that ETNZ boss Grant Dalton has already signed a deal with Gazprom for sponsorship of the ETNZ/Pedro Campos round-the-world bid.
What happens when a Russian owned and/or sponsored team comes to a Europe that may be boycotting Russia?  And what happens to events like the Extreme Sailing Series' Russian stage?
March 7th, 2014 by admin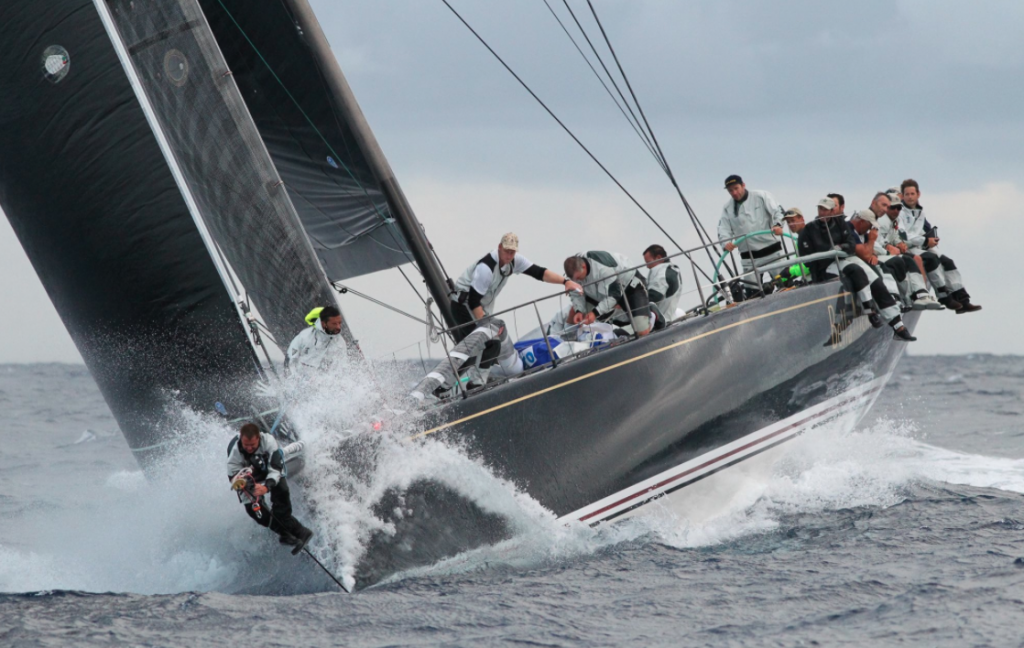 We grabbed Doyle NZ principal and Volvo Ocean Race winner Moose Sanderson for another in a long line of Sailing Anarchy Innerviews with the offshore superstar; this time,  just after his Line Honors and CSA overall win at last week's Caribbean 600 aboard Hap Fauth's Mini-Maxi Bella Mente.  As usual, he's the real deal and always straight up with the Anarchists, and he's got plenty to share.  This is a good one.
SA: The Caribbean 600 has become one of the best-regarded races in the world in a short time. Is this your first one? What did you think of the unique course?
MS: This is my second Carib 600, I did it last year with Hap and the Team on Bella, last year we also had a great race except we got hosed on the back side of Guadeloupe and flopped around for two hours, and ended up losing the race by 5 minutes on corrected time.  This year we really wanted to leave no stone unturned, so we (Ian Moore in particular) did a huge amount of work looking into how we could lower the risk of getting stuck and this time we had a dream run after executing our plan.  The race is fantastic, it is for sure one of the most challenging races you can do if you choose to sail it at high intensity; 600 miles is a tough length on a very quick boat, because it's a full-on sprint with a vague hope of a cat-nap hear or there.  Throw in solid trade winds and ten or so turning marks that double as islands, and it is a VERY busy race track.  I have to say for me it is up there as one of my favorites!
SA: Tell us what it was like to sail with one of our favourite all-time sailors, Terry Hutchinson? He's not known as an offshore guy – how'd he adjust to the Bella Mente?
MS: Terry did the Maxi Worlds with us last year and fit in well from the get-go.  We've always run the afterguard on Bella as a very strong team, we are all big boys and have great conversations as to who's strengths are best utilised in the different regattas.  Our little team is made up of Terry, John Cutler, and me and then Ian Moore who always navigates.  The rest of us do quite a bit of juggling around with Terry getting the nod when it comes to the inshore tactical role, John doing great work at filling those shoes when Terry isn't with us (and also the guy who helps Hap get off the start line before slipping into a Strategist's role), while I take a more leading role when we are offshore and then slip into a "crew boss" role for the day races as well as relief helming for Hap.  It all works very well.
Terry was great to sail with offshore, as offshore racing has become more and more intense especially in a race like this one, the difference between inshore and offshore styles has closed right down. We try and maintain a very high intensity when racing offshore on Bella and that suits Terry well.  Great tactician, gets a lot out of his guys and a super fast driver!  Whats there not to love?
SA: You and the Rambler traded places and battled the whole time for line honors, with Shockwave just behind but close enough to take the IRC trophy. Can you take us through your race? Was it as exciting in person as it seemed from the tracker and occasional updates from the course?
MS: The big surprise for us was that we where in fact able to race with Rambler boat for boat! To be honest, I am not sure what was going on there, upwind and downwind she was quicker and then reaching we had an edge.  To be fair though,  it was Guadeloupe and all the work there that got us past them, and from there they where slowly chipping back into us, especially upwind.
Until Guadeloupe we had not only been trading the overall lead with Rambler, but had also been trading IRC overall with Shockwave and the much smaller Privateer.  After Guadeloupe we had a really good beat and then just hauled ass down the reach (well most of it, anyway)  to the laid mark under Barbuda, at one stage stretching out to a twenty mile lead over Shockwave and a very healthy IRC overall lead.  Unfortunately, in a very black night we sailed into a very black cloud and went to leading Shockwave by 20 to leading by just 5 with just two legs to go!  They did well to put themselves in a position to pounce, but our toast landed butter-side down in that cloud, that's for sure.
SA: Doyle is really making a name for itself up at the very top level of big boat racing as proven by this race itself; the start photo we posted last week from the 600 had three Doyle-equipped boat out of four maxis, which is a big change from a few years ago.  What's been the secret to building this kind of strength so quickly?
MS: It was a nice photo from Tim Wright that you're referring to, that's for sure – with Doyle sails on Bella and IDEA and then Shockwave and Caro with full Doyle inventories.  It's been a VERY long time since we have seen any other sail maker break into the North world in big racing boats, but the fact of the matter is that Doyle is making great sails and that benefits everyone.  Look back at that photo and you'll see two very happy owners with full Doyle packages, and then a very happy owner on Bella who loves to see North and Doyle pushing each other around to get faster.  I have no doubt that the North designs have gotten better because we've been there as a pain their ass, and when we can get a chance to shine on a new boat, we give it everything we've got.  AT the end of the day, our product is good and that makes it a lot easier!  In Superyachts we continue to kick plenty of ass, and now that we've gotten more traction in big racing yachts, we're becoming more fashionable amongst the superyachts as racing sails.  All in all, I'm very happy with Doyle's progress, and with ICE starting to pop and allowing us to increase the modulus of our grand prix sails by 20-30 per cent without giving up durability, it's only going to get better.
SA: With some of these maxi and mini-maxi boats getting almost multihull fast, what kind of major developments are proving to be game changers in those fleets?  What's not fast?
MS:  One of the big things which we are seeing in big, quick IRC boats is the decision to go with conventional gennakers or the decision to go "non-spinnaker", which enables you to sail un-restricted mid-girth wise on your code sails. The most obvious display of this lately was between the two Volvo 70's in the Hobart Race, even though Black Jack beat Giacomo over the line she placed well behind her on IRC as Giacomo was classified as "non-spinnaker". For offshore races like the Caribbean 600, Bella Mente, for example, has a higher probability of winning by sailing with a non-spinnaker rating because there is so much reaching. Under the rule, you pay a big penalty for the massive code zeros, but you get a big credit for not having any running gennakers. The secret to this working (or not) is how quick the boat is.  Obviously big multihulls don't have flying sails, while big IOR boats had spinnaker poles – somewhere in the middle you can get away with losing the kites and it will improve IRC results.  Where that line is?  We don't know yet.  Somewhere around mini-maxi, apparently!
SA: You had a pretty high-profile customer with the Team Australia trimaran. How did you like sailing a big multihull? Is there any chance the major down under races like the Hobart will open up to multihulls anytime soon?
MS: The Team Aus Tri was some of the most fun yachting I have done for ages! Coastal Classic upwind is normally a real pain, but sitting on 19.4 knots at 42 TWA has pretty big appeal! Owner Sean Langman is a very good yachtie and so he is safe in this style of boat, I guess the issue is how do you stop guys who shouldn't do a Hobart in a racing trimaran if you open it up to all comers? There is no doubt that they are more dangerous then a monohull in the wrong hands.  Curved foils make them quite a bit safer, and with more of these displacement-carrying foils entering the game, maybe they will continue to get safer and safer.  I do think the Hobart should allow multihulls to be part of the race, but I also think entering crews and boats should be well proven before being allowed into the fleet on Boxing Day.
SA: With every New Zealander glued to their TVs for the America's Cup and now an Australian AC challenge with a pretty good chance of doing well, has there been much of an infusion of multihull interest down under? You have any cool multihull projects on the horizon? Will we see Doyles on any AC teams like you had going with the Team Korea folks?
MS: We enjoyed our association with Team Korea, and of course we offered our loft and services to ETNZ for the last cup. If the Cup had come back to NZ it would have obviously been huge for us with the superyacht side of the business, but I am not sure we will focus too much attention on getting amongst the Cup teams. It takes a huge amount of resources and doesn't really have any trickle-down benefits to the vast majority of our customers.  Doyle NZ has a share in one of the Team New Zealand's  SL 33 catamarans, so we have some fun coming up learning to master proper foiling around the harbor.  We're also building Doyle Stratis blanks for Glen Ashby's A-Class sails, so we'll be ramping that up more after he and his boys dominated the A-Class Worlds here last month.
SA: You had a fantastic relationship with Alex Thomson when he brought a previous generation Hugo Boss to an unlikely and hard-fought podium finish in the Vendee Globe using a full set of Doyle sails. Now we hear you've got two Open 60s running Doyle ICE for the next Vendee. Can you tell us what challenges and opportunities this presents for you, and how the competition is shaping up? Will we ever see you back in the Open 60?
MS:  It's not for me to talk too much about Alex's program, but it would be fair to say that we are VERY happy how it has all worked out. There could be as many as four or five Doyle Stratis boats on the start line for the next Vendee, which would of course be huge for us.  In an older, heavier boat in the last Vendee, Alex just couldn't afford to run conservative, heavy sails full of spectra like some did. He was adamant that the gear we did for him played a very big part in his result. The future is exciting for us in this arena and of course the racing is spectacular.
SA: The Volvo Ocean Race caught plenty of flack for the move to one-design boats, but both we and you were big supporters of that move and it seems to have paid off. The one-design sail requirements with all boats required to run North sails, not so much. As a previous winner of the race and now a sailmaker locked out of the race, what do you think this requirement does to the performance of the boats? Does the Volvo 65 suffer from a lack of sail development, or is North up to the task?
MS: Yes I did believe that the Volvo Race needed to go one-design for this and the next cycle at least, and I agree it does look like this has paid off.  If it's true as you guys reported last week that ETNZ and Nico are going to be in the race that gives it a MASSIVE boost.
When the skippers and team CEOs of the last Volvo race met in Lisbon after Knut's presentation, the group unanimously agreed to go one-design on boats and unanimously voted to NOT go for one-design sails, instead opting to choose tightly restricted sails and open sailmakers –   so it would be fair to say that a lot of people where pretty disappointed with the news that the race was going one-design sails. Lots of people have missed out, not only just other brands of sail lofts, but other lofts inside the designated one-design sailmaker – for example, North Sails New Zealand has made sails for every Whitbread and Volvo since 1985, so I'm sure they were pretty disappointed not to be involved at all with the whole project going to North Sails France, who only recently got back into the race with Groupama.  So to answer your question, yes the Volvo 65 will suffer from there not being any sail development, of course Norths are up to it if they had to be, but they don't.  "It's all the same, so who cares, right?"  Well, it's not the right deal for the Volvo Race, if you ask me.  
SA: Back to the VOR, you've had a chance to see who the teams are now – can you give us your podium picks? What's going to be the biggest difference the teams will face going from racing VO70s compared to VOD65s?
MS: Nice try, Clean!  It's way too early to pick the podium – remember that the Volvo is a race about people, and until we see the crews and the time they get to spend on the water, no one knows who will do well. The move to OD boats is going to be tough, and if everyone has to push as hard as, for instance, the Telefonica guys pushed their boat on the leg to Lisbon in the last race, it is going to be just brutal.  Let's hope the boats are all-in-all faster without being pushed that hard.
March 2nd, 2014 by admin
UPDATE:  STORY LARGELY CONFIRMED BY DALTS

Once again, Grant Dalton has shown he can get blood from a stone, if Pierre at Valencia-based Vsail's latest Volvo Ocean Race scoop is accurate (and we have every reason to think it is).  Pierre reports that Emirates Team New Zealand has teamed up with Spanish bank Mapfre to get their hands on the sixth Volvo One-Design 65 in a project much like Chris Nicholson's Camper/ETNZ joint that pulled off a stunning second-place the last go-around.
Pierre's sources say the total budget is around 16 million Euros, with 10 of those coming from ETNZ.  A longtime SA source who asked to remain anonymous tells us that was the number to ensure Nicho's role as skipper; 3-time VOR racer Pedro Campos will have a managerial role along with Dalton.
With a number of Spaniards committed to the Barcelona World Race the ETNZ/Mapfre venture's full crew makeup will likely be a mostly Kiwi and Aussie affair.  This means only one or two boats are left for purchase, and if our earlier rumors continue to prove correct, that leaves a British and German team fighting it out for the last spots.  You'll know more when we do, and eventually, the thread knows all.
February 25th, 2014 by admin
Thanks in part to your good questions, Charlie Enright and Mark Towill came clean to Mr. Clean over the weekend about whether their currently 100% American team will carry a US flag, what commitment these 'under 30s' have to the rest of their generation, how they secured sponsorship,  whether they have their team picked yet, and how they intend to manage what will inevitably be an intense few months as they ramp up to a November race that is fast approaching. There's plenty more too in this half-hour conversation, and our apologies for the shitty resolution; apparently they have not yet picked up a mobile internet sponsor and we're all slave to hotel bitrates…listen or download the audio-only feed here if you can't stand blurry vids.
Thanks again to Charlie and Mark for the rapid response; we're stoked to see how this one goes.  Watch through to the end to find out where to send your CV if you want a shot.
February 4th, 2014 by admin
Newly announced Volvo Ocean Race entry the All-American Offshore Team Skipper Charlie Enright and Team Manager Mark Towill are joining our Senior Editor Mr. Clean via Skype this afternoon.  Wanna know the who/what/where/why/how?  History tells us that you Anarchists come up with the best questions in all of these interviews, and you've got just 3 hours so get to work – so post your question here, and post them now!
January 31st, 2014 by admin
We can finally confirm the news we've been hoping for; tomorrow we'll officially learn that 3 years of blood, sweat, and tears flowing from All-American Offshore Team alums Charlie Enright and Mark Towill is finally bearing fruit, and Knut and crew will announce a US-crewed team for the 2013-14 VOR around noon CET with Charlie as skipper and Mark as GM.
The boys have played it close to the bone for quite some time for fear of souring the deal with early publicity, but we know much of the cash for this go-around came from a major pharmaceutical company based in Turkey.  Pierre Orphanidis speculated earlier today that the team will be a Turkish entry with a US crew, and that it may be part of Turkey's play to get far more involved in the VOR and in major sports in general.  We're not sold on the former, especially with the news that the crew will be entirely, or almost entirely American, but in this cash-starved sponsorship environment, anything's possible. EDIT:  Somewhat sadly, we note that the boat does indeed have a Turkish sail number, sponsored by medical group Alvimedica and driven by Turkish/Jewish entrepreneur Ishak Alaton.  Alaton becomes the second Jew (after Larry Ellison) to make a major difference in American sailing in just a few years; those boys are killing off the Thurston Howell III stereotype, one Torah at a time!
Whatever it took, we're stoked for the boys and we can't wait to see how they go.  Let's just hope they keep it a US thing.   No offense, Jimmy and Rome – but there are few things we USAnian sailors want more than to cheer for a real team of American racers competing on a world stage without all the funny accents to confuse things.  Knowing many of the players, we expect this team to be quite a bit more democratic than most, and full of one-design talent if lacking in VOR experience; whether that's good or bad remains to be seen.  We wish them luck, and will have an interview as soon as we can get a hold of one of the boys via Skype tomorrow.  Get to know the core crew here; they are not confirmed beyond Charlie and Mark…not yet…
Our unofficial accounting of the 2014-15 Volvo Ocean Race fleet comes to the below list.  If they're in bold, they're paid up (more or less).  Wanna speculate?  Go where that happens.
And our title inspiration is of course thanks to David Bowie and Nine Inch Nails.
Hull No./Team
1/Dong Feng/CHN
2/SCA/SWE
3/Brunel/NED
4/AAOT/USA/TUR
5/ADOR/UAE
Still fighting over the last three boats:
6/ESP (Campos)
7/GER
8/GBR
9/NZL (ETNZ)
January 29th, 2014 by admin
Our pals at Volvo Ocean Race HQ are struggling a bit this time around; usually, by this time in the typical VOR race cycle, there would be tons of speculation and new boat launches and crew musical chairs to focus on.  But the new Volvo One-Design 65 changes all that, and it's hard to get excited when there isn't anything to talk about.  The boats are mostly built, the well-funded teams are mostly formed, and the stragglers  - including a young and hopeful US team with some rumored Eastern European backers – are keeping their mouths and their computers completely closed for fear of screwing up their tenuous deals as the start date looms ever closer.
But Rick Deppe and the media folks at the VOR are nothing if not resourceful, and for Christmas, they delivered this gift for your viewing pleasure – a beautifully done, perfectly preserved and remastered documentary of the 73-74 Whitbread Round the World Race.  Enjoy.
January 22nd, 2014 by admin
Update: With Loyal backing up in the light, WO has ground them down and is now sailing away with a 30 mile lead and growing…
Despite sailing into some squally crap when he brought WOXI a bit too close to shore, Tom Addis, Navigator (and ex-Puma nav) sounds confident that they can reel in the bigger, more powerful Perpetual Loyal by the time they get to Storm Bay.  The gap has shrunk from 11 to now just 5 miles, with Oats gaining another mile every hour.  This sets up a truly spectacular finish, and we're on station in Hobart to bring the play by play to you right here on Sailing Anarchy and on McConaghy Boat's Facebook Page.   Listen to Tom's from 7 AM this morning.
December 26th, 2013 by admin
December 5th, 2013 by admin
Update 12/3/13 – Hot off the PR….
Sailing Holland, an initiative of several well-known Dutch yachtsmen, and Brunel International N.V. have reached an agreement about participation in the 2014-15 Volvo Ocean Race. This will be the third time that the Amsterdam-based company, which specialises in project management, secondment and consultancy, will be at the starting line of this round-the- world ocean race.
The Team Brunel skipper is Bouwe Bekking, whose sailing career includes participation in six previous Volvo Ocean Races. The other members of the team have not yet been announced. Candidates will have to undergo a stringent selection procedure during the coming months.
12/1/13 – Bouwe Bekking is said to be close to announcing his entry from the Netherlands in the 2014/15 Volvo Ocean Race, and we're stoked as hell to see it.  Not just because Bouwe has been a Sailing Anarchy reader for more than a decade and front page contributor for most of that, but because we adore the Dutchman's honesty, passion for sailing, and relativeringsvermogen.  We should know more about the team and their title sponsor this week, and we'll have some info from the man himself immediately after the announcement.
For some good sponsor speculation and more info from the very inquisitive Dutch press, hit the Dutch Sailing VOR Facebook Page.  To speculate yourself, get the inside rumors, and talk shit, hit the thread.
December 3rd, 2013 by admin
With their pink boat delivered and plenty of hard miles already under her keel, the girls of Team SCA Racing's Volvo effort are light years ahead of the rest of the largely unannounced Volvo fleet.  Pierre Orphanidis from Vsail grabbed SA crush Sam Davies for the world's first guided tour of their Volvo 65 in Lanzarote.  Check it.
November 27th, 2013 by admin
Abu Dhabi Ocean Racing used the Fastnet Race as a crew tryout for the 2014 Volvo Ocean Race, and unlike the dopey official event video, it's a solid watch from start to finish.  Enjoy.
September 16th, 2013 by admin
Recife bit off more than it could chew when announcing a race team and stopover for the 2013-14 VOR, and both the Brazilian team and first South American stopover are now history (though the much later Itajai stop remains).  Historic and perfectly situated Cape Town will instead replace Recife, meaning more of those sailor/wildlife pics we dig so much…
Meanwhile, with only two teams announced so far, it seems there is a game of chicken going on; team bosses are waiting for t he best possible deal from Frostad and friends, hoping they don't literally miss the boat…the thread is where it all happens - update yourself here.
September 12th, 2013 by admin
The first group of candidates for the all-women's SCA Volvo Ocean Race team left Southhampton for their training base in Lanzarote yesterday, and judging from the quality of the sailors, this ain't no publicity stunt-seeking campaign.  You can check out some video of the departure here as well as words from some of the girls, including our favorite racer of all time; Sam Davies.  Will our extreme disappointment losing Sam from the Vendee fleet deliver a silver lining in following the exploits of Cap'n Sam for the next two and a half years?  One can only hope!  We also hope that the second group of candidates – due in to the Canaries in a few weeks – will include at least one of our awesome American racers.  Photo thanks to Rick Tomlinson/SCA.
February 3rd, 2013 by admin
Months of comparative quiet belie the amount of work going on behind the scenes at Volvo HQ.  We've already told you about the Media Crew Member program's renaming, revamping, and restaffing announced last week, and now we have some concrete news, thanks in part to Pierre at VSAIL.
The Girls
No surprise to see the old Puma dressed up in pink for the girls for feminine product manufacturer and sponsor SCA, and we hear the selections are coming along, though the list is hush hush for now.  We hope the Swedes let some US blood into the mix, and there's plenty to choose from; Emma Creighton and Ashley Perrin obviously have what it takes in the distance game, while Anna Tunnicliffe should let herself be persuaded to work the race into her Olympic schedule; the girl is stronger than half the guys on the last Volvo and a better helmsman than even more.  On a more international note, we hope blonde bombshell and SA favorite Anna-Maria Renken makes the cut, but most importantly, wouldn't they be crazy NOT to go for Dee Caffari or Sam Davies as the skipper?
The Route
The big news today is from Recife, Brazil, which gets a stopover and a team for the 2014-15 Volvo.  Thanks to some of the VSAIL info, we've got a pretty good idea of the route, though a lot of the details are missing.
1. Alicante – This is the start for this and at least one more Volvo Ocean Race, though considering the new multi-million dollar VOR Museum's grand opening soon, we think both the organization and city are committed to quite a few more.
2. Recife – See above
3. Abu Dhabi – A long trip necessitated by a keen Abu Dhabi team sponsor and a pile of cash for the organizers and a Cape Town that doesn't have a nickel for the VOR.  But the biggest question on a leg like this remains:  How about them pirates?  It's a long way off and increased militarization may conceivably have quelled the problem by 2014, but are we going to see the silly load on/load off again?  As much of a wrench as it threw into the race's continuity, the whole process generated some major headlines, so maybe it stays?
4. India – Pierre's sources say a short stopover will likely happen in India, most likely for the benefit of the big sponsors and Volvo's corporate bigwigs.  A stopover will also serve to encourage India to start thinking about putting together a race team for 2017.
5.  Hong Kong – Like China, but better.  We're not sure if this info would mean Sanya is out, especially given how keen China were on the Team Sanya effort being a warm-up lap for a real, fully funded effort with Moose Sanderson at the helm.
6. Auckland – ETNZ is in for another go-round, and Auckland was massively successful this past trip.  Besides, it's an ideal place to get ready for an assault on the Horn. Never mind that Auckland knows it, and pulling money out of them is like, well, pulling money out of kiwis generally.  In other words, it ain't easy.
7.  Itajai – Again, a very successful 2012 stopover means another likely stop in the Brazilian beach town on the way North.
8. Newport – VOR would have you believe there is competition for this spot from Baltimore, but they just can't handle another bad US stopover so Newport is the pick even if Baltimore had any money for Knut – which they don't. Newport may not offer much cash, but its proximity to so many major metropolises (metropoli?) and the local community's passion will make up for it.  Miami told VOR to pound sand.
UPDATE: High-powered lobbyist/consultant Rob Housman is part of the team behind the Baltimore bid, and he made sure we knew that their bid is very real and very advantageous to the VOR's objectives.  He points to their 350,000 numbers from the 2005 stopover – which we believe to be hopelessly inflated –  and the 1M people that checked out the Sailabration Tall Ships event this past summer to show their ability to attract a big crowd.  While Baltimore's inner harbor is an awesome amphitheater and they certainly have put a lot of effort into showing that they can pull it off, we'd hate to see yet another US stopover swallowed up by yet another large American city that doesn't give a crap.
9. France – Another reasonably successful stopover despite the inevitable Scandinavian/British vs. French cultural conflicts.  If Groupama honors its agreement with Cammas, it'll work just fine.
10. Rotterdam – With Galway unhappy about its cash burn after the last race, Ireland is out, and a big European host port is important for sponsor business to business action. So Pierre's Rotterdam rumor makes sense, and we'd love to see it in what is an extremely fun town.
11. Gothenborg – A Swedish finish has always made more sense than an Irish one for Volvo, and with their world HQ just outside "YoteBoyg", why would you go anywhere else?  More importantly, the rumors we've heard of a confirmed entry from Berg Propulsion, also located just outside the beautiful West Coast town, makes this a sure thing.  There's even been talk of a two-boat team from Berg…boss Hakan loves this shit, and for that, we love him.
That's the latest and greatest from the digital coconut telegraph here at SA; hit the thread for more breaking news when it happens.
January 17th, 2013 by admin