Posts Tagged 'volvo ocean race'
We're all about equal opportunity here at SA, and we don't care how far behind they finish – we still want to watch Team SCA cross the line. If you do too, click above – this was recorded just an hour ago from Itajai.
The girls grab fifth place – their highest finish yet in a leg thanks to Dong's dismasting, and it's a nod to all the teams and the VO65 that even Team SCA beat the last race's fastest Leg 5 finish by almost two days.
April 7th, 2015 by admin
Late afternoon sun welcomes Ian Walker and Abu Dhabi Ocean Racing to the top of the podium in Itajai, live right now with Genny and Covell.  Don't go away for long – the rest are not far behind.  Except for Team SCA, who just took out one of their rudders on a UFO…watch and learn.
April 5th, 2015 by admin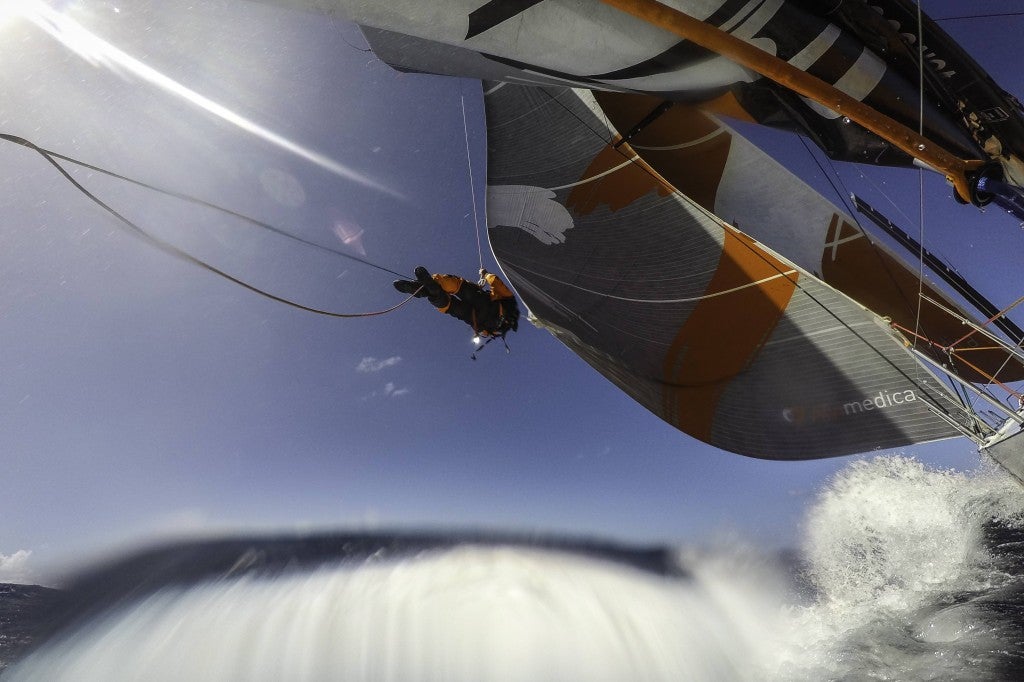 With thousands of photos coming through the Volvo Ocean Race satellite pipeline it's easy to skim past them, but this one sent in from Amory Ross a few days ago is, as of today, our favorite shot of the entire race.  It's likely Team Alvimedica bowman Nick Dana untrapping a halyard in big waves churned up by Cyclone Pam, and the tilt/shift effect on the crashing wave and the crispness of the headsail and logo create a truly unique and stunning contrast aboard the boat that's currently in the lead as they work their way into the Southern Ocean.  For one of the prettiest art shots of the race, check another Amory grab here.
Weather analysis, race chatter, and general yapping along with hundreds of your buddies in here.
March 20th, 2015 by admin
Clean's obsession with Ted Kravitz's Formula 1 'Notebook' inspired his series of SA 'Dock Walks' this past year, and it's quickly become a crowd favorite whether at the Melges Worlds, VOR starts, or Key West.  Thankfully, awesome Aussie broadcaster Nic Douglass picked up the torch in Auckland, and her 40-minute dock walk gives you 'the real feel' of being an insider in a race like this as well as some shit you'd just never see otherwise.  It's long, it's rambling, and it's real – and quite a bit more interesting than the pretty but incredibly dull leg start…
Big thanks to Nic for sacrificing her spot on a start boat for this piece, and to photographer Jen Edney for making it all look good.  Two sailor chicks of the week?  Hell yes.
March 18th, 2015 by admin

The waterfront was a ghost town at dockout this morning thanks to two days of Cyclone Pam-induced delays, and the massive storm's lingering effects will make the first bit of the toughest leg of the VOR a rough ride. None of Pam is in Auckland Harbour though, where it's currently light and shite.
But it's live, and you're at work, so check it out above.
March 17th, 2015 by admin
For our money Auckland is probably the second-best city in the world for yacht racing.  It's like San Francisco with a fraction of the shitty weather and pretentious douchebags, and we've got an hour of cityfront racing coming to you live from The City of Sails…now.
For the pre-race Press Conference, head over here.
March 13th, 2015 by admin
Homicidal monster supercyclone Pam is tearing through Vanuatu today with gusts to a stupefying 175 knots (while an amazing 3 more cyclones are sweeping the Southern hemisphere) and she's now headed towards Aotearoa.  It confuses the hell out of us – we thought killer storms were consigned to Australia, just like venomous jellyfish/toads/reptiles, giant man-eating crocodiles, surfer-loving Great Whites, and debtor's prison exiles. It turns out that New Zealand tropical cyclones are now (or since 2011, anyway), a thing.
After consulting with team skippers and Boatyard leadership, Volvo Ocean Race Control has delayed the start of the Auckland to Brazil leg until at least Tuesday.  This throws a logistical wrench into the works for both Auckland and Brazil, but in the meantime, we get spectacular conditions for today's Auckland In-Port Race.  Above you'll find a short promo, and check back here in about 5 hours for the live link to some great racing.  Join a few hundred of your closest friends to discuss it here. 
If you really need your sailing fix, here's some day 3 Extreme Sailing Series analysis and a preview to tomorrow's finale for their Oman stop.
March 13th, 2015 by admin
Stan, Chuck, and the Admiral clearly put some prodigous brain power and a massive amount of time into the just-released Independent Report Into The Stranding Of Vestas Wind.  It's a spectacular resource on its own, but it also puts to bed the months of speculation about what really caused the wreck of TVW.  Short answer?  Wouter gets the biggest hit for failing to zoom in on the right computer, while Nicho takes heat for communication and pre-race preparation issues.  The VOR gets dinged for changing the Cape Town to Abu Dhabi leg too late, and they name Expedition and C-Map as major factors in the wreck as well.  But the real gem of this report comes all the way at the end, with the panel's "Recommended Guidelines for Passage Planning and Racing Using Electronic Charts."  This is basically a pre-flight checklist from the world's top navigator, and it starts on Page 73.
March 8th, 2015 by admin
It's a 3-way battle with just a mile of separation as Xabi Fernandez's MAPFRE holds a slim lead over Azzam and the Dong in the last couple of hours before the Volvo frontrunners hit Auckland.  Genny and the live feed start now!  (or very soon, anyway).  Click the player and compare photos, performance stats and trivia in the thread.
February 27th, 2015 by admin
Question of the Week
For the first time ever, our own staff asked the question of the week, largely based on a consistent theme in all of the VOR threads in Ocean Racing Anarchy about the combined effects of AIS and the 6-hour position updates on the Volvo fleet and the racing experience.  Mr. Clean posed the question during a live interview with Bouwe Bekking last week, and then forwarded the same question to all the teams.  Sam Greenfield posted the Dongfeng response yesterday, and Sam Davies weighed in on audio, which you'll find below Sam's letter.

Dear Clean,
After I read your question, I went and asked Erwan Israel, our navigator, word for word what he thought.
The question was, "the current system (6 hour fleet updates, AIS inside 10 NM or so) has skewed the racing to a 'stay with the pack at all costs' mentality, meaning fliers are more rare and morale far more tied to the ability to see blips on a screen. What do you think about this unintended consequence of the AIS system in this race and –in simpler terms- do you want it or not?"
Don't let this go to your head, but Erwan's initial response was, "Wow. That's a very good question!"
I took full credit and he's been much easier to interrogate at the NAV desk ever since.
But it does bring up a good point, because instant access to the boat speed, distance and heading of every boat in eyesight has made each and every one of us screen addicts.
It's also highlighted different navigation styles.
If a boat is within the AIS range Pascal makes sure that he or one of the crew is sitting at the desk with the microphone in hand, relaying bearing and speed to the trimmers and driver on deck.
Every. Five. Seconds – Like an old French sub hunter.
I wrote about it in my 'Hunt for Red October' blog during leg 3.
Erwan opts for a less maniacal approach, preferring to plot distance and bearing every few minutes onto an excel sheet so that he can see who's gaining and losing. He doesn't announce to the guys on deck, preferring to walk up and say it in person.
Everyone, myself included, agrees that having the AIS for safety –to alert for oncoming ships and fishing boats- is indispensable, but the crew were split when it came to the debate over performance.
Kevin Escoffier says, "I like it for safety only. Otherwise it's like a smartphone. Once you get it you can't put it down."
Thomas Rouxel says bluntly, "No, I don't like it. You don't make your own strategy."
Martin Stromberg had two answers:
First, ever the Swede, he says, "It's not good or bad, it's just a different version of the game."
But when he overheard me asking Eric Peron just before sitting down to write this blog he admitted with a grin, "It makes it boring."
For the sailors, yes, but from my point of view the last 48 hours have been anything but, as outlined in Charles' French blog today:
"We've just gone through the worst night yet of this Volvo. On the menu we had no wind, big swell, stopping waves right on the nose and adverse current! At the end of the night enormous thunderstorm clouds with wind coming from all over the place. We came out of this night behind our two chasing competitors. Unfortunately the final cloud was fatal for us. But Abu Dhabi is just in front of us now, and we have 4 days to overtake. Once again, we are back in a drag and speed race."
Which translates to; either Charles or Erwan or one of the sailors is glued to the screen at any given moment of the day watching Azzam's speed.
Mapfre is out of range.
Eric Peron says, "I like it and I don't like it. It takes away certain tactical options, and it opens others."
Erwan Israel was more blunt: "I wish we didn't have it – it forces the pack into a group mentality.
I know Erwan is thinking about our decision to sail to the North Philippines. His gut told him to sail north to Taiwan, like he and Charles did last race on Groupama, but the two chose to stick and cover Ian Walker's team.
Horace told me "yes, we need it," and Wolf said, "For safety, of course. I think it's good for performance, unless you're in first place and the guys behind you can see exactly how fast you're going."
Which leaves our skipper, Charles, who may need a reading prescription at the end of this Volvo.
"Bah. Well…" He hesitates. "I like it. It's good. It's interesting. You get to compare the speed and see where the other guys are."
He's glued to the screen as he says all this to me.
"But it's a bit addictive, if you see what I mean."
So, Clean, that's the breakdown from Dongfeng Race Team. We're almost approaching 1,000 NM to Auckland and Azzam is just off our bow.  Keep glued at your screen, and we'll do the same.
-Sam G
And here's Samantha Davies on the subject.
Volvo Ocean Race "Team SCA" Responds To Sailing Anarchy's Questions About AIS and Tracking by Sailing Anarchy on Mixcloud
February 25th, 2015 by admin
On the Volvo Ocean Race's "Inside Track", Clean and Genny T are reunited on camera for the first time since America's Cup 33 in Valencia, and aside from some sound issues, they give some good chat together.  Bouwe Bekking checks in from the front of the fleet, and we find out what he thinks about AIS and trackers.  And oh, how fast things change…
February 21st, 2015 by admin
We may sound like a bit of a broken record, but once again, Sam Greenfield is raising the bar on Volvo Ocean Race media from aboard the DFRT.  Why?  Because he's making us laugh.  Here's Sam's 'washing up cooking pots for mom' report, and we encourage all of you – especially the young'uns, to read Sam's "Advice to future OBRs" report here.
Dear Mom,
Do you remember how getting me to wash the dishes after meals never came easy? Sorry about that. I know, it never 'just happened' like you see in the movies, or plainly through the windows of the neighbors' houses. I don't know why it was always such a battle, or why the Fields next door were such better behaved kids, but I hope you never saw it as a reflection of your parenting skills. You were great and I was just a bit of a little sh*t when it came to household chores, all of my college roommates will back this up. But people change, and because you are the best mom I know today's blog is dedicated to you.
Hey Mom! Guess what the Volvo Ocean Race taught me how to do!
Here's the setting:  The sun has just gone down and it's blowing 25 knots and we're on a screaming reach, sailing about as fast as the wind. The boat is heeled over 30 degrees and sheets of water are getting picked up by the bow and flying clear over the satellite tower.
We're settled into living on a soaking wet rock-climbing wall set on the back of what feels like an elephant jumping over hedgerows.
Are most days anything like this? No. But a little dramatic effect never hurt.
I'm warm and dry and standing in the hatchway watching waves plaster the guys, and I'm wondering how the hell can I get one of them to wash this pot for me.
It usually takes about 30 seconds to strike that thought from my head and haul my ass into gear.
My mission is to bring our prized, French, stainless steel pressure cooker from the galley all the way to the low side at the very back of the boat with a sponge, some dish soap, wash her, and return her safely so I can start cooking the next hot meal.
It's a perilous journey that would ideally require four hands, but thanks to you, Mom –really- I only have two.
Part 1. Preparation
There's an unspoken rule about washing the pot off the stern of the boat: If you drop her you might as well jump in after her. Seriously, Mom, the crew would murder me. There's no replacement. The only option is straight into the ocean.
Stop thinking that. There's always at least a couple other Volvo Ocean 65s nearby and I'm determined to make sure that one of the boats chasing our wake would be able to pick me up and bring me to safer harbors in the event of such misfortune.
So, my dish-washing ritual begins with a rummage for five essential items, night or day:
1. My pocket EPIRB – which notifies the coast guard and race control if activated in the water.
2. My pocket AIS Tracker, which when activated allows any boat in a 10-mile radius to see me on their navigation screen
3. My strobe light – Brighter than Jesus with a jetpack, it's a waterproof beacon that pulses and is visible up to a distance of 5 miles
4. My Musto HPX bottoms and top
5. My PDF/Harness (if it's night time and really shitty). Just for you.
Now, Mom, I'm completely waterproof and I have more advanced electronics stuffed into my pant pocket than the Apollo lander needed to make it home from the moon.
It's time for…
Part II. The Perilous Journey
I put my hood on before I grab the pot. It's pretty heavy to hold in one hand. Or maybe I'm not very strong. Probably that. So I go to the hatch and wait for a wave to break over the deck.
Because just as the plane that crashes into the house in The World According to Garp was a 100 year boon, each wave is typically a 60 second boon.
I hold the pot in my downwind hand so that the other can anchor onto the tops of winch drums and handles and I swing and hop back through the cockpit over the jib sheet and over the mainsheet to the radar tower while trying to stay out of the way of the main trimmer and grinder.
Remember, 30 degrees heel on a leaping elephant and it's a massive drop to the bottom, where Pascal fractured a few of his vertebra on the first leg to Cape Town.
I try not to think about that either.
From the tower I scooch –yes scooch like a puppy dog – down to the leeward rail on my ass, because at this point I can see the water screaming out the back and I can't drop the pot.
Regardless of what you think, compared to this pot, I have no value.
30-seconds later I'm hanging over the stern in a fetal crouch,praying to god that the metal lifelines weren't made in… forget that thought.
You know, I try not to think about falling in, because the boat would be miles away before they could even turn around. So instead I usually just talk nonsense and go, 'woowhoo', cause the truth is it's really damn fun once you're down there.
Now you'd think that the pot would get ripped right out of your hand when dipped into the water, but when the boat is traveling over 10 knots it just sort of bounces across the surface like a skipped stone.
So I drag, scrub and repeat and pray while all the screaming forces of Neptune do the same to me.
By the time I make it back to the main cabin, my foul weather gear is soaked from tip to toe. The pot is clean. And so am I.  Sort of.
That's when I often think, "maybe doing the dishes when I was a kid wasn't as big a deal as I made it out to be…gee, I wish I hadn't made it so hard for mom."
So dear Mom: Happy Valentines Day from Lat. 18.650N Long 136.397E.  I don't think the card is going to make it.
But as soon as I get back to the States, I'm coming straight to yours and I hope you leave the dishes out for me.  I promise not to drop any.
Happy Valentines Day.
Love,
Sam
P.S. I have no idea what I'd do if I dropped the pot and we were in last place, so I try not to think about that. xo
February 14th, 2015 by admin
It's almost halfway through the race and we still have seen precious few moments in big Volvo Ocean Race conditions; Sam G does his best to share some of them with us from aboard Dongfeng, and once again, we comment the Franco/Chinese team for keepin' it real with Charles Caudrelier's 'oops' here.
Meanwhile, Team Brunel and the SCA girls have split off to the North and with the wind freeing up, both are advancing rapidly on the Southerly group.  The girls were first to tack to starboard on what looked like a flier, and though Brunel are ahead of them, could this be the first big break for the pink boat?
With the race getting interesting, SA is the place to be.  Check SA'er 'Campbell's' latest weather routing, analysis, and more finish time calculations (like the one to the left) here, and get in on the discussion in the Ocean Racing Anarchy thread.
February 12th, 2015 by admin

The Franco/Chinese team aboard Dongfeng can't seem to put a leg wrong, stringing together a brilliant day to win yesterday's Sanya In-Port Race in front of their home crowd.  And now, the real race begins yet again with the Sanya to NZ leg ready to go.
Watch yesterday's full replay below (or here), and get ready for more tight action with Chris Nicholson guest-commentating and our old pal (and 5-time RTW'er) Mase helping call the shots from the booth.
February 7th, 2015 by admin
We've been pushing hard for the better part of a decade for more live streaming video from the world's biggest ocean race, and going by what Inmarsat executive and VOR junkie Chris McLaughlin has been saying, it's almost here.  From VOR news:
If the terminals and equipment can be developed for the next race, then we could stream the latest releases to the boats, and we'll be able to see constant streaming in the same way as you see in Formula 1 race cars.

Imagine if you will that you can not only monitor the crew and what they're saying but also their heart rate, their health conditions, their sails, the loading of the rig, the tension, the constant speeds, the trim angles.

You will effectively be sitting on the boat with everyone else. It's that real-time, real experience that everybody really wants." "Imagine that you, the viewer, can command the cameras that you want to see. What if you're only interested in the bowman, his story and his technique? What if you're only interested in helmswoman, and the way she is driving the boat?
Good idea or bad?  Post your say here.
February 3rd, 2015 by admin
The Sailing Anarchy/VOR "Show Us Your Boatyard" competition is off to a blazing start, with over 50 submissions coming in over the past few weeks.  They've been so good that the SUYB leaderboard (left) is now a permanent part of the traveling VOR race village show – be sure to check it out when you come down to visit the race.
Your submissions are also providing plenty of entertainment to the awesome girls of the Boatyard (the competition's judges), and they remind you that Leg 3′s Boatyard T-shirt winners will be announced immediately after the Sanya In-Port Race.  Keep sending in your submissions, and if you want extra consideration, post 'em straight on the Boatyard Facebook Page with a hashtag #showusyourboatyard.
Full contest details over here.
January 30th, 2015 by admin
Stern-steerers, litigation (not ours, thankfully!), luscious Hannah, the slickest metal in the world, the boys in Orange coming on, and the boys in Bermuda flying high.  Another edition of Video Anarchy is all yours.
Magic Carpet Ride
Yacht designers and racers have been searching for some breakthrough in hull coating technology for as long as boats have raced; so much so that the  fluid-emitting system on the BMW/Oracle 90 is illegal in every other type of racing.  But what if the perfect hydrophobic hull was a single sheet of metal?  And what if you could etch metal foils so the water literally ran away from them?  We don't know what the long term outlook would be, but we sure are interested, and we know the AC guys are, too.  Check this incredible video above, and you will be too.
All Hannah, All The Time
We were going to post an interesting kiteboarding movie here by the awesome Broken Head Film guys, but then we noticed one of their stars (and an avowed SA reader) Hannah Whiteley – had a new video up herself. And since we're head-over-heels in love with her, we'll feature that one.  Follow Hannah here.
Big Ben's Bermuda Base
Is this just an easy winter vacation for a team whose backers probably all have winter mansions in Bermuda, or are Ben & Friends the most serious Cup team of all right now?   Time is the one thing that matters most for the AC, and here's a slickly produced video showing Ben and the team getting feet wet in Bermuda with Nacra F20C foilers.  UK 1, everyone else: 0.
Orange Is The New Bronze
If you're like us, you're proud of Charlie and Mark and the youngest VOR team for their hard-fought podium finish in Sanya.  But if you're like us, you didn't pay much attention to this long, light-air leg, and you don't understand how they got there.  Watch this video and catch up.
 Section 68
Former OTUSA sailor Mattie Mitchell is taking Larry and Russell to court for being thrown headfirst under the bus during the 2013 AC's Kingpostgate (and hung out to dry for $68K),  and now that it's in court, all the OTUSA/ACEA/ISAF secret meetings, back room deals, and 'confidential' submissions are finally going to see the light of day. Mattie sat down for a 10-minute interview with NZ's  Good Chaps the other day, and it's definitely a good listen for anyone who likes a good AC dustup.
We're excited for the discovery process to begin, and we think the world will get to see just what kind of folks were running the show over in San Fran and at ISAF headquarters for the past few years.  Stay tuned for more developments coming soon, and let's all hope Mattie doesn't settle!
Lords Of The Deuce

54 feet. 104 MPH. 6 crazy dudes.
Total Anarchy.
January 29th, 2015 by admin
Charlie and the Anarchists aboard Dongfeng Race Team are minutes from the finish in Sanya and a momentous occasion for the most Chinese team we've ever seen in any major event; watch the homecoming live here with (we think) the wonderful past SCOTW Genny Tulloch MC'ing them in.  To chat about it, hit the latest page of the thread here.  And for a cool new feature the VOR doesn't have (but should) from yet another Anarchist taking the matter into his own hands, check out "dglad's" VOR Social Content Aggregator here.
January 26th, 2015 by admin
Vestas is the blue-hued spice that gives zest to this edition of the Volvo Ocean Race, and we're rapt with attention at the rebuild saga.  At times, it's as interesting as the race itself, especially with Brian Carlin back on the camera and edits.  Check it.
January 26th, 2015 by admin
We thank everyone who entered our Line Honors/Moth Worlds Flexfit Cap giveaway, and your hats will be on their way next week.  And now, we've something just as cool – a chance to win an exclusive Volvo Ocean Race "The Boatyard" t-shirt!  We call this one "Show Us Your Boatyard," and all you have to do is send us a picture or video of your own personal Boatyard.  Be as creative as you can, send your entry to [email protected], and the beautiful and accomplished girls of the Boatyard will choose their favorite SA Boatyards for each leg and get you a sweet bit of kit.  Watch the video for details, and game on!
January 20th, 2015 by admin