Posts Tagged 'Volvo 65'
The world's premier offshore race and the most spectated sailing event of all, The Volvo Ocean Race starts in a bit more than a year.  But already, the discussion is getting real about where the Volvo goes after the next edition – the second sailed on the Farr-designed Volvo One-Design 65.  We grabbed Mike Sanderson, winner of the 2005 VOR – the first edition with the then-terrifying VO70, and Nick Bice, the creator of the VOR Boatyard and current VOR boss of boats and maintenance and a bunch more, to get their opinion on the state of the race and the options for the future; is the multihulling of the Volvo inevitable, or is there another way?
And these characters don't disappoint – as you'd expect from a couple of guys who've gone around the world, they've got strong opinions and clever thinking and both would love to see great success in future races.  We also catch up with Mike about his friendly takeover and new CEO position of Doyle New Zealand, hear about the record mini-maxi fleet in Sardinia, and hear Moose's real opinion of North Sails.  Listen above, download here for later listening, or subscribe to the SA Podcast on iTunes.
September 16th, 2016 by admin
UPDATE: Dongfeng wins by 3 minutes!
With just a few miles to go to Newport, Abu Dhabi Ocean Racing are so close to Dongfeng that the tracker can't discern one boat from another. Part of that is the crappy tracker, and part is the incredibly tight competition after two weeks of racing from Brazil; less than half a mile separates the top two boats, with another 6 back to Brunel.
If you're in the area, get to the marinas and find a boat to go out and see just how close they are to the lead; if not, click here and watch the photo finish live in a couple of hours.  The Sperry/Sailing Anarchy media crew arrives next week; we don't know what we're bringing you yet, but we know it'll be better than anything else you find about the VOR…
May 6th, 2015 by admin

Will Ian Walker get back on form and run away with the Cape Town In-Port Race? When Bouwe told the press that he didn't take the in-port seriously, was he serious? Will the girls start showing their talent? What happens when you sail a VO65 with just 7 crew? And most importantly, will Knut Frostad throw Mr. Clean in the water during their on-water commentary together?
Find all this out and more with a couple of hours of beautiful racing in the shadow of Table Mountain.  And don't forget about the Leg 2 Start this coming Wednesday, when you can listen to Clean and the team once again as the fleet heads off for some Soouthern Ocean fun. That's 19 November at 1750 local/1550 GMT/1050 EST/0750 PST.
UPDATE: Thanks for your patience. We're not happy with this delay at all and we can say confidently it'll be a lot faster next time. I'll have my thoughts on the race and some more inside news and gossip over the next few days as the Leg 2 Start approaches. Thread or Facebook for it.
November 15th, 2014 by admin
We're not sure why this is the first we've heard about it, but the folks at ASV Performance shared the news in a PR yesterday that their 'rescue kites' are OEM equipment on each of the Volvo 65s, and that they constitute "the biggest breakthrough in the kiteboarding industry…"  It's a bit weird to see this info, accompanied by the above credited shot from Ainhoa Sanchez/VOR but have nothing but silence from the folks at Volvo, who ordinarily seize on any opportunity for an interesting story angle that isn't about toilets or toothbrushes.
But we dig kites, and seeing the test kite up there on the old Sanya, we wish the rule allowed them to fly 'em!
October 31st, 2014 by admin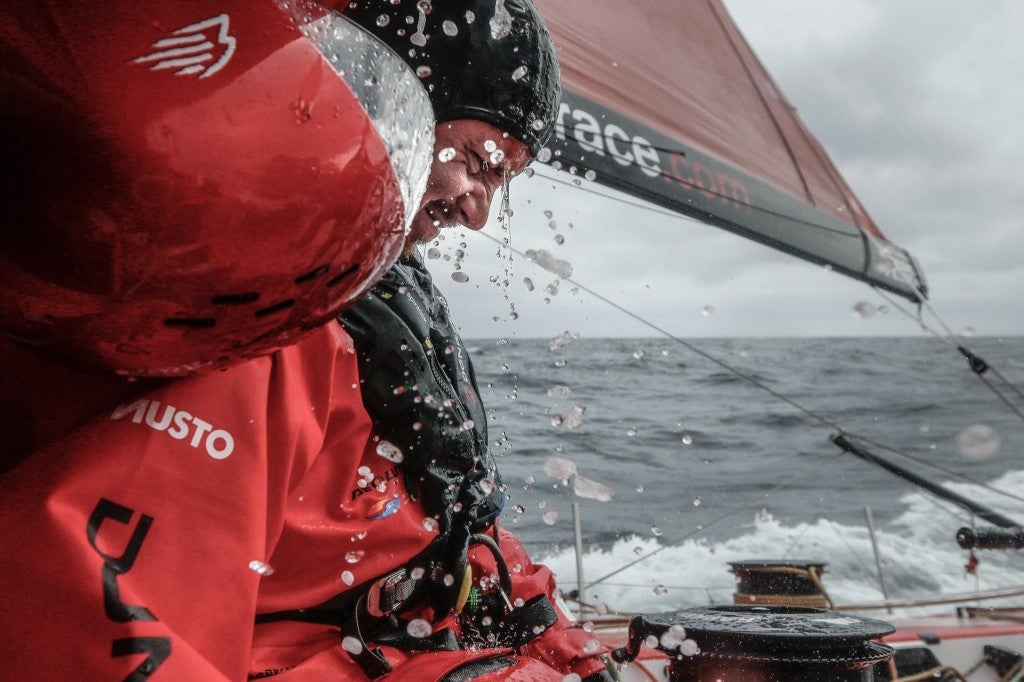 Unlike the vast majority of the world's sailing editors, we stay away from re-printing press releases and mass e-mails.  After all, we're not lazy piles of crap.  But on a rare occasion, one of 'em is so good that we have no choice.  Such is the report we got from Team Dongfeng yesterday from the Round Britain & Ireland Race; rather than the wooden and self-serving PR we got used to over the course of the last race, this thing is honest, painful, and brings the fans to the boat, rather than the boat to the fans.  Check it, and watch 'em on Facebook.  Ironic title from one of the last real storytellers of rap.
Today we broke a sail.
Today our entire comms system went down.
Today we were in 3rd place and dropped to 4th.
Today we have decided that life onboard is not always easy.
In fact, today, it is really quite complicated.
First email from the Volvo Ocean 65 'Dongfeng' boat early this morning reported:
"Difficult conditions last night and this morning. 30 knots. Life onboard complicated. Problems with onboard media system. Difficult conditions to troubleshoot, chances of success no more than 50%."
Followed by an email from Team Director, Bruno Dubois:
"Just got a call from the boat. We've broken a sail, it's split and completely unusable. Probably doesn't make any difference in terms of sailing tactics, but not ideal. The media system doesn't work anymore – they're fighting to get it back to send pictures and videos. The boat is full of water in the back… One of our Chinese guys is not really in good shape. Team, I'm sure you realise this but it's quite rough for the people and the equipment out there."
Twenty-four hours into the 1,800 mile Round Britain & Ireland Race and the pace has been fast and furious. Starting from The Solent in the south, Dongfeng was parallel with Aberdeen in the north of Scotland covering 500 miles by 0900 BST this morning. But with speed, and the weather systems that deliver the strength to propel the boats fast, so comes the potential for damage; and the North Sea delivered boat breaking conditions last night in strong winds and steep seas forcing three competitors to retire, including sailing legend Sir Robin Knox-Johnston who is living proof age has no limits! [other than the limit that he got his ass kicked and retired -ed]. In the early hours of this morning the team's Fractional Code 0 ripped, rendering it unusable forcing the team to switch to the large jib – not the optimum sail for the conditions.
A brief phone call with Dubois, Skipper Charles Caudrelier elaborated further on the difficulties onboard. "We are on J1 and, for sure, losing some ground against the others. We are missing Pascal [Bidegorry, who got his finger sliced open and took stitches aboard] for the manoeuvres and with a reduced team we are a little bit slow in the transitions. We made a small mistake while sailing along the coast yesterday and we lost touch with the two leaders. Good news is team spirit is still in tact despite difficulties."
Dongfeng Race Team is one of the five Volvo Ocean 65s currently flying around Britain and Ireland at a speed of 23 knots [45/KPH]. Ian Walker's Abu Dhabi Ocean Racing is leading ahead of Team Campos who have pulled out a 20-mile lead over Dongfeng and Alvimedica. Tiredness will be kicking in now after such a rough, opening ride and the rookie Chinese sailors onboard will have to dig even deeper. But this is ocean racing and with three days left anything can still happen.
August 13th, 2014 by admin