Posts Tagged 'viper 640'
Once again the folks at Quantum were busy at the world's biggest sportboat regatta, and there's a pile of very cool and interesting shorts from Keith Brash and Petey Crawford over at their Instagram page.  Crawford jumped on a Viper with a bunch of teens to grab the clip above.
April 29th, 2017 by admin
More busy times in the land of the video editor, and we've got 5 good ones for you to start your week off right.
Getting To Know You
It's gratifying to see so many sailing videographers finally focusing on individual people; it's the kind of character-building we've felt has been missing from the landscape for the better part of a decade.  The characters are there – the sport's full of 'em – and this video from Ben Hartnett is an absolutely gorgeous and innovative way to get to know UK-born Aussie Olympic Finn sailor Oli Tweddell.  Watch closely – it might make you a better sailor, too.
Show and Show
Olympic 470 Dutchie and longtime SA devotee Kalle Coster showed off possibly the hottest racing product at the Annapolis Boat Show to Mr. Clean and Petey; here's a 6 minute look inside the best-looking race display on the market.  Keep an eye on Penalty Box Productions' Vimeo page for more videos from the show dropping on Tuesday morning, including our first-sail on both the Gunboat 55 and 60.
Humbled
It's easy to get caught up in the excitement of the awesomely close one-design racing we're already seeing in the Volvo Ocean Race, but we ought never forget that they are competing on a forbidding and potentially deadly field.  If there's one thread running across all of Waterlust's videos, it's humility, and this VOR vid from the Waterlust team is a beautiful look at that humbling ocean.  As an aside,  we thank VOR TV for fixing many of the problems that plagued the in-port race during their much better race start coverage.
What A Long Strange Chip It's Been
Petey Crawford takes a soup-to-nuts look at the breezy E-Scow Blue Chip Regatta last month on Lake Pewaukee Lake.  It's got carnage, kids, drones, and Jimmy Spithill helming one of these classic surfboards; a strong buildup to next year's 50th anniversary Blue Chip.  If you've been a Mystery Guest before, mark your calendars – they'll be inviting every one of you to come along for the fun in September 2015.
Back Of The Pack
While the top boats get the prettiest videos, we love to check in with the rest of the fleet, and this video from 30th place Hyper Viper at the 34-boat Viper 640 North Americans has plenty to make you smile.  Congrats to Brad Boston, Curtis Florence, and Chad Corning for the win.
October 13th, 2014 by admin
Big Pimpin'
Stalwart SA supporters Juan Mauri and Rondar Raceboats have joined forces!  Rondar Boats USA are pleased to announce that Texas-based Mauri Pro Sailing is now an official outlet for the Viper 640, Rondar K6, and singlehanded K1 dinghy.  Get in touch with Juan and the boys today to get advice on everything for your Rondar Raceboat, or to find a new one!
June 30th, 2014 by admin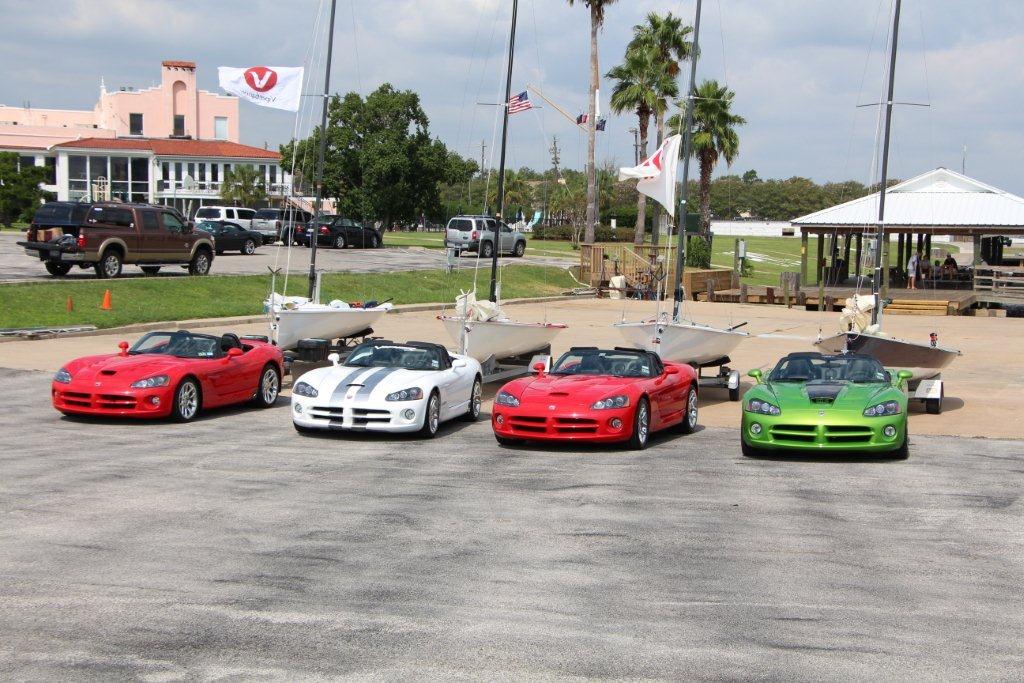 This week it's the Viper 640 North Americans at Houston Yacht Club. Texans believe that two Vipers are better than one, Babe.
Two Melges 32 owners tied for first after the second day. Two leaders are better than one, Babe.
Jason Carroll driving his Viper 640 Argo with crew Chad Corning and Danny Pletsch is tied with Malcolm Geftner's Celeritas with Willem Van Waay and Victor Diaz Deleon. Both teams are fresh from the Melges 32 worlds where Jason was crowned Champ; the Viper program is a tiny fraction of the cost of a Melges 32 program but it continues to attract some of the best sportboat sailors on the planet as both a great cross trainer for big boat owners and double the pleasure for half the cost for everyday one design sailors. In third,  Jay Gollison with Ched Proctor and Steve Flam are only two points behind the leaders, and they are closely chased by Luke Lawrence in Arethusa, Kevin Taugher in Hot Mess and Brad Boston in Jackpot. It's a field laden with talent and Anarchists.
Oh and for those Vipers that couldn't make it to Houston this year, there are another 30+ Vipers registered at the HPDO this weekend! Two Regattas are Better than One, Babe.
Title Credit from a song so old that we can't even find it online, and huge kudos to the Houston Viper fleet for creating this great cover shot at the HYC parking lot, and to KO Sailing for an incredible Texas Open Pit BBQ!
October 11th, 2013 by admin