Posts Tagged 'video'
We can talk all we want about raw shots, OBRs, and which sailor is the most interesting on camera, but this hour and a half broadcast is quite likely the best piece of live offshore racing coverage ever produced.  Not only does it feature 89 minutes of some of the sexiest, live, big breeze offshore racing you've ever seen, but the director, spotters, camera op, and helicopter pilot went from one cool situation to another, giving presenters Conrad Colman and Niall Myant a few minutes to analyze and explain while the helo moved to the next boat up the track.
The live shoot (which happened as the fleet headed out the Gibraltar Straits toward Lisbon) managed to catch gybing sequences, a 3 boatlength cross between Caffari and Witt, and a great perspective to compare AkzoNobel and Mapfre's gybes.  Most exciting of all was a sequence where Charlie and Mark's leading Vestas 11th Hour Racing, schooning along at 25 knots under full pirate rig (reef + J3 + Fr0), overhauled, passed and crossed a Panamax cargo ship under full steam.
This is the first time we've really seen the 2017 VOR's 'digital first' strategy pay, because this kind of live footage will never be able to coexist with broadcast television's requirements for ironbound schedules and time limits.  But it's this kind of coverage – big breeze aerials with great commentary and analysis for both the saltiest seaman and the lubberiest lubber – that could provide the first real mainstream breakout for live offshore sailing in the wider world.
If they can just insert audio off the racing boats and maybe get the tiniest bit of female or other international diversity into the commentary team, and reproduce and promote this format in places like Cape Horn, they really do have an innovation that should win awards – and more importantly, win a shitload of fans.
Best in 1080p on your flat screen…
On another note, like many of you we missed this webcast when it happened live on Facebook, in part because the VOR folks don't seem to have figured out how to streamline the content available to the average casual viewer.  Fortunately, one anarchist has responded with his own log of every piece of race multimedia coming through the web, and while we have no idea how long "JBC" can keep updating this awesome multi-tab Google doc, we'll take it while it lasts.
November 1st, 2017 by admin
Whatever your body type, one of the new sporty solos are sure to fit you, and if they all look as good as the Melges 14 fleet above, everyone is a winner.  Look at the excellent video of the 25-boat M-14 fleet in Sarasota last week and tell us with a straight face that you can't wait to get in your Laser…we're waiting…
Results are here in a regatta that saw age ranges from 13-74, with everything from weekend sailors to past Olympians.  Head to Melges on Facebook for more vids and info about the M14, and join the 'Catch On' thread for varied and mostly civil discussions about the M14/Dzero/Aero and the future of solo dinghy racing.
March 28th, 2017 by admin
Like most sailors, we've never quite gotten the cruise ship thing. Why shell out a bunch of money to hang out on a moving motel that smells of burning diesel and the other thousand passenger's farts?  Even more odd is how little 'cruisers' actually understand about what they may be getting themselves into; they never seem to know that it doesn't matter if your ride is 20 feet or a thousand feet long – when Mother Ocean decides it's time for a ride, she's gonna give you one.  Click the video above to see what such a ride looks like on the monster Anthem of the Seas.
March 22nd, 2017 by admin
Penalty Box Productions' Petey Crawford needs no introduction, and if you've ever seen Mr. Clean and Petey in action together, you won't need much motivation to listen to a couple hours of their jawing about life, liberty, and the pursuit of the perfect regatta.  Petey pulls no punches as they discuss the latest in media news, the upcoming Melges 24 Worlds (run by Petey), and much, much more.
June 1st, 2016 by admin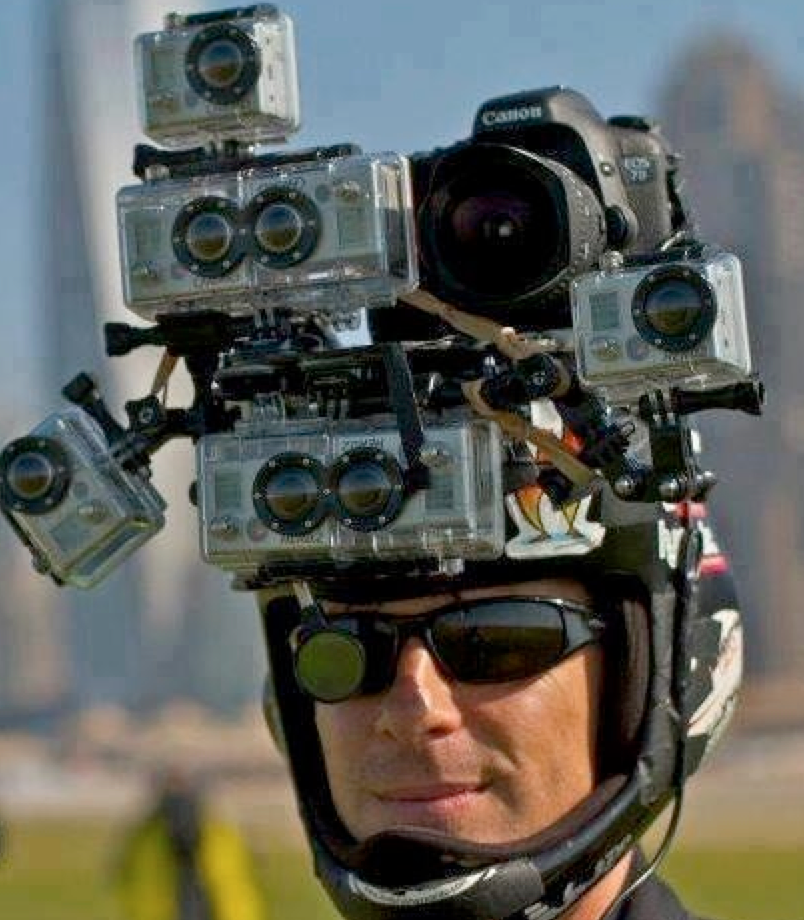 Thanks to our sport's inhospitable environment, high performance sailors were some of the earliest adopters of GoPro cameras.  The little clear box is ubiquitous on everything from optimists to round-the-world trimarans, and apparently that's the problem; everyone who wants a GoPro already has one.
After astronomic growth for its first few years, company sales dropped by 31% in 2015 and the stock is down almost 90% from its 2014 high.  Recent moves indicate GoPro thinks it grew its product line too quickly.
We think corporate arrogance and an unwillingness to move on from its familiar square form factor might be a better explanation for GoPro's woes, and if the new Karma drone fails to shock the world, the 'little camera company' is fully screwed.
Learn what GoPro's new strategy is to get its head out of its ass here.
February 26th, 2016 by admin
The Clearwater, FL 49er and 49er FX Worlds are live for the final two days of the important qualifier.  Watch Pete Burling and Blair Tuke humiliate everyone else.  The iconic Peter Lester leads the commentary over a mix of drone and on-board video, and it's worth a watch.  Results over here.
February 13th, 2016 by admin
We're still not sure if Jim Clark's monster-maxi logo is a Comanche or Keith Richards, but with her never-say-die ingenuity overcoming major appendage damage, Kenny Read and the big indian's crew made mincemeat of the previously all-conquering Wild Oats XI. This despite a decade of design and redesign from the Oatley's skinny recordholder specifically for this race – and only this race – and we remain confused and slightly shocked that the all-star crew of they Sydney boat was defeated by something as pedestrian as the failure of her $200,000 3DI mainsail.  Was it a brand new sail, and if not, why wasn't it?  Was it poor crew work?  A 'white squall'?
We already know that Comanche
We'd tell you more, but there ain't much – and of course the best place in the world for all the news is right here on our forums.  Sailor Girl's live feed from Constitution Dock ain't bad either – here's her interview with Ken Read and the rest of the Comanche crew earlier this morning.  Thanks entirely to Nic, we know Comanche's victory was far from easy even with the silver arrow crawling home with her tail between her legs.  Ken explained that Comanche broke her board near the hull, hanging on the uphaul and banging around threatening the hull.  They cut the board free, but it collected the rudder on its way back, and after the shunt, the steering system was broken with the rudder facing backward.  Toolboxes came out, the steering was repaired, and they decided it was safe to continue.  For the rest of the story, hit Nic's link above.
Pretty pictures of Comanche's domination above from Crosbie Lorimer.
December 28th, 2015 by admin
Up to four races for Day One of the Star Sailors League Finals in a nice Caribbean breeze and we've got it all for you, live! Check it out right here, starting at 11 PM EST/0800 PST.
December 2nd, 2015 by admin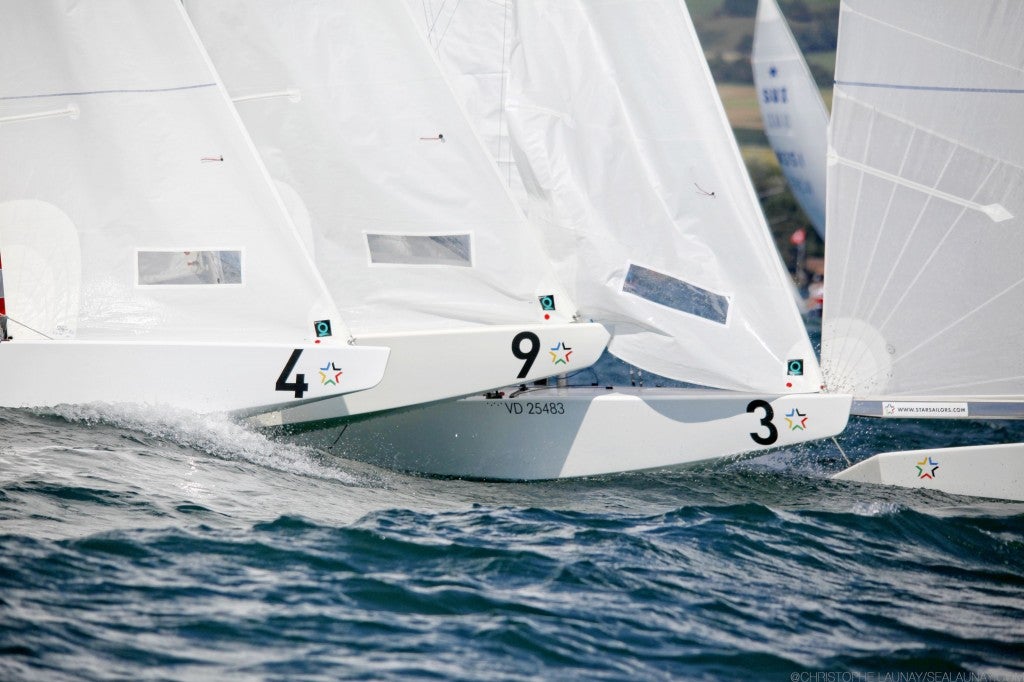 More action from the quarterfinals of the Swiss Open for the Star Sailors League in the battle for a pile of cash and big boy bragging rights – video livestream is here. 
September 12th, 2015 by admin
It's no secret that thousands of SA'ers are surfers; after all, the two sports have more in common than most.  Unfortunately, we don't have warm-up routines like this one in ours, but that shouldn't stop us all from enjoying big wave pro surfer Anastasia Ashley as she gets ready for competition.
August 12th, 2015 by admin