Posts Tagged 'verdier'
With thanks to photographer Py Leroux and the Ultimboats Facebook Page, we now know exactly why the world's sexiest sailboat got beaten across the ocean by a boat launched at the turn of the century: Delamination and structual failure of her massive ama foils.  It's a problem that just about every foiler in history has faced, and what's odd to us is that the basic solution adopted by all of those designers and sailors – monolithic rather than cored carbon construction – was ignored by the designers of what is probably the most technologically advanced ocean racer on the water.
The Rothschilds will barely notice the six-figure cost of building new foils, but the team will certainly notice the months of downtime it will take to figure out the fuckup and then design and build something more robust.  In such a new class where the best crossover charts, rig, and foil settings could mean a 5% speed advantage,  Gabart, Le Cle'ach and Coville will now have a decided advantage over Josse as the Brest RTW race creeps ever closer.
Chat about the Gitana XVII in the thread. Tip o' the hat to our 3.5-fingered friend Bora for the heads up.
November 17th, 2017 by admin
The baddest boat in all of sailing goes through her doublehanded qualification for the baddest doublehanded race of them all – this weekend's Transat Jacques Vabres.  See how Seb Josse and Thomas Rouxel get this Verdier-designed 100 foot foiler around the track in yet another gorgeous Gitana-produced film.  Subscribe to their Youtube channel here.
October 30th, 2017 by admin
In a move that's been telegraphed since we first reported on some of the inter-team intrigue while in Bermuda, Luna Rossa boss Patrizio Bertelli announced in an interview with La Stampa yesterday that America's Cup 36 will indeed end the reign of the America's Cup multihull in favor of something significantly slower.  ETNZ was forced to send out a confirmation of the lead-assisted future after Bertelli broke the news, explaining that ETNZ design coordinator Dan Bernasconi has been working on a number of 'exciting monohull concepts' with potential challengers and designers .  The Kiwis maintain that the new Protocol will be available by the end of September.a
The decision is as depressing as it is exciting:  The last three cycles have seen more innovation in high performance sailing than in the previous 30, with the Cup going from a dopey exhibition of obsolete design and sailing technique to an honest-to-goodness extreme sport whilst dragging the entirety of the sport along with it.  Consider: Without the DoG battle, there's no AC72.  Without the AC72, there's no foiling multihulls and no L/J foils.  There's no foiling A-Cat, no GC32/EXSS foiler, no Phantom, no foiling Nacra in the Olympics, and the monohulls aren't immune to the effect; the foiling IMOCA/Volvo Super 60 owes its existence to the ETNZ innovation.  Literally every exciting development in fast sailing since 2012 has come directly from the AC cats, and their inclusion in Sailing's 'pinnacle' finally gave credibility and respectability to multihullers – sailing's redheaded stepchildren for a century.
On the other hand, with the true 90% ballast ratio'd leadmines finally dead and buried, the new focus on what we expect to be an upwind-and-downwind foiling monohull may drive a new age for monohull sailing, and that's something to celebrate.  For far too long, the Moth has been the only monohull foiler to set the world on fire, and a few hundred million in development could work wonders towards bringing their level of performance that much closer for the average dinghy or (lightly) ballasted monohull.
So what will it look like?  We'd love to think it's wide open, with the ETNZ board and Bertelli's management allowing all sorts of development variations.  Centerline T-foils, mixed horizontal and vertical appendages, powered control surfaces – all the gadgets.  Unfortunately, that ain't reality, and there's no way Dalts is going to give away his biggest competitive advantage – Guillaume Verdier's knowledge of big monohull foilers – by allowing an outlier design the room to shock the world.  Look for something like the Volvo's Verdier design brief, but with lighter weight, more appendages, and a clever control system. We expect AC36's racers to look far more like cats than any monohull you've ever seen.
September 11th, 2017 by admin
The best-kept secret in sailing (outside of ETNZ's wing control) comes at the end of a long press conference from Volvo HQ in Gothenburg, SWE.  Here's a synopsis of Mark Turner's speech, in order of importance (to us), and we encourage you to post any comments or questions you have for Turner and the VOR in the synopsis thread so Clean can fire 'em at Turner later for an interview to be published this weekend.
1) The offshore portions of the 2019 or 2020 Volvo Ocean Race will be contested in what the new design chief calls a 'Turbo IMOCA'; 60 foot foiling monohulls with adjustable-flap foils; while the in-port racing will happen in foiling cats.  The 60 footer will be 'convertible' to an IMOCA, and the VOR in-house design team led by Guillaume Verdier.  The cats are being opened up to a design tender process starting today at between 32 and 50 feet.
2) The 2020 Race has a wishlist of 8 teams, and all boats will be owned by VOR and leased to teams in an attempt to reduce the initial barriers to a new team/sponsor.  Turner says the new lease program and pooled services program allows a similar budget for future races to that of today's programs. This lease thing is a BIG deal, and speaks as much to Turner's cred with the Volvo Board as anything.  One paper calls the new moves (including the design and build process) a USD$50 million price tag for Volvo.
3) Sustainability looks to be a real goal this time rather than just more lip service to 'green' sponsors.  VOR spent the last ten years bowing primarily to the god of social media – their new pet deity is now a clean ocean, and they've got funding and support from 11th Hour, Akzo, and the United Nations, and their goal is a fleet of Zero Emission races.  2017/18 sustainable goals will be met with help of rules requiring team use of official RIBs, hydrogenerator minimums, fuel maximums, etc.
4) It's obvious the VOR has struggled pulling in team sponsors – that's why you saw the Hong Kong team's offer accepted yesterday, why there are still 3 empty boats, and why VOR is still trying to find someone to run a 'clean the oceans' entry for an all-women/all-youth/50/50 mixed team for the coming edition they say is already half funded.
5) Volvo and the VOR have formed a major partnership with World Sailing, principally to help create a pipeline for young sailors to become offshore pros and VOR crews.  This includes new VOR Academies (presumably in partnership with existing organizations) and keeps Turner and his hefty experience involved in the possibility of the offshore racing Olympic event that World Sailing has been chasing from the IOC.
6) Course may be radically different, especially for the 50th anniversary 2023 event.  More racing between races or a straight up 2-year race cycle, with race activity every year.  Maybe a crewed non-stop race around Antarctica.
May 18th, 2017 by admin
UPDATE: French sailor Armel Le Cléac'h has today won the Vendée Globe, setting a new record for the solo non-stop round the world race in the process. Le Cléac'h, 39, from Brittany, crossed the finish line of the race in Les Sables d'Olonne, France, at 1537hrs UTC after 74 days, 3 hours, 35 minutes and 46 seconds at sea on his 60ft racing yacht Banque Populaire VIII.
His time sets a new record for the race, beating the previous record of 78 days 2 hours 16 minutes set by French sailor Francois Gabart in the 2012-13 edition by 3 days, 22 hours and 41 minutes. Le Cléac'h, the runner-up in the 2008-09 and 2012-13 editions of the Vendée Globe, covered 24,499.52 nm at an average speed of 13.77 knots during the race, which began from Les Sables d'Olonne on November 6 last year.
Armel benefitted significantly from the early-race foil breakage of what most believe to be a much faster design in Hugo Boss, but despite Alex Thomson pushing Armel as hard as maybe any human could have, we once again will have to wait another four years for the chance of a non-French winner to emerge from this quintessentially French race.
We continue to be amazed at Thomson's ability to remain glued to Le Cle'ach's transom for the better part of 70 days despite the damage to his boat, but Le Cle'ach played the game more as a wise owl than a sneaky jackal, and sailed a masterful covering match race from Cape Town all the way home.
While Armel had all the pressure of the favorite, once again, Alex has proved he belongs in the solo racing Hall of Fame with the performance of a lifetime.  Beating his own 2012 race time by nearly 10 days and setting the Vendee Globe and outright solo monohull 24 hour distance record in yet another edition (only exceeded by four crewed boats in the record books), Thomson really is the only hope for taking the title away from the French – and only if he comes back and gets it right, this time without the bad luck.  Photo © Jean-Marie Liot / DPPI / VENDEE GLOBE
Ask Alex and Armel ANYTHING!  We are 99% sure that we'll be doing audio or video with both these top dogs in the next day or two for the Sailing Anarchy Podcast, and as usual, we like your questions better than our own.  Ask Alex and Armel your own questions in this new thread and we'll see if we can get them answered.
Join the Vendee thread for the latest chatter.
Title should to the movie adaptation of a classic Forsyth spy thriller.
Tags: alex thomson, armel le cle'ach, banque populaire, finish, hugo boss, imoca, open 60, record, Vendee Globe, verdier, VPLP
January 19th, 2017 by admin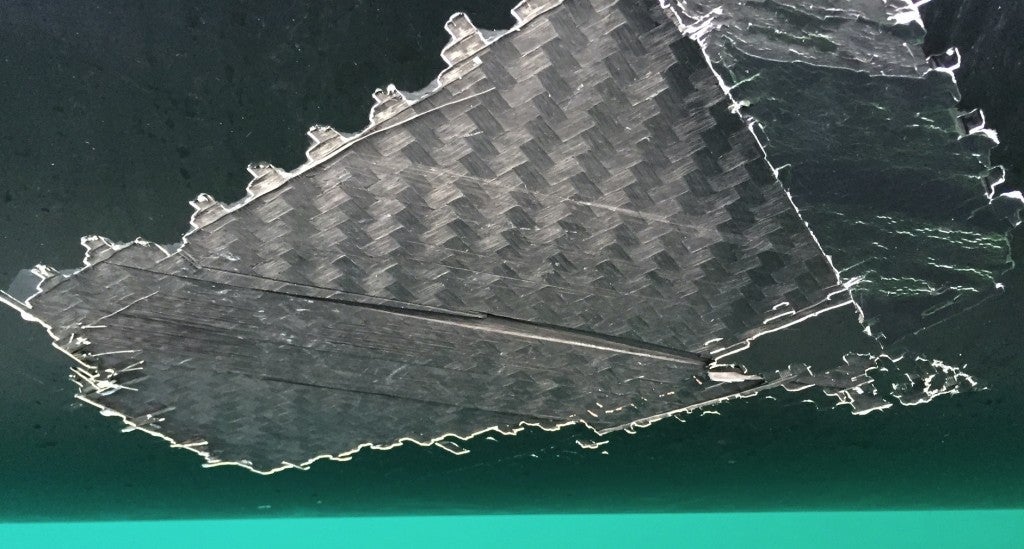 This shot of the outside of Hugo Boss's hull shows the impact that broke the ribs of Alex Thomson's brand-new Open 60; the first in a series of cascading failures that led to their near-sinking in the Bay of Biscay a few days ago.  Alex is 99.9% sure this presumed collision was the root cause of the rest of the issues,  but that's not the most surprising thing we learned in our Skype interview with him this afternoon.  You'll have to tune back in to this page for the rest of the story early tomorrow, exclusively on Sailing Anarchy.  It's a good one!  We're also pleased to report that VPLP and Verdier seem to be completely on top of it, with their top guys working hand in hand with all the teams with issues.  Stand by for more.
TJV thread here.  Boss Sinking thread here.
November 3rd, 2015 by admin
This shot from the floor of Jean-Pierre Dick's Virbac St.Michel shows the broken ribs that knocked the new-gen foiling Open 60 out of the Transat Jacques Vabre last night; the fourth retirement out of the 5 VPLP/Verdier fliers and a clear sign that someone in the design office seems to have gotten these multi-million-dollar beats wrong – very, very wrong.
One of the major innovations in the new boats is a transverse version of the approach to hull design that we first saw in Comanche; instead of a few large stringers in a structural grid over a relatively thick hull, the VPLP solution uses these small semicircular ribs to support an extremely thin hull (4mm in some spots).  It's a significantly lighter way to do it, but if the difficult production process isn't micron-perfect or if the ribs aren't taking the load in unison, things go ugly quickly, as JP and Fabien discovered when they went down into the sail locker.
While four foiling boats are out, the final "Mustache" boat is showing why they all bothered, with the new Banque Populaire XVCCIVXIICL sailing an average of more than a knot faster than the ultra-quick previous generation PRB in the same stretch of ocean on a nice run.  In a Vendee, that would translate to a couple of weeks' lead…assuming BP can avoid the speed bumps…
To The Orphanage For You
Our sentimental favorites aboard Adopt-A-Skipper have unfortunately also pulled the plug thanks to a blown out backstay, with Ryan and Nico headed back to Concarneau.  What a yard sale this TJV has become!  Chat and crowdsource all the TJV news here.
Thanks to SA'er 'chasm' for grabbing the shot from Virbac before they pulled it from their site.
October 30th, 2015 by admin
While the Macif foils have finally been revealed, details on the latest and greatest VPLP/Verdier Open 60s remain scant, in part because the secrecy in IMOCA world is exceeded only by that of the America's Cup.  Fortunately we've got connections, and our Senior Editor headed over to England last night to become (we think) the first reporter in the world to sail on an offshore foiling monohull.  He's headed offshore tonight with the one guy who continues to keep the torch lit for anyone who wants to see a non-Frenchman take the Vendee Globe trophy: Alex Thomson.
Alex and his Hugo Boss team have had unprecedented success with sponsors and the media over the past decade, but less so on the race course, with Alex able to grab a few victories in low-profile events and a couple of hard-fought 24-hour solo distance records. Bad luck ended his two strong chances to win the Barcelona World Race, but his 3rd place in the last Vendee (with a now 3-generations old boat) cemented his credibility as a potential race winner, if he could only build a competitive ride.
That has now happened, and we've got a couple of days to dig into Alex's program and his new boat, and more importantly, to answer any questions you guys can come up with – as long as they're not about the details on the foils, and if we told you about them, we'd have to kill you.  We'll have a report on the boat and on the new Mercedes-Benz stickered Hugo Boss before the TJV begins, and if you ask your questions today over in this thread, we'll put them to the team. 
For a fond look back at the two-generations old Farr Open 60 that Alex took his Vendee podium with (and Ryan Breymaier is about to doublehand across the ocean), check out the very cool video above. 'cause boats have souls…
October 13th, 2015 by admin
The wide-open development world of the Ultimé trimarans means ultimate secrecy, especially when it comes to the most important performance part on the boat: the foil.  And sure enough, after months of testing and sailing with only highly edited photos and videos making it to the public, the J-foil on Macif has finally been revealed.  It's fat, short, and looks like it'll survive a whale or seal filleting session well enough, but will it be fast enough to bring wunderkind Francois Gabart RTW gold?
With the even more extreme near-sistership Banque Pop IX not far behind, we fully expect quite a bit about these rockets to change before their solo round-the-world race begins in a couple of years.  In the meantime, this monster is off to Le Havre to compete in the doublehanded TJV in just a couple of weeks; here's a pretty sexy video promo for their challenge.   Thread here.
October 13th, 2015 by admin
Alone in the sea of brand-new foiling(ish) Open 60s is the UK's Alex Thomson and his new Mercedes-Benz sponsored Hugo Boss, the sort-of sistership to the new VPLP/Verdier monsters that are dropping in the water seemingly every week as the TJV gets close.   Speaking of the French doublehanded classic, there are a jaw-dropping 21 IMOCAs registered for the start in Le Havre.  Will you be there?  Sailing Anarchy will.
We're a bit shocked to see the Hugo Boss change color from the silver that we assumed was such a perfect fit for Merc (and its silver arrows racing brand) but we forgot to check in on the team that HB seems to get all its design inspiration from.  Sure enough, they just turned black this year as well.
More pics on the ATR Facebook page, and the world's best source of breaking information about the IMOCA fleet is, of course, right here in the Ocean Racing Anarchy forums. Title shout to a great song for a blind date…or a stalker.
September 5th, 2015 by admin