Posts Tagged 'Vendee Globe'
We suspect this little nugget is simply yet another example of the mess that is the Vendee Globe's official English coverage, but maybe – just maybe – there's more to the lower/thirds title slip up caught by an observant Anarchist watching the 28 Dec "Vendee Live" show on Facebook.
Look carefully under Alex Thomson team member "Neal McDonald" and you'll note it says "Alex Thomson Racing Volvo Race Skipper", and we're not quite sure why.  Did the VG producer simply forget to put Mac's 'title' on another line, or did someone sending over title graphics make a freudian slip because they know too much?  Could it be possible that Alex – and Hugo Boss's – next big challenge will be a crewed one?  VOR boss Mark Turner and Thomson go way back and there's precious little going on in IMOCA world for quite some time…and of course, much stranger things have happened.  What do you think?
January 2nd, 2017 by admin
It took Stephane LeDiraison nearly two weeks of jury-rig motor sailing – including a seaborne refueling – to get to Melbourne Australia after his dismasting, and SA'er Andy Roche was part of a group of local marine-response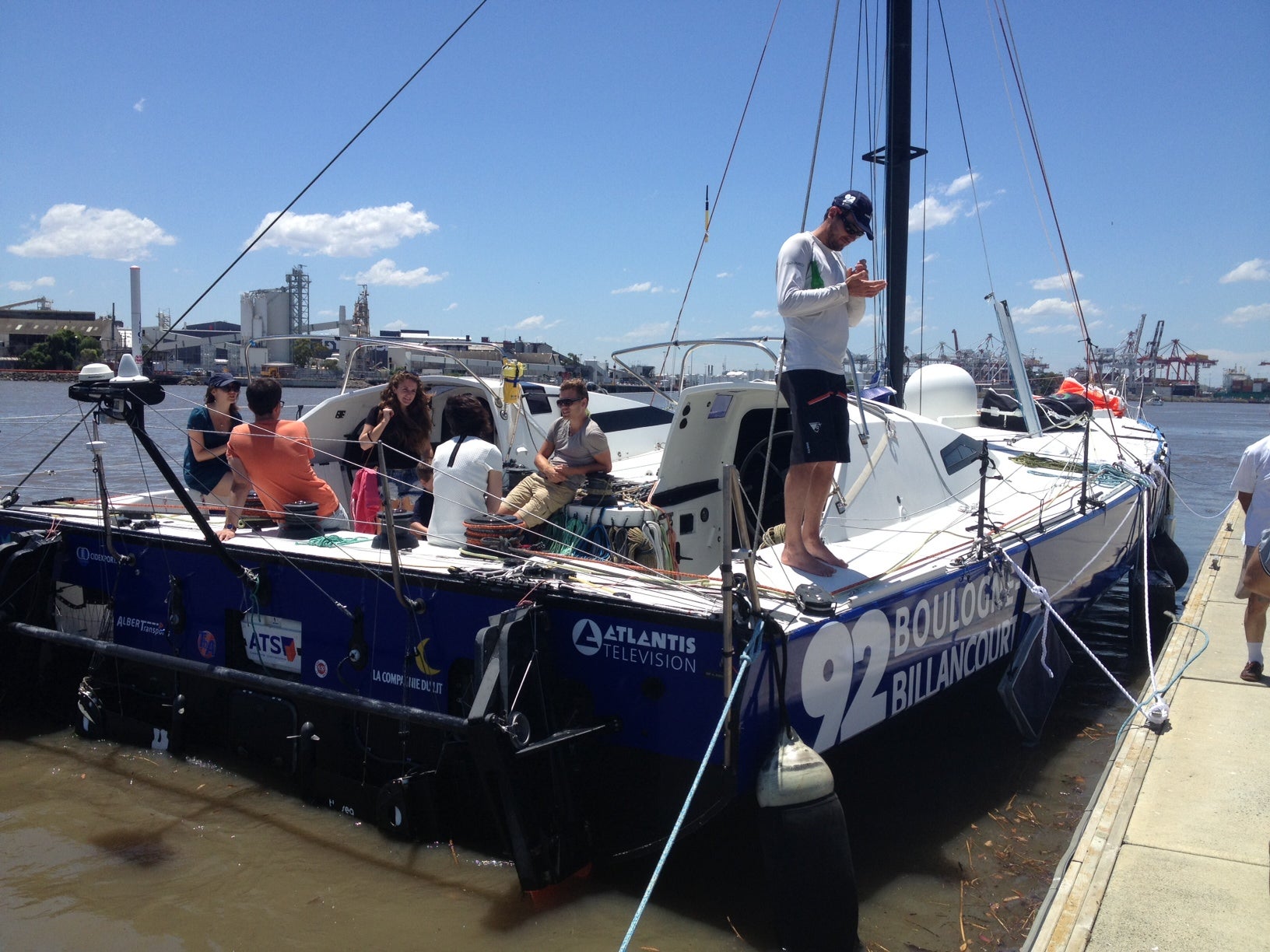 firefighters who went out to greet Boulogne-Billancourte on her arrival.  Big props to Andy for the snaps, and for the Melbourne community of both French-speakers and Aussie sailors for offering assistance and such a warm welcome for the Breton.
In other news, this Vendee Globe's constant source of jokes, tea, whisky, and Irish folks songs dropped his rig on New Year's Day about 200 miles SE of New Zealand; Enda O'Coineen will retire from his 15th place position and head for Dunedin to regroup.  Discuss it all in the thread.
January 2nd, 2017 by admin
No French solo sailor has more personality than "Le Roi" Jean Le Cam, and he's in good spirits as he passes the Horn on the last day of the year.  Watch from about 1:10 to see him wrestle verbally with his Osmo camera's auto-spin function, and go to the JLC facebook page to see dozens of great Vendee Globe cartoons.
December 31st, 2016 by admin
Armel Le Cle'ach rounded Cape Horn on a sunny summer day, once again showing he can do no wrong in this edition of the Vendee Globe.  His 47-day tally from France to the Horn shaves an incredible 5 days off Francois Gabart's record-destroying benchmark of just four years ago, and with Hugo Boss more or less useless upwind on one tack, it's all over but the cryin' for him – and in fact, Jeremie Beyou on the Master of Cock has a real chance of reeling in the unlucky Thomson.
Stephane LeDiraison got the worst of recent bad luck, and he blames his dismasting quite specifically on a shattered Harken runner block.  Here's some of his words as translated by SA'er Laurent:
It is middle of the night, there is 6 Beaufort, The sea state is already well-developed; I am ahead of a cold front. The boat is doing about 16-17 knots.  The boat speeds up in a gust, and I hear something like a gun shot. A very violent noise, something very sudden, very short, very loud.

I run outside, and when I turn around and look forward, I realize that…the mast is gone.  Almost nothing is left. There is a 1 meter piece of the mast still tied to the deck and another 4 meter long piece, with shrouds and spreader attempting to punch holes in the deck.  Everything else, the rig and the sails are dragging in the water.

So I go back inside, put on my survival suit, a harness, take with me some spotlights and go back on deck to do a quick assessment, which ends up very dire, of course. Not only the rig is gone, but I have damaged the daggerboards, stanchions are gone…and the rig is threatening to hole the hull.

It takes me several hours to clean up the mess. You have to understand the conditions: breaking waves washing the deck, wind is getting stronger and stronger…Very cold water, all in the middle of the night. It is really not easy to manage…First, I keep the rig and the sails attached to the transom, thinking that I will be able to recover some sails. After several trials, it is obvious that it is impossible to do. It is even dangerous, because the whole rig behaves like a sea anchor, attached to the transom, stopping the boat in the breaking waves. The wind is now 8 Beaufort, the swell is about 5 to 6 meters high, so each breaking wave is crashing in the cockpit, sinking the rear of the boat. It is now puting the boat, and therefore myself in danger. So I decide, heartbroken, to cut off everything and let the rig go.
Watch it all unfold in the thread here.
December 24th, 2016 by admin
Defying the odds – and the rapidly disintegrating Open 60 Le Souffle Du Nord, Thomas Ruyant has thankfully made it to port at the Southern tip of Kiwiland.  Stuart MacLachlan posted the first shot of his first sleep in a long time; there has rarely been a more hard-earned rest after the front fell off…
Also Ram
In other news, it looks like fourth place Paul Meilhat may have run his race as well, but unlike Ruyant, Meilhat is as far from rescue as is possible on Earth. the winning 2012 boat – now called SMA – seems to have a cracked keel ram cylinder.  As of an hour ago, his team posted (as translated by Gtrans): "This afternoon at 3:15 pm French time, Paul Meilhat contacted his team to report a problem of keel ram. The cylinder was cracked for 40 centimeters and resulted in the rocking of the keel downwind of the boat…It was after a suspicious noise at the beginning of the afternoon that the skipper of SMA went to inspect his well of keel. He immediately realized that the oil in the hydraulic circuit had flooded the cylinder compartment. He first suspected the rupture of a pipe of the hydraulic circuit, before finding a crack of 40 centimeters on the cylinder itself."
Meilhat is roughly 2000 miles East of New Zealand, and if he can't lock down the keel, the situation could quickly become dire.  Monitor in the thread.
December 20th, 2016 by admin
Thomas Ruyant's Souffle Du Nord ("Breath of the North") is out of the Vendee Globe, and might not even stay afloat for another day. Words from Thomas as translated in the thread.
I lowered the mainsail. I turned on the engine. I remained a few hours hove to.
The damage at the front of the boat is deteriorating, the hull is opening up, the frames are coming unglued from everywhere.
I am heading to the South of New Zealand. I should be there in 2 days. I am not sure it is going to hold until then.
 
The good thing is that I am within helicopter range. It is comforting. I just need to push one button for someone to get me. The living quarters are not damaged. With the watertight doors, I can stay protected.
 
The hit was ultra-violent. I still shivers, just thinking about it… and talking about it.
I was sailing at 17-18 knots. And everything stopped. I think I hit a container. That's what torn apart the bottom of the hull. The front of the hull exploded. The hull buckled. Luckily I did not lose the mast. It was very, very violent.
 
I was sleeping in my bean bag. Thank god, I had my head deep into the bean bag. I ended up against the mast bulkhead. I found items against the mast bulkhead that were packed up at the rear of the boat; it flew forward over 10 meters…
 
A bit stressful. The good thing is that I am not too far from shore. But actually, that is also what could have caused it. I saw several cargos. I think I am on a maritime route between New Zealand and Australia. Knowing the sea conditions, there must be a few containers in the water. I think that's what I hit, considering the violence of the shock…
 
Here we are…End of my Vendee Globe…Finished…Half around the world…

I am so sad it ends up this way…I had my lot of hardship… For sure I had a truck load of them…

But this one… this one… Fuck! I really wish this one to nobody…

Thread has the latest news and discussion – go there now.
December 19th, 2016 by admin
Bill at Passageweather points out an incredibly rare front page error (ha!):
Hey guys, you state that Conrad's boat has "The first all-electric propulsion in the Vendee Globe".  That is not true, as Javier "Bubi" Sanso raced his IMOCA 60 "Acciona" in the last Vendee Globe with a 100% Eco-Powered system, including an electric motor and batteries charged by a system of solar, wind and hydro-generators.  I'm not trying to take anything away from Conrad, but credit where credit is due, and the first was Bubi Sanso back in 2012.
Bill is 100% correct, and we remember calling the boat "100% Tug-Powered" after his dismasting, rescue and salvage in the last race. Conrad only has 16,000 miles or so to go to become the first ever to finish a Vendee Globe without fossil fuels.
Here's Conrad's latest missive from the Southern Ocean, and please be sure to like Conrad to get his best-in-race updates.
The world has changed back to grey although conditions are still pleasant. Notice that I'm talking in general terms here because my instruments are still uncooperative so I have no notion of wind angle or speed other than my experience of years at sea. However it's not the air that bothers me at the moment, it's water. The hard stuff. The sea is really cold (again, no data sorry) and even short exposure to it during a sail change leaves my hands so cold and weak that I can't even rip open a soup packet!
 
Also, falling off the train that Stephane and Nandor are still on has forced me to dive south, close to the Kerguelen Islands and  close to an iceberg detected by satellites four days ago. As I write this I have just crossed over the waypoint for the observed 30 meter iceberg as I figured the best way to avoid a moving target is to sail exactly over the point where it was last seen!

In addition to my work on the boat, planning the navigation, trimming etc  I now turn my binoculars to the horizon at regular intervals looking for hard water. I saw an iceberg in my first race around the world in 2012 near Cape Horn and it was impressive and scary for all that it represented… a near invisible, undetectable by radar, solid dangerous lump! I have good visibility and only one target to miss so I'm not too concerned about this Vendee cocktail being served on ice, although an encounter would leave me both shaken and stirred!
 
December 13th, 2016 by admin
Clean Report
My first long trip since becoming a father was an eye-opening one for me in many ways.  I learned that it takes about 15 days before family Facetime chats fall off and the missing really begins.  I learned that Sailing Anarchy can be a force for positive change.  I learned that driving non-stop from Barcelona to Amsterdam alone costs a fortune in tolls, fuel, and misery.  But mostly, I enjoyed being back in the thick of it for three extremely important events for the sport I love.  I'd like to express my heartfelt thanks to everyone who helped make the trip possible, and I encourage you to check out informative pieces I did with each of the four sponsors during the trip:
Musto's head of marketing and the Figaro sailor who reps them in France chatted with me about their new offerings and just how much of the Vendee fleet wears HPX in this video from METS.

Torqeedo Marketing Director Georg Roben gave some candid answers about the company and products that have netted two of the prestigious "Most Innovative Product" awards in the past five years at the METS show in this video.
As usual, Doyle Sails NZ owner Mike Sanderson was funny and interesting in this live chat about the Hugo Boss sails, superyacht sail technology, and the future of the Volvo Ocean Race, while Bruce Schwab explained what Ocean Planet Energy's slick battery, regulator, and charging solutions do for ocean racers in this interview. 
Enjoy them, and stay tuned for the next big thing.  Got something your company thinks needs some coverage?  Let me know.
A Hazy, Crazy Vendee
A special invitation to be aboard one of just a handful of support RIBs permitted inside the 2016 Vendee Globe starting area gave me a great view to one of the most special single days in all of sailing; a day where our humble sport sees crowds that make the World Cup look small.  As it turned out, the start itself wasn't even in the top ten most interesting things about V-Day, and my view inside the commentary box four years ago was quite a bit better than being aboard a photo RIB shooting the 2016 start.  It's a start that barely matters at all for the race itself.
What I didn't experience four years ago was the single most intense crowd moment our sport has; when each skipper comes 'round the corner, entering the famous LSD Canal to the roar of an estimated 200,000 fans lining the shores.  Fortunately, my spot with the Boss photographer allowed me to be just a few meters away from this action, and the 18-minute video above is my attempt to get you as close as I could to the unique emotional surge unlocked by that final trip through the fairway.
I've been asked by many people whether the Vendee and IMOCA will ever really grip the attention of anyone outside of France and the niche yachting community, and I remind people that there's plenty of precedent for it.  When Mike Plant dominated solo racing (and indeed in the early days of the Open 60) the Vendee was international.  When Ellen was one of the UK's best-known athletes, the Vendee was international.  And now that Alex Thomson has a real chance to win and with the help of Open Sports Management and the IMOCA Class, the Vendee is pulling in decent international numbers. But it's all probably not enough to transform the event into a truly world-wide phenomenon, and that's entirely because of the shortsightedness of the French organizers of the race itself.
You see, the non-French world just doesn't matter much to the region of Vendee, or to the paymasters behind the communications strategy of the race, and where they do make an effort, it is specifically pointed at a UK audience.  The English portion of the VG web work – mostly translated news stories and voiced videos – are a shadow of the French language content. The live dockout show and start were commentated by a fully English team.  And the live call-in shows and 'vacations' are hosted by Andi Robertson, who, through no fault of his own, is basically impossible to understand for anyone South of the Midlands (including the sailors he talks to on the phone).  Even the video distribution is distinctly French and distinctly annoying, with organizers always pushing views towards the awful DailyMotion over Youtube, Facebook, or Vimeo.  We're confident that the organizers don't know any better – nor do they seem to care – and unless Thomson wins and sets up a massive cross-channel rivalry, or another Ellen or Mike Plant comes along, things will most likely continue along on their continually growing, largely Francophone path.  Why change now?
The biggest wildcard for the internationalization of the Vendee Globe comes from outside the race, and we hear Mark Turner, the Keith Mills/OSM contingent, and a number of different designers and builders are hard at work to determine the feasibility of the 'Joint Strike" foiling IMOCA/Volvo Ocean Race 68-foot concept for the 2019 Vendee/2020 VOR.  With OSM getting somewhat lukewarm worldwide buy-in of the Ocean Masters Series concept since its inception, the combined power of OSM, Boss, and the Volvo could really tip the international balance of IMOCA racing.  You won't have to wait long to find out where that one's going, and we're on the edge of our seats along with everyone else who loves ocean racing.
Finally, I want to heartily recommend a trip to West France for anyone who loves sailing, and if you can go during a Vendee start or even one of the finishes, you'll not be disappointed.  There's nothing even remotely like it.
Joseph deMaistre (no, not Thomas Jefferson) wrote "every nation gets the government it deserves" back in 1811, and little did I know when I scheduled my trip to Barcelona that I'd be struggling more with the ramifications of this quote at home than on the ground at the World Sailing AGM and election.  I watched in shock at 6 AM in a tiny AirBnB apartment as the US Election results rolled in, and there was almost as much discussion of the Donald at the AGM as there was of Carlo Croce, Kim Andersen, and Paul Henderson, with the US attendees trying valiantly to assuage the fears and worries of the rest of the delegates.  More on that below…
As many of you know, Sailing Anarchy led the world in coverage of the avalanche of ISAF's public problems over the past four years, and we weren't bashful in laying it all at the feet of the man in charge.  Carlo Croce may not be a bad person and he undoubtedly loves the sport, but as a leader, he was an embodiment of the opaque, conflicted, unaccountable governance that invariably ends in major problems. We don't need to go into the full list of ISAF's planning, contracting, and communications fuckups over the past four years again, but when we learned that he had real challengers for his second term, we jumped at the opportunity to help them get the word out to the wider sailing community.  And you know what?  You guys helped send Croce back to Italy in defeat.
According to numerous sources amongst the delegates, the flood of calls, emails, and comments you sent to your National Governing Body and our continual shining of the spotlight of shame on World Sailing's missteps in Rio and Russia helped to unseat an incumbent ISAF/WS/IYRU President for the first time in history.  Strong public statements from the other candidates (most notably, in our two podcasts with them), a well-organized plan from the Danish challenger, and Croce's complete unwillingness to engage anyone in public doomed the Italian, and when I hit the road for Amsterdam on the Monday morning, I left confident that World Sailing is headed in the right direction for the next four years, even if America is not.
As an ISAF AGM virgin, I found the conference quite effective compared to similar conferences I've attended in other disciplines.  Sure, doing work in big committees as ISAF does is massively inefficient, but that's how volunteer representative governance works.  Much of the various committees' time was spent on inane arguments and old men who like to hear themselves talk, but lots of business actually happened; handicap racing, offshore rules, media strategy, match racing, Olympic formats and equipment – all saw well-found presentations and solid progress towards more modern, transparent, and creative approaches to success.
The theme of the conference itself was a different story.  Called "Our Sustainable Future," it was a fairly brazen attempt to position sailboat racing as the 'go-to sport' for major corporations looking for a 'green' sports sponsorship partner.  While we at SA believe environmental awareness and conservation to be inextricably tied to sailing, World Sailing's attempt to do so was clumsy and hypocritical.  Case in point: The final AGM was a busy affair, with hundreds of delegates and staff and hundreds more observers, and the first thing I noticed when stepping into the room was a booklet on every single seat that touted 'sailors and nature'.  It wasn't an agenda or anything with important information in it, it was a big pile of trash masquerading as a promotional brochure.  Another chunk of obvious bullshit came from a staff executive's attempt to justify the only major 'environmental' sponsor of the entire World Sailing portfolio – Gazprom – by explaining that even dirty companies need a green sports partner.
Call us crazy, but to us, allying our 'clean' sport with the single biggest polluter in the entire world and a company almost inseparable from Vladimir Putin and his international adventurism isn't the best start to sustainability.  It's probably better to establish a reputation for environmental awareness and conservation and pick up some sponsors who are actually walking the walk before positioning World Sailing as an image-launderer for every coal, gas, and oil company in the world.  Otherwise, we're just whores.  You can watch the full Sustainability Forum as recorded live here.
As an American, one of the most shocking exchanges of the week occurred before the delegates voted on the next two years of AGM venues; the 2017 meeting in Puerto Vallarta, Mexico, and the following year in Sarasota. Florida.  I'll direct you to the starting point of the actual discussion as filmed live by World Sailing TV here (it goes on for about 20 minutes), and for those of you with short attention spans, consider this: In just a few days, the world went from a place where the USA was safe and prosperous and Mexico a dangerous, drug-ridden cartel state to exactly the opposite: Nearly a third of the delegates chose not to support a meeting in America, while just 6 delegates voted against Mexico.
For all its faults, World Sailing TV did a real service to the world's sailors by live streaming much of the conference to the world.  Nearly no one watched them, but it's early days and we think the precedent was well worth it.  You can check out all the WS live streams here.
The Show of Shows
Compared to the first two stops, the Marine Equipment Trade Show was far less important and far more fun.  For one, it's in Amsterdam, which never sucks.  For another, it's the single most important show for the sport, and hundreds of friends were there to laugh, drink, and carouse with.  It was an uplifting show as well – the industry is pumping right now, and even if most of the really interesting innovations are targeted squarely at the big dollars super- and megayacht markets, at least there's money to keep our favorite companies going.  In any event, anyone involved in the business of sailing – even small companies – really should add the METS to their calendar over any other show.  There's just nowhere in the world where you can connect with more people inside every aspect of sailing than here.
After the number of updates I did in Amsterdam there is little need to recap the full show; if you love the sport and innovations, you'll probably already have watched the videos (all streamed live from the floor of the RAI with one from Holland Composites).  If not, I encourage you to head over to the SA Facebook page and have a look at our overall Best In Show, one of the biggest safety innovations we've seen in a while from a brilliant 20-something year old kid, and about a dozen more really interesting product videos from the show floor.
And don't forget the Sailing Anarchy Podcast.
December 10th, 2016 by admin
The Hugo Boss team's 'replacement rudder' headfake failed to effect a charging Armel Le Cle'ach, but Alex is happily hurtling along towards Cape Horn in the hopes that the Jackal will find some bad luck along the way.  In the meantime, illustrator Francois Denis and our friends at Ino-Rope continue to memorialize this Vendee Globe in cartoons, one of the latest featuring Denis's take on said spare rudder.
The caption reads "Sailing Anarchy knows the truth!"
Check out more of Denis's amazing cartoons over here.
December 9th, 2016 by admin
Conrad Colman continues to prove that he is an 'innovate or die' kind of dude.  The first all-electric propulsion in the Vendee Globe.  The first drone shots from a solo racer in the Southern Ocean.  And now – the first podcast from an Open 60, via Soundcloud.  The tech to pull this off has been around for the better part of a decade, and it's amazing no one has done it before now, but that's why Colman is one of our favorites – because he is always in search of new ways to share the sport with the world.
This one is only 3 minute long, but we really do suggest you find a good set of headphones and turn them way up before you click 'play' if you want a taste of what a Southern Ocean cold front feels like.
Shout out to one of the best kids' movies ever; a reminder that not all cartoons need to be corporatized drudge from Disney and friends.
December 8th, 2016 by admin