Posts Tagged 'Vendee Globe'
We're digging the quirky and creative daily cartoons from the collaboration between Ino-Rope and French illustrator Francois Denis; in yesterday's cartoon, Nandor Fa tries to make Rich Wilson feel better after being passed.
You can see all the archives at Ino-Rope's site here and we'll feature the best one each week.  Title shout to one of the nastiest, funniest shows of the 2000s.
December 1st, 2016 by admin
Tanguy LaMotte's charity-funded Initiatives Coeur may have officially abandoned the Vendee Globe after a masthead malfunction, but he can rest a bit easier knowing his boat has already made it around the world in record time.  Or at least, a cardboard version has! This pic from astronaut Thomas Pesquet from aboard the International Space Station.  For real.
And to see the French skipper 'keeping it 100′ as his charity sponsor rescues poor kids from heart disease, check out  the track Tanguy's traced in the ocean on the way back to France.  Have a heart, indeed.
November 28th, 2016 by admin
Clean Report
Finally, we get the answer to the all-consuming question of whether or not Hugo Boss is carrying a spare foil.  If so, how will he fit it and when?  If not, how will he deal with 'ol' stumpy'? How does Alex feel about getting passed by Armel Le Cle'ach for the lead (while we speak to him live)?  How did he hold him off for so long?  All that and much more in this half hour more worth of questions from the Anarchists and Clean. It's Hugo Boss skipper Alex Thomson, live from the Southern Ocean!
EDIT: We've brought up Alex's audio for those of you who had issues with the Facebook Live vid or those who just can't stand Clean's face – you can listen in loud stereo over here.
Title shout to the bubblegum punk that is Eve6.
November 27th, 2016 by admin
Our own Mr. Clean and RailMeat get bylines in an excellent short vid that gives you a real taste of the Vendee Globe from the perspective of New York Times sailing editor Chris Museler.  Watch it in the original spot here.
November 26th, 2016 by admin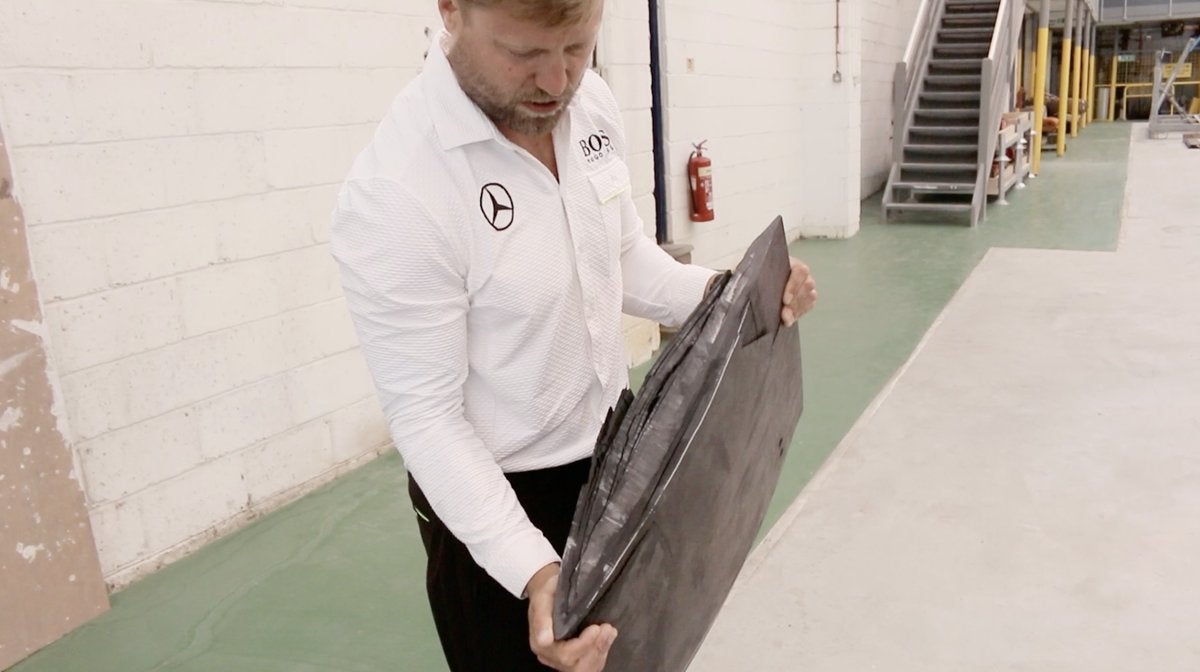 Our exclusive comment from the Hugo Boss team regarding Alex Thomson's replacement foil has lit a fire of speculation from all over the world, and we have to emphasize that we do not have any first-hand knowledge of a spare foil aboard the boat – it's all just words from an ATR source for now.  But a sharp-eyed Anarchist caught some of those words before they were deleted from the VG website; the conversation was between VG headquarters and Alex via satphone, and here is the text that's since been scrubbed:
VG: Do you have a spare foil?
AT: "It's an interesting question. One of the benefits of going for the design that we went for is that you have the ability to be able to push out what was there, and we'd be the only boat in the fleet that could put a foil in through the deck. It was certainly part of our consideration when we chose to go for this foil.
VG: Do you have a spare foil onboard?
AT: "One of the major problems with these foils is that they're very heavy. They're north of 100kgs each so the reality of being able to put another one in – getting it up on deck, and jiggling around with it – is that it would be very, very difficult. It's not an easy thing to try to do – I guess you'd have to have perfect conditions for it.
VG: Do you have a spare foil onboard?
AT: "Do I have a spare foil onboard? That would be telling, wouldn't it."
VG: Do you have a spare foil onboard?
AT: "No comment."
It may all be academic anyway, as Armel Le Cle'ach is just 12 miles from rolling Thomson as we speak.  It's head to head in the Southern Ocean for now in a race where anything can – and does – happen.  Anyone bored yet?
We're speaking to Alex tomorrow via satphone; we just put up a thread to ask your questions directly – post yours and if they're good, we'll get the answer straight from the leader of the Vendee Globe.
BONUS: For a crazy amount of data on the distances, speeds, and much more from the fleet, check out this cool page.
November 26th, 2016 by admin
Our continued coverage of the Vendee Globe is brought to you by Musto, Torqeedo, Doyle Sails New Zealand, And Ocean Planet Energy.
With Vincent Riou limping off to safety after cracking his keel, Seb Josse losing hours to repair UFO-damaged rudder linkage last night, and Alex Thomson somehow holding on to a 100+ mile lead with just a stub of a starboard foil, it's clear that the biggest hurdle to winning the 2016 Vendee Globe may very well be floating – or swimming – in the water.  With PRB down it's also clear that it ain't just a foil thing, and don't forget the famous secrecy of some teams; we may only be hearing a portion of the actual damage reports.
With Thomson seeming to easily hold off Banque Populaire at sustained speeds of 20+ knots, we asked his team for a photo of the Hugo Boss damage to address some of the speculation that Alex is playing head games with other teams and that there was no collision.  We were told there were no pics yet because the stump is under water and spray at 20 knots, and said we'd all see pics and video of Thomson's foilectomy when the weather moderated.  We've also just learned exclusively that the non-French ocean racing world's biggest hope may not be over at all, thanks to a spare starboard foil aboard the Boss!  Alex will attempt to cut away and jettison the remaining stub and insert the spare downward from the deck openings ; it is a very tricky operation but they've practiced it at least once, and it's the reason for their unique deck/foil exit configuration.
The reality of the situation is dramatic enough, but we loved SA'er 'nedev's explanation of Thomson's problem way more.
To be honest, structural failure and hitting stuff in the open ocean both seem quite unlikely to me… After all, the engineers know what they are doing right? And in that vast ocean, what is the chance to hit a teeny tiny floating object?

If you ask me, I think the most likely thing that has happened is that aliens visited AT and try to abduct him and perform scientific experiments on him. In his blind panic, AT ripped off his own foil with his bare hands and used it as a blade to fight off the extraterrestrial intruders. Stunned by this display of will power and strength, the aliens didn't know what to do and decided that there would probably be easier test subjects to be found elsewhere on this weird planet. What they didn't know was that during their stay on the big black boat, one of the landing lines of the UFO got wrapped around the rudder. So when they tried to fly away, the rudder got pulled up and the UFO got destabilised mid flight, causing it to crash into the ocean and sink into the depths.

So I think we should all be grateful for Alex's heroic actions, saving humanity from the alien invasion. Quite possibly, humanity would have been wiped off the planet if AT hadn't sacrificed his own foil to save us all!
Talk about these discoveries and more in the Vendee Globe thread.
November 23rd, 2016 by admin
Clean Report
2016 will be remembered as the year when manufacturers finally realized they should be spending all their development money on Superyacht toys, but a handful of companies are working to improve high-performance sailing.  I sampled pretty much everything new from the 1500+ exhibitors at the METS show in a mostly sober state, and after all that, the winner was actually quite easy to choose.  After more than 8 years in development by the folks at Mich Desj's "Mer Agitee", the Electronic Tell-tale/Trim Control system is mostly ready for prime time, and whether we're talking about significant average speed boosts for cruisers and racers , integrated sail control for bigger yachts and super/megas, huge efficiency increases for thousands of wind power producers, or potential stall-control systems for foilers, this thing could be game changing – and soon.  I grabbed a few minutes with Dimitri to show me how it works and where it'll change the world; watch above and stay tuned for a more thorough breakdown of the show – and my European trip – later this week.
November 21st, 2016 by admin
With jagged bits falling off his now-wrecked starboard side foil, Alex Thomson has tapped into his inner Brit, keeping the proverbial 'stiff-upper lip' despite watching his huge 120NM+ lead erode sched by sched.  How long can he hold the charging Armel and Seb off?  It all depends on the wind direction, and the closer they charge toward the Antarctic Exclusion Zone, the less choices Alex will have to make.
Western France is collectively breathing a huge sigh of relief to see the rosbif's game-changing race begin to falter, but they shouldn't count their Maitre Coq before it hatches; this edition of the Vendee has been noteable not only for the dominance of Old England, but for the incredibly lack of attrition up to this point.  It won't last, and if one foiling 60 can wreck a foil, they all can…
Meanwhile, we're not sure who made it, but props to the Anarchist who brought the beautiful Windyty streamlines to the Vendee Globe tracking data to produce this 'world's best' tracker for the VG.  Check that link here, go over here for a full-fleet performance graphing option, and of course wade into the thread if you love the Vendee.
November 21st, 2016 by admin
Sam Greenfield may have been the first yachtie to launch a drone off a racing boat, and in just a short time, the world has followed.  Quads have become required equipment for the world's biggest sponsored raceboats, and with good reason: In a race like the Vendee Globe, the ability to shoot yourself from the air at any angle adds an awesome new element to the experience for all of us back home, and the sponsors who pay for it.  Kudos to Conrad Colman for his pilotage; let's hope he has the balls to fly it in some breeze.  Colman's Foresight Natural Energy IMOCA sits midfleet.
Up-to-the-minute links and chatter about the Vendee Globe here.  Tracker here.
November 11th, 2016 by admin
You've watched the live coverage and the Dock Walk, now check out the summary from day one of the Vendee Globe.  And yeah, we know the English-language voiceover sounds like a SNL skit; the shots are worth it.  The tracker is almost as bad as that dub, but click here to see Hugo Boss headed inshore slowly while her competition blazes by on the outside (at this moment, anyway). Latest race analysis here.
November 7th, 2016 by admin