Posts Tagged 'Vendee Globe'
The odds-on favorite for the 2016/17 Vendee Globe checks out an entirely novel use for his foiling j-board aboard Banque Populaire.  Photo dug up by whoever the hell Nolimit Team 972 is…and there's already a pile of great Race Village photos on the VG site…T minus 18 days!
October 19th, 2016 by admin
Thought you knew what J-foils were supposed to look like? Guess again.  These from Jean Pierre Dick's St. Michel Virbac, currently lying in Les Sables D'Olonne getting ready for the Vendee Globe in just two weeks!  Sailing Anarchy will be there – will you?
Title shout to one of the funniest bits in modern movie history.
October 19th, 2016 by admin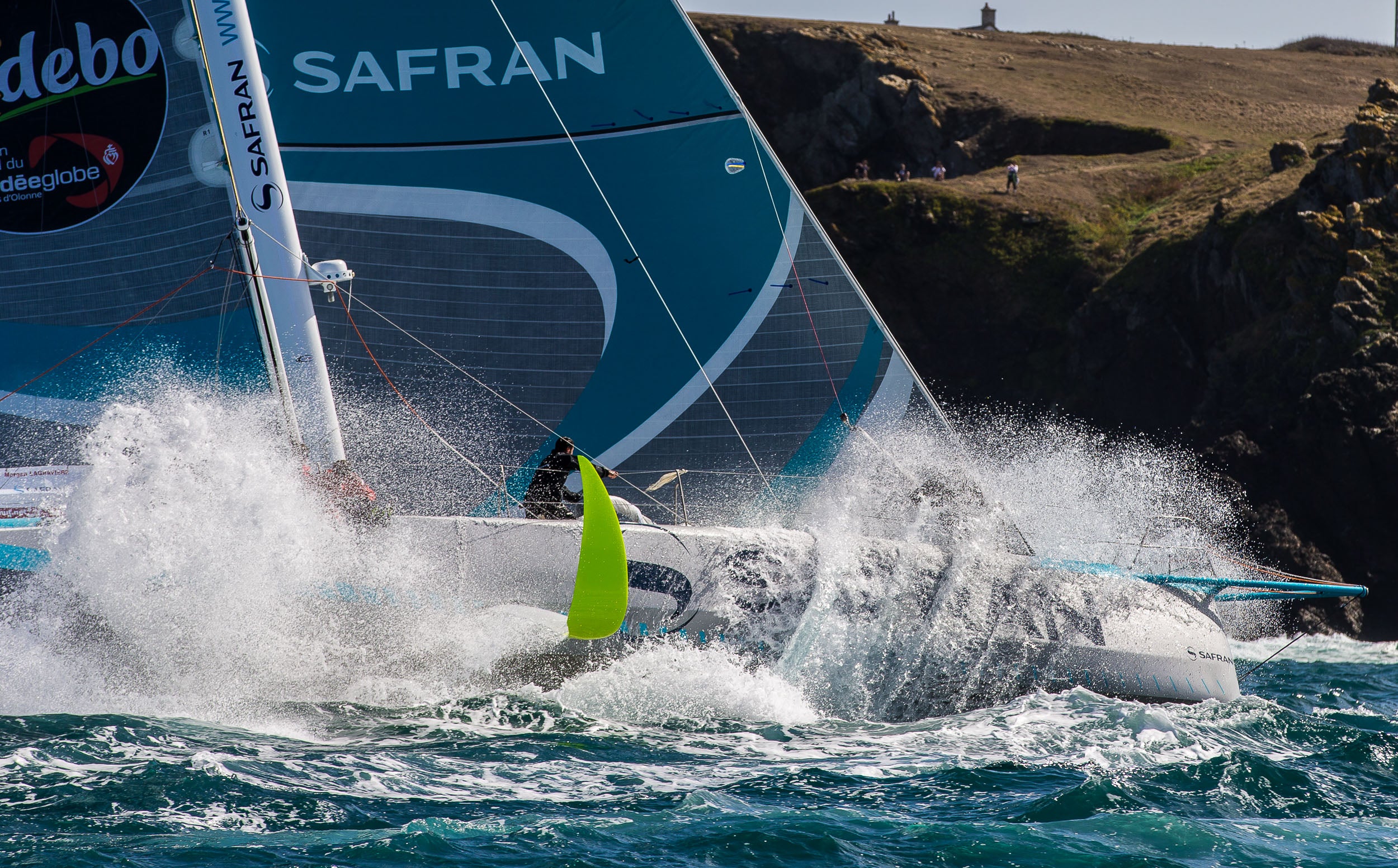 There's never been anything quite like the latest generation of Open 60s, and in just a couple of months, we'll learn how they perform in anger when the Vendee Globe kicks off.  We haven't been this excited by a monohull class in years, and we recommend you take some time to catch up with the latest; here's the Ocean Racing Anarchy forum thread, full of info.  Here's the most reliable Facebook Page under the Vendee umbrella.  Here's the latest promo/trailer video for the race, and here's a pretty good Conrad Colman documentary from the NY-Vendee Race. Brian Carlin photo, with more from this past weekend's Azimut Race here.
September 26th, 2016 by admin
We love the fact that Rich Wilson spends the vast majority of his Open 60 time and energy providing unique, powerful learning oportunities for kids through his sitesALIVE! program.  For the 2016 Vendee Globe, Wilson has taken a big step further – he's gone full French on us, and all the way to the top!  From the very well-done sitesALIVE! Newsletter (which you can sign up for here):
As Great American IV arrives in les Sables d'Olonne ready to complete training, we've surged ahead in our bid to appeal to audiences in France, where the Vendée Globe is well known. We are set to launch a French version of our website; our Teachers' Guide has already been translated into French; and, most importantly, the Directorate-General for Schools of the French Ministry for National Education has agreed to collaborate on our educational program. More details to follow after administrators return from the August holidays.

Although the Vendée Globe already offers an education program for school children via their website, the education ministry appreciated several novel aspects of sitesALIVE! They liked that we put curricular topics into real world context and that we offer a team of experts, plus the chance for students to interact globally around the various topics. After an initial favorable meeting in February with ministry officials (thanks to the introduction of the American Embassy in Paris) we met again in June to hash out details. The ministry has approved our program for use in French schools.

In other France-related news, we arrived in les Sables d'Olonne on August 17th (see details below),  after motoring for the last part of the trip over calm seas. Training will be completed here. Previously, at the end of June, we sailed a short training run with British sailor Dee Caffari (who was also on board to help on the voyage from the Azores to South Hampton in November last year). Although we started out on this latest training run with lightning storms, which Dee categorized as "very, very, frightening," we managed to put skipper and boat through their paces, tacking and gibing, changing sails and checking all systems on board. As in November, it was reassuring to have Dee aboard as we got the hang of sailing the big boat in a variety of conditions.

Seventy-five days before the start, French enthusiasm for the Vendée Globe is building, and this time around we want to make sure to do everything possible to make our educational program accessible to French-speakers. We're on track to launch a French version of the sitesALIVE! site, due in September. We've also had the teachers' manual translated into French, giving francophone teachers — wherever they may be in the world — instructions on how to guide their students through our math, science, history and geography curriculum, based on a sailing adventure that circumnavigates the globe.
August 23rd, 2016 by admin
Videographer Stan Thuret gives us this 2 minute tease of a longer NY-Vendee Race movie to come in a couple of weeks.  Pretty stuff from a pretty old boat and an Anarchist skipper we really dig.
August 4th, 2016 by admin
The Sailing Anarchy Podcast is back, and this week Mr. Clean gets into the business behind the single biggest event in the entire sport: The Vendee Globe.  This 100-minute episode # 6 is a mix of insider chat from Clean and four interviews he grabbed last month in New York with interesting Vendee figures: IMOCA Ocean Masters Commercial Director Alex Mills, Canadian Ocean Racing grom Morgan Watson, Irish skipper and storyteller Enda O'Coineen, and Team SMA media man Brian Carlin.
Episode # 6 will drop next week and it'll be all about the Race 2 Alaska.  If you've got something to say about the R2AK, let us know and we'll add you to the show.  Subscribe to the Podcast here.
June 22nd, 2016 by admin
Damage to the 15-boat fleet killed the media-friendly Newport to NY "Prologue" race for the NY-Vendee program last week, but when we were down on Friday, everyone looked ready for the long haul to Europe.
Fast forward 36 hours, and debris and UFOs have taken out a third of the fleet in just a couple hundred miles – the pic to the right is Banque Populaire headed back to shore after destroying a foil.  Just 8 of 14 starters remain on the course, and that doesn't include at least one boat whose whale strike prevented them from even making it to the line.  That's the attrition rate for a full RTW race, and right now the skippers and designers have to be stressing about the biggest race of their careers in just a few short months.  Is there any way to prevent the problem?  Is it more whales, quieter foils, or increased speeds that have turned the fairly reliable IMOCA into boats with an 50/50 chance of finishing even a short Atlantic crossing?  Does anyone have a solution besides slowing the hell down?
The next SA Podcast tackles this subject head on, and much much more, including the OSM push and where it's going, the recent sacking of both the longtime Managing Director of the Vendee Globe and its Race Director Denis Horeau, and the controversy over media crew.  Look for it this week.
Track the race here, and discuss the craziness here.
May 31st, 2016 by admin
In this piece, Brian Hancock analyzes the coming NY-Vendee Race for Open 60s after Mr. Clean went over to the Big Apple for a few hours to do some interviews and finally get that ride on Hugo Boss.  They did not win the exhibition/charity race (Mich Dej/Paul Meilhat on SMA caned it), but at least the 14 stallions were able to run a little bit in a rare 8-12 knots of reliable breeze in NY Harbor, and it was a site no one has ever seen before (though as with the ACWS, New York doesn't really give a crap).  Clean's race video is in here and SA Podcast # 6 next week will include some excellent interviews and a detailed discussion about the good, the bad, the conflict, and the controversy of the Vendee Globe – fans of solo ocean racing won't want to miss this one.  Big thanks to former "The Beat" host Katy Nastro for the production help, with photo credit to George Bekris for the shots above and below.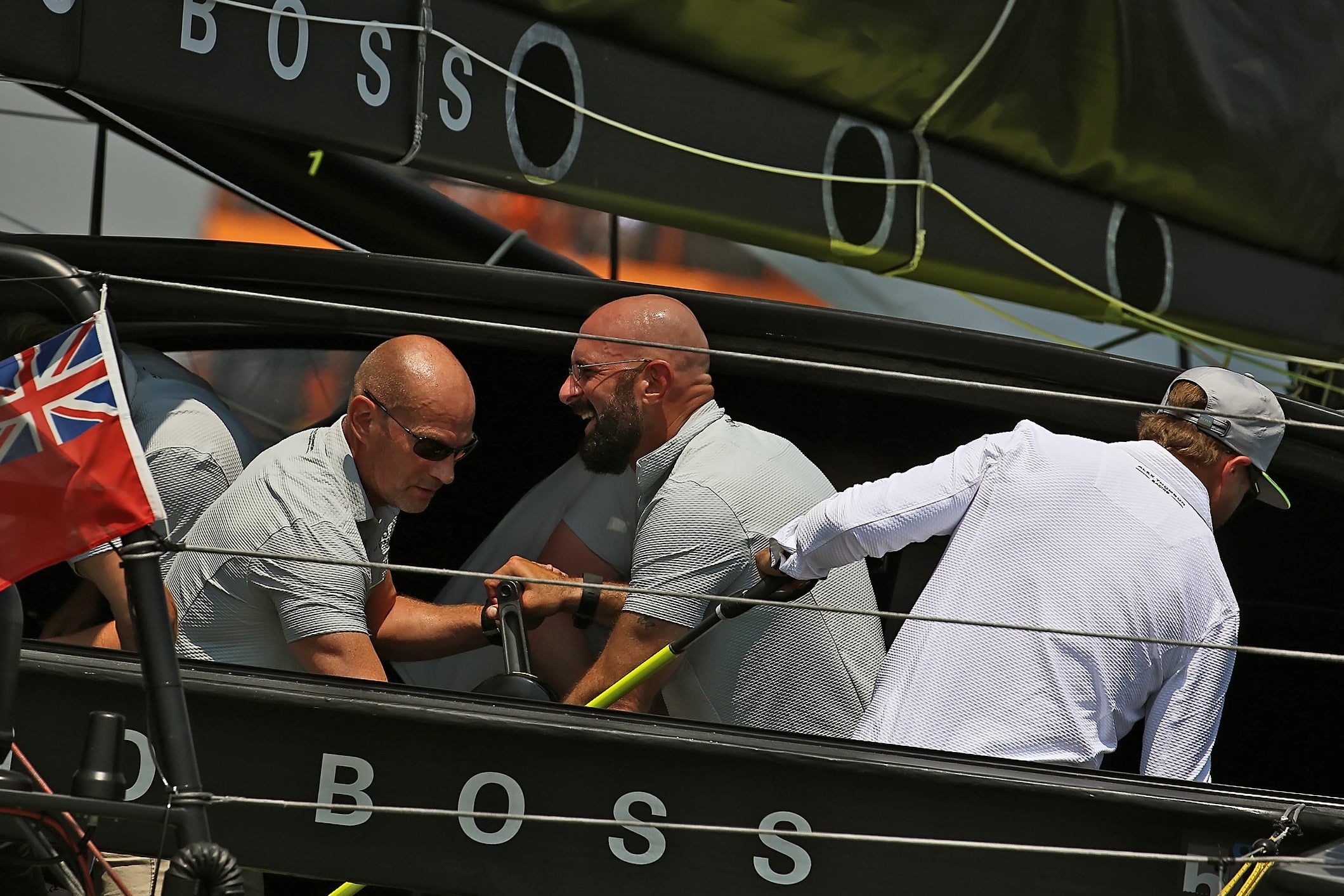 This coming Sunday New York City will be the backdrop to one of the newest ocean races on the calendar. The New York-Vendée race is essentially a feeder race for the Vendée Globe which starts in five months from France. It will provide an opportunity for the skippers to complete their qualifying voyage in order to take part in the Vendée Globe. The turnout for this inaugural event is very good with 14 IMOCA 60s lining up for the start. Among them are the who's who of solo sailing including previous Vendée Globe winner Vincent Riou on PRB and Armel Le Cléac'h on Banque Populaire. Le Cléac'h finished second in the last Vendée Globe and is the odds-on favorite for the next one. Also competing will be Alex Thomson aboard Hugo Boss. Thomson finished third in the last Vendée and is back with a brand new boat.
The race starts at 14:00 EST on the Hudson River and exits the mouth of New York harbor at Sandy Hook before crossing the Atlantic to finish off Les Sable d' Olonne on the west coast of France some 3,100 nautical miles away. It's going to be a very interesting test for both skippers and their boats. Until now most of the head-to-head racing that they have done has been upwind. This race will be a downwind sail and designers and pundits alike will be keeping a close eye on whether those boats equipped with foils will do better than those that do not have them. The conditions of the New York-Vendée race will be more similar to those of the Vendée Globe.
Of the 14 entries, 9 are French with the rest from New Zealand, Finland [Finn Air entry has withdrawn and manned the HB pedestal with Clean all Friday -ed], the Netherlands, UK and my old friend Kojiro Shiraishi from Japan. Only Thompson from the UK stands a chance of a podium finish otherwise it's going to be a French dominated race. The first boats are expected to arrive in Les Sable d' Olonne in a little over a week.
May 28th, 2016 by admin
Few sailors have made the kind of sacrifices Conrad Colman has in his pursuit of solo ocean racing glory. We love his story, we love his passion, we love his attitude; "I'll sail the shit out of this boat, or die trying."  Conrad's looking for some love from the SA community, so give yourself something to root for in the next Vendee Globe and throw some cash his way.  Get to know Conrad in depth in this SA Innerview we did with him during the hate mission that was his Barcelona World Race, and enjoy his writing, as we do.
Sick of the election? Want to focus on something cool in November? Come vote with your wallet and help get me into the Vendée Globe. As some of you will know from previous posts here, I won the Global Ocean Race and co-skippered Nandor's boat in the last Barcelona World Race. I am now signed up for the Vendée Globe, the solo non-stop race around the world that starts in November. I have secured a boat, completed a refit, and will be sailing across the Atlantic next week to participate in the solo race from NYC at the end of May.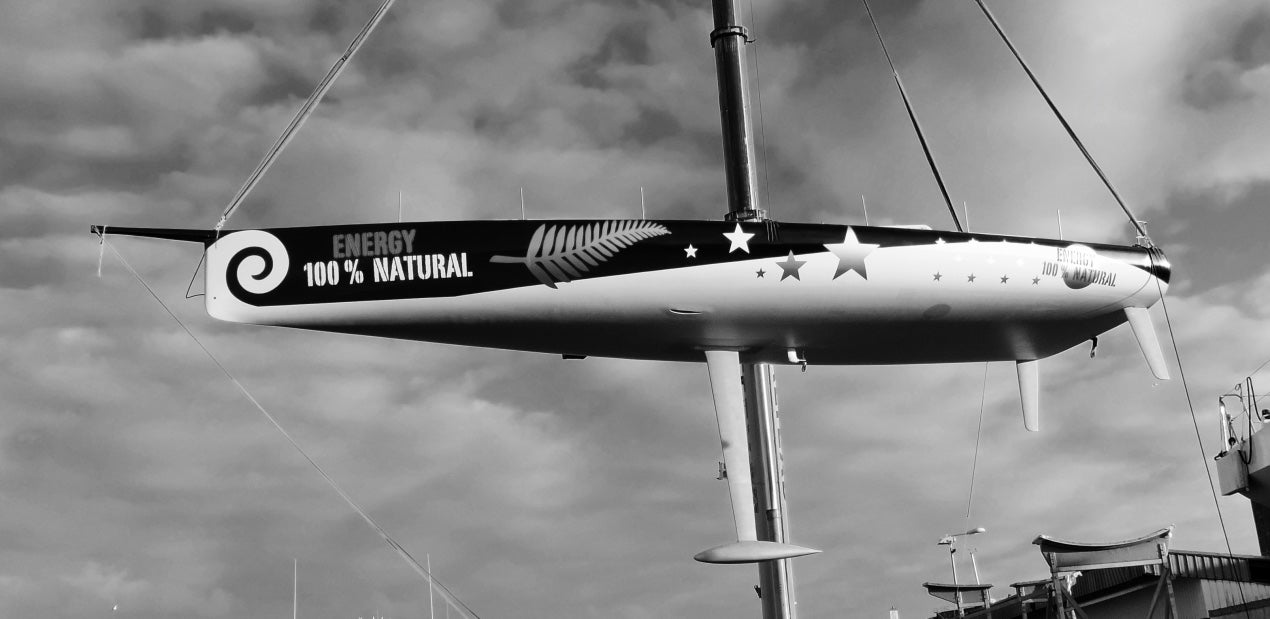 After the BWR I don't need to do another race to qualify but as one of the only English speakers in this class I am coming to the States to share my campaign and the Vendée Globe with as many of you as possible. I am still looking for a title sponsor and have launched a crowdfunding campaign to help keep the wheels on until I do. Please click here to participate by signing up for a T-shirt or to join me on board a real Open 60 for the pro-am races in Newport and NYC to experience life in the IMOCA fleet – first hand.
In a professional racing class defined by big budgets as much as fast speeds, I am one of the few projects scraping through on the smell of an oily rag. This winter most skippers checked in on their refits once a week whereas I have been pulling 16 hour days in the boatshed with one day off since the new year, and have personally sanded the bottom, painted, laminated, screwed, wrenched and cursed my way through the winter. Number of full-time employees at Gitana? 35. Number of full-time employees at team C? 3 (Me, my wife and one preparateur).
In addition to repainting the whole boat, repairing the mast, servicing the keel fin, replacing the electronics and redoing the rigging we ripped out the diesel engine! That's right, we're going fully electric and zero emissions for the race around the world. In partnership with Sailing Anarchy advertisers Oceanvolt, Power Sails, Super B batteries, Gori propellers and Fischer Panda (to get through the IMOCA tests) I will race around the world without burning diesel with only solar panels in my mainsail and the hydrogenerator function on the motor providing clean limitless energy.
Why go green? Because we should! Sailing is the only clean mechanical sport, and from Tesla to the COP21 the world is going electric and zero emissions. It's also lighter than an engine and fuel, with less moving parts and provides a huge buffer of stored energy that buys me time to find solutions in the case of problems. In comparison with the tricky prototypes on the Acciona boat four years ago, all the technology is off the shelf and I hope my race around the world will show that its a good solution for the general yachting population.
I hope you join me in this crazy adventure, either online here on SA, by participating in my crowdfunding campaign or by becoming a sponsor of the campaign. The Vendée is one of this year's biggest international sporting events, I'm one of the only English speakers and I have a TV deal to top it all off!
Send me an email if you would like to browse a sponsorship proposal, or if you have any ideas or questions about solo sailing, eco-friendly energy solutions, or just want to say 'hi'!
April 29th, 2016 by admin
CORRECTION: WE ATTRIBUTED THE TRANSLATION BELOW TO THE WRONG ANARCHIST.  WE SALUTE SA'ER SURLEPONT FOR HIS HARD WORK, AND TO ALL THE ANARCHISTS WHO SPEND HOURS AND HOURS TRANSLATING NEWS TO ENGLISH EVERY YEAR SOLELY SO THEIR ANARCHIST PALS CAN KEEP UP WITH OCEAN RACING.
Names like Chichester and Hasler graced the first-ever solo transoceanic ocean race, and while it's seen its share of rocky times since its 1960 birth, the Transat Bakerly (née OSTAR) is back with a vengeance in this Vendée Globe year, and it's the first time the historic race is back on its original course – from Plymouth to New York City.  This time, it features four classes – Class 40, Multi 50, Open 60, and Ultime multihulls.
Will the 2016 edition look like Chichester's, in which he famously said of the course: "Every time I tried to point Gipsy Moth at New York, the wind blew dead on the nose," said Chichester. "It was like trying to reach a doorway with a man in it aiming a hose at you."  There's a good history of the race on the event site, and the IMOCA thread is probably the best place for breaking news.
The race starts on May 2nd, and a huge thanks to the Anarchists for translating this excellent Seb Josse interview from Ouest France (Edmond De Rothschild foiler):
The Transat bakerly. Sebastien Josse on his foiling Edmond de Rothschild hopes to get a lot of answers from this race. Start from Plymouth on May 2nd.
Sebastien, why did you have to cancel the warm-up from Saint-Malo?
We had a bit of a complicated start up, racing against time since getting the boat back into the water. Everyone is working on a very tight schedule and the Vendee Globe will be here in no time. Calibrating the foils takes a lot of time. We had a problem with one of the foils, which we could manage at our base in Lorient, but which would have been a lot more complicated to do in St-Malo.
The boat's winter refit was quite long. Why?
The goal was to get rid off the teething troubles that plagued us during the Transat Jacques Vabre. We had seen that there were structural problems with all the new boats, so we had to deal with those too. Apart from that, the goal was also to carry out some major modifications that we won't reveal and that are not visible right away. We basically came out with version 2 of the boat, which will be the final version for the Vendee Globe.
Did you mainly have to erase the weaknesses or enhance the strengths?
We knew that upwind, the foiling boats weren't among the fastest, but we were able to really measure against the others during the Jacques Vabre. And it stung even more (laughs). Like Banque Populaire, we also tried to close those gaps.
Yet, in the end, did your early retirement in the Jacques Vabre in a way allow you to catch up?
Yes. The boat was only three months old and we left in heavy weather. I think we would have certainly been subject to big breakages if we hadn't turned around. Like Jean-Pierre Dick, who ended up in Madeira with a broken boat and a lot of time lost. Our boat was still intact. So we did as the other boats, we reinforced the structure, because all the new IMOCAs clearly had a problem in that regard. And then we were able to do a delivery trip to St Barth's and race the Transat B to B, so in the end we did two transats, something no other (new) IMOCA has done, which allowed us to clock up valuable miles.
So the problems you experienced during the Transat Jacques Vabre were quite serious
We had a succession of minor damages – with outrigger, mast, rigging – which, in 45-50 knots, showed that it wasn't reasonable to continue in a storm, only if we wanted it to have a catastrophic ending.
In the B to B, the return transat to Brittany, you encountered very heavy weather conditions that allowed you to test the reliability of your boat Edmond de Rothschild
Yes, I had 50 knots of wind for about six hours, but those behind me had 60 knots, and for even longer! But, for me, it was a great experience because you don't get these types of conditions during training, you don't go out in such a storm because it's dangerous for the boat. But it allowed me to tick a box: 45 knots with a 6 m swell works with this boat.
So what did you really work on during the winter refit?
Let's say stability. I don't want to divulge more. But it's not just about the foils, which represent only one third of the boat. There are the ballasts, the keel, the sails Not everything revolves around the foil issue, even though it is our primary field of questioning, for which we're still waiting for answers, just like the other teams.
You and Banque Populaire are the most advanced teams
Two weeks ago Banque Populaire was at the same level as we are, but they broke their second generation foil, and were forced to go back to the first generation, so they made a step back. Surely to be taking two steps forward later. We are waiting for answers. We have sailed five times with the new configuration and The Transat will either validate our approach or bring more questions, something only a race can do. So we can say that we are the least behind the older generation boats that benefit from 8 years of development or more. If we manage to do the two transats back-to-back (The Transat and New York/Les Sables) with honorable rankings and without a hitch, only then can we claim that we widened the gap with the previous generations. We can't say that yet. But if a foiler wins The Transat, then I will say that the die is cast.
And if that doesn't happen?
Then we have to look at the circumstances. If we are two days, or two hours behind. If the upwind conditions aren't too crappy at the end During the Transat Jacques Vabre, if Armel hadn't had his problems near the end, plus the doldrums where he had to tack, which rarely happens, he would have left everyone in his wake. Deep down, he must be pretty confident to hold some reserve But now, our new boats, which are much more powerful than anything that was done before, have to win a race to ratify all that.
You were the first to sign up for The Transat, even though it isn't part of the IMOCA schedule
Yes, but is is a legendary race that exists since 1960. So yes, it is risky in terms of breakage, but we've signed up for the Vendee Globe, which can bring tough conditions, so this is a major test for both man and boat. Whoever finishes The Transat garners a lot of points in preparation for the Vendee Globe. We shouldn't only do races where everything is to our advantage. We might be leaving Les Sables d'Olonne in November with a southwesterly blowing 30-35 knots in the Bay of Biscay and have four days of upwind sailing, which amounts to half a Transat
What are your expectations for this transat?
It is clearly a warm-up. Creating reflexes, getting into the swing of things, not hurting myself. The Transat is a race where you have to show good seamanship, it's not a speed run. It is a tough race, you have to be mentally strong, have stamina and tenacity. Whoever finishes The Transat is a sturdy one.
You are now using a second generation set of foils. How much progress do they bring?
I have a good feeling about it, but I haven't been able to test against others. I couldn't do the training at Port-la-Fôret. I can't wait to start this race. But we can already say that between the first and second generation of foils, there is a 5-6% performance increase, which is considerable. But we have to test their reliability.
Lifting boats, even making them fly, is part of what the Gitana Team is about, isn't it?
Yes, it fascinates me since I first saw the foiling Moths in 2005 And speed, innovation and avant-gardism are the Gitana Team trademarks. When it comes to foils, using them was a no-brainer. We have Gitana XV (former MOD-70) which serves as a real-life model for the design and construction of the new maxi-trimaran that will be launched next year. It is an exciting way to go for the entire team. There's a whole world to explore with tremendous room for improvement. The next 10 years will bring us amazing things. We will reach speeds that, two to three years ago, we were barely able to touch, over 40 knots (on a multihull) at a steady speed.
Jérémie Beyou's boat, your pontoon neighbor, will be the only boat of the older generation to have installed foils. Was that, in fact, not the ideal compromise?
His goal was to keep the benefits of the older generation boats combined with the addition of foils. There is a hole in the IMOCA rules that greatly benefits these older boats that want to incorporate new technologies. Today, a boat like Maître CoQ is free in terms of power! They were able to strengthen its mast, keep important ballasts, a wide angle of keel, and even add more power with the foils, while all of that has been restricted for our new generation boats, with a one-design mast and a MR of 25 tons/meter. Jérémie made an interesting gamble and fully to his credit.
Will the transat New York – Les Sables, which normally should be more favorable to the latest generation boats, be able to show everyone's true colors?
No. I think that it will already happen during The Transat. The level is high, it includes the boats that finished first and second in the Jacques Vabre, and the one that won the Vendee Globe they're all there. I'm not saying that the others don't count, but if a foiling boat were to beat one of these two other boats, it would be very reassuring for the choices we made.
How is the construction of the maxi coming along?
It's going well Launch is scheduled for a little over a year, these kinds of boats take a long time to build. We have moved beyond the moulding stage for the three hulls and the arms. It is a tremendous job for the design office, with four people working on it full-time.
You have chosen to build a 33 m long boat, which is one meter longer than the Ultim class box rule. Why?
Why limit ourselves? Our goals with this future maxi-trimaran are the Transat Jacques Vabre and the Route du Rhum, which do not impose any limits. The box rules set by the Collectif Ultim will come into play when they start organizing races. For the moment the only one scheduled is the solo around the world race in 2019, which is still far away. And we will be able to fit into the box if necessary.
You will cut a meter off the boat?
We'll see
With the former Mod 70 that you use as test boat, it seems you blew up the speedo?
Yes, we recently sailed at 43 knots. We're able to get a steady speed of 40 knots, which before wasn't possible with a 21 m trimaran. It's very exciting! Even though these speeds bring about quite some stress as well, as there is no zero risk.
Isn't it frustrating to go back to an IMOCA after that, with which you cannot reach these speeds?
No, because for me, the Vendee Globe is a dream. The 2008 edition left me with a taste of not having had enough, as I had to give up on my ambitions off the coast of New Zealand. It's a race that you want to be able to nail. Finishing alone is a feat. Making the podium or even winning is a whole other story. Given the level, you have to be fired up. The high level of the participants is what makes it so interesting.
April 25th, 2016 by admin