Posts Tagged 'velocitek'
Our Senior Editor and his new view on life found this carbon fiber construction irresistable. From the insanely artistic shop of Italy's Bruce Creations comes twin inlaid carbon pacifiers for a foil kiteboarder's twin babies.   Bruce spends most of their time making things that go fast (and check out this sexy custom Velocitek Speedpuck Case too), but if you're looking for something that's just black and beautiful for that special hi-performance guy or gal, he got that too.  Thanks to Rasputin22 for the find.
January 11th, 2017 by admin
Big Pimpin'
Our performance-loving friends over at Velocitek have spent the last couple of years designing and building the perfect tactical compass, and today, they introduce it to the world!
The new Shift uses a nine-axis solid-state sensor to provide buttery smooth compass headings regardless of conditions, while the port/starboard reference angle buttons and indicators are huge, intuitive, and extremely easy to use.  Instead of doing mental gymnastics or waiting for your existing compass to stop bouncing around so you can see if you're lifted or headed, the Shift tells you what you need to know quickly, accurately, and reliably, taking the guesswork out of your tactics on the course.
Hit the thread and ask the inventors yourself if you have any questions.
October 29th, 2013 by admin
He may not be having the regatta he wanted or expected here in Hawaii, but Red Bull Youth AC winner and 49er World Champ Pete Burling still had enough speed to win yesterday's Velocitek "Dash For Cash" for a cool grand.  25 knots of boatspeed in 11 knots of breeze on an 11-foot long singlehander?  That's fast.
Hear how he did it here, and stay tuned next week for the big announcement you've all been waiting for from one of Sailing Anarchy's most loyal longtime supporters, Velocitek.  Photo thanks to Gretta Kruesi/www.grettakruesi.com.
October 18th, 2013 by admin
We're happy to announce that our random selection committee has picked the winner of a brand new Velocitek Pro-Start in our Smile, Wave and Win contest, and its Brighton, MI sailor Elliott Joseph Falls!  Joseph, send us an email with your address and we'll have you on the way to perfect starts in just a few days.
Thanks to Velocitek, Smile and Wave, and of course the world-famous Sailing Anarchy for putting together this awesome $599 prize, and thanks to all of you for entering.
May 8th, 2013 by admin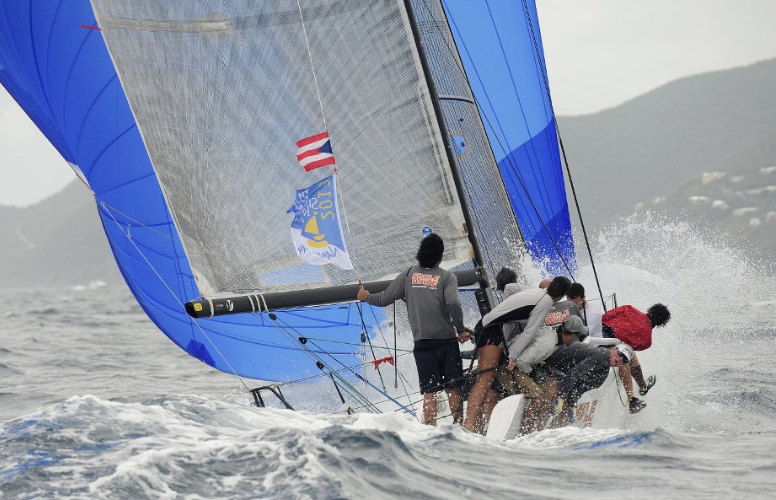 It's been ages since we gave away anything really big, so listen carefully:  To celebrate the conclusion of an incredible season of racing aboard Puerto Rican Melges 32 Smile and Wave, we're giving away a brand-new Velocitek Pro-Start!  Retailing at $599, the Pro-Start set the worldwide standard for Distance to Line (DTL) tools when it was introduced, and you'll see them at the pointy end of every fleet that allows GPS electronics.  Smile and Wave proudly rocks the Pro-Start, and we want you to as well. So here's how to win one:
First, "Like" the Smile and Wave Facebook Page.  Then "Like" the Velocitek Page.  Then, make sure you "Like" Sailing Anarchy's Facebook page.  If you "Like" all three pages, you're eligible, and on May 10th, one of you will be selected to receive your new Velocitek Pro-Start.
One more thing:  We're not saying that folks who share SnW's Facebook info are going to get special consideration, but we're not saying you won't.  We'll select the winner on May 6th, after we've had time to lick our wounds from the final Virgin Island Sailing Series event on the exclusive Peter Island.
April 26th, 2013 by admin