Posts Tagged 'valencia'
Big Pimpin'
Our buds over at HH Catamarans pushed the all-new HH66 cruising cat hard in her recent sea trials, with the boat passing with flying colors and now tucked away for her shipment to a happy new owner in Valencia, Spain.  The boat looks especially slick in the hands of a few well-known ex-Gunboat peeps you'll see in the video, and we look forward to our first sail aboard this sexy carbon beastie.
HH has revamped their Facebook page and website in time to take your order…check 'em out here.
Title shout nostalgia from 1987.
May 11th, 2016 by admin
February 16th, 2015 by admin
Get your minds out of the gutter: No matter how much it looks like it, that's not a vagina seeking out its owner!  It's actually something far more serious, if you believe the Swedish Swedish Oresund blog, which claims the Finnish Next 37 Audi Quattro discovered a lump of epoxy and remnants from a second stuck to their hull when they hauled out at the end of the Valencia ORC Champs.
We were very surprised after lifting the Audi Quattro up. We found a strange object in the bottom of the boat near the rudder. It looked like plastic or epoxy and was attached with glue to the bottom…This is a clear sabotage. This kind of items can not exist in the bottom by accident. Somebody must have put it there!   Also TP 52 Hurakan, the World Champion in 2013, had beed sabotaged in Valencia. Really fair racing in Spain!?!
If accurate, this is some seriously ugly crap.  But we're awfully curious why they didn't find it sooner; what serious team doesn't scrub their bottom each morning?
July 10th, 2014 by admin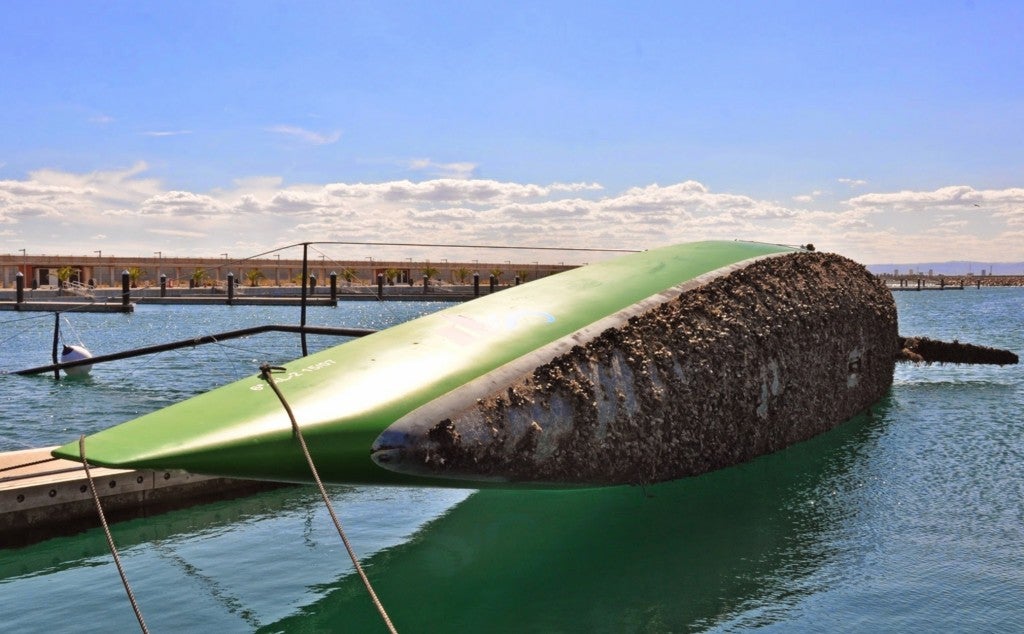 Formerly ESP-65 Desafio Espanol and before that, USA-65 One World, this IACC boat has definitely seen better days.  Unfortunate situation or an allegory for the sorry state of Spanish sailing these days?  Pierre Orphanidis at Vsail has the story, and he took this excellent shot.
May 30th, 2014 by admin
Pierre Orphanidis went out to watch and shoot the newest TP52 on her sea trials last weekend; below is some info on the first 'Turbo TP52″ to race in the 52SuperSeries fleet; go here for loads more pics and a few more bits of info.
Although Phoenix is the first boat to have been designed to the 2015 TP52 rule, she still has to race under the current rule this year. Sail area next year will increase, an additional 5m2 for the mainsail and 10m2. The mainsail in 2014 will remain as is but the spinnaker has already been adapted to the new rule, hence the increase by approxaimtely 75cm of the bowsprits. During these initial trials in Valencia, the Phoenix sailing team uses a set of 2011 and 2012 sails from Azzurra. In fact, her design is an evolution of the Italian one.
The remaining two major modifications Phoenix will undergo next year will be to increase draft by 15cm and get rid of the additional 200kg in the bulb that have been added this year in order to comply with the current rule.
April 2nd, 2014 by admin