Posts Tagged 'us sailing team'
As many US Sailing Team fans will already have noted, Managing Director Josh Adams has left for greener pastures, (though he is assisting with the transition to new leadership) while today,  two-time Aussie gold medal crew Malcolm Page was named new US Sailing Team Director.
A college dinghy and team racer who came to the team after years as a magazine publisher, Adams was charged with what may have been an impossible task for someone with his experience level; to bring the US Team back from its dismal, zero-medal performance in London and make a real impression in Rio.  Despite what seemed like a good plan for Brazil, the team's 2016 performance was only tolerable in comparison to the 2012 debacle, and something had to change for the next quad.
Fortunately, US Sailing finally did what we've been begging them for a decade –  quit hiring your management consultant and magazine publishing pals from New England for this essential job, and find someone with a proven history of winning – even if you have to headhunt them from somewhere else.
Enter Mal Page, who aside from being the most decorated dinghy sailor in Aussie history, may be the only sailor to ever win a gold medal with two different skippers.  Page walks away from one of the toughest jobs in sailing – Marketing Director for ISAF – to take on another extremely tough job, but one he's uniquely prepared for.  We say this not because Page has led a big team to success; we say it because he was part of one of the winningest Olympic sailing teams in modern history, and a very clever lad.
Perhaps more importantly, he comes from a decade worth of training under the world's best olympic sailing coach – Victor "The Medal Maker" Kovalenko (pictured with Page, above).  While it's too much to hope that Victor will defect to the USA as part of the deal (Kovalenko has famously turned down some huge international paydays to stick with his adopted homeland downunder), Page should have all the tools he needs to recreate the winning culture enjoyed by the US Sailing Team up until the past decade.
You guys always come up with the best questions, and I'll be speaking to Mal tomorrow morning for this week's SA Podcast.  What do you want to know about the 2016 performance, the plans for Tokyo 2020 and the team, about Malcolm in general, or whatever?
This post has been edited to reflect the fact that Josh Adams was not fired, but resigned instead.  We note, however, that numerous sources inside both the governing body and the team were extremely dissatisfied with the team's performance and in our opinion, Adams was not long for the job.
November 28th, 2016 by admin
Annie Haeger and Bri Provencha have been at or near the top of the 470 class for the past couple of years, but when it mattered most, their race and the final shot at the US team's second medal fell to bits. Leading the medal race for the first two marks and looking like a lock for the silver (GBR's Clark and Saskia-Mills clinched before the final race), the American duo got strung out on the right by eventual silver medalist New Zealand and then sailed a horrible final run, culminating with a foul on Japan and a 360 when they could least afford it, sailing the entire reach to the finish without their kite and catching a DFL for the race.
The NBC feed caught Annie racked with sobs as she sailed through the line, but we hope she takes the lesson to heart and uses the adversity to power her improvement for the next time like all true champions.  We still think Annie is probably the most likely of all the US team to come back in Tokyo and win her class.  She'll need to if the US Team is to prove their plan; the team's better-than-the-London-debacle-but-still-weak performance can only be accepted if it is truly a stepping stone to the US team's return to dominance in 2020, as we've been told by US Sailing Team staff, coaches, and athletes for the past couple of years.  If there's one thing Tokyo guarantees, it's fewer distractions for the sailors.
You can watch the full replay on NBC over here; just wind back the player to the beginning if it's already on the Men's 470 (which the US can't medal in).  Screenshot from the world feed.
August 18th, 2016 by admin
Clean Report
It may be disappointing to many Americans to see the US Sailing Team struggling to recover from their historic medal shutout in London, but by almost any standard, the team is already doing better than the 2012 debacle.  We will be analyzing their performance once the games are over, but for right now, if NBC doesn't completely fuck it up again, you might just get lucky enough to watch some double-points medal racing live tomorrow.  Three US teams will sail the finale; young Caleb Paine sits just outside the Finn medals in fourth, while Paige Railey will try to move up from 10th with no chance at the podium.  Bora and Louisa will see if they can jump a few spots from 9th, and if it all happens fast enough, we might see some 470 racing (or spot a severed leg).  Read the US Sailing update from Monday here.
 live broadcast hasn't done viewership numbers any favors, but at least US Sailing's media department is using their noggins; they landed a well-written and informative story on data and the US team on Nate Silver's news and data site 538.com.  Silver's celebrity stems from his uncannily accurate predictions of major events, elections, and the like, and he's getting YUGE traffic right now.  Here's an excerpt:
The U.S. sailing team left the 2012 London Olympics without any medals — it was the first time Americans had failed to place in an event since the 1936 Berlin games. They weren't even that close, either. Sixteen sailors, across 10 events, and the best anyone managed at the 2012 London Olympics was fifth place. They were disappointed with the result, one that brought the failure of U.S. sailing — one of those sports we only really hear about every four years — to the forefront…

…While the exact location of courses on Guanabara weren't finalized until the fall of 2015, test events in the two years prior gave Team USA a pretty good sense of where the races would be.

They dropped custom current buoys both inside and outside the bay, gathering data on how the water moves at various points throughout during the day. They tracked windspeed and direction, two factors that are critical to a sailor's ability to find the fastest lane, and which can shift quickly around the mountains that flank both sides of the bay.

The three years of gathering and analyzing data culminated in what U.S. Sailing calls their "Rio Weather Playbook," a body of critical information about each of the seven courses only available to the U.S. team. They're not calling it a silver bullet, but Adams says the playbook project was one of the most comprehensive data efforts that U.S. sailing has ever done. "This is a unique undertaking for U.S. sailing," he said. "In terms of the amount of time that we collected data, it's one of the most extensive projects."
Read the rest of the story here.
August 15th, 2016 by admin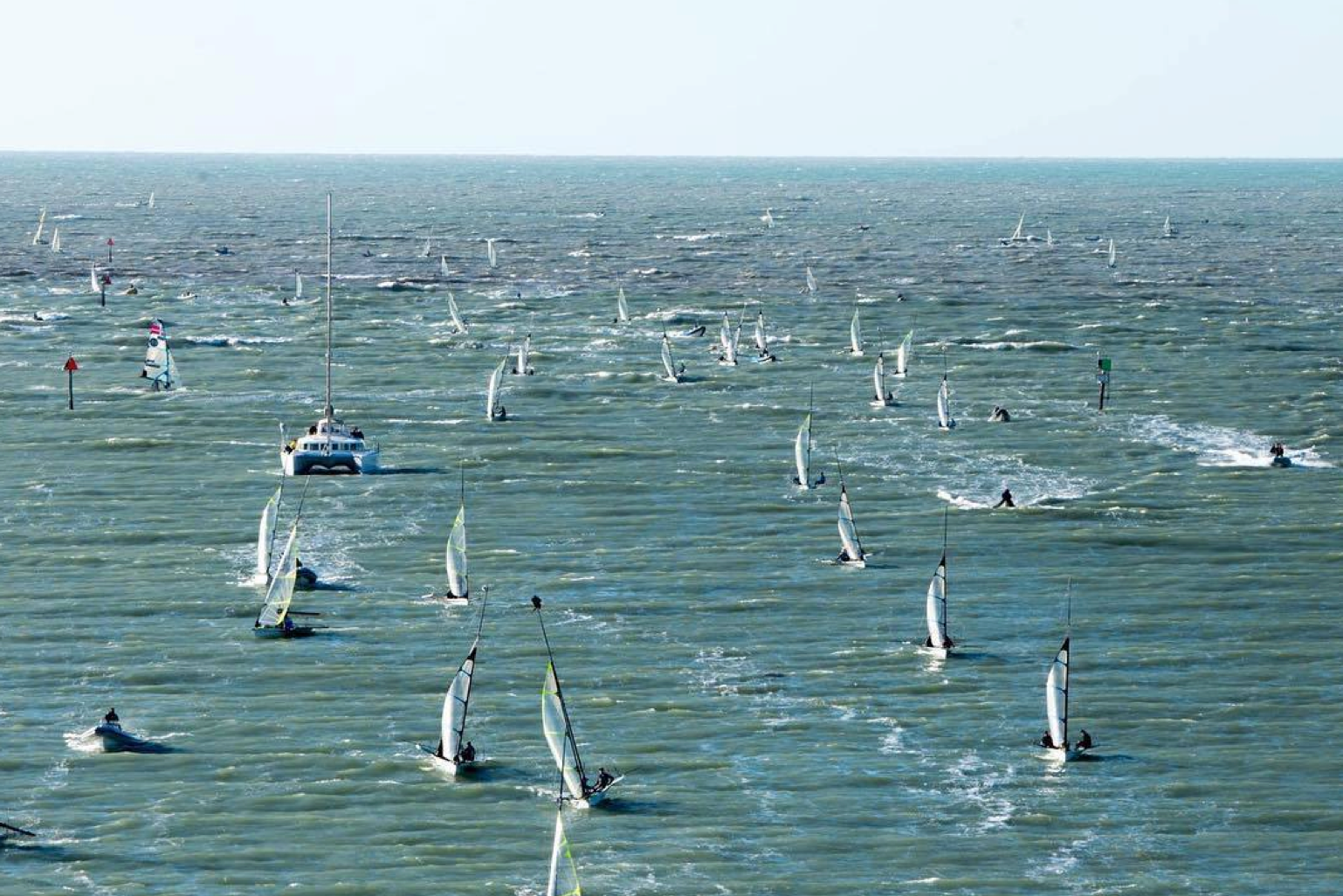 With day after day of boatbreaking conditions at the 49er/FX/Nacra 17 Worlds thanks to big winter breeze and shallow depths, Clearwater Sailing Center's race course was something of a bust, both for a double-digit number of masts and for replicating Rio conditions.  And while Paris Hencken and Helena Scutt held true to their recent form and claimed the Olympic berth for the FX, longtime favorites in both the skiff and cat took huge dives, and the final Nacra and 49er selections came as a shock to everyone in what is a life or death trials for those obsessives who put it all on the line for a shot at Olympic gold. (For instance, check out this glossy, expensively produced Sperry/US Sailing video profile of 49er favorite Brad Funk that dropped just before Worlds, when Funk and Burd sailed themselves right out of the trials and off the team.  Oops.
The American deficit in the Nacra was pretty obvious, especially when competitors Sarah Newberry and Matt Whitehead – who've held the official US Team designation for the better part of two years – came across the line as only the fifth American team in the selection trials – and near the back of the overall fleet.  Meanwhile, Mark and Carolina Mendelblatt continued their late charge for the Rio berths and offshore beach catter Mike Easton and Katie Pettibone showed their heavy air prowess while dominating the other US teams in Clearwater.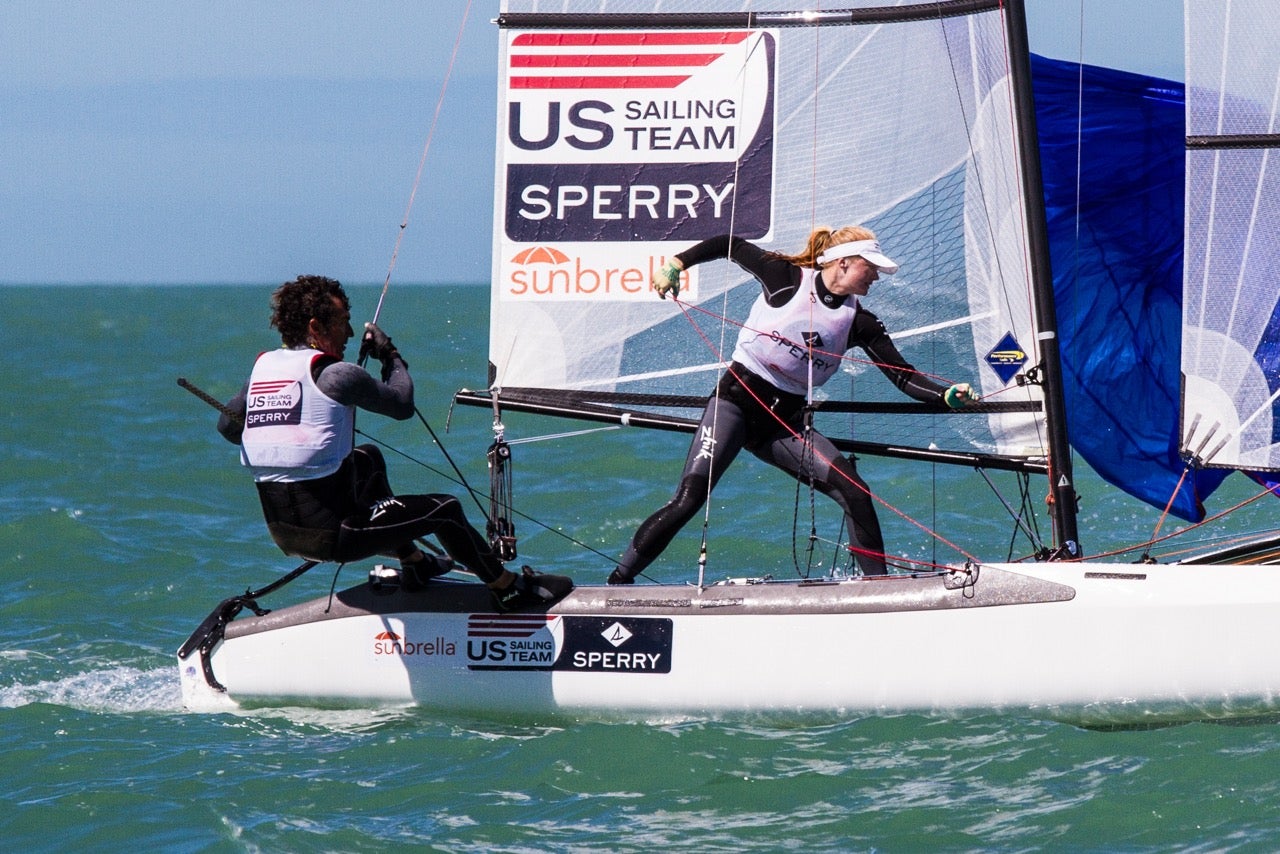 But it was one of SA's oldest friends who came through at the very, very last minute.  That's right, folks – double Moth World Champion, Melges 24 dominator, and sporty offshore navigator Bora Gulari, along with young crew Louisa Chafee, did just enough in the Clearwater event to squeak through qualifications by 2 points over Easton and just 3 over Pettibone.
Bora checked in to the SA Forums after a long hiatus from posting.  We will have a full interview with Bora when the Sailing Anarchy Podcast launches on March 1st, but until then you can check out Bora's bullet point report.  From the "US Sailing Is F&*ked" thread.
So sorry I have not posted in quite some time but some of the comments in here have motivated me to at least write a tiny bit. 
-The first time I stepped into a Nacra 17 was in the Miami OCR last year, I bought a boat 3 months later and that was the first time I was able to sail daily.
-I switched crews one week before the Miami SWC we got at high as third most of the way through the regatta and I started sailing worse once there was more off the water distractions of friends and family showing up.
-For Clearwater I had changed some foil angle setup things.  I do not have access to a VPP, so I am doing this on the fly.  The change I made was a definite mistake and boat speed showed it.
-Worlds had the most challenging sea state I have ever had to race a dinghy in, next time I will be ready for that stuff.
-There was more off-the-water distractions for me than I had ever to deal with.
-Ahead is 6 months of full-time sailing with a good teammate, great coaching, and unlimited resources from now 'till the games. If you discount me fine but I don't think I would.
It's hard to discount the best American apparent-wind helmsman of his generation (especially when he's a hydrodynamic engineer) in a very new and untested class.  It's a longshot, but outside the 470 girls and guys, they're all longshots.
Top photo from the 49er Dutchies, pic of Bora and Louisa from Will Ricketson/US Sailing Team Sperry.
February 18th, 2016 by admin
The JC Worldwide podcast continues with this week's guest, US Sailing Team physical therapist, acupuncturist, and chiropractor Dr. Julio Pardave.  Learn about new and old sports therapy for sailors and whether acupuncture and chiro are not [always] horseshit!  Some great tips too on injury prevention and healing for racers, how Dr. P has x-ray vision, and how JC can turn acupuncture needles to lightning bolts!  Road warriors can look up JC's Podcast on iTunes and subscribe today, just in time for a crazy chat with crazy Olympic 49er sailor Brad Funk!
January 18th, 2016 by admin
With just four months to go to the Olympic Test Event in Rio this summer and qualification time running out, the US Sailing Team Sperry is slowly starting to gain steam in a few classes even as it looks in qualification trouble in others.  Finn sailor Caleb Paine, past world Laser Radial champ Paige Railey, and the Annie and Briana show continue as perennial top-tenners, but none of the three seem able to jump to the podium on any kind of regular basis.  While you don't want to peak too soon, we're just hoping they peak…period.  Here's a quick word from our pal Will Ricketson at the USSTS media office.  His photo as well.  Results are here.
"Charlie Buckingham dominated the Laser medal race in 18-20kts in Hyères a few hours ago, taking the bullet and finishing 8th overall. Like the rest of our team, he is not satisfied with a non-podium performance, but told me the following afterword: "There's a couple things I'm working on to make a bit of a jump, but things are definitely moving in the right direction as we get to the more important part of this season, especially with the [Olympic] Test Event and the Pan American Games coming up, and also as the Trials and Olympics approach. I'm just trying to climb my way up there."
"The other sailor in the photo is the 2012 Olympian from Guatemala and 2013 College Sailor of the Year (College of Charleston) Juan Maegli. In fact there are three College Sailor of the Year awards represented in this photo (Charlie won in '09 and '11) but I digress…"
-Will
April 28th, 2015 by admin
As the Brazil 'pre-pre-test event' wraps up, one of our deep cover Olympic hopefuls tells us things are nowhere near as rosy in Rio as we've been led to believe.  Neither we nor our source is looking to screw over the Olympic dream, but we're not going to stand by while people get sick, either, and we don't want anyone to forget that Rio's Mayor has already said that plans to permanently reduce the shit levels in the Bay – currently some 200 times worse than US water quality levels – billed as a major legacy of the Games, would not happen.  Like Russia and China, the Brazil games look to once again expose the IOC as a body that cares only about one thing: Cash.
Photo of a 49er crew taking an accidental and potentially dangerous swim in a feces-filled stretch of water near the Rio airport, and here's our inside report:
This place IS NOT CLEAN, and after a bit of rain hit town, we saw some seriously horrendous shit in the water.  The smell of poo as you sail into the harbor every day is revolting and like nothing any of us have experienced – but no one is allowed to talk about it, and we're getting annoyed with a bunch of recent media that says how nice the water is.  We have been told specifically NOT to talk to anyone about the pollution, and always to refer the matter to a higher authority. Even coaches are not allowed to have cameras aboard for fear they will capture dead animals or some of the other shocking stuff we've seen.
What is really happening is that people are getting sick.  There are few things worse than knowing you ingested fecal matter -and all that might come along with it – on the race course.  I've had the Rio Runs since day two.  Does being an Olympian really mean you need to eat shit – literally?
This place is really beautiful, but I don't think it's right for all these people to be jumping on some kind of "Rio Is Clean" bandwagon when it's the sailors and on-water staff who will suffer the consequences.  While Organizers are making some effort, they must be spurred into action to do more than temporary fixes.  Two of the main rivers that flow into Guanabara Bay – the ones that carry ALL the shit from all the hillside favelas – have been dammed up ust for our event.  A few days after everyone is gone, they will open them back up, and locals expect the bay to become as bad as it has ever been – so bad that the government will shut down the beaches for days.
August 11th, 2014 by admin
If the US Sailing Team can race as well as Amory Ross can shoot video, Brazil is going to be full of shiny golden trinkets for our Americans. Get to know the team in the first excellent Olympic sailing video we've seen this cycle, and props to Sperry for throwing down the coin to get this kind of film made.  Show your support here.
May 29th, 2014 by admin
With a number of long time friends of SA on the US Sailing Team, we've been anxiously awaiting the Amory Ross shot and edited 6-part Youtube microseries Rising Tide that, we were told, would really help get America pumped up about the athletes who'll represent America in Brazil in 2016.  And with Amory's track record of pulling a good story together (think Mar Mostro in the middle of the Atlantic with no mast) we had high expectations.  But after checking out the 8-minute long Episode 1, we have to say we're underwhelmed by the Sperry-underwritten production; and based on the decidedly weak viewer numbers after two weeks online and an e-blast to the full 40,000 US Sailing list, (a hair over 2,000 views combined between Sperry's and US Sailing's pages), the public agrees. While it's great to see good production values and pretty imagery rather than the usual blurry Facebook interview, there's very little meat in the movie except for a heartfelt speech from one of our best medal hopefuls, Paige Railey.  Both the team and the director can do better; consider the fire under your asses lit.
March 8th, 2014 by admin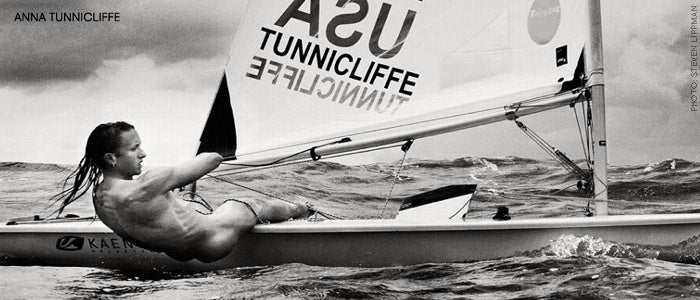 If we were betting men, we'd start selling short on the US Sailing Team's Olympic medal hopes right about now after Anna Tunnicliffe's not-so-shocking announcement earlier this month that she was retiring from her Olympic 49er FX campaign with crew Molly Vandemoer.  Insiders have noted Anna's lack of close connection to her teammates for some time; along with her obsession with CrossFit competition and her becoming one of the fittest humans on the planet, Anna has a non-sailing boyfriend and knows very well how all-consuming a real Olympic effort must be.
Anna is one of those extremely rare people that can do what mommy and daddy always lied to you about; anything she put her mind to.  That ultra-rare focus, power, and intensity translated into 1 Olympic Gold Medal, 2 ISAF World Sailor of the Year awards, 2 World Championships, Multiple Podium World Championship finishes, and a lot of World Cup titles for Anna, who'll be remembered as one of America's top sailors – if not the best –  of the past decade.  She's not gone forever; we anticipate we may see Anna on some big boats and maybe more of the Extreme Sailing Series-style stuff.  But with one of America's only proven winners now out of the Olympic game, weak results from the rest of the team in recent World Cup level-events, and a decidedly pessimistic feel from much of the US Sailing Team lamenting too much of the 'same old, same old," a rapidly-approaching Brazil is not looking good for the Red, White, and Blue.  Maybe Josh and Charlie have something special up their sleeves – we've just confirmed that they're about to sign the papers on a brand-new US Sailing Team Training Center based out of the Clearwater (FL) Community Sailing Center – but that just sounds like more of the 'divide and be conquered' approach that so humiliated American sailing in Weymouth.
If you're interested in the US Team's progress, pay close attention to the Miami OCR (or whatever the fuck ISAF is calling it these days) coming up later this week. Talk more about Anna here.
And those who don't know what the title reference means, remember that her nickname has long been 'tuna', and then go to a fucking library.
January 22nd, 2014 by admin