Posts Tagged 'us sailing team'
The JC Worldwide podcast continues with this week's guest, US Sailing Team physical therapist, acupuncturist, and chiropractor Dr. Julio Pardave.  Learn about new and old sports therapy for sailors and whether acupuncture and chiro are not [always] horseshit!  Some great tips too on injury prevention and healing for racers, how Dr. P has x-ray vision, and how JC can turn acupuncture needles to lightning bolts!  Road warriors can look up JC's Podcast on iTunes and subscribe today, just in time for a crazy chat with crazy Olympic 49er sailor Brad Funk!
January 18th, 2016 by admin
With just four months to go to the Olympic Test Event in Rio this summer and qualification time running out, the US Sailing Team Sperry is slowly starting to gain steam in a few classes even as it looks in qualification trouble in others.  Finn sailor Caleb Paine, past world Laser Radial champ Paige Railey, and the Annie and Briana show continue as perennial top-tenners, but none of the three seem able to jump to the podium on any kind of regular basis.  While you don't want to peak too soon, we're just hoping they peak…period.  Here's a quick word from our pal Will Ricketson at the USSTS media office.  His photo as well.  Results are here.
"Charlie Buckingham dominated the Laser medal race in 18-20kts in Hyères a few hours ago, taking the bullet and finishing 8th overall. Like the rest of our team, he is not satisfied with a non-podium performance, but told me the following afterword: "There's a couple things I'm working on to make a bit of a jump, but things are definitely moving in the right direction as we get to the more important part of this season, especially with the [Olympic] Test Event and the Pan American Games coming up, and also as the Trials and Olympics approach. I'm just trying to climb my way up there."
"The other sailor in the photo is the 2012 Olympian from Guatemala and 2013 College Sailor of the Year (College of Charleston) Juan Maegli. In fact there are three College Sailor of the Year awards represented in this photo (Charlie won in '09 and '11) but I digress…"
-Will
April 28th, 2015 by admin
As the Brazil 'pre-pre-test event' wraps up, one of our deep cover Olympic hopefuls tells us things are nowhere near as rosy in Rio as we've been led to believe.  Neither we nor our source is looking to screw over the Olympic dream, but we're not going to stand by while people get sick, either, and we don't want anyone to forget that Rio's Mayor has already said that plans to permanently reduce the shit levels in the Bay – currently some 200 times worse than US water quality levels – billed as a major legacy of the Games, would not happen.  Like Russia and China, the Brazil games look to once again expose the IOC as a body that cares only about one thing: Cash.
Photo of a 49er crew taking an accidental and potentially dangerous swim in a feces-filled stretch of water near the Rio airport, and here's our inside report:
This place IS NOT CLEAN, and after a bit of rain hit town, we saw some seriously horrendous shit in the water.  The smell of poo as you sail into the harbor every day is revolting and like nothing any of us have experienced – but no one is allowed to talk about it, and we're getting annoyed with a bunch of recent media that says how nice the water is.  We have been told specifically NOT to talk to anyone about the pollution, and always to refer the matter to a higher authority. Even coaches are not allowed to have cameras aboard for fear they will capture dead animals or some of the other shocking stuff we've seen.
What is really happening is that people are getting sick.  There are few things worse than knowing you ingested fecal matter -and all that might come along with it – on the race course.  I've had the Rio Runs since day two.  Does being an Olympian really mean you need to eat shit – literally?
This place is really beautiful, but I don't think it's right for all these people to be jumping on some kind of "Rio Is Clean" bandwagon when it's the sailors and on-water staff who will suffer the consequences.  While Organizers are making some effort, they must be spurred into action to do more than temporary fixes.  Two of the main rivers that flow into Guanabara Bay – the ones that carry ALL the shit from all the hillside favelas – have been dammed up ust for our event.  A few days after everyone is gone, they will open them back up, and locals expect the bay to become as bad as it has ever been – so bad that the government will shut down the beaches for days.
August 11th, 2014 by admin
If the US Sailing Team can race as well as Amory Ross can shoot video, Brazil is going to be full of shiny golden trinkets for our Americans. Get to know the team in the first excellent Olympic sailing video we've seen this cycle, and props to Sperry for throwing down the coin to get this kind of film made.  Show your support here.
May 29th, 2014 by admin
With a number of long time friends of SA on the US Sailing Team, we've been anxiously awaiting the Amory Ross shot and edited 6-part Youtube microseries Rising Tide that, we were told, would really help get America pumped up about the athletes who'll represent America in Brazil in 2016.  And with Amory's track record of pulling a good story together (think Mar Mostro in the middle of the Atlantic with no mast) we had high expectations.  But after checking out the 8-minute long Episode 1, we have to say we're underwhelmed by the Sperry-underwritten production; and based on the decidedly weak viewer numbers after two weeks online and an e-blast to the full 40,000 US Sailing list, (a hair over 2,000 views combined between Sperry's and US Sailing's pages), the public agrees. While it's great to see good production values and pretty imagery rather than the usual blurry Facebook interview, there's very little meat in the movie except for a heartfelt speech from one of our best medal hopefuls, Paige Railey.  Both the team and the director can do better; consider the fire under your asses lit.
March 8th, 2014 by admin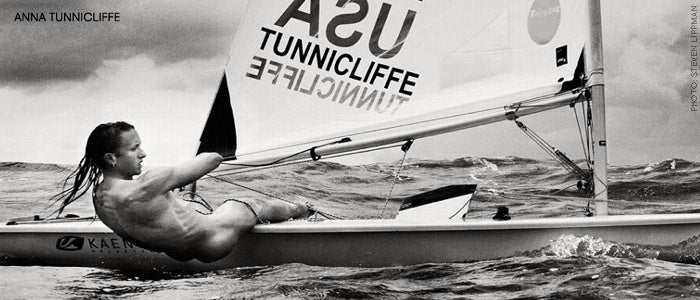 If we were betting men, we'd start selling short on the US Sailing Team's Olympic medal hopes right about now after Anna Tunnicliffe's not-so-shocking announcement earlier this month that she was retiring from her Olympic 49er FX campaign with crew Molly Vandemoer.  Insiders have noted Anna's lack of close connection to her teammates for some time; along with her obsession with CrossFit competition and her becoming one of the fittest humans on the planet, Anna has a non-sailing boyfriend and knows very well how all-consuming a real Olympic effort must be.
Anna is one of those extremely rare people that can do what mommy and daddy always lied to you about; anything she put her mind to.  That ultra-rare focus, power, and intensity translated into 1 Olympic Gold Medal, 2 ISAF World Sailor of the Year awards, 2 World Championships, Multiple Podium World Championship finishes, and a lot of World Cup titles for Anna, who'll be remembered as one of America's top sailors – if not the best –  of the past decade.  She's not gone forever; we anticipate we may see Anna on some big boats and maybe more of the Extreme Sailing Series-style stuff.  But with one of America's only proven winners now out of the Olympic game, weak results from the rest of the team in recent World Cup level-events, and a decidedly pessimistic feel from much of the US Sailing Team lamenting too much of the 'same old, same old," a rapidly-approaching Brazil is not looking good for the Red, White, and Blue.  Maybe Josh and Charlie have something special up their sleeves – we've just confirmed that they're about to sign the papers on a brand-new US Sailing Team Training Center based out of the Clearwater (FL) Community Sailing Center – but that just sounds like more of the 'divide and be conquered' approach that so humiliated American sailing in Weymouth.
If you're interested in the US Team's progress, pay close attention to the Miami OCR (or whatever the fuck ISAF is calling it these days) coming up later this week. Talk more about Anna here.
And those who don't know what the title reference means, remember that her nickname has long been 'tuna', and then go to a fucking library.
January 22nd, 2014 by admin