Posts Tagged 'us sailing team'
If the US Sailing Team can race as well as Amory Ross can shoot video, Brazil is going to be full of shiny golden trinkets for our Americans. Get to know the team in the first excellent Olympic sailing video we've seen this cycle, and props to Sperry for throwing down the coin to get this kind of film made.  Show your support here.
May 29th, 2014 by admin
With a number of long time friends of SA on the US Sailing Team, we've been anxiously awaiting the Amory Ross shot and edited 6-part Youtube microseries Rising Tide that, we were told, would really help get America pumped up about the athletes who'll represent America in Brazil in 2016.  And with Amory's track record of pulling a good story together (think Mar Mostro in the middle of the Atlantic with no mast) we had high expectations.  But after checking out the 8-minute long Episode 1, we have to say we're underwhelmed by the Sperry-underwritten production; and based on the decidedly weak viewer numbers after two weeks online and an e-blast to the full 40,000 US Sailing list, (a hair over 2,000 views combined between Sperry's and US Sailing's pages), the public agrees. While it's great to see good production values and pretty imagery rather than the usual blurry Facebook interview, there's very little meat in the movie except for a heartfelt speech from one of our best medal hopefuls, Paige Railey.  Both the team and the director can do better; consider the fire under your asses lit.
March 8th, 2014 by admin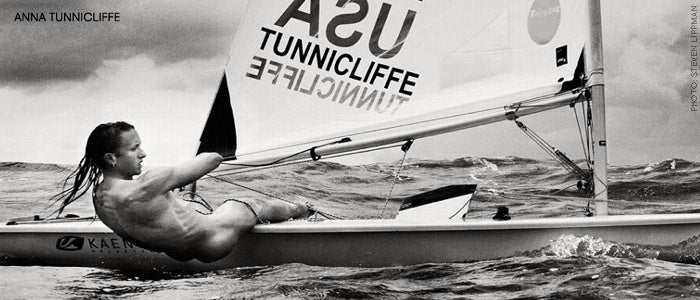 If we were betting men, we'd start selling short on the US Sailing Team's Olympic medal hopes right about now after Anna Tunnicliffe's not-so-shocking announcement earlier this month that she was retiring from her Olympic 49er FX campaign with crew Molly Vandemoer.  Insiders have noted Anna's lack of close connection to her teammates for some time; along with her obsession with CrossFit competition and her becoming one of the fittest humans on the planet, Anna has a non-sailing boyfriend and knows very well how all-consuming a real Olympic effort must be.
Anna is one of those extremely rare people that can do what mommy and daddy always lied to you about; anything she put her mind to.  That ultra-rare focus, power, and intensity translated into 1 Olympic Gold Medal, 2 ISAF World Sailor of the Year awards, 2 World Championships, Multiple Podium World Championship finishes, and a lot of World Cup titles for Anna, who'll be remembered as one of America's top sailors – if not the best –  of the past decade.  She's not gone forever; we anticipate we may see Anna on some big boats and maybe more of the Extreme Sailing Series-style stuff.  But with one of America's only proven winners now out of the Olympic game, weak results from the rest of the team in recent World Cup level-events, and a decidedly pessimistic feel from much of the US Sailing Team lamenting too much of the 'same old, same old," a rapidly-approaching Brazil is not looking good for the Red, White, and Blue.  Maybe Josh and Charlie have something special up their sleeves – we've just confirmed that they're about to sign the papers on a brand-new US Sailing Team Training Center based out of the Clearwater (FL) Community Sailing Center – but that just sounds like more of the 'divide and be conquered' approach that so humiliated American sailing in Weymouth.
If you're interested in the US Team's progress, pay close attention to the Miami OCR (or whatever the fuck ISAF is calling it these days) coming up later this week. Talk more about Anna here.
And those who don't know what the title reference means, remember that her nickname has long been 'tuna', and then go to a fucking library.
January 22nd, 2014 by admin