Posts Tagged 'university'
When longtime Anarchist and now world cruiser BJ Porter joined Sailing Anarchy, his son was probably too young to talk.  And now, a decade and a half later, Will Porter is now a Naval Architecture student and the author of one of the most interesting threads on the Sailing Anarchy Forums in some time.  We'll feature a new post from Will's thread "Southampton Solent University Model Yacht Competition" all week, beginning with this one:
My design was one of the most unusual in the race because it had a wing sail (which took an extra 100 hours to build). It also is one of the only that use modular construction (think structure module like Francis Lee) and 3D printed parts. In addition, my boat was the only one designed entirely in 3D using Rhino because we're not supposed to learn how to use that software until year 2.
My idea for that was to make the boat sail better upwind as that's where all the points in the races are. It worked very well, apparently combining a skinny monohull with a wing gives good pointing ability. My boat sailed almost into the wind, the first race I started on the leeward side of the start line and finished first to weather of all the other boats. When I was testing the boat I had problems with it sailing so high the jib would collapse but the boat would keep going in a straight line into the wind. I think most of the time the wing was doing all of the work. You can see how high she was sailing in the photo below (relative to the ripples in the lake).
May 24th, 2016 by admin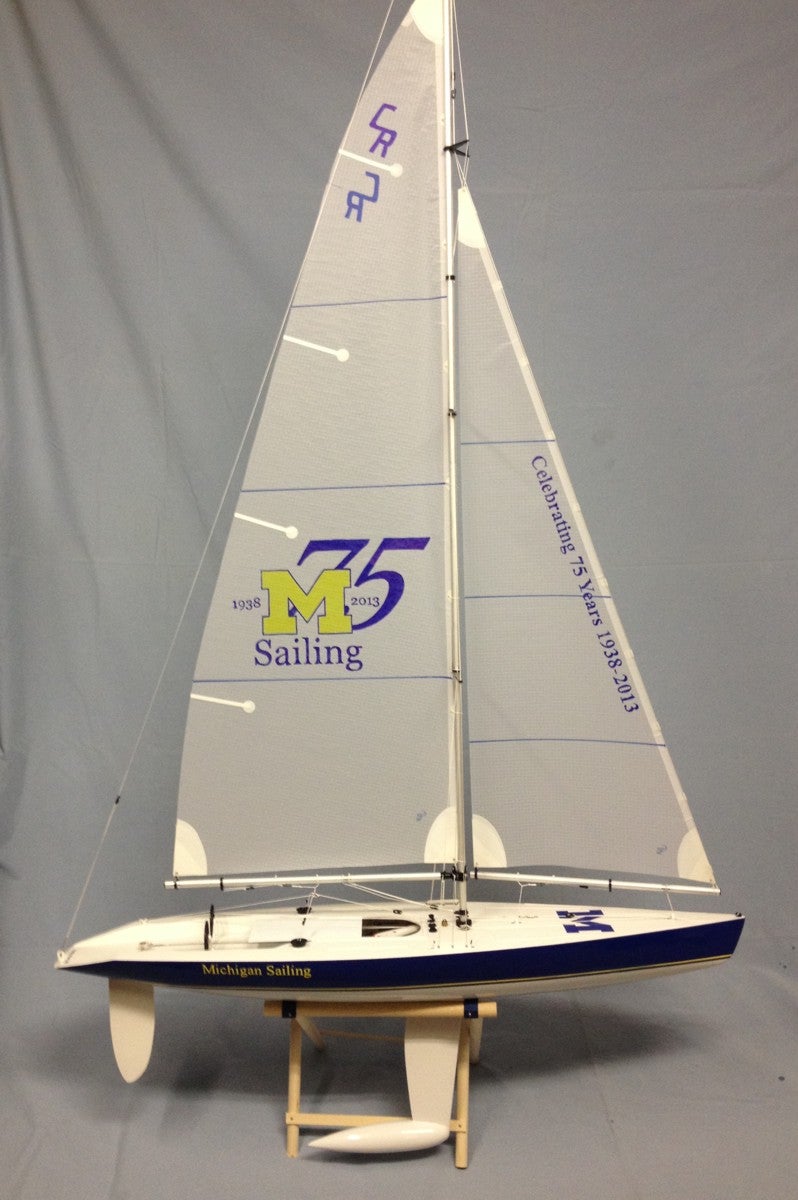 The University of Michigan's sailing team has a fleet of 20-year old FJ and 420s, and they are quite literally falling apart.  With one of the most active Alumni groups in the US, it should be so damned hard to have decent athletic equipment for the sailors, but rather than bitch, the U of M kids are doing something about it:  They're raising money by raffling off this cool radio control racer. More from Wolverine media kid Ryan Seago:
Painted in official U of M colors with a commemorative graphics package on the sails, this one-of-a-kind, 75th Anniversary Michigan Sailing CR-914 is worth $1200 and we're giving it away!  Built by CPM's David Ramos, all proceeds from this little beauty's raffle will go directly to support the Michigan Sailing Team.
Raffle tickets are just $25.00 each, and we'll be raffling the boat off at the Strictly Sail Chicago show at the end of January.  You do not need to be there to win! So please purchase your tickets now and help us get future University of Michigan sailors a little Christmas present:  New boats!
Get all the info on the raffle and buy tickets here, and follow Michigan Sailing on Facebook here.  And here's a shot of the smiling kids.
December 12th, 2013 by admin