Posts Tagged 'UAV'
There were some grumblings from media pros early in 2015 when we suggested US Sailing or ISAF plan ahead and institute real drone regulations before something bad happened.  After all, it's a big ocean out there, right?  While the government jumped in to at least start things on a path to responsibility, the various nations' rules are a huge mess, and forward looking sporting organizations should already be acting on it.
As of a few days ago, skiing's governing body, the FIS, has absolutely banned drones from its World Cup events, with other levels likely to follow.  If you don't understand why, watch the incredible video above.  Then imagine you're at the top mark at a World Championship with the same thing happening on your foredeck.
We are absolutely in favor of drones being used to help show off sailing to the world.  No technical development will have a bigger impact on the sport since Algore invented the internet.  But drones and drone operators need to be tested, proven and insured under either a credible media organization or the event itself.  Anything else is asking for an expensive, embarrassing, and potentially harmful or fatal problem.  Don't believe us?  Watch that video again.
January 15th, 2016 by admin
As much as we appreciate a little freedom, we're on board with what some may say are draconian measures to regulate quadcopter activity in US airspace released last week and set to go in effect tomorrow to spoil Santa's surprise.  The new FAA rules require mandatory federal registration and marking for every UAV over a half pound and flown anywhere in the US, including the several million forecast to be sold this Christmas season.  Leaving aside the implications of what is essentially still a free-for-all despite mid-size UAV's being perhaps the cheapest and most efficient terrorist weapon ever, we've already seen a drone crash into a racing boat at a world championship while its owner stayed silent when the call went out to claim it.  Something's gotta give.
Our unique sport is uniquely situated to benefit from these great little bits of tech, and while the slightly annoying new registration requirements will be almost impossible to enforce, we agree with FAA that they will at least provide something of a 'culture of responsibility' for the tens of millions of drone owners already buzzing around out there. Plus the online registration takes five minutes and at five bucks, it's dirt-cheap – and free if you register the first month of the program.  Fail to do it and get busted, and the fines can be as much as a quarter of a million bucks and prison.  Commercial users and non-US citizens, you're shit out of luck – it's back to the crazy-ass long form paper registration system for you.
UPDATE: Wanna blow UAV's out of the sky safely?  How about this little number?
December 20th, 2015 by admin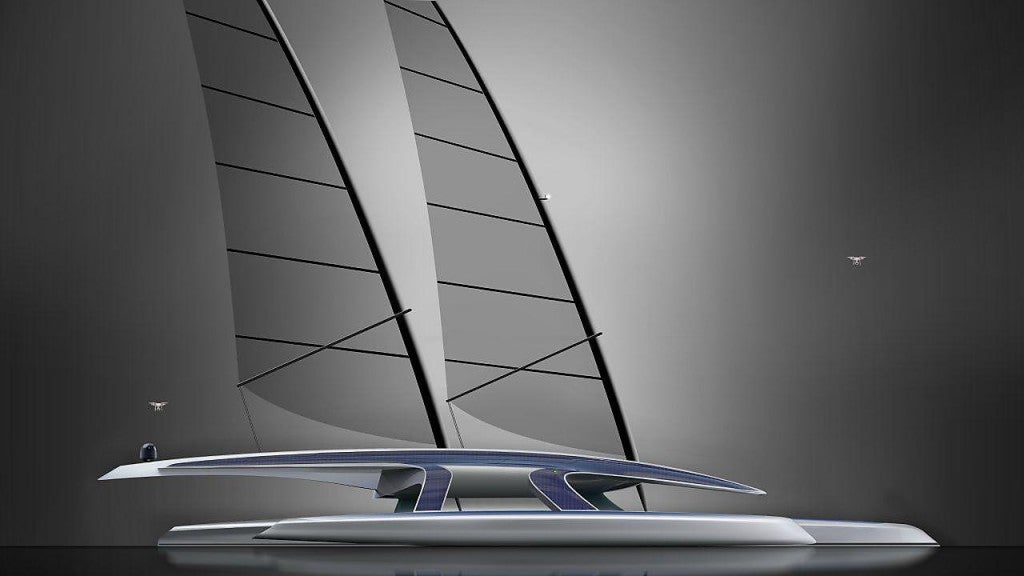 From Plymouth, England to Plymouth Rock on the 400th anniversary of the trip that colonized the New World, the 106-foot Mayflower Autonomous Research Ship (MARS) might make history in 2020 if the right commercial partner can be found by MSubs, Plymouth University, and Shuttleworth Design.  It's the latest (and maybe the prettiest) in a long line of vaporware sailing UAVs, and with a new bag of tricks: Sailing at 20 knots, motoring in light airs with near unlimited range at a quarter of that, and launching and recovering its own aerial drones.  We likey.  More from Giz, and chatter over here.
August 17th, 2015 by admin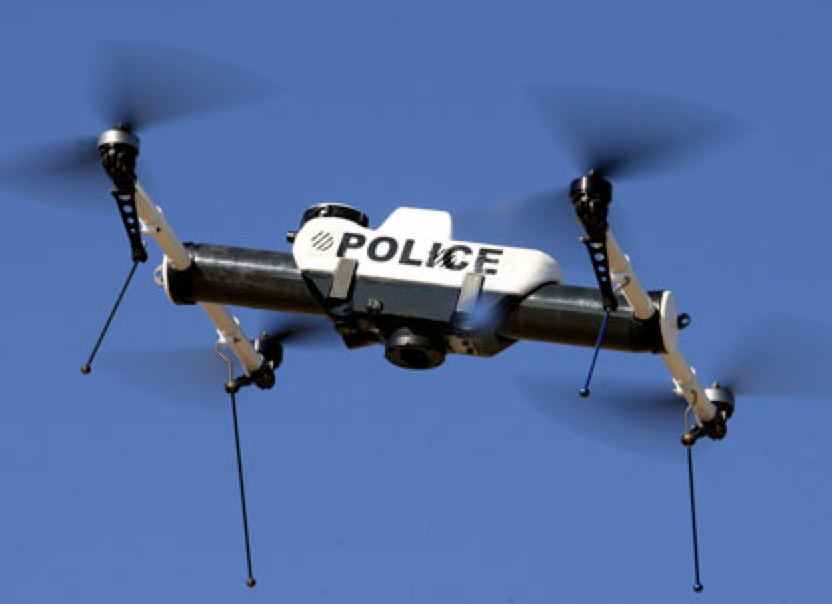 The Everglades Challenge is the gift that keeps on giving, at least if you like the esoteric fields of regatta management, event media, and government overreach.  We supported the USCG's termination of an event that failed to get a required event permit, but now another governmental body – the FAA – is shoving their face into the mix.  According to Motherboard, the dude who shot the Everglades Challenge beach start video with a DJIA Phantom 2 drone received a nastygram from the FAA last week, claiming that his posting of the video to Youtube made him a Commercial Operator under the law.  Apparently, the fact that Youtube puts ads under videos makes Jason Hanes' obviously hobbyist footage makes him some kind of business pilot.
This is the first time we've heard of an enthusiast UAV'er getting dinged by the FAA (as opposed to people actually advertising their drone business), but if one overzealous official can do it, a hundred can.  We love drone footage and it's got major utility for all of us – teams, coaches, the media, marketeers – even RC and juries, and it needs to be regulated in the most sensible, least restrictive manner.  And the line between hobbyists, artists, and commercial pilots is not nearly as bright (or as far-reaching) as Tampa FAA Aviation Inspector Michael Singleton thinks it is.
Sailing Anarchy encourages US Sailing (or in their absence, individual regatta organizers) to come up with a short, sensible framework for UAV operation at regattas; something that should include registration requirements for each drone pilot (and permanent identification marks on each drone), access and safety rules that differentiate between official media-operated drones, outside media-operated drones, and team/coach-operated drones, serious consequences for interference with racing or boat impacts, and strict proximity and altitude limits.  Maybe if we show we've got our shit together, we can help persuade the folks at the FAA to include the maritime sports community as they struggle to come up with rules that make sense for a wide variety of circumstances in a super-rapidly growing field.
You can read the letter here and we encourage you to check out the full article.
March 13th, 2015 by admin
We've told you before about Titanic director James Cameron's love affair with both deep water and McConaghy boats, and you may remember that Cameron set a solo diving world record for sending it 6.8 miles to the bottom of the Mariana Trench in his sub Deepsea Challenger back in 2012.  That whole story was made for the big screen with a National Geographic IMAX 3D release coming in a few months (check out the trailer here), and once done with his toy, Cameron donated it to the Woods Hole Oceanographic Institute. WHOI pulled bits and pieces off of it for their underwater robot Nereus, which died on Tuesday in a gloomy death in 10,000 meters of Kermedec Trench off New Zealand.
We absolutely love deep sea exploration (and here's a cool 'obituary catalog' for various dead UAVs, and we love an excuse to pimp our pals at McConaghy, but the real reason we posted this story was because of Cameron's comments on the loss and a response that followed.  "I feel like I've lost a friend," Cameron posted Tuesday on WHOI's  Facebook page.  "This is a tragic loss for deep science…they've not only lost a child, they've lost a great opportunity to explore one of the ocean's deep trenches…"
And our favorite response is, thus far, from folks posting at The Real Cape.  Holy shit James, take it down a notch will ya? I think all of those deep sea dives gave you permanent vertigo or something. I get that it's tragic to lose such an expensive machine that so many people put a ton of time into, but it's a fucking MACHINE! This guy just took irrational correlation to an entirely new level. You feel like you've lost a friend? Really? I'm going to guess you've never lost a friend then, because there's zero chance that losing a robot is anything like losing a friend. I don't care how many nights you spooned with The Terminator.
Then he takes it one step further, he doesn't say it's "like" they lost a child, he says they did lose a child. Ummm… no they fucking didn't James. None of those scientists carried Nereus in their uterus for 9 months. The robot was not spawned from any of their sperm. They don't share DNA with the god damn thing James. They didn't bring it bowling, they aren't renting it shoes, their not buying it a fucking beer. I think you might need to take a break from technology for a while and get some intimate human contact before YOU turn into a robot."
Good times.  Photo from WHOI.  Add your snark, your puns, and your double sentido here.
May 15th, 2014 by admin
Just last week we gave you the news about SailDrone's historic unmanned voyage from 'frisco to Hawaii. With their safety-orange drone safely tied down, we're getting project designer and leader Richard Jenkins on the line for another great SA Innerview.
Whether you're a tech freak, a RC sailboat lover, or just a lover of all things dronish, get your questions in about this potentially revolutionary little sailboat here, and Mr. Clean will make sure the good ones get asked in our video Skype chat.  Deadline for questions:  Friday at 1300 GMT.  Saildrone photos with more here.
November 7th, 2013 by admin