Posts Tagged 'TV'
Matt and Clean are at it again, this time taking on Fish's memorial, Southern Ocean droning, Nick Dana mostly naked, and much much more in Episode 6 of the Boatfeed!  Subscribe to the show on Youtube or join the conversation on Facebook.
Title shout to something about this '05 Belly song that just seems apropos.
April 23rd, 2018 by admin
With the Coutts money train out of steam, it looks like it's open season for those posting those ultra-restricted America's Cup videos.  They're all over Youtube and Facebook, and props to the RNZYS for letting the public watch what they want regardless of whatever bullshit deal ACEA sold to the networks. Here's the entire Race 9 as broadcast live last Monday.
It's not like anyone watched anyway, as you'll note from the final ratings for the last weekend of AC racing in US markets...beaten this time by drag racing, college baseball, and the US Track & Field champs, at a Nielsen number that's  roughly half the San Francisco ratings.  Bravo! [/sarcasm]
July 2nd, 2017 by admin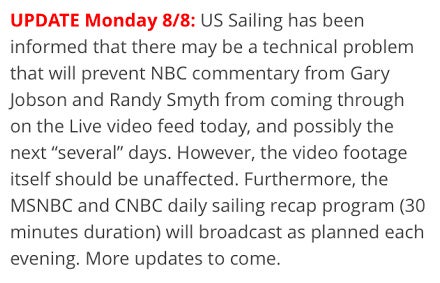 While overall US ratings are down an astonishing 32% from London, it's amazing how every other sport has superb coverage, yet sailing always seems to have some sort of fuckery associated with it. Not hearing Jobson, however, is hardly a loss at all, but let's face it – while a few hardcore watchers are happy with pretty pictures alone, sailing video without informed commentary will struggle to hang on to real fans, much less earn one new interested observer.  The production team's fuckup reaches monumental proportions against the political backdrop: After London's production of the sailing events ranked almost at the bottom of all Olympic sports in total viewership, the IOC told World Sailing they needed to figure out how to pull their weight or risk consequences, and their solution; hire the same producer who pulled those shit ratings, and hope he doesn't fuck anything up…
From Anarchist Bill: Olympic streaming commentary: just watched the RS:X race. Really outstanding video, and wonderful without commentary. I don't need someone telling me what's going on, particularly as their occasional graphics were excellent. Gary and Randy may be great, but sailing is so much better without talking heads.
Americans with cable can watch the coverage, for what it's worth, over here.  Those without can find legal, free streams through one of these links.  Sketchier stuff for our visitors from far-off lands with good anti-spoofing software and smart clicking, you can brave these spam-filled feeds for live sailing.
August 8th, 2016 by admin
In our experience, less than 5% of the dozens of reality TV projects based on sailing even gets to the casting stage, but ya never know, right?  If you're a solo guy or gal, this one might be worth a look.

A major U.S. television network has approached our Emmy award winning TV production company looking to develop a project about skilled solo sailors. We are looking for both men and women between the ages of 25 – 70 who have experience with single handed sailing over great distances.  As the project is still in development, specifics regarding time and location of the trip are still being arranged.
If you, or someone you know, fits this description and are ready for an adventure, please email us a brief bio to:  [email protected]
October 1st, 2015 by admin
Question of the Week
The most common question we've gotten over the past month is some version of "what's going on with/why can't I watch the America's Cup like I could last time around?"  With the Gothenberg ACWS event ready for action this weekend, here's the very bizarre explanation.
Last month, Organizers of the America's Cup rolled out perhaps the most embarrassing display of cluelessness we've seen in sports broadcasting in years with the "AC+" App. At the same time, Russell Coutts went from the guy who so famously and recently promised to bring yacht racing to the 'Facebook Generation' and share the excitement of the sport's pinnacle with the world, to the guy who has completely given up on whatever lofty goals he once had for the America's Cup sailing's penetration into mainstream sport.
The pullback really began way back during the buildup to the last AC; a huge broadcast and media budget slash and organization-wide layoffs just after the San Diego ACWS event signaled Cup Watchers that Ellison had cut off the funds necessary for a lasting push into mainstream media.  With tens of millions already spent and the AC looking like a walkover, producers lucked into a dream scenario that included a massive lead for the underdog and tapped into the public's intense dislike for Ellison and Coutts. The free, live, Youtube coverage of the actual America's Cup was, without a doubt, the most compelling sailboat racing we've ever seen.
The problem, as we've discussed ad nauseam, was that outside of New Zealand no one watched. To us, that wasn't a surprise at all;  huge budget cuts and poorly negotiated contracts with the TV networks who agreed (for a fee) to carry the AC broadcasts meant almost zero promotion or advertising in the mainstream; Official Broadcast Partner NBC couldn't even be bothered to add 'sailing' to the sports listed on their website menu – a menu that included badminton, poker, fishing, and competitive dog shows.  Presumably, Coutts and his team were operating under that old standby for the incredibly arrrogant or clinically insane: the Field of Dreams marketing plan. "If you build it, they will come."  And of course, they didn't.
While the elusive 'new fan' stayed away, the filmmakers at least created some gorgeous-looking visuals and showed how exciting and compelling the racing could be, and most of us anticipated some success when Coutts and his team went hunting for a broadcast strategy for AC35.  But rather than building on the great work they did to get an exciting event and a wonderful sport in front of millions of young, new fans, ACEA went the other way.  And rather than a 2017 event and buildup that would push the sport's exposure forward, a combination of huge delays, venue uncertainty, unqualified staff, and the kind of hubris that left TV executives walking away from negotiations scratching their heads meant the end of the dream.  So now, instead of being able to share a Youtube link with all the kids in your extended family, you're gonna be paying 8 bucks for a buggy, glitchy, horribly-reviewed app that might just let you watch some sailboat racing (if you are in a non-blacked out area and you don't mind watching on a phone screen).
Somehow, despite all of this being fairly public and extremely obvious, the people at America's Cup have no problem sending out bullshit 'News Releases' touting the awful job they've done as something amazing.  It's some of the most bizarre PR work we've ever seen, something closer to the dissembling and revisionism of Donald Trumps handlers than the words of a major sports body.
Let's take a look at just their most recent release, which caps a few months of fetid bullshit spouting from the ACEA press corps.
Since Bermuda was revealed as the host venue of the 35th America's Cup on December 2, 2014, a flurry of significant commercial partnerships and broadcast agreements have been reached, including with Louis Vuitton, who return to extend one of the longest title partnerships in international sport.
Let's just get Louis Vuitton out of the way, because we all know that the very last thing LVMH care about is the public, 99.9% of which will never be able to afford the least expensive product they sell.  Louis Vuitton's sponsorship model is very simple, and works entirely by bringing in a couple hundred of their very best customers – people who spend well over a million a year on hugely expensive handbags, clothes, watches, and other substitutes for self-confidence – and they VIP the hell out of them during the various AC events.  The experience can get those VIPs to double their purchases that year, and that's why Louis Vuitton spent 8-figures on the deal.  They like it exclusive – the fewer people who watch, the better. Not unlike Rolex (which couldn't come up with the pile of cash that LVMH did).
But let's get to the meat of this latest 'news'.  ACEA writes with glee that "NBC in the United States, BT Sport and the BBC in the UK and Ireland, CCTV in China, Canal+ in France and ESPN in Central and South America are among the major broadcasters who have acquired the rights to show the full two year program of racing in the 35th America's Cup."
But it's almost entirely bullshit, and it's part of a pattern of deceit that shows a basic and complete disregard for the public's intelligence.  Here's why:
1) NBC is MOST DEFINITELY NOT the America's Cup Broadcaster.  For foreigners, NBC is a massive, free-to-air network that reaches tens of millions, and they will not be broadcasting a fucking thing! Nope; the AC's 'broadcast partner' is NBCSN, which was until recently known Canada's Outdoor Life Network, and then Versus. NBC Sports Group picked it up a couple of years ago for their 'niche sports' stuff – things Americans rarely watch.  Premier League, F1, and American soccer, for instance.  Yet despite the low-rent address, you still could not watch the ACWS-Portsmouth live on NBC, NBCSN, or any other network in the USA.  Must have been a poker tournament on.
2) The BT Sport 2 channel that ACEA was so excited about in England is another sparsely-subscribed pay-only channel, and English broadcast sources tell us that the max audience for the BT Sport 2 stream in Portsmouth would have been well under 20,000 households.  And that's with a British hero fighting for the win over the Yankee invaders.
3) As of right now, you can't even watch the BBC version of the short highlight show on the BBC iPlayer.  It is apparently on BBC2 only, and apparently only on late at night.
4) CCTV China is an internet-only channel that exists almost entirely as a report-padder for Western TV broadcast dealmakers, and as one Shanghai sailor told us, "If a hundred people watch it on CC, we'll all be shocked."  Look, we're in China and available for billions!".  No, you aren't.
5) The most egregious example of ACEA's shenanigans comes with their release this week about their new deal with 'ESPN', which, ACEA writes, has acquired the exclusive multiplatform rights to the 35th America's Cup in more than 40 territories, including Mexico, Central America and South America, and non-exclusive rights in the Caribbean.
And yet once again, and despite what the release says, it's not what it seems.  The 'Broadcast Partner' is not ESPN, which 'reaches sports fans in 61 countries and 7 continents'.  It is ESPN International, which reaches those hotbeds of yachting in Central and South America, along with the huge audiences in the Caribbean. </sarcasm>.  And meanwhile, ACEA touts the hell out its deal with ESPN publicly despite ESPN (not ESPNi) being a direct and massive competitor for NBC Sports, which was the first and presumably most important partner for this AC.
What's The Solution?
We've seen how the America's Cup is immune to negative public opinion; if it weren't, Russell Coutts would have been fired from management 50 times over the past two decades.  But if the world publicizes the fact that ACEA's staff has literally dialed the clock back a decade, something will have to change or the America's Cup will continue to slip off the pinnacle to be replaced by events that do a better job of reaching the public and the sponsors.  The 2014-15 Volvo Ocean Race eclipsed the AC in almost every major metric, and already brings in more money than the Cup; if the AC doesn't join the rest of the thinking world, it will continue its march to obscurity, gaining more sponsors like Louis Vuitton as it hemorrhages fans.
It's not that hard if you have half a brain and the tiniest ability to get your head out of the boat; It's not like you can't find other inspiration.  From the New York Times:
An average of more than 6.2 million people tuned in live to watch the Billabong Pipe Masters, where Mr. Medina won his first title. Those numbers exceeded the American television audience for the final game of the 2014 Stanley Cup hockey finals. Not a second of the surfing competition was shown on traditional live television in the United States; instead, it was streamed on YouTube, with 35 to 40 percent of its viewers on mobile.

"It was hard for us to realize a direct relationship to linear TV," Paul Speaker, the chief executive of the World Surf League, said. "We're a global sport, so there is always a time zone concern, and we have to wait for swells" — suitable wave conditions — "so we don't have a start time and an end time like other sports."

The World Surf League's successful web-first broadcast strategy is at the leading edge of a gradual transformation taking hold in sports television. As more and more viewers move online and audiences become more global, the professional leagues have all adopted streaming as an important way to attract younger fans around the world. But the purity of surfing's model — reaching millions of viewers online without being beholden to exclusivity contracts with broadcast and cable networks — demonstrates the power of online audiences for sports big and small.

"It's one of those things where there's a lot of fans out there," explained Matt McLernon, a spokesman for YouTube. "But they're not necessarily combined enough into a media market where it makes sense to put this sporting event on TV. But when anyone can watch it online, you open up a whole concept."

All of the major sports leagues have embraced this reality. The N.H.L. recently teamed with the camera maker GoPro this year to bring real-time highlights shareable on social media like Twitter and Facebook. The P.G.A. tour is trying something similar with GoPros and the tour's online network, Skratch TV. The N.B.A. has the biggest YouTube sports audience with 2.5 billion videos viewed, nearly all through highlights. It also streams its "D" League games online, and joined with Tencent to stream N.B.A. games live in China.
August 28th, 2015 by admin
We promised Larry back in December that we'd closed the chapter on our excessive whinging and criticism of the America's Cup.  And in that new light, we analyze yesterday's big TV announcement from Cup Commercial Commissioner Dr. Harvey Schiller.
The America's Cup has selected NBC Sports Group as its partner for the upcoming edition of the America's Cup – including the America's Cup World Series events (2015-16), and the America's Cup Qualifiers, Playoffs and America's Cup Finals (2017).
So far, so good.  As long as you don't claim you were shot down by RPG fire in a Chinook, there's nothing wrong with NBC at all! Given the network's recent efforts to move to a more international audience with a focus on Premier League Football and Formula 1 , it's probably the best mainstream choice for American sailing. For context, and in case you don't remember, NBC and its regional cable stepchild the NBC Sports Network showed the Cup the last time around, drawing a million or so viewers during the first weekend on the national network, and then around 100-200,000 viewers when it moved to the cable channel.  You might also remember that the main network NBC chose not exercise their option to broadcast the final two races of the biggest comeback in the history of sport – apparently, there was some regional golf tournament that was far more important to all of the US – and relegated the comeback to cable.
"We are delighted to announce this agreement with NBC Sports Group," said Harvey Schiller, the Commercial Commissioner of the America's Cup. "This is a great deal for the America's Cup, our teams and our partners. NBC Sports Group's continued interest reflects the growing popularity, as well as potential additional growth, of the America's Cup as a major television sport."
It's really, really early for anyone to be talking about 'growing popularity' of the America's Cup, and we're hoping Dr. Harvey steps well back from the same overpromising cliff that shat out former ACEA boss Richard Worth and made Russell Coutts' name synonymous with 'sports media failure'.
NBC and NBCSN were the US television home for the last America's Cup, in which ORACLE TEAM USA staged one of the greatest comebacks in sport to retain the trophy for the United States. The television coverage was widely acclaimed and saw the development of the Emmy Award-winning on screen graphics package, AC LiveLine, which enhanced the viewing experience by making the sport more engaging and more easily understood, especially for new fans.
Damned straight – Stan Honey's Liveline was awesome.  It's unfortunate that it was not enough to turn AC34 into an audience success, as the costs of developing Liveline helped transform AC34 into one of the most expensive sporting events in the history of the world, on a per-viewer basis.
"We are excited to once again showcase the best sailing in the world to a national audience," said Jon Miller, President, Programming, NBC and NBCSN. "The 2013 America's Cup served as the setting for one of the greatest comebacks in recent sports history, and we will again leverage the full collection of broadcast, cable and online platforms of the NBC Sports Group to present the race for the oldest trophy in international sports."
We told you we'd closed the chapter on our unnecessary critiques of the America's Cup, but we can't let this corporate douchebag get away with this one: Does Miller not know that NBC turned down the opportunity to broadcast that that 'greatest comeback' to a real American audience?  Apparently, he thinks that NBC 'leveraged the full collection of…' oh, forget it – reading these quotes is like going to the dentist.  Mark our words: Whether it's by pre-empting Youtube, failing to promote, or relegating the sailing to cable, NBC will almost assuredly fuck the sailing public.
Highlights of the agreement between NBC Sports Group and the America's Cup include:
  * Live coverage on NBC on both weekends of the America's Cup Finals 2017
  * Extensive live coverage of the America's Cup Playoffs (and additional America's Cup Finals racing) on NBC and NBCSN
  * Coverage of all America's Cup World Series events in 2015 and 2016 on NBCSN
  * Live-streaming of all NBC and NBCSN telecasts on NBC Sports Live Extra
What about the qualifiers?  We understand they are to be held in Auckland, but why aren't they listed here?  Oversight?
"It's encouraging to have a partner like NBC who is highly motivated to return and help build and promote the event and increase the profile of our athletes and our teams. I have no doubt that over the next three years we will touch more viewers, in more ways, through the reach of NBC Sports Group's platforms." Schiller concluded.
Doctor H may have no doubts, but we sure do.  Still, he has a point in welcoming NBC back to the fold.  You probably remember that the AC actually paid NBC a massive fee just to get the US network to broadcast the last Cup (not to mention the tens of millions that AC spent to actually produce the broadcast), and a little bit of morning research tells us that this time is indeed quite different.  Schiller told Sportcal that he "received other offers, but we really appreciated NBC's support," which he wouldn't quantify other than to call it "financially a very pleasing deal."  Knowing how little American networks care about yachting, we translate that as follows: "Last time, we spent 8 figures to get NBC to run the shows we provided to them at our cost.  This time, other network's asked us for money, but not NBC, who we are not paying at all.  In other words, I'm financially very pleased!"
We're pleased too, and other than the fact that another NBC deal probably means we'll still have to listen to Gary Jobson drone on for another two years like a deranged granddad about his 1776 AC victory, this is about as good a TV deal as sailing in America could get right now.  It means a few more million people will be exposed to the Bermuda Cup (and NZ qualifiers) than would be otherwise, and there remains an almost infinitesimally but real chance that NBC will actually put in the kind of effort and marketing to make AC35 a real TV success in the US.
Unfortunately for everyone involved, the smart money says the Bermuda AC will draw even smaller US television numbers than San Francisco did, and NBC's deal – specifically the presumably exclusive 'NBC Sports Live Extra" online portion of it – may mean that overall online distribution and viewership suffer.
Either way, we won't mind, because we've found the key to satisfaction in the America's Cup world: Low expectations.  It's liberating!
February 10th, 2015 by admin