Posts Tagged 'trimaran'
At 111 feet long and 72 feet wide, the old VPLP Gerononimo was a groundbreaking racer in many ways. When Olivier De Kersauson launched her back in 2001, record breakers like Fossett and Peyron and Lewis were positive that giant catamarans were just better, and they'd proven it so clearly that many thought De Kersauson a nutter for risking so much on a boat that clearly couldn't accomplish anything.  But 100,000 mostly trouble-free miles and a Jules Verne (and several other) major records later, the boat's clear advantages – safety, ability to be driven hard, motion, upwindedness – emphatically ended the era of the maxi-catamaran.  Geronimo would become the basis for the most dominant record runners ever, as well as the boat that took the America's Cup back from Alinghi: Franck Cammas' (and now Armel Le Cle'ach's) monstrous Groupama 2/BP6, Pascal Bidegorry's (and then Loick Peyron, and now Yann and Dona's) BP5/Spindrift 2, and the BMW Oracle Racing 90 all came out of VPLP's computers and all owe their heritage heavily and directly to Geronimo.
This history lesson may bore some, but to us, ocean racing is all about history and legend, and that's why we share it with you.  And with 2014/15 seeing Thomas Coville rebuilding, refitting, repowering, and restoring Geronimo for his own Route Du Rhum, record aspirations, and Ultime solo 100+ footer class racing, we can't wait to see history come roaring to life again on the starting line.  Coville was just a kid when he first began racing with De Kersauson, and the brilliant Frenchman has now been part of most of the last decade's Jules Verne Trophy runs as well as a Volvo Ocean Race victory.  His narrow Nigel Irens Sodebo trimaran came tantalizingly close to claiming the Solo RTW record, but it's clear that Coville has given up on that concept in favor of the heavier and far more powerful Geronimo.  Above is an Yvan Zedda shot of the boat as her refit moves ahead quickly at Multiplast's yard; go here for a full gallery, here for a thread about the boat, and here for discussion on November's Route Du Rhum.
March 17th, 2014 by admin
Breaking News: Having just recently received a comprehensive refit with new floats and center hull and a new mast for the now-80 foot Prince De Bretagne trimaran, Lionel Lemonchois was setting a stomping pace Southward on his "Mauricienne" record attempt from Port Louis, France to Port Louis in Mauritius.  And now he ain't, after flipping her about 800 NM East of Brazil and jettisoning the rig to ease any puncture danger to the boat.  Prince was sailing on the wind in boisterous trades – have a look at his pre-flip video here – and he is now sheltering in the center hull of the trimaran as he awaits his shore team's organization of a salvage effort.  His team writes that he has plenty of food and water and is safe and has only a minor injury to his hand; keep an eye on the thread for the latest.  Photo from Prince De Bretagne Sailing. 
January 28th, 2014 by admin
Vendee hopeful Ronnie Simpson continues to shine a spotlight on some of the world's coolest race boats.
 Keep posted on his exploits here, and head to Ocean Racing Anarchy to find threads for each of these efforts.  Photo from Marcel Mochet.
Almost overnight, three maxi-trimarans are conducting an all-out assault on Francis Joyon and three of his most famous sailing records. With Armel Le Cleac'h' Banque Populaire VII, Thomas Coville's Sodebo and Lionel Lemonchois' Prince de Bretagne all currently racking up miles in the trades or headed there, there will be no shortage of high-speed and tactical drama over the next two weeks to two months. With the MOD circuit nowhere to be seen, this ménage à trois of solo maxi-multihulls are a stunning preview to the biggest single spectacle in all of sailing: The singlehanded Route Du Rhum, which attracts some 1.5 million people to incredible St. Malo and its environs in November.  And this year that number will be even bigger, with Wunderkind Francois Gabart's new 100-footer facing off against Coville, Joyon and Le Cleac'h for the new Collectif Ultime maxi-multihull league debuting next year.  Here's the breakdown on this month's action:
Sodebo attacks Joyon's solo, non-stop round the world record
Thomas Coville and his 105-foot Sodebo have left Brest and crossed the start line off Ushant for the second time this season in an attempt to break Francis Joyon and IDEC's solo, non-stop, round the world record. The first attempt of the season was short lived with a gennaker attachment failing early-on, sending Thomas back to port. Waiting out the same brutal fall and winter that has wreaked havoc on every other offshore race crossing Biscay, Sodebo's dock lines were cast off nearly 5 days ago in what is Coville and the big tri's fifth attempt at breaking Joyon's six-year old record of 57 d, 13h! Thomas is as determined as ever, having completed two racing circumnavigations in pursuit of this record only to come up just a handful of days short on two attempts.
Conditions upon departure were less than ideal for setting records; Thomas left Ushant only to beat into 15-20 knots out of the southwest. Throwing in two tacks to clear Finisterre, Sodebo had a deficit of 150 miles almost from the start. Joyon's 57-day pace is no easy record to beat, and Coville is having to fight tooth and nail for every mile to get back onto record pace, still sitting some 135 miles behind the reference time. Smashing along at 25 knots in the northeast trades, just west of the Cape Verde's, Coville and Sodebo should stay in healthy trades until the doldrums. The doldrums crossing itself looks pretty straightforward but a passing low could create a tricky split-Saint Helena High scenario in the South Atlantic. Thomas must be back to the finish off Ushant before the evening of March 15 if he is to break the record.
Upon Sodebo's return to France, she'll promptly be put up for sale to make room for Coville's new ride; Olivier de Kersauson's old Geronimo. Sodebo purchased the boat in order to modify her for solo sailing with the goal to be ready for Coville to sail in this November's Route du Rhum, as well as the inaugural Collective Ultim circuit to take place from 2015 to 2018.
The Sodebo tracker is here and the boat site is here.
Lionel Lemonchois and 'La Mauricienne'
Lionel Lemonchois and his 80-foot maxi tri Prince de Bretagne (ex-ORMA 60 Sodebo with some serious mods) have departed Lorient to attempt to break Joyon's 'La Mauricienne' record. The 9,000 mile record attempt involves sailing down the Atlantic, around the Cape of Good Hope and up the Indian Ocean to the Mauritanian port of Port Louis. The reference time was established by Joyon in 2009, taking IDEC just a tick more than 26 days. In a stark contrast to Coville's somewhat lackluster start in comparison to the reference time, Lemonchois has jumped out to a staggering lead of 351 miles over Joyon's reference time in just four and a half days!
Sailing about 50 miles east of Sodebo, Lemonchois and Prince de Bretagne are flying past the Cape Verde's at 25 knots of boat speed looking at very much the same weather scenario as Sodebo down the Atlantic, including what looks to be a tricky rounding of the Cape of Good Hope and partial ascension of the Indian Ocean to Mauritius. So far, the shorter, lighter Prince de Bretagne is showing good pace in comparison to the 20'+ longer and much more substantial Sodebo. The team's main objective with this record attempt is a training run and shake down before the Route du Rhum.
Armel and Banque Pop attempt the Cadiz- San Salvador 'Discovery Route' record
Twice Vendée Globe runner-up Armel Le Cleac'h is back at it in his 105-foot maxi-trimaran Banque Populaire VII (ex-Groupama 3). After smashing Thomas Coville's Trans-Mediterranean record in October, Cleac'h has gone on standby in the Portoguese port of Vilamoura to attempt to break Francis Joyon's 2013 'Discovery Route' record from Cadiz, Spain to San Salvador, Bahamas, via the Canary Islands.
Legendary weather router Marcel van Triest has given Armel the thumbs up for a departure sometime tomorrow. With the Azores High looking formed and stable, the route should be a tactically straightforward test of boat speed and handling along the 3,884 route which must be completed in less than 8d, 16h if Banque Pop is to break IDEC's record.
Le Cleac'h and Banque Pop VII are planning to have the boat back in Europe by the end of February before taking her across the Atlantic to tackle another one of Joyon's records; the solo Trans-Atlantic from New York to Lizard Point in June.
Le Cleac'h is also training for what is already shaping up to be a thrilling Route du Rhum in November.
-Ronnie Simpson
January 23rd, 2014 by admin

We promised you Ryan Breymaier's look at the newest racing trimaran on the market, and here it is; it's the Diam 24, a 'mini MOD-70′ from the desk of the guys who gave you some of the biggest big boat racing successes of the past decade.  Be sure to check out what Breymaier's up to lately over here.
Imagine a Melges 24-sized boat that sails 14 knots upwind instead of 7, and 30 downwind instead of 18.  And all without any nerve-damaging hiking at all!
Meet the Diam 24; a beautifully built, impressively simple trimaran designed by multihull masters VPLP and built in Port La Foret, France, about 10 minutes from my house.
Vianney Ancelin is the man behind the project; I met him about 5 years ago while looking for a place to keep my newly acquired beach cat. Turns out that my Diam F-18 was built by him, and his factory is right next to a beautiful launch ramp, while his parking lot is full of small multihulls, Tornados, F-18s, A-Cats, Multi 23s, whatever you can imagine, all within minutes of my front door.
Anyway, Vianney's trapezing days at the helm of an F-18 are over, and he had always dreamed of building an easily launched, easily sailed trimaran; something to race, to raid, or just to island hop through the Glenans.
The Diam 24 OD is the result, and it doesn't disappoint.  Carbon beams and mast, glass/pvc sandwich hulls, 3 sails, and a beach dolly, and with the minimum of extra equipment and the maximum of design know-how from VPLP. In looks and performance, this boat is a baby brother of the MOD.   Overall dimensions: 24 feet x 18.5 feet, with a 37-foot mast. It weighs 1000 pounds, with 515 square feet of sail downwind.
The amas and beams are demountable for trailering and storage; set up is quick and easy, and the two-piece mast completes the easy-to-move package.
The foil package is simple; kick-up, transom hung float rudders and a central dagger board. The boat deliberately does not have lifting foils in an attempt to keep it simple while sailing, as well as to keep the price down to a bare minimum.
Sail handling is easy as well, the jib and gennaker on Karver KF2  furlers, and the mainsail on a conventional halyard with clutch at the mastbase.
Jibsheet is 4:1 self tacking, mainsheet is a 7:1 gross tune on the traveller car connected to a 3:1 fine tune under the boom for a total of 21:1, all while keeping the block sizes and prices to a minimum. There are two winches, one on each floater, used only for the gennaker sheets.
As this is a one-design race boat, there has been no attempt to create usable interior, simply a storage space under the foredeck, and a trench cockpit from the mastbase to the aft beam.  Again – think of it as the triple hulled version of a Melges 24.
One thing that annoys me about many dinghies and small race boats is the time it takes to set them up and break them down; it often seems like you spend as much time building and dismantling as you do sailing!  Designers of the Diam 24 have taken extra care to keep that time to an absolute minimum. Each beam bolts into place with 4 bolts, with a locating pin to keep them in place.  The floater/beam connection is a highly engineered double cone to keep it stiff, but uses just one fastener to keep it in place. The trampolines have loops at 2 corners, along with track on the central hull so that they can be done up without any knot tying.
All in all, I am confident that the whole boat can be fully rigged in the same or a bit less time than an F-18 or other beach cat, and this is quite a bit more boat.
The Diam is sold with everything one needs, right down to the Kevlar/membrane sail package, for 49,900 euros.  For 5400 euros extra, you can pick up the custom trailer with ramps that allow you to load the beach dolly directly onto it.
If I was looking for a great boat to race in the light airs of my native Chesapeake, or I wanted speed with the occasional high-speed family picnic, I would be seriously considering this one.
DIAM and Vianney can be contacted at avianney@adhinotec.com, or check out the builder's website here.
December 23rd, 2013 by admin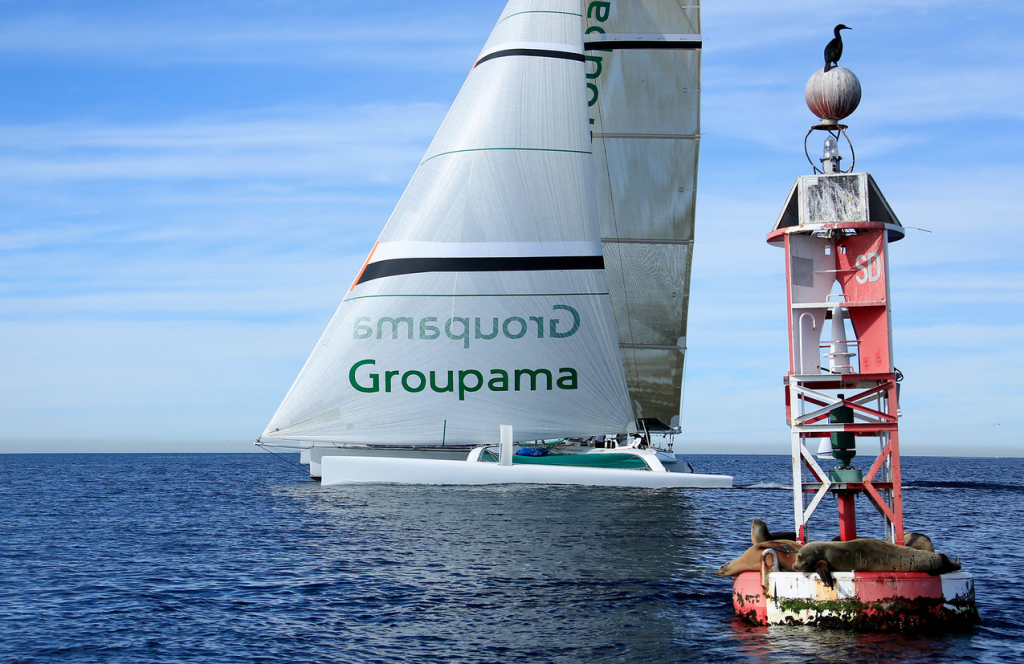 When Franck Cammas and VPLP put together the ORMA 60 Groupama 2 in 2004, the Class was already on its way to extinction.  But Franck's square-dimensioned, canting rig, lifting-foiled trimaran was so much faster, more innovative, and more expensive than the rest of the fleet that her launch pretty much ended the ORMA class right then and there.  The history is more detailed of course (and you can learn almost everything about the ORMA class here) but suffice to say, G2 is the fastest 60 foot pickle fork ever built.  And until the AC72s came around, she was still probably the world's fastest seagoing multihull in light air.
Now that G2 is long past her 'sell by' date, the former BMW/Oracle trainer has made her way to San Diego, where she'll be replacing the ex-Waterworld ORMA of Loe Enloe, who has gotten everything he can out of the ex-Waterworld boat.  That one's on the market for peanuts (pony up, SoCal sailors!), and we can now expect Enloe to crush and smash every West Coast record there is…provided she stays right side up.  Great shot thanks to Dal at Bayshots – plenty more of his excellent San Diego work here.
And hit this link to see just how fast the G2 goes in a moderate breeze.
December 19th, 2013 by admin
The most recent stop on the mixed-multihull Routes Des Princes was the Trophee Du Port De Fecamp, and here's a nice look at the action from the winning Multi 50 Fenetrea Cardinal, with thanks to EasyRide Video for the shoot.
September 9th, 2013 by admin