Posts Tagged 'trimaran'
First there was moth.  Then AC72.  Then C-Cat.  Then there was GC32, then SL33, FP, FCS20, Stiletto, that orange scow thing, and the hits keep on coming.  What do they all have in common?  You aren't going to race across the ocean in one.
That changes today, because the first ocean-ready racing foiler is now flying (with apologies to the floating museum that is Hydroptère). Spend a minute with the modified Mod70 Edmond de Rothschild with L-foil and T-ruddered joy in her first-flight video above to see what's coming, and if you like this, just wait til you see the 105′ foiling singlehanded Macif and the even more extreme Banque Populaire behind her in a few months.
July 30th, 2015 by admin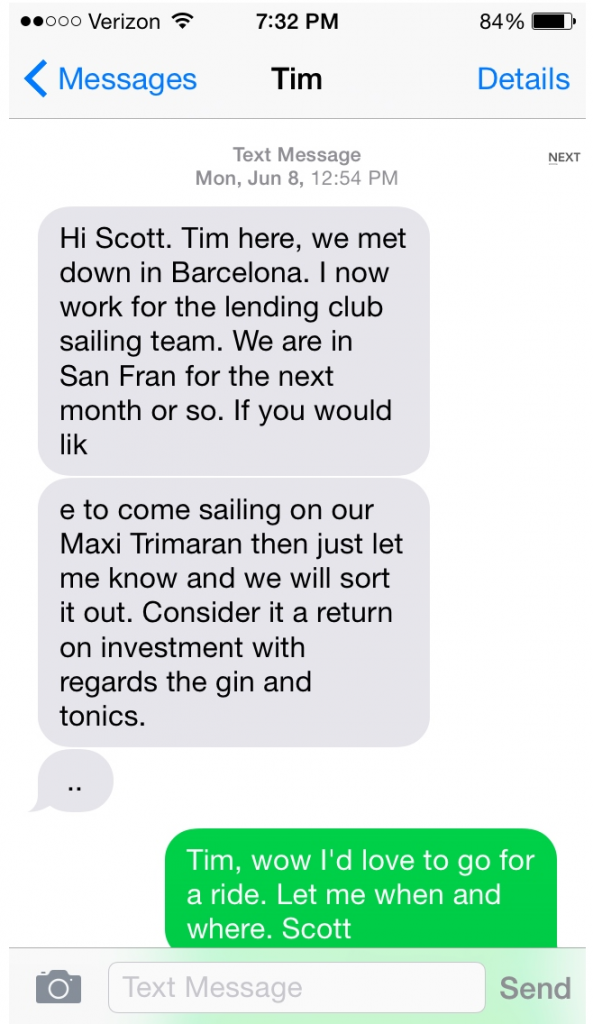 Next time you want those young racers to quiet down, or when you feel like being a cheap fuck at the YC bar, consider this story.
Here is the video from sailing on Lending Club, (ex-Groupama 3/Banque Populaire VII), a 105′ Maxi Trimaran here on the West coast getting ready to do the Transpac.  I met Tim, one of the shore crew, years ago and he had a friends and family ride slot open up last Friday.
This thing is a beast, and really fun to drive.  I hit 32 kts while driving.  Ryan, the skipper hit 40 kts at 120 deg true wind angle in 20+kts of wind.   The boat goes upwind at 45 deg true wind angle at 19.5kts in 20 kts of breeze.  We had the J2 jib and 1 reef in the main.
It was karma that got me that ride, or maybe it was Return on Investment, whichever you believe in.  Tim called it ROI, and I laughed.  But all I did was buy a bunch of drinks for a nice young racing shore crew years ago, and really enjoyed their company and stories.  Then years later, I get the text message above.  Bottom line…you really can't go wrong buying strangers a bunch of booze!
And Tim, If you are reading this [of course he is.  -ed], there are a bunch of San Francisco sailors that would like to buy you a drink.  Since you are here taking people for rides for the next 3 weeks…
June 16th, 2015 by admin
Well, that didn't take long!  Lending Club CEO Reynaud LaPlanche has only had his VPLP trimaran Lending Club for a few weeks, and he's already set his first passage record.  Look for some serious records to fall over the next 6 months thanks to this youthful and enthusiastic Franco-American billionaire.  Project Manager and skipper Ryan Breymaier tells the story exclusively for you Anarchists…Mark Lloyd photos (except the last one, credit Quin Bisset) with galleries over here, and be ready for the LC's next assault – the ages old Newport-Bermuda passage record – coming far sooner than you think.
About 15 minutes after our start in 20 knots of breeze upwind, JB Le Vaillant looked at me and said "We should turn around, go back and put all the sails up and start over!"  I was tempted to agree with him as we found ourselves with the J2 and 2 reefs in the main upwind in 12 knots, tacking towards the Needles.
NOT ideal, especially for breaking a record Brian Thompson and his crew set on Maiden 2 after waiting for weeks for ideal conditions; ENE breeze, super flat water, sunshine sailing.  Brian and his team (which included SCOTW Adrienne Calahan and C-Class hottie Helena Darvelid -ed) did the record back in 2002 with the full main and big gennaker.   Lending Club crew Stan Delbarre was with them on their record run, and he's been warning me in quiet tones for weeks.  "Ryan, this will not be as easy as you think."
Those words were ringing in my ears as I looked back to see a glassed off Solent arriving with the rising sun.  We'd pinned our hopes on the NW breeze coming after the frontal passage with a shitty (but improving) sea state and plenty of breeze to power across; our window before leaving for the States was short, and it isn't the right time of year for Easterlies…
In the end, after hurried discussion with JB, Boris Hermann who was navigating, and Renaud who was driving,  we decided to take our chances.  Just tacking back and setting the right sails and then restarting with full main and J1 would have taken forever…besides, in front of us at Hurst Castle we could see breeze on the water, and the buoy observations showed 25 at Portland Bill and 28 mid Channel.
It was as if the helicopter taking video had put a line on our bows; our nose poked out into the pressure, we bore away to 195 true, our course across the channel, and then the wisdom of our 2 reefs J2 sail plan made sense, as the boat leapt to full potential, daggerboard up, foil down, traveler down, and a hand on the sheets, flying 2 hulls full time across the channel, touching 37 knots several times…
IT is amazing how quickly the decisions are made at those speeds, Boris says to me "don't freak out, there is a cargo ship 4 miles ahead, it will pass 1/2 a mile behind us in a minute or so, come up 3 degrees on average to be sure they pass", which means a corresponding retrim of the traveller so as not to fly too high; no swimming for this crew today, thanks very much.  Thank God most boats have AIS these days; without it, we would never have even seen the little fishing boats in the waves until almost too late.
As we got into the lee of Jersey, the sea flattened out completely, and breeze went aft another 15 degrees.  Sailplan management is key in general on such a big boat, but here it was just 15 minutes of hard work.  First shake out the reef.  6 minutes with 7 guys rotating on and off the handles, including two on a top handle in the halyard winch, 4 on the pedestals, and one resting, with just the driver with one hand on the traveller keeping us going quickly.  Then comes sheeting back in, and getting the traveller back up, another 3 minutes for each with 4 grinding on the pedestals.
Next, bear away and unroll the J1, 2 minutes grinding with the boat dead downwind to unload the sail, even with it in the lee of the J2, which is on hanks, so as soon as the J1 is sheeted, is just dumped completely, halyard runs, and the sail falls onto the net (thank god for not having to pull it over lifelines out of the water) to have 2 sail-ties hastily thrown around it so the two bow guys can come back and start grinding again, as the call has been made to get to full hoist on the mainsail!
Another 12 minutes or so, 7 crew over their aerobic threshold, with dead arms, and we still cannot let up for a second, as we are now flying two hulls full time on flat water, which means a 30 second grinding effort every minute or so for 4 guys in low gear to keep the traveller just where it has to be, central hull just kissing.  If it goes in, the boat-speed drops 2 knots, which is unthinkable, as Boris has informed us that we have 55 minutes left, and 25 miles to go.
I remember telling the grinder in front that we were literally lifting the hull out of the water with our backs, and it's truly amazing to see the immediate effect of each turn of the handles.  The central hull literally lifts centimeter by centimeter with each millimeter the traveller goes up the track.
In the end, we were 9 completely exhausted but extremely happy guys crossing the finish line with 8 minutes to spare in Dinard.  For next time, we'd like to order up a 10 degree righty in the Solent, and we will shave another 30 minutes off the record!  It's never finished, is it?  On this boat, it really isn't.  You sheet in, the speedo hits 30, and then you keep grinding.  Everything is easy, except the grinding.
We all owe a huge thanks to Renaud for making this possible.  Sure, the company he founded is on the sails, but he is personally financing this project, and without his vision and energy we wouldn't be here. Also thanks to our technical partners; Guy Cotton foul weather gear, Marlow ropes, Great Circle weather date analysis, Switlik Survival Equipment and Underwater Kinetics technical equipment, who have made our lives much easier onboard this beast!
April 9th, 2015 by admin
New dad Ryan Breymaier and Lending Club have topped the 4ksb threshold in a fairly major way, and it's just the beginning.  Photo credit to Quin Bisset and Q-and-K.
From Ryan:
"This was on our first day sailing after putting the 41 meter tall "big rig" in the boat – it's got 5 meters on the rig that Loick Peyron won the Route du Rhum with.  Sail plan was a single-reefed main and J1, sailing downwind in 27 knots of breeze. Everything is going well, and our preparations for record breaking are moving ahead nicely…"
March 22nd, 2015 by admin
We loved the news yesterday that Banque Populaire would be extending its sponsorship of sailing for 5 more years with the building of a Banque Pop IX – a brand new monster trimaran for the solo Ultim Class.
A tidbit in the release caught our eye though; the team announced the sale to Francis Joyon of the most iconic trimarans of the modern era – the Banque Pop VIII  (née Groupama 3) that Loick Peyron just raced to a crushing record of the Route Du Rhum course.
Francis Joyon asked BP to keep things quiet for now, but the paint don't lie – it's getting scrubbed today in preparation for a brand new look.
We'll let you know when the new name goes on…
February 19th, 2015 by admin
Solo Figarists Nick Cherry and Henry Bomby begin our 2014 Route Du Rhum coverage with a great form guide for the fleets.  Follow Nick here, learn more about his Figaro campaign here, and tune in for all the info when the race starts in less than two days.  There's always the Ocean Racing Anarchy thread for the very latest.  Huge thanks to Bruce Schwab Energy Systems for supporting our coverage of this great race.  Please get in touch with the Vendee veteran to find out how his energy storage, solar power, and charging systems can benefit your cruising or racing boat today.  Photos from Christophe Launay.
Anyone who's never been to the start of this race needs to go, and it seems like most of France has. The population of St Malo swells from 45,000 to around 2 million over the ten-day period before the race, with massive park-and-ride car parks set up outside of town; getting to and from the boats is an absolute nightmare for the shore crews. There's something about the simplicity of this 3500-mile solo race across the Atlantic every four years that really captures the nation's hearts. Walking around town and jostling with thousands of the non-sailing public just to get around is cool and rare in our sport, and seeing just how rock-starrish the 91 skippers are – and how real a return they can offer to their sponsors – offers solo skippers hope of what may be achievable.
Beat Down?
At the moment it looks like the fleet will be starting in post-frontal westerlies, beating out through the chops of the channel before cracking sheets a little and heading across Biscay into quite a lot of pressure. Early indications are that the trades are developed quite a long way north and most of the boats should have a fairly straightforward and fast run to Guadeloupe. Things are still fairly unstable with some models predicting a very fast race and others showing a lot of the boats having a tough time due beating towards Cape Finisterre in some mildly heinous conditions.
Run Down
Ultime Class
This is the blue ribbon, main event, 'real deal' part of the race. Eight proper rockstars of the French sailing world lining up in, without a doubt, the filthiest boat porn on the planet (hopefully as a precursor to an imminent race around the planet, but more on that in a future installment).
In the last edition in 2010 'Petit Franck' Cammas showed us the light (albeit in fairly straightforward conditions) by going against conventional wisdom that said that the smaller, more manageable tris would probably beat his 105-ft Jules Verne trophy winner Groupama 3 when it came down to a solo race. Pundits say Yann Guichard will have a hard time handling Spindrift (ex-BPV) all by himself, that this time (with 200tm of righting moment compared with 160tm in BPVII and 28 in an IMOCA) it really is too big. He has the fastest boat, that's for sure; can the Jules Verne Trophy holder be handled by a lone, mortal man, or is the old G3 the maximum?
Sticking my neck out a little bi,  I'm going to put Thomas Coville in the new (to him) Sodebo (the heavily modified ex-Geronimo) as favourite. He will benefit from a lot of up-to-date design work on the floats and foils as well as plenty of time sailing these sorts of boats alone thanks to his 4,5 failed attempts.  Or is it 6???! Watching him go through the start line on his last failed RTW record attempt with all three rudders well clear of the sea shows that he certainly isn't lacking for balls for this race – almost a sprint in monster-multi terms.
Loick P is the final podium bet, having already done this race 7 times! On top of about 45 transats in total. Seriously.  And he's a nice chap. Many are sad we didn't get the incredible story of him racing across in his little yellow boat 'Happy' which would have gone down a storm in France, being the man he is and the name he has there. But he was the only man Banque Pop (the Ex-G3) could go to after Armel hurt his hand (in a freak car washing accident?), the boat is fast, it's been breaking records throughout 2014 and may be the best optimized for a solo run.
Never to be discounted, in his somewhat conservative (by modern standards), Nigel Irens-designed 105 footer, we have Francis Joyon. Probably the hardest man in sailing and a true solo obsessive. We have been wowed by stories of his solo transatlantic records attempts for years, and by solo we mean no shore team whatsoever, sailing on and off mooring bouys in New York harbour all by himself. (Is this true or just a rumour?!) If this race gets rough and decimates the fleet like the 2002 storms that destroyed piles of ORMA 60s, IDEC and Joyon are the combo I would back to be the last one standing.
Watch out for the race-within-a-race in this fleet between the three somewhat modified MOD 70s. These boats have shown they can be pushed hard with a crew and hopefully the improved emergency sheet release systems mean that Sydney Gavinet's prediction that he has a 50% chance of capsize won't come true. The other two MOD-touting skippers Seb Josse and Yann Ellies both have a reputation for pushing hard, and whilst it would take something odd to happen for a MOD to come in first you can be guaranteed a good old battle going on here. Yann has the least time in the boats and the least modified, but he has been smashing the Figaro Circut for the last 3 years, and could pull something impressive out of the bag. As a pair of Figaro sailors ourselves, we would love an underdog victory from Paprec in this one. It would probably be rude not to mention the race record holder from 2006 Lionel Lemonchois in his deeply modified former Orma 60 'Prince de Bretagne'. If the four more powerful boats have some sort of major calamity or follow each other into a meteorological black hole then Lionel is our man! He should really beat the MODs, but they've shown themselves to punch well above their weight…
The extra dimension is this class compared to the others is that outside weather routing is allowed, which to us, makes sense – you wouldn't want to be stuck at a computer for any length of time downloading the latest gribs whilst the boat careens down a wave at 35 knots into a full somersault. All the big French names in French Meteorology are on the payrolls here and it will be interesting to see how the different approaches pay off once things kick off on Sunday.
IMOCA 
There are 9 boats in this fleet. Four favourites in order are: Francois Gabart, Vincent Riou, Jeremie Beyou and Marc Guillemot. It would be brave to bet against Vendee Globe golden boy Francois, but rumours from recent training sessions in Port La Foret have Riou's PLB being right on form with a lot of caginess surrounding modifications to aft ballast arrangements in relation to the new rule; IMOCA is the land of big secrets, and nothing is easy to call in this class as a result! There's no doubt Jeremie has a good boat in Maitre Coq, sister ship to Macif and he delivered the goods again in the world's toughest one-design race – the Solitaire du Figaro. Guillemot's Safran certainly has form in the transatlantic races of recent years and I'm sure he'll be keen to make a mark in his last race before Morgan Lagraviere takes over the new boat next year.
The most interesting thing here is dock gossip regarding the six new Vendee-bound boats due off the drawing board of VPLP next year under the new rule, and the wide variety of foil solutions they've come up with.  DSS, outward-facing J and L foils, canting, raking, in and out and up and down and potentially adding a few more letters to the foiling vocabulary.  As in every new generation of Open 60, these new boats are going to be a big jump faster, and when reaching in big breeze, they could be light years faster.  Hopefully older boats can be retrofitted, and even more hopefully, the new one-design mast spec will be able to handle the added load of a faster, foiling boat. No one wants to let their cat out of the bag too soon in the build up to the all-important Vendee and we will have to wait for this exciting installment a bit longer.
For a potential spoiler, we'd love to see one of the nicest guys in sailing, Tanguy De Lamotte, get some real speed out of his new 'Initiatives-Coeur' (ex-Foncia, ex-Mare).  This older boat was heavily modified by Class 40 sailor Joerg Richers before he pulled out of the project, and she's potentially quite quick.
Class 40s
Loads to choose from here, and special props to youngest competitor in the race Paul Hignard who slept in and missed a big sponsor/press do on Tuesday after rumours of a big night on the sauce/with some chick.  Legend! Otherwise, there's a load of good boats, good skippers and not a lot of recent bust ups to show form.
Seb Roues is undefeated in his Mach 40 GDF Suez in 2014, although some questions remain regarding his solo skills. A lot of people rate Spaniard Alex Pella highly in his sexy looking Botin designed Tales 2 but there are plenty of boats with a reasonable shot at the top spot. Yannick Bestaven has a very new Verdier boat and a reputation for pushing hard, Halvard Mabire is sailing a new Pogo s3 and has a lot of experience and a good track record. Stepping down from his laughing cow Open 60, Kito de Pavant should be in the mix and whilst he's had a bit of a break from solo sailing, brit Conrad Humphreys seems to have a good sponsor in Catphones and plenty of motivation.
Our wildcard favourite is Nicholas Troussel in his Humphrey's designed Credit Mutuel de Bretagne. A real last-minute campaign but this guy has a record of winning two Figaros with well-judged flyers. His boat is quick enough and if there is a good corner to be banged, expect Nico to be right in there, making it work.
Multi 50s
A walk down the Multi 50 dock in St Malo is quite interesting, a history lesson in the development of offshore trimarans over the last thirty years. It would also be interesting as a standalone race but I think we'll be too busy following the big tri's and the 40s to get too bogged down here once the race starts. Four top contenders here based on previous form and newness of boat are: Erwan La Roux, Yves Le Blevec, Lalou Roucal and Loic Fequet. Fair play to everyone involved in this class as sailing solo across the Atlantic in a 50ft tri takes some proper balls, and it's great that there's 11 of them out there doing it. Interestingly, this class prevents foils, and you can't argue with their numbers, but would it certainly kick off big time if foil development was allowed? Imagine these lightweight 50 foot tris flying solo across the Atlantic. There is definitely some Frenchman out there crazy enough for it.
The Rhum Class

As far as we're concerned, it's cool that the race has this class. They might not look as cool as the big tris and the 60s but it does allow retired doctors from La Trinite, bearded blokes with odd looking cruising boats, and the living legend that is Robin Knox-Johnson to add some colour to this French classic. We won't be watching too closely to see who wins this fleet but expect some nice stories and that. Shame Loick isn't here with his Happy project, but hopefully he'll be back in 2018.
The start on Sunday morning is set to be a massive affair with literally thousands of spectator boats predicted, and the major viewing headlands along the Brittany coast rammed with fans. Due to tidal constraints in the St Malo Basin, the boats will be docked out by shore crews under cover of darkness before the sailors rib out after breakfast to race across an ocean. We'll be standing by to cover the start and offer a bit more insight into goings on as the race unfolds.
October 31st, 2014 by admin
At 111 feet long and 72 feet wide, the old VPLP Gerononimo was a groundbreaking racer in many ways. When Olivier De Kersauson launched her back in 2001, record breakers like Fossett and Peyron and Lewis were positive that giant catamarans were just better, and they'd proven it so clearly that many thought De Kersauson a nutter for risking so much on a boat that clearly couldn't accomplish anything.  But 100,000 mostly trouble-free miles and a Jules Verne (and several other) major records later, the boat's clear advantages – safety, ability to be driven hard, motion, upwindedness – emphatically ended the era of the maxi-catamaran.  Geronimo would become the basis for the most dominant record runners ever, as well as the boat that took the America's Cup back from Alinghi: Franck Cammas' (and now Armel Le Cle'ach's) monstrous Groupama 2/BP6, Pascal Bidegorry's (and then Loick Peyron, and now Yann and Dona's) BP5/Spindrift 2, and the BMW Oracle Racing 90 all came out of VPLP's computers and all owe their heritage heavily and directly to Geronimo.
This history lesson may bore some, but to us, ocean racing is all about history and legend, and that's why we share it with you.  And with 2014/15 seeing Thomas Coville rebuilding, refitting, repowering, and restoring Geronimo for his own Route Du Rhum, record aspirations, and Ultime solo 100+ footer class racing, we can't wait to see history come roaring to life again on the starting line.  Coville was just a kid when he first began racing with De Kersauson, and the brilliant Frenchman has now been part of most of the last decade's Jules Verne Trophy runs as well as a Volvo Ocean Race victory.  His narrow Nigel Irens Sodebo trimaran came tantalizingly close to claiming the Solo RTW record, but it's clear that Coville has given up on that concept in favor of the heavier and far more powerful Geronimo.  Above is an Yvan Zedda shot of the boat as her refit moves ahead quickly at Multiplast's yard; go here for a full gallery, here for a thread about the boat, and here for discussion on November's Route Du Rhum.
March 17th, 2014 by admin
Breaking News: Having just recently received a comprehensive refit with new floats and center hull and a new mast for the now-80 foot Prince De Bretagne trimaran, Lionel Lemonchois was setting a stomping pace Southward on his "Mauricienne" record attempt from Port Louis, France to Port Louis in Mauritius.  And now he ain't, after flipping her about 800 NM East of Brazil and jettisoning the rig to ease any puncture danger to the boat.  Prince was sailing on the wind in boisterous trades – have a look at his pre-flip video here – and he is now sheltering in the center hull of the trimaran as he awaits his shore team's organization of a salvage effort.  His team writes that he has plenty of food and water and is safe and has only a minor injury to his hand; keep an eye on the thread for the latest.  Photo from Prince De Bretagne Sailing. 
January 28th, 2014 by admin
Vendee hopeful Ronnie Simpson continues to shine a spotlight on some of the world's coolest race boats.
 Keep posted on his exploits here, and head to Ocean Racing Anarchy to find threads for each of these efforts.  Photo from Marcel Mochet.
Almost overnight, three maxi-trimarans are conducting an all-out assault on Francis Joyon and three of his most famous sailing records. With Armel Le Cleac'h' Banque Populaire VII, Thomas Coville's Sodebo and Lionel Lemonchois' Prince de Bretagne all currently racking up miles in the trades or headed there, there will be no shortage of high-speed and tactical drama over the next two weeks to two months. With the MOD circuit nowhere to be seen, this ménage à trois of solo maxi-multihulls are a stunning preview to the biggest single spectacle in all of sailing: The singlehanded Route Du Rhum, which attracts some 1.5 million people to incredible St. Malo and its environs in November.  And this year that number will be even bigger, with Wunderkind Francois Gabart's new 100-footer facing off against Coville, Joyon and Le Cleac'h for the new Collectif Ultime maxi-multihull league debuting next year.  Here's the breakdown on this month's action:
Sodebo attacks Joyon's solo, non-stop round the world record
Thomas Coville and his 105-foot Sodebo have left Brest and crossed the start line off Ushant for the second time this season in an attempt to break Francis Joyon and IDEC's solo, non-stop, round the world record. The first attempt of the season was short lived with a gennaker attachment failing early-on, sending Thomas back to port. Waiting out the same brutal fall and winter that has wreaked havoc on every other offshore race crossing Biscay, Sodebo's dock lines were cast off nearly 5 days ago in what is Coville and the big tri's fifth attempt at breaking Joyon's six-year old record of 57 d, 13h! Thomas is as determined as ever, having completed two racing circumnavigations in pursuit of this record only to come up just a handful of days short on two attempts.
Conditions upon departure were less than ideal for setting records; Thomas left Ushant only to beat into 15-20 knots out of the southwest. Throwing in two tacks to clear Finisterre, Sodebo had a deficit of 150 miles almost from the start. Joyon's 57-day pace is no easy record to beat, and Coville is having to fight tooth and nail for every mile to get back onto record pace, still sitting some 135 miles behind the reference time. Smashing along at 25 knots in the northeast trades, just west of the Cape Verde's, Coville and Sodebo should stay in healthy trades until the doldrums. The doldrums crossing itself looks pretty straightforward but a passing low could create a tricky split-Saint Helena High scenario in the South Atlantic. Thomas must be back to the finish off Ushant before the evening of March 15 if he is to break the record.
Upon Sodebo's return to France, she'll promptly be put up for sale to make room for Coville's new ride; Olivier de Kersauson's old Geronimo. Sodebo purchased the boat in order to modify her for solo sailing with the goal to be ready for Coville to sail in this November's Route du Rhum, as well as the inaugural Collective Ultim circuit to take place from 2015 to 2018.
The Sodebo tracker is here and the boat site is here.
Lionel Lemonchois and 'La Mauricienne'
Lionel Lemonchois and his 80-foot maxi tri Prince de Bretagne (ex-ORMA 60 Sodebo with some serious mods) have departed Lorient to attempt to break Joyon's 'La Mauricienne' record. The 9,000 mile record attempt involves sailing down the Atlantic, around the Cape of Good Hope and up the Indian Ocean to the Mauritanian port of Port Louis. The reference time was established by Joyon in 2009, taking IDEC just a tick more than 26 days. In a stark contrast to Coville's somewhat lackluster start in comparison to the reference time, Lemonchois has jumped out to a staggering lead of 351 miles over Joyon's reference time in just four and a half days!
Sailing about 50 miles east of Sodebo, Lemonchois and Prince de Bretagne are flying past the Cape Verde's at 25 knots of boat speed looking at very much the same weather scenario as Sodebo down the Atlantic, including what looks to be a tricky rounding of the Cape of Good Hope and partial ascension of the Indian Ocean to Mauritius. So far, the shorter, lighter Prince de Bretagne is showing good pace in comparison to the 20'+ longer and much more substantial Sodebo. The team's main objective with this record attempt is a training run and shake down before the Route du Rhum.
Armel and Banque Pop attempt the Cadiz- San Salvador 'Discovery Route' record
Twice Vendée Globe runner-up Armel Le Cleac'h is back at it in his 105-foot maxi-trimaran Banque Populaire VII (ex-Groupama 3). After smashing Thomas Coville's Trans-Mediterranean record in October, Cleac'h has gone on standby in the Portoguese port of Vilamoura to attempt to break Francis Joyon's 2013 'Discovery Route' record from Cadiz, Spain to San Salvador, Bahamas, via the Canary Islands.
Legendary weather router Marcel van Triest has given Armel the thumbs up for a departure sometime tomorrow. With the Azores High looking formed and stable, the route should be a tactically straightforward test of boat speed and handling along the 3,884 route which must be completed in less than 8d, 16h if Banque Pop is to break IDEC's record.
Le Cleac'h and Banque Pop VII are planning to have the boat back in Europe by the end of February before taking her across the Atlantic to tackle another one of Joyon's records; the solo Trans-Atlantic from New York to Lizard Point in June.
Le Cleac'h is also training for what is already shaping up to be a thrilling Route du Rhum in November.
-Ronnie Simpson
January 23rd, 2014 by admin

We promised you Ryan Breymaier's look at the newest racing trimaran on the market, and here it is; it's the Diam 24, a 'mini MOD-70′ from the desk of the guys who gave you some of the biggest big boat racing successes of the past decade.  Be sure to check out what Breymaier's up to lately over here.
Imagine a Melges 24-sized boat that sails 14 knots upwind instead of 7, and 30 downwind instead of 18.  And all without any nerve-damaging hiking at all!
Meet the Diam 24; a beautifully built, impressively simple trimaran designed by multihull masters VPLP and built in Port La Foret, France, about 10 minutes from my house.
Vianney Ancelin is the man behind the project; I met him about 5 years ago while looking for a place to keep my newly acquired beach cat. Turns out that my Diam F-18 was built by him, and his factory is right next to a beautiful launch ramp, while his parking lot is full of small multihulls, Tornados, F-18s, A-Cats, Multi 23s, whatever you can imagine, all within minutes of my front door.
Anyway, Vianney's trapezing days at the helm of an F-18 are over, and he had always dreamed of building an easily launched, easily sailed trimaran; something to race, to raid, or just to island hop through the Glenans.
The Diam 24 OD is the result, and it doesn't disappoint.  Carbon beams and mast, glass/pvc sandwich hulls, 3 sails, and a beach dolly, and with the minimum of extra equipment and the maximum of design know-how from VPLP. In looks and performance, this boat is a baby brother of the MOD.   Overall dimensions: 24 feet x 18.5 feet, with a 37-foot mast. It weighs 1000 pounds, with 515 square feet of sail downwind.
The amas and beams are demountable for trailering and storage; set up is quick and easy, and the two-piece mast completes the easy-to-move package.
The foil package is simple; kick-up, transom hung float rudders and a central dagger board. The boat deliberately does not have lifting foils in an attempt to keep it simple while sailing, as well as to keep the price down to a bare minimum.
Sail handling is easy as well, the jib and gennaker on Karver KF2  furlers, and the mainsail on a conventional halyard with clutch at the mastbase.
Jibsheet is 4:1 self tacking, mainsheet is a 7:1 gross tune on the traveller car connected to a 3:1 fine tune under the boom for a total of 21:1, all while keeping the block sizes and prices to a minimum. There are two winches, one on each floater, used only for the gennaker sheets.
As this is a one-design race boat, there has been no attempt to create usable interior, simply a storage space under the foredeck, and a trench cockpit from the mastbase to the aft beam.  Again – think of it as the triple hulled version of a Melges 24.
One thing that annoys me about many dinghies and small race boats is the time it takes to set them up and break them down; it often seems like you spend as much time building and dismantling as you do sailing!  Designers of the Diam 24 have taken extra care to keep that time to an absolute minimum. Each beam bolts into place with 4 bolts, with a locating pin to keep them in place.  The floater/beam connection is a highly engineered double cone to keep it stiff, but uses just one fastener to keep it in place. The trampolines have loops at 2 corners, along with track on the central hull so that they can be done up without any knot tying.
All in all, I am confident that the whole boat can be fully rigged in the same or a bit less time than an F-18 or other beach cat, and this is quite a bit more boat.
The Diam is sold with everything one needs, right down to the Kevlar/membrane sail package, for 49,900 euros.  For 5400 euros extra, you can pick up the custom trailer with ramps that allow you to load the beach dolly directly onto it.
If I was looking for a great boat to race in the light airs of my native Chesapeake, or I wanted speed with the occasional high-speed family picnic, I would be seriously considering this one.
DIAM and Vianney can be contacted at [email protected], or check out the builder's website here.
December 23rd, 2013 by admin