Posts Tagged 'Transatlantic'
UPDATE: Dario's partner Silvia tells us in response to our story that "a desalinator was aboard, but unfortunately it broke during a storm, probably taking a very strong blow.  If Dario wanted to die, he would never have come to the coast, albeit in such a daring way.  But he did it, and we thank you for your attention. See you next adventure!"
As lovers of insane, quixotic voyages we were stoked to see Italian asthete Dario Noseda take a beautiful old Star across the Atlantic, though many Anarchists were quick to note back in November that Darwin was probably aboard.  While the evolutionary chain may have been cheated of Dario's sacrifice, the Star boat wasn't so lucky; forced to seek refuge or die of dehydration when his destination changed from the Bahamas to 'wherever I can reach', Dario wrecked his star on St. Lucia.
Check Facebook for lots of stories about this nutter.  We hope he tries again without the death wish – in other words, who the hell crosses oceans without at least a hand-powered watermaker?
January 3rd, 2018 by admin
Bermuda and the America's Cup may occupy the Louis Vuitton luggage buyers, real fans of sailing have one of the most interesting races in years on the calendar this summer, and the favorite has just picked his crew – which includes one lifelong Anarchist from France.  We'll be speaking to charismatic Mini and multihull badass Benoit Marie soon about his role on Francois Gabart's Macif in the upcoming Bridge Race, which will pit several "Ultim" maxi-trimarans against the 1750,000 horsepower of the Queen Mary 2 in a race between Saint Nazaire, France and New York City this coming June.
May 4th, 2017 by admin
We love the recent surge of historical recreations of famous trips; not only do they set out to verify important facts about history, but they introduce a typically diverse and young pool of landlubbers to the soul of sailing. The Hokulea project has been racking up the miles (most recently seen dockside during Charleston Race Week), but the Draken is even more up the SA alley.
While the volunteer crew was already chosen for the America 2016 voyage of this massive Viking replica (from over 4000 applicants!), you can still go and check her out when she visits the Canadian maritimes and then the Great Lakes this summer.  And if you really want to sail aboard, here's a tip from an old square rig mariner: Drop them a line anyway and let them know your background and availability.  Typically, there's some serious attrition on these voyages, and if you're available, you might just get the call.
Tip o' the hat to SA'er "Driftw00d".  Thread here.
May 24th, 2016 by admin
First it was Sarah Palin.  Then it was Donald Trump.  Now it's 71-year old Bob Weise and Steve Shapiro, the latest morons to make Americans look like the stupidest people in the world.  Worse yet, like crappy sailors!  Title shout to an icon of the 80s.
Threads abound about this winter Norway to US 'voyage', but this one was first.
January 28th, 2016 by admin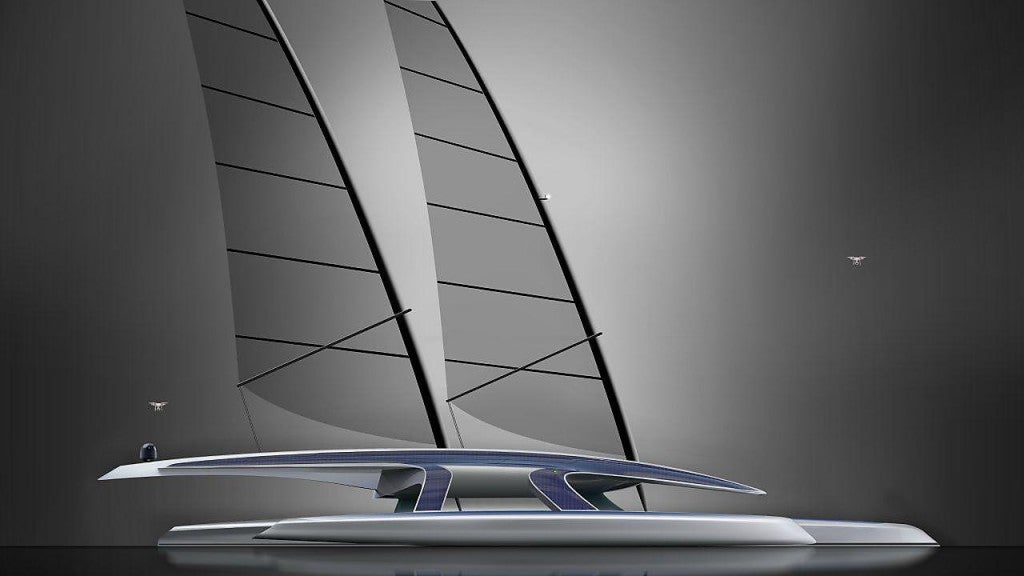 From Plymouth, England to Plymouth Rock on the 400th anniversary of the trip that colonized the New World, the 106-foot Mayflower Autonomous Research Ship (MARS) might make history in 2020 if the right commercial partner can be found by MSubs, Plymouth University, and Shuttleworth Design.  It's the latest (and maybe the prettiest) in a long line of vaporware sailing UAVs, and with a new bag of tricks: Sailing at 20 knots, motoring in light airs with near unlimited range at a quarter of that, and launching and recovering its own aerial drones.  We likey.  More from Giz, and chatter over here.
August 17th, 2015 by admin
Offshore obsessive and solo Figarist Henry Bomby turned a little help into a berth delivering the MOD-70 Phaedo (ex-Foncia) from the Canaries to Antigua, and he wrote one of his customarily good reports on the trip.  Follow Henry over here.
Sitting here in Antigua airport waiting for my flight back to London, life is good having just blasted across the Atlantic in just under 9 and a half days on board the new Phaedo3 MOD 70, one of the fastest sailing boats in the world.
I originally joined the team just for the day to help take their race sails over to Portsmouth for painting. When I got back to France however my name was next to a bunch of jobs on the job list! I agreed to help out for the week as I heard talk they were going sailing on the Friday, and I was hoping I could tag along to grind for the afternoon if I was still around!
Tag along I managed to do and the next day I was asked if I fancied joining them for the trip across the Atlantic. I was super excited but hesitant, it would mean missing a weeks training in the Figaro and also (and much more importantly of course) mean missing a long planned Valentines weekend away with my girlfriend.. Fortunately coaches and Soph agreed it was a fantastic opportunity, and so it was sorted!
Arriving in Antigua

We were to be five on board. Skipper Mr Brian 'easy cool, cool easy' Thompson, the most laid back man on the planet, Sam Goodchild fellow Figarist currently enjoying a side project while on standby with Mapfre. Romain Attanasio, another Figarist (and Volvo 'WAG'!), and Warren Fitzgerald (the boat captain fresh off the Hydroptère project) and me. We would be two watches, the roast beefs and the frogs, with Brian floating in between.
The first night we got straight into it and ripped across the Bay of Biscay at over 22kts. Rounding Cape Finistere within 15 hours. The boat as I said, is pretty remarkable…Shortly after leaving the sun went down, and we were straight into the watch system, Sam and I alone on deck of this 70ft machine which quite frankly scared the crap out of us in 25kts of breeze! We joked that Brian clearly had way more confidence in us than we had in ourselves as two young Figaro guys tore across Biscay in the pitch black. I broke my own personal speed record during our first watch, 30.7kts, with two reefs in the main and the J2 up, certainly 'not pushing' hard in anyway. Apparently?! The whole watch all I could think of was Brian's last words before he went down for a nap 'escape is down, escape is down, escape is down..'. On multihull a broach is a capsize, and you always need to know where your escape route is, 125 TWA is down , 95 TWA is up, as a very general rule. Anywhere in between is just terrifying!
After two days motoring South, we passed Spain and Portugal and were soon into the trades, 16-23kts and downwind VMG sailing all the way to Antigua. This thing punches out 500nm days like it's nothing. At the beginning Brian was telling me how on Bank Populaire V during their Jules Verne record attempt, 30kts by the end felt slow, and how in a weeks time, 20kts would feel pedestrian to me too. I couldn't believe him, but it was true. You do get used to the incredible pace these machines chuck out, and it's hugely addictive; you just want more and more.
It's worth noting that the MOD70 is probably the 7th 'ish' fastest boat in the world, and it would absolutely eat up the latest high-tech new 100ft monohull on any angle of sail and in any wind speed.  It struck me massively on this trip: why aren't trimarans more common, especially for offshore racing? I for one, am completely sold on them! Tthey are faster, and definitely more dangerous which suits many offshore events which label themselves 'extreme', meaning they really do need the very best sailors in the world to sail them. They are also dryer, comfier and have the potential for foiling which is definitely the way professional sailing at least, is going. In fact Gitana already has t-foil rudders fitted to their MOD 70 and is currently in the shed to develop full flight for this season.
Maybe now with the Americas Cup in multihulls, the tide is turning, and by the time I am 40 years old, I fully expect the boat taking on the Jules Verne record to be a fully foiling machine, so learning to sail these machines at any possibility is vital experience. I am unbelievably thankful to Brian and the guys for allowing me to jump on board with them. My eyes have officially been opened and dreams now become even bigger! Exciting times ahead in sailing that's for sure.
Aerial photo by Team Phaedo/Rachel & Richard
March 3rd, 2015 by admin
Bob Salmon ignored the hundreds of people who told him he was crazy. He ignored rules, convention, and tradition. He knew it was possible, and along with the folks at the Penzance Sailing Club, he drug the Mini Class and Mini-Transat Race into existence.  It remains today one of the most respected and extreme races in the world, and without Bob, it wouldn't exist.  Rest in peace, Anarchist.
Lots of background at the PZSC over here, where we got the pic, too.  For a 2012 interview with Salmon and some ancient footage, click here.  Here's a little more from our friends at Adonnante.
November 26th, 2014 by admin
Solo Figarists Nick Cherry and Henry Bomby begin our 2014 Route Du Rhum coverage with a great form guide for the fleets.  Follow Nick here, learn more about his Figaro campaign here, and tune in for all the info when the race starts in less than two days.  There's always the Ocean Racing Anarchy thread for the very latest.  Huge thanks to Bruce Schwab Energy Systems for supporting our coverage of this great race.  Please get in touch with the Vendee veteran to find out how his energy storage, solar power, and charging systems can benefit your cruising or racing boat today.  Photos from Christophe Launay.
Anyone who's never been to the start of this race needs to go, and it seems like most of France has. The population of St Malo swells from 45,000 to around 2 million over the ten-day period before the race, with massive park-and-ride car parks set up outside of town; getting to and from the boats is an absolute nightmare for the shore crews. There's something about the simplicity of this 3500-mile solo race across the Atlantic every four years that really captures the nation's hearts. Walking around town and jostling with thousands of the non-sailing public just to get around is cool and rare in our sport, and seeing just how rock-starrish the 91 skippers are – and how real a return they can offer to their sponsors – offers solo skippers hope of what may be achievable.
Beat Down?
At the moment it looks like the fleet will be starting in post-frontal westerlies, beating out through the chops of the channel before cracking sheets a little and heading across Biscay into quite a lot of pressure. Early indications are that the trades are developed quite a long way north and most of the boats should have a fairly straightforward and fast run to Guadeloupe. Things are still fairly unstable with some models predicting a very fast race and others showing a lot of the boats having a tough time due beating towards Cape Finisterre in some mildly heinous conditions.
Run Down
Ultime Class
This is the blue ribbon, main event, 'real deal' part of the race. Eight proper rockstars of the French sailing world lining up in, without a doubt, the filthiest boat porn on the planet (hopefully as a precursor to an imminent race around the planet, but more on that in a future installment).
In the last edition in 2010 'Petit Franck' Cammas showed us the light (albeit in fairly straightforward conditions) by going against conventional wisdom that said that the smaller, more manageable tris would probably beat his 105-ft Jules Verne trophy winner Groupama 3 when it came down to a solo race. Pundits say Yann Guichard will have a hard time handling Spindrift (ex-BPV) all by himself, that this time (with 200tm of righting moment compared with 160tm in BPVII and 28 in an IMOCA) it really is too big. He has the fastest boat, that's for sure; can the Jules Verne Trophy holder be handled by a lone, mortal man, or is the old G3 the maximum?
Sticking my neck out a little bi,  I'm going to put Thomas Coville in the new (to him) Sodebo (the heavily modified ex-Geronimo) as favourite. He will benefit from a lot of up-to-date design work on the floats and foils as well as plenty of time sailing these sorts of boats alone thanks to his 4,5 failed attempts.  Or is it 6???! Watching him go through the start line on his last failed RTW record attempt with all three rudders well clear of the sea shows that he certainly isn't lacking for balls for this race – almost a sprint in monster-multi terms.
Loick P is the final podium bet, having already done this race 7 times! On top of about 45 transats in total. Seriously.  And he's a nice chap. Many are sad we didn't get the incredible story of him racing across in his little yellow boat 'Happy' which would have gone down a storm in France, being the man he is and the name he has there. But he was the only man Banque Pop (the Ex-G3) could go to after Armel hurt his hand (in a freak car washing accident?), the boat is fast, it's been breaking records throughout 2014 and may be the best optimized for a solo run.
Never to be discounted, in his somewhat conservative (by modern standards), Nigel Irens-designed 105 footer, we have Francis Joyon. Probably the hardest man in sailing and a true solo obsessive. We have been wowed by stories of his solo transatlantic records attempts for years, and by solo we mean no shore team whatsoever, sailing on and off mooring bouys in New York harbour all by himself. (Is this true or just a rumour?!) If this race gets rough and decimates the fleet like the 2002 storms that destroyed piles of ORMA 60s, IDEC and Joyon are the combo I would back to be the last one standing.
Watch out for the race-within-a-race in this fleet between the three somewhat modified MOD 70s. These boats have shown they can be pushed hard with a crew and hopefully the improved emergency sheet release systems mean that Sydney Gavinet's prediction that he has a 50% chance of capsize won't come true. The other two MOD-touting skippers Seb Josse and Yann Ellies both have a reputation for pushing hard, and whilst it would take something odd to happen for a MOD to come in first you can be guaranteed a good old battle going on here. Yann has the least time in the boats and the least modified, but he has been smashing the Figaro Circut for the last 3 years, and could pull something impressive out of the bag. As a pair of Figaro sailors ourselves, we would love an underdog victory from Paprec in this one. It would probably be rude not to mention the race record holder from 2006 Lionel Lemonchois in his deeply modified former Orma 60 'Prince de Bretagne'. If the four more powerful boats have some sort of major calamity or follow each other into a meteorological black hole then Lionel is our man! He should really beat the MODs, but they've shown themselves to punch well above their weight…
The extra dimension is this class compared to the others is that outside weather routing is allowed, which to us, makes sense – you wouldn't want to be stuck at a computer for any length of time downloading the latest gribs whilst the boat careens down a wave at 35 knots into a full somersault. All the big French names in French Meteorology are on the payrolls here and it will be interesting to see how the different approaches pay off once things kick off on Sunday.
IMOCA 
There are 9 boats in this fleet. Four favourites in order are: Francois Gabart, Vincent Riou, Jeremie Beyou and Marc Guillemot. It would be brave to bet against Vendee Globe golden boy Francois, but rumours from recent training sessions in Port La Foret have Riou's PLB being right on form with a lot of caginess surrounding modifications to aft ballast arrangements in relation to the new rule; IMOCA is the land of big secrets, and nothing is easy to call in this class as a result! There's no doubt Jeremie has a good boat in Maitre Coq, sister ship to Macif and he delivered the goods again in the world's toughest one-design race – the Solitaire du Figaro. Guillemot's Safran certainly has form in the transatlantic races of recent years and I'm sure he'll be keen to make a mark in his last race before Morgan Lagraviere takes over the new boat next year.
The most interesting thing here is dock gossip regarding the six new Vendee-bound boats due off the drawing board of VPLP next year under the new rule, and the wide variety of foil solutions they've come up with.  DSS, outward-facing J and L foils, canting, raking, in and out and up and down and potentially adding a few more letters to the foiling vocabulary.  As in every new generation of Open 60, these new boats are going to be a big jump faster, and when reaching in big breeze, they could be light years faster.  Hopefully older boats can be retrofitted, and even more hopefully, the new one-design mast spec will be able to handle the added load of a faster, foiling boat. No one wants to let their cat out of the bag too soon in the build up to the all-important Vendee and we will have to wait for this exciting installment a bit longer.
For a potential spoiler, we'd love to see one of the nicest guys in sailing, Tanguy De Lamotte, get some real speed out of his new 'Initiatives-Coeur' (ex-Foncia, ex-Mare).  This older boat was heavily modified by Class 40 sailor Joerg Richers before he pulled out of the project, and she's potentially quite quick.
Class 40s
Loads to choose from here, and special props to youngest competitor in the race Paul Hignard who slept in and missed a big sponsor/press do on Tuesday after rumours of a big night on the sauce/with some chick.  Legend! Otherwise, there's a load of good boats, good skippers and not a lot of recent bust ups to show form.
Seb Roues is undefeated in his Mach 40 GDF Suez in 2014, although some questions remain regarding his solo skills. A lot of people rate Spaniard Alex Pella highly in his sexy looking Botin designed Tales 2 but there are plenty of boats with a reasonable shot at the top spot. Yannick Bestaven has a very new Verdier boat and a reputation for pushing hard, Halvard Mabire is sailing a new Pogo s3 and has a lot of experience and a good track record. Stepping down from his laughing cow Open 60, Kito de Pavant should be in the mix and whilst he's had a bit of a break from solo sailing, brit Conrad Humphreys seems to have a good sponsor in Catphones and plenty of motivation.
Our wildcard favourite is Nicholas Troussel in his Humphrey's designed Credit Mutuel de Bretagne. A real last-minute campaign but this guy has a record of winning two Figaros with well-judged flyers. His boat is quick enough and if there is a good corner to be banged, expect Nico to be right in there, making it work.
Multi 50s
A walk down the Multi 50 dock in St Malo is quite interesting, a history lesson in the development of offshore trimarans over the last thirty years. It would also be interesting as a standalone race but I think we'll be too busy following the big tri's and the 40s to get too bogged down here once the race starts. Four top contenders here based on previous form and newness of boat are: Erwan La Roux, Yves Le Blevec, Lalou Roucal and Loic Fequet. Fair play to everyone involved in this class as sailing solo across the Atlantic in a 50ft tri takes some proper balls, and it's great that there's 11 of them out there doing it. Interestingly, this class prevents foils, and you can't argue with their numbers, but would it certainly kick off big time if foil development was allowed? Imagine these lightweight 50 foot tris flying solo across the Atlantic. There is definitely some Frenchman out there crazy enough for it.
The Rhum Class

As far as we're concerned, it's cool that the race has this class. They might not look as cool as the big tris and the 60s but it does allow retired doctors from La Trinite, bearded blokes with odd looking cruising boats, and the living legend that is Robin Knox-Johnson to add some colour to this French classic. We won't be watching too closely to see who wins this fleet but expect some nice stories and that. Shame Loick isn't here with his Happy project, but hopefully he'll be back in 2018.
The start on Sunday morning is set to be a massive affair with literally thousands of spectator boats predicted, and the major viewing headlands along the Brittany coast rammed with fans. Due to tidal constraints in the St Malo Basin, the boats will be docked out by shore crews under cover of darkness before the sailors rib out after breakfast to race across an ocean. We'll be standing by to cover the start and offer a bit more insight into goings on as the race unfolds.
October 31st, 2014 by admin
Hannah Jenner & Rob Windsor are the newest threat in the big Class 40 Route Du Rhum fleet; the Anglo/NY duo are safe and sound after a 'nice' Transatlantic delivery to Hamble from Newport.  Marine media guy Will Lyons was aboard to document the trip and he's put together some stuff that captures it incredibly well on their FB page; check it here.  They're all about zero fossil fuel and mininum impact, and we dig that.  Plus we're stoked to see yet another plucky yank – and Anarchist -taking on the French, and our (one-way) love affair with past SCOTW Hannah Jenner continues…revisit their pre-race video here and stay tuned for a docudelivery video in a couple weeks.
June 28th, 2013 by admin

Bjoern Kils from NY Media Boat took advantage of NY's recent spate of sailing activity, getting both video and photos of the Atlantic Cup on Wednesday and shooting the awesome 97-foot IDEC playing around in light air yesterday.
We dug this pic the most, juxtaposing the sailor who embodies "freedom" with the tower named for it.
More on Joyon and IDEC here, and don't even think about using this photo…© NYmediaboat.com
May 17th, 2013 by admin