Posts Tagged 'Team SCA'
It turns out that the girls of Team SCA didn't need much to finally get off the snyde and take their first leg victory in the 2015 VOR; a lot of upwind work in a sprint-sized leg that maximized their crew size advantage spelled VICTORY for the team so many of us have been cheering for.
As excited as we are for Sam and team, we're already annoyed with the VOR's spin department, who earlier this morning channeled North Korea's Official News with the headline "Glorious Win Silences Critics", because it doesn't. Worse yet, this kind of attitude cuts off the important discussions of gender equality, physiology, and ocean racing for the future.
We will be spending quite a bit of time chatting with Team SCA over the next few weeks to continue to dig into a subject that is very dear to our hearts.  For now, we congratulate everyone on the team from the bottoms of our (sometimes dark) hearts.  Head over to Team SCA Facebook Page to congratulate them yourselves, and if you're concerned about the poor performance of all the 'boys' teams out there, you can discuss their issues in this thread.
Rick Tomlinson photo.
June 11th, 2015 by admin
Clean Report
Opinion amongst Volvo vets is unanimous that Newport is light years beyond any of the recent US Volvo Ocean Race stopovers in every way, and we're extremely glad we're here to be part of it this week thanks to our friends at Sperry and the Volvo Ocean Race Boatyard.
With so much staff coverage available from the teams and VOR media, we wanted to give you something different this week, and today at 1130 PST/1430 EST/1830 UTC, we're bringing you Sailing Anarchy's first-ever live, two-camera talk show from the Volvo Ocean Race Boatyard – in front of a live audience!  We haven't skimped on guests, either, and since we've been wanting to sit down with the leaders of Team SCA for some time now, we asked, and they thankfully agreed!  Team CEO Richard Brisius, Performance Director Brad Jackson, and the afterguard of Dee, Sam, and Sally will sit down with co-host Nic Douglass and me for an hour-long chat about everything VOR.  We want to know all about their race, and all about them.  What's the future look like for Team SCA, and what does their race mean for their careers, for their fans, for their families, for their sponsors…
You've already given us some great questions; please head over to the thread and post more, or hit us up on Twitter and use the hashtag @asksailinganarchy if you want yours answered today; the best three questions win Team SCA t-shirts, but you only have a couple hours to get 'em in.  Wanna learn more about the girls?  Check out the brand new well-produced reality series No Ordinary Women.  We've enjoyed the first two episodes, and we think you will too.  And don't fret if you miss our show today; it will be archived for your pleasure here.
And if you have questions for VOR CEO Knut Frostad, Boatyard Director Nick Bice, the two guys tussling for the race lead; Ian Walker and Charles Caudrelier, or Vestas skipper Chris Nicholson, get those questions in too; we're recording their show tonight for publication tomorrow morning at around 1000 EST.
Nic's been doing a great job getting interviews with all the boys and girls; head over to her channel here for a stack of interviews that go far beyond the usual tripe.  And be sure to keep an eye on SA Twitter and Facebook for many more face-to-faces coming up this weekend, especially for the last-minute pre-race Dock Walk video posted to our page, 20 minutes after dock out for the In-Port Race and Leg Start.
May 15th, 2015 by admin
The 2015 Sailing Anarchy/Sperry World Tour takes us to Newport, RI this week, along with a hundred thousand of our closest friends, and videographer Petey Crawford caught this shot of Mr. Clean trying to 'fit in' with other New England sporting traditions.
But poking fun at Patriot superfans is only part of the reason we're here; The US stop is traditionally the point in the race where the next edition's details start to solidify, and we're here to dig up all that information. We're also here to bring you two full hours of live TV talk shows from the VOR's Boatyard; the first will present Sam, Dee and Sally from Team SCA, along with performance coach Brad Jackson and CEO Richard Brisius.  There are tough questions to answer, and kudos to these guys and gals for stepping up to answer them live, with big thanks to Nic Douglass for helping out as co-host alongside Clean.  You can watch it all happen tomorrow, right here on the front page, from 1430 local time.
Ask questions for the girls in the Newport stopover thread or send them in via Twitter with the hashtag #asksailinganarchy.  Best three questions win Team SCA t-shirts.
May 14th, 2015 by admin
We're all about equal opportunity here at SA, and we don't care how far behind they finish – we still want to watch Team SCA cross the line. If you do too, click above – this was recorded just an hour ago from Itajai.
The girls grab fifth place – their highest finish yet in a leg thanks to Dong's dismasting, and it's a nod to all the teams and the VO65 that even Team SCA beat the last race's fastest Leg 5 finish by almost two days.
April 7th, 2015 by admin
Question of the Week
For the first time ever, our own staff asked the question of the week, largely based on a consistent theme in all of the VOR threads in Ocean Racing Anarchy about the combined effects of AIS and the 6-hour position updates on the Volvo fleet and the racing experience.  Mr. Clean posed the question during a live interview with Bouwe Bekking last week, and then forwarded the same question to all the teams.  Sam Greenfield posted the Dongfeng response yesterday, and Sam Davies weighed in on audio, which you'll find below Sam's letter.

Dear Clean,
After I read your question, I went and asked Erwan Israel, our navigator, word for word what he thought.
The question was, "the current system (6 hour fleet updates, AIS inside 10 NM or so) has skewed the racing to a 'stay with the pack at all costs' mentality, meaning fliers are more rare and morale far more tied to the ability to see blips on a screen. What do you think about this unintended consequence of the AIS system in this race and –in simpler terms- do you want it or not?"
Don't let this go to your head, but Erwan's initial response was, "Wow. That's a very good question!"
I took full credit and he's been much easier to interrogate at the NAV desk ever since.
But it does bring up a good point, because instant access to the boat speed, distance and heading of every boat in eyesight has made each and every one of us screen addicts.
It's also highlighted different navigation styles.
If a boat is within the AIS range Pascal makes sure that he or one of the crew is sitting at the desk with the microphone in hand, relaying bearing and speed to the trimmers and driver on deck.
Every. Five. Seconds – Like an old French sub hunter.
I wrote about it in my 'Hunt for Red October' blog during leg 3.
Erwan opts for a less maniacal approach, preferring to plot distance and bearing every few minutes onto an excel sheet so that he can see who's gaining and losing. He doesn't announce to the guys on deck, preferring to walk up and say it in person.
Everyone, myself included, agrees that having the AIS for safety –to alert for oncoming ships and fishing boats- is indispensable, but the crew were split when it came to the debate over performance.
Kevin Escoffier says, "I like it for safety only. Otherwise it's like a smartphone. Once you get it you can't put it down."
Thomas Rouxel says bluntly, "No, I don't like it. You don't make your own strategy."
Martin Stromberg had two answers:
First, ever the Swede, he says, "It's not good or bad, it's just a different version of the game."
But when he overheard me asking Eric Peron just before sitting down to write this blog he admitted with a grin, "It makes it boring."
For the sailors, yes, but from my point of view the last 48 hours have been anything but, as outlined in Charles' French blog today:
"We've just gone through the worst night yet of this Volvo. On the menu we had no wind, big swell, stopping waves right on the nose and adverse current! At the end of the night enormous thunderstorm clouds with wind coming from all over the place. We came out of this night behind our two chasing competitors. Unfortunately the final cloud was fatal for us. But Abu Dhabi is just in front of us now, and we have 4 days to overtake. Once again, we are back in a drag and speed race."
Which translates to; either Charles or Erwan or one of the sailors is glued to the screen at any given moment of the day watching Azzam's speed.
Mapfre is out of range.
Eric Peron says, "I like it and I don't like it. It takes away certain tactical options, and it opens others."
Erwan Israel was more blunt: "I wish we didn't have it – it forces the pack into a group mentality.
I know Erwan is thinking about our decision to sail to the North Philippines. His gut told him to sail north to Taiwan, like he and Charles did last race on Groupama, but the two chose to stick and cover Ian Walker's team.
Horace told me "yes, we need it," and Wolf said, "For safety, of course. I think it's good for performance, unless you're in first place and the guys behind you can see exactly how fast you're going."
Which leaves our skipper, Charles, who may need a reading prescription at the end of this Volvo.
"Bah. Well…" He hesitates. "I like it. It's good. It's interesting. You get to compare the speed and see where the other guys are."
He's glued to the screen as he says all this to me.
"But it's a bit addictive, if you see what I mean."
So, Clean, that's the breakdown from Dongfeng Race Team. We're almost approaching 1,000 NM to Auckland and Azzam is just off our bow.  Keep glued at your screen, and we'll do the same.
-Sam G
And here's Samantha Davies on the subject.
Volvo Ocean Race "Team SCA" Responds To Sailing Anarchy's Questions About AIS and Tracking by Sailing Anarchy on Mixcloud
February 25th, 2015 by admin
It's almost halfway through the race and we still have seen precious few moments in big Volvo Ocean Race conditions; Sam G does his best to share some of them with us from aboard Dongfeng, and once again, we comment the Franco/Chinese team for keepin' it real with Charles Caudrelier's 'oops' here.
Meanwhile, Team Brunel and the SCA girls have split off to the North and with the wind freeing up, both are advancing rapidly on the Southerly group.  The girls were first to tack to starboard on what looked like a flier, and though Brunel are ahead of them, could this be the first big break for the pink boat?
With the race getting interesting, SA is the place to be.  Check SA'er 'Campbell's' latest weather routing, analysis, and more finish time calculations (like the one to the left) here, and get in on the discussion in the Ocean Racing Anarchy thread.
February 12th, 2015 by admin
Future SCOTW Clare Bright grabbed a press spot with the inshore-blitzing Team SCA boat during the practice race in Abu Dhabi last week on the condition that she tell us their story; given how many fans Samantha and the team have here at SA, we were stoked when it hit the inbox the other day.  Track the girls, as they hang on for dear life at the back of the Leg 3 standings.  Photos from proud hubby Jeff Bright.

OK, this is me…I'm a Brit, grew up on the North Kent coast and crewed Condor Cats as a kid, found it all too cold in that part of the world and gave up for many years, then moved to Abu Dhabi and started again on keelboats.  That was just over 3 years ago and now I'm a mad sailing addict, race regularly in IRC and one-design fleets, sometimes against my better half (yes, I can beat him!) and could not believe it when I got the opportunity to go out on the TeamSCA Volvo boat thanks to Sailing Anarchy.  Here's my story:
Sailing with 'the girls' for the practice race was an amazing experience. The Volvo boats are stunning and the top end of the sport has gone too long without all-girls team. I run my own female team, albeit a much smaller one, on my SB20 and the dynamics are quite different to being out with a male crew.  We focus on a clean race, finding our own lane, clear air and smooth maneuvers to tack, gybe or set/drop sails.  There are no port tack starts on a busy start line just to look macho, or legs spent chasing other boats downwind to try and take them up and out (which usually results in the aggressor taking herself out) or other such testosterone-loaded tactics.  And the result? Very often we quietly and smoothly gain places and end up with a podium finish and smiles on our faces.  It works!
Back to the Volvo race, that's exactly what I saw with team SCA.  From the moment I stepped on board there was full focus on teamwork, the race, discussing tactics, practicing the starts, learning from every move and a subtle but firm, quiet and concentrated attitude.  With a couple of changes amongst the crew there was an air of needing to get back into a rhythm and it sure didn't take long.  The girls were a little early at the start, killing time to the line, then they played the course perfectly going left first, which often pays off in Abu Dhabi while the offshore wind is settling, and rounding the first mark in the lead.  From that point their tactics were about getting ready for every maneuver early and to keep things clean. Looking back, the guys were desperately trying to catch up and clearly not so calm. I was smiling as I watched spinnies with bad sets or late drops causing mark roundings that weren't so clean, the girls showed everyone how to do it that day.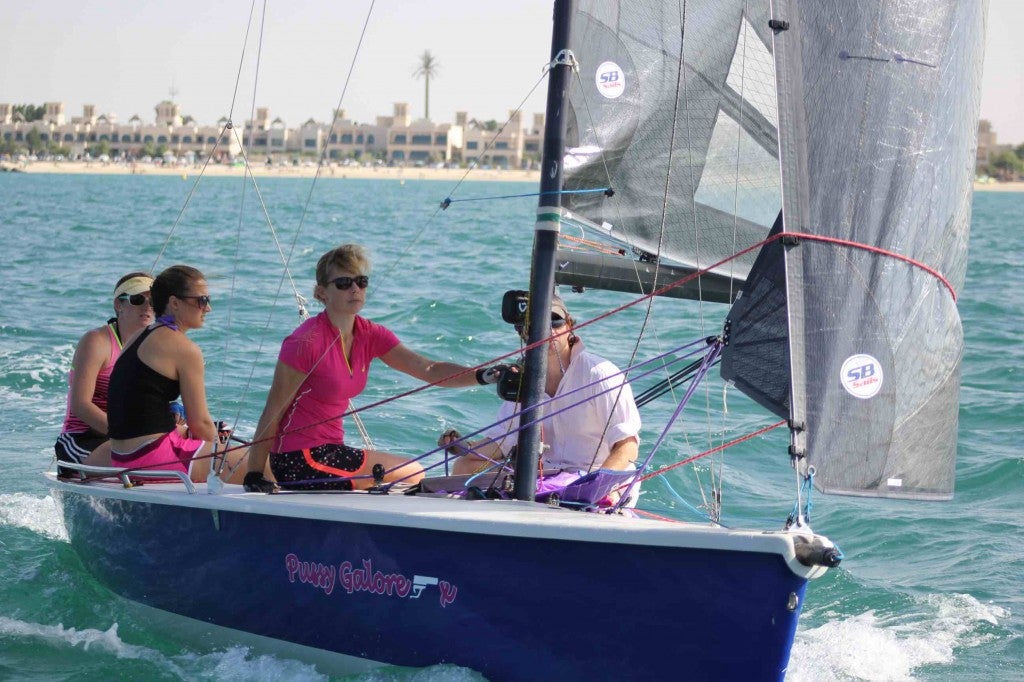 Plenty of people thought the team got lucky…until they did it in the In-Port Race.  This time watching from one of the media boats, we saw the girls peel off early and the general commentary out on the water was that they probably had no choice given their position after the start.  How wrong could they be! What the locals know is that there's a narrow channel running across the bay near the gate end of the course.  Going right early they took both an advantageous wind shift and current help, taking them around the top mark with a solid lead. They won on excellent tactics, navigation and skill – both times.
I'm sure you'll be wondering if any of the crew really stood out, but the truth is that they all did.  Pure teamwork is a joy to watch, with everyone playing an important and integral role. Libby as navigator called the lines perfectly, then Carolijn would add some fine tuning as she spotted a wind shift or wanted a better position while driving.  Up front, the foredeck team was incredibly smooth and there was great communication between them and the rest of the crew.
Foredeck is my favorite place to be on my SB20, and I would love to have been up there helping out!  Sadly, I had to stick to the guest role, watching from the back.  Next time, eh? The trimmers worked constantly, and everyone from mainsheet to bow made sure to always keep the boat tidy, never leaving a chance to mess up from a tangled sheet as they were all back in the bags when needed.   Even OBR Corinna Halloran played a fundamental role, looking out for the guests
and snapping great pics for all of us.  If there's one thing I noticed that possibly use improvement, it would be for the girls to make sure they always know who's in charge when it hits the fan.  A gentle inshore race in Abu Dhabi might be fun and the consultation amongst the girls is always going to be valuable, but the challenges on the next leg may need a fast, clear decisionmaker in the crew.
The Volvo Ocean Race Abu Dhabi stopover has been an incredible week!  Over a hundred thousand people checking out these awesome boats, some great racing for the participants, the VIPs, and the spectators.  The way the shore teams, Boatyard staff, and VOR HQ support the teams and public is outstanding, and I just hope that both Abu Dhabi and SCA sign up for another go, because we would love to have them back in three years.
January 7th, 2015 by admin
Mr. Clean's headed over to Abu Dhabi next week to bring you more of what a sailor wants to see, but already, SA Middle East Bureau Chief Jeff B is on the ground putting his own slices of life together with some Canon L glass.  He ain't Borlenghi but he's got a good eye, and we can definitely say we've got the only VOR-accredited photographer who flies fighter jets!
Jeff caught this awesome Lego Team SCA boat in the race village, and we learned the (now old) story of why it's going with them around the world; very cool stuff that you can learn too if you get to the Abu Dhabi Stopover thread for all sorts of pics of the haulouts, the teams, the race village, the Boatyard, and much more.
And don't forget to check out the live feed when Clean and the VOR team bringing you the In-Port Race and Leg 3 Start on the 2nd and 3rd of January.
December 16th, 2014 by admin
Clean Report
The last time the supremely badass RTW'er Dee Caffari and I shared an on-screen moment was during the 2012 Vendee Globe, when we sat in a TV studio together for about six hours commentating on the start of the race.  I fell in love with her incisive wit, open nature, and vast knowledge then, and knowing how much she longed for the sea when we were sat in our booth, it's great to see her joining Team SCA for Leg 2 of the Volvo Ocean Race.  I grabbed Dee yesterday on the satellite camera for 17 minutes of open discussion about her training for the leg, the dynamics aboard the boat, what it's like to come through the same spot she has multiple times – but with a crew this time – and most importantly to their fans, just where the girls are bleeding miles and where they're strong.  Worth a listen for any fan of ocean racing, and required for anyone already as absorbed with the one-design VOR as we are.
November 24th, 2014 by admin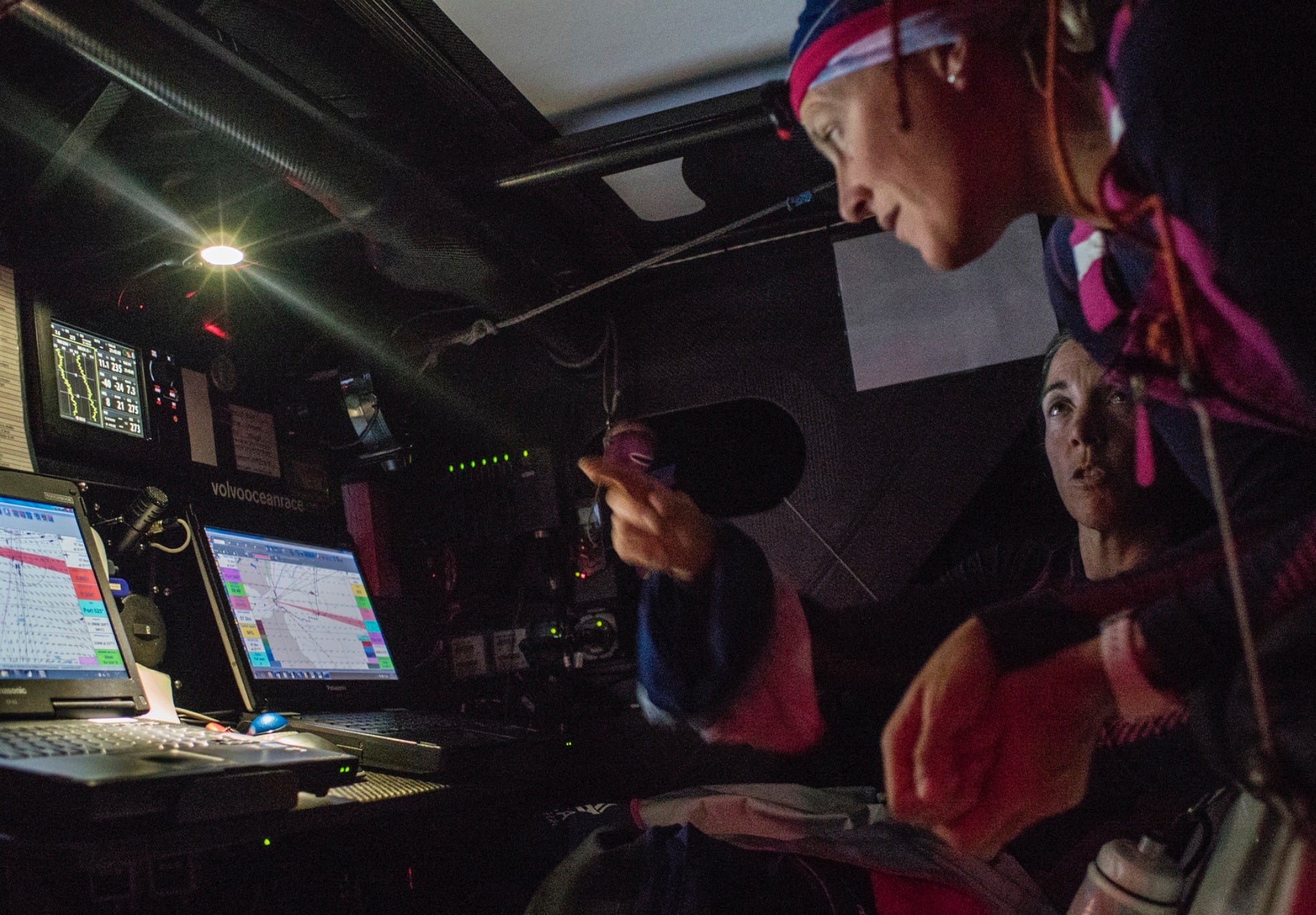 While it's a little early to burn your bras in support of Team SCA, the pink ladies have most certainly answered any questions the world may have had about their ability to hang with the men of the VOR.  That's thanks to a brave call from Libby G to split from the fleet toward the Spanish shore, where shift and velocity launched the girls clear into the lead at the last real geographical constraint until they get into the islands.  Will the Northerly position pay as the fleet heads out into the Atlantic?  Discuss it in the Leg 1 thread.  And check out the girls Flickr page for more great shots from Corinna.  Track the fleet here.
October 13th, 2014 by admin