Posts Tagged 'Team SCA'
Mr. Clean's headed over to Abu Dhabi next week to bring you more of what a sailor wants to see, but already, SA Middle East Bureau Chief Jeff B is on the ground putting his own slices of life together with some Canon L glass.  He ain't Borlenghi but he's got a good eye, and we can definitely say we've got the only VOR-accredited photographer who flies fighter jets!
Jeff caught this awesome Lego Team SCA boat in the race village, and we learned the (now old) story of why it's going with them around the world; very cool stuff that you can learn too if you get to the Abu Dhabi Stopover thread for all sorts of pics of the haulouts, the teams, the race village, the Boatyard, and much more.
And don't forget to check out the live feed when Clean and the VOR team bringing you the In-Port Race and Leg 3 Start on the 2nd and 3rd of January.
December 16th, 2014 by admin
Clean Report
The last time the supremely badass RTW'er Dee Caffari and I shared an on-screen moment was during the 2012 Vendee Globe, when we sat in a TV studio together for about six hours commentating on the start of the race.  I fell in love with her incisive wit, open nature, and vast knowledge then, and knowing how much she longed for the sea when we were sat in our booth, it's great to see her joining Team SCA for Leg 2 of the Volvo Ocean Race.  I grabbed Dee yesterday on the satellite camera for 17 minutes of open discussion about her training for the leg, the dynamics aboard the boat, what it's like to come through the same spot she has multiple times – but with a crew this time – and most importantly to their fans, just where the girls are bleeding miles and where they're strong.  Worth a listen for any fan of ocean racing, and required for anyone already as absorbed with the one-design VOR as we are.
November 24th, 2014 by admin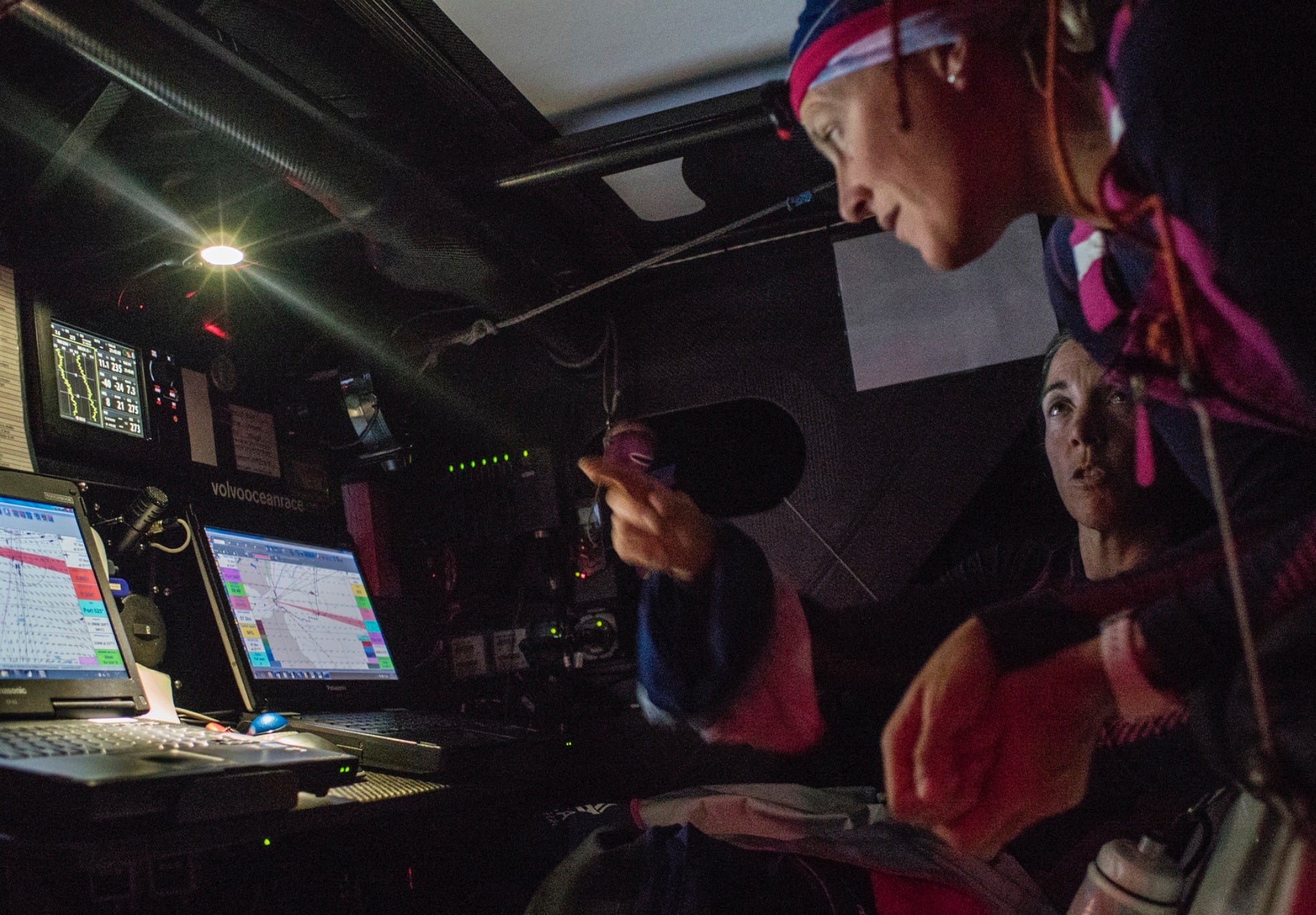 While it's a little early to burn your bras in support of Team SCA, the pink ladies have most certainly answered any questions the world may have had about their ability to hang with the men of the VOR.  That's thanks to a brave call from Libby G to split from the fleet toward the Spanish shore, where shift and velocity launched the girls clear into the lead at the last real geographical constraint until they get into the islands.  Will the Northerly position pay as the fleet heads out into the Atlantic?  Discuss it in the Leg 1 thread.  And check out the girls Flickr page for more great shots from Corinna.  Track the fleet here.
October 13th, 2014 by admin
That shock of fuzzy hair looking over things at the back of the unbranded (though the color gives away Spanish bank MAPFRE) Team Campos VOR is no other than France's top ocean sailor, Michel Desjoyeux at the start of the 'Round the Canaries' race – the first real tète-a-tète for any of the VOD65s yet.  While it's impossible to find anything on the official VOR site about this pre-race race, we can tell you that the legendary Mich Dej was apparently not enough to overcome Bouwe Bekking's Team Brunel, with the girls coming home 8 minutes behind Team Campos.  With the final team still unannounced (and some thinking that a desperate VOR may finally be giving Boat 7 to the chronically underfunded Giovanni Soldini/Maserati), it's still early days, though the addition of Desjoyeaux to an extremely skilled and experienced Spanish team makes them the odds-on favorite in our book.  He's that good.  While VOR'ers are playing it very close to the bone, we think there's a good chance we'll see Mich racing at least part of this Volvo.
With plenty of sexist assholes still thinking the girls don't have a shot, we think they acquitted themselves quite well, and continue to have high hopes for Team SCA winning a leg or three…here's their report, and the go-to spot to chat about the pre-race is right over here in Ocean Racing Anarchy.
Photo from Pierre Orphanidis/Vsail.Info with a load more here.
July 22nd, 2014 by admin
With their pink boat delivered and plenty of hard miles already under her keel, the girls of Team SCA Racing's Volvo effort are light years ahead of the rest of the largely unannounced Volvo fleet.  Pierre Orphanidis from Vsail grabbed SA crush Sam Davies for the world's first guided tour of their Volvo 65 in Lanzarote.  Check it.
November 27th, 2013 by admin
Months of comparative quiet belie the amount of work going on behind the scenes at Volvo HQ.  We've already told you about the Media Crew Member program's renaming, revamping, and restaffing announced last week, and now we have some concrete news, thanks in part to Pierre at VSAIL.
The Girls
No surprise to see the old Puma dressed up in pink for the girls for feminine product manufacturer and sponsor SCA, and we hear the selections are coming along, though the list is hush hush for now.  We hope the Swedes let some US blood into the mix, and there's plenty to choose from; Emma Creighton and Ashley Perrin obviously have what it takes in the distance game, while Anna Tunnicliffe should let herself be persuaded to work the race into her Olympic schedule; the girl is stronger than half the guys on the last Volvo and a better helmsman than even more.  On a more international note, we hope blonde bombshell and SA favorite Anna-Maria Renken makes the cut, but most importantly, wouldn't they be crazy NOT to go for Dee Caffari or Sam Davies as the skipper?
The Route
The big news today is from Recife, Brazil, which gets a stopover and a team for the 2014-15 Volvo.  Thanks to some of the VSAIL info, we've got a pretty good idea of the route, though a lot of the details are missing.
1. Alicante – This is the start for this and at least one more Volvo Ocean Race, though considering the new multi-million dollar VOR Museum's grand opening soon, we think both the organization and city are committed to quite a few more.
2. Recife – See above
3. Abu Dhabi – A long trip necessitated by a keen Abu Dhabi team sponsor and a pile of cash for the organizers and a Cape Town that doesn't have a nickel for the VOR.  But the biggest question on a leg like this remains:  How about them pirates?  It's a long way off and increased militarization may conceivably have quelled the problem by 2014, but are we going to see the silly load on/load off again?  As much of a wrench as it threw into the race's continuity, the whole process generated some major headlines, so maybe it stays?
4. India – Pierre's sources say a short stopover will likely happen in India, most likely for the benefit of the big sponsors and Volvo's corporate bigwigs.  A stopover will also serve to encourage India to start thinking about putting together a race team for 2017.
5.  Hong Kong – Like China, but better.  We're not sure if this info would mean Sanya is out, especially given how keen China were on the Team Sanya effort being a warm-up lap for a real, fully funded effort with Moose Sanderson at the helm.
6. Auckland – ETNZ is in for another go-round, and Auckland was massively successful this past trip.  Besides, it's an ideal place to get ready for an assault on the Horn. Never mind that Auckland knows it, and pulling money out of them is like, well, pulling money out of kiwis generally.  In other words, it ain't easy.
7.  Itajai – Again, a very successful 2012 stopover means another likely stop in the Brazilian beach town on the way North.
8. Newport – VOR would have you believe there is competition for this spot from Baltimore, but they just can't handle another bad US stopover so Newport is the pick even if Baltimore had any money for Knut – which they don't. Newport may not offer much cash, but its proximity to so many major metropolises (metropoli?) and the local community's passion will make up for it.  Miami told VOR to pound sand.
UPDATE: High-powered lobbyist/consultant Rob Housman is part of the team behind the Baltimore bid, and he made sure we knew that their bid is very real and very advantageous to the VOR's objectives.  He points to their 350,000 numbers from the 2005 stopover – which we believe to be hopelessly inflated –  and the 1M people that checked out the Sailabration Tall Ships event this past summer to show their ability to attract a big crowd.  While Baltimore's inner harbor is an awesome amphitheater and they certainly have put a lot of effort into showing that they can pull it off, we'd hate to see yet another US stopover swallowed up by yet another large American city that doesn't give a crap.
9. France – Another reasonably successful stopover despite the inevitable Scandinavian/British vs. French cultural conflicts.  If Groupama honors its agreement with Cammas, it'll work just fine.
10. Rotterdam – With Galway unhappy about its cash burn after the last race, Ireland is out, and a big European host port is important for sponsor business to business action. So Pierre's Rotterdam rumor makes sense, and we'd love to see it in what is an extremely fun town.
11. Gothenborg – A Swedish finish has always made more sense than an Irish one for Volvo, and with their world HQ just outside "YoteBoyg", why would you go anywhere else?  More importantly, the rumors we've heard of a confirmed entry from Berg Propulsion, also located just outside the beautiful West Coast town, makes this a sure thing.  There's even been talk of a two-boat team from Berg…boss Hakan loves this shit, and for that, we love him.
That's the latest and greatest from the digital coconut telegraph here at SA; hit the thread for more breaking news when it happens.
January 17th, 2013 by admin