Posts Tagged 'team brunel'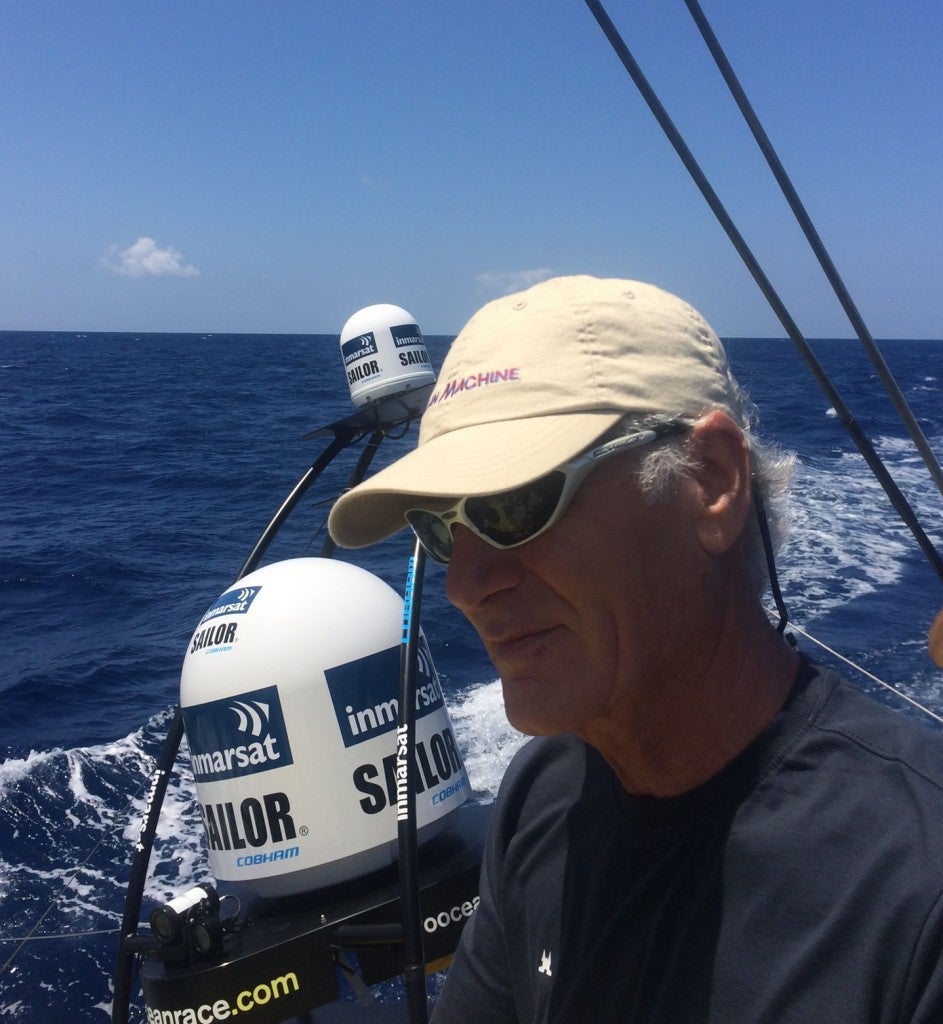 As the entire world (or maybe just a few thousand die-hard ocean racing fans on the SA Forums) waits for the identity of the mysterious skipper behind the 7th and final Volvo Ocean Race team, just the other day,  former Mean Machine owner Peter De Ridder got behind the helm of one of the VOD65s and, if you believe the look on his face, had a hell of a time.
If you're new to this whole game, De Ridder made plenty of noise on the international one-design and box rule circuits, with highly successful and well-oiled Mean Machine Farr 40, Mumm 30, and TP52 campaigns, and a hot pink paint job that you couldn't miss.  When he announced his VOR campaign and bought a previous generation boat to train on, everyone cheered; it's not every day an amateur owner/driver steps up to the Volvo.
Alas, the global financial crisis emptied PDR's petty cash box out quite rapidly, and with no sponsors jumping, he pulled the plug on the Volvo challenge, staying out of the high end of the sport altogether for the past few years.
Yet here he is in Europe, sailing around on a Volvo 65.  Is this the beginning of something new, or is PDR just having a go with a few of his old pals?  Or is De Ridder getting in some practice for his new boat – a Volvo 65 named Mean Machine? We don't know more – do you?
July 28th, 2014 by admin
Fresh from their trouncing of Teams SCA and Campos during last weekend's little Round the Canaries race comes this shot of Brunel bowman Gerd-Jan Poortman standing on Brunel's forestay.  "Was he up there fixing or inspecting?", we asked.  "Nope – that pose was on his bucket list."
While Bouwe and the Brunel team continue to do a good job building fans, we're surprised that the Alvimedica and Abu Dhabi teams seemed to have dropped off the face of the Earth after their recent transatlantic 'non-race', without a single update since about the 19th.  Anyone know more?  Hit the VOR thread.  Sander Van Der Borch photo, and here's the best cover we've found of the Johnny Cash classic that gave this piece its title – or at least the best looking!
July 25th, 2014 by admin
That shock of fuzzy hair looking over things at the back of the unbranded (though the color gives away Spanish bank MAPFRE) Team Campos VOR is no other than France's top ocean sailor, Michel Desjoyeux at the start of the 'Round the Canaries' race – the first real tète-a-tète for any of the VOD65s yet.  While it's impossible to find anything on the official VOR site about this pre-race race, we can tell you that the legendary Mich Dej was apparently not enough to overcome Bouwe Bekking's Team Brunel, with the girls coming home 8 minutes behind Team Campos.  With the final team still unannounced (and some thinking that a desperate VOR may finally be giving Boat 7 to the chronically underfunded Giovanni Soldini/Maserati), it's still early days, though the addition of Desjoyeaux to an extremely skilled and experienced Spanish team makes them the odds-on favorite in our book.  He's that good.  While VOR'ers are playing it very close to the bone, we think there's a good chance we'll see Mich racing at least part of this Volvo.
With plenty of sexist assholes still thinking the girls don't have a shot, we think they acquitted themselves quite well, and continue to have high hopes for Team SCA winning a leg or three…here's their report, and the go-to spot to chat about the pre-race is right over here in Ocean Racing Anarchy.
Photo from Pierre Orphanidis/Vsail.Info with a load more here.
July 22nd, 2014 by admin
Now that the news is out on the Brunel Volvo team, we can now print Bouwe Bekking's Innerview from a few days ago. As always, a great guy to chat with and a great part of the SA community for over a decade now; here he is with another SA Innerview.
SA: It's great to see the Netherlands in the game, with you at the helm. As a frequent one-design sailor, how do you think the new design changes the race strategy?
BB: This change will have a major impact. In the previous races you could sail like a world champion, but very you still got beaten by the faster boat. Besides fast sailing, strategy will hugely important.
SA: We hear that the in-port races will no longer count for the overall VOR standings. Does this make the stopovers less or more interesting from your point of view?
BB: This is still not 100% clear, there is an option for this in the Notice of Race. But I hope it will stay part of the scoring, it has become a feature of the race and if you make it part of the scoring you will make sure that all the team are 100% focussed
SA: Will this be a Dutch effort or more of an international crew? Have you selected them yet? Who you got?
BB: The initiative is Dutch and of course we try to get as many as possible cloggies onboard, but since our sponsor is an international company they wouldn't mind if some foreigners are onboard. Gerd -Jan Poortman is confirmed . For the rest not: you can't commit to anybody before the money is in the bank, otherwise you make a fool out of yourself when it doesn't happen. For the other crew we will follow a strict selection procedure.
SA: The lack of design competition means teams have been able to wait far longer to announce their intentions. Meanwhile, the girls of SCA will have a big head start over everyone else in training and sorting their boat out. How do you make up that deficit? As a one-design boat, does it really matter?
BB: Isn't it great that now all of a sudden teams who come in late, still have chance to do well? Thanks One-Design! The girls have got a very good set-up and gotten all the opportunities, they have a of course headstart. We just have work hard and use the experience we most likely have to transfer our knowledge from big one-design offshore boats into the V65
SA: What do you think of the Farr/VOR 65 compared to the VO70s you've sailed? Strengths/weaknesses compared to Movistar/Telefonica?
BB: I think they will be very similar in performance and they will still be soaking wet. Compare to Movistar/ Telefonica they will be structural stronger and I expect easier to drive/steer in big seas.
SA: Who's your sponsor, and what do they hope to get out of it?
BB: As you now know, it is Brunel. They have have been in the race twice before and actually jumped in last minute to make it possible for teams to race. They sponsored a team in the Tour de France and as well a Mini-Transat sailor. They are in for it as they like sailing and like to win.
SA: Do you plan to do any events with your boat before the VOR starts? Which ones? When do you get delivery?
BB: We want to do some events and like to race against other V65′s, that will be good to see how we go . But we will finalize our schedule in the coming month. We get boat number 3, which actually is ready, but the boat need to painted, we have to order sails do the graphics, and other logistics. Even that it is a one-design, we won't rush as that might bump us in the bum.
SA: What do you think the budgets really need to be in order to have a good chance of winning? How does this compare number wise to your other campaigns?
BB: As long you can pay the entry and the centralized service, the boat, new sails and have accommodation you should be fine, The number is a fraction of what we spend on previous campaigns. Thank you one-design, again!
SA: With so many changes to the VOR, do you have any big worries about the 14/15 VOR?
BB: No worries right now, sleeping well!
December 5th, 2013 by admin