Posts Tagged 'team brunel'
Question of the Week
For the first time ever, our own staff asked the question of the week, largely based on a consistent theme in all of the VOR threads in Ocean Racing Anarchy about the combined effects of AIS and the 6-hour position updates on the Volvo fleet and the racing experience.  Mr. Clean posed the question during a live interview with Bouwe Bekking last week, and then forwarded the same question to all the teams.  Sam Greenfield posted the Dongfeng response yesterday, and Sam Davies weighed in on audio, which you'll find below Sam's letter.

Dear Clean,
After I read your question, I went and asked Erwan Israel, our navigator, word for word what he thought.
The question was, "the current system (6 hour fleet updates, AIS inside 10 NM or so) has skewed the racing to a 'stay with the pack at all costs' mentality, meaning fliers are more rare and morale far more tied to the ability to see blips on a screen. What do you think about this unintended consequence of the AIS system in this race and –in simpler terms- do you want it or not?"
Don't let this go to your head, but Erwan's initial response was, "Wow. That's a very good question!"
I took full credit and he's been much easier to interrogate at the NAV desk ever since.
But it does bring up a good point, because instant access to the boat speed, distance and heading of every boat in eyesight has made each and every one of us screen addicts.
It's also highlighted different navigation styles.
If a boat is within the AIS range Pascal makes sure that he or one of the crew is sitting at the desk with the microphone in hand, relaying bearing and speed to the trimmers and driver on deck.
Every. Five. Seconds – Like an old French sub hunter.
I wrote about it in my 'Hunt for Red October' blog during leg 3.
Erwan opts for a less maniacal approach, preferring to plot distance and bearing every few minutes onto an excel sheet so that he can see who's gaining and losing. He doesn't announce to the guys on deck, preferring to walk up and say it in person.
Everyone, myself included, agrees that having the AIS for safety –to alert for oncoming ships and fishing boats- is indispensable, but the crew were split when it came to the debate over performance.
Kevin Escoffier says, "I like it for safety only. Otherwise it's like a smartphone. Once you get it you can't put it down."
Thomas Rouxel says bluntly, "No, I don't like it. You don't make your own strategy."
Martin Stromberg had two answers:
First, ever the Swede, he says, "It's not good or bad, it's just a different version of the game."
But when he overheard me asking Eric Peron just before sitting down to write this blog he admitted with a grin, "It makes it boring."
For the sailors, yes, but from my point of view the last 48 hours have been anything but, as outlined in Charles' French blog today:
"We've just gone through the worst night yet of this Volvo. On the menu we had no wind, big swell, stopping waves right on the nose and adverse current! At the end of the night enormous thunderstorm clouds with wind coming from all over the place. We came out of this night behind our two chasing competitors. Unfortunately the final cloud was fatal for us. But Abu Dhabi is just in front of us now, and we have 4 days to overtake. Once again, we are back in a drag and speed race."
Which translates to; either Charles or Erwan or one of the sailors is glued to the screen at any given moment of the day watching Azzam's speed.
Mapfre is out of range.
Eric Peron says, "I like it and I don't like it. It takes away certain tactical options, and it opens others."
Erwan Israel was more blunt: "I wish we didn't have it – it forces the pack into a group mentality.
I know Erwan is thinking about our decision to sail to the North Philippines. His gut told him to sail north to Taiwan, like he and Charles did last race on Groupama, but the two chose to stick and cover Ian Walker's team.
Horace told me "yes, we need it," and Wolf said, "For safety, of course. I think it's good for performance, unless you're in first place and the guys behind you can see exactly how fast you're going."
Which leaves our skipper, Charles, who may need a reading prescription at the end of this Volvo.
"Bah. Well…" He hesitates. "I like it. It's good. It's interesting. You get to compare the speed and see where the other guys are."
He's glued to the screen as he says all this to me.
"But it's a bit addictive, if you see what I mean."
So, Clean, that's the breakdown from Dongfeng Race Team. We're almost approaching 1,000 NM to Auckland and Azzam is just off our bow.  Keep glued at your screen, and we'll do the same.
-Sam G
And here's Samantha Davies on the subject.
Volvo Ocean Race "Team SCA" Responds To Sailing Anarchy's Questions About AIS and Tracking by Sailing Anarchy on Mixcloud
February 25th, 2015 by admin
On the Volvo Ocean Race's "Inside Track", Clean and Genny T are reunited on camera for the first time since America's Cup 33 in Valencia, and aside from some sound issues, they give some good chat together.  Bouwe Bekking checks in from the front of the fleet, and we find out what he thinks about AIS and trackers.  And oh, how fast things change…
February 21st, 2015 by admin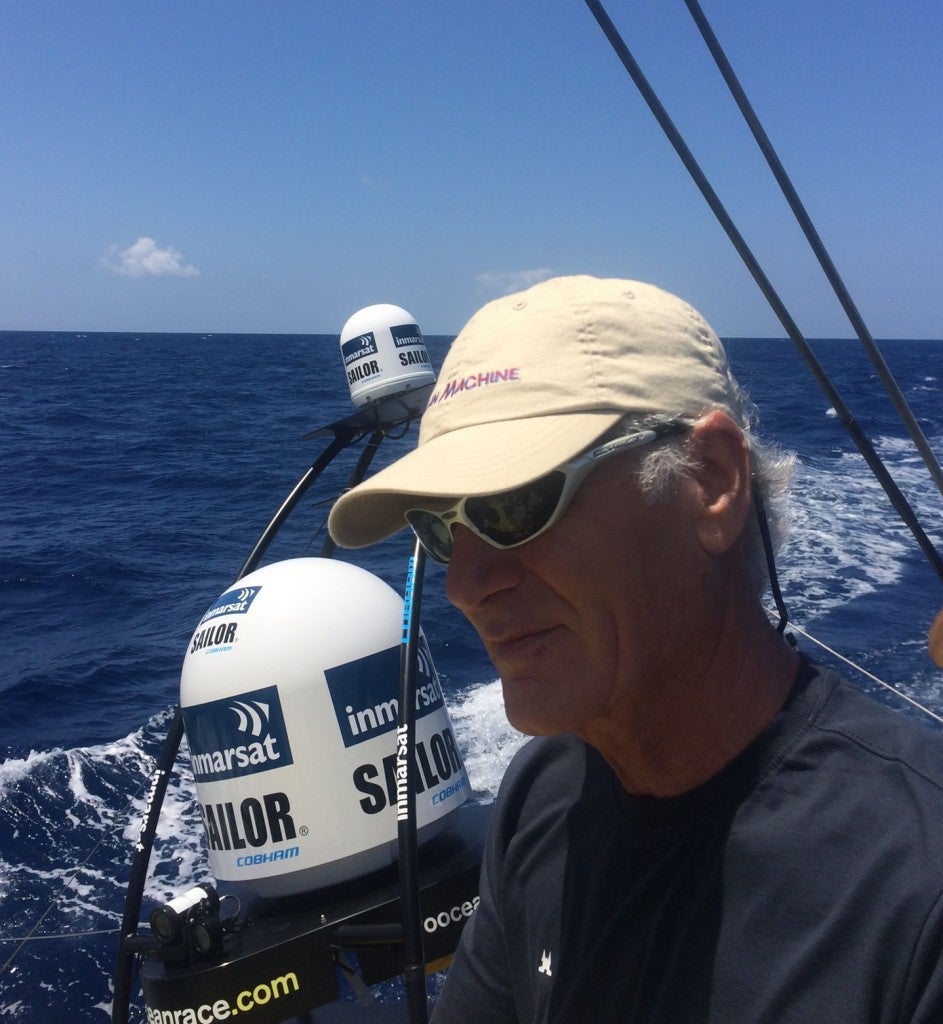 As the entire world (or maybe just a few thousand die-hard ocean racing fans on the SA Forums) waits for the identity of the mysterious skipper behind the 7th and final Volvo Ocean Race team, just the other day,  former Mean Machine owner Peter De Ridder got behind the helm of one of the VOD65s and, if you believe the look on his face, had a hell of a time.
If you're new to this whole game, De Ridder made plenty of noise on the international one-design and box rule circuits, with highly successful and well-oiled Mean Machine Farr 40, Mumm 30, and TP52 campaigns, and a hot pink paint job that you couldn't miss.  When he announced his VOR campaign and bought a previous generation boat to train on, everyone cheered; it's not every day an amateur owner/driver steps up to the Volvo.
Alas, the global financial crisis emptied PDR's petty cash box out quite rapidly, and with no sponsors jumping, he pulled the plug on the Volvo challenge, staying out of the high end of the sport altogether for the past few years.
Yet here he is in Europe, sailing around on a Volvo 65.  Is this the beginning of something new, or is PDR just having a go with a few of his old pals?  Or is De Ridder getting in some practice for his new boat – a Volvo 65 named Mean Machine? We don't know more – do you?
July 28th, 2014 by admin
Fresh from their trouncing of Teams SCA and Campos during last weekend's little Round the Canaries race comes this shot of Brunel bowman Gerd-Jan Poortman standing on Brunel's forestay.  "Was he up there fixing or inspecting?", we asked.  "Nope – that pose was on his bucket list."
While Bouwe and the Brunel team continue to do a good job building fans, we're surprised that the Alvimedica and Abu Dhabi teams seemed to have dropped off the face of the Earth after their recent transatlantic 'non-race', without a single update since about the 19th.  Anyone know more?  Hit the VOR thread.  Sander Van Der Borch photo, and here's the best cover we've found of the Johnny Cash classic that gave this piece its title – or at least the best looking!
July 25th, 2014 by admin
That shock of fuzzy hair looking over things at the back of the unbranded (though the color gives away Spanish bank MAPFRE) Team Campos VOR is no other than France's top ocean sailor, Michel Desjoyeux at the start of the 'Round the Canaries' race – the first real tète-a-tète for any of the VOD65s yet.  While it's impossible to find anything on the official VOR site about this pre-race race, we can tell you that the legendary Mich Dej was apparently not enough to overcome Bouwe Bekking's Team Brunel, with the girls coming home 8 minutes behind Team Campos.  With the final team still unannounced (and some thinking that a desperate VOR may finally be giving Boat 7 to the chronically underfunded Giovanni Soldini/Maserati), it's still early days, though the addition of Desjoyeaux to an extremely skilled and experienced Spanish team makes them the odds-on favorite in our book.  He's that good.  While VOR'ers are playing it very close to the bone, we think there's a good chance we'll see Mich racing at least part of this Volvo.
With plenty of sexist assholes still thinking the girls don't have a shot, we think they acquitted themselves quite well, and continue to have high hopes for Team SCA winning a leg or three…here's their report, and the go-to spot to chat about the pre-race is right over here in Ocean Racing Anarchy.
Photo from Pierre Orphanidis/Vsail.Info with a load more here.
July 22nd, 2014 by admin
December 5th, 2013 by admin