Posts Tagged 'team alvimedica'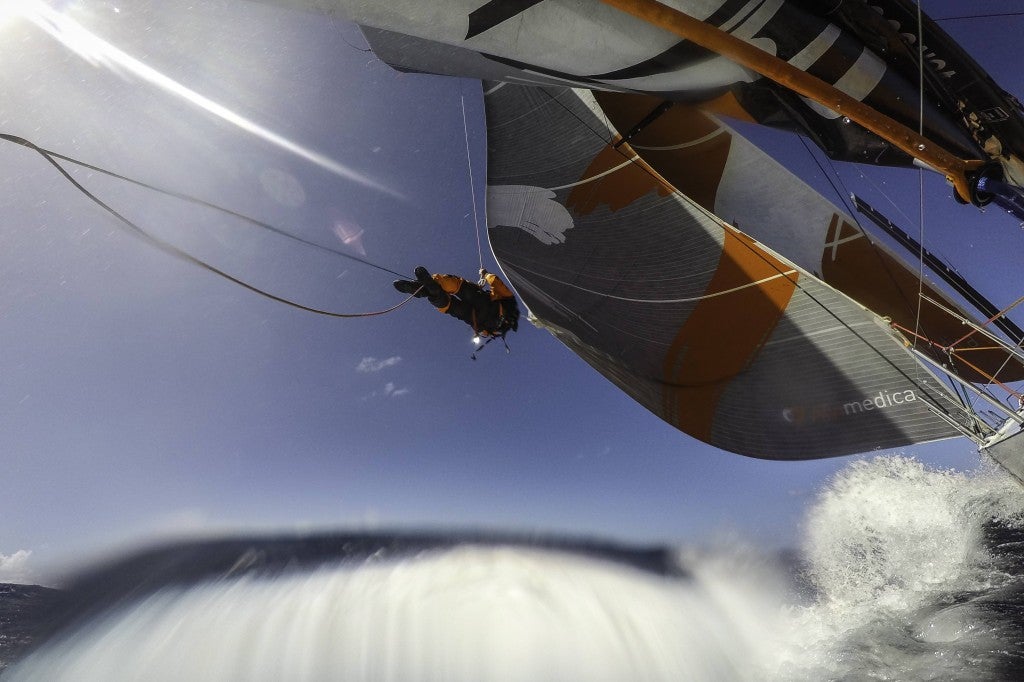 With thousands of photos coming through the Volvo Ocean Race satellite pipeline it's easy to skim past them, but this one sent in from Amory Ross a few days ago is, as of today, our favorite shot of the entire race.  It's likely Team Alvimedica bowman Nick Dana untrapping a halyard in big waves churned up by Cyclone Pam, and the tilt/shift effect on the crashing wave and the crispness of the headsail and logo create a truly unique and stunning contrast aboard the boat that's currently in the lead as they work their way into the Southern Ocean.  For one of the prettiest art shots of the race, check another Amory grab here.
Weather analysis, race chatter, and general yapping along with hundreds of your buddies in here.
March 20th, 2015 by admin
We were so motivated by the youth-centric feel at last week's Melges 32 Worlds (and stay tuned for the full movie from that one coming soon) that we arranged a little trans-oceanic conversation between M32 alums Charlie and Mark and the Worlds fleet on Team Alvimedica.  Petey Crawford and the Alvi editing crew put it together into a little story.  Maybe your school kids or sailing organization wants to chat to them too; can't hurt to ask them on Facebook...
December 16th, 2014 by admin
The bad news is above, courtesy of an Amory Ross/Team Alvimedica photo of the Alvi ship's log as the young guns stood by to assist the stricken Vestas Wind. Their entry, "Starboard side of vessel broken away" is, well, self-explanatory – but note that they are a fair bit away from the grounded boat, so don't go writing the blue boat off just yet.
The good news comes from VOR Race Control, who has confirmed that the crew has now been rescued and will stay on the Íle du Sud, where there is a house and some facilities. All the crew is safe and nobody is injured.  Team Vestas Wind is making plans with Volvo Ocean Race on how to transport the crew off the island as well as how to salvage the boat, and Team Alvimedica has now been released and will continue racing towards Abu Dhabi.
As for the news we don't have yet:  Now that Nico's crew is safe, he and VOR will need to assess what can be done with several million Euro worth of racing yacht, and right quick as she is being beaten by swell and a reef.  Can she be hauled off the reef and then plucked out of the water by a container ship like Puma was last time around, or is she in too dire a shape?   Can she be temporarily fixed somewhere nearby?  And more importantly, will this team be able to rejoin the race?
And then there is the toughest question of all, and the one that several million sailors around the world are now asking: How could one of the most experienced race crews anywhere, with a multiple round-the-world veteran navigating, run into a charted island at 18 knots – an island that's more or less on the rhumb line to the finish.  The mind boggles…
Big thanks to Team Alvimedica and the folks at VOR HQ for keeping the information more or less flowing.  The more that gets out there, the less we'll all guess.
November 29th, 2014 by admin
Anyone who spent last summer wincing at the sound of "Oracle Team USA" when referring to a 12-man team with 1.5 Americans aboard will be slightly happier to learn that the Team Alvimedica Volvo 65 will include at least 4 US-based sailors in its Newport-based boat.  Skippers Charlie Enright and Mark Towill officially named Newport badass Nick Dana to the crew, while Amory Ross will reprise his role as On-Board Reporter, though this time with far more freedom than he had during the PUMA days.  That's four Americans out of 9 total spots (including the media guy), and we understand that Enright is working hard to reach agreement with another US sailor, who we hear is San Fran skiff legend Matt Noble, though that remains unconfirmed.
We can't hide our disappointment that the kids behind who created the All-American Offshore Team decided they couldn't perform in the VOR with a young, fully US crew, especially given the non-Americans they named for their official roster: Inshore one-design racer Alberto Bolzan (ITA), 50 year-old navigator Will Oxley (AUS), and Kiwi Volvo Ocean Race backmarkers Ryan Houston (Delta Lloyd, Sanya) and Dave Swete (Sanya).  Could they really find no US offshore and inshore one-design performers with back-of-pack VOR experience like Housty and Swetey?
We admit that we know very little about the constraints the Alvi team is operating under, and we're happy to see that they are clearly serious about putting together a team with a chance.  But we're still sad to see the final nail in the coffin of the Morning Light/King's Point/All-American Offshore Team; a great bunch of kids that we've been following since we met the Disneys and the kids at the Morning Light premier about a decade ago.
Head over to the Team Alvi Facebook Page here for the full story, and re-live Mark and Charlie's first VOR interview with SA from all the way back in February.
July 7th, 2014 by admin
If Sam Greenfield's latest Volvo Ocean Race video doesn't get you stoked for the race, nothing will.  Along with Amory Ross finding really finding his writing voice during last week's Team Alvimedica Transat, Americans should be proud of having two of the best young storytellers in the sport playing key roles in the biggest ocean racing event we've got.  They're also helping US fans get stoked about their team on the world stage, and we're digging it.
Alvimedica's updates are most easily followed via Twitter, and browse the VOR's channel for some of their latest work here.
June 10th, 2014 by admin
The rapidly changing face of sponsorship in a post-GFC world requires new thinking and new alliances, but it also is brings new problems to the table.
Example 1:  All Americans are stoked to see the All-American Offshore Team boys running the show for the first Volvo Ocean Race challenge with a Turkish sail number.  Turkish sponsor Alvimedica is a young, cutting-edge medical tech company from Istanbul, and the entry hopes to build and grow interest for offshore racing in the near East nation.  But what happens to that effort if both Youtube and Facebook can't even be accessed from Turkey, as an Associated Press story today reported might be coming soon?  Check out what the Turkish Prime Minister said on censoring the internet here.
Example 2:  The whole world has eyes on the Black Sea as Russia continues what seems like an empire-building exercise in Crimea.  With sanctions on Russian individuals already imposed by the US and EU, suddenly those Greenpeace protests of the Gazprom-sponsored Esimit Europa Maxi seem almost quaint.   Why's that?  Because the massive Russian-owned energy utility is already sponsoring an Extreme 40 team, and solid inside rumors have them looking at entering the next America's Cup with a big Gazprom logo on the wing.  ABC Madrid reporter Pedro Sardina says that Gazprom will be on the world stage even before that (though we haven't been able to confirm); Sardina writes that ETNZ boss Grant Dalton has already signed a deal with Gazprom for sponsorship of the ETNZ/Pedro Campos round-the-world bid.
What happens when a Russian owned and/or sponsored team comes to a Europe that may be boycotting Russia?  And what happens to events like the Extreme Sailing Series' Russian stage?
March 7th, 2014 by admin
Thanks in part to your good questions, Charlie Enright and Mark Towill came clean to Mr. Clean over the weekend about whether their currently 100% American team will carry a US flag, what commitment these 'under 30s' have to the rest of their generation, how they secured sponsorship,  whether they have their team picked yet, and how they intend to manage what will inevitably be an intense few months as they ramp up to a November race that is fast approaching. There's plenty more too in this half-hour conversation, and our apologies for the shitty resolution; apparently they have not yet picked up a mobile internet sponsor and we're all slave to hotel bitrates…listen or download the audio-only feed here if you can't stand blurry vids.
Thanks again to Charlie and Mark for the rapid response; we're stoked to see how this one goes.  Watch through to the end to find out where to send your CV if you want a shot.
February 4th, 2014 by admin