Posts Tagged 'sydney'
Here's a good look at historic 18-footer Yendys on her way to a 2014 season championship win in the Sydney Flying Squadron with far too little mainsail on…Look at that boom!  Congrats to our good friend, sailing cheerleader, camera cat owner and all-around lover of sailing Bob Killick on the victory, and here's a report from the Squaddie.  Bob Ross photo and full results here.
April 16th, 2014 by admin
Sydneysider Russell Debney stumbled across this lyrical explanation of the enduring, historical rivalry between the man at the bow and the bloke holding the tiller, and we knew we had to share it with you.  Meanwwhile, the massively dominant JJ winner Gotta Love It 7 could only manage a 7th in last weekend's race, won by Rag & Famish with Cocko (Thurlow Fisher) a minute behind.  Full race videos are here.
"Let go that Jib" e' yells. Now I should know
The way an eighteen footer ought to go.
"W'y don't you ease 'er 'ead in them 'ard squals?
W'y don't you this? W'y don't you that?" 'e bawls.
Now I been in the eighteens sind a lad
I follerd in the footsteps of me Dad,
Who sailed with Ellis, Robbo and Chris Webb
I know the 'arbour, both in flood and ebb.
I work the eighteen right in the breeze
By knowin' w'en to 'old and w'en to ease,
While that mug lair, our skipper, squats down aft,
Just frozen still at every fluky draught.
"You'll 'ave us in the drink!" he bellyaches
But 'e's just coverin' 'is own mistakes.
A catspaw snaking down of Bradley's 'Ead,
Strikes terror in 'is 'eart, til it's like lead.
To sail our boat you've got to know just 'ow
She likes 'er 'eadsail pinnin' down the bow.
If I go payin' out the bloody sheet,
She gripes – and shivers in the wind a treat.
I've got to nail 'e down, or she won't sail,
But all I gets from Muggins is a wail:
"You'd think you got a grey nurse on that line.
You'll swim the mob and think you're doin' fine!"
But whats the use of tryin' to explain?
E would'nt understand, though its quite plain
That is 'e simply steers, and 'olds his bib,
We're in the money with me on this jib."
March 18th, 2014 by admin
Looks like some breeze finally hitting the Harbour for the fourth race of what's been a light air affair until now in the JJ Giltinan/18 Foot Skiff Worlds.  Today most of the fleet has their small rig up; will it pay or will it wallow?  Watch right here and a big shoutout to the great job the whole live streaming team is doing; it's our privilege to be their Official Streaming Partner and we're stoked there are another 4 days of great action ahead!
The Cocksweat aboard Thurlow Fisher Lawyers in the lead after three.  Make sure you register to view the video archive and play Pick the Podium.
March 4th, 2014 by admin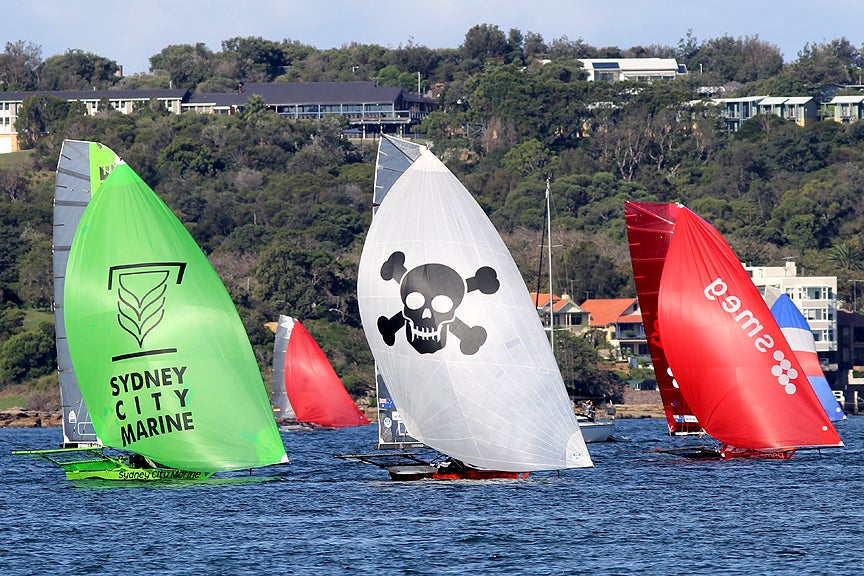 The spectacular racing of the 34th America's Cup was, at times, frustrating for we sailors, with an overhyped know-nothing commentator and an over-aged AC winner pointing out irrelevant facts and useless trivia in vain hopes of getting the 'mainstream' to buy into the live feed.  We got to see some of the most amazing sail racing ever captured on screen, but it was often better with the sound off.
This week's 18 Footer Worlds (also known as the JJ Giltinan Championship presented by Sydney City Marine) might feature some of the same faces; AC34 Regatta Director and AC35 Challenger of Record CEO Iain Murray is helping out with the commentary at times, while numerous AC sailors are spread throughout the fleet.
But this broadcast ain't for the landlubbers, it's for sailors only, and the boys behind the microphone make no bones about it.  So if you're a racer and you want to know who's on the inside of what shift, and who's got a slightly better kite drop than the other guy and the inside position at the Zone, this live coverage is for you.
Check out Day 3 of the JJ above, with all the news and current results from yesterday's racing here.  Scroll down the page for yesterday's video, and the highlight reels are here.
March 3rd, 2014 by admin
Saturday's abandoned race day for the JJ Giltinan/18 Foot Skiff Worlds got another chance on Monday, and with Gotta Love It 7 manager and Australian America's Cup CEO Iain Murray on the Camera Cat with Killo and Marko, a great race with tons of lead changes and drama even if the good breeze never showed up…replay above and full story and news over here and plenty more action throughout the week, live here on the SA front page.
March 2nd, 2014 by admin
An up and down 2 hours of racing in everything from 2 knots to 15 knots for the 18 Footers.  Watch it all above or fast forward to this page for the day's results.  Tonight's racing starts 2230 EST/1930 PST once again, and once again, it's all live right here on SA.  Get over to Pick The Podium to bet on the winners.
March 1st, 2014 by admin

UPDATE:
For the first time in the 75-year history of the JJ Giltinan, the first day of racing was abandoned after two races were started and sailed in a shifty and dying breeze – watch above for the call.  Monday's lay day will likely become the replacement for the abandoned race day, and we'll have it all live starting at 1430 Sydney time;10:30 PM US EST.  The coverage from yesterday is still damned good, especially for a team that's doing its first fully live stream of 18 footer racing; go here to check out the videos from the day. 
Bob Killick hits us with the race report and the first Pick The Podium winner from a funky practice race on Sydney Harbour.  Register and get your entries in NOW: Just an hour and change left before the deadline!  Racing starts at 11:30 PM on the US East Coast; perfect for you drunken knuckleheads just coming in from the bar.  Or plug the computer into your club's HDMI port and away you go!  Can't watch it live?  Eyes on Facebook and Twitter for the latest updates.
What can I say? yesterday's Invitation Race was a practice race, and at this stage the Livestream gadget is 1 and and we are at 0.  Something about the brain to web interface…in other words, the 'software' that is us.  See, there you go:  The geeks are winning again!
Apparently the live tracking didn't live up either, so 2 for the Geeks and still nought for the Camera Cat boys and girls.  To make matters worse, whilst heading into the Double Bay wharf the Camera Cat and Brett Van Munster's 18 footer Kenwood Rabbitohs came together with a crunch.  Brett was not happy and we certainly should've had eyes on him with so many on the cat, but it could have been a lot worse as it sounded like we had taken his bow off.  Great evidence that Van Munster-built boats are tough [Bret builds the 18 footers and high performance carbon racing yachts at his shop North of Sydney -Ed].
Yesterday's race video will be uploaded asap today, and is a must watch for you more serious players, because of the next two day's weather forecasts.  We noted especially the ability of C Tech NZ, Yamaha NZ, and Mojo Wines' ability to push it to the big rigs – something that shouldn't happen.  Also, the performances of Pica UK and CST Composites USA who look to have the measure of the Sydney boats.  So look at their work when the video goes live and factor that in with the forecasts for today and Sunday before you Pick Your Podium!
So Gotta Love It 7 was a no brainer for most, but Pica UK was not on anyone's radar, and as a result we had a stand alone winner yesterday. Congratulations go to Jimmy Flemming, who was the only entry with two boats in the correct finishing order: 7 in first, and Fisher & Paykel in third, nice job Jimmy! He wins the  Java sunnies from Barz Optics, takes the Bragging Rights for the race AND is our first winner to go into the draw on Sunday 9th for a crack at the best-ever set of major prizes for this JJ competition.  Prize donors listed over here along with the form guide for you P-T-P aficionados, and a big THANKS to them.
Entries close off for today's JJ Race 1 at 1200hrs local Sydney time so get cracking and have a shot…..here's an obvious tip: Just enter Gotta Luv it 7 as your 1st place pick, and at least you will get one right.  Good luck!
-BK
February 28th, 2014 by admin
We promised it to you…and not unexpectedly, the practice race for the 18 Foot Worlds found all the bugs in the live streaming system and shut the live stream down.  Our friends at 18 Footers TV promise us the first points-scoring race will go smoothly and we'll have it right here.
In the meantime, the three "S" boys – Seve, Sammy, and Scotty – crushed it, with the new Gotta Love It Seven looking as strong as pre-race indicators and the form guide said, winning over UK challengers PICA by around a minute and a half.   The full report on the Invitation Race is here, and thanks to Michael Chittenden for the speed shot.  You can get updates from yesterday's action via Facebook, enter the Pick-the-Podium competition here, and check this story for all the links.  If you're having issues with any of it, get over to Twitter and send a message to @18Skiff and they'll get it answered.  Tonight's race coverage will start around 11:30 PM on the US East Coast; that's 3:30 in the afternoon on Saturday in Oz.  Huh?
February 27th, 2014 by admin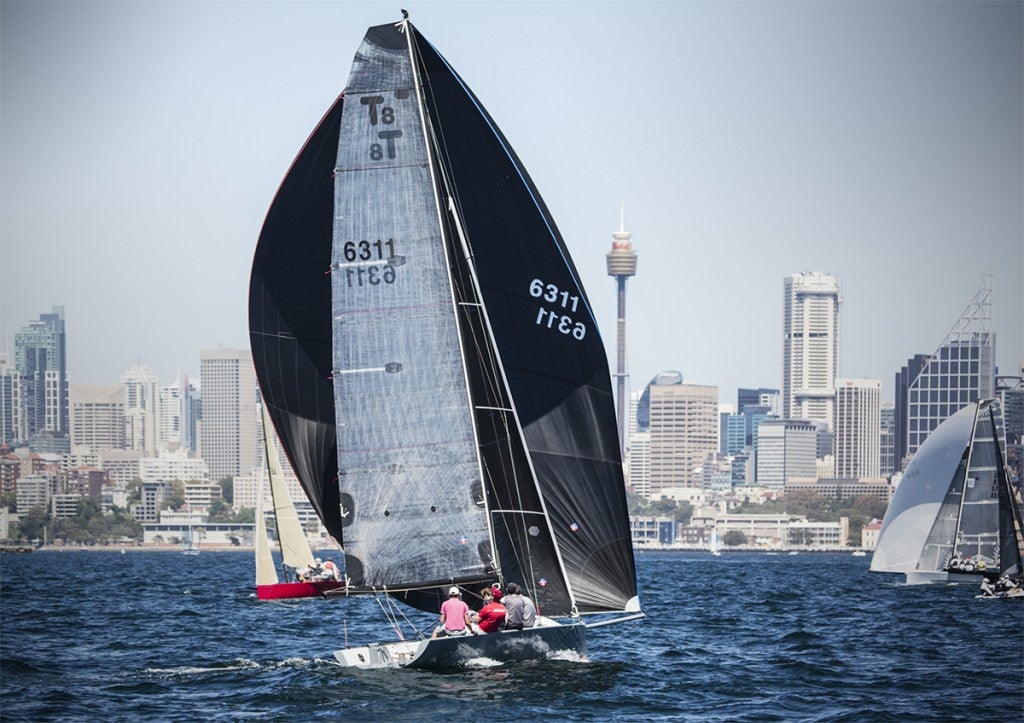 Beth Morley at Sport Sailing Photography got this awesome shot of the ASBA Sportsboat Nationals sailed right out of the same Cruising Yacht Club that runs the Hobart race.  The Thompson 8 Zippier seen here finished 2nd with the Shaw 650 The Stig's Audi Driving Cousin crushing the fleet with 5 bullets in 5 races.
Full results (unfortunately without the boat types) here, and some really excellent work in Morley's event photo gallery here.  Not much info out there, but some is here.
February 11th, 2014 by admin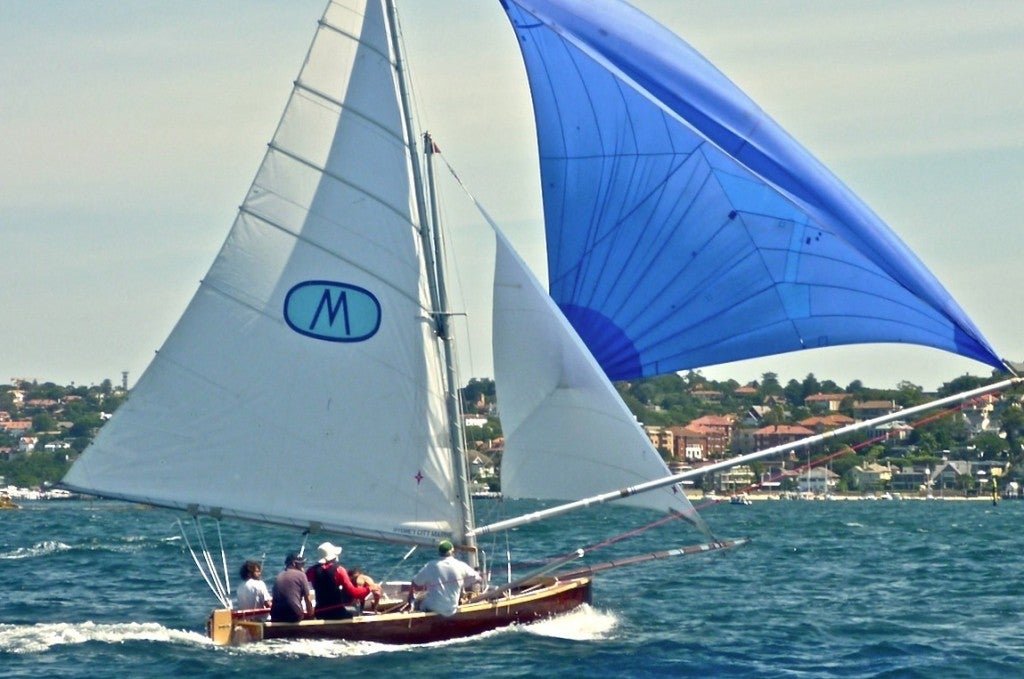 We reported on yet another 18-foot skiff replica popping her cherry on Sydney Harbour the other week; now they are sail testing, and check out this shot from Aussie National Maritime Museum's David Payne of the new Myra Too. 
Frank Quealey from 18 Footers TV wrote up a chat comparing the 18s with the AC72s with someone who should know: Oracle Team USA bowman/Gotta Love It7 forward hand Sam Newton.  Sam's back on the red 7 boat in search of his fifth JJ Giltinan title in early March, he took a few minutes to discuss what he sees as the differences in the two boats.
"I had the pleasure of doing a lot of sailing and racing on the AC45's and AC72's over the past 2 years and between them I also experienced a lot of similarities to the 18ft Skiff.
When Oracle set the Protocol for the 34th Cup, their concept had a lot of similarities to what the 18ft skiffs have been doing for decades.  It was all about creating a spectacle for sponsors and fans, something the skiffs have done well for a long time. The racing is short and intense and the venue is close to vantage points to ensure it encourages a big following.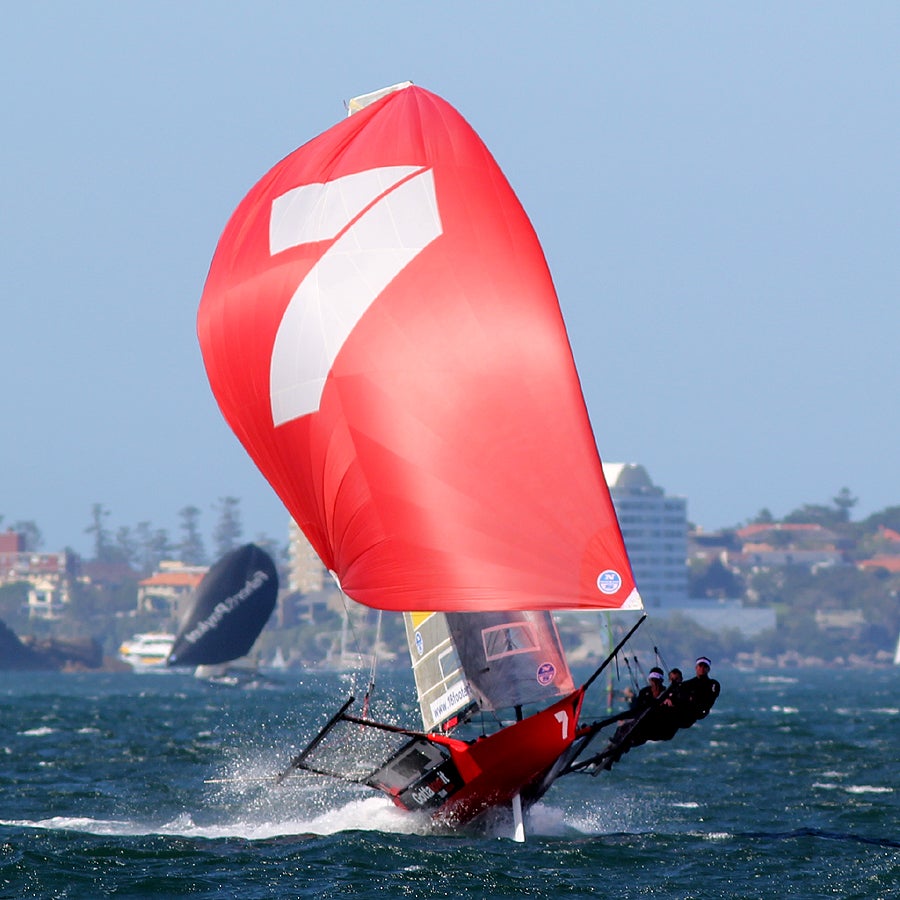 On board the boats, the main difference between the Skiff and the cat is obvious.  Two hulls and a wing sail compared to the single hull and a conventional mainsail.  Another is the much larger team of eleven sailors on the AC72, which brings in a whole new dynamic.  All the boats are fast, they are all wet and they all get the adrenaline going when the breeze is up, which is what I love.  They all feel like your sailing on the edge in the higher winds, which keeps you on your feet and thinking ahead as you become fully aware of the consequences if it goes wrong.
One thing still remains; the 18ft skiff is by far the hardest to bear away at the top mark in 20+ knots.  The 45's give good action to the sailors and spectators at the top mark as we saw through the AC World Series, and the 72ft Cats are a lot easier by using the foils to create lift in the bow which we don't have the option of in the skiff.
It's been great to be back out sailing on Sydney Harbour.  From my travels, it's still the best harbour in the world to sail and play and I'm enjoying being back with my long time sailing partner Seve (Jarvin).  Now it's all about getting the new "7" skiff up to speed to challenge in the upcoming JJ Giltinan Championship, which is looking like being the most competitive line up in recent years."
The Gotta Love It 7 team of Seve, Sam and Scott Babbage will go into the 2014 JJ Giltinan Championship as favourites in March, but face a challenge of more than 30 skiffs from six countries in the regatta, which will celebrate 75 years of the world's greatest 18 Footer championship.  Stay in touch (and check out the new Livestream action) at the 18footers TV site.
January 15th, 2014 by admin
The Sydney 18 footer freaks continue to astound and amaze; and they've knocked together a replica of the iconic and dominating 18 footer Myra Too from the 50s,  splashed a couple of days ago for her maiden sail above.  Myra was built with the help of of the Aussie National Maritime Museum – take a look at some of their excellent research and photos here.
Myra Too will join the Flying Squadron's Historic 18 fleet, which (quite incredibly) sails constantly though the summer out of the squaddie.  She'll bring their number to an amazing 11, including a replica of Britannia, the first 'modern' 18 footer, whose original lives at the museum and is worth a visit from any sailor worth their salt.  We'll have shitloads more news on the "eyedeens" over the next few weeks leading up to the fully live video coverage of the modern 18′ers World Champs, where 30 of the bastards will go for J.J. Giltinan's gold.
For a really cool look at the fleet in the 60s, check out Sports Illustrated's old files here for "A Bloody Way To Go Sailing."  A great read, and you can actually see the original, as-printed story in the e-mag here (click forward to page 58).
January 7th, 2014 by admin
Ironically it wasn't Perpetual Loyal's righting moment or hull shape that launched her into the lead of the Sydney-Hobart; it was Stan Honey and his incredible ability to avoid the kind of hole that swallowed Wild Oats XI for a couple of hours about 100 NM south of Sydney.  Giacomo (ex-Groupama 70) is hanging OK with the big-assed Loyal, while WOXI and Black Jack (ex Telefonica 70) are only now making their way offshore in the moderate downwind conditions, and they'll cross Loyal's wake about 12 NM astern.  It's a bitter pill to swallow after so much work on the aging R/P 100 to keep her competitive, but there's still a long way to go.  Just two boats have pulled out thus far; the TP52 Dodo blew her mainsail up (listen to navigator David Chapman's explanation here), while the Audi Sunshine Coast - one of the most immaculately prepared in the race – blew up a headsail sheave, letting some lovely 6mm Dux zipper the rig open for a meter and a half.
We'd direct you to the starting video as broadcast by Yahoo!7 but apparently it doesn't actually exist, and if it does, it's some kind of state secret.  Even the 3-minute clip on the event website is a secret – unsinkable and unembeddable…but hey – at least the tracker works again!  Fortunately, you've got the full start sequence above from the lens of Mr. Clean's little Canon, and it ain't as bad as you might think.  For the good stuff – a full gallery of 100+ photos from the CYCA docks and the starting line, get on over here to the McConaghy Boats Facebook Page and take a gander.  Clean and the team are headed down to Hobart in the morning with the goal of filming, still shooting, and interviewing just about everyone that comes into the finish line – a first for the race – so keep an eye on that page, and hit the thread for a more stream-of-consciousness style.  And if you want to be eligible to win a Gill laptop bag or one of about a dozen SA hats, be sure to like that McConaghy page – only Facebook fans of both Sailing Anarchy and McConaghy can win.
December 26th, 2013 by admin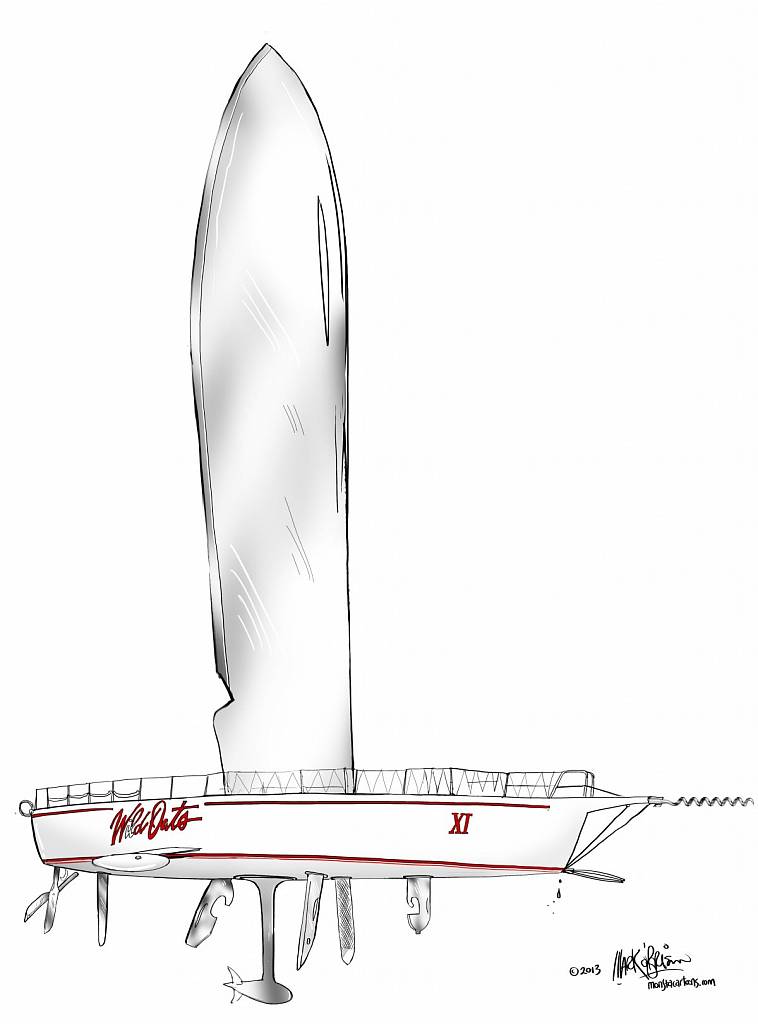 Mark O' Brien put his Monstacartoon pen to the Wild Oats XI appendage package, and as usual, it's awesome.  Wanna buy a print of any of his work, or a cartoon of your own boat?  Hit him up here!  Credit to the great composer Kurt Weill (via Louis Armstrong here).  And get in the Sydney Hobart thread to post your own predictions for the race, and win brand new SA swag, and don't forget our McConaghy Boats-sponsored coverage of the 69th Sydney Hobart Race, coming at you live from Oz in just a few days.  Like McC's Facebook Page now, or you might well miss something….
December 19th, 2013 by admin
Camper VOR skipper and lifelong skiffie Chris "Nicho" Nicholson may not have sailed an 18 footer in more than a decade, but the Lake Macquarie native didn't take long to slip into winning ways as this summer's 18 Footer season got underway.  And now, with another solid performance on Sunday, Nicho and his Mojo Wine team have taken the 3 Buoys Challenge title for the 8-race series that ended this weekend.  Does he have what it takes to win a JJ?  Fuck if we know, but with one of the deepest 'top ends' in the 18 fleet in years, it won't be easy for anyone.
Just 10 of the 18 boats finished on Sunday; watch some oh-so-sweet carnage from a classic Sydney Nor'easter here, and thanks to the 18 Footers for the news.
December 9th, 2013 by admin
Occasionally we'll relax Sailing Anarchy's "No Press Release" policy, but only if (a) something awesome is involved, (b) it's for a good cause, or (c) hot chicks are involved.  The following meets two out of three criteria, and more importantly, shows some of the constantly good work that CYCA does with the month-long circus around Australia's biggest sailing event.  The only qualifier:  You need to get to Sydney…by next weekend.  Check it out, and of course use the community for more info about everything Sydney-Hobart.
The Cruising Yacht Club of Australia has once again launched its eBay auction that provides an exclusive opportunity to bid for places onboard one of the Rolex Sydney Hobart Yacht Race favourites, when they compete in the CYCA's SOLAS Big Boat Challenge – the spectacular maxi yacht race around Sydney Harbour on Tuesday 10 December.
Seven Rolex Sydney Hobart entrants have offered places onboard for the auction and they include: Wild Oats XI, Perpetual LOYAL, Wild Thing, Brindabella, Southern Excellence II and Giacomo, all providing two places available for auction, with Black Jack making one guest spot available. Other yachts to also offer places are Terra Firma and Ginger.
In a much anticipated event, this will be the first time Bob Oatley's super maxi Wild Oats XI will line up against Anthony Bell's new Perpetual LOYAL, the former Rambler, and the rivalry between the two will be fierce. However, the two will also have to deal with Grant Wharington's Wild Thing.
This will be the seventh year that the fleet will race to raise awareness and money for the CYCA's Safety of Life at Sea (SOLAS) Trusts, which have donated just on $900,000 to search and rescue organisations Australia-wide and provide assistance (financial and other) to immediate families of those lost at sea during Yachting Australia sanctioned races.
Bid today for your chance to sail on board one of these yachts!
Wild Oats XI
Wild Oats XI secured her sixth line honours victory under the guidance of Mark Richards in last year's Rolex Sydney Hobart, broke her own race record, which now stands at 1 day, 18 hours, 23 minutes 12 seconds and won the race overall. It was the second time the super maxi had achieved this historic treble and the only boat to do so twice in the race's history. As it does each year, Bob Oatley's super maxi has undergone further modifications that include having a radical, retractable, hydrofoil-type wing fitted in a bid to make her even faster when sailing downwind. Two places are on offer on one of Australia's most recognized super maxis.
Make a bid for the two places on Wild Oats XI
Perpetual LOYAL
Anthony Bell returns to the blue water classic with the former Rambler 100. Since acquiring the boat earlier this year, Bell has embarked on a mammoth project to re-build the yacht since her keel snapped off, causing her capsize in the 2011 Rolex Fastnet Race, after taking line honours in numerous races. She was originally and aptly christened Speedboat – for good reason – and took line honours in her maiden outing, the Newport Bermuda Race.
Reputedly the fastest racing 100 footer in the world, buckle up for a white knuckle ride. The SOLAS Big Boat Challenge will be the first time Perpetual LOYAL and Wild Oats XI will sail against each other before the Rolex Sydney Hobart. Two places are on offer on this slick super maxi.
Make a bid for the two places on Perpetual LOYAL
Wild Thing
Two places on Grant Wharington's Wild Thing were also posted on eBay today. The Rolex Sydney Hobart 2003 line honours winner has been a process of evolution over the last ten years. Modifications were made to the yacht last year, which included extending her to 100ft and making improvements to her original hull shape. Earlier this year, Wharington secured a line honours win in the Brisbane to Gladstone Yacht Race which she followed up by taking line honours in the Sydney Gold Coast Yacht Race in July
Make a bid for the two places on Wild Thing
Brindabella
Australia's most famous maxi Brindabella, a former line honours winner of the Rolex Sydney Hobart and holder of the record for a conventionally ballasted boat (1d, 20h, 46m, 33s set in 1999). Designed by Scott Jutson, Brindabella still turns heads today with her sleek lines and elegant sail plan and still holds many Australian east coast race records including the Sydney Mooloolaba Yacht Race, Sydney Noumea Race, and the Sydney Wollongong Race.
Make a bid for the two places on Brindabella – the people's yacht
Southern Excellence II
Andrew Wenham purchased the former Ichi Ban in March this year and won line honours in the protracted Gosford Lord Howe Island race in a time of 63hrs, 45mins 22secs; one of the longest in the race's recent history after being marred by light and fluky winds. In similar conditions in this year's Sydney Gold Coast Yacht Race, Southern Excellence II finished fifth on line and fifth in IRC Division 0 and then took line honours in the Blue Water Pointscore's Bird Island Race in October. Wenham has upgraded a number of systems on the boat to improve her IRC rating and to suit his requirements.
Make a bid for the two places on Southern Excellence II
Giacomo
New Zealander Jim Delegat, Managing Director of Delegat Wine Estate (distributor of Oyster Bay wines), purchased the 2011-2012 Volvo Ocean Race winner, Groupama earlier this year. Renamed Giacomo, she has a canting keel, dagger boards and the latest in rigging. Was built for fresh off the wind conditions and will be impossible to stop in the right conditions in the Rolex Sydney Hobart.
Make a bid for the two places on Giacomo
Black Jack
One guest spot is available on Black Jack, the former 2011-2012 Volvo Ocean Race entrant Telefonica, which Spaniard Iker Martinez won the first three legs of the race with, but ultimately finished the VOR fourth overall. Peter Harburg shipped his new Black Jack to Australia earlier this year and ordered modifications to bring the yacht up to Australian standards. She made her Australian ocean racing debut in the Sydney Gold Coast Yacht Race in July and finished third on line and in IRC Division 0 following a tight tussle with the top two, Wild Thing and Lahana.
Make a bid for one guest spot on Black Jack
Terra Firma
The name Terra Firma lives on again – Nicholas Bartels stepped up from his successful Sydney 47 to the Cookson 50 formerly known as Shogun in 2010. In the 2011 Sydney Gold Coast Yacht Race, Terra Firma finished ninth overall, and third in IRC Division 1 and ORCi Division 1. With some talented sailors onboard and a strong crew, Terra Firma will be out to do well in this year's SOLAS Big Boat Challenge
Make a bid for two guest spots on Terra Firma
Ginger
This 60 foot Swan is a well-tuned ocean racer owned by Leslie Green. In 2011 Ginger took the line and IRC double win in a foggy Ocean Pointscore race to Port Hacking and is a regular CYCA competitor. She also won the Rolex Trophy Series Passage race in 2008.
Make a bid for the two places on Ginger
Bidding for all ten items will close on 6th December 2013. Terms and conditions apply, see the individual URL's for details.
The highly charged SOLAS Big Boat Challenge, is a big attraction to spectators both on and off the water, and starts at 12.30pm on Tuesday December 10. It takes the yachts on a tight 14 nautical mile course starting off Steele Point at Vaucluse, down the Harbour to Manly for two and a half laps. The yachts will pass many of Sydney's famous landmarks along the way, including Fort Denison, Mrs Macquarie's Chair and the Sydney Opera House, which provides the picturesque finish line.
December 5th, 2013 by admin
Yes, we know we're insufferably sophomoric.  We like topless women, crashing boats, fart jokes and dick jokes and yes, even gay jokes.  And there's always something funny when sailmakers and graphic designers get it oh, so wrong – like they did here on a poorly planned jib window aboard the boat sponsored by North Sydney's oldest pub - the Rag & Famish Hotel.
Rag's been a part of the 18 fleet for well over a decade now, and their 'wardrobe malfunction' was the only thing that went wrong on Christening Day for a brand new boat; Jack Macartney, Peter Harris and Mark Kennedy put the finishing touch to the day of celebration with a great win in Race 7 of the 3-Buoys Challenge on Sydney Harbour on Sunday.
Check out 18footers.TV for all the video coverage, and a shout out to Deckhardware for the Facebook find.  And for everything 'Eye-deen", including historic videos and near-constant shitfights about things you'll never understand, check the thread.
December 5th, 2013 by admin
Seve Jarvin's Gotta Love It 7 stormed off to a resounding win in Race 5 of the Three Buoys Challenge series, but Race Committee didn't quite see that way!  Seve missed his OCS call and sailed the entire course without getting a gun.  This let Michael 'Cocko' Coxon and Thurlow Fisher Lawyers jump in for the win.  Season standings are here, full video coverage of the 18 Footers is here, and thanks to Frank Quealey for the heads up and for the photos courtesy of www.18footers.com.au.
November 18th, 2013 by admin
Matt Allen's new Carkeek 60 Ichi Ban has barely more than a month before the Hobart Race; here's hoping the team can get this monster ready in time to get some solid practice in.  Looking quite a bit like her smaller 40-foot stablemate, this thing might even be faster than the canting VO70 she replaces.
For everything Sydney-Hobart, check the thread, and thanks to SA'er 'chouff' for finding the photo.  And if you don't like beautiful French women posing as teenage lesbians, don't go here to find out about the controversial, Cannes-winning film that gave us the title for this piece.
November 13th, 2013 by admin
Post Of The Week
The annual Sydney-Hobart 'Let Multihulls Race' thread is raging nicely in the forums, and the rambling discussion turned to the reasons behind the Hobart fleet's shrinking trend, both in fleet size and worldwide stature.  Compared to the record fleets of recent Fastnets, Caribbean 600s, and Middle Sea races the Hobart is stagnant, even with one of the best Maxi/Canter/Mini Maxi fleets in recent memory on the line.  
Longtime SA'er and master debater 'Chris 249′ got deep into the reasons for the Hobart's decline, and his opinion is our Post Of The Week.  Continue the debate in the thread.
The Hobart is very much a big-boat fest these days, whereas when it was more popular the fleet was mainly composed of much smaller boats. That means that very few people can now afford to run a "competitive" boat, as in one that will finish close enough to the bulk of the fleet and among a group of similar boats.
The change can be seen by looking at the Hobart itself over time, and in comparison with the Fastnet both now and then. The fleets used to look quite similar in terms of the proportion of big boats to small boats; now the Fastnet has a vastly stronger small-boat and medium-size boat fleet.
Looking at the last races (and throwing Hobart PHS boats and Fastnet 2H IRC boats in their respective divisions) we see that there is a striking similarity in the number of boats of TP52 size and speed and more in each race. The Fastnet had 24 starters in the Canting and Zero classes (One 100′ supermaxi, TP52s, fixed keel mini maxis, Volvo 60, Swan 60, Farr 52 OD etc) whereas the corresponding classes in the Hobart attracted 23 boats, including three 100′ canters and a 100′ fixed keeler.
But in the next size down (39-46′ IRC racers like Rogers and Kers and big cruisers) the Fastnet had 52 boats, the Hobart just 17. The class after that (Beneteau 45s and 40s, etc) had 89 boats in the Fastnet and 19 in the Hobart.
In the smallest boats the disparity is even more marked; once you get under IRC 1.05-ish, (10m IRC racers, J/109s, Beneteau 36.7, Sydney 36, J/35, old IOR boats of 47′ or less) there's a staggering 184 boats in the Fastnet compared to 17 in the Hobart!
If you add in the Class 40s and Figaro IIs (one designs I left out of the above calcs as there is no comparable scene in Oz) the proportion of 'small' boats in the Fastnet increases even more.
It's also interesting to look at long-term trends. I found the '79 Fastnet and '77 Hobart fleets to compare their composition with the current fleets. At the time, the Hobart fleet (132 boats) was much healthier (compared to today and to populations) compared to the record Fastnet fleet (303 boats).
The Hobart fleet's composition was also strikingly similar to that of the Fastnet, in terms of boat size and design apart from the fact that Class I (50 to 43 foot racing boats and big old cruisers) was miles bigger in the Fastnet, partly because of the 50-ish boats that did it because of the Admiral's Cup*. For example if we look at (roughly) IOR 34-30 footers we see 116 boats in the Fastnet and 53 in the Hobart; pretty close to the ratio between overall fleet sizes.
Over time, though, the races have diverged to the Hobart's cost. In the Fastnet it looks as if the number of "raceboats" over 38′ has actually declined as the fleet has grown and people move to cruiser/racers. The number of boats of 36′-ish and less has stayed static. The growth has been in the 40 foot cruiser/racers like Benny 40s….the sort of boat so many slag off but which keep so much of the sport going.
In contrast the Hobart has a larger number of big race machines, but a vastly smaller number of small boats and a much smaller overall fleet. If the Hobart had maintained the same sort of fleet composition as it used to have, and the same sort of composition the Fastnet still has, we'd see dozens of boats like J/109s, Archie A 31s etc bouncing down to Hobart.
And why have the small boats stopped? Not sure. The Cat 1+ safety requirements have hurt. The accent is also all about the big boats, and there's no real stepping stone from small boats and small races like there used to be. I think in the last days of the "small boats to Hobart" scene there was a strong (and often expressed) feeling that anything under 36 feet just was not welcome. As another example the CYCA, which used to have a JOG division (= MORC, for boats under 31′) AND a separate half ton class, now bans any boat under 30′ from even doing day races offshore. We have nothing like the Euro/UK quarter ton and half ton scenes or UK JOG, or the smallish OODs of the USA; there's no replacement for the JOG and half/quarter scenes of yore. No owner-measured IRC certs are allowed so almost no small boat owners spend the extra bucks for full measurement and there's no PHRF, so for the small-boat owner there's only golf handicap and therefore no reason to try hard or sail well.
I sold an investment property a few months back and thought of chucking the cash into a boat for the Hobart etc, but decided there was no point when the small-boat numbers have dwindled so much that there's no one to play with. It's a vicious circle, especially when no one seems to give a fuck about stopping the spiral. So I race dinghies and boards and will do some local racing; ironically now I've moved away from Sydney's big boat oriented scene I can race my 4kt "SB" again. CBF crewing on big boats as I don't want to specialise in doing just one thing.
What the Hobart and Fastnet analysis does show, IMHO, is that increasing the proportion of big fast boats, and the emphasis on them, really does nothing to increase the race's status, viability, fleet size or competitiveness. The idea that putting in big multis will increase interest and therefore numbers falls down, IMHO, when we see that putting in big canters has done nothing to increase fleet sizes and may have reduced them. People are not getting into the race because the fast boats are getting faster….. in fact they are no longer turning up like they used to. It's no fun getting to Hobart to find that the party is over.
As is so often the case, it's the much-abused practical boats like Beneteaus that are keeping the sport strong and healthy, and the scene that concentrates on spectacular boats is the one that is sick.
And the Fastnet shows that people WILL still sail offshore in fairly small and cheap boats if they are encouraged, rather than bagged out for sailing 5 knot shitboxes. But there seems to be a big cultural difference between the RORC and CYCA these days.
All just my 2¢ worth, it'd be interesting to hear from Fastnet and Bermuda racers and guys who still do the Hobart.
* 57 boats did the AC but at least 9 or 10 of them were chartered UK boats or boats from France, Holland, Ireland etc which would have done the Fastnet even if there had been no AC.
November 1st, 2013 by admin
Sean Langman's Team Australia (ex-Banque Populaire IV) just set the reference time for the Sydney to Auckland passage at 2:19:02:45 – that's an average of just under 19 knots for the rough and unpredictable stretch of water. TA dried themselves off in Auckland, grabbed 'pick-up crew' Moose Sanderson and Dean Barker, then promptly sailed the wrong course to lose a practice race to the big South's other ORMA – NZ's Team Vodafone Sailing (click here for cameraphone video).
Both boats square off later today as the Coastal Classic begins, and NZ's marquee fleet race is clearly doing something right; 139 monohulls and 25 multis entered for a 100+ mile race in a country no bigger than a shoebox ain't bad!
Here's the report on the record run from crew Ben Kelly, and be sure to check the thread for the trip 'as it happened':
"Funny, I expected the boat to make the speeds feel like less, but doing 22-25 knots a couple of hours out from the heads felt crazy fast because of the sea state and our high angle to the breeze. Then as we slowly cracked away into the night I got to experiance 25-30 knots, this is pretty full-on in 4mtr waves and quite a violent action on the body that took some time to get used to. By early morning we were seeing up to 40 knots of wind and the speed sitting around 32 knots, and every now and then with an insane burst of acceleration, we would get a run on that would take us to 36-38 knots and then work its way back to around 32 again.
I would say that whilst the high speeds are quite full-on and the adrenaline is definitely pumping, the action of the boat improves by the time you are doing 35-40 knots.  With the boat simply obliterating whatever whatever it's going through, it's more of a vibration, and one of the best felings I have ever experienced.  I'm sure the motion changes depending on the sea state and direction and especially the angle to the breeze.
"The best true wind angle seemed to be 115 degrees, at this angle in 30+ knots of wind the driving is easy, the boat behaves insanely well, she is bow up with 2/3 of the leward float out of the water and the centre hull in/out constantly. Unfortunately we had the wind at around 80-90 for a big part of the leg across which just held us back a little from consistantly higher averages, basically if the top end of NZ had have been 100 miles further south I think we may have done 600+ nm for the 24hrs. You have to trust the foil when driving, on non foil boats you tend to have to run away with the pressure. With a foil that works so effectively when the power comes on and you are staring down the back of the next big growler you head up (if you react early enough), put more power into the boat, the bows rise as the boat accelerates and the foil works even more, then you get to the back of the wave in front and launch over it from behind as if it is a ramp, basically the best feeling ever!
"The problem is at 80 degrees true you feel like coming up is a bad option and you feel like going down is bad so quite often you just hold your course and your nerve and let the boat do its thing! Give me the helm of that thing, 25-30knots of wind, 4-5 metres of swell 2 x reefs in the Main and the smallest HWJ jib and I would be in heaven! I miss it already.  All the best to the crew of the Coastal, I think they have the legs…."
PIRATE STYLE
But here's even bigger news:  In just 60-odd days, if this interview with Sean Langman is accurate, Team Australia and Team Vodafone will race against each other in the Sydney-Hobart!  But before you old Sydneysiders fall off your rockers – no, Bob Oatley's America's Cup challenge hasn't suddenly spurred the CYCA to join the 21st Century, and no, the Hobart Race won't stop being ridiculed as the race that allows diesel-driven keels and winches…but no multihulls.  Apparently, dealing with these conditions doesn't make a boat safe enough for the Hobart…
Instead, the two ORMAs will sail the S-H pirate style, starting two hours after the last boat is off and presumably tearing through the fleet handily on their way to a new S-H record that Wild Oats fans and motor-driven yacht lovers won't claim is 'unfair because of different conditions.'  This is going to be the most exciting Hobart in years, thanks largely to two boats that aren't even allowed to race.  Follow that thread here.
October 24th, 2013 by admin