Posts Tagged 'Sydney-Hobart'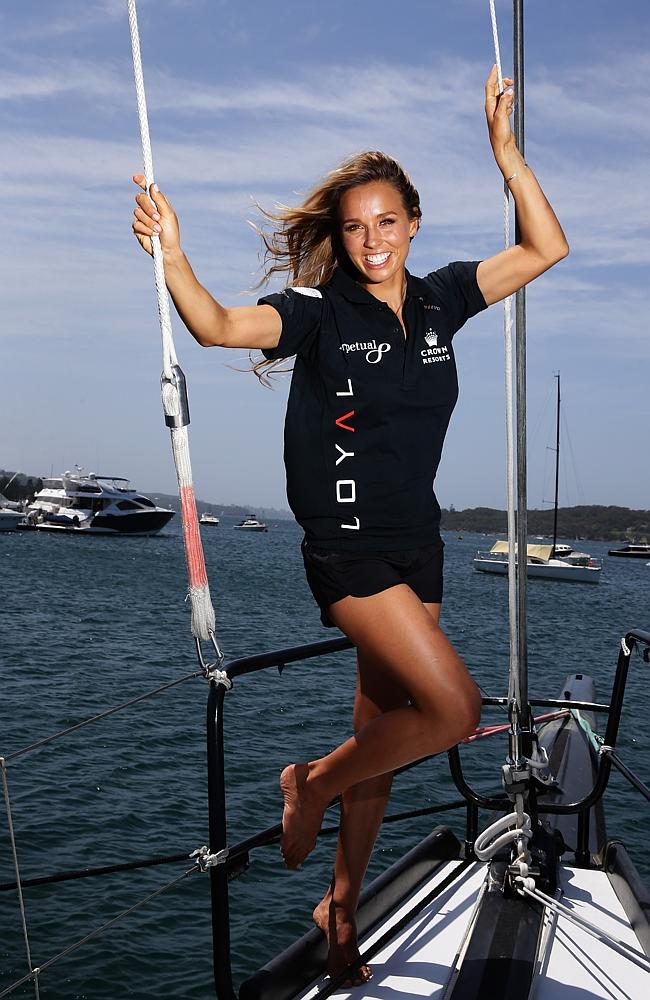 Sure, Wild Oats XI has only been beaten to Hobart twice, and her skinny bottom means she's one of the best all-rounders ever built for the coastal races she was created for.  And sure, Comanche has Stan Honey, Jimmy Spithill and Kenny's entire Puma Team, and a design that should be faster than the once-frightening Perpetual Loyal (ex-Speedboat).  But Loyal has several secret weapons – among them Sydney supersailmaker Michael Coxon and a brand new kite said to be 'the biggest spinnaker ever built'. Plus, they have a new website!
And then there's this weapon – ASP surfing world title contender Sally Fitzgibbons, who joins Anthony Bell's charity-driven campaign for this year's crowded Hobart race (remember when Clean grabbed a midnight interview with Jess Watson aboard Loyal last winter?).  She'll certainly add some motivation to the boys, and they'll likely not waste a chance to have another crew hiking and packing kites.  She'll also add thousands more eyeballs – and hopefully, the donations that go along with them – to one of the greatest spectacles in yachting: Sydney Harbour on Boxing Day.  And this year, it might be the greatest ever.  At least until they let the multihulls in.
Lou Reed is responsible for the title.
December 4th, 2014 by admin
Like Webb Chiles, SA's favorite war veteran/solo ocean racer/disaster magnet Ronnie Simpson does shit you never will, and he takes us along for a ride, just around the corner from Chiles, in Fiji.  Check out Ronnie's full story at his blog over here.  Photos are all Ronnie's.
Despite having racked up quite a few miles on fast offshore racing yachts, ocean sailing has never been quite as much of an adventure as it has been this season for me, cruising the wide Pacific on an engineless Cal 2-27 that I bought in Seattle for 4 grand. In yacht racing, when you set off on an offshore race, you generally have an idea of the outcome (to some reasonable degree): you'll sail hard with the boys (or girls, or solo), maybe blow up a kite or two and then you'll get to the club and get on the piss, regardless of your result. It's a good time.
When you set sail solo in a small engineless 4-knot shitbox to remote parts of the globe, without an organized event, the uncertainty and danger factor goes up just a tick, but it's a surprisingly good time. Cruising MONGO is the sailing equivalent of cooking meth: It's cheap, uniquely white trash, and highly addictive, and has the potential to leave me equally fucked in the end. Four months after dismasting near a lee shore on the island of Maui, i've slapped a new rig in MONGO and sailed 1-stop to Fiji, some 3,000 reaching miles away. Rocked up to paradise and moored out amongst the blue-water cruisers and mega yachts, it is Sailing Anarchy at it's finest.
Jokes aside, I take seamanship pretty seriously, and have made every effort to remain safe and self-sufficient during this voyage, which has now reached about 8,000 miles (having started in Seattle, WA). After a picture-perfect early-season passage from San Diego to the big island of Hawai'i and a windy passage to Maui, MONGO lost her rig while sailing out of Kahului Harbor, Maui on April 1 when a 5-month old lower shroud toggle failed. Anchoring in 50 feet of water on a lee shore, I was towed back into port by the Coast Guard an hour later sans rig, fortunate to still own a boat. I wrote a lengthy first-hand account of the ordeal in these very pages, and then the Ed pimped my plight on the Front Page and my PayPal account got hit up to the tune of $1,600 over the following two weeks. A sincere thank you to the SA community for helping me to continue my voyage.
With MONGO docked in a commercial harbor with no rig on Maui's windward side, I ended up finding a new mast on Maui's leeward side the very day after dismasting. 4 days after dropping the rig, the trades went light and with a boom-jury rig and borrowed outboard engine bracket and 4-horsepower short-shaft outboard, MONGO made the voyage over the top of Maui two-handed and with a cruising boat escort to Lahaina. With the boat on a mooring, I went to work for two months; working on the new mast, prepping the boat, freelancing as a sailing writer and helping with odd jobs in exchange for welding on the mast. In late May, I moved the boat into the harbor and myself and a hearty crew stepped my new turbo Morgan 27 rig using the rig of a 35-foot race boat. With a thoroughly prepped spar, all new rigging and hardware and a sprayed-on AwlGrip paint job, I managed to get going again for about $6,000. A bargain and one of my proudest sailing memories. On a larger boat, this would have been a game-ending dismasting for me. On the 27-footer, and thanks to the SA'ers, it was merely a speed bump. A local welder and sailor named Bob and the rest of the Lahaina sailing community taught me the meaning of 'aloha'. I would not have been sailing again so soon without the help of others. Thank you.
After shaking the boat down for 300 miles in Maui, Oahu and Kauai and 3 beer can races in Honolulu, I set off solo for American Samoa. After 9 days of windy easterly trades, the American nature preserve of Palmyra Atoll was 5 miles on the beam and it was mid-day, so I sailed towards the pass where I was met by the G-Men. After a Mexican standoff with Uncle Sam in the Northern Line Islands of the central Pacific, I was granted permission to anchor in the lagoon and work on my boat, but having not jumped through the hoops of an intense bureaucracy in Hawaii, I was not allowed to go ashore. Just like they did with firing rockets when I was in the Marines, the government somehow figured out how to make sailing to a remote central-pacific atoll totally un-cool. The silver lining was the 3/4 mile long, 50-meter wide dead-upwind coral reef pass that I had to negotiate before entering the deep-water, protected lagoon.  Another cheap hit of my meth.
In an ITCZ where I was becalmed for less than 8 hours total, MONGO sailed through the most intense squalls that i've ever witnessed, both during the night, at 8 North and 3 North latitudes. Bare ass naked with a safety harness on, I helmed MONGO through the constantly changing, still mostly easterly breeze, with a warm beer in hand and stereo pumping as I was treated to one of nature's most brilliant displays with intense wind, black clouds, an opening of the heavens and lightning strikes in every direction.
From 2 North to 5 South, MONGO sailed a close-reach to close-hauled course in 25 knots from the south-southeast and big seas, with multiple swells in the water. When the beating stopped, I found that we had sustained mast damage, which had not been there in Palmyra. In what was a stomach-in-your-throat, heart-beating-a-million-miles-per-hour discovery, I discovered two vertical cracks at the base of the mast and that the rig was now moving on the step. The damage occurred precisely in the middle of nowhere. Banding the rig with large hose clamps and sailing the boat more conservatively, I continued towards American Samoa. 200 miles out, I was expecting the breeze to go light and lift to an easterly beam reach. Instead, the wind died died while the barometer steadily declined before I met 15 knots out of the southwest which gradually shifted and built to a sustained 30-35 southeasterly for two days, with 40 knots for 8 hours. On a recently dismasted piece-of-shit boat with more rig damage and a low-grade gale blowing with Samoa upwind, it was clear that  I would not reach my destination. I cracked off and endured a stressful but exhilarating sail to Fiji in 25-30 knots almost the entire way.
MONGO is currently moored out in a surfing/ kite boarding mecca near the famed Cloud Break and conveniently has 4 surfboards and a kiteboard in the engine compartment. If I can manage to not get thumped off the reef too badly, it should be good fun.  And cheap.
Now to pull and repair the mast, Anarchy style, side-tied next to another boat on a mooring, to prepare for the next blue water crossing. I'm 'Straya bound next month with the hope of sailing in another Sydney- Hobart. Any Anarchists out there need experienced crew for Sydney- Hobart? I'm keen.  drop me a line at [email protected].
Bula from Fiji,
-Ronnie Simpson, s/v MONGO
August 13th, 2014 by admin
Ronnie Simpson checks back in with Part 2 of his Sydney-Hobart adventure.  You can read Part One here, and check back on this page for a final and probably debaucherous Hobart wrap-up later this week from the inimitable Mr. Clean.
Back to a non-poled out jib top in 40 knots, I remained on the helm and we managed more 16-18 knot surfs, but at horrible angles with the poor reaching jib flogging itself to death in the lee of the main. As the breeze dropped slightly, we hoisted the A3 and eventually chose to go back to the A2 around dinner time. I was off watch and down below when I heard the crew preparing for the peel. With just one tack line on the bow-sprit, we can not do proper kite peels and must douse and then re-hoist the new kite. Hoisting bareheaded the A2 wrapped itself around the headstay in what became the worst kite wrap i've ever personally seen. In one of those moments when a racing sailor sheds a tear of compassion for both the boat and the owner, we sent Ben up the rig to cut away the kite while myself and Rod "Fergo" Ferguson cut away the kite at the bottom. Eventually, we got the remains of the kite down into the forward hatch. More time lost. Things were going from bad to worse and the wheels were falling off for One for the Road and her crew. Back into the A3, we were under-wicked and slow, gybing dead downwind to remain where we thought we wanted to be.
Watching the barometer continue its rapid decline, we were expecting the breeze to go light and then instantly shift to the W-SW and quickly build with a forecast 50-60 knots on the leading edge of the front. Ben spotted the quickly approaching cloud line around sunset. Light refracted by the approaching moisture lit up the sky into a million fiery shades of pink and orange shrouded in an ominous grey cloud cover. It looked nothing like the lead-colored, cigar-shaped cloud line that I had read would indicate a southerly buster. Watch leader Jeff Shute made the call "kite down now! #4 jib on deck, deep reef the main!". In a scene straight out of Rob Mundle's book "Fatal Storm" (about the '98 Hobart race), we were all on deck for our chinese fire drill, which we pulled off in just 3 minutes. The main was double, then triple-reefed as we expected the blow. The shift was immediate and with 20 knots we sailed slowly for half an hour before it built to 30. Then 35. Then 40.
Less than two hours after dropping the kite, we were in the full force of the front with breeze in the mid-40's puffing into the 50's. Adrian was driving as I began thinking to myself that it must be hard to drive as his normally spot-on helming was up and down of course. Handing me the wheel, I was confronted with the reality of how challenging the driving was. Driving half my shift 4-hour shift with 3 reefs in the main and #4 jib up, it was some of the most full-on, gnarly sailing i've ever experienced. Waves slammed into and broke over the boat with a spray that made it nearly impossible to keep my eyes open. Driving almost entirely by feel, I merely tried to keep the boat on course and avoid upwind wipeouts.
Exhausted from both physical and mental exertion, I fell asleep in my soaked foulies as soon as I got off watch. When I came back up on deck a couple of hours later, we were sailing bald-headed with the #4 lashed to the rail. I was not happy to see this as it meant we had continued to bleed miles to our rivals for an untold number of hours. I called for the storm jib. The boys agreed, so Ben and I went to the foredeck to tee it up. Coming out of the bag twisted and with the long pennant wrapped around the sail, Ben and I faced a monumental struggle just merely getting the sail ready to hoist. 50 knots of breeze, intense saltwater spray and breaking waves battered the two of us for what felt like an eternity before we were ready to put it up. Once we got the storm jib hoisted, boat speed went from 4 knots to 7+. We were racing again. Back in the cockpit, Ben clenched his fists and grunted "ahhh!!!, I live for this shit!!!". A kindred spirit…
With the new sail configuration, the boat drove like a Cadillac while she tore through the building seas like a race horse on crack, leaping up and over each wave. With no light pollution and the strong clearing breeze, the stars were amongst the most brilliant i've ever seen while every wave that broke over the boat brought a million bright green specks of bio-illuminescence. It was beautiful heavy-weather sailing and while the breeze remained in the 40's, the seas stopped building as we sailed into the lee of Flinders Island, just north of Tasmania.
I went off watch and when I came back up, the sun was up and the breeze had moderated significantly, now down into the high 20's and low 30's. Back to the #4 and we started shaking reefs. Within another hour, we were reaching along in champagne conditions about 13 miles east of land. By 9 am, we hit a transition in the breeze and became almost becalmed in a lumpy, confused sea state with residual slop that had rounded the corner from the west only to meet several variations of southerly swell coming up from the Southern Ocean. We chased the breeze, attempting to sail from wind line to wind line; not an easy task when nearly becalmed in lumpy seas. Big John Searle the rugby player and dinghy sailor shined in the tricky tactical conditions and kept the bus rolling.
With our bottled drinking water nearly gone, we prepared to make the switch to the water tank. In a race where even the easiest of tasks turned into monumental struggles, even this normally mundane chore became an arduous ordeal. With no manual water pump, pumping water would require electricity. Electricity that we barely had. After a brief debate, we flipped the water pump switch and began filling water bottles. The water came out brown. Our lone water bladder that we left full before leaving Sydney had ruptured during the rough night and become contaminated by the endless procession of water that ran through the boat in the hectic crossing of Bass Strait. We were now faced with a grim reality: 6 liters of bottled water now had to last 10 people more than 24 hours.
In what was one of the most challenging days of sailing in my recent memory, we had to fight highly variable, shifty conditions all the way down the coast of Tasmania. Were we too far inshore? I don't know. None of us knew as we were on very limited weather data, with only the electrical capacity to receive verbal forecasts via the SSB radio sched's. With 4 knots of breeze gusting to 25 out of every possible variation of south, we soldiered on in a tack – tack – sail change – tack – sail change fashion with up to half a dozen other boats in sight at times. Boats inshore would catch a puff lift and put a mile or two on us, while the boats outside would die off. The scenario would then exactly reverse itself in this navigator's nightmare.
The breeze began to fill and solidify from the west during the very early morning and by day break, we were reaching along with a full main and #3. The jib top would have been the right call, but it was still on strike after it's massive flogging in the strait. Things felt a bit cruisy, so we put up the #2. Things still felt a bit cruisy so we put up the A1, which we knew would be a bit dicey as the angle and pressure would put us on the edge. Kym drove us on the ragged edge of control. I was off watch, so after the kite was up and the jib was back down, I went down below. A few minutes later, I heard a sail flogging and a lot of yelling, so I jumped on deck to see the A1 coming down behind the boat. The tack line's block on the end of the retractable bow-sprit had broken off the sprit. The design is that of a threaded pad eye attached into the end of the sprit and the pad eye broke flush with the sprit. The kite partially went into the water, but we managed to get everything back on board while the #2 was re-hoisted. With a freshening breeze, we were back in the #3 within a few minutes. So much for my final off watch, which I was desperately hoping for so that I could be rested for the final approach to the finish.
We rounded Tasman Island at about 10:30 in the morning, hardened up on the breeze and began beating into Storm Bay. We each took a sip of Drambuie and toasted to the Newcastle-based 40-footer Aurora, who donated the bottle to us after missing their first Hobart in 15 years. Throwing in a couple of tacks, we were again disheartened to find another problem. A mainsail batten was working it's way out of it's pocket and moving forward with half the batten in the pocket and the other half working forward towards the mast. We contemplated sending Ben up the rig but it would be doubtful that one man aloft could fix the problem. We dropped the main, shoved the batten back in it's pocket and re-hoisted, which is always a difficult chore on a bolt-rope main. More boats slipped by and more time was lost.
Sailing upwind on starboard tack, famed Tassie photographer Richard Bennett flew by in his airplane less than a hundred meters over the water to capture an image of One for the Road. We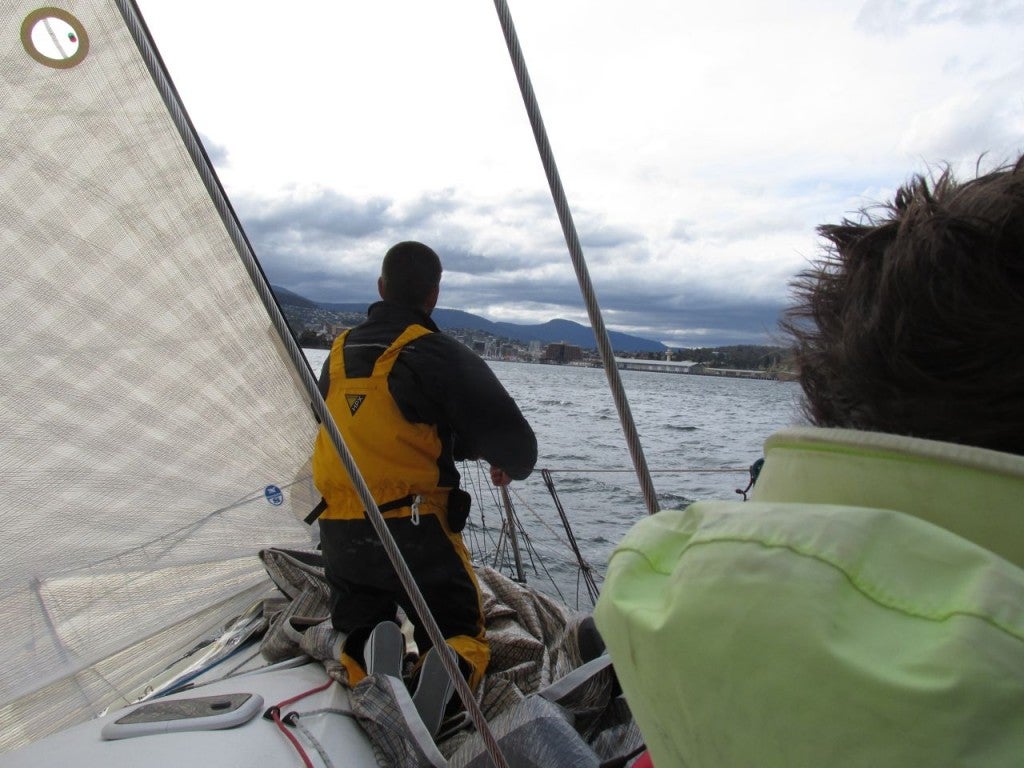 tucked in and shook a reef twice before the breeze shut off again. Becalmed in the middle of Storm Bay, we scanned the clouds over head and watched other boats sail in different breeze as we created a strategy. Big John again shined as inshore tactician. We worked to a wind line and saw another boat sailing 90 degrees higher than us on port tack, about a mile away. Our angle was atrocious and we all wanted to tack to starboard and try to get into the same breeze. Kym urged us to wait a moment longer before tacking and as we stuck our nose further into the pressure we were initially knocked and then the lift came. Pressure again increased, and we had a beautiful port tack beat straight towards the River Derwent.
We threw in a couple quick tacks to clear the Iron Pot and then passed a bottle of Pusser's Rum down the rail. Our third sip of the liquor in 4 days. One for the Road was almost home. We cracked sheets as the river turned right, as I again longed for the jib top. Approaching Hobart, I got a proper introduction to the River Derwent. There were holes everywhere, powerful gusts coming down and contradictory current that built as we made our way deeper into the river. We chased a Beneteau the entire time until they picked up a lift and sailed across the finish line. Minutes later, our private puff came down, we took a major lift on port and hardened back up towards the line. The puff tapered off, but before it died completely, we crossed the finish line just before 7 pm.
It was over. I mentally broke out a black marker and added a large check to my bucket list, just as I added "do ten more Hobarts" and "win division in Hobart" to the ever-growing list. (Sail in the Vendée Globe is still written in 100-font bold print at the top…) Life is like working on a race boat, I suppose. Every time that I cross something off the list, I have to add two more and the process repeats itself as the work is never actually done.
We achieved another goal of ours after the finish as we had enough electricity to use the engine to motor into the harbor and not require outside assistance. We dropped the main and lashed down the two headsails that were on deck. Motoring into the harbor, we cruised past the wharf which was filled to capacity with the annual "Taste of Tassie" festival. The lead singer of the band that was performing stopped his song early and recognized One for the Road for completing the journey from Sydney. The massive crowd on the wharf stopped what they were doing, put down their food and drink and stood to clap and cheer for us. A lone voice yelled "hip hip" and the crowd would respond "hooray!". It was the most beautiful and heartwarming reception i've ever received at the end of a yacht race.
We placed 17th out of 21 boats in our division, and about two thirds of the way down in the overall standings. It's one of the worst results i've ever achieved in an ocean race and while the competitor in me is upset with our result, the sailor in me deeply proud and grateful to have sailed, and finished, this great race. Things don't always go your way when you set to sea, but by working together, we all achieved something that is much more important than any poor result on paper. No two people on the boat ever argued with one another and all ten of us got off the boat much better friends than when we started. In my mind, we are all champions.
As an American who has done quite a bit of sailing on the west coast, traveling to Australia to sail in the Sydney- Hobart has been one of the best experiences of my life and only increases my love for the sport and my resolve to constantly learn more and improve as a sailor. There were a million lessons learned and lessons reinforced during this race, but that constant learning curve is what keeps sailing fresh and exciting. This race was not just a race, it was a beautiful adventure that released the emotions that only true adventure can. That feeling that compels us to undertake challenging races; when you're profoundly grateful for simple things like seeing the sun rise after a rough night at sea, when a sip of water tastes like fine wine, when a $6 meat pie on the street tastes like a gourmet 5-star meal.
If I still have your attention after this marathon recap, I want to thank Kym Butler for this incredible experience and all of the crew on One for the Road. Rockstar sailors we were not, as we found ourselves thoroughly tested, but even if I were to hand-pick a crew I could not pick a more enjoyable bunch to spend four days with than the nine strangers that i'm now honored to call friends.
It's the Sydney-Hobart, and whether you are a boat owner, crew, or just a random guy or gal looking for a great adventure; put it on your bucket list and make it happen.  You will never regret it.
-Ronnie Simpson
January 7th, 2014 by admin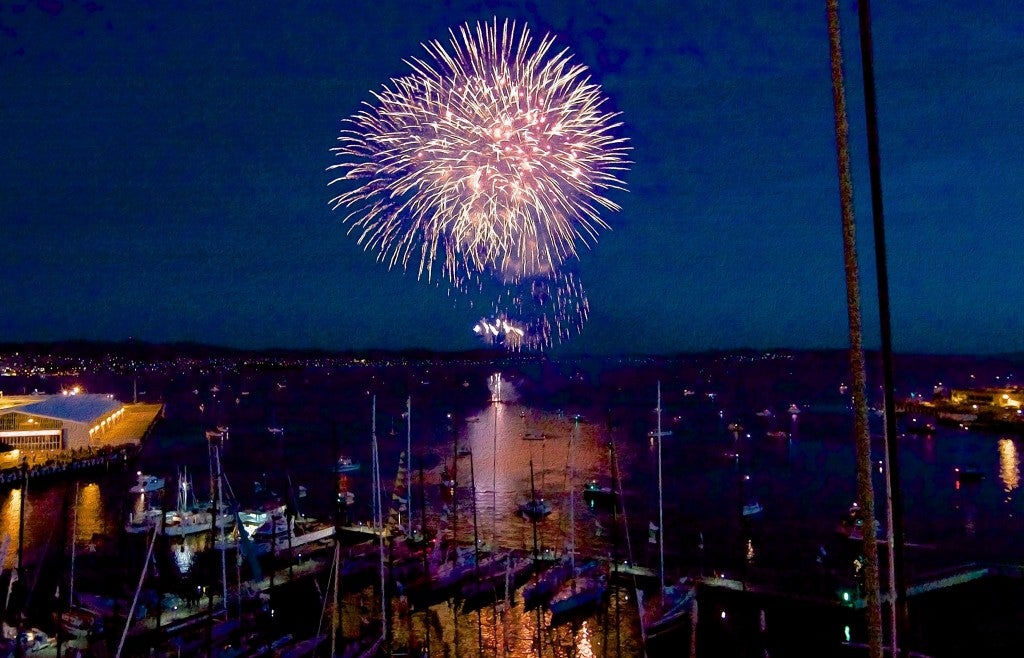 From beautiful Tasmania, we wish every Anarchist everywhere around the world a wonderful new year, and a huge thanks to all of our Aussie Anarchists (including the Perpetual LOYAL boys who made this Meredith Block shot possible) for such an incredibly warm welcome for our first-ever coverage of the world's toughest (mostly) amateur yacht race.   May 2014 bring fun, breeze, and plenty of sailing your way.
January 1st, 2014 by admin
Wild Oats XI crossed the finish of the 69th Sydney-Hobart Yacht Race just after 7 PM today, horizon-jobbing the fleet after a brilliant night of sailing that saw them turn a 12 NM deficit into a 42 NM lead at the finish.  It's her 7th line honors victory in nine tries, equalling Morna/Keruwa IV's record from the '50s.  Great job all around; here's a shot of the dock celebration amongst thousands of 'Strayans, and here's 4 and a half minutes with Navigator Tom Addis as they hit the dock.  Jump in the thread for more, and keep an eye on the McConaghy Boats Facebook Page for a full night of action as well as some awesome contest giveaways – Perpetual Loyal is just entering the Derwent as we go to press, and Clean is on the scene…Meredith Block photos.
December 28th, 2013 by admin
Michael "Cocko" Coxon is kryptonite to Wild Oats XI's nearly unblemished record of line honors wins in the Hobart; the two times she was beaten, Cocko was behind the program that did the beating; first with Crichton's Alfa Romeo, and then with the previous Loyal in 2011 (Ragamuffin 100 now).  A health issue kept Cocko off the Perpetual Loyal in this year's race, and while we'll never know if that's part of the reason WOXI is 35 miles ahead of the big JuanK beast, we did get a chance to chat with Sydney's best-known sailmaker this morning for 16 minutes about the race, the sail selections, and the general competition in this exciting 69th anniversary fleet.  This dude is an encyclopedia, and the interview is better than any radio show on the Sydney airwaves – listen to it above with thanks to McConaghy Boats for setting up the call.  Stick around for a video contest announcement in a few hours, Satphone calls throughout the day from around the fleet, and of course we'll be getting you all the action from the finish line as the leaders get in this evening, with possibly even a live stream.
December 27th, 2013 by admin
Update: With Loyal backing up in the light, WO has ground them down and is now sailing away with a 30 mile lead and growing…
Despite sailing into some squally crap when he brought WOXI a bit too close to shore, Tom Addis, Navigator (and ex-Puma nav) sounds confident that they can reel in the bigger, more powerful Perpetual Loyal by the time they get to Storm Bay.  The gap has shrunk from 11 to now just 5 miles, with Oats gaining another mile every hour.  This sets up a truly spectacular finish, and we're on station in Hobart to bring the play by play to you right here on Sailing Anarchy and on McConaghy Boat's Facebook Page.   Listen to Tom's from 7 AM this morning.
December 26th, 2013 by admin
World-girdling ex-military adventure-lover Ronnie Simpson made his way down to Sydney to experience one of the world's great races, and he checks in with his first comprehensive look at the Sydney-Hobart fleet with this missive.  Expect tons more content this week from Ronnie and a fleet full of Anarchists.  It's already started; want to check out the sports book line and place a bet?  How about a virtual walk-through of the boats on the CYCA docks in glorious high-res photos?  Get your ass into the Sydney Hobart thread and get involved.  And finally, if you're looking for interviews, boat tours of the biggest and baddest, and words from some of the biggest characters in the race, get yourself plugged into the McConaghy Boats Facebook Page – ground zero for all our race coverage from the start to all the finishes and the only place you need to go if you want to win some sweet SA swag.  And for our North American spectators, remember that the start will be broadcast live by Yahoo!7 starting around 8 PM EST on Christmas day (with our coverage starting long before that) with the first finishes on the evening of the 26th.  For the next week, Sailing Anarchy (thanks to McConaghy Boats) A will be Hobart Central – don't miss out on any of our coverage!  Photos by Ronnie and SA'er 'point'.
Sydney.  Hobart. Two of the most notorious words in all of sailing.
The words themselves bring up so many visuals and so many stories that simply muttered under one's breath, they cause rapid synaptic firing in the brain of any offshore sailor.
Spurring vivid recollections of massive spectator crowds ringing the famous harbour and foreshore, 100-foot super maxi's battling for line honors as they trade tacks in the Derwent, 60-foot breaking waves skirting the skids of rescue helicopters among the streaky spindrift from hurricane-force winds, if there's a race that has spawned countless legends, it's this one. Now in its 69th edition, it's got the well-earned reputation as one of the most challenging, dangerous, and brutal competitions in all of sport – despite still being accessible to your average mom-and-pop club racer – and this 69th edition should easily live up to the reputation we've all come to expect.
With a highly complex and constantly changing weather scenario, the fleet is preparing for everything from light-air upwind to heavy-downwind and back.  While not a likely record-breaking year, you never really know, especially with the ultra-high quality of yacht at the top end of the fleet and a constantly evolving weather scenario.
As it stands, a localized low moves over the New South Wales coast at the start with the accompanying Southerly breeze.  In a 'classic' pattern, the wind should back to the Northeast and light to moderate run to the South.  The speed of the low's movement – or outright dissipation – will determine how early the NE fills in and how fast it builds, with the potential for a real slingshot South for the boats that can position themselves for it.
As the big boats approach the Derwent, the rest of the fleet will be bracing for impact as a classic Southerly Buster rolls in from West to Easy over Tassie.  With a forecast up to 45 knots (with gusts that may be MUCH higher) this one could be a true test not only of racing prowess, but of straight-up seamanship for any boat stuck behind the frontal change.
With yours truly covering the race from on-board, dozens of Anarchists spread throughout the fleet, and Clean and Mer just on the ground ready for some bang-up interview, video, and photographic coverage from both Sydney and Tasmania, our hack team will be covering the Christmas Classic as it's never been done before.  As a Sydney- Hobart virgin who admittedly doesn't know the local Aussie sailing scene, I had but two options when compiling data for this article; regurgitate what's already been written about the race or get drunk with the players in the scene and get the real scoop.
The latter option got the nod. This is Sailing Anarchy, after all…so on to the Ronnie Simpson form guide:
With IRC, ORCi, PHS and one-design fleets, it's impossible and redundant to write a preview for every fleet, so i've focused on the IRC divisions, as that covers the vast majority of the fleet.
IRC 0
Many of the biggest, baddest, fastest monohulls in the world are represented in IRC Division 0. From perennial line honors contender Wild Oats XI to 2011 line honors winner Ragamuffin 100 (previously Loyal), the new Loyal (ex- Speedboat/ Rambler), the sparking new Beau Geste 80, a trio of Volvo 70's and a host of others, this is the division that everyone is watching. Who's going to win? Hell if we know, but after talking Bundaberg-fueled shit with some of the top guys in the game, Beau Geste sounds like she may be the real deal, and the sleeper pick. Aside from the usual suspects, keep an eye on Volvo 70 Black Jack and Cookson 50 Victoire to be contenders for a handicap win.
Here's the run down of the three big line honors contenders:
Wild Oats XI- Unlike many years in the past where Wild Oats XI was the clear favorite to take line honors, this year's Hobart race is wide open. While still the line honors favorite with the bookies, Oats is getting a bit long in the tooth after 8 years in the game now, and it's starting to show. She's been heavily bastardized, er, modified to include new DSS foils and a lighter, stiffer new rig and the results are far from conclusive, but they're also far from confidence inspiring. The rig's already suffered two failures, the DSS foils are unproven and they've got a new navigator to boot (though Tom Addis is no one to sneeze at). With a weather forecast that has the best in the business confused (including ultra-navigator Stan Honey navigating Loyal…), WOXI's Addis will have his hands full, that's for sure. Don't count the old girl out, but personally, my money's on the competition.
Perpetual Loyal– Owner Anthony Bell took line honors two years ago on the earlier Loyal, and clearly he wants to do it again.  To that end, he picked up the most powerful monohull every built – Alex Jackson's Speedboat – putting her back together after her capsize and near-destruction back in the Fastnet.  Bell loaded the boat with a who's who of top sailing, including  Stan Honey, Tom Slingsby, and Michal Coxon (though now marked as questionable due to illness), and he spent plenty of time on refitting some important bits thanks to McConaghys.  In Loyal, he's got a wider, newer, more powerful boat than Wild Oats, and it showed in the Big Boat Challenge two weeks ago as Loyal led Oats around the course before blowing up one of her specialty reaching sails and giving away the victory.  Loyal has only shown two weaknesses in her career:  Light air, and breakages.  Barring either of these two occurences, it's hard to bet against her.
Beau Geste – The brand new, and most eagerly anticipated boat in the Sydney- Hobart is as revolutionary and cutting-edge as it is downright sexy and intimidating. The new Botin Partners – designed 80-footer weighs half as much as Wild Oats at about 16 tons, yet creates 60 tons of righting moment vs. 68 for Oats.  The keel cants 3 degrees more than a Volvo 70, while the canards are angled at an incredible 18 degrees, generating around 3 tons of lift at 27 knots of boatspeed.  The closest we'll see to monohull foiling in this race, Beau Geste's polars indicate multihull-like downhill speeds approaching 40 knots of boat speed. Not just fast, she's designed from the ground up to be a durable and burly boat with a rig designed to withstand 50 tons of pressure at it's base and an innovative hull structure. Remember, this boat was built as a replacement for Farr-designed BG that broke in half last year, and project manager Gavin Brady isn't scsrewing around when he says this boat is ready for anything the Bass Strait has to throw at her. Bigger, more powerful, and lighter than a Volvo 70?  Hard to bet against this one either.
IRC 1
Tied for being the largest IRC division in the race with 21 boats, Division 1 should entertain from start to finish. The new Carkeek 60 Ichi Ban is as highly anticipated as Beau Geste, and despite her relatively short length, expect her to school all of the bigger Clipper 70's and even a few of the boats in Div 0. Like the Carkeek 40s wake-up call to the 50-foot racers, the new Carkeek 60 should give plenty of trouble to the very well-sailed Ker 51 Varuna and the brand new sexpot Tony Kirby's Ker 56 Patrice.
Patrice is a development of Piet Vroon's all-conquering IRC beast Tonnerre De Breskens which has now claimed three RORC season championships in a row. Kirby and his crew have been putting in the work, doing a lot of sailing and earning some great results. Their thorough preparation and level of boat development makes them a definite contender, though the same can be said about her larger cousin Varuna. With a well-run program that's been campaigned around the world, to include this summer's Transpac, and rockstars such as Barcelona World Race vet Guillermo Atadill onboard, Varuna's hard work and dedication should pay off in spades.
Don't count out previous winner Primitive Cool (ex-Secret Men's Business 3.5), the R/P 55 Wedgetail, the 100-foot racer cruiser Zefiro or my personal favorite, Frantic; the first-gen TP 52 owned by former pro rugby player Michael "Mick" Martin and navigated by Singlehanded Transpac champ Adrian Johnson. Frantic comes in with momentum after winning this year's Gosford- Lord Howe Island race.
IRC 2
A fifteen boat division with depth throughout, merely getting onto the podium will be a monumental feat. Standouts include the always compettive Rogers 46 Celestial, sexy new Ker 40 Midnight Rambler and IRC optimized DK 43 Minerva amongst several other solid programs
Celestial is a contender not just for Division 2, but for the overall if they get their conditions. Consistently running near the front of the fleet on handicap, the Rogers is a good all-around platform sailed by a wicked up crew that includes former Olympic sailor and multi-time champion at everything Steve McConaghy (yes, that McConaghy…) Midnight Rambler on the other hand is an experienced group that has a weapon in their sexy new Ker 40. Winners of the notorious 1998 race in their old Hick 35 AFR Midnight Rambler, the crew has 120 Hobart's between them and earned a second in Division 2 last year. A wild card in the fleet is the Humphreys 42 Zanzibar. A stalwart on the Asian scene, the Singaporean yacht has tasted success to the tune of winning last year's Rolex China Sea Race overall on IRC and should go well in a range of conditions.
IRC 3
With 5 Sydney 38's, 4 Archambault 40's, a slew of Beneteau First 40's and 45's and several other IRC optimized racer-cruisers, Division 3 is a complete toss-up. Tied with Div 1 as the biggest of the IRC fleets at 21 boats, it will require equal parts luck, skill, conditions and seamanship to end up on the podium. I'll be on the Archambault 40 One for the Road as we battle the fleet to Hobart, hopefully updating to SA along the way! The Sydney 38's should entertain as they always do, and with a huge fleet of boats occupying a very narrow rating band, IRC 3 should offer some of the closest racing of any division. As an added bonus, it'll even last a couple of days longer than the big boys! Just long enough for us to get creamed in the Bass Straight and down the Tassie coast…
IRC 4
The slowest of the IRC divisions, IRC 4 is loaded with class. The Petersen 44 Bacardi is competing in her 28th Hobart race- a record. Also in the fleet is the Hick 35 Luna Sea, (ex-AFR Midnight Rambler) that won the notorious and tragic 1998 race. When conditions turn heavy and out of the south, look for some of these older, slower upwind machines to revel in the heavy upwind stuff and move up the leaderboard.
-Ronnie Simpson
December 24th, 2013 by admin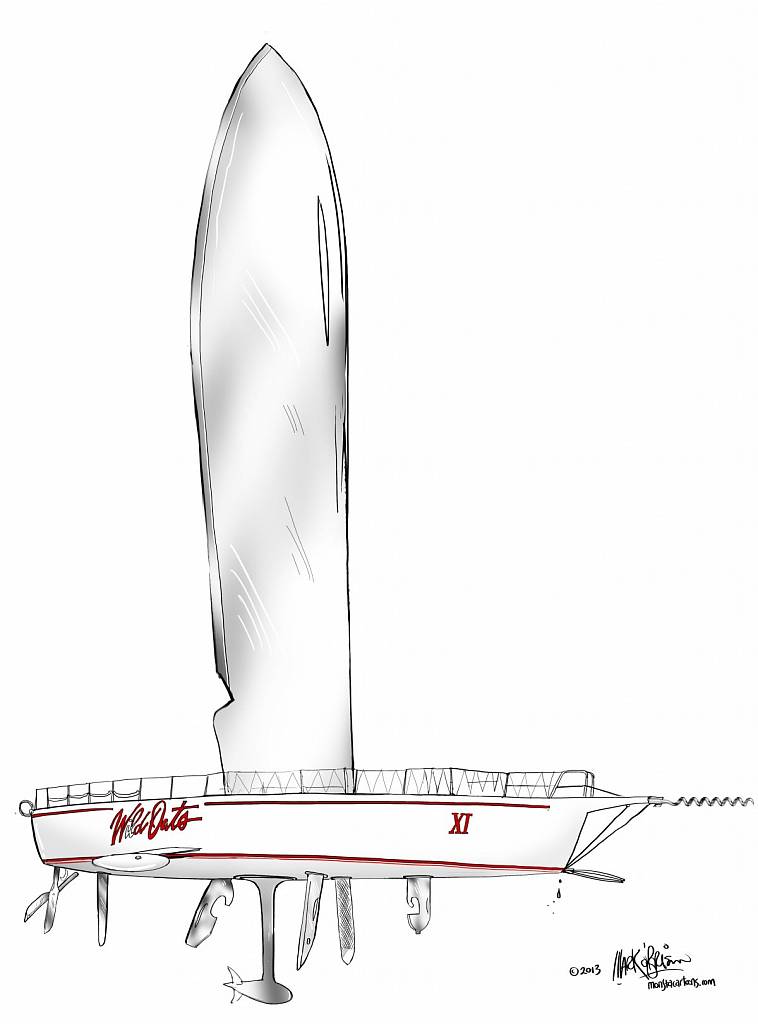 Mark O' Brien put his Monstacartoon pen to the Wild Oats XI appendage package, and as usual, it's awesome.  Wanna buy a print of any of his work, or a cartoon of your own boat?  Hit him up here!  Credit to the great composer Kurt Weill (via Louis Armstrong here).  And get in the Sydney Hobart thread to post your own predictions for the race, and win brand new SA swag, and don't forget our McConaghy Boats-sponsored coverage of the 69th Sydney Hobart Race, coming at you live from Oz in just a few days.  Like McC's Facebook Page now, or you might well miss something….
December 19th, 2013 by admin
With her six different underwater appendages, a finned bulb, and a monster bowsprit, it's obvious to see why Sydneysiders quickly dubbed the improved Wild Oats XI the 'Swiss Army Knife'.  But is the skinny rapier R/P 100′ enough to challenge the ultra wide-load JuanKer 100 Loyal?  Only time and tide will tell, and for the first time ever, our own crack team of reporters (a/k/a one drunken bald guy and his way-too-sexy-for-him photographer/wife) combined with an army of Anarchists in the fleet and spectator corps, will be there to bring you all the action from Sydney and Hobart.
We've also got giveaways, contests, and lots of other interesting things planned; the best place to keep abreast is in the already mondo Sydney Hobart thread here.  With barely a week left until the start, it's also a great time to get over to McConaghy Boats' Facebook Page and give 'em a Like – that's where much of the reporting, video interviews, boat tours, and photos will go thanks to the Aussie boatbuilder's sponsorship of our coverage.
Finally, McConaghy Boats dominated the CYCA trophy series over the weekend taking first and second places in both IRC and ORCi.  Have a look at their Form Guide to the CYCA Trophy Series here.
Andrea Francolini photo/www.afrancolini.com.
December 16th, 2013 by admin