Posts Tagged 'Sydney-Hobart'
Ronnie Simpson checks back in with Part 2 of his Sydney-Hobart adventure.  You can read Part One here, and check back on this page for a final and probably debaucherous Hobart wrap-up later this week from the inimitable Mr. Clean.
Back to a non-poled out jib top in 40 knots, I remained on the helm and we managed more 16-18 knot surfs, but at horrible angles with the poor reaching jib flogging itself to death in the lee of the main. As the breeze dropped slightly, we hoisted the A3 and eventually chose to go back to the A2 around dinner time. I was off watch and down below when I heard the crew preparing for the peel. With just one tack line on the bow-sprit, we can not do proper kite peels and must douse and then re-hoist the new kite. Hoisting bareheaded the A2 wrapped itself around the headstay in what became the worst kite wrap i've ever personally seen. In one of those moments when a racing sailor sheds a tear of compassion for both the boat and the owner, we sent Ben up the rig to cut away the kite while myself and Rod "Fergo" Ferguson cut away the kite at the bottom. Eventually, we got the remains of the kite down into the forward hatch. More time lost. Things were going from bad to worse and the wheels were falling off for One for the Road and her crew. Back into the A3, we were under-wicked and slow, gybing dead downwind to remain where we thought we wanted to be.
Watching the barometer continue its rapid decline, we were expecting the breeze to go light and then instantly shift to the W-SW and quickly build with a forecast 50-60 knots on the leading edge of the front. Ben spotted the quickly approaching cloud line around sunset. Light refracted by the approaching moisture lit up the sky into a million fiery shades of pink and orange shrouded in an ominous grey cloud cover. It looked nothing like the lead-colored, cigar-shaped cloud line that I had read would indicate a southerly buster. Watch leader Jeff Shute made the call "kite down now! #4 jib on deck, deep reef the main!". In a scene straight out of Rob Mundle's book "Fatal Storm" (about the '98 Hobart race), we were all on deck for our chinese fire drill, which we pulled off in just 3 minutes. The main was double, then triple-reefed as we expected the blow. The shift was immediate and with 20 knots we sailed slowly for half an hour before it built to 30. Then 35. Then 40.
Less than two hours after dropping the kite, we were in the full force of the front with breeze in the mid-40's puffing into the 50's. Adrian was driving as I began thinking to myself that it must be hard to drive as his normally spot-on helming was up and down of course. Handing me the wheel, I was confronted with the reality of how challenging the driving was. Driving half my shift 4-hour shift with 3 reefs in the main and #4 jib up, it was some of the most full-on, gnarly sailing i've ever experienced. Waves slammed into and broke over the boat with a spray that made it nearly impossible to keep my eyes open. Driving almost entirely by feel, I merely tried to keep the boat on course and avoid upwind wipeouts.
Exhausted from both physical and mental exertion, I fell asleep in my soaked foulies as soon as I got off watch. When I came back up on deck a couple of hours later, we were sailing bald-headed with the #4 lashed to the rail. I was not happy to see this as it meant we had continued to bleed miles to our rivals for an untold number of hours. I called for the storm jib. The boys agreed, so Ben and I went to the foredeck to tee it up. Coming out of the bag twisted and with the long pennant wrapped around the sail, Ben and I faced a monumental struggle just merely getting the sail ready to hoist. 50 knots of breeze, intense saltwater spray and breaking waves battered the two of us for what felt like an eternity before we were ready to put it up. Once we got the storm jib hoisted, boat speed went from 4 knots to 7+. We were racing again. Back in the cockpit, Ben clenched his fists and grunted "ahhh!!!, I live for this shit!!!". A kindred spirit…
With the new sail configuration, the boat drove like a Cadillac while she tore through the building seas like a race horse on crack, leaping up and over each wave. With no light pollution and the strong clearing breeze, the stars were amongst the most brilliant i've ever seen while every wave that broke over the boat brought a million bright green specks of bio-illuminescence. It was beautiful heavy-weather sailing and while the breeze remained in the 40's, the seas stopped building as we sailed into the lee of Flinders Island, just north of Tasmania.
I went off watch and when I came back up, the sun was up and the breeze had moderated significantly, now down into the high 20's and low 30's. Back to the #4 and we started shaking reefs. Within another hour, we were reaching along in champagne conditions about 13 miles east of land. By 9 am, we hit a transition in the breeze and became almost becalmed in a lumpy, confused sea state with residual slop that had rounded the corner from the west only to meet several variations of southerly swell coming up from the Southern Ocean. We chased the breeze, attempting to sail from wind line to wind line; not an easy task when nearly becalmed in lumpy seas. Big John Searle the rugby player and dinghy sailor shined in the tricky tactical conditions and kept the bus rolling.
With our bottled drinking water nearly gone, we prepared to make the switch to the water tank. In a race where even the easiest of tasks turned into monumental struggles, even this normally mundane chore became an arduous ordeal. With no manual water pump, pumping water would require electricity. Electricity that we barely had. After a brief debate, we flipped the water pump switch and began filling water bottles. The water came out brown. Our lone water bladder that we left full before leaving Sydney had ruptured during the rough night and become contaminated by the endless procession of water that ran through the boat in the hectic crossing of Bass Strait. We were now faced with a grim reality: 6 liters of bottled water now had to last 10 people more than 24 hours.
In what was one of the most challenging days of sailing in my recent memory, we had to fight highly variable, shifty conditions all the way down the coast of Tasmania. Were we too far inshore? I don't know. None of us knew as we were on very limited weather data, with only the electrical capacity to receive verbal forecasts via the SSB radio sched's. With 4 knots of breeze gusting to 25 out of every possible variation of south, we soldiered on in a tack – tack – sail change – tack – sail change fashion with up to half a dozen other boats in sight at times. Boats inshore would catch a puff lift and put a mile or two on us, while the boats outside would die off. The scenario would then exactly reverse itself in this navigator's nightmare.
The breeze began to fill and solidify from the west during the very early morning and by day break, we were reaching along with a full main and #3. The jib top would have been the right call, but it was still on strike after it's massive flogging in the strait. Things felt a bit cruisy, so we put up the #2. Things still felt a bit cruisy so we put up the A1, which we knew would be a bit dicey as the angle and pressure would put us on the edge. Kym drove us on the ragged edge of control. I was off watch, so after the kite was up and the jib was back down, I went down below. A few minutes later, I heard a sail flogging and a lot of yelling, so I jumped on deck to see the A1 coming down behind the boat. The tack line's block on the end of the retractable bow-sprit had broken off the sprit. The design is that of a threaded pad eye attached into the end of the sprit and the pad eye broke flush with the sprit. The kite partially went into the water, but we managed to get everything back on board while the #2 was re-hoisted. With a freshening breeze, we were back in the #3 within a few minutes. So much for my final off watch, which I was desperately hoping for so that I could be rested for the final approach to the finish.
We rounded Tasman Island at about 10:30 in the morning, hardened up on the breeze and began beating into Storm Bay. We each took a sip of Drambuie and toasted to the Newcastle-based 40-footer Aurora, who donated the bottle to us after missing their first Hobart in 15 years. Throwing in a couple of tacks, we were again disheartened to find another problem. A mainsail batten was working it's way out of it's pocket and moving forward with half the batten in the pocket and the other half working forward towards the mast. We contemplated sending Ben up the rig but it would be doubtful that one man aloft could fix the problem. We dropped the main, shoved the batten back in it's pocket and re-hoisted, which is always a difficult chore on a bolt-rope main. More boats slipped by and more time was lost.
Sailing upwind on starboard tack, famed Tassie photographer Richard Bennett flew by in his airplane less than a hundred meters over the water to capture an image of One for the Road. We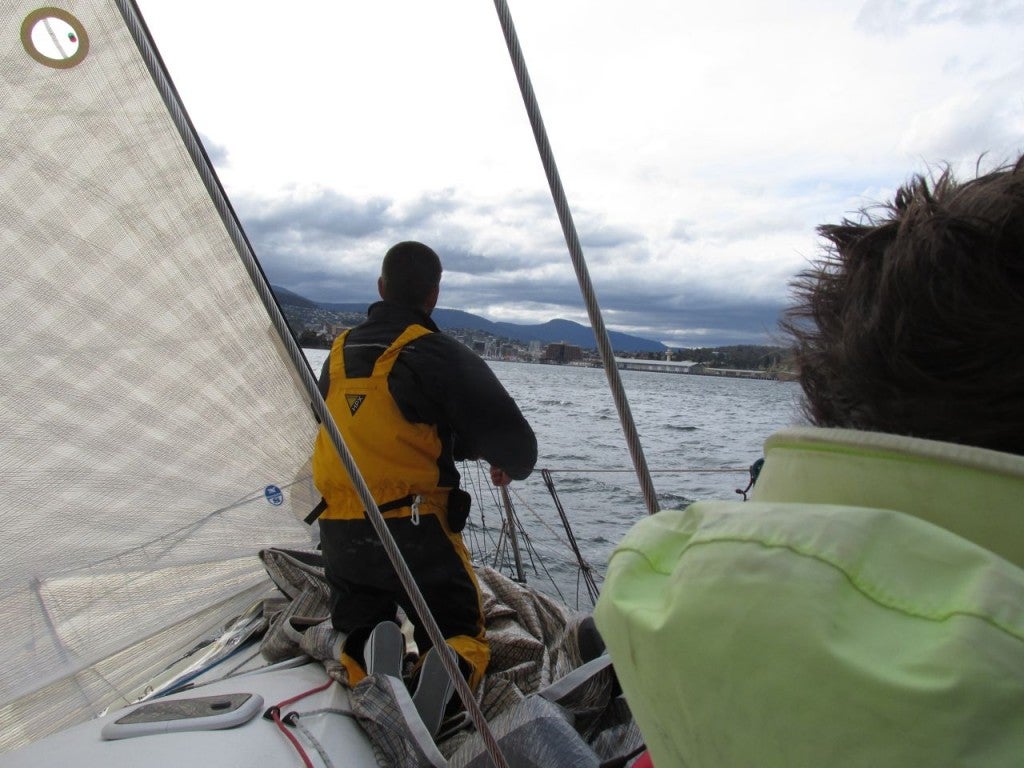 tucked in and shook a reef twice before the breeze shut off again. Becalmed in the middle of Storm Bay, we scanned the clouds over head and watched other boats sail in different breeze as we created a strategy. Big John again shined as inshore tactician. We worked to a wind line and saw another boat sailing 90 degrees higher than us on port tack, about a mile away. Our angle was atrocious and we all wanted to tack to starboard and try to get into the same breeze. Kym urged us to wait a moment longer before tacking and as we stuck our nose further into the pressure we were initially knocked and then the lift came. Pressure again increased, and we had a beautiful port tack beat straight towards the River Derwent.
We threw in a couple quick tacks to clear the Iron Pot and then passed a bottle of Pusser's Rum down the rail. Our third sip of the liquor in 4 days. One for the Road was almost home. We cracked sheets as the river turned right, as I again longed for the jib top. Approaching Hobart, I got a proper introduction to the River Derwent. There were holes everywhere, powerful gusts coming down and contradictory current that built as we made our way deeper into the river. We chased a Beneteau the entire time until they picked up a lift and sailed across the finish line. Minutes later, our private puff came down, we took a major lift on port and hardened back up towards the line. The puff tapered off, but before it died completely, we crossed the finish line just before 7 pm.
It was over. I mentally broke out a black marker and added a large check to my bucket list, just as I added "do ten more Hobarts" and "win division in Hobart" to the ever-growing list. (Sail in the Vendée Globe is still written in 100-font bold print at the top…) Life is like working on a race boat, I suppose. Every time that I cross something off the list, I have to add two more and the process repeats itself as the work is never actually done.
We achieved another goal of ours after the finish as we had enough electricity to use the engine to motor into the harbor and not require outside assistance. We dropped the main and lashed down the two headsails that were on deck. Motoring into the harbor, we cruised past the wharf which was filled to capacity with the annual "Taste of Tassie" festival. The lead singer of the band that was performing stopped his song early and recognized One for the Road for completing the journey from Sydney. The massive crowd on the wharf stopped what they were doing, put down their food and drink and stood to clap and cheer for us. A lone voice yelled "hip hip" and the crowd would respond "hooray!". It was the most beautiful and heartwarming reception i've ever received at the end of a yacht race.
We placed 17th out of 21 boats in our division, and about two thirds of the way down in the overall standings. It's one of the worst results i've ever achieved in an ocean race and while the competitor in me is upset with our result, the sailor in me deeply proud and grateful to have sailed, and finished, this great race. Things don't always go your way when you set to sea, but by working together, we all achieved something that is much more important than any poor result on paper. No two people on the boat ever argued with one another and all ten of us got off the boat much better friends than when we started. In my mind, we are all champions.
As an American who has done quite a bit of sailing on the west coast, traveling to Australia to sail in the Sydney- Hobart has been one of the best experiences of my life and only increases my love for the sport and my resolve to constantly learn more and improve as a sailor. There were a million lessons learned and lessons reinforced during this race, but that constant learning curve is what keeps sailing fresh and exciting. This race was not just a race, it was a beautiful adventure that released the emotions that only true adventure can. That feeling that compels us to undertake challenging races; when you're profoundly grateful for simple things like seeing the sun rise after a rough night at sea, when a sip of water tastes like fine wine, when a $6 meat pie on the street tastes like a gourmet 5-star meal.
If I still have your attention after this marathon recap, I want to thank Kym Butler for this incredible experience and all of the crew on One for the Road. Rockstar sailors we were not, as we found ourselves thoroughly tested, but even if I were to hand-pick a crew I could not pick a more enjoyable bunch to spend four days with than the nine strangers that i'm now honored to call friends.
It's the Sydney-Hobart, and whether you are a boat owner, crew, or just a random guy or gal looking for a great adventure; put it on your bucket list and make it happen.  You will never regret it.
-Ronnie Simpson
January 7th, 2014 by admin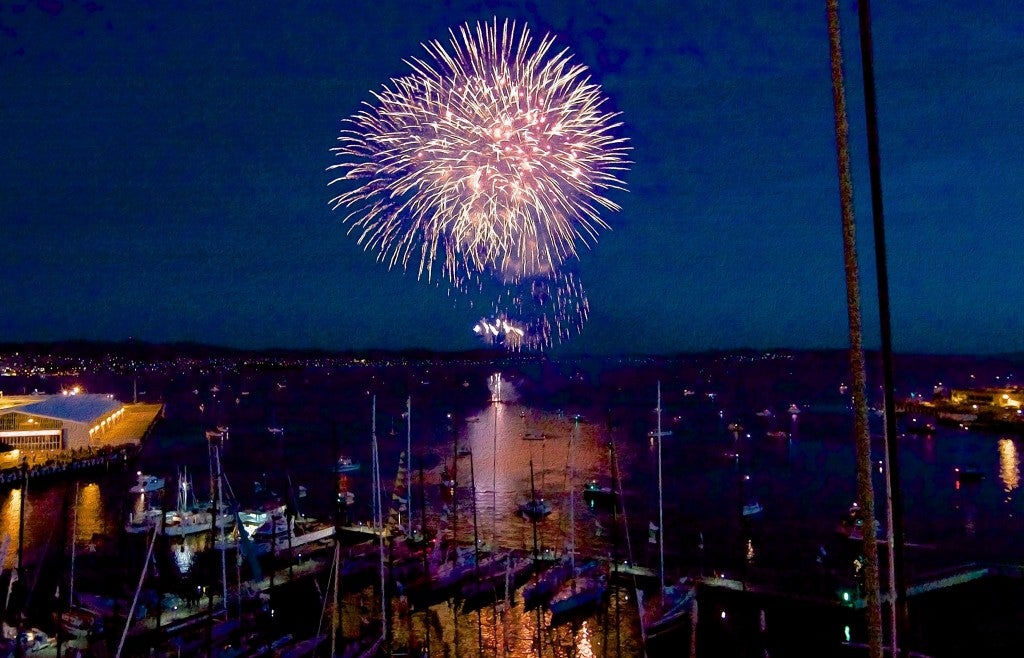 From beautiful Tasmania, we wish every Anarchist everywhere around the world a wonderful new year, and a huge thanks to all of our Aussie Anarchists (including the Perpetual LOYAL boys who made this Meredith Block shot possible) for such an incredibly warm welcome for our first-ever coverage of the world's toughest (mostly) amateur yacht race.   May 2014 bring fun, breeze, and plenty of sailing your way.
January 1st, 2014 by admin
Wild Oats XI crossed the finish of the 69th Sydney-Hobart Yacht Race just after 7 PM today, horizon-jobbing the fleet after a brilliant night of sailing that saw them turn a 12 NM deficit into a 42 NM lead at the finish.  It's her 7th line honors victory in nine tries, equalling Morna/Keruwa IV's record from the '50s.  Great job all around; here's a shot of the dock celebration amongst thousands of 'Strayans, and here's 4 and a half minutes with Navigator Tom Addis as they hit the dock.  Jump in the thread for more, and keep an eye on the McConaghy Boats Facebook Page for a full night of action as well as some awesome contest giveaways – Perpetual Loyal is just entering the Derwent as we go to press, and Clean is on the scene…Meredith Block photos.
December 28th, 2013 by admin
Michael "Cocko" Coxon is kryptonite to Wild Oats XI's nearly unblemished record of line honors wins in the Hobart; the two times she was beaten, Cocko was behind the program that did the beating; first with Crichton's Alfa Romeo, and then with the previous Loyal in 2011 (Ragamuffin 100 now).  A health issue kept Cocko off the Perpetual Loyal in this year's race, and while we'll never know if that's part of the reason WOXI is 35 miles ahead of the big JuanK beast, we did get a chance to chat with Sydney's best-known sailmaker this morning for 16 minutes about the race, the sail selections, and the general competition in this exciting 69th anniversary fleet.  This dude is an encyclopedia, and the interview is better than any radio show on the Sydney airwaves – listen to it above with thanks to McConaghy Boats for setting up the call.  Stick around for a video contest announcement in a few hours, Satphone calls throughout the day from around the fleet, and of course we'll be getting you all the action from the finish line as the leaders get in this evening, with possibly even a live stream.
December 27th, 2013 by admin
Update: With Loyal backing up in the light, WO has ground them down and is now sailing away with a 30 mile lead and growing…
Despite sailing into some squally crap when he brought WOXI a bit too close to shore, Tom Addis, Navigator (and ex-Puma nav) sounds confident that they can reel in the bigger, more powerful Perpetual Loyal by the time they get to Storm Bay.  The gap has shrunk from 11 to now just 5 miles, with Oats gaining another mile every hour.  This sets up a truly spectacular finish, and we're on station in Hobart to bring the play by play to you right here on Sailing Anarchy and on McConaghy Boat's Facebook Page.   Listen to Tom's from 7 AM this morning.
December 26th, 2013 by admin
World-girdling ex-military adventure-lover Ronnie Simpson made his way down to Sydney to experience one of the world's great races, and he checks in with his first comprehensive look at the Sydney-Hobart fleet with this missive.  Expect tons more content this week from Ronnie and a fleet full of Anarchists.  It's already started; want to check out the sports book line and place a bet?  How about a virtual walk-through of the boats on the CYCA docks in glorious high-res photos?  Get your ass into the Sydney Hobart thread and get involved.  And finally, if you're looking for interviews, boat tours of the biggest and baddest, and words from some of the biggest characters in the race, get yourself plugged into the McConaghy Boats Facebook Page – ground zero for all our race coverage from the start to all the finishes and the only place you need to go if you want to win some sweet SA swag.  And for our North American spectators, remember that the start will be broadcast live by Yahoo!7 starting around 8 PM EST on Christmas day (with our coverage starting long before that) with the first finishes on the evening of the 26th.  For the next week, Sailing Anarchy (thanks to McConaghy Boats) A will be Hobart Central – don't miss out on any of our coverage!  Photos by Ronnie and SA'er 'point'.
Sydney.  Hobart. Two of the most notorious words in all of sailing.
The words themselves bring up so many visuals and so many stories that simply muttered under one's breath, they cause rapid synaptic firing in the brain of any offshore sailor.
Spurring vivid recollections of massive spectator crowds ringing the famous harbour and foreshore, 100-foot super maxi's battling for line honors as they trade tacks in the Derwent, 60-foot breaking waves skirting the skids of rescue helicopters among the streaky spindrift from hurricane-force winds, if there's a race that has spawned countless legends, it's this one. Now in its 69th edition, it's got the well-earned reputation as one of the most challenging, dangerous, and brutal competitions in all of sport – despite still being accessible to your average mom-and-pop club racer – and this 69th edition should easily live up to the reputation we've all come to expect.
With a highly complex and constantly changing weather scenario, the fleet is preparing for everything from light-air upwind to heavy-downwind and back.  While not a likely record-breaking year, you never really know, especially with the ultra-high quality of yacht at the top end of the fleet and a constantly evolving weather scenario.
As it stands, a localized low moves over the New South Wales coast at the start with the accompanying Southerly breeze.  In a 'classic' pattern, the wind should back to the Northeast and light to moderate run to the South.  The speed of the low's movement – or outright dissipation – will determine how early the NE fills in and how fast it builds, with the potential for a real slingshot South for the boats that can position themselves for it.
As the big boats approach the Derwent, the rest of the fleet will be bracing for impact as a classic Southerly Buster rolls in from West to Easy over Tassie.  With a forecast up to 45 knots (with gusts that may be MUCH higher) this one could be a true test not only of racing prowess, but of straight-up seamanship for any boat stuck behind the frontal change.
With yours truly covering the race from on-board, dozens of Anarchists spread throughout the fleet, and Clean and Mer just on the ground ready for some bang-up interview, video, and photographic coverage from both Sydney and Tasmania, our hack team will be covering the Christmas Classic as it's never been done before.  As a Sydney- Hobart virgin who admittedly doesn't know the local Aussie sailing scene, I had but two options when compiling data for this article; regurgitate what's already been written about the race or get drunk with the players in the scene and get the real scoop.
The latter option got the nod. This is Sailing Anarchy, after all…so on to the Ronnie Simpson form guide:
With IRC, ORCi, PHS and one-design fleets, it's impossible and redundant to write a preview for every fleet, so i've focused on the IRC divisions, as that covers the vast majority of the fleet.
IRC 0
Many of the biggest, baddest, fastest monohulls in the world are represented in IRC Division 0. From perennial line honors contender Wild Oats XI to 2011 line honors winner Ragamuffin 100 (previously Loyal), the new Loyal (ex- Speedboat/ Rambler), the sparking new Beau Geste 80, a trio of Volvo 70's and a host of others, this is the division that everyone is watching. Who's going to win? Hell if we know, but after talking Bundaberg-fueled shit with some of the top guys in the game, Beau Geste sounds like she may be the real deal, and the sleeper pick. Aside from the usual suspects, keep an eye on Volvo 70 Black Jack and Cookson 50 Victoire to be contenders for a handicap win.
Here's the run down of the three big line honors contenders:
Wild Oats XI- Unlike many years in the past where Wild Oats XI was the clear favorite to take line honors, this year's Hobart race is wide open. While still the line honors favorite with the bookies, Oats is getting a bit long in the tooth after 8 years in the game now, and it's starting to show. She's been heavily bastardized, er, modified to include new DSS foils and a lighter, stiffer new rig and the results are far from conclusive, but they're also far from confidence inspiring. The rig's already suffered two failures, the DSS foils are unproven and they've got a new navigator to boot (though Tom Addis is no one to sneeze at). With a weather forecast that has the best in the business confused (including ultra-navigator Stan Honey navigating Loyal…), WOXI's Addis will have his hands full, that's for sure. Don't count the old girl out, but personally, my money's on the competition.
Perpetual Loyal- Owner Anthony Bell took line honors two years ago on the earlier Loyal, and clearly he wants to do it again.  To that end, he picked up the most powerful monohull every built – Alex Jackson's Speedboat – putting her back together after her capsize and near-destruction back in the Fastnet.  Bell loaded the boat with a who's who of top sailing, including  Stan Honey, Tom Slingsby, and Michal Coxon (though now marked as questionable due to illness), and he spent plenty of time on refitting some important bits thanks to McConaghys.  In Loyal, he's got a wider, newer, more powerful boat than Wild Oats, and it showed in the Big Boat Challenge two weeks ago as Loyal led Oats around the course before blowing up one of her specialty reaching sails and giving away the victory.  Loyal has only shown two weaknesses in her career:  Light air, and breakages.  Barring either of these two occurences, it's hard to bet against her.
Beau Geste – The brand new, and most eagerly anticipated boat in the Sydney- Hobart is as revolutionary and cutting-edge as it is downright sexy and intimidating. The new Botin Partners – designed 80-footer weighs half as much as Wild Oats at about 16 tons, yet creates 60 tons of righting moment vs. 68 for Oats.  The keel cants 3 degrees more than a Volvo 70, while the canards are angled at an incredible 18 degrees, generating around 3 tons of lift at 27 knots of boatspeed.  The closest we'll see to monohull foiling in this race, Beau Geste's polars indicate multihull-like downhill speeds approaching 40 knots of boat speed. Not just fast, she's designed from the ground up to be a durable and burly boat with a rig designed to withstand 50 tons of pressure at it's base and an innovative hull structure. Remember, this boat was built as a replacement for Farr-designed BG that broke in half last year, and project manager Gavin Brady isn't scsrewing around when he says this boat is ready for anything the Bass Strait has to throw at her. Bigger, more powerful, and lighter than a Volvo 70?  Hard to bet against this one either.
IRC 1
Tied for being the largest IRC division in the race with 21 boats, Division 1 should entertain from start to finish. The new Carkeek 60 Ichi Ban is as highly anticipated as Beau Geste, and despite her relatively short length, expect her to school all of the bigger Clipper 70's and even a few of the boats in Div 0. Like the Carkeek 40s wake-up call to the 50-foot racers, the new Carkeek 60 should give plenty of trouble to the very well-sailed Ker 51 Varuna and the brand new sexpot Tony Kirby's Ker 56 Patrice.
Patrice is a development of Piet Vroon's all-conquering IRC beast Tonnerre De Breskens which has now claimed three RORC season championships in a row. Kirby and his crew have been putting in the work, doing a lot of sailing and earning some great results. Their thorough preparation and level of boat development makes them a definite contender, though the same can be said about her larger cousin Varuna. With a well-run program that's been campaigned around the world, to include this summer's Transpac, and rockstars such as Barcelona World Race vet Guillermo Atadill onboard, Varuna's hard work and dedication should pay off in spades.
Don't count out previous winner Primitive Cool (ex-Secret Men's Business 3.5), the R/P 55 Wedgetail, the 100-foot racer cruiser Zefiro or my personal favorite, Frantic; the first-gen TP 52 owned by former pro rugby player Michael "Mick" Martin and navigated by Singlehanded Transpac champ Adrian Johnson. Frantic comes in with momentum after winning this year's Gosford- Lord Howe Island race.
IRC 2
A fifteen boat division with depth throughout, merely getting onto the podium will be a monumental feat. Standouts include the always compettive Rogers 46 Celestial, sexy new Ker 40 Midnight Rambler and IRC optimized DK 43 Minerva amongst several other solid programs
Celestial is a contender not just for Division 2, but for the overall if they get their conditions. Consistently running near the front of the fleet on handicap, the Rogers is a good all-around platform sailed by a wicked up crew that includes former Olympic sailor and multi-time champion at everything Steve McConaghy (yes, that McConaghy…) Midnight Rambler on the other hand is an experienced group that has a weapon in their sexy new Ker 40. Winners of the notorious 1998 race in their old Hick 35 AFR Midnight Rambler, the crew has 120 Hobart's between them and earned a second in Division 2 last year. A wild card in the fleet is the Humphreys 42 Zanzibar. A stalwart on the Asian scene, the Singaporean yacht has tasted success to the tune of winning last year's Rolex China Sea Race overall on IRC and should go well in a range of conditions.
IRC 3
With 5 Sydney 38's, 4 Archambault 40's, a slew of Beneteau First 40's and 45's and several other IRC optimized racer-cruisers, Division 3 is a complete toss-up. Tied with Div 1 as the biggest of the IRC fleets at 21 boats, it will require equal parts luck, skill, conditions and seamanship to end up on the podium. I'll be on the Archambault 40 One for the Road as we battle the fleet to Hobart, hopefully updating to SA along the way! The Sydney 38's should entertain as they always do, and with a huge fleet of boats occupying a very narrow rating band, IRC 3 should offer some of the closest racing of any division. As an added bonus, it'll even last a couple of days longer than the big boys! Just long enough for us to get creamed in the Bass Straight and down the Tassie coast…
IRC 4
The slowest of the IRC divisions, IRC 4 is loaded with class. The Petersen 44 Bacardi is competing in her 28th Hobart race- a record. Also in the fleet is the Hick 35 Luna Sea, (ex-AFR Midnight Rambler) that won the notorious and tragic 1998 race. When conditions turn heavy and out of the south, look for some of these older, slower upwind machines to revel in the heavy upwind stuff and move up the leaderboard.
-Ronnie Simpson
December 24th, 2013 by admin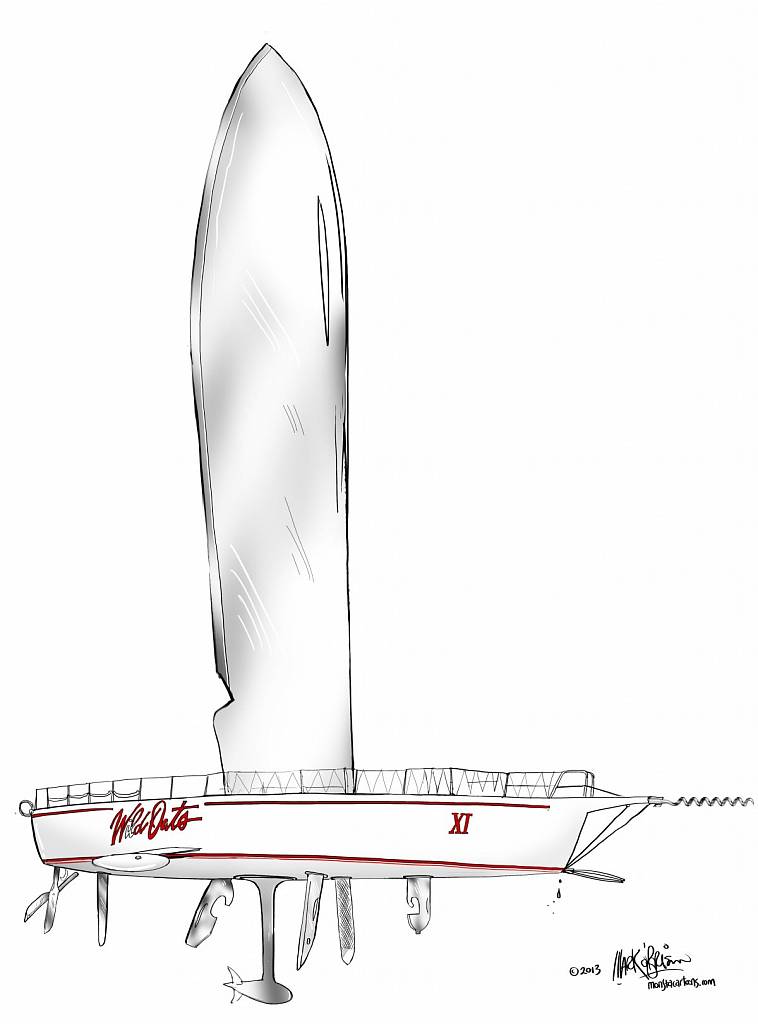 Mark O' Brien put his Monstacartoon pen to the Wild Oats XI appendage package, and as usual, it's awesome.  Wanna buy a print of any of his work, or a cartoon of your own boat?  Hit him up here!  Credit to the great composer Kurt Weill (via Louis Armstrong here).  And get in the Sydney Hobart thread to post your own predictions for the race, and win brand new SA swag, and don't forget our McConaghy Boats-sponsored coverage of the 69th Sydney Hobart Race, coming at you live from Oz in just a few days.  Like McC's Facebook Page now, or you might well miss something….
December 19th, 2013 by admin
With her six different underwater appendages, a finned bulb, and a monster bowsprit, it's obvious to see why Sydneysiders quickly dubbed the improved Wild Oats XI the 'Swiss Army Knife'.  But is the skinny rapier R/P 100′ enough to challenge the ultra wide-load JuanKer 100 Loyal?  Only time and tide will tell, and for the first time ever, our own crack team of reporters (a/k/a one drunken bald guy and his way-too-sexy-for-him photographer/wife) combined with an army of Anarchists in the fleet and spectator corps, will be there to bring you all the action from Sydney and Hobart.
We've also got giveaways, contests, and lots of other interesting things planned; the best place to keep abreast is in the already mondo Sydney Hobart thread here.  With barely a week left until the start, it's also a great time to get over to McConaghy Boats' Facebook Page and give 'em a Like – that's where much of the reporting, video interviews, boat tours, and photos will go thanks to the Aussie boatbuilder's sponsorship of our coverage.
Finally, McConaghy Boats dominated the CYCA trophy series over the weekend taking first and second places in both IRC and ORCi.  Have a look at their Form Guide to the CYCA Trophy Series here.
Andrea Francolini photo/www.afrancolini.com.
December 16th, 2013 by admin
Wild Oats XI may have added yet another Line Honors victory to her long and illustrious career, knocking back the nastiest fleet of challengers to her throne yet in the SOLAS Big Boat Series.  It's hard to take the results too seriously of what is essentially a practice start for the Hobart, but there's no doubt at all that Loyal (a/k/a Speedboat) had WOXI's number in around 20 knots of breeze, sailing away from the 100 foot maxi upwind and down.  That is, until a late douse of a headsail that owner Anthony Bell called a "North R-1″ that turned rapidly into $150 grand worth of North-branded tarpaulin.  Here's the best video of the sail implosion, while here's some from a different angle, and here's some more.  Note the Black Jack (ex-Telefonica) flying down the track ahead of both maxis; when you remember that Volvo 70s own pretty much every offshore monohull speed record, you find it harder and harder to dismiss them regardless of the length advantage for the 100 footers.
Bell said they already had another big reaching sail being sourced from the US; either way, it was a great outing for the big JuanK boat that perhaps will presage what we'll see in the race:  The Speedboat hauling the mail until she blows a gasket, when either WOXI, Beau Geste, or one of the Volvos will sail on by.  As much as we dig the thing's beastly nature and raw look, we have to remember that Speedboat/Rambler/Loyal has broken in more races than she's finished.  Like a Volvo 70 only more so, you spend most of the time slowing the boat down rather than speeding her up.
Even the bookies agree; betting odds for Loyal have decreased to just over 2$, while WOXI is up to 1.80.  Place your bets and post your thoughts on everything Hobart in the all-encompassing thread, and note that Sailing Anarchy is finally doing something about the canned coverage of the Hobart we all suffer through every year:  We're sending The Cleans down to bring you interviews, photos, and live (or near-live) video of the dock and start for the 2013 race, making it the most comprehensively covered Hobart Race in recent memory.  With the support of McConaghy Boats (and using their Facebook Page to bring you rich reports from the Harbor and beyond) and with embedded reporters throughout the fleet, our coverage begins on Christmas day and runs right through New Year's.
Photo thanks to "Brit down under", with a full gallery of his pics here.
December 11th, 2013 by admin
Occasionally we'll relax Sailing Anarchy's "No Press Release" policy, but only if (a) something awesome is involved, (b) it's for a good cause, or (c) hot chicks are involved.  The following meets two out of three criteria, and more importantly, shows some of the constantly good work that CYCA does with the month-long circus around Australia's biggest sailing event.  The only qualifier:  You need to get to Sydney…by next weekend.  Check it out, and of course use the community for more info about everything Sydney-Hobart.
The Cruising Yacht Club of Australia has once again launched its eBay auction that provides an exclusive opportunity to bid for places onboard one of the Rolex Sydney Hobart Yacht Race favourites, when they compete in the CYCA's SOLAS Big Boat Challenge – the spectacular maxi yacht race around Sydney Harbour on Tuesday 10 December.
Seven Rolex Sydney Hobart entrants have offered places onboard for the auction and they include: Wild Oats XI, Perpetual LOYAL, Wild Thing, Brindabella, Southern Excellence II and Giacomo, all providing two places available for auction, with Black Jack making one guest spot available. Other yachts to also offer places are Terra Firma and Ginger.
In a much anticipated event, this will be the first time Bob Oatley's super maxi Wild Oats XI will line up against Anthony Bell's new Perpetual LOYAL, the former Rambler, and the rivalry between the two will be fierce. However, the two will also have to deal with Grant Wharington's Wild Thing.
This will be the seventh year that the fleet will race to raise awareness and money for the CYCA's Safety of Life at Sea (SOLAS) Trusts, which have donated just on $900,000 to search and rescue organisations Australia-wide and provide assistance (financial and other) to immediate families of those lost at sea during Yachting Australia sanctioned races.
Bid today for your chance to sail on board one of these yachts!
Wild Oats XI
Wild Oats XI secured her sixth line honours victory under the guidance of Mark Richards in last year's Rolex Sydney Hobart, broke her own race record, which now stands at 1 day, 18 hours, 23 minutes 12 seconds and won the race overall. It was the second time the super maxi had achieved this historic treble and the only boat to do so twice in the race's history. As it does each year, Bob Oatley's super maxi has undergone further modifications that include having a radical, retractable, hydrofoil-type wing fitted in a bid to make her even faster when sailing downwind. Two places are on offer on one of Australia's most recognized super maxis.
Make a bid for the two places on Wild Oats XI
Perpetual LOYAL
Anthony Bell returns to the blue water classic with the former Rambler 100. Since acquiring the boat earlier this year, Bell has embarked on a mammoth project to re-build the yacht since her keel snapped off, causing her capsize in the 2011 Rolex Fastnet Race, after taking line honours in numerous races. She was originally and aptly christened Speedboat – for good reason – and took line honours in her maiden outing, the Newport Bermuda Race.
Reputedly the fastest racing 100 footer in the world, buckle up for a white knuckle ride. The SOLAS Big Boat Challenge will be the first time Perpetual LOYAL and Wild Oats XI will sail against each other before the Rolex Sydney Hobart. Two places are on offer on this slick super maxi.
Make a bid for the two places on Perpetual LOYAL
Wild Thing
Two places on Grant Wharington's Wild Thing were also posted on eBay today. The Rolex Sydney Hobart 2003 line honours winner has been a process of evolution over the last ten years. Modifications were made to the yacht last year, which included extending her to 100ft and making improvements to her original hull shape. Earlier this year, Wharington secured a line honours win in the Brisbane to Gladstone Yacht Race which she followed up by taking line honours in the Sydney Gold Coast Yacht Race in July
Make a bid for the two places on Wild Thing
Brindabella
Australia's most famous maxi Brindabella, a former line honours winner of the Rolex Sydney Hobart and holder of the record for a conventionally ballasted boat (1d, 20h, 46m, 33s set in 1999). Designed by Scott Jutson, Brindabella still turns heads today with her sleek lines and elegant sail plan and still holds many Australian east coast race records including the Sydney Mooloolaba Yacht Race, Sydney Noumea Race, and the Sydney Wollongong Race.
Make a bid for the two places on Brindabella – the people's yacht
Southern Excellence II
Andrew Wenham purchased the former Ichi Ban in March this year and won line honours in the protracted Gosford Lord Howe Island race in a time of 63hrs, 45mins 22secs; one of the longest in the race's recent history after being marred by light and fluky winds. In similar conditions in this year's Sydney Gold Coast Yacht Race, Southern Excellence II finished fifth on line and fifth in IRC Division 0 and then took line honours in the Blue Water Pointscore's Bird Island Race in October. Wenham has upgraded a number of systems on the boat to improve her IRC rating and to suit his requirements.
Make a bid for the two places on Southern Excellence II
Giacomo
New Zealander Jim Delegat, Managing Director of Delegat Wine Estate (distributor of Oyster Bay wines), purchased the 2011-2012 Volvo Ocean Race winner, Groupama earlier this year. Renamed Giacomo, she has a canting keel, dagger boards and the latest in rigging. Was built for fresh off the wind conditions and will be impossible to stop in the right conditions in the Rolex Sydney Hobart.
Make a bid for the two places on Giacomo
Black Jack
One guest spot is available on Black Jack, the former 2011-2012 Volvo Ocean Race entrant Telefonica, which Spaniard Iker Martinez won the first three legs of the race with, but ultimately finished the VOR fourth overall. Peter Harburg shipped his new Black Jack to Australia earlier this year and ordered modifications to bring the yacht up to Australian standards. She made her Australian ocean racing debut in the Sydney Gold Coast Yacht Race in July and finished third on line and in IRC Division 0 following a tight tussle with the top two, Wild Thing and Lahana.
Make a bid for one guest spot on Black Jack
Terra Firma
The name Terra Firma lives on again – Nicholas Bartels stepped up from his successful Sydney 47 to the Cookson 50 formerly known as Shogun in 2010. In the 2011 Sydney Gold Coast Yacht Race, Terra Firma finished ninth overall, and third in IRC Division 1 and ORCi Division 1. With some talented sailors onboard and a strong crew, Terra Firma will be out to do well in this year's SOLAS Big Boat Challenge
Make a bid for two guest spots on Terra Firma
Ginger
This 60 foot Swan is a well-tuned ocean racer owned by Leslie Green. In 2011 Ginger took the line and IRC double win in a foggy Ocean Pointscore race to Port Hacking and is a regular CYCA competitor. She also won the Rolex Trophy Series Passage race in 2008.
Make a bid for the two places on Ginger
Bidding for all ten items will close on 6th December 2013. Terms and conditions apply, see the individual URL's for details.
The highly charged SOLAS Big Boat Challenge, is a big attraction to spectators both on and off the water, and starts at 12.30pm on Tuesday December 10. It takes the yachts on a tight 14 nautical mile course starting off Steele Point at Vaucluse, down the Harbour to Manly for two and a half laps. The yachts will pass many of Sydney's famous landmarks along the way, including Fort Denison, Mrs Macquarie's Chair and the Sydney Opera House, which provides the picturesque finish line.
December 5th, 2013 by admin
With the first real competition for line honors in years, excitement continues to build over the 2013 Sydney-Hobart fleet.  We showed you the new Carkeek 60 landing in Australia a couple of weeks ago, and here's something sexy from Carkeek's old partner; it's the new Botin 80 Beau Geste hitting the harbor after a balls-to-the-wall build sched at Cookson's.
The canting mini-maxi replaces the almost new Farr 80 that famously and terrifyingly cracked in half  during last year's Auckland to Noumea Race, and she has some new thinking and quite a bit more structure than the ill-fated boat; given the right conditions, this thing is going to be a rocket, even capable of line honors if everything went her way.
In the meantime, Bob Oatley's Wild Oats XI looks to have suffered a mast failure during testing/practice of her new rig.  Eyewitnesses said the rig compressed at the gooseneck; no big deal for the Southern Spars techs on hand to fix it.
In other news, Loyal (ex Speedboat) got some good facetime on the 18 Footers broadcast last week; this link will take you right to it.  Stick by the Hobart thread for a stream of news that will continue to get better and better as Boxing Day approaches!
Cheers to Rockstar Yachting for the shot (via FB).
November 20th, 2013 by admin
Matt Allen's new Carkeek 60 Ichi Ban has barely more than a month before the Hobart Race; here's hoping the team can get this monster ready in time to get some solid practice in.  Looking quite a bit like her smaller 40-foot stablemate, this thing might even be faster than the canting VO70 she replaces.
For everything Sydney-Hobart, check the thread, and thanks to SA'er 'chouff' for finding the photo.  And if you don't like beautiful French women posing as teenage lesbians, don't go here to find out about the controversial, Cannes-winning film that gave us the title for this piece.
November 13th, 2013 by admin
Post Of The Week
The annual Sydney-Hobart 'Let Multihulls Race' thread is raging nicely in the forums, and the rambling discussion turned to the reasons behind the Hobart fleet's shrinking trend, both in fleet size and worldwide stature.  Compared to the record fleets of recent Fastnets, Caribbean 600s, and Middle Sea races the Hobart is stagnant, even with one of the best Maxi/Canter/Mini Maxi fleets in recent memory on the line.  
Longtime SA'er and master debater 'Chris 249′ got deep into the reasons for the Hobart's decline, and his opinion is our Post Of The Week.  Continue the debate in the thread.
The Hobart is very much a big-boat fest these days, whereas when it was more popular the fleet was mainly composed of much smaller boats. That means that very few people can now afford to run a "competitive" boat, as in one that will finish close enough to the bulk of the fleet and among a group of similar boats.
The change can be seen by looking at the Hobart itself over time, and in comparison with the Fastnet both now and then. The fleets used to look quite similar in terms of the proportion of big boats to small boats; now the Fastnet has a vastly stronger small-boat and medium-size boat fleet.
Looking at the last races (and throwing Hobart PHS boats and Fastnet 2H IRC boats in their respective divisions) we see that there is a striking similarity in the number of boats of TP52 size and speed and more in each race. The Fastnet had 24 starters in the Canting and Zero classes (One 100′ supermaxi, TP52s, fixed keel mini maxis, Volvo 60, Swan 60, Farr 52 OD etc) whereas the corresponding classes in the Hobart attracted 23 boats, including three 100′ canters and a 100′ fixed keeler.
But in the next size down (39-46′ IRC racers like Rogers and Kers and big cruisers) the Fastnet had 52 boats, the Hobart just 17. The class after that (Beneteau 45s and 40s, etc) had 89 boats in the Fastnet and 19 in the Hobart.
In the smallest boats the disparity is even more marked; once you get under IRC 1.05-ish, (10m IRC racers, J/109s, Beneteau 36.7, Sydney 36, J/35, old IOR boats of 47′ or less) there's a staggering 184 boats in the Fastnet compared to 17 in the Hobart!
If you add in the Class 40s and Figaro IIs (one designs I left out of the above calcs as there is no comparable scene in Oz) the proportion of 'small' boats in the Fastnet increases even more.
It's also interesting to look at long-term trends. I found the '79 Fastnet and '77 Hobart fleets to compare their composition with the current fleets. At the time, the Hobart fleet (132 boats) was much healthier (compared to today and to populations) compared to the record Fastnet fleet (303 boats).
The Hobart fleet's composition was also strikingly similar to that of the Fastnet, in terms of boat size and design apart from the fact that Class I (50 to 43 foot racing boats and big old cruisers) was miles bigger in the Fastnet, partly because of the 50-ish boats that did it because of the Admiral's Cup*. For example if we look at (roughly) IOR 34-30 footers we see 116 boats in the Fastnet and 53 in the Hobart; pretty close to the ratio between overall fleet sizes.
Over time, though, the races have diverged to the Hobart's cost. In the Fastnet it looks as if the number of "raceboats" over 38′ has actually declined as the fleet has grown and people move to cruiser/racers. The number of boats of 36′-ish and less has stayed static. The growth has been in the 40 foot cruiser/racers like Benny 40s….the sort of boat so many slag off but which keep so much of the sport going.
In contrast the Hobart has a larger number of big race machines, but a vastly smaller number of small boats and a much smaller overall fleet. If the Hobart had maintained the same sort of fleet composition as it used to have, and the same sort of composition the Fastnet still has, we'd see dozens of boats like J/109s, Archie A 31s etc bouncing down to Hobart.
And why have the small boats stopped? Not sure. The Cat 1+ safety requirements have hurt. The accent is also all about the big boats, and there's no real stepping stone from small boats and small races like there used to be. I think in the last days of the "small boats to Hobart" scene there was a strong (and often expressed) feeling that anything under 36 feet just was not welcome. As another example the CYCA, which used to have a JOG division (= MORC, for boats under 31′) AND a separate half ton class, now bans any boat under 30′ from even doing day races offshore. We have nothing like the Euro/UK quarter ton and half ton scenes or UK JOG, or the smallish OODs of the USA; there's no replacement for the JOG and half/quarter scenes of yore. No owner-measured IRC certs are allowed so almost no small boat owners spend the extra bucks for full measurement and there's no PHRF, so for the small-boat owner there's only golf handicap and therefore no reason to try hard or sail well.
I sold an investment property a few months back and thought of chucking the cash into a boat for the Hobart etc, but decided there was no point when the small-boat numbers have dwindled so much that there's no one to play with. It's a vicious circle, especially when no one seems to give a fuck about stopping the spiral. So I race dinghies and boards and will do some local racing; ironically now I've moved away from Sydney's big boat oriented scene I can race my 4kt "SB" again. CBF crewing on big boats as I don't want to specialise in doing just one thing.
What the Hobart and Fastnet analysis does show, IMHO, is that increasing the proportion of big fast boats, and the emphasis on them, really does nothing to increase the race's status, viability, fleet size or competitiveness. The idea that putting in big multis will increase interest and therefore numbers falls down, IMHO, when we see that putting in big canters has done nothing to increase fleet sizes and may have reduced them. People are not getting into the race because the fast boats are getting faster….. in fact they are no longer turning up like they used to. It's no fun getting to Hobart to find that the party is over.
As is so often the case, it's the much-abused practical boats like Beneteaus that are keeping the sport strong and healthy, and the scene that concentrates on spectacular boats is the one that is sick.
And the Fastnet shows that people WILL still sail offshore in fairly small and cheap boats if they are encouraged, rather than bagged out for sailing 5 knot shitboxes. But there seems to be a big cultural difference between the RORC and CYCA these days.
All just my 2¢ worth, it'd be interesting to hear from Fastnet and Bermuda racers and guys who still do the Hobart.
* 57 boats did the AC but at least 9 or 10 of them were chartered UK boats or boats from France, Holland, Ireland etc which would have done the Fastnet even if there had been no AC.
November 1st, 2013 by admin
It's better late than never for the new Carkeek 60 Ichi Ban, which arrived in Oz a couple of weeks ago from Dubai just in time for fitout and launch before the 2013 Hobart Race.
With a fleet including a couple of late model Volvo 70s, five 100-footers including the Loyal (ex-Speedboat), and a couple of badass mini-maxi downwind monsters — Ichi and the sparkly new Botin 80 Beau Geste – and even the full fleet of Clipper/Winnebago 70s, 2013 is looking like the best Hobart big-boat fleet in a decade.
Got news?  Got goss?  Got questions for the more-than-50,000 Sydney-area sailors who make Steak-and-Kidney the biggest Sailing Anarchy audience in the world?  Hit the Hobart thread.
October 24th, 2013 by admin
NZ wine magnate Jim Delegat has to be the unluckiest Kiwi racer of the past few years.  First, the poor bloke gets anally raped by a subsidiary of Salthouse Marine, which allegedly and quite creatively moved around the million-plus dollars he paid as a deposit for a 68-foot custom job before going bankrupt.  After licking his financial wounds, Delegat then caught a ride with Gavin Brady on the sexy Beau Geste for the tropical Auckland to Noumea race.  A sweet yacht, a great race, and a great big fucking crack in the hull famously ended that bid, with all crew rescued.
Delegat seems to have learned his lesson, and for the 2013 Sydney-Hobart Race (and let's all get used to not using "Rolex" anymore) he stopped screwing around, with inside reports linking him to the outright purchase of Franck Cammas' Groupama 4 for the all-important December classic.  Now it looks like Cammas is leading the crew as part of the deal, with sponsorship coming from a big French multi-national with a strong Aussie presence.
This puts an exclamation point on what's likely to be the biggest and most exciting Hobart in years: Speedboat, the newly chopped and modded Wild Scissorhands, and a mini-fleet of Volvo 70s makes line honors an actual battle for the first time in a while, while the addition of the entire Clipper 70 fleet means more big boats in the race than in ages.
Keep an eye on the thread for more breaking news on one of the world's baddest races.  Yvan Zedda photo.
UPDATE/CORRECTION:  Cammas ain't coming, and the French sponsorship ain't happening.  It's not as if Delegat needs it.  Meanwhile we are told that Whitbread vet Steve Cotton will be running the boat, while our old pal Rodney Keenan is managing the project.  "The nice thing about Auckland is you can find a dozen Volvo and Whitbread guys without getting in the car," Rodney said, sort of.  The new boat is named Giacomo after Delgat's grandpappy and the founder of much of New Zealand's wine industry, and the boat's first race will be the Coastal Classic.
August 21st, 2013 by admin
With the Speedboat and a pile of Volvo 70s grinding and scraping their way to readiness for the 2013 Sydney-Hobart Race, Bob Oatley's Wild Oats XI is looking both long in the tooth and a bit iffy for that all-important first-to-finish trophy.  What's a billionaire to do when his 100′ Super Maxi starts to look old and tired?  There ain't enough time to build a wider, more powerful boat, and you've already added yet another steering appendage up front to go with the canting keel, rudder, and two daggerboards.  Maybe you just need a little more cowbell.
That's apparently what WOXI skipper Mark Richards thought, and the result is a nearly 3-meter DSS horizontal stability fin.  We've seen them before, and they're performing with varied results, and the consensus is that, for the right boat, the DSS system is pretty damned sweet.  WOXI will test out the new foils next month at Hamilton Island Race Week.
We think this is the biggest DSS deployment yet, and you can bet your sweet ass that, if the Aussie "Swiss Army Knife" works, you'll see a lot of retrofitting very soon; with the worldwide economy less stable than even Rolex's sailing future, it's a lot cheaper to cut a new hole in your boat than it is to build a new one.
There's one massive problem we can see here:  One big fish or one waterlogged timber is going to tear a hell of a hole in a boat that averages 20 knots and touches 40 regularly.  Do they really need another point of failure?
August 14th, 2013 by admin