Posts Tagged 'Sydney-Hobart'
We have not gone easy on the CYCA and Rolex over the years for the less-than-impressive Rolex Sydney Hobart coverage the world usually sees on boxing day.  That makes us even more excited to be able to say this year "WELL DONE, AUSTRALIA!"
Why's that?  Because the Channel 7/CYCA feed looked great, sounded great, and streamed live on Youtube for the world's bored sailors to geek out on while avoiding family at Christmas.  They still think they own the water, but let's tackle one issue at a time.  Meanwhile, SA'er 'forss' has created a super simple tracker using the WindyTV streamlines, so if you prefer something less hungry than the official tracker, you can find the SA'er version here.  Latest news in the thread.
December 25th, 2016 by admin
Get the inside stories, the boat tours, and whatever else Nic Douglass can come up with, LIVE from the Sydney Hobart Race.  For details on Nic's program, click here.
December 25th, 2016 by admin
We love the attitude on this nearly crushed spectator boat as the five-boat SOLAS Big Boat Challenge gets rolling; listen closely for best effect.  For full, stable, HD video of the race, check out the 18 footers guys over here. The Sailor Girl did her own live thang over here.
December 13th, 2016 by admin
We're still not sure if Jim Clark's monster-maxi logo is a Comanche or Keith Richards, but with her never-say-die ingenuity overcoming major appendage damage, Kenny Read and the big indian's crew made mincemeat of the previously all-conquering Wild Oats XI. This despite a decade of design and redesign from the Oatley's skinny recordholder specifically for this race – and only this race – and we remain confused and slightly shocked that the all-star crew of they Sydney boat was defeated by something as pedestrian as the failure of her $200,000 3DI mainsail.  Was it a brand new sail, and if not, why wasn't it?  Was it poor crew work?  A 'white squall'?
We already know that Comanche
We'd tell you more, but there ain't much – and of course the best place in the world for all the news is right here on our forums.  Sailor Girl's live feed from Constitution Dock ain't bad either – here's her interview with Ken Read and the rest of the Comanche crew earlier this morning.  Thanks entirely to Nic, we know Comanche's victory was far from easy even with the silver arrow crawling home with her tail between her legs.  Ken explained that Comanche broke her board near the hull, hanging on the uphaul and banging around threatening the hull.  They cut the board free, but it collected the rudder on its way back, and after the shunt, the steering system was broken with the rudder facing backward.  Toolboxes came out, the steering was repaired, and they decided it was safe to continue.  For the rest of the story, hit Nic's link above.
Pretty pictures of Comanche's domination above from Crosbie Lorimer.
December 28th, 2015 by admin
Nic the Sailor Girl is blowin' it out of the water down at the CYCA for the live, Sydney-Hobart Pre-game show, starting now!  Everyone wants to talk to the Sailor Girl, so get ready for piles of interviews as the crews get ready for Australia's signature race.  And refresh this page often for info about watching the live streamed Yahoo7! coverage of the start; we'll let you know how to watch it no matter where you are.
December 25th, 2015 by admin
In the best Aussie tradition of having the biggest, sharpest knife in the bush, the legendary machete that is Bob Oatley's Wild Oats XI is going back under the knife for a massive refit before the 2015 Hobart.  And when we say massive, we mean cut in half and rebuilt from the mast forward, with a huge DSS-style fin at the beam…and that's only part of the job.  Will the WOXI boys continue to stay just ahead of the new curves from VPLP, Verdier, and the Juank?  Apparently, all it takes is money, hard work, money, great crews, money, skilled boatbuilders, and a little more money.  Gotta do something will all that cash meant for an Aussie AC team, perhaps? (A team which, hilariously, continues to publish a website, hosted on the Americascup.com domain, that loads with a huge image of the Harbour with the words "2017 – Australia Gets Back In The Ring" as of a few minutes ago).
Check out the details over here, and WOXI's Facebook is always good for something interesting.
August 7th, 2015 by admin
We get a lot of fun Christmas cards every year, but this one from SA'er iTa303030 made us chuckle the most.  Share your Kwanzaa, Hanukah, and yeah, Christmas wishes in the thread, and remember: Just 'cause you ain't working doesn't mean we ain't!
So what's in store for the end of the year?  Plenty! 
We've got boots on the ground in Sydney and Hobart, and we'll get you everything you need to listen to both Nic Douglass's all-day live radio show and the official Yahoo/Channel 7 streaming video start of the Sydney-Hobart Race on December 26th (25th in the US and Europe)
Mr. Clean hits the road for Abu Dhabi on Sunday to bring you his customarily awesome interviews, analysis, and live commentary from the In-Port Race and Leg 3 start of the Volvo Ocean Race on January 2 and 3.
Our favorite cornbelt photojournalist Jen Edney is off to Barcelona to get all the inside stories from the 3rd Barcelona World Race.
and Petey Crawford's International Date Line troubles means he's missing Christmas entirely as he heads to Melbourne, Australia at this very moment to scout for our world-leading coverage of January's Moth Worlds.
If you love sailing, 2015 is going to be one hell of a year.  Don't change the channel.
December 24th, 2014 by admin
Succumbing to the same fear that spurred the creation of what has been dubiously called the 'biggest spinnaker ever built' for the Perpetual Loyal, Jim Clark's big native was seen today sporting her own monster mega-kite, an answer to the 10-degree advantaged soaking power that shot the old Speedboat out the back of Wild Oats XI's skinny ass last year.  While the window for a loose-luffed kite on boats these fast is extremely narrow, if those deep downwind angles are required, the fat girls are going to need every advantage they can get to stay in touch with the low-drag hull of the silver arrow.
The first problem?  Big ratings hit, which means the decision to carry or not will be a last-minute one.  The bigger problem? The 100-foot tall warrior head looks far more like the Rolling Stones' own Energizer Bunny than it does a fearsome warrior.  But the motherf*%ker can play, can't he?
Longtime SA'er 'gybe-ho!' coined the new sail's name, forever now known as "Big Keef"in the continuously enjoyable trash-talk thread.
For a great look at a couple who's really growing on us, head over to this Channel 7 sitdown with Clark and supermodel wife Kristy Hinze on whether the decidedly not fat-bottomed girl will race down to the Customs House on a jet or on a supermaxi.
December 15th, 2014 by admin
SCOTW
We promised to show you what newbie sailor chick Sally Fitzgibbons had to say to our Senior Editor yesterday, and here's your delivery.  Big thanks to Land Rover Sailing, the Extreme Sailing Series, and the M32 Series for helping us put this short shoot together.  And a huge shout out to Petey Crawford for working overtime to convert some shitty iPhone video into something pretty – Sally's looks certainly helped that, and she'll be our Sailor Chick of the Week at least until the Hobart!
Learn more about this awesome athlete (and check out lots of bikini pics) over here.
December 11th, 2014 by admin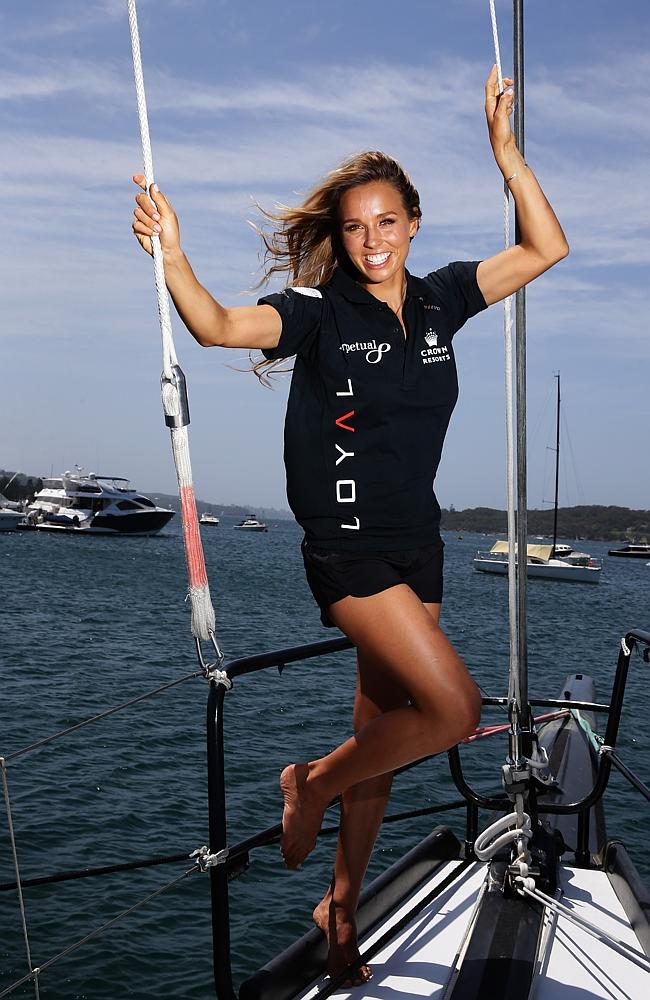 Sure, Wild Oats XI has only been beaten to Hobart twice, and her skinny bottom means she's one of the best all-rounders ever built for the coastal races she was created for.  And sure, Comanche has Stan Honey, Jimmy Spithill and Kenny's entire Puma Team, and a design that should be faster than the once-frightening Perpetual Loyal (ex-Speedboat).  But Loyal has several secret weapons – among them Sydney supersailmaker Michael Coxon and a brand new kite said to be 'the biggest spinnaker ever built'. Plus, they have a new website!
And then there's this weapon – ASP surfing world title contender Sally Fitzgibbons, who joins Anthony Bell's charity-driven campaign for this year's crowded Hobart race (remember when Clean grabbed a midnight interview with Jess Watson aboard Loyal last winter?).  She'll certainly add some motivation to the boys, and they'll likely not waste a chance to have another crew hiking and packing kites.  She'll also add thousands more eyeballs – and hopefully, the donations that go along with them – to one of the greatest spectacles in yachting: Sydney Harbour on Boxing Day.  And this year, it might be the greatest ever.  At least until they let the multihulls in.
Lou Reed is responsible for the title.
December 4th, 2014 by admin