Posts Tagged 'sydney-hobart race'
Despite what looks to us like a pretty clear foul at the start from WOXI, Comanche has jumped out to a big lead on the fleet in the Sydney to Hobart Race and it looks like she's closing in on the race record! Jump over there for the latest.
We take back all the nice things we said about the CYCA, who apparently got everything all sorted out for their Youtube stream of the start – except forgetting about the copyright-protected ads for the PGA Tour that ran on their Channel 7-sourced feed.  Youtube killed the video, and somehow the CYCA has not been able to solve the problem, leaving us with the no-sound Livesaildie video of the port/starboard incident above.
December 25th, 2017 by admin
It seems Australian Yachting wants to tell you what you can and cannot do with your hard-earned money, including betting on the Hobart Race.  Apparently, every other sport is doing it wrong, and the Aussie overlords seem to think betting on yacht racing is going to ruin the sport's "ethical and honourable nature," whatever the fuck that means.  Other sports have gone through this over the years, and the only way anyone has ever gotten in trouble for betting was from opening their mouths about a big win or being busted for 'throwing' one.  So bet all you want, and we've verified that it is possible to place a bet from outside Oz, though you'll need a VPN to place your online bets from many countries (including the USA) or just call it in.
Here's an excerpt from the officious letter Australian Sailing wrote the CYCA, though we have no idea where they came up with their odd view of the reality of even the existing silly rules governing betting.
Australian Sailing is aware of move to engage betting agencies with a number of international events and World Championships held recently in Europe.  The integrity of our sport is vital and this is an unwelcome development…"

"To be clear, there is a restriction for sailors, gamily members, and related  parties on the following:

*Betting on an event

*Communicating with external people who seek advice on an event for the purposes of placing bets

*Any link or encouragement of family members or others to place a bet on your behalf.
There are some great bets on various sites, including head-to-head matchup bets and over/under race times.  The latest odds from the tab.com site for the big ones are below, and it's hard to find real good underdog picks. We'd probably go for WOXI for line honors at 4.50 to 1 and Beau Geste at 10.00.
Overall winner
Comanche: 1.70
Black Jack: 4.25
WOXI: 4.50
Infotrack: 10.00
Beau Geste: 26.00
Handicap Winner
Mascalzone Latino 32: 5.50
Ichi Ban (52): 6.50
Beau Geste: 10.00
Quest: 11.00
Wizard: 11.00
Wild Oats X (66′): 12.00
December 25th, 2017 by admin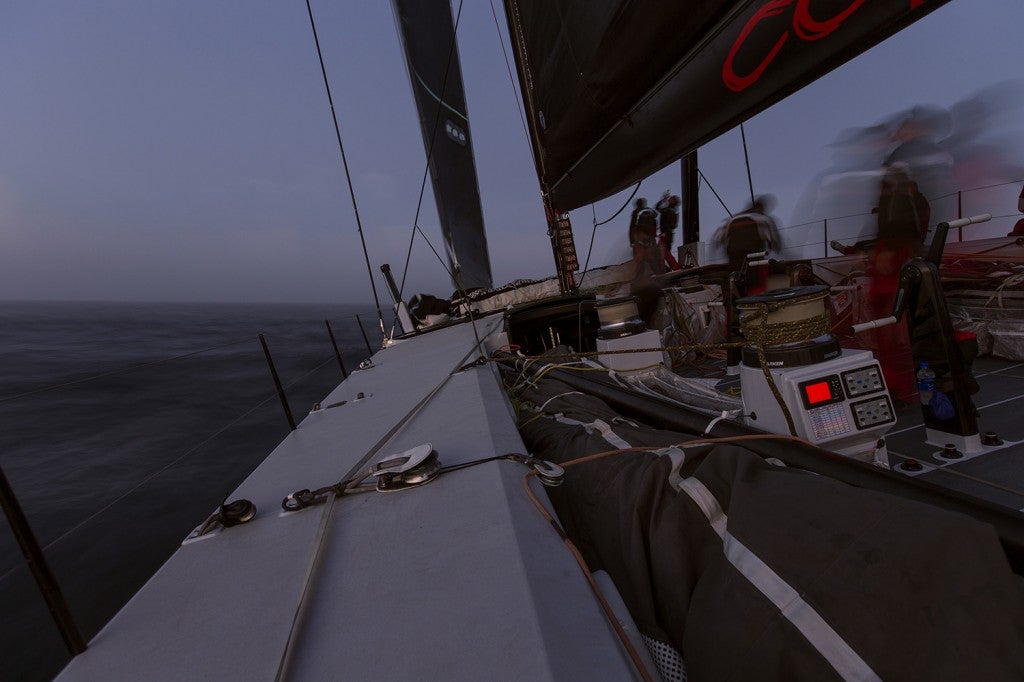 Wild Oats XI is on fire in the light breeze off the SE tip of Oz; she's a good 20 NM ahead of Comanche as they enter the Bass Strait at sunrise.  With building breeze and a free direction (and with Jimmy Spithill on the American boat), don't count 'em out just yet, and don't forget about the other monsters well to the West in potentially much better conditions; here's a great Morning Report from the Sydney-Hobart radio team including some info from Comanche navigator Stan Honey.  There's only one place on the web to get all the latest info in one spot; hit the thread. Andrea Francolini photo.
UPDATE: Here's a hearty SA shoutout to the boys on ADA (Assistance Dogs of Australia) Celestial, the Rogers 46 currently leading all handicap categories overall, and a crew which includes at least one On-The-Water Anarchy past staffer and OG Anarchist.  Get 'em, dingo!  A few boats have withdrawn, including the Perpetual Loyal 100'er, which claimed delaminating bow sections for the stop.
December 26th, 2014 by admin
Check out these portraits of the men at the top of the 5 Supermaxis on this year's Sydney-Hobart line.  Andrea Francolini's shots continue to up the bar in creative photocoverage of this race; check his page here. 
December 25th, 2014 by admin
Nicole Douglass continues to push the boundaries with her 'Adventures of a Sailor Girl' show, with the embedded show above perhaps her most ambitious yet; it's got Ken Read, Tom Slingsby, Nathan Wilmot, Morgan Larson, and plenty more of the cream of the crop at last week's Extreme show and tomorrow's big race. We dig what Nic's doing for the sport, and we are extremely glad so many of the racers are taking the time to get online with young personalities like Nic who are spreading the word…keep it up, boys and girl.
We're also excited to hear that Douglass's show will be live for something like 7 hours on Boxing Day right through the start of the Hobart Race, so start your morning (or your Christmas dinner, if you're in the US) with Nic's Hobart Race show starting at 0800 local on the 26th;  that means Christmas Day for the rest of the world, and the radio show will start at 1600 on the US East Coast.
December 24th, 2014 by admin
There's something special about a pretty drawing, and Francois Chevalier has long been the world's most interesting racing yacht illustrator.  He and the Anarchists over at the ChevalierTaglang blog have knocked up not only this awesome drawing of Comanche, but all 5 of the Supermaxis contesting this year's Hobart.
They've even got analysis, and thanks to SA'er 'nuttyrave', you can check it out here.
December 17th, 2014 by admin
Comanche's child-rearing hips vs. Wild Oats XI's svelte pooper as shot by SA'er 'wildboats!": Could there be a better illustration of what to expect in just 25 days?  Great shot and plenty more from the fanboy thread.
December 1st, 2014 by admin
Are you getting stoked for the Sydney Hobart Race?  We sure as shit are, and judging from longtime Sydney-Hobart photographer Andrea Francolini's Facebook Page, he is too (and thanks AF for sending over a higher-res shot of this 2006 dunking for the SA'ers).  It's not just the long-awaited US vs. AUS showdown between the wily, old, rarely-defeated veteran Wild Oats XI (going for her record-breaking eighth overall win) and the bleeding edge Kenny Read-led star-spangled Comanche.  Even better than this tête-a-tête is a big upswing in the typical fleet size (up to 117 boats for this year) thanks to the extra buzz of the race's 70th anniversary.  Relive some of the great shots of the past with Andrea as well as some non-sailing Sydney vistas over here. The CYCA is on board with the nostalgia too – how about a movie from the 1974 race?
And for some classic SA shit talking between the Aussie fanboys and the yank shit-stirrers anxious to prove their maxi is bigger than yours, start here.
November 24th, 2014 by admin
Australia's Brad Blanchard gave us some info on the kind of charity work we love.  Check out this amazing program; if you can help them out, do it.  If not, get over to Facebook and like them.  We'll be following this one closely right through the 2014 Hobart, and we expect a major sponsor announcement today.
Ocean racing is a long way from the landlocked and war-torn country of Afghanistan, but it's certainly helping some of our country's wounded veterans heal their physical and psychological wounds.  Australia's Soldier On charity was established in April 2012 by John Bale following the death of a mate, and the program is all about the Australian community coming together to show support for our wounded and ensuring they know we will always having their backs. It's about giving those who have served our country the dignity they deserve and the chance to do and be whatever they choose through; providing access to inspirational activities, supporting rehabilitation and providing opportunities that empower them.
As a Soldier On volunteer and Veteran of modern conflicts including Iraq and Afghanistan, I developed my interest in sailing following retirement from the military.  After returning from combat, I craved adventure, excitement, competition, and competitive sailing and ultimately participation in the Rolex Sydney-Hobart Race was just the thing to scratch that itch. Recognising that a lot of other Veterans weren't coping well after their service in conflict areas, I leapt at the chance to get involved with the Soldier On organisation. I realised that my involvement in sailing had helped me successfully transition out of the military and I wanted to inspire those who were struggling to get back into life, particularly those who had been injured, by helping introduce them to a sport I have become so passionate about.
After the first Soldier On Sailing Program was successfully run in 2013 out of Royal Perth Yacht Club, the organisation has now scheduled courses across Australia to help our Wounded Warriors get involved in the great sport of sailing. Incredibly, plans are now well under way to take one of these Veterans from sailing virgin to Category 1 ocean racer in less than a year by taking part in the 2014 Rolex Sydney to Hobart.
Any sailor worth his salt knows that the Rolex Sydney to Hobart is one of sailings' great ocean races and 2014 should see a huge and massively competitive fleet with the running of the 70th iteration. In thinking about how we could best capture the spirit of Soldier On's Sailing Program and the resilience of wounded Veterans, we felt the Sydney to Hobart would be the perfect platform to raise awareness for such a great cause. As a fundraising event our venture will not only help Wounded Warriors recognise that there is life after service and injury but encourage wider participation in our great sport.
For the 70th Hobart, one 'newbie' wounded veteran and I will be crewing along with the Volvo 70 Southern Excellence II.  If you would like to follow our Soldier On 2014 Sydney to Hobart Challenge please head over to our Facebook Page here, and share it with anyone in the world who might appreciate it. To discover more about Soldier On and how they help our wounded Veteran community please visit them at www.soldieron.org.au. The official launch for this massive undertaking is today at the Royal Perth Yacht Club, and we are still looking for sponsors for this worthy program.

February 19th, 2014 by admin
The Anarchists aboard Brindabella got their own escort in to Hobart this afternoon and Carlo Borlenghi shot it in this beautiful vista above; around 20 boats have finished while 10 have retired and 60 remain on the continuously nasty course; 35-40 knots is commonplace out there, and it's going to be a long night ahead for the 50′ and under crowd.  The original Wild Oats (now Wild Rose) still has a chance at the overall handicap trophy, but it looks more and more like Cookson 50 Victoire will take it; check in on the almost unmanageably big thread (150,000 views and nearly 2500 posts) for loads of pics, videos, and plenty more.  And don't forget there's still swag to be won; McConaghy's Facebook Page is where you find that.  Track the fleet here.
UPDATE:  We spent many hours and imbibed liters of rum digging for the real stories of the race late last night at the infamous Customs House; open for 24 hours a day for the next four days, this bar/pub makes about 20% of its annual revenue in one week, thanks to the sailors who rarely leave there until it's time to go home.  Last night, we dug deep and picked up our 'Epic Story of the Hobart" so far, and here it is (with apologies to a rum haze for any minor inaccuracies or embellishments):
With 35 knots up the ass (before the Westerly change),The VO 70 Blackjack (ex-Telefonica) had a few miles lead over Beau Geste and Giacomo (ex-Groupama 70), with Wild Thing a bit back.  BJ went for her final gybe to clear the island, and when the main snapped across, they broke a batten; I think I remember they had an A5 and two tucks in.  The batten pierced the 3DI mainsail and zippered it from leech to luff.  Half the sail came down and the rest stayed up.
Now they have half a sail violently flogging up the mast with no way to bring it down; up goes the bowman on a halyard to cut it free.  During the drama, BG, Gia, and WT all get through ahead.  Mind you this is at about 11 at night and nothing but nav lights and spray are visible… BO Peter Harburg – who is as cool as can be – told me "We went from 4th to 7th in a few minutes and I just went to bed.  What was I going to tell my wife?"  Meantime, the crew got the trysail on and set the FrO, and guess what?  They fucking ground down the 100 footer, then the Volvo 70, then the 80 foot Beau Geste, and they only beat Karl Kwok's brand new beast over the line by something like 50 seconds.  Giacomo came in a minute later.  Harburg (who had barely slept until  after losing the mainsail) popped up from his 3 hour nap to find he'd gone back from 7th to 4th.
I hit them up at the dock just a few minutes after they tied up, and in contrast to the BG and GIA guys, Harburg was completely charged up and full of energy.  He was hanging out at the stern, watching the crew clean up and smiling his ass off as he pulled off the tracker to return it to the race official in exchange for two slabs of complimentary beer.  He smiled and told me "beating those boys across the line without a mainsail?  To me, that felt like we just pulled a line honors victory."
Later on I spoke to Rod Keenan off Giacomo, a long time Anarchist and ultra-talented sailmaker from Auckland with a list of wins as long as the list of banned SA forum members. Rod  laughed when he told me "who would have thought a trysail was the fastest sail for those conditions, but when three reefs is still too much area, maybe that's what you have to do."
There are plenty more stories waiting to be told…stay tuned.  Blackjack photo from @Greg_Faull.
December 29th, 2013 by admin