Posts Tagged 'storms'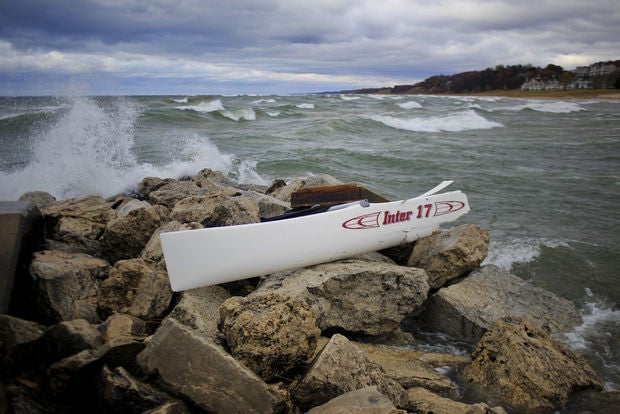 Gusts into the 60s, waves over 20 feet, and FUCKING SNOW greeted the Midwest today, wreaking havoc on shorelines across the big lakes.  Will this winter be another extreme freeze?  NOAA says no (unless you're in the SE), but with the Great Lakes up to 10 degrees colder than average, we're not optimistic.
Check out more November storm shots in the thread. Pic from 'Dacarls', and title inspiration from a great band to listen to on a cold November day.
November 1st, 2014 by admin
For anyone who likes to sail fast, light boats in the Pacific Northwest, here's a frightening look at one way logs are unloaded off specialized ships near Vancouver Island.
In more fear-inducing news, a Maersk ship yesterday revised estimates of how many empty containers it lost in one of the nasty storms in Biscay this winter, and the 520 boxes of boat-eating metal almost equals the total number of containers lost annually off of ships in the North Atlantic.  How many will still be afloat when the singlehanded Route Du Rhum sets off in November?  How many yachts, pleasure boats, and fishing boats need to be holed before these shippers are required to track and recover these ticking time bombs?
February 20th, 2014 by admin
Today we give you the best Video Friday we've had in quite a while! We've got launching Optis, dancing Minis, crashing SB20s, a massive storm, and the final Little AC wrap.  Enjoy them all, and enjoy your weekend from everyone here at Sailing Anarchy.  Got an awesome video for next week?  Send it in.
The Mothosphere

More foiling.  More crashes.  More interviews with some of the world's fastest men and women.  And of course, more Gretta.
You've been waiting for it patiently, so here's the full, 20 minute long, 2013 McDougall + McConaghy International Moth World Championship final highlight reel from Penalty Box Productions.  Enjoy!
Opti Crush
We don't know who he is, but this Seattle grommet has bigger balls than we do!  Check this Opti-crusher out on a 30-knot day in Shilshole Bay last week, and note his smile.  Also note the distinct lack of helmets, lawyers, and nanny-state, helicopter-parent sensibility.  And someone, please let us know who this grom is; he needs some SA gear and we're gonna get him some.
Hey Jude

The same St. Jude storms that threw the Mini Transat and TJV into such disarray also did a number on Scandinavia.   The storms were the most powerful to hit Northern Europe in more than a decade, and billions in property damage, hundreds of boats destroyed, and 16 deaths are the weather's legacy.  Here's a look at what 120 knot winds look like on the Svenburg Sund in Denmark, and there's more video here.
Target Rich Environment
Sometimes, hitting those puffy inflatable tubes is just too tempting.  This from last month's SB20 Worlds in Hyeres, where someone must have painted targets all over the RIB at the pin end of the line.  Chat here and thanks to Presuming Ed for this one.
Nothing To Do But Dance

With about 6 weeks of delays, postponements, and other misadventures, the Minis are indeed restless – none more so than the handful of prototype skippers who made it to Sada while the rest of the fleet ended up…elsewhere.  They put together this little tribute to the Mini Transat Race Committee; it's sort-of called "Where's The Race Committee" and it should crack you up even if you don't speak French.  Latest on the Mini fleet (including another boat lost on the delivery) here.  Thanks to the Moody Frog for this one.
November 8th, 2013 by admin