Posts Tagged 'Star'
Mark "Splat" Mendelblatt and Brian Fatih lead a veritable who's who in old school keelboat racing at the SSL Swiss Open after 7 races; this great shot from our old friend Christophe Launay.  Livestream video racing with commentary here.  Results here.  Daily news here.
September 11th, 2015 by admin
It's about as different from the M32 Series we've been following as a sailing event can get, and its the kind of racing plenty of you have asked to see; a historic class sailing long course races with graphics, data, and commentary from Dennis Conner and Canadian Star performer Tyler Bjorn. We've got just the first day of the 4-day Star Sailors League from Lake Lausanne for you as a sampler, and it's live NOW.
September 9th, 2015 by admin
UPDATE: We have been informed that the picture we posted earlier was not the correct subject.  Our apologies to anyone misled by it.
As the International Star Class battles for its one-race-a-day World Championship on Lake Garda (with 'the other Mr. Kleen' leading after two races), we learned that Italian cops made a grisly discovery in the world's best sailing lake just a couple of weeks ago.
44 year-old Italian porn star veteran Federica Giacomini was found in Lake Garda five months after she was originally reported missing, a diver discovering her body in pieces, wrapped in plastic and stuffed in a suitcase.  Giacomini's former partner, Franco Mossoni, has been questioned several times in recent months; he's best known for dressing as Rambo and waving a gun in a Vicenza hospital earlier in the year…
Meanwhile, the odd-duck Star Sailors League continues to pump cash into the century-old Starboat with their live stream including a video camera, Virtual Eye, and sailing commentators Diggby Fox and Louay Habib on the microphone.  Check it out here.
Those of you looking for more action from your live stream this week, check out the World Match Race Tour from Marstrand – one of just two WMRT events with live streaming for the 2014 season.
July 2nd, 2014 by admin
Longtime Newport Beach, CA Star sailor Jim Buckingham with Austin Sperry may have taken the first Star Winter Series event in perfect Miami breeze this weekend, but devoted SA'er Philip Carlson took the spotlight, the 23-year old Swede taking two bullets on the final day to jump ahead of Augie Diaz/Arnis Baltins for the second-place spot.  Fellow 23 year old Finn sailor and Rio 2016 hopeful Luke Lawrence kept it tight with Philip until he blew a block up on Sunday.  Carlson said he just kept the boat going, while 'the German Mr. Clean' a/k/a superstar Star crew and Weymouth Olympian Frithjof Kleen, made it go fast.  Betcha didn't know there is a German Mr. Kleen…Here's a look at ours and Germany's at the same time.
Now that the Star fleet is firmly out of the Olympics, is this the first look at a younger US-based fleet?  "If I am going to pay for my own sailing, this is the Class I will choose every time," said Carlson.  The second SWS event is December's Commodore's Cup; register here and check the Series' Facebook Page for interviews, photos, and more coverage from the team.  Meredith Block Photos.
November 25th, 2013 by admin
Sometimes just getting on the water is enough to stand out, and as the only female Worlds helmsman in a class that's regarded as one of the most traditional of all, College of Charleston senior Laura Beigel does exactly that.  She's lying in 54th position in a tough, light air Star Worlds fleet with dad Read, and we wish her luck.  She's not the only sailor chick at the Worlds either, but she's the only driver and we dig it!  Photo credit Marc Rouiller/StarWorlds2013.
September 4th, 2013 by admin
Olympic Breaking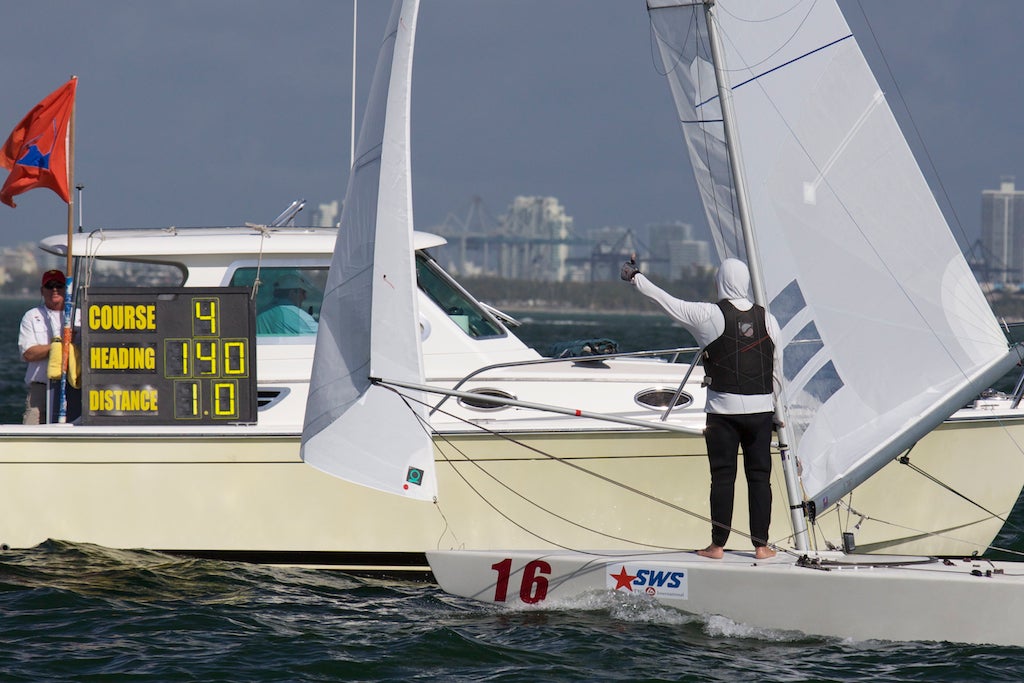 We've heard the rumors for a long time now, but today we confirmed that the ink is dry on an agreement to bring the Star back to the Olympics for the 2016 games.  No other class will be displaced; it's all thanks to a strange IOC quirk that allows the host country to add an event of their choosing to the games.  We're told that Rio will need to pay for the costs of running the Star racing; a small price to pay for a very likely Robert Scheidt/Bruno Prada medal.  Meredith Block photo of Magnus Liljedahl giving a thumbs up as he crosses the finish line of the Star Winter Series.
February 21st, 2013 by admin