Posts Tagged 'star sailors league'
Hamburg (along with Krakow, Munich, St. Mortitz, Stockholm and Oslo and pretty much every other responsible city on earth) made news earlier this year when they walked away from its 2022 Olympic bid for obvious reasons: No one wants to share the worldwide humiliation of Rio, nor can many cities stomach the 11-figure economic hits that China or Russia swallowed as both headed for economic recessions.  And as far as we know, no one needs to distract the world while they invade their neighbor with tanks and artillery.  With the choices narrowed down to two countries with the now-expected awful human rights records, the bid was awarded to the worst of them; a country that already screwed with the IOC, athletes, and the media the last time around.
In an ironic twist, the much-beloved keelboat recently removed from the Olympics continues its resurgence in Hamburg with an incredible 70 boats entered in just 24 hours to the Star Sailors League event in Hamburg this May; that's the limit, and if you want to enter, you need to get on the waiting list!
While a big pile of cash prizes sure helps despite the fact that only the invited VIPs have a real shot at the hundred-grand purse, it's good to see an event succeed almost entirely due to the perseverance of its charismatic owner.  There's a lesson to be learnt as well: If you don't stick to your guns for three or four years, you will never succeed in this slow-moving, conservative sport.
For more about the huge problems plaguing the 5-ring clown show that's the modern olympics, read this piece.
January 18th, 2016 by admin
Update: Californian George Szabo sure has a nose for money – he grabbed the $40,000 first place booty. Mr. Clean will have his take on things tomorrow..
With World Champions and Olympians already knocked out of the final round, the stage is set for some high-stakes drama in front of the Nassau Yacht Club for the final day of the Star Sailors League Finale.  11 advance to the one-race quarters, 7 to the semis, and just 4 boats in the final shootout for the biggest share of the $200,000 purse – a cool forty grand.  Imagine the cost of a single piece of weed on your rudder today!
Watch it all right here.
December 5th, 2015 by admin
Decent breeze forecast for the morning action on Day 2 of the Star Sailors League, and organizers are buoyed by the multitudes of SA'ers checking in – yesterday nearly 30,000 keelboat fans watched some of the action! We hope to see y'all back here for some more, starting at 1100 EST.   and we hope to see more of you back today.  Action starts at 1100 EST.
December 3rd, 2015 by admin
Up to four races for Day One of the Star Sailors League Finals in a nice Caribbean breeze and we've got it all for you, live! Check it out right here, starting at 11 PM EST/0800 PST.
December 2nd, 2015 by admin
Enough SA'ers watched the Star Sailors League Lausanne event that we're back for more, this time from the SSL Finale in Nassau, Bahamas.  With $200,000 in cash prizes up for grabs for the world's best plus-size racers, there's plenty to cheer for as you sit in your cold, wintery homes.
The commentary team gets a shot in the arm with our own Mr. Clean joining the fun, and he's reunited with former Sailor Chick of the Week and OTW Anarchy/VOR/AC presenter Genny Tulloch to help spice up the action for the venerable Star fleet.
We'll have the live show for you right here on the front page in a few hours – until then, you can keep up with video features and more rolling through on the Event Stream.
December 2nd, 2015 by admin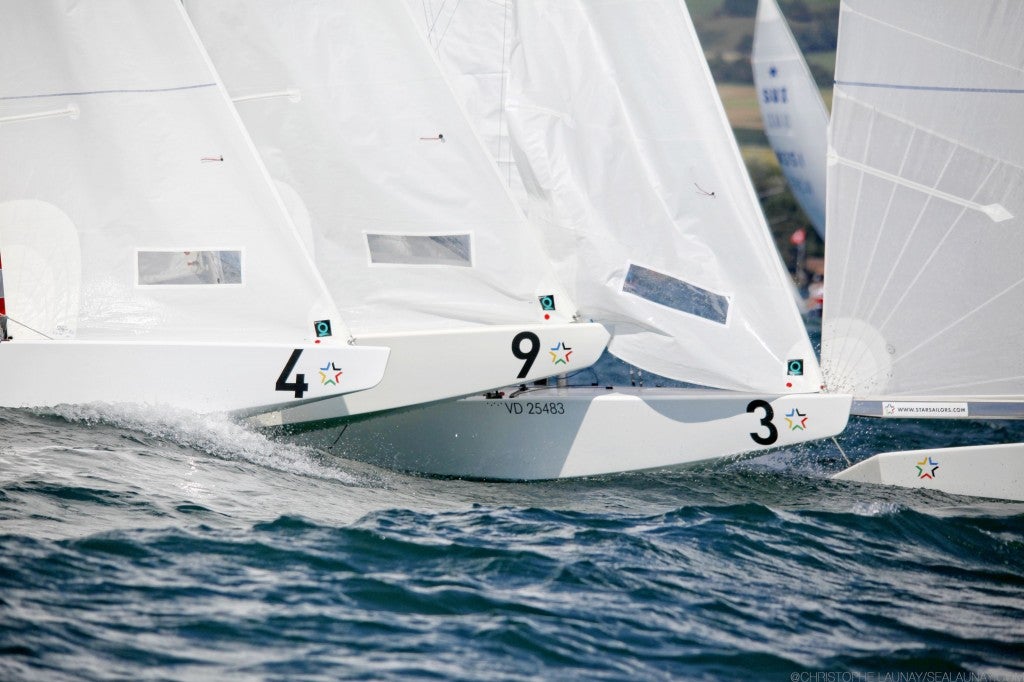 More action from the quarterfinals of the Swiss Open for the Star Sailors League in the battle for a pile of cash and big boy bragging rights – video livestream is here. 
September 12th, 2015 by admin
Mark "Splat" Mendelblatt and Brian Fatih lead a veritable who's who in old school keelboat racing at the SSL Swiss Open after 7 races; this great shot from our old friend Christophe Launay.  Livestream video racing with commentary here.  Results here.  Daily news here.
September 11th, 2015 by admin
'Big Pimpin'
Augie Diaz and big Arnis Baltins lead the Star Sailors League Swiss Open on Lake Neuchatal after one day of racing in the alpine breeze known as "La Bise", and some of you found the long course, non-extreme sailing to be great fun to watch.
You can continue to follow the full live video coverage of the Stars – including commentary from Dennis Conner – over here.  Photos here.
September 10th, 2015 by admin
It's about as different from the M32 Series we've been following as a sailing event can get, and its the kind of racing plenty of you have asked to see; a historic class sailing long course races with graphics, data, and commentary from Dennis Conner and Canadian Star performer Tyler Bjorn. We've got just the first day of the 4-day Star Sailors League from Lake Lausanne for you as a sampler, and it's live NOW.
September 9th, 2015 by admin
The folks behind the Star Sailors League are competing with Larry Ellison for 'most money spent per online viewer'.  It's costing them about a million bucks to put on the above-embedded live show over in the Bahamas, where they've flown in an entire fleet of Star boats and Star sailors, big Dennis Conner and yachting commentator Digby Fox and a team of about 30 media and production staff for the SSL Finale.  They've got over 200,000$ in prize money for the racers, press junkets for the media, full Virtual Eye, a full online video game with prize money, and a full production team – this is the Finale, after all.
"Finale", you ask?  "Finale to what"?  You can be forgiven for your confusion, for very few people have heard of this multi-million dollar brainchild of Franco/Swiss businessman Michel Niklaus despite all the media money pouring into the SSL in 2013.   So what is it, and what's the point of spending all that money for no real benefit?  The point is actually quite cool, even if the execution ain't.
You see, Niklaus really, really loves sailing, and is slightly obsessed with the Star class.  And at about a century old, he was stricken by the fact that sailors don't have the kind of ranking system that the pro Tennis tour features. It's a good point, because a single ranking system is a massively valuable tool, driving worldwide attention and helping to turn random names into recognizable heroes.  And while ISAF has the World match racing rankings and various classes have their own ranking systems, they certainly aren't driving any comprehensive ranking to help the sport's big names along.
So along came Michel, and through a combination of misguided enthusiasm and bad counsel, he created the SSL; a system of ranking the world's best sailors numerically based on their performance at various Star regattas.  We've tried to understand the details behind the ranking system's math but it defeats us, as does the SSL website and explanation; all you really need to know is that it ranks the world's best sailors based on their performance at various Star regattas.
Now we really, really like Michel, and of course he is welcome to drop a million here and a million there for any reason he wishes.  But if he wants to make a difference – to help the world's sailors out and increase the public's perception of them as athletes, to increase their general renown, whatever – it might make sense to pick a platform and a class that actually matters to the world, and while you're at it, call it the Professional Sailors League or something rather than the Star anything… 10 years ago, you might still argue that the Star includes 'the world's best', and yeah, the boat is still one of the sweetest-ever upwind machines with an extremely important history.  And while it still attracts great sailors even without the help of the Olympics, it's been a long time since the Star can truly claim the top of any heap.   The guys at the helm of the America's Cup 72s?  Not Star Sailors, and not particularly interested in going 5-10 knots in any direction.  AC45s?  Not Star sailors. World Match Racing Tour?  Not Star Sailors.  Extreme Sailing Series?  Not Star sailors.  Volvo Ocean Race, Round the World, Olympics…a few Star sailors at best.  As great as the 100-year old Class is, and as great a future it has as one of the world's best club and Winter Series boats out there, it will take a lot more than an annual series and a cash infusion to regain the Star's Olympic luster; it will take a miracle.
We hope Niklaus will continue to look for creative ways to help the sport; if there were a hundred more of him, there'd be almost no limit to where sailing could go.  But like Ellison and AC34, and the ISAF World Cup and any number of other events, we're afraid Niklaus is merely throwing money in directions his 'experts' have told him to, and when the results aren't there, we hope he doesn't disappear forever.  The world of sailing needs people like him.
December 7th, 2013 by admin