Posts Tagged 'sportboat'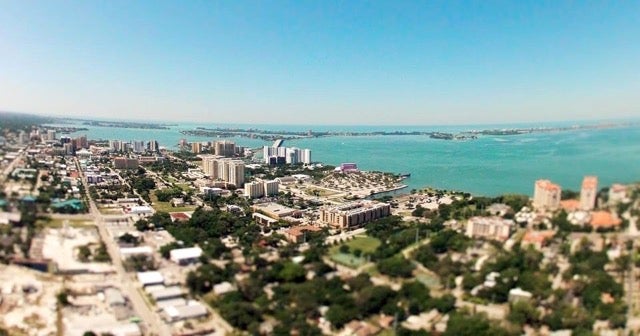 Bucking the upward trends of most regattas over the past couple years, Key West Race Week continues the slide it began a decade ago, with just 121 boats entered as of Friday's entry deadline and some meager-looking class numbers.  So where has everyone gone?  One answer is Florida's West side, which is raging with sportboat regattas up and down the length of the Gulf Coast.  Davis Island Yacht Club's 3-regatta J/70 series is oversold, while we turn to a newcomer in the sporty world for more info on a great sailing venue that's making the effort to get more people on the water.
The Sarasota Sailing Squadron has quietly been stacking the schedule for this winter sailing season. In just the last three weekends, SSS has hosted the kickoff event for the three stop VX One Winter Series, which saw three days of off-the-hook sailing with 21 VX's on the line. This was followed by the 84 boat Laser District 13 Championships that included the Norwegian National Team. This past weekend was the kick off of the three event ActionQuest Sarasota Viper Winter Series with 13 Vipers on the line, in a series that now has 18 boats registered (and growing) for the upcoming two events in Jan/Feb. Phil and Wendy Lotz, with Luke Lawrence, were on fire as they managed to outpace North American Champion Brad Boston who was followed by Henry and Barb Amthor sailing with the always fast Ethan Bixby.
Considering that not more then 50 miles north of Sarasota Sailing Squadron, at Davis Island Yacht Club, there are 48 J/70s battling it out in the Quantum J/70 Winter Series, and with the news that the 2016 Melges 24 Worlds is likely moving somewhere in the vicinity, t has to be said that the West Coast of Florida is THE hot place to be sailing sportboats!
-Travis Yates
December 22nd, 2014 by admin
We've all seen it happen, over and over again: A Class/regatta, or area (or judging from sailing's decline since 1979, the entire country of America) judges the temperature of its customers poorly, and that line between 'let's go swap a little gelcoat with great sailors and earn their respect' and 'holy crap, I'll never, ever have the time/money/desire to keep going in this sport' disappears.  The issue is not simply about well-written and conceived rules, though they help; it's more about the kind of perception and atmosphere created by the folks running the show.  No Class has more epitomized this struggle than the Melges 24; despite a feverish period in the 2000s when the M24 saw 100+ boat turnouts for the majors and big regional fleets, the NorthAm fleet went into rapid decline beginning about 2009. Escalating costs, difficulty in finding good crew who could hike as long and hard as the pros who absolutely filled the fleet, and distracted marketing from the builder were the culprits, and half a decade later, the Class is seeing a serious resurgence in the boat we've always considered to be the world's most perfect one-design race boat.  Long time Melges performer and now pro crew Sam Rogers explains why.  Joy Dunigan photos with a sweet gallery over here.  World Champ Brian Porter beat Bora Gulari on the final day in a replay of something we feel like we've seen at about 10 of these Nationals.  Full reports here.
Where do you find that line between keeping top level pros in a fleet to provide that ultimate challenge, and keeping the average racer happy and engaged?  It certainly depends on the fleet you're talking about, but there's no question that for an open class like the Melges 24, the amateur owners and crews are absolutely vital to maintaining a successful fleet – and the overall sport.  Most amateurs want the challenge of sailing with and against the very best, but without the average man/woman making it to the race course, those lines are awfully lonely places.
I'm writing today just after an awesome 31-boat Nationals at Davis Island, FL, to let you know that the US Melges 24 Class seems to have made it through its 're-birth' while really nailing this balance, and without losing its high-performance, grand prix identity.  Nearly a perfect split between open and amateur teams swapping blows over 3 days and 8 races with both overall and Corinthian standings going down to the wire and several all-amateur teams filling out the top ten. Kevin Nixon's Accru+ entry from Australia took the overall Corinthian trophy and 7th overall, competing with his wife, daughter, son and son's girlfriend.  Sounds like a perfect weekend getaway to us!
Roger Counihan's Just Add Water team (Lake Lanier, GA) is a Melges 24 staple, and he finished a solid 3rd Corinthian and 11th overall.  Roger thinks the fleet's new look is awesome: "The Corinthians by themselves are a very strong fleet, and in every race there are Corinthian teams sticking it to the pros.  There's nothing better than seeing an America's Cup sailor or World Champion behind you – those are always great stories for the bar.  At the same time, its great to see what the pros are doing – how are they trimming their jib, where is their traveler, how hard are they soaking.   Plus, as a fan of sailing, watching strong teams full of sailmakers, Olympians, and boat builders go head to head in the same boat we sail is pretty cool."
Part of the Class's rebirth is thanks to the early success of the M24, and the big used-boat market that developed as the economy collapsed.  Enterprising sailors in a few unexpected regions scooped up good boats for great prices, the grassroots growth results are now filtering into the traveling/major regatta fleets.  "There are still new sailors picking up competitive starter boats for surprisingly low prices and quickly learning to mix it up," said Counihan.  "Our fleet is a tight knit bunch of friends who have sailed on everyone else's boats, help everyone get better, and hang out off the race course."
Texas & Gulf Coast District rep Ryan Glaze (Gringo) says it's important to represent his regional fleet on the national stage.  "Our performance this past week at (2nd Corinthian, 8th overall) was important to our team, the Gulf Coast District, and to the USMCA.  We proved that you can get an older boat, put used sails on it, and be competitive with a good team of amateurs.  There are a lot of good sailors out there that would like to race the M24 but might be turned away by the costs. However, over the past couple of years, we have seen more teams in our district take a similar approach to ours; purchasing an older used boat, giving it a little TLC, and putting together a core group as your team."
Through the ebb and flow of fleet growth in the 20 year history of the Melges 24 class and a stronger than usual used boat market, attracting a balanced mix of amateur and pro teams seems to have reach an equilibrium, and the spirit of the class has been renewed. Along with the solid turnout the Nationals, there was a strong sense of community with every sailor leaving with something. With a well attended class debrief led by some of the classes best-regarded pro and amateur helms (Porter, Gulari, Kullman, Madrigali), and an owners' meeting that highlighted the recent growth in the class and previewed a solid 2015/16 schedule (featuring the 2015 Nationals at the awesome Gorge in late August and the 2016 worlds being narrowed down to a location in South Florida) the Melges 24 may be blazing a new trail as a model for successful One-Design fleet growth, just as it did over 20 years ago.
And it's still quite a bit faster than all the 20-something production sporties that have come since…
November 18th, 2014 by admin
The final race for the second Melges 20 World Championship went off during Garda's crisp, beautiful northerly morning wind with John Kilroy, Paul Goodison, and Jeff Reynolds taking the easy bullet and the title; after winning M32 Worlds in San Francisco a couple years ago, Kilroy now owns two Melges Worlds titles in the builder's only two amateur owner/driver classes…we can only imagine what's next in the owner/driver bucket list for JK.  Meanwhile, four nations in the top four spots is a great indicator of this classs's international strength, though the Italians can't like being smacked down on their home turf.  Hey – there's always next year!  Watch the full awards show here, and scroll down on the Livestream Page to check out the racing as it happened; apparently (at least from their numbers), they forgot to tell anyone they were live streaming the racing.  There's also an 11-minute video over here from the Riva Sailing Club, but we haven't watched it because our attention span is max 4 minutes.
Above is another fab Stefano Gattini shot – the galleries from this event have been some of the most beautiful we've ever seen, so check them out here.  Thanks to Melges Europe and Studio Borlenghi for the exclusive coverage this week;  According to the sailors we spoke to, "This is how a World Championship should always be."
August 30th, 2014 by admin
Big Pimpin'
Stalwart SA supporters Juan Mauri and Rondar Raceboats have joined forces!  Rondar Boats USA are pleased to announce that Texas-based Mauri Pro Sailing is now an official outlet for the Viper 640, Rondar K6, and singlehanded K1 dinghy.  Get in touch with Juan and the boys today to get advice on everything for your Rondar Raceboat, or to find a new one!
June 30th, 2014 by admin
It's got more entries than any keelboat regatta in the Western Hemisphere, more women and juniors than any open regatta we've ever been to, and one of the best venues in the entire sport.  And now it's got one of the best highlight videos, too.  Petey Crawford from Penalty Box Productions went two days without sleep to get dozens of hours of footage from 2014 Sperry Top-Sider Charleston Race Week turned into 10 minutes of reality show/highlight reel/tribute film, and the result is just goddamned excellent.  If you want to know the recipe for success in modern American regattas, watch and learn.  And go here to find all the interviews, photos, and race coverage from the SA crew over this past weekend.
April 16th, 2014 by admin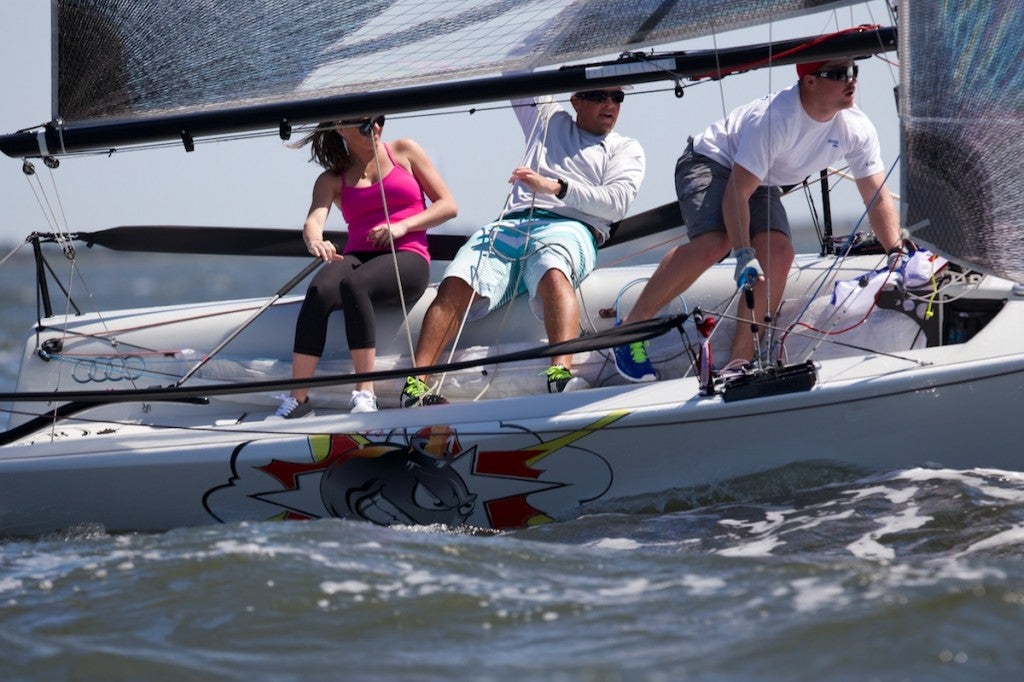 This week's Sailor Chick of the Week was a no-brainer; 23-year old Grace Lucas is smart, sassy, fast as hell, and just helmed her way to fourth place in an extremely competitive Charleston Melges 20 fleet, losing the podium spot she'd held through 6 races after a last-leg charge from Michael Kiss's Bacio.  Grace is finishing her college career this year after 3 years on the CofC sailing team; here's hoping she doesn't get so sucked up in the employment world that she gives up sailing.  Get to know Grace more in two interviews our own Mr. Clean did with the young NJ native, and enjoy tactician and Melges fixture Sam Rogers' new nickname.
April 14th, 2014 by admin
Heavily touted as a replacement for one of our favorite all-time racing boats (the Mumm/Farr 30), the new F280 is the best looking thing to come out of the Farr Yacht Design office in years, and hits that under-30 size that's been so underrepresented in Grand Prix over the past few years.  The powered-up sportsyacht – named Chessie Racing in a nod to the Annapolis owners' past programs and flown to the states from Dubai in a cargo jet to make the CRW starting line, sailed off to a 1,1,2 in the PHRF B class on the opening day of Charleston Race Week with a handicap in the 40s; there's some video of Race Day 1 here and we'll have more on the boat this afternoon via the CRW Facebook Page.  Meredith Block photo, with big galleries of all the CRW boats here.
April 12th, 2014 by admin
Rob Doolittle and Bob Hodges took the second ever VX-One North American Championship last weekend in a 21-boat fleet out of Rush Creek YC in Texas.  Full results here, full story here, and a couple of nice photo galleries (and the above shot) from Rush Creek YV here.
The super light, super quick VX-One continues to please, growing especially well on the Gulf Coast…check 'em out here.
November 11th, 2013 by admin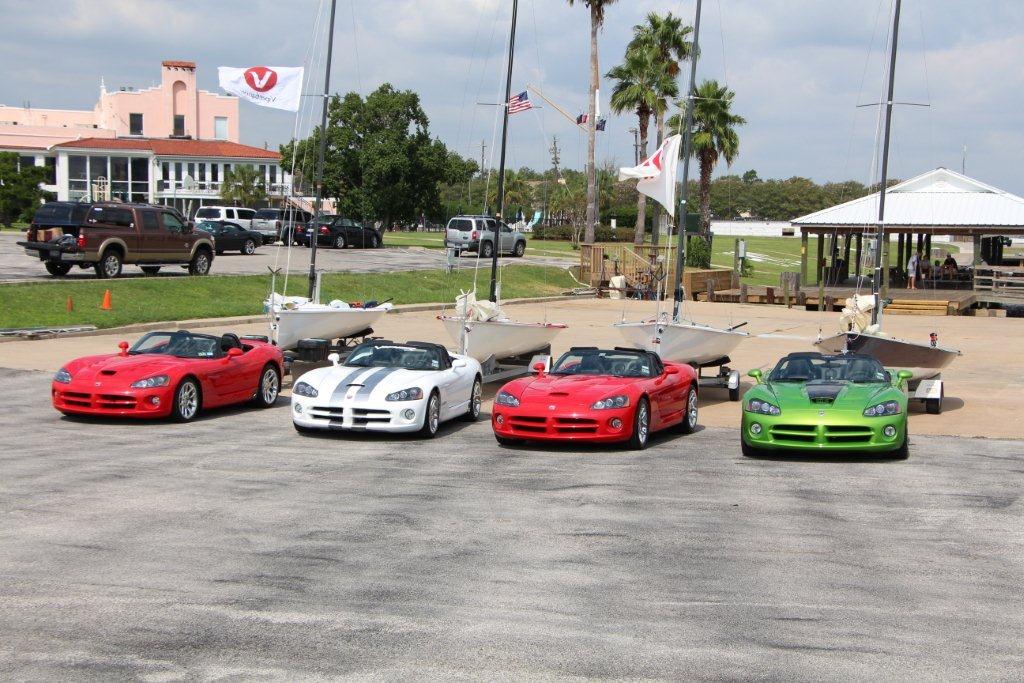 This week it's the Viper 640 North Americans at Houston Yacht Club. Texans believe that two Vipers are better than one, Babe.
Two Melges 32 owners tied for first after the second day. Two leaders are better than one, Babe.
Jason Carroll driving his Viper 640 Argo with crew Chad Corning and Danny Pletsch is tied with Malcolm Geftner's Celeritas with Willem Van Waay and Victor Diaz Deleon. Both teams are fresh from the Melges 32 worlds where Jason was crowned Champ; the Viper program is a tiny fraction of the cost of a Melges 32 program but it continues to attract some of the best sportboat sailors on the planet as both a great cross trainer for big boat owners and double the pleasure for half the cost for everyday one design sailors. In third,  Jay Gollison with Ched Proctor and Steve Flam are only two points behind the leaders, and they are closely chased by Luke Lawrence in Arethusa, Kevin Taugher in Hot Mess and Brad Boston in Jackpot. It's a field laden with talent and Anarchists.
Oh and for those Vipers that couldn't make it to Houston this year, there are another 30+ Vipers registered at the HPDO this weekend! Two Regattas are Better than One, Babe.
Title Credit from a song so old that we can't even find it online, and huge kudos to the Houston Viper fleet for creating this great cover shot at the HYC parking lot, and to KO Sailing for an incredible Texas Open Pit BBQ!
October 11th, 2013 by admin
How small can a sportboat be and still have a cabin?  Ukrainian Anarchist "Cacker" may have found out with this little cutie.  We don't know what she's called or any of the spec, but we do know she's just fifteen feet long!  Get to the thread to ask the builder yourself and check out design plans and more build shots.  Title just to remind ourselves of one of the 80's best commercials.
July 30th, 2013 by admin