Posts Tagged 'sportboat'
The final race for the second Melges 20 World Championship went off during Garda's crisp, beautiful northerly morning wind with John Kilroy, Paul Goodison, and Jeff Reynolds taking the easy bullet and the title; after winning M32 Worlds in San Francisco a couple years ago, Kilroy now owns two Melges Worlds titles in the builder's only two amateur owner/driver classes…we can only imagine what's next in the owner/driver bucket list for JK.  Meanwhile, four nations in the top four spots is a great indicator of this classs's international strength, though the Italians can't like being smacked down on their home turf.  Hey – there's always next year!  Watch the full awards show here, and scroll down on the Livestream Page to check out the racing as it happened; apparently (at least from their numbers), they forgot to tell anyone they were live streaming the racing.  There's also an 11-minute video over here from the Riva Sailing Club, but we haven't watched it because our attention span is max 4 minutes.
Above is another fab Stefano Gattini shot – the galleries from this event have been some of the most beautiful we've ever seen, so check them out here.  Thanks to Melges Europe and Studio Borlenghi for the exclusive coverage this week;  According to the sailors we spoke to, "This is how a World Championship should always be."
August 30th, 2014 by admin
Big Pimpin'
Stalwart SA supporters Juan Mauri and Rondar Raceboats have joined forces!  Rondar Boats USA are pleased to announce that Texas-based Mauri Pro Sailing is now an official outlet for the Viper 640, Rondar K6, and singlehanded K1 dinghy.  Get in touch with Juan and the boys today to get advice on everything for your Rondar Raceboat, or to find a new one!
June 30th, 2014 by admin
It's got more entries than any keelboat regatta in the Western Hemisphere, more women and juniors than any open regatta we've ever been to, and one of the best venues in the entire sport.  And now it's got one of the best highlight videos, too.  Petey Crawford from Penalty Box Productions went two days without sleep to get dozens of hours of footage from 2014 Sperry Top-Sider Charleston Race Week turned into 10 minutes of reality show/highlight reel/tribute film, and the result is just goddamned excellent.  If you want to know the recipe for success in modern American regattas, watch and learn.  And go here to find all the interviews, photos, and race coverage from the SA crew over this past weekend.
April 16th, 2014 by admin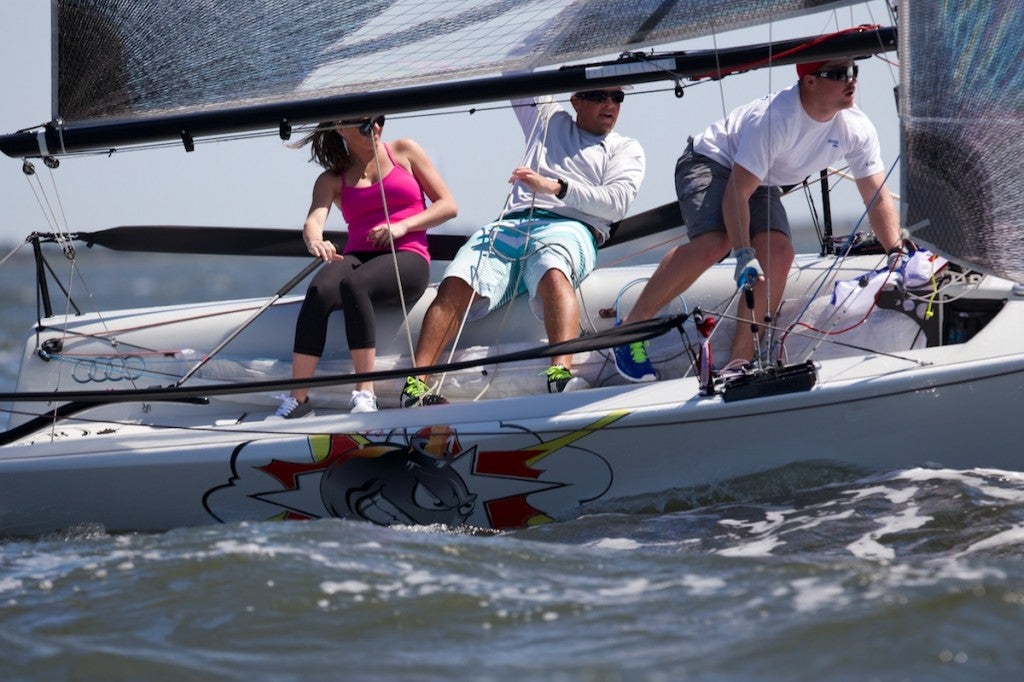 This week's Sailor Chick of the Week was a no-brainer; 23-year old Grace Lucas is smart, sassy, fast as hell, and just helmed her way to fourth place in an extremely competitive Charleston Melges 20 fleet, losing the podium spot she'd held through 6 races after a last-leg charge from Michael Kiss's Bacio.  Grace is finishing her college career this year after 3 years on the CofC sailing team; here's hoping she doesn't get so sucked up in the employment world that she gives up sailing.  Get to know Grace more in two interviews our own Mr. Clean did with the young NJ native, and enjoy tactician and Melges fixture Sam Rogers' new nickname.
April 14th, 2014 by admin
Heavily touted as a replacement for one of our favorite all-time racing boats (the Mumm/Farr 30), the new F280 is the best looking thing to come out of the Farr Yacht Design office in years, and hits that under-30 size that's been so underrepresented in Grand Prix over the past few years.  The powered-up sportsyacht – named Chessie Racing in a nod to the Annapolis owners' past programs and flown to the states from Dubai in a cargo jet to make the CRW starting line, sailed off to a 1,1,2 in the PHRF B class on the opening day of Charleston Race Week with a handicap in the 40s; there's some video of Race Day 1 here and we'll have more on the boat this afternoon via the CRW Facebook Page.  Meredith Block photo, with big galleries of all the CRW boats here.
April 12th, 2014 by admin
Rob Doolittle and Bob Hodges took the second ever VX-One North American Championship last weekend in a 21-boat fleet out of Rush Creek YC in Texas.  Full results here, full story here, and a couple of nice photo galleries (and the above shot) from Rush Creek YV here.
The super light, super quick VX-One continues to please, growing especially well on the Gulf Coast…check 'em out here.
November 11th, 2013 by admin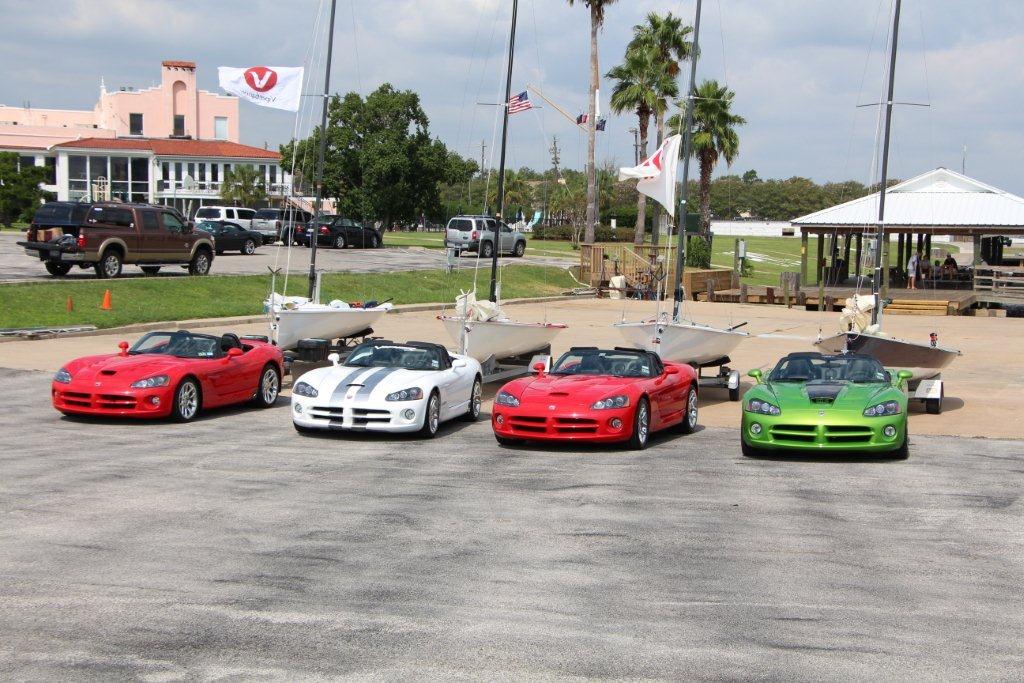 This week it's the Viper 640 North Americans at Houston Yacht Club. Texans believe that two Vipers are better than one, Babe.
Two Melges 32 owners tied for first after the second day. Two leaders are better than one, Babe.
Jason Carroll driving his Viper 640 Argo with crew Chad Corning and Danny Pletsch is tied with Malcolm Geftner's Celeritas with Willem Van Waay and Victor Diaz Deleon. Both teams are fresh from the Melges 32 worlds where Jason was crowned Champ; the Viper program is a tiny fraction of the cost of a Melges 32 program but it continues to attract some of the best sportboat sailors on the planet as both a great cross trainer for big boat owners and double the pleasure for half the cost for everyday one design sailors. In third,  Jay Gollison with Ched Proctor and Steve Flam are only two points behind the leaders, and they are closely chased by Luke Lawrence in Arethusa, Kevin Taugher in Hot Mess and Brad Boston in Jackpot. It's a field laden with talent and Anarchists.
Oh and for those Vipers that couldn't make it to Houston this year, there are another 30+ Vipers registered at the HPDO this weekend! Two Regattas are Better than One, Babe.
Title Credit from a song so old that we can't even find it online, and huge kudos to the Houston Viper fleet for creating this great cover shot at the HYC parking lot, and to KO Sailing for an incredible Texas Open Pit BBQ!
October 11th, 2013 by admin
How small can a sportboat be and still have a cabin?  Ukrainian Anarchist "Cacker" may have found out with this little cutie.  We don't know what she's called or any of the spec, but we do know she's just fifteen feet long!  Get to the thread to ask the builder yourself and check out design plans and more build shots.  Title just to remind ourselves of one of the 80′s best commercials.
July 30th, 2013 by admin