Posts Tagged 'sportboat'
J/22 World Champ Mike Marshall jumped on one of the sportiest of sportboats last month, and his story about sailing the VX-One is just excellent writing, and inspiration for those looking to jump into fast, wet boats.  Here's an excerpt:
As expected, sailing this boat flat is the key upwind, but you also need to be able to put the bow down. There are two solutions to this problem: Add weight to the rail or pull the vang on and hike. Since the boat is very weight-sensitive and more weight hurts you downwind, the best solution is to use the vang, and a lot of it. On the windiest day, with 15 knots, I pulled the vang as hard as I could get it. This allowed me to ease the sheet to stop the boat from heeling while still maintaining the leech tension for point. Consequently, I was able to put the bow down and get the boat sailing flat while keeping the leech engaged and forcing the boat upwind.

For a short-cord keelboat, the faster you go, the better the foil works, and therefore the boat slides to leeward less, but at the same time the boat also "releases." By this I mean that it frees up and becomes easier to sail. Small rudder movements do more to change the boat's direction instead of just creating drag. The mainsheet becomes easier to play because instead of having to dump and trim 6 feet of sheet, you have to play only 1 to 2 feet. The increase in speed powers the boat through waves instead of having the feeling that you're hitting them and bouncing off. All this means that you can spend more time going fast and less time worrying about your speed relative to other boats. The key to the whole mix is the vang. Whenever I felt the boat bound up, I'd try pulling on a little more vang, and off we'd go again. This was true even in the lighter air.
Read on for the rest of the story, and go here for HD video of the mighty Blue Lobster gettin' the poison out in 20+ knots of big Newport breeze – with a trapeze!  Photo copyright the awesome Billy Black.
August 24th, 2018 by admin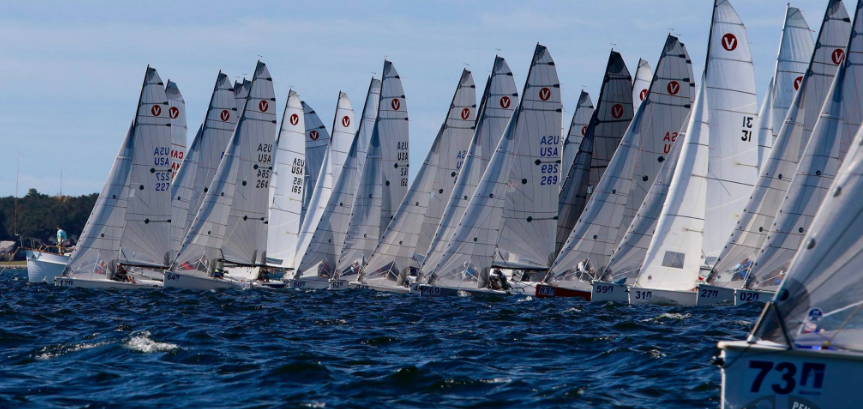 Race Report
This is the best sailing spot that you never heard of. So good and so secret that the locals and the A-Class Catamaran fleet who use it for winter training prefer that we simply refer to it as 'Location 51'.
The Viper 640 fleet have just finished a week of incredible sailing for the Viper North American Championships at Location 51.  It was one of those once-in-a decade fun regattas.
We are allowed to tell you that it is a large bay in the panhandle of Florida with flat water, a fantastic sea breeze, one of the most hospitable casual yacht clubs you will ever come across, white sand beaches…and home of the 33rd Fighter Wing, the Nomads. To quote one top US Olympian  "Why have I never sailed here before?"
Plenty of cool video by your very own Rev Pete Crawford, including a great interview of a team of 15 year old Viper sailors from the Gulfport YC and a hysterical interview of one of the four Aussie teams.
Check out the Facebook page for more great images like the one above from Petey, as well as live reporting and why nobody knew who won the regatta until 20 minutes after we got ashore.  There is a detailed day by day account of the racing on the forum thread.
This was the largest North American Championship in the Viper Class history! The talent was deep. The Sun was out. The Breeze was on. Location 51 Yacht Club had the barbecue fired up when we got ashore. The bar served Bushwackers and beer. The club is a sandy peninsula with 270 degrees of stunning views. What was not to like?  The Australians were here. The Brits were here. The Californians were here. The Canadians were here in force. The Midwest and Great Lakes teams were here. The Yankees were here. Naptown was here. The Texans and Arizona were here. And there were 25 boats from the Gulf Yachting Association. Words cannot recreate the cool and festive atmosphere of this regatta, you really have to check out Pete's videos.
The racing was intensely tactical with 3 days of strong breeze on flat to light chop and one day in the middle of the regatta where the PRO got off one race in 4-6 knots. By the last day four teams were in contention. It all came down to the very last race.  When the dust finally settled the top 4 teams after 11 races were separated by 7 points.  I have only one word for those four teams and that is Respect!  Full results here.
Nobody quite knew who had eked out the final victory until we all got ashore. You can read the forum or listen to Petey's live commentary on facebook to find out why, but in the end Marcus and Andrew Eagan won followed by Brad Boston , Tom Loutrel, and Zeke Horowitz.
This is one of the all time great "Flat water – Breeze on"  places to race sailboats. If you haven't been there, you got to put it on your bucket list… oh wait, find a local to give you directions to Location 51.
Report by REDACTED
November 10th, 2017 by admin
Big Pimpin'
If you like sailing with and against the best of the best in the world's best sailing destinations, have we got a boat for you!  More from their first-ever regatta in Porto Cervo at the Melges 40 Facebook Page.
June 21st, 2017 by admin
Pacific Yankee learned why you don't fuck around with John Kostecki in a pre-start match race today when they threw away a three-point lead over Pinta going into the final race of the 56-boat Melges 20 Worlds, ultimately losing by 7 to the Michael Illbruck-helmed boat.  Watch Illbruck/Kostecki/Michetti manhandle the boat owner and his paid crew of Morgan Reeser/Charlie Smythe in the start above (with commentary by the inimitable Mauro Melandri).
This makes (we think) Federico Michetti the first man to own World Championships in all three Melges sportboats. We'll be talking with Federico soon ab0ut his accomplishment and the imminent arrival of the Melges 40 for the SA Podcast soon…
You can head over to Livestream to watch the other race clips from Scarlino and the live prizegiving, which will air in an hour or two.  Emanuele Savoini took the Corinthian crown.
August 28th, 2016 by admin
2016 M24 Worlds boss Petey Crawford is back with Episode 5 of "View from the Chair", and he's got a special sponsor prize for competitors who haven't yet completed their replication; two brand new Velocitek Pro-Starts will be awarded to those who finish their registration (meaning…they pay) before July 14th.  Even if you ain't coming to Miami this winter, click on Play and let Petey make you laugh.  And even if you don't win one, you'd better have one on this 100+ boat starting line!
June 26th, 2016 by admin
The Ed checks in from the Shanghai Sailing Club and the Fareast 23 International Regatta. 
We had our share of issues, but we were second or third in the practice race today. Shit gets real with 4 races tomorrow and the day after.  Twenty-eight teams sailing Far East 23s and big breeze should make for some fun!
May 12th, 2016 by admin
One more stop for your Editor at the Dusseldorf boat show today. Here's a shot the perpetually sweet-looking Esse 7.50.
January 29th, 2016 by admin
When Sperry told us they wanted to support coverage of events we thought made a difference to the sport of sailing, we instantly thought of the J/70 Worlds.  Sure, there was a 95-boat Melges 24 Worlds two weeks ago in Denmark and a 100-boat SB20 Worlds in Lake Garda last week, but with nearly a thousand boats sold in three years, nothing comes close to the impact on racing made by the new and exploding class from the J0hnstones. And as evidenced by the 16-nation field in the boat's second-ever Worlds in La Rochelle, the effect is spreading far, and fast.
So we put together a 6-man crew to bring live video of all the racing to you guys, and we didn't skimp.  The live feed included commentary from SA's Senior Editor and Adventures of a Sailor Girl's Nic Douglass, along with daily highlight reels from Petey Crawford, and huge high-quality photo galleries from Sander Van Der Borch.  Why'd we go so big? Because we want to see more of the family-friendly, female-inclusive, youth-engaging vibe this little boat is giving to people all over the world, and the infrastructure J/boats have created to deliver well-built, good-looking, quick-ish little racers that are all damned similar to one another is something we admire.  And we felt privileged to be able to document it all.
Above you'll find our final movie from last week's Championship, and we really, really hope you'll sit through it until the end.  And don't be drinking coffee near the end.  If you laugh as much as we did, share the link with your friends. For the full interview with new World Champ Julian Fernandez, hit this link.  The full chat with Marty Kullman including the drama with North's DNE request is in here.  You can grab any one of the dozen-plus interviews and highlight reels in our Vimeo index.
As always, huge thanks to Sperry for their support, and to J/Composites Europe for all their support on the ground and on the water.  More thanks at the end of the video.
July 17th, 2015 by admin
While SA's live coverage team was fighting to stay afloat, Petey was doing what he does, and here's the Day 1 Video Report from the J/70 Worlds.  Enjoy, and stay tuned for another full day of live coverage from LaRo – this time, hopefully without the sinking part.
July 8th, 2015 by admin
Drizzle doesn't dampen the mood for Charleston Race week. It didn't stop the ridiculous Sperry/Sailing Anarchy party last night, and racing commenced on time and on pace today. Under dark morning clouds, an eight knot northwesterly greeted the inside fleet and held enough to get high quality racing in. And what's Charleston Race Week without current. The ebb was flowing hard today, with teams jockeying for shallow water position all day. Who played it the best?
It's not Cinco de Mayo yet, but the J/70 Mexican team Flojito Y Cooperando helmed by Julian Fernandez celebrated early with two bullets today to set themselves apart in this talent laden fleet. Elvind Astrup's Norwegian Steam stayed consistent with a 1, 6, 5 to hold on to an early second. The top and only US team currently on the J/70 podium is Joel Ronning's Catapult. Since there are 78 J/70s racing in four separate fleets, the points add up quick and the scores are really close with eight boats tied in one way or another in the top 15. The fleets will be reset tomorrow for more qualifying racing.
Continuing the south of the border but north of the fleet tone, the lone Brazilian Melges 20 entry, Portabello, led by Cesar Gomes Neto, threw down some spicy upwind skills to keep ahead of Bruce Golison's Midlife Crisis by three points. Midnight Blue sailed well in today's darker conditions to keep it tight on the podium, behind second by only one point. Only eight points separate the top six in this wide-open class.
Guy Mossman's name is on the Melges 24 score sheet, but he's mending a broken hand from a 'being a nice guy' moment.  Lesson: Don't punch a fighting pit bull in the head. In his place on Battle Rhythm is Will van Cleefe, who earned a four point lead today over Brent McKenzie on Ex-Kahn, followed closely by Bruce Ayres on Monsoon.
Watch the full replay of all the live racing action here, and if the wind ever fills in, we'll have Saturday's racing for you on this page.
Brian Carlin photo of the sexy C&C 30 and the rest of PHRF A offshore, and seriously big, badass galleries from Brian and Sander Van Der Borch are over here.
And the Team Vestas Wind award goes to Christian Koppernaes in the VX-One fleet, who took the 'short tack the shore' move a little too far.  Sander Van Der Borch photo.
Results after day one here, and of course a huge thanks to our friends at Sperry for making SA's extended coverage of Charleston's action.
-John Casey
April 18th, 2015 by admin