Posts Tagged 'spirit of hungary'
Nandor Fa's Spirit of Hungary, the skipper-designed, home-built Open 60 that limped around the world in a 110-day Barcelona World Race continues to prove her poor reliability after a lap around the world and then some; dismasted off Madeira last month during the carnage-filled Transat Jacques Vabre, her skipper sat in Funchal for the past few weeks, finally sorting out a very short replacement to get him back North to get a new rig for the Vendee Globe.
Slow and steady will never win a race like the Vendee Globe, and while the fans love a late, late finisher, we sure hope Fa's lifetime of experience will continue to get him through the seemingly endless problems with SoH.
Chat endlessly about the latest and greatest in IMOCA world right over here.
November 29th, 2015 by admin
You can be forgiven for not realizing that Jean Le Cam and Bernard Stamm won the Barcelona World Race the other day, and we congratulate them for finishing a task that's never easy, even if their only real competitor dismasted shortly after the start.  Stamm adds the BWR to his other major victory in the also sparsely populated 2005 Velux5Oceans (née Around Alone) Race, and he'll try to break a string of bad Vendee finishes next year.  Second place Guillermo Altadill and Jose Munoz will cross tomorrow, five days after the winner.  The rest of the 7-boat fleet is similarly spread out.
This episode of the BWR suffered from a small and widely varied fleet of Open 60s with a wide spread in performance, and because of this, the race seemed more about adventure than competition.  Fortunately, the lack of boat-on-boat battles has meant time for some of the skippers to write wonderful prose from the middle of the ocean as well as sharing their experiences with tens of thousands of Spanish schoolchildren involved through a science education program.  It may not have been a great race, but they've done great things with it.
The most compelling stories were unsurprisingly coming off a boat with the most problems; Nandor Fa and Conrad Colman's troubled Spirit of Hungary, and we caught up with our old pal Conrad during a repair stopover in Auckland a couple of weeks ago.  Colman is funny, smart, and honest, and he and Clean have an entertaining 40-minute chat about those troubles and much, much more, in the video above.  And be sure to dig through Conrad's full blog here – it really is some of the best race reporting we've ever seen.
We apologize for taking so long to get it up here, but with Hungary's 8,000 nm deficit in the race, we figured it wasn't all that time-sensitive.  Thanks to Petey Crawford for finally sorting us out and making the video pretty.  Get some of his top quality video work for your regatta here.
March 29th, 2015 by admin
SA Special IberianCorrespondent Jen Edney gives us some great insight from the Barcelona World Race start.  Enjoy it, and check back towards the end of the week for our first look at what she can do with a video report. Track the fleet here, and get all the latest chatter in the thread.
"Bye Oscar!"
"Bye!"
"Bye, Oscar!"
"Bye, Dad!"
IT was one of the most touching scenes I've seen in my coverage of the sport; Alex Thomson and his 4-year old son Oscar, seeing who could shout the loudest as Hugo Boss team headed out to the race course for their third Barcelona World Race.  Boss is the only team to sail all three editions of the race, and that same young Oscar is a big reason they're the odds-on favorite for this one: They've got unfinished business.
Oscar was born just before the 2011 race, and then Alex developed apendicitis days before the start, sending him to hospital and the strong Hugo Boss team scrambling for a last-minute replacement skipper. Wouter Verbraak, there to help with last-minute weather routing, was recruited, and he and Andy Mikeljohn never were able to get on the pace. The HB team's high expectations for a strong second edition turned into a disappointing mid-fleet finish despite a faster boat and bigger budget than many of the boats ahead.  It was tough for the team to handle, and it's a big part of what motivated them to put everything they had into winning this race.
The long goodbye is an emotional and touching sight, and when combined with Boss's BWR saga, it's enough to give me goosebumps.  These sailors are waving goodbye to their family, friends and fans for the next 100-odd days, with all the dangers that entails.  So many nonsailors ask me 'why would they do something so crazy?' I'd never really thought about it, and it seemed like a great question to put to the racers.
We Are Water's Bruno Garcia:"I really don't know! I've never considered it a sport, it's something more…"  Garcia thought about it for a minute, then gave me a modified version of Everest trailblazer's answer about mountain climbing.  "Because the sea is there."
Bruno will be sailing with his brother Willy around the world, and their 'family affair' highlights one of the nice things about this edition of the race; the accessibility of communications between the boats and their families, friends, and fans. "I have two kids. One daughter, 12 yrs. old and a 10-year old son," said Bruno. " Four years ago, it was not that difficult. Now they are older, they ask you about the dangers of the race, and 'what will you do if you fall in the sea. You have to be quite clever to discuss with them what happens on the boat and what you will be doing. But I know they support me a lot and I can I count on them."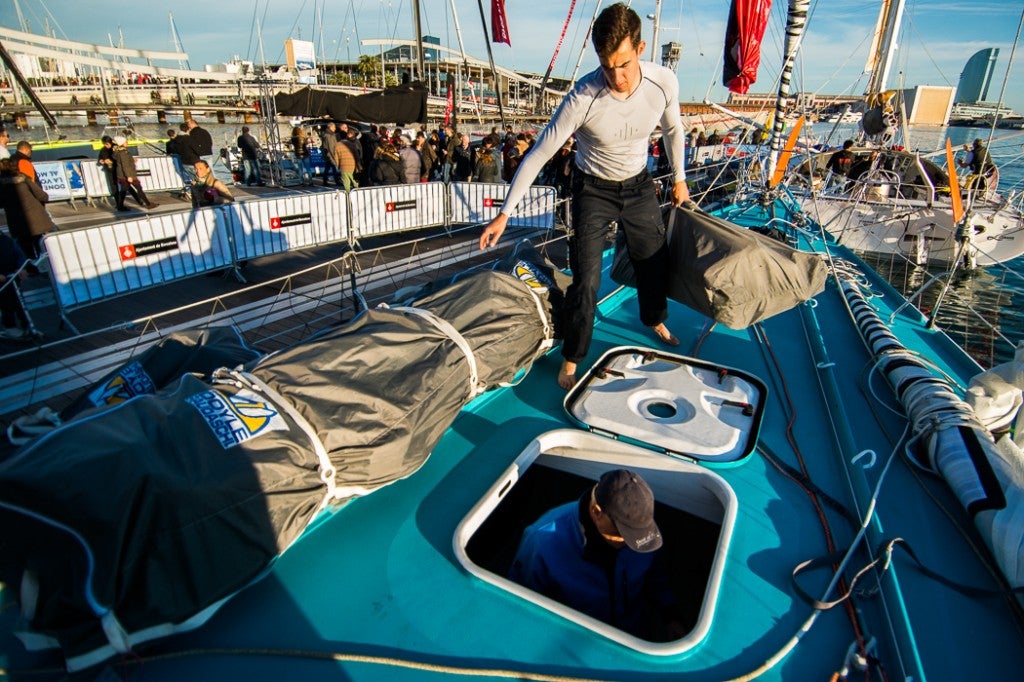 Sailing together is not new for the Garcia brothers, they grew up cruising with their parents and have been racing together since the 90s, but the world Barcelona World race is new for them. "My brother is one of the best gifts I've ever had in my life. He is a very good friend, a great brother and is also a great sailor. I trust him both on the sea and in the mountains. With him I have done many miles, many peaks, many courses..and trust we have is phenomenal…Since the last edition with Jean Le Cam I have learned that this type of racing is not just for those who go and sail but it is also for people like the shore crew and those who follow us. And there are many out there and my brother and I hope to reach out to them and have the public enjoy and share our adventure."
For some, like Nandor Fa's Spirit of Hungary, the entire team is a family affair, with his wife and daughter working full time for the project. "When I decided to return for racing, the family was the first I asked 'what do you think?' And they told me they supported me completely."  Nandor's wife is his media manager, and 22 year old Lili – a baby the last time he went racing – is now an adult and part of the support team.  Nandor's 'third daughter' is Spirit – the only home-built boat in the fleet. Lili says she is so busy that they have less time for worrying. "It is much better to be involved then watching from the outside, biting our nails!"  Lili has mixed emotions on his departure.  "I am going to miss him, but at the same time I am so happy for him because I know that this is his life, his passion and he's been stuck in Hungary for so long working hard and supporting his family…he really deserves to be at sea again."
Nandor is the oldest skipper in the fleet, and he's sailing with the youngest – Conrad Coleman, and they are already well in back of the fleet.  For them and many of the teams on the much slower Open 60s, winning isn't even a possibility; the journey, the challenge, the adventure – that's the victory for them.
For others, like Alex Thomson and Pepe Ribes on Hugo Boss, winning is everything.
And for me, watching and shooting and reporting on this human drama is winning too.  A huge thanks to all the teams for the unfettered access they provided, and an even bigger thanks to Isabel and Daniel and everyone at the FNOB for their constant support this week.
-Jen
January 4th, 2015 by admin