Posts Tagged 'solo'
Huge thanks to longtime ocean racing Anarchist "Laurent" for the excellent translation of this long dockside interview with Francois Gabart. Some real surprises in here, and some gems. Original here.
Journalist: "Not only you break the record, but you shattered it!"
FG: "yes, I do not know the global history of records, but yes… I did not expect that. To be honest, I had a slight hope to break the record, but to break it by that much, I would never have thought…"
Journalist: "What are you the most proud of?"
FG: "I am the most proud of all the work we did with the team and his boat, since…. I can't even recall the number of years! 2, 3 or 4 years since we launched this project. We made a super boat, and a super trip. I am proud of this trip."
Journalist: "how do you rank the emotions of today?"
FG: "You should not rank or compare emotions… but it is huge…."
Journalist: "… " (can't hear what the lady is asking)
FG: "it was unreal last night, in pitch black! In the middle of fishing boats. There was a fisherman right on the finish line! I called him on the radio and asked him if I could pass on the right… "Yeah, sure, no problem"… It was strange… but to be here, now with all of you, it feels really strange as well!"
"As I said prior to the start, you need 3 parameters to succeed:
– a good weather window
–  some luck, and I definitely got some luck; maybe if I had not left on November 4th, maybe if I had left 3 hours later, I would have missed this good weather window in the South Atlantic…
– and then once you have this good weather window in the South Atlantic, you had to hang to it!"
Journalist: "Did you hide anything?"
FG: "NO! I did not hide anything. If it had been a race, it would have been different. I tried to share as much as possible. By decency, there are a few things you do not say, but it has been hard, you know it, I said so. I was on the edge, all the time. This is what I wanted to do. And I did it."
Journalist: "Do you have a word for Thomas Coville?"
FG: "I want to thank both boats from last year. First Thomas pushed me like never before. I think that if there hadn't been the record by Thomas, I would not have done as well. That's for sure. He boosted us to do better.  And even Francis Joyon with crew after that. It was very re-assuring, after Thomas record. For sure, they were 6 on board, but if they can do it in 40 days, maybe there is a way to do better than 49 days, solo.  Both boats last year made me dream, and pushed me. If I am here today with this timing, it is in part because of them."
Journalist: "did you imagine to have a virtual competitor, right behind you, to boost you?"
FG: "I told myself to be full throttle, all the time, what ever happens. Whether you are ahead or behind, try to do the best, the best you know, from start to finish, without taking thoughtless risks, but without slowing down… So I have been racing against the daily routings. You always try to nibble a few more miles here and there."
Journalist: "did you know it was going to be so tiring?"
FG: "yes, I was expecting that."
Journalist: "when did you tell yourself "it's in the bag"? Or did you wait until the finish line?"
FG: "comparing to Vendee Globe, this time around, I have known for the past few days that the record should be broken, unless there is a technical problem. That being said, the technical risk is very present from first to last day, even more so towards the end, when the skipper is tired…"
Journalist: "Is it stronger emotions than the Vendee Globe arrival?"
FG: "you should not classify emotions… I wanted it to be as big as the Vendee Globe. And here, it is great (FG choking)"
Journalist: "you talked a lot about tiredness, how do you feel?"
FG: "I hurt everywhere…. everywhere… I have been hurting everywhere for weeks now. I don't sleep; last night I did not sleep… I am exhausted."
Journalist: "does it feel good to cry"?
FG: "yes; it feels good."
Journalist: "what new challenge could you give yourself? What about the Mini-transat, it is the only race you have not done!"
FG: "the mini-transat, I don't think so…"
Journalist: "did you talk about that with Michel Desjoyeaux, on the water, after the finish line?"
FG: "He was wondering about that… But I am not too worried about that. There are wonderful boats. This boat flew once in a while, but not for long. In a very short time, we will be able to fly, around the world. It is coming around the corner; tomorrow!"
Journalist: "would you go back to break your own record?"
FG: "not right now!!!
What would make me dream right now, flying around the word, yes, that would be appealing. I think that with a crew, we are not far from it, with a crew you should be able to fly 90% of the time. And it is going to go very-very fast.
This record is going to be broken, and it is going to be broken soon and by a large margin!"
Journalist: "but what about the right weather?"
FG: "yes, but if the boat flies in 15 knots wind speed, and goes twice as fast, the right weather, we will find it! Of course it is not going to be easy. I sure hope so! I hope that the next person is not going to think that it is a done deal before the start! Of course, it is going to be hard for the next one, but he will break the record; for sure. And he will break the record by a lot! I am convinced of it!"
Journalist: "if you have been in a crewed configuration, what would be different? Any faster?"
FG: "I would be less tired… And it would have been faster. For instance, the last high pressure ridge, right before the end, it is holding on to just a few % faster in the Trade Winds, and you can avoid the ridge, and maybe shorten the course by 24 or 36 hours… But we will never know…
There are some parts, when you go very fast under autopilot, like the end of the Pacific Ocean and the beginning of the South Atlantic, it would not have changed much to be with a crew…
Now, all the transition periods, where there are a lot of maneuvers, for sure, it will be faster with a crew. But first of all, I would not be as much tired. With a crew, you trust the others and you can really rest."
Journalist: "what are you the most proud of?"
FG: "I am proud of the boat and all the work we did with the team before the record. When we started this project 4 years ago; we started from a blank sheet of paper. There was no Ultim. Of course, there were already Sodebo and Idec, these beautiful big boats, but there was not the dynamic there is today around Ultim Class. I thank Macif, because it was audacious. And they went for it, and we went for it and we made a wonderful boat. I am proud to gather the team, to conceive, and build this boat.
And then I am proud of being up to the boat. This boat deserved to go fast. There were times when I thought I cannot ease up, I cannot slow down; this boat wants only one thing: go fast!
I am proud of this boat, and I am proud to be up to the challenge of sailing this boat."
"The feelings are wonderful; the Vendee Globe was incredible; here also it is incredible. I do not want to compare. It is new; and maybe the hardest part was to live again something as strong as the Vendee Globe. Everybody, ALL of YOU,  were telling me at the end of the Vendee Globe: "you are never going to live something as beautiful again…". You all said that. But no… and here we are. There is always a way to do well, better, different. And it is beautiful".
Journalist: "you have won the Vendee Globe, the Route du Rhum, the Transat Jacques Vabre,, this is your first record. Did you like this new way of sailing?"
FG: "yes, I liked it. I think it came at the right time. I have been sailing competitively for the past 20-30 years. But here you are all alone, facing yourself. It was the right time. In life, there are the right times for the right things. And here, it was the right time."
Journalist: "François, there are guys saying that you are very lucky…" (the journalist is using a French colloquial saying that I cannot translate…)
FG: "yes, it is true, I am lucky. You cannot do that without a bit of luck. Then of course, you have to be looking for it, trigger it, and fight for it. But I got some luck.
Journalist: "what do you feel right now?"
FG: "tiredness first… some relief… happiness, pleasure to see you all… a lot of beautiful things…"
Journalist: "how do you sleep while sailing at 35-40 knots? Do you have to be dead-tired to fall asleep"
FG: "it is the challenge, sleeping at 40 knots, living at more than 40 knots… You have to trust the boat, you have to trust yourself. This is the difficulty single handed. Let the boat go fast. But I won't hide from you that sometimes, it is pretty hot…"
Journalist: "how do you feel coming back to land?"
FG: "it is rather brutal… it is not violent, but yeah, it is a bit "in your face"… Last night, it was a bit strange. You are all alone, in pitch black, then the first boats arrive, and they put bright spot light on you; you can't see a thing… I felt like a hunted wild beast. I could not cope with it. I stayed inside. It was too much too fast".
Journalist: "does it mean you wanted to stay at sea?"
FG: "No, I am super happy to be back on land. I was happy at sea, though…"
Journalist: "what is the first thing you want right now?"
FG: "I want to spend some time with everybody, take a shower, and get some sleep. I think I need it…."
December 18th, 2017 by admin
He's got the sailing prowess of Michel Desjoyeaux, the sponsor skills of Alex Thomson, and the looks of a goddamned underwear model, and Francois Gabart and the foiling Macif trimaran are on the verge of destroying the solo RTW record,  The Golden Boy will incredibly be just a couple days outside the outright RTW record set by IDEC last year, and if not for IDEC, this solo effort would have also been a Jules Verne winner.  By how much will Macif beat Peyron's Banque Populaire Jules Verne run?  Roughly 6 days, and we don't know that there is any other human on the planet that could equal this singular accomplishment.
We'll have the live finish up on the front page as soon as it's available – check the thread for the very latest of everything.
December 16th, 2017 by admin
The foiling scow-bowed Arkema Mini has grabbed her first podium, a second-place out of 69 entrants in the Pornichet Select race.  Welcome to the sharp end of the fleet for a boat that barely looks like one. More info at the Arkema site.  Photo credit: Vincent Olivaud/Team Arkema Lalou Multi
April 29th, 2017 by admin
Clean Report
When Francis Joyon took nearly two weeks off the solo RTW record in 2008, we figured it would be a long, long time before anyone became king of that particularly mountain.  Today, a new king will be crowned in what should go down as the most impressive feat of the year. Thomas Coville is set to take more than a week off of Joyon's still incredible mark when he arrives in Brest in a couple of hours, achieving a time that would beat even the crewed records until just a few years ago.  It's interesting to note that fewer people have sailed around the world alone, nonstop in a trimaran than have walked on the moon – just Ellen Macarthur, Francis Joyon, and Coville, and each of them now have owned that all-important trophy.
Coville, along with his sponsor – convenience-store-sandwich-maker Sodebo – deserve massive accolades, and not just for the second-most important ocean sailing record in the world: Their perseverence and tenacity has been nothing short of incredible!  This is Thomas' 6th attempt at the same record, and to come back and do it again after just the sheer heartbreak of missing it by just hours in 2014 – that's the stuff of legends.
If you're in the area to welcome in this soldier of the sea, be sure to check out the #ABrestPourThomas hashtag for the latest info for spectators. If you want to understand what it means to the French to have such ownership of the most important records in the sport, watch this video of a French naval pilot talking to Thomas a couple of hours ago.
Discussion here.  Image via Fralo. 
December 25th, 2016 by admin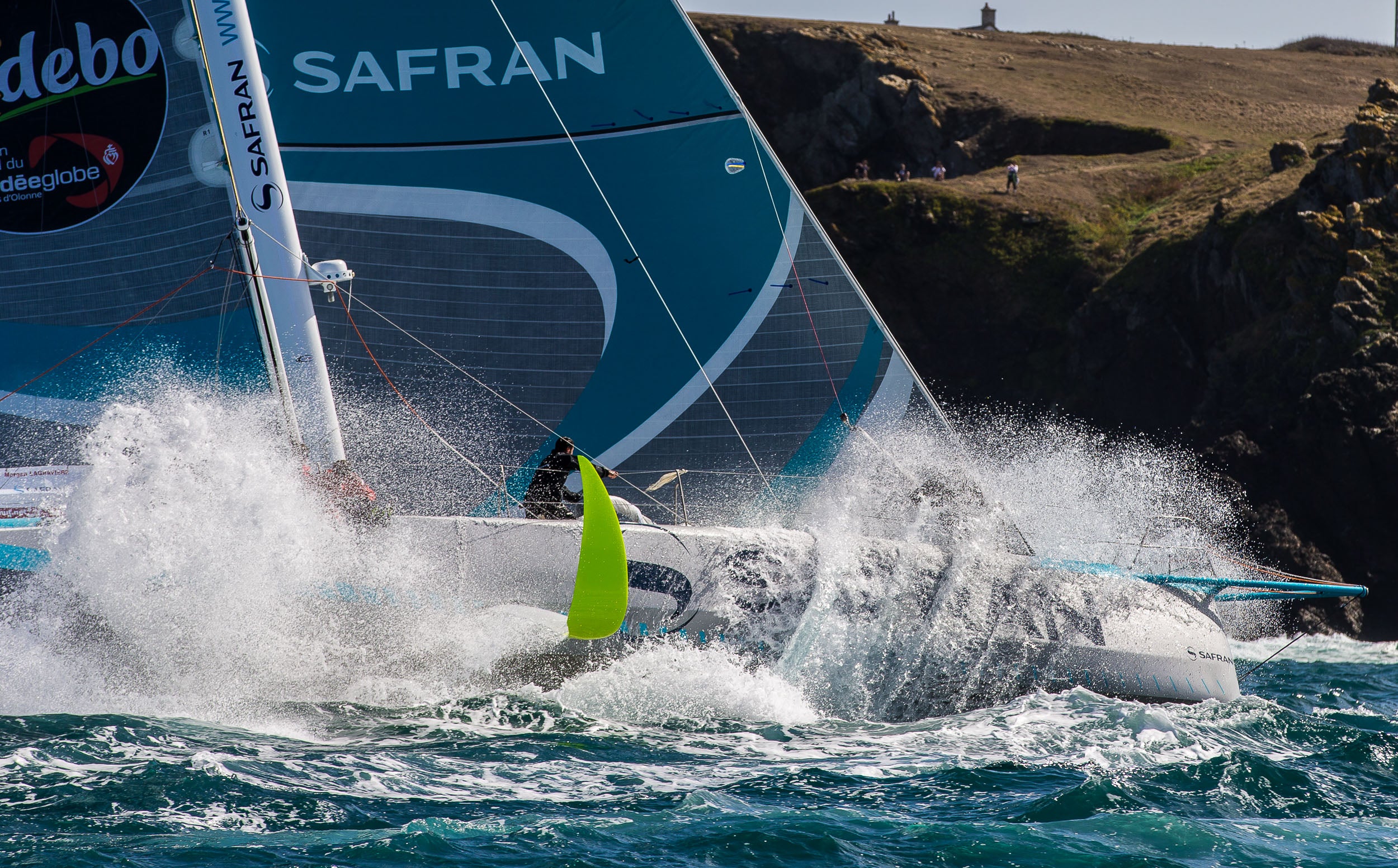 There's never been anything quite like the latest generation of Open 60s, and in just a couple of months, we'll learn how they perform in anger when the Vendee Globe kicks off.  We haven't been this excited by a monohull class in years, and we recommend you take some time to catch up with the latest; here's the Ocean Racing Anarchy forum thread, full of info.  Here's the most reliable Facebook Page under the Vendee umbrella.  Here's the latest promo/trailer video for the race, and here's a pretty good Conrad Colman documentary from the NY-Vendee Race. Brian Carlin photo, with more from this past weekend's Azimut Race here.
September 26th, 2016 by admin
In this piece, Brian Hancock analyzes the coming NY-Vendee Race for Open 60s after Mr. Clean went over to the Big Apple for a few hours to do some interviews and finally get that ride on Hugo Boss.  They did not win the exhibition/charity race (Mich Dej/Paul Meilhat on SMA caned it), but at least the 14 stallions were able to run a little bit in a rare 8-12 knots of reliable breeze in NY Harbor, and it was a site no one has ever seen before (though as with the ACWS, New York doesn't really give a crap).  Clean's race video is in here and SA Podcast # 6 next week will include some excellent interviews and a detailed discussion about the good, the bad, the conflict, and the controversy of the Vendee Globe – fans of solo ocean racing won't want to miss this one.  Big thanks to former "The Beat" host Katy Nastro for the production help, with photo credit to George Bekris for the shots above and below.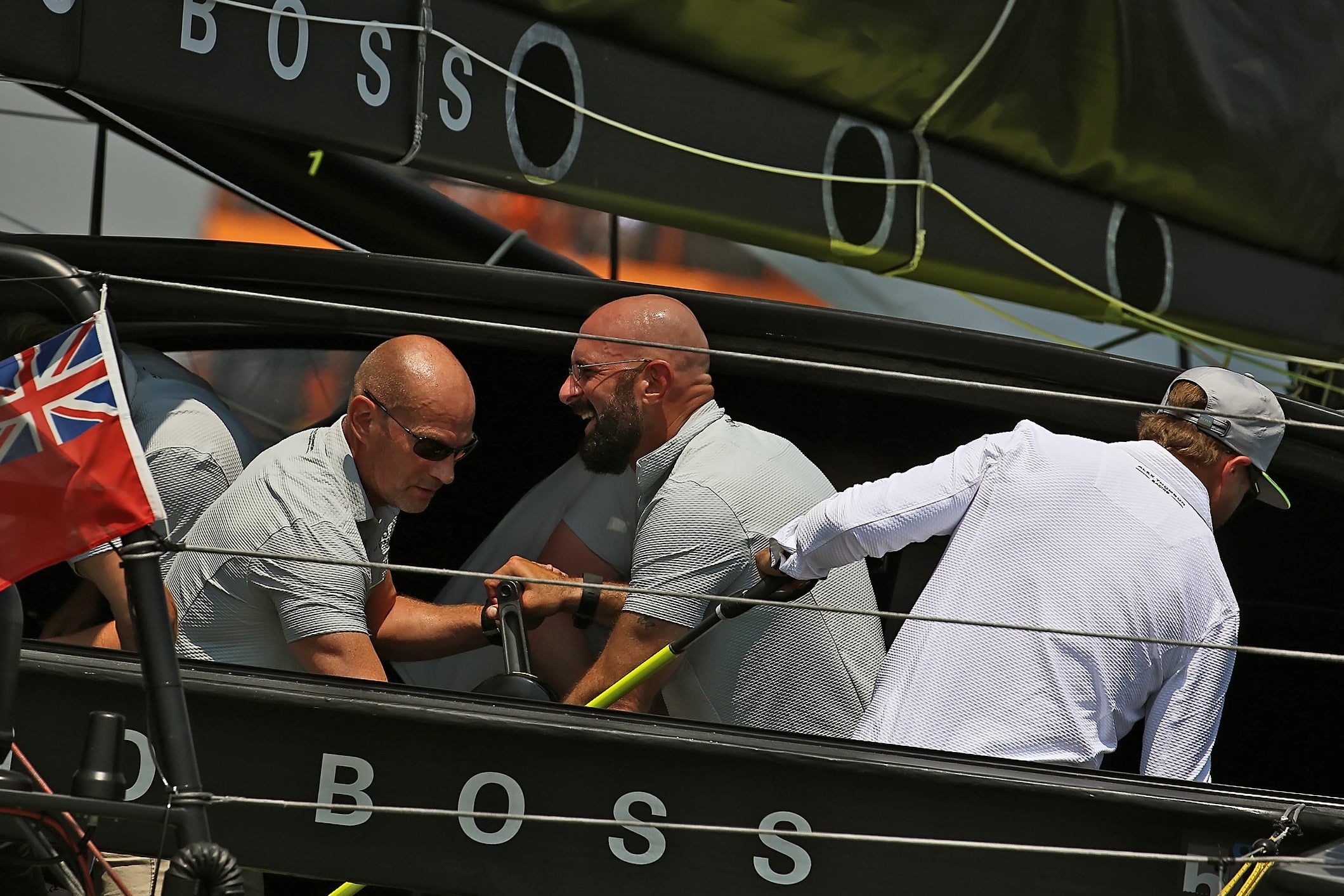 This coming Sunday New York City will be the backdrop to one of the newest ocean races on the calendar. The New York-Vendée race is essentially a feeder race for the Vendée Globe which starts in five months from France. It will provide an opportunity for the skippers to complete their qualifying voyage in order to take part in the Vendée Globe. The turnout for this inaugural event is very good with 14 IMOCA 60s lining up for the start. Among them are the who's who of solo sailing including previous Vendée Globe winner Vincent Riou on PRB and Armel Le Cléac'h on Banque Populaire. Le Cléac'h finished second in the last Vendée Globe and is the odds-on favorite for the next one. Also competing will be Alex Thomson aboard Hugo Boss. Thomson finished third in the last Vendée and is back with a brand new boat.
The race starts at 14:00 EST on the Hudson River and exits the mouth of New York harbor at Sandy Hook before crossing the Atlantic to finish off Les Sable d' Olonne on the west coast of France some 3,100 nautical miles away. It's going to be a very interesting test for both skippers and their boats. Until now most of the head-to-head racing that they have done has been upwind. This race will be a downwind sail and designers and pundits alike will be keeping a close eye on whether those boats equipped with foils will do better than those that do not have them. The conditions of the New York-Vendée race will be more similar to those of the Vendée Globe.
Of the 14 entries, 9 are French with the rest from New Zealand, Finland [Finn Air entry has withdrawn and manned the HB pedestal with Clean all Friday -ed], the Netherlands, UK and my old friend Kojiro Shiraishi from Japan. Only Thompson from the UK stands a chance of a podium finish otherwise it's going to be a French dominated race. The first boats are expected to arrive in Les Sable d' Olonne in a little over a week.
May 28th, 2016 by admin
Well, he finally shut the naysayers up! And we couldn't be more excited to see Alex Thomson finish on the podium in Les Sables D'Olonne where he completed the race in 80 days 19 hours 23 minutes 43 seconds. Here's the full press conference following Thomson's Arrival; check it out to show your support for a guy that has earned every inch of his exceptional Vendee Globe podium finish with a last-generation boat and 2 months of neverending repairs. And for one hell of a finale, he made it through 35 knots and huge Biscay seas right to the finish. Meanwhile, JP Dick has to decide whether to weather a Biscay gale without a keel…more drama ahead!
January 29th, 2013 by admin