Posts Tagged 'Smile and Wave'
After two years of fleetbuilding, Caribbean Melges 32 President and former Mr. Clean crewmate Jaime Torres checks in from San Juan.  Meanwhile, the 20 year-old Prince of Monaco is leading the M32 Gold Cup fleet after 2 races in Miami Beach.  Joy Dunigan photo.
In 2012, there were a handful of Melges 32s scattered all over the Caribbean, many of them either fading away under the hot sun or barely being used in their local waters; the one exception being Mark Plaxton's Intac. Plaxton had been racing his boat very successfully against handicap competition in the northern Caribbean while getting his one-design fix stateside, but he was looking for more, and he and his team were instrumental in convincing the International Melges 32 Class Association to bring their roadshow to the Caribbean in the spring of 2013. This 3-event tour opened the eyes of local sailors to the phenomenal experience of racing this kind of ultra-high performance one design racer in the world-beating conditions at our wonderful Caribbean venues.
I was the first to jump at the chance, picking up what would become Smile and Wave and a largely Puerto Rican team to help represent the Caribbean at the 9-boat-strong events.  When Puerto Rico's Luis Juarbe saw the kind of fun we were having he jumped in, though his new (to him) Soca ran into shipping issues and only made the last event.  I kept pushing for other owners to join the fun, and usually after a few hours aboard Smile and Wave, they were in.
For the 2014 season, Ian Hope Ross from St. Maarten revived the aging Jurakan, renaming her Kick 'em Jenny, while extremely successful  handicap skipper Sergio Sagramoso joined the fun with Lazy Dog.  And just recently, Midwest racer Tom Elsen bought Catapult and will be making his Caribbean debut soon.
As it stands today, we have 5 boats racing with a 6th boat in the Dominican Republic making plans to make the move East for the Spring 2015 events.  In Trinidad there's a 7th boat looking for an owner…
To focus all this energy, we're getting the local Melges 32 fleet organized. We built a simple website, came up with some proposed Class Rule changes to reflect the specified needs of Caribbean owners, and we've planned a ranked series using some of the awesome events that call the Caribbean their home.  Our first warmup event for the 2015 season was last week's Discover the Caribbean Regatta [which Torres won -ed] at Ponce's gorgeous Yacht and Fishing Club in PR, and in a couple of weeks, we're off to the St. Croix International Regatta.
2015 should be a big year for the local Melges 32 Caribbean fleet as all the well established northern Caribbean events have pledged full support for Melges 32 One Design racing, including dedicated courses and events tailored to the needs and desires of the owners.  If you are a Melges 32 owner looking to put your boat and crew through the paces in some of the world's most popular and beautiful race events, you have plenty of time bring your boat to these amazing events and the Melges 32 Caribbean group will be there to assist you in any way you need.  We're dedicated to providing very inclusive, high-quality racing for the Melges 32 fleet, and we can help you learn how to do it at a surprisingly low cost in the best sailing spots in the world.
Check out our site here and Facebook page here, or email me with questions here.
Jaime Torres, Smile and Wave
President, Caribbean Melges 32 Association
November 8th, 2014 by admin
Jaime Torres wraps up his report from Antigua Sailing Week from Class Zero.  Results are here, with the overhead shot from Tim Wright/photoaction.com
Let me re-cap the checklist I put together yesterday:
-Make sure Tonnerre beats True – CHECK
-Beat Scarlet Runner – CHECK
-Get the race committee to spare us from anymore Code Zero reaching legs. -CHECK
-Keep the A2 in one piece in 17 knots – CHECK
The deed is done, and an incredibly hard-fought second place will be etched into the memory of our crew of Northern Europeans for the rest of their lives!
It was a bad break for the otherwise well-sailed Scarlet Runner to rip a headsail halfway up the first windward leg on the final day of racing, and it goes to prove that old sails happen to best of us. They were our boat -for-boat challenger all week, and it sucked to lose our racing partner. We rocked the start (again), and kept the hammer on the whole time. Tonnerre did too –  they were very fast off the line and led most of the class, boat-for-boat, for the beginning of the first leg. That team has been around the Caribbean a few times and I enjoyed racing them when they were a 43 footer and my Smile and Wave was a 40 footer; they're just as good now – or better.  Tonnerre finished with a perfect score line and truly deserve their top ranking. True suffered not from a performance malady but, in my opinion,  from a rating sting. They sailed well all week, but a 47-foot boat rating the same as TP52… it's tough no matter how you look at it.
Our 2nd this week has been so thrilling to our team. Yes, we had some key positions filled by very qualified sailors… the driving, bow, pit, trim; Yes, the boat is very well rated; Yes, except for the lack of racing sails (an issue soon to be sweetly corrected), the boat is awesome. But, what made this regatta terrific was the team. Our navigator kept us in the game, the charter master, Ola Hox quickly learned the ins and out of TP52 driving and kept the boat on a groove when our seasoned pro Nic Bol was on break (about 50% of the time!) and the charter guests, a motley collection of businessmen, lawyers, doctors and entrepreneurs, provided plenty of horsepower to drive the grinders. Even in the worse of times everybody was smiling. The only rule was to have fun because, lets face it, that's the only reason we are all here.
This team embodies the Smile and Wave sailing spirit. Those of you that have been following our adventures know that how cool its is to hang with great friends at fabulous regattas in a fun boat. Good performances generally follow, a podium finish is just a bonus, and the most important thing – the smiles – are enjoyed by all.
Our Caribbean season is done but I hope for more racing to be in the cards…Europe, Newport, Florida…who knows?  Keep an eye on Smile and Wave's exploits here.
-Jaime Torres
May 5th, 2014 by admin
Jaime checks in from the penultimate day in Antigua.  
Ok, lets get this out of the way: Balearia got her new sail! It's a beautiful, paneled-spectra, 3di-looking high performance cruising sail. Faster than the number 4? In under 13 knots yes, over 16 knots, no. We put it up, again nailed the start, dropping True in our wake. Got to the windward ahead of everybody else and very close behind ICAP Leopard. We found a good speed boost and started savoring that huge bullet bonus!
As it turns out, we were a little early for that. A small navigational slip had us going fast in the wrong direction in the first long downwind leg. We lost all our gains and then some, as we had to hoist the jib (a tough job as this is no light weight race sail) and close reach up to the actual mark. To add insult to injury, what followed was a slalom of 2 back-to-back reaching legs where a Code 0 really paid off! Guess what? Our Code 0 is still in the planning stage. Our competition picked up and left us in the dust. True was particularly brilliant and had speed to burn; from were we were standing, they literally appeared to be riding the wake of twice-as-big ICAP Leopard.
Too bad we could not end our racing misery with just a single bad nav call on the day…In race 2, after a much-too-short lunch break, we had a less than stellar start. We went on to destroy another chute on the hoist, leaving us now with only one kite for the final day of racing: A big, light A2.
To remind you of just how close the fleet is here in Class 0, True came within 2 seconds of getting a bullet in the last race. And that valuable bullet would have given them not just equal points with us but the tie breaker in their favor. Thank voodoo for little favors! With our competition beating us in both races, we destroyed the nice points lead we had on both True and Scarlet Runner.  It's now do or die for Team Varg on Day 5 of Antigua Sailing Week.
Here's the Team Varg /Balearia 'to do' list in order for us to take 2nd in CSA Class 0:
1) Make sure Tonnerre beats True
2) Beat Scarlet
3) Get the race committee to spare us from anymore Code 0 reaching legs.
4) Keep the A2 in one piece in 17 knots
No problem, right?
May 2nd, 2014 by admin
Boricua's Jaime Torres reports on Day 2 and 3 of Antigua Sailing Week from aboard the chartered TP52 Balearia.  Here are the Day 2 and 3 reports along with another nice photo from Tim Wright/Photoaction.com.  Like Jaime's Smile and Wave Sailing Team Facebook Page here for a constant stream of year-round content from the Caribbean.  Results are here, and for a look at some nice video from Leopard and the Gunboat Zenyatta, go here.
The fat lady has not yet sung, and with 2 days /4 races with no new sail catastrophes, I can honestly say that Team Varg has found its groove!
The predicted forecast for the past couple of days of 11 to 15 knots was spot on, and how crappy is that for a boat who's only remaining headsail is a 6-year old  #4?None of us can quite understand how we have not yet succumbed to our misery, in spite of our bad breaks (no pun intended) to our sail inventory (if you can call 1 head sail "inventory") situation. Nic Bols has been sensational in keeping our boat speed up in the gnarly chop that usually accompanies this level of moderate trades in Antigua. His job is only made easier by the fact that we are just rocking the starts. We fight for and get good lanes off the line every time because we have no choice: Without a bigger jib, getting behind is death.  The crew has backed him up with good tacks and gybes and iPad navigator Dagfinn Klausen has managed to wrap his head right around the currents and windshifts in the South of Antigua.
The Vroon machine aboard Tonnerre has been going fast all week, and his boring string of bullets proves for a 330th year that they can sail to their rating.  But for us, sailing against the phenomenally beautiful Kernan 47 True and the Aussies aboard bright their bright red Scarlett Runner is what's kept this regatta so interesting. With very close ratings and similar boat speeds, we are racing for braggin' rights here. We do not let up and I think we have earned some respect from those guys. It shows because they are out on attack mode and want to get us bad. They have to because the racing positions are being decided by seconds.
In race 2, the first w/l on Monday, we missed the $10K in bonus pay for a bullet offered up by the charter owner by just 19 seconds. In race 2, 45 seconds in elapsed time and less than that on corrected is all that separated 2nd from 4th, with us in second again!
Day 3 was another perfect day with imperfect sails. Tonnerre is running away with straight bullets and proving to be almost unbeatable, as she's done so many times before in so many oceans. Our conservative but consistent sailing with no mistakes got us 2 more second places but the score line hardly tells the story. Most races have been almost too close to call in our mental timers.
The new headsail should finally arrive Wednesday morning, and we hope that will bring us that much closer to a first place in the daily prize giving. In the meantime we are all looking forward to the layday. We can definitely use the break and enjoy a day on Pigeon Beach watching the very cool Nonsuch Bay RS Challenge. Our pro kids will be representing Team Sailing Experiences on the RS Elites, while I suck on some well-deserved rum and cokes and narrate the action for the spectators.
-Jaime
April 30th, 2014 by admin
No one makes us wish we were there better or more often than Italian photographer Carlo Borlenghi; here's another piece of his art from Rolex Ilhabela Sailing Week.  Here's another droolworthy gallery.  And here's another.   And a big SA shoutout to the IRC-winning crew of Ruda, which included Smile and Wave owner Jaime Torres and trimmer Carlos Hernandez, who reported on the event here.
July 17th, 2013 by admin
We're happy to announce that our random selection committee has picked the winner of a brand new Velocitek Pro-Start in our Smile, Wave and Win contest, and its Brighton, MI sailor Elliott Joseph Falls!  Joseph, send us an email with your address and we'll have you on the way to perfect starts in just a few days.
Thanks to Velocitek, Smile and Wave, and of course the world-famous Sailing Anarchy for putting together this awesome $599 prize, and thanks to all of you for entering.
May 8th, 2013 by admin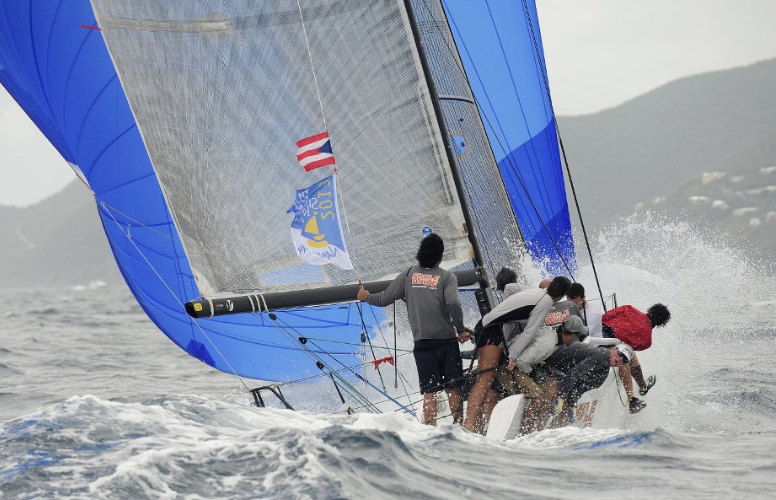 It's been ages since we gave away anything really big, so listen carefully:  To celebrate the conclusion of an incredible season of racing aboard Puerto Rican Melges 32 Smile and Wave, we're giving away a brand-new Velocitek Pro-Start!  Retailing at $599, the Pro-Start set the worldwide standard for Distance to Line (DTL) tools when it was introduced, and you'll see them at the pointy end of every fleet that allows GPS electronics.  Smile and Wave proudly rocks the Pro-Start, and we want you to as well. So here's how to win one:
First, "Like" the Smile and Wave Facebook Page.  Then "Like" the Velocitek Page.  Then, make sure you "Like" Sailing Anarchy's Facebook page.  If you "Like" all three pages, you're eligible, and on May 10th, one of you will be selected to receive your new Velocitek Pro-Start.
One more thing:  We're not saying that folks who share SnW's Facebook info are going to get special consideration, but we're not saying you won't.  We'll select the winner on May 6th, after we've had time to lick our wounds from the final Virgin Island Sailing Series event on the exclusive Peter Island.
April 26th, 2013 by admin
Big Pimpin'
Winter sucks, doesn't it?  How about finishing yours off with a Caribbean bang in a well-prepped, winning racer-cruiser?  Well don't wait around – we've got something special for you and it's coming up March 21-24th…
Christian and Lucy at Performance Yacht Charters have the best reputation in the Caribbean at delivering an awesome race experience to charterers from anywhere in the world.  Last week they added the Smile and Wave to their stable, renaming her Southern Child to complement their well-known, perennial winner Northern Child. You might remember SnW from last year, when she took all podium finishes at the major Caribbean events; two 1sts, two 2nds, and two 3rds, and the bulb-keeled Beneteau First 40 is perhaps the most race-ready in the world:  Full North inventory including 3DI main and jibs, both sprit and pole with massive A-sail and lightly used kites, and everything else you need to scrape up the competition at the St. Thomas Rolex.
Just two weeks are left before the Rolex, and they're ready to make a deal to get you racing at one of the Caribbean's best regattas, and a breeze to get to from the US or Canada; Get your ass in gear and reach out to Lucy and Christian via their Performance Yacht Charter website for either the whole boat or individual and affordable week-long race  berths.  Hit them on the phone at +44 7795 955702 or email at [email protected]
March 8th, 2013 by admin
We rounded about four boat lengths behind the same boat we'd followed around the course for three days, but on the final day of the four-race Heineken Regatta we'd picked up a bit of a secret weapon; former Bliksem World Champ mastman and 18-foot skiffy Pauly Atkins joined the ragtag crew of the Melges 32 Smile and Wave for just one race.
After three days of finishing close behind the talented crew of of Mark Plaxton's INTAC, Pauly's knowledge and enthusiasm had our team fired up as we set the reaching kite on the long leg from Marigot to the reef, and with the first real breeze-on conditions of this St. Maarten Heineken Regatta, we knew it would be a fun ride regardless.  We caught the first big puff rolling off the mountains during our gybe, and stayed in it as we worked our up to Plaxton's line.  Whether it was inspired driving from skipper Jaime or the extra 200 pounds of man-meat INTAC was carrying for the long upwind leg I don't know, but we were finally breathing down their necks, and we rolled over the top of them as five-time Olympian and tactician Richard Clarke called for the kite drop to reach up to the next mark.  We might not have rolled them had they not been doing something a lot of people did last week – going for the wrong mark – and we might have won the day if we'd held on to our kite for another quarter mile before stretching and blowing our way up to the turning mark, because we didn't know which mark to round either.
Eventually we all figured out where to go, and by just a few boat lengths, we rounded ahead of INTAC. Could we hold them off for the long close reach and even longer beat to the finish at Philips Bay?  No one else in our class was even visible; new-to-them M32 Kick 'Em Jenny had shown some brilliant moments earlier in the regatta but the bigger breeze had them back with the 24s on this one.  We had only INTAC to worry about, and finally – FINALLY! –  the Smile and Wave handicap racing team was ahead of the stacked pro crew on INTAC and our morale was at an all-time high.  Our 'A-Team' had beaten INTAC and a few other boats during some of the one-design races at the first Virgin Island Sailing Series event a few weeks earlier, but that was one-design, ultra short-course stuff, where a great start can get you a long way up the course.  And that was with the brilliant Marty Kullman on the main instead of me, and with Italian M24 racer Riccardo Papa on tactics instead of a combination of me, Pauly, Fernando, Nano, and Ivan.  It was looking good for a while, but when Plaxton sailed up to our lee and fought to break through, I clearly heard INTAC main trimmer and umpteen-time multiple class national and world champ Max Skelley easing and trimming the four mainsail controls like an octopus while I struggled to keep the boat on her feet, and I heard Olympic silver medalist Mike Wolfs working the jib through each puff and lull while hiking out.  And I leaned down and saw Bermuda Gold Cup and Monsoon Cup champion skipper Taylor Canfield calling puffs and hiking like only a pro does…and I knew we were screwed.
Sure enough, they blew through our lee in just a few minutes and we followed them in, somehow missing a mark on the way and losing our second-in-class in the process, but it didn't really matter; that battle for the lead left its mark, giving us our first really great racing moment in a regatta that is far less about the racing than it is the partying.  In fact, as insanely fun and wild the parties and island were (as usual), it was the first real on-water moment of the Heineken that I'd enjoyed as a racer.  In my second year at the event, I decided the racing here just ain't my speed, at least as it is today.
The Heineken is the biggest regatta in the Caribbean not because it attracts hundreds of crack teams of windward-leeward one-design racers.  It's attractive primarily because it is a massively interesting, intensely fun island, and because organizers have worked hard to brand themselves as the event that encourages excessive consumption, endless dancing, and lots of mingling with the opposite sex; "Serious Fun," as they call it. And exactly what piles of European and American racers and charterers are looking for at the tail end of the dark Northern winter.  But the racing is also tailored to that charter crowd, as well as to bigger boats and multihulls with crews that aren't looking to turn a corner every 14 minutes.
Compared to the racing at the Rolex, BVI Spring, Antigua, or the legion of other Caribbean events (many of which I'll be reviewing as
the season progresses), the Dutch organizers of the Heineken sail a paltry four races over the course of the three-day regatta.  The standalone Gill Commodore's Cup provides three decent windward/leewards the day before, but even those leave a lot to be desired: Long, lazy start lines in the middle of the course with a closed start/finish line, a lack of downwind gates, weird class starting orders that increase the likelihood of nasty mark traffic, and long legs in light air don't make for the kind of intense racing that I learned to love during my M24 days and that all M32 crews love today.  But for us, it was far better than the long, reachy 'round the island' race that made up the first light-air day of the Heineken; we had a grand total of about 25 minutes of kite work over the course of the four-hour race.  The Gill event was also better than the long, reachy race to Marigot and the subsequent 3-mile windward-leeward race on the French side of the island.  And despite our moment of glory at the reef, the Gill racing was still better than the long race from Marigot back to regatta HQ in Philips Bay, especially with it ending on an hour-plus long beat into short 5 foot waves and 15-20 knots of breeze.  Oh yeah – we had another kite run of about a quarter mile just before the finish…not enough.
It's not like I won't be back though, because the party is just too good, and the attitude of the organizers too inviting. PRO and all-around nice guy David Campbell-James tells me his Race Committee is looking at offering something more for guys like us, especially if the Melges 32 and 24 Caribbean fleet grows the way they seem destined to. To my mind, it would be great if they would add shorter W/L courses for classes that want it, with perhaps a mix of three passage races and three shorter four-leg sausages rather than three passage races and one long windward-return.  Whether that happens or not, he assures me that they will do a better job of communicating on the start line, and that future Sailing Instructions and course layouts will be far less confusing.  And if they do that, and do it consistently, the Heineken should pretty easily attract more of the one-design sport boat and TP52/Maxi crowd that currently ignores it, and climb back to some of their glory days when 300+ boats raced the Heineken.
Gunboats Galore
In contrast to my bitching and moaning, the Gunboats loved it; the reachy Heineken is just about the perfect event for the big multihull fleet, and Peter Johnstone and the Gunboat owners capitalized on this with I think the biggest Gunboat class ever raced – six or seven boats from 62 to 66 feet.  Jason Caroll's stacked and heavily modified GB 62 Elvis crushed the fleet (with one of our favorites; former SCOTW Molly Baxter aboard), but judging from their smiles and stories as we raided the late night club scene together, everyone on every Gunboat had a ridiculously fun time.  The island's mouth-watering cuisine, posh villas, and laissez-faire attitude is perfect for what's become the best cult in the Caribbean, and I may need a few weeks in Gunboats Anonymous after spending a couple of nights hanging out with that group…If I only had a few mill…
Media Matters
I won't call the daily videos or photos great, but they're entertaining and SnW features heavily in lots of them.  Have a look at the video channel here and the official photo gallery here.  Photos in this piece are from yours truly, event photog Bob Grieser and local photog Jim Johnston; his gallery is here.
Clean Thanks: 
Michele and Martine at the Heineken Regatta for being such good hosts and for giving Jaime the Sportsmanship Award – very classy of the organizers for recognizing one of Caribbean racing's biggest cheerleaders.
Musto for making the one spray top that lets me leave everything else home, even when I have to tow a Melges 32 hundreds of miles between islands through squall after squall.
Jaime, Alma, Miranda, Gretchen, Nano, Fernando, Henry, Rosa, Ivan and the rest of the Ricans for helping me fall in love with their country.
Gill for sponsoring the Commodore's Cup, which has given us enough tight racing to forget about the long reaches during the Heineken.
Pauly and Des for buying lots of Heinekens, loaning me lots of singles and for chartering a plane to get Pauly here for just one day.
Wolfsy, Clarke, and Skelley for helping us get up to speed and providing a huge welcome to our team in a class that is often quite
closemouthed.
Plaxton for being such a gracious winner
Lee and Anne and the rest of Kick 'Em Jenny for saving us with a tiller extension and being great fun on and off the course.
City Island Leigh and Adar for filling in so well when we lost our Megs.
Azure and Jolicious from ESPN for giving good exposure to the SnW team
And finally, PJ, Megs, Cristal, Forrest, Bailet, Scotty, Ferrar, Rachel, Richard, and the rest of the Gunboat family for including me in the obscene amount of fun that follows them around.
Up Next
This was our fourth regatta aboard Smile and Wave and our third handicap regatta.  Three events remain, and they are all one-design VISS regattas.  The next is in St. Thomas, and I'll be reporting on the series, on the state of the M32 class in general, on the progress of a team that's proving it doesn't take the world's best or a huge budget to have respectable finishes and an incredible time in the Melges 32, and on how Jaime and the other four M32 Caribbean owners are going to establish a strong, fun, Caribbean M32 fleet.  And Mer will be with me for some of it for her customary great shots of the racing.  It won't suck!
-Mr. Clean
March 7th, 2013 by admin
Clean Report
For the first year ever, the 100+ boat San Juan Yacht Club's 12th International Regatta has added a handicap big boat section, and local sailing cheerleader Jaime Torres has a new Smile and Wave in his stable to go and beat up on the local boats.  Then again, he's got me trimming front sails, and other than long time Melges ace Marty Kullman as our pro, the crew is entirely made up of amateur Puerto Ricans, so this ain't a 'victory-at-all-costs' program; it's all about having a good time and helping to grow Puerto Rican sailing, and that means fun.
You can check out the entry list here, and check the front page for photos and results.  SnW's Facebook page will have some more info as well.  I'll be sailing the whole Caribbean season with the team from PR, including 3 one-design Melges 32 events.  Good stories guaranteed!
February 1st, 2013 by admin