Posts Tagged 'skiff'
Looks like some breeze finally hitting the Harbour for the fourth race of what's been a light air affair until now in the JJ Giltinan/18 Foot Skiff Worlds.  Today most of the fleet has their small rig up; will it pay or will it wallow?  Watch right here and a big shoutout to the great job the whole live streaming team is doing; it's our privilege to be their Official Streaming Partner and we're stoked there are another 4 days of great action ahead!
The Cocksweat aboard Thurlow Fisher Lawyers in the lead after three.  Make sure you register to view the video archive and play Pick the Podium.
March 4th, 2014 by admin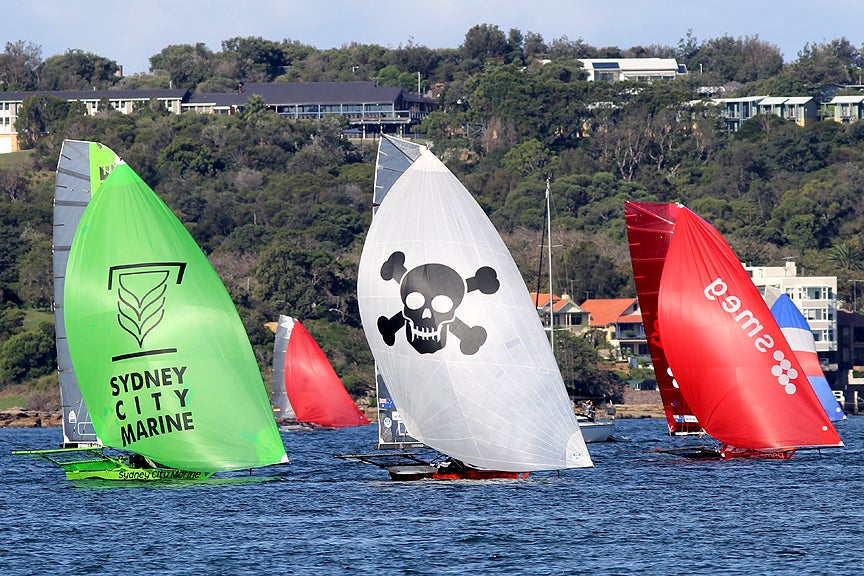 The spectacular racing of the 34th America's Cup was, at times, frustrating for we sailors, with an overhyped know-nothing commentator and an over-aged AC winner pointing out irrelevant facts and useless trivia in vain hopes of getting the 'mainstream' to buy into the live feed.  We got to see some of the most amazing sail racing ever captured on screen, but it was often better with the sound off.
This week's 18 Footer Worlds (also known as the JJ Giltinan Championship presented by Sydney City Marine) might feature some of the same faces; AC34 Regatta Director and AC35 Challenger of Record CEO Iain Murray is helping out with the commentary at times, while numerous AC sailors are spread throughout the fleet.
But this broadcast ain't for the landlubbers, it's for sailors only, and the boys behind the microphone make no bones about it.  So if you're a racer and you want to know who's on the inside of what shift, and who's got a slightly better kite drop than the other guy and the inside position at the Zone, this live coverage is for you.
Check out Day 3 of the JJ above, with all the news and current results from yesterday's racing here.  Scroll down the page for yesterday's video, and the highlight reels are here.
March 3rd, 2014 by admin
Camper VOR skipper and lifelong skiffie Chris "Nicho" Nicholson may not have sailed an 18 footer in more than a decade, but the Lake Macquarie native didn't take long to slip into winning ways as this summer's 18 Footer season got underway.  And now, with another solid performance on Sunday, Nicho and his Mojo Wine team have taken the 3 Buoys Challenge title for the 8-race series that ended this weekend.  Does he have what it takes to win a JJ?  Fuck if we know, but with one of the deepest 'top ends' in the 18 fleet in years, it won't be easy for anyone.
Just 10 of the 18 boats finished on Sunday; watch some oh-so-sweet carnage from a classic Sydney Nor'easter here, and thanks to the 18 Footers for the news.
December 9th, 2013 by admin
Yes, we know we're insufferably sophomoric.  We like topless women, crashing boats, fart jokes and dick jokes and yes, even gay jokes.  And there's always something funny when sailmakers and graphic designers get it oh, so wrong – like they did here on a poorly planned jib window aboard the boat sponsored by North Sydney's oldest pub - the Rag & Famish Hotel.
Rag's been a part of the 18 fleet for well over a decade now, and their 'wardrobe malfunction' was the only thing that went wrong on Christening Day for a brand new boat; Jack Macartney, Peter Harris and Mark Kennedy put the finishing touch to the day of celebration with a great win in Race 7 of the 3-Buoys Challenge on Sydney Harbour on Sunday.
Check out 18footers.TV for all the video coverage, and a shout out to Deckhardware for the Facebook find.  And for everything 'Eye-deen", including historic videos and near-constant shitfights about things you'll never understand, check the thread.
December 5th, 2013 by admin