Posts Tagged 'skiff'
The International 14 continues to be one of the world's toughest dinghies, and not only to sail well – sometimes just to sail.  Skinny and difficult to get around while carrying a massive sail plan, the double trap I-14 makes great sailors, but only after making you look like a no-talent clutz.
Nice work from the Toronto skiff fleet's Matt D on the video compilation of 22 full capsizes during a recent frostbite event.
November 6th, 2017 by admin
The fastest Olympic boats have joined forces for their European Championship (and beyond, we expect), and with our own Mr. Clean moonlighting as their broadcast host, there's bound to be some interesting stuff coming from the site of the 1972 Olympics in Kiel.  The first three days feature a morning show and some social media content, while full tracking, live video with commentary, and the rest of the bells and whistles will come in on Wednesday for the important half of the regatta.
The 49er or Nacra 17 Facebook Pages are probably the best place to keep track of it all.
July 29th, 2017 by admin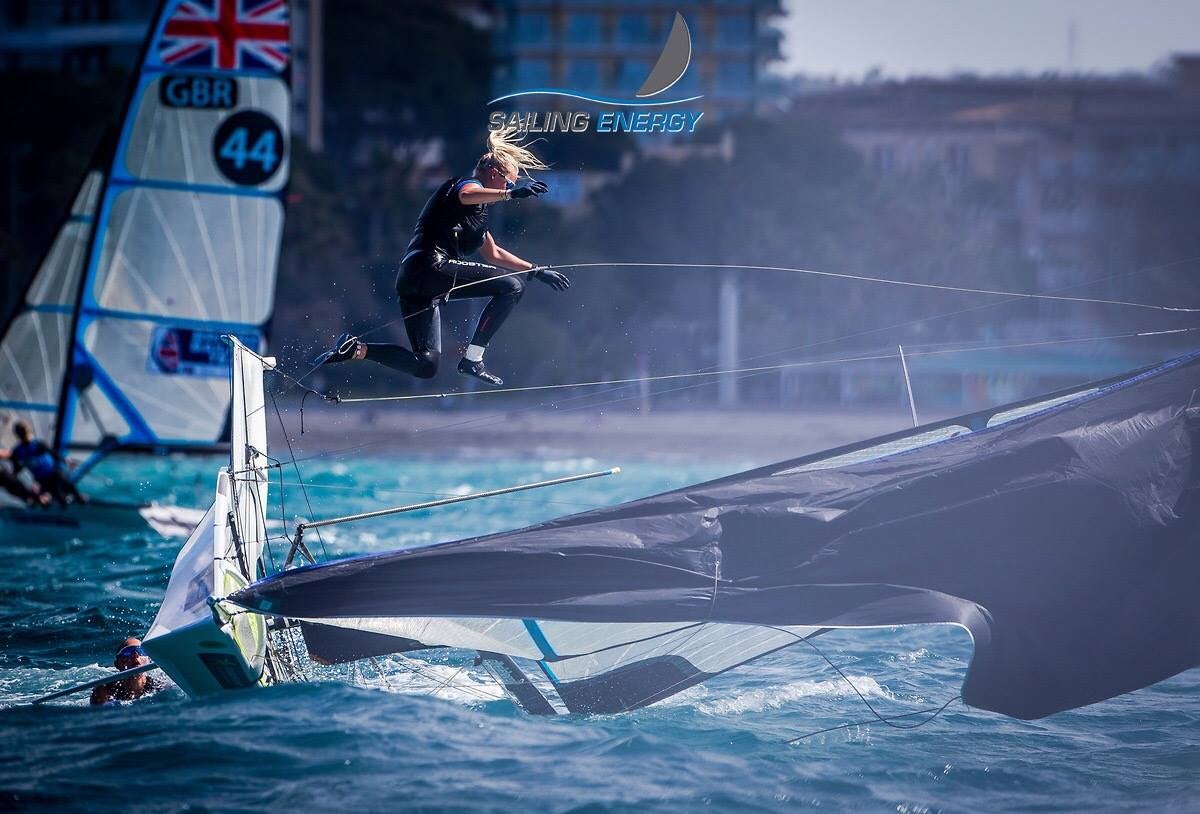 Our Sailor Chicks of the Week are 49er FX team Rebecca Netzler and Klara Wester from Western Sweden. Sure they look good, and yeah they kick some ass on the chick's skiff, but how about the form of this dismount during last week's Princess Sofia in Palma?  While we can't score the landing, Klara gets a solid 10 for amplitude and flight time, and the successful attempt to create a show for the crowd when the capsize became unsaveable. and despite the DNF they took in the medal race, the blonde-and-blue girls took 4th…
Get to know them better or support the team on their website here, and Becca's got all the pics from the flight sequence – as well as tons more – on their Facebook page, which we highly recommend you follow.  Or if you're under 30, there's IG.
Excellent shot from our old friend Jesus Renedo/Sailing Energy
April 5th, 2017 by admin
Despite all ISAF's marketing-speak about eco-friendly sailing being the key to the universe, we all know our sport has a dark secret about the chemical nastiness of modern boat and sailmaking materials and the environmental impact of our sport. Folks like Sailors for the Sea and 11th Hour Racing are doing a good job on the impact part of the equation a select few are trying to address with environmentally friendly-ish epoxy (like this stuff) but the older generation of designers and builders are mostly a long way from any real change, and it's a genuine threat to the 'eco-appearance' of the sport – not to mention the health of the planet. 
That's why it's so cool to see the next generation taking on the challenge with what we're calling the 'Eco-Skiff', using it as a platform to prove that 'environmentally friendly and sustainable' composites don't have to mean unreliable, heavy, weak, or expensive.  The Eco-Skiff was designed and built by the sailing team of CUS Brescia, the student sport association of Northern Italy's University of Brescia under the supervision of several researchers of the Department of Mechanical and Industrial Engineering of the University of Brescia. Our old friend Max checks in with a quick update, and you can find regatta info, pics, vids, and plenty more on their Facebook Page.
The objective of this project was to test the innovative composite material and the racing boat in a real contest the "1001 Velacup challenge regatta", an annual challenge which involves the participation, with small skiff, of all the Italian Universities. In 2016 event, 1001 Velacup regatta was taken in Venice and this boat got the 3rd position overall.
The participation to this regatta requires the boat to be designed and built by university students, the hull, the deck and racks of the boat to be made of at least 70% in weight of natural materials, the overall length and the beam length not to exceed 4.6 meters and 2.1 meters respectively and the sail area not to exceed 33 m2 including jib, main and gennaker.
The designed boat is a typical skiff sailing boat, which is characterized by a large sail, a minimal draft and stretched water lines that allow the boat to reach high speed on the water (up to 9 knots upwind and 20 knots downwind). The entire hull is made of the innovative composite material made of BIOMID® (fibers coming from cellulose) and balsa wood while racks, mast and boom are made with an extruded aluminum.
This innovative composite material shows a lower environmental impact with respect to conventional materials. for example, considering as alternative glass fiber composites, this is due to the fact that: (1) natural fiber production has lower environmental impacts compared to glass fiber production; (2) natural fiber composites have higher fiber content for equivalent performance, thus reducing the more polluting polymer content; (3) these natural fibers presents a positive economic outlook that show a great potential for use in other sectors.
-Massimo Collotta,(Ph.D, P.Eng.)
October 17th, 2016 by admin



Willie McBride and Dane Wilson were born to the sea; two quintessential California watermen with a long, long sailing future ahead of them.  Will that future begin in Rio?  Only time will tell, but we love the fact that these young studs are already pushing the limits with their training and their organization.  More from Willie below, and have a look at their good-looking website and donate to their cause here.
For those of you not currently following the daily tweets and posts of your favorite Olympic hopefuls or don't live in Long Beach, CA, the traveling circus that is currently masquerading as the US Sailing Team arrived nearly unannounced in May at Alamitos Bay Yacht Club, and immediately began setting up camp to take advantage of the clockwork-like sea breeze and messy seas west of the LA Harbor breakwater.
For Dane and me, this was the first chance to train shoulder to shoulder with the other 49er teams vying for a spot on the 2016 Olympic Team. We're relatively new to the fray, having only been sailing the 49er for the past 10 months, but opportunity knocked, so we packed up our gear and abandoned our daily training grind in Santa Barbara to see where we fit in the fleet.
Day one was a bit jittery for us, as the other teams hoisted their sails plastered with sponsor logos, Olympic rings, and gigantic US flags. We were sporting an old set of Canadian sails. No matter – never judge a book by its cover – off we went. The agenda for the day was to speed test upwind until we ran out of runway, then turn around and send it downwind, best man wins. Somewhat to our surprise we hung in with the "senior class," so much so that by the end of the session Luther and Fuzz awarded us the title of "greatest rookie team of all time." We weren't entirely sure if they were encouraging us or hazing us. Either way, day one was under our belt and all was well.
The highlight of the month was the private coaching bestowed upon us by the famed McKee brothers – legends to any high-speed sailor on the West Coast. We'd been staying on the water after the group sessions each afternoon to solidify the day's lessons, and one afternoon Charlie and Jonathan stayed out to chase us around in a coach boat, with Charlie analyzing our crew work and Jonathan critiquing driving techniques. We made several changes that smoothed out a lot of the boat handling and helped with the rudderless aspects of our maneuvers. We were stoked to get the attention and hopefully to put it all to good use. Part of that process was sharing debriefs each night with longtime supporter and mentor Howie Hamlin. Howie was gracious enough (as always) to provide a roof over our heads while we were staying in Long Beach, and served up heaping bowls of ice cream each evening as we mused over the daily sessions, discussing tuning techniques unique to skiffs, boat handling nuances, and even the means by which we can collaborate more effectively in order to leap frog the US skiff talent in general, as he has always encouraged us to do in the 29er fleet. If that weren't enough, he even volunteered to ferry around our buddy, and epic young gun photographer John Kelsey in his ridiculously cool helicopter to shoot some aerial stills and video. The footage in this video is just a snippet from our time in Long Beach. Expect to see a lot more from John in the near future as we're collaborating on a movie about our collective love of the ocean.
In the end, it was an intense month of learning. We've now been training for nearly a year in the 49er and by far our biggest challenge has been getting good, consistent information and data to help us progress. It would be incredibly helpful if there were easily accessible institutional knowledge available for young teams here in the US, but unfortunately that knowledge base doesn't exist yet. In our own program we've been compiling, tracking and archiving all of our training sessions, lessons learned, testing procedures and Ah Ha! moments throughout our campaign. It's a bit of a mish mash of data at this point, but in time we hope to establish a baseline of open information that will be available to new teams getting started on the Olympic skiff path. Anyone willing, able, or interested in helping out can peruse our extended mission at www.FromWhenceWeCame.org.
Big thanks to Trevor Moore for letting us use the American flag sail for the video and to all who made it a great month of training: Leandro, Luther, the McKees, Oakcliff, ABYC, and of course Sailing Anarchy for always highlighting young teams like ours.
-Willie
June 27th, 2014 by admin
Looks like some breeze finally hitting the Harbour for the fourth race of what's been a light air affair until now in the JJ Giltinan/18 Foot Skiff Worlds.  Today most of the fleet has their small rig up; will it pay or will it wallow?  Watch right here and a big shoutout to the great job the whole live streaming team is doing; it's our privilege to be their Official Streaming Partner and we're stoked there are another 4 days of great action ahead!
The Cocksweat aboard Thurlow Fisher Lawyers in the lead after three.  Make sure you register to view the video archive and play Pick the Podium.
March 4th, 2014 by admin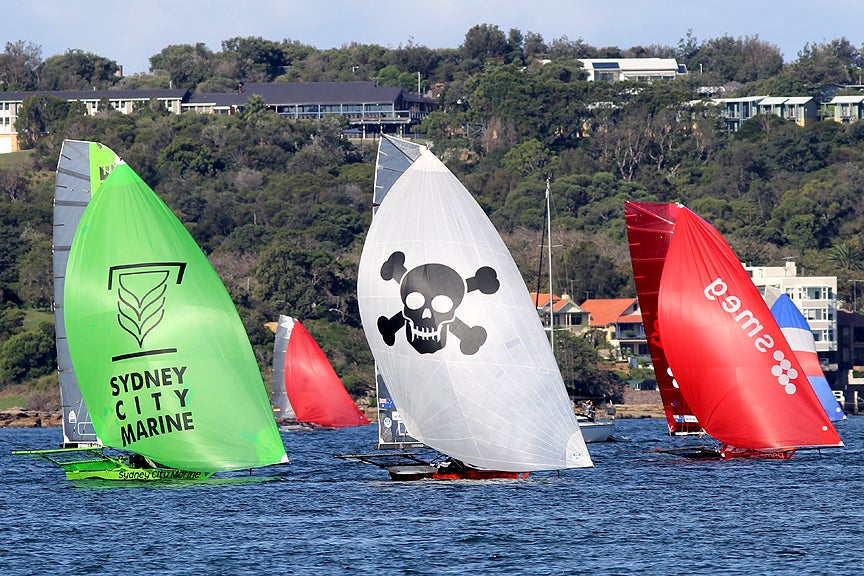 The spectacular racing of the 34th America's Cup was, at times, frustrating for we sailors, with an overhyped know-nothing commentator and an over-aged AC winner pointing out irrelevant facts and useless trivia in vain hopes of getting the 'mainstream' to buy into the live feed.  We got to see some of the most amazing sail racing ever captured on screen, but it was often better with the sound off.
This week's 18 Footer Worlds (also known as the JJ Giltinan Championship presented by Sydney City Marine) might feature some of the same faces; AC34 Regatta Director and AC35 Challenger of Record CEO Iain Murray is helping out with the commentary at times, while numerous AC sailors are spread throughout the fleet.
But this broadcast ain't for the landlubbers, it's for sailors only, and the boys behind the microphone make no bones about it.  So if you're a racer and you want to know who's on the inside of what shift, and who's got a slightly better kite drop than the other guy and the inside position at the Zone, this live coverage is for you.
Check out Day 3 of the JJ above, with all the news and current results from yesterday's racing here.  Scroll down the page for yesterday's video, and the highlight reels are here.
March 3rd, 2014 by admin
Camper VOR skipper and lifelong skiffie Chris "Nicho" Nicholson may not have sailed an 18 footer in more than a decade, but the Lake Macquarie native didn't take long to slip into winning ways as this summer's 18 Footer season got underway.  And now, with another solid performance on Sunday, Nicho and his Mojo Wine team have taken the 3 Buoys Challenge title for the 8-race series that ended this weekend.  Does he have what it takes to win a JJ?  Fuck if we know, but with one of the deepest 'top ends' in the 18 fleet in years, it won't be easy for anyone.
Just 10 of the 18 boats finished on Sunday; watch some oh-so-sweet carnage from a classic Sydney Nor'easter here, and thanks to the 18 Footers for the news.
December 9th, 2013 by admin
Yes, we know we're insufferably sophomoric.  We like topless women, crashing boats, fart jokes and dick jokes and yes, even gay jokes.  And there's always something funny when sailmakers and graphic designers get it oh, so wrong – like they did here on a poorly planned jib window aboard the boat sponsored by North Sydney's oldest pub – the Rag & Famish Hotel.
Rag's been a part of the 18 fleet for well over a decade now, and their 'wardrobe malfunction' was the only thing that went wrong on Christening Day for a brand new boat; Jack Macartney, Peter Harris and Mark Kennedy put the finishing touch to the day of celebration with a great win in Race 7 of the 3-Buoys Challenge on Sydney Harbour on Sunday.
Check out 18footers.TV for all the video coverage, and a shout out to Deckhardware for the Facebook find.  And for everything 'Eye-deen", including historic videos and near-constant shitfights about things you'll never understand, check the thread.
December 5th, 2013 by admin