Posts Tagged 'sint maarten'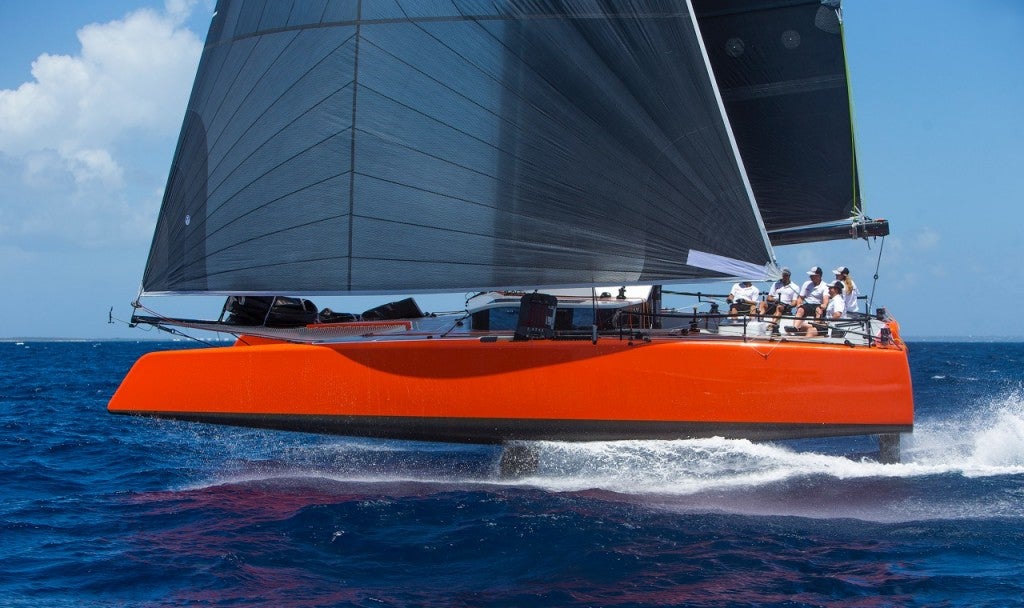 A stoked Peter Johnstone reports that the hard-working design and build team at Gunboat have done it!  The full-foiling G4 cruiser/racer is ticking all the test boxes during her St. Martin sea trials, and here's today's sailing report directly from test pilot and mast builder Ben Hall:
"An epic day of sailing the new Gunboat G4!  The orange rocket handled the 18-20 kt breezes off St Maarten with ease.  Foiling was fast and steady. I got to drive upwind and hit 15.4 kts…incredible!
Downwind with R1 we peaked out at 25.7. On the foils we had really good VMG with TWA of about 160. On the final burn into the harbor with the solent and full main the top speed was 29.7.
Probably one of the best days of sailing ever for me…all on a boat with a cruising interior, a nice fridge and stove, electric sail drive and cockpit for the best of parties.
Truly remarkable!"
Screw the AC48 – they should just do the America's Cup in these things.
Watch the G4 thread in Multihull Anarchy and Gunboat's Facebook Page for the latest photos and reports, and check back here later in the week for the full video.  Photo courtesy of Rachel Jaspersen/Ocean Images.
April 6th, 2015 by admin
The influx of knowledge and skill pouring into the Gunboat fleet over the past five years was blatantly apparent during a picture-perfect week in Sint Maarten for the 2015 Heineken Regatta, and Richard and Rachel captured the feel of the Caribbean's most picturesque regatta well.  Two-time Melges 32 World Champ Jason Carroll barely held off professional A-Cat World Champ and multiple F-18 champ Mischa Heemskerk with both skippers sailing to the limits of the multi-million dollar cruisers, and both teams already thinking about next year's rematch.
They (thankfully) didn't shoot what we love most about SXM – the insanely hot French and Dutch girls, the cheapest and best wine and alcohol in the Caribbean, and drug-addled all-night parties from one end of the island to the other.  Nope – you've gotta come racing for all that.  If you don't have a boat, give this chick a call.  She'll get you some silverware and her crews are no strangers to debauchery.
April 6th, 2015 by admin
It took less than a decade for the world's big charter fleets to go almost entirely multihull, and why not? For the same length and weight, they're bigger, more comfortable, more open, and just plain better for cruising regardless of experience level.  When we saw this wholesale defection underway, it made us happy – tens of thousands of know-nothing once-a-decade charterers would learn that sailboats could go faster than the 5.7 knot top speed of a Moorings 390 shitbox, and who knows – maybe some fraction of them would be inspired to go racing once they got back to Duluth or Green Bay or Chillicothe?
One problem with our wishful thinking – the charter companies ordered overweight Fontaine-Pajot/Leopard/Lagoons by the shipload, with tiny rigs, diaper-cut sails, and no downwind sail inventory at all, ensuring that the boats are almost never used for sailing.
And this one, stuck under a Sint Maarten crane last week, looks far better than the usual.  Fortunately, there are a few companies doing real performance – check SA's preferred one here.
April 6th, 2015 by admin
Thanks to a European feel, long, reach courses, and the most festival atmosphere of any regatta, the Heineken continues to be one of the only regattas in this hemisphere to attract a vibrant big-boat multihull racing scene. Nils Erickson's quick M&M Formula 40 cat Soma has owned that scene over the past few years, and he checks in with the best race report we've seen in a long time.  We're not sure if Soma is still doing charters as her website advertises, but if you ever have a chance to get aboard, jump on it.  Top shot from YachtShots, the rest from Soma's co-owner Meredith and Gunboat crew Jamie.
I learned an old German proverb a few years ago that I think applies to multihull racing in general, and this year's Heineken Regatta in particular: "A smart horse jumps only as high as it has to". If you remember the first season of the Extreme 40 class not a single boat flipped. By year two, a handful. Nowadays it seems like a boat flips every race. On a racing multihull you'd better be ready to press harder than your competitor and peer over the edge into the abyss we call the "mineshaft" if you want to win. Just don't go further than you have to, or you'll be that dumb horse.
This year's Heineken Regatta in St Martin saw the best, most modern assembly of multihulls in its history. The five Gunboats entered have (rightfully) gotten lots of love and press with their stories from Multihull Racing 1, but in addition to them were another 24 multis in 3 other classes. In Multihull 2 we had a Seacart 26, a sexy new Toro 34, a wicked fast Open 40, and perennial attendee and threat Carib Cat. We rounded out the fleet on our 30-yr old Formula 40 catamaran, Soma.
Not only was the list of boats formidable, but there were some industry bigwigs in attendance. Out of the blue, two weeks before the event, we got an email from Gino Morelli asking what it'd take to get an invite to sail on Soma. I doubt anyone doesn't recognize the name, but Gino is the designer and builder of Soma, as well as, um, sum lesser-known boats like the first generation Gunboats (48, 62, 66, 90), Playstation, Stars and Stripes '88, Alinghi and those quick little AC72s ETNZ and Luna Rossa/Prada.  Why one of the greatest designers in the history of sailing would want to slum it with a bunch of rank amateurs like us was beyond me, but it was an honor we couldn't refuse. He was Soma's Dad, and we've just been borrowing her.
We gave Gino his choice of jobs aboard and were happy to have his expertise on the mainsheet. Also sailing with us was multihull guru Torbjorn Linderson (ex-Marstrom, currently Future Fibres). Calle Hennix, owner of Seacart was racing his Seacart 26, Gunboat company owner Peter Johnstone was back on his 1st Gunboat, Tribe (GB6201). Designer David McCullough was racing on Slim (GB6606), multihull legend and the sailmaker for Soma and just about every fast multihull in attendance Paul "Whirly" Van Dyke was on Tigerlily (GB6603). Elvis/Team Argo (GB6204) had more collective world championships aboard than the rest of the 215-boat fleet combined. This wasn't the usual collection of rum drunk Caribbean sailors like us on Team Soma. We needed to come correct.
The first day's race was the Around the Island Race. There's something pure about an around the island race.  No handicap squabbles, no BS, first to finish. That's been our trophy 8 out of 9 years and we had no intention of letting it slip away this year. Conditions were on the high side of what's comfortable on Soma with a puffy 18-22, and big gusts in the low 30s. Full main weather, but marginal in the puffs. The Gunboats had the first start in the 215-boat fleet; we followed 5 minutes later. After a short mile-long beat to weather we turned downwind for a run to the west tip of the island, Basse Terre. We had piled bodies at the back of the boat trying to keep her nose out of the water, and the wind was nuking. We were quickly reeling in the frontrunners Coco De Mer and Elvis. Just as we evened up with Coco we had our first HARD stuff, both bows digging in and the rudders coming out of the water. Torbjorn, the giant 105 kilo Swedish mast designer, was launched from the aft beam right through our tiller cross bar, breaking it like a finish line tape. The boat came crashing back down suddenly. In full-power, downwind conditions I only had the use of the weather rudder. I jumped to leeward and drove off the leeward rudder/tiller that was more likely to stay in the water as the crew scrambled to effect a repair. We used every scrap piece of spectra aboard and lashed a boat hook to the cross bar as a splint. I had a sinking feeling we wouldn't last the race. "Are we pushing too hard?" I wondered. We got back on the throttle and began the upwind leg past Marigot. Conditions were great, flat water and reasonably steady wind.
The course takes the fleet into the full brunt of the Atlantic as you head up around the NE corner of the island, past the offshore island Tintimarre, and down the East coast to Phillipsburg. Seas and breeze were up, with ESE winds above 20 knots and gusting much higher. We had pulled one daggerboard up on our last tack to the weather mark, then cracked sheets and began the hot reach down the lumpy east coast of the island. We tried to crank up the weather daggerboard while barreling along at 25-28 knots but it didn't want to budge. We blew up the uphaul line, then hurried to get a halyard to the top of the board to try to get it up. In the meantime my wife was sharing driving duties with me, getting blasted by spray sitting to leeward supporting the splinted tiller cross arm and following my lead on helm. The trimmers were ready to blow sheets at a moment's notice in the marginal conditions, while our "floaters" were working on getting the board up. There was a LOUD crack and without looking I knew it was the daggerboard. I turned and, sure enough, saw the bottom half of our board roiling out of our wake. That sinking feeling again; we were snatching defeat from the jaws of victory, and it was getting really expensive. I pushed those feelings away. We stacked bodies aft and pressed on. A steep sea was running, making the just-past-beam reach difficult in full power. If we sailed the course to the corner of the island we'd bury a bow and be upside down for sure. If we heated a touch we'd get fully airborne launching off the waves. If we dove deep we'd end up on the beach at Orient. We'd commit high for a mile or two (so we could shed power), then dive deep and soak down to the route, and repeat. We were living, but it was hairy.
At the end of the reach we met the current running around the S tip of the island and the waves got steeper. We had stuffed the bows several times already, but she had popped up unscathed each time. One mile from the finish we had our hardest nose dive yet, parking the boat, burying the bows to the main cross beam, and totally submerging our 22' sprit. The sprit snapped just aft of the jib tack attachment. Both our furled code zero and screecher and half our sprit were underwater. The drag at the bow wanted to heat us up into the death zone and wanted to pull the bow under. The jib tack was 5' in the air and to leeward. It was mayhem. I dove deep trying to depower. We pulled and yanked but nothing we did could get the sprit and sails out of the water. We turned head to wind, got the main off the lock, dropped the main, and began floating haphazardly in the vague direction of the finish line. We cut all the spectra lashings holding the sprit on and recovered the broken pieces. After 15 minutes of damage control we lifted our heads to see 2nd place Elvis sail around us. That was it. The trophy would be lost. The regatta would be lost. That sinking feeling was here to stay. A black pit in our stomach, we had gotten too close to the edge. Not only was the weekend going to be a total waste (the flights, hotels, effort to get to the start line), we had done thousands of $$$ in damage. Keep in mind, Soma is paid for on professional boat crew's wages. My wife and I aren't wealthy, we don't have trust funds, and we just sank all of our money into buying our first house on a nearby island. She looked at me with tears brimming her eyes. We do this because we love it. The name Soma is a drug reference, it's means the perfect drug, in this case the high you get from sailing fast. It's an expensive addiction, and luckily my wife shares the addiction. This time the addiction got the better of us.
Just as we contemplated starting the motor and leaving in defeat, someone shouted out that Elvis had started 5 minutes ahead of us, and they were only a few hundred yards ahead of us with ½ mile to the finish. There was a chance! We dragged the main up 1/3 of the way, holding the leech away from the shrouds and limped across the finish line doing 10 knots. We later learned we finished 3m30s behind Elvis, but pulled off the fastest elapsed time by a mere 1m30s. We were elated. The weekend may be lost, but the Around the Island trophy would be ours!
We returned to the dock thrilled about our elapsed time win but dejected about the reality of our breakages. To add insult to injury, our French competitors protested us about our rating. Our rules adviser/tactician Jim Ryan and I went off to the yacht club to defend our name in the protest room. Waiting for the protest we learned that we had taken 1st on corrected despite the disasters on the water. Suddenly defeat didn't seem inevitable. I rushed back to the boat to see if anyone was up for a late night. Gino, Chris Curreri, and Chris Hanson were a step ahead of me. While Jim and I had gotten the protest thrown out they had scrounged materials for a repair. The Gunboat crews had graciously offered tools, materials, shop space, expertise, whatever we'd need. We had a pizza party in the parking lot as the wives and girlfriends cut carbon and peel ply and mixed epoxy, the boys took a grinder to the carbon sprit and laminated a repair. Gino pitched in 'til the very end and we walked away at 1:30 AM with hopes of sailing again.
At 5:30 AM we were back at the boat groggy and tired for a final hot-mixed layup. We bolted her back together, shoved the broken stump of a daggerboard down as far as we dared (and past Gino's recommendations) and limped out of the bridge for race 2. We managed a 1st on day 2, a downwind course that avoided our weak point of too little daggerboard. Day 3 turned into a lottery. A short beat, a long run, then a big rain cloud that sucked out all of the wind. We saw the big brains on Elvis chase the gradient to the south, and watched as Highland Fling and Peter Holmberg found the same escape route. We followed, found some breeze, and secured a comfortable 1st for the 3rd day in a row to win Multihull 2.
Looking back, this was probably our best Heineken yet. No despite of the breakages, but because of. We went through hell and high tide. Our "shore crew" of friends, wives, and girlfriends (Sasha, Tara, Jill, Mindy, Jamie, Matt), the Gunboat crews that helped (especially Elvis), Gino's expertise, advice, and good humor. What breakages? All we'll remember are the good times and great people.
In hindsight, we probably drove the boat a little too hard day one. Alright, maybe a lot too hard. As we learned, a smart horse jumps only as high as it has to. I guess that makes me a dumb horse. Good name for a boat, that. Hmmm….
Epilogue: The Tuesday after racing my wife and I were motoring in glass calm conditions from St. Martin to Virgin Gorda aboard the Gunboat 62 we work on. She called out, "look, a shark, err, wait, no, a log, wait, no, our FRIGGIN' daggerboard!" That's right, 4 days later and 15 miles to leeward we almost ran over our stump of a daggerboard. We recovered it, but I doubt it can be fixed. Maybe we'll make a bench out of it for our new house. Our first piece of furniture. Life gives you lemons, make lemonade.
March 18th, 2014 by admin
As long as Gunboat doesn't get bored of spending money on creative video teams like Rachel and Richard, we promise we won't get bored of watching them.  This one's a fun look at Jason Carroll's Gunboat 62 Elvis at the Heineken.  Title shout to Mojo Nixon; listen to the ultimate Elvis tribute in their 80's punk classic here.
March 17th, 2014 by admin


Sailing videographers have been fighting with drones for years now.  Fighting to try to get them to fly reliably in 15+ knots, fighting to get them to deal with salt spray environments and boat launching, fighting to keep their $2000 toys from turning into melted circuit boards when they inevitably hit the drink, and fighting against local and national governments who don't want them up there unless they're spying on you for the NSA.
But from this excellent video, it looks like the guys at Pigeon Vision may have solved many of these problems.  The video is so good that we've lifted our lifetime ban on any videographer who uses the most uncreative, overused song in the history of sailing videos as a soundtrack.  It's nice work from one of the Caribbean's great regattas, and a good opportunity to congratulate Miami's Rick Wesslund's and his all-conquering El Ocaso (in a new-to-him J/122 for '14) on winning yet another overall Caribbean regatta with core crew Bob Hillier from Line Honors on the mainsheet and the world's best 40′ handicap cruiser/racer tactician, Anson Mulder, calling the track.
March 11th, 2014 by admin
Many will remember the Dengue Fever outbreaks in the Florida Keys a couple of years ago, but a similar mosquito-borne virus ground-zeroed in awesome St. Maarten threatens to become a far bigger health problem in the Americas than Dengue, if you believe Yale University professor Dr. Durland Fish.  It's called Chikungunya, and like Dengue, symptoms include high fevers, severe joint pain, and a host of other nastiness.  Also like Dengue it is rarely fatal, and there is no vaccine.  Chikungunya has been known to spread further and faster than Dengue including in more temperate climates, leading Yale to call for major attention from the CDC – attention the outbreak is not yet getting.  "An outbreak of chikungunya on French-owned Reunion Island in the Indian Ocean during 2005 caused 255,000 cases, over one-third of the entire population, within one year. Since the Reunion outbreak, chikungunya has appeared in India causing millions of cases and in Italy, which has a temperate climate," Fish notes.  Too bad more people didn't pay attention to this article in the New Yorker…
Should you cancel your trip to one of the most excellent destinations in the Caribbean?  Get into the thread to make your own decision.  We think a liberal daily dose of DEET tempered by a larger dose of rum should cover you for now, and instead of sleeping aboard in nasty, foul Simpson Bay Lagoon, get a room or anchor outside in the usually nice sea breeze.
January 10th, 2014 by admin