Posts Tagged 'sinking'
Clean Report
In what might be the ultimate metaphor for Russell Coutts' management of the America's Cup, we received yet another advertisement on Monday disguiseed as a press release.  In it, ACEA touted their amazing new media boat platform – the strange-looking XO powerboat, which would provide 'unequalled dignity' (or some similarly worded crap) for the handful of media granted accreditation at the event.  More non-news from an event that seems completely incapable of producing anything interesting at all (other than the racing) despite having some of the most interesting racers and yachts to ever compete on the water..
Something about the boat looked familiar though, and after a couple of hours trolling through the forums and Facebook, I found out why: Because an Official Media Boat loaded with Official Accredited Media had to be beached on a launch ramp after sinking in the savage waters of Bermuda's lagoon just a couple of weeks ago!
Watch the boat sinking here.  And if you're a sponsor looking for exposure, a prospect for an XO boat, or anyone thinking of getting on an ACEA media boat, beware!
June 16th, 2017 by admin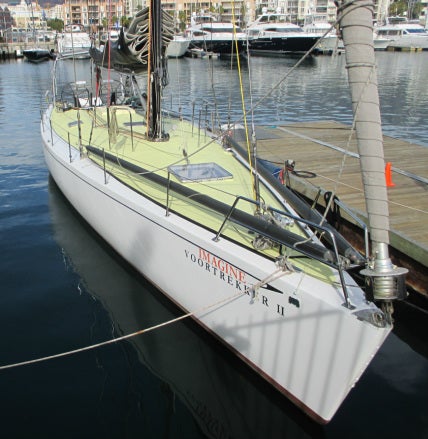 SA'er "Allan Mossop" tells stories, and this one is tough to beat.  From the 'Sinking of the Voortrekker II' thread comes this gripping real-life tale from the tough Capetown To Rio Race. 
I don't float. Something to do with percentage body fat. I'm not as skinny as I used to be but I still don't float. Not advantageous if you are a sailor. Not fat enough to float and keep you warm when your boat sinks and you have to spend a lengthily time in the drink. In the Atlantic. The Atlantic is cold. It's the Benguela current that wells up from Antarctica, scoots up the African West coast and makes hoodies and booties standard operating equipment for Capetonian waterfolk . Those that aren't a bit mal in the head that is.
So here I lie in the little tepid plunge pool on the roof of a guesthouse in Urca, Rio de Janeiro. My feet resting on the step, keeping my lungs full so I don't slip below the surface and fill my sinuses. Head back staring at the tropical puffiness of the clouds, a massive shooting star blazes across the firmament. I cast my eyes backwards up Sugarloaf Mountain and forwards across the bay to the Christ the Redeemer statue illuminated on its own granite massif. No, the statue does not sit on top of The Sugarloaf. It has its own place. A place that makes the tribute on top of Pappagaaiberg in Stellenbosch seem halfhearted.
I didn't want to be here. I felt like I didn't deserve it. I had failed. We had failed.
I crewed on WOW, a 45ft "Stealth" catamaran from Phuket in the Cape 2 Rio race that started in Cape Town on January 1st 2017. One of the longest ocean races in the world that doesn't involve a circumnavigation. We had our problems when we broke our daggerboards and although not life threatening, had to make the difficult decision to abandon the race. A difficult decision to make until we heard about "Tekker II". Originally Voortrekker II, a legendary boat in South African sailing circles. Associated with names like Bertie Reid and John Martin. Reverential names all.
I didn't want to go to Rio. I couldn't celebrate the achievement of finishing the race but my wife, Claire and I had forgotten what we learned after the tsunami in 2004 when we lived in Phuket. "If you want to hear God laugh, tell him your plans". Claire had booked a whole itinerary around our expected arrival dates and there was no bailing out. Flights and hotels were booked and paid for. So I shuffled back from Walvis Bay where the boat waited repairs, spent a few days home in Riebeek Kasteel, where I received so much love and support from the close community and booked a flight across the Atlantic. The best way to cross the Atlantic – In a Boeing. Not.
Claire convinced me I had to go to the yacht club. After all I had to return the GPS tracker. The guys from Trekker II had just arrived. We drank copious beers and caipirinhas.
This is the Trekker II story.
I swear I'm not making this up. You couldn't. It involves the words "Pan Pan", "Mayday", death, scuttling and survival. Serious words. Serious situations. Serious guys. Boytjies one and all.
Rob Hawley and Shaun Verster heard that Voortrekker II was lying slightly worse for wear in the V&A. A 40 year old legend of a boat and commissioned Mark Wannenburg, a pro sailor and instructor to get her ready for the Cape2Rio. A two year labor of love for Mark who made the boat his home as he and others got her ready for the event.
The crew were not professionals like you would find on fellow competitors like Black Pearl and Runaway. These are just guys. From all walks of life they came together in the name of adventure. Wesley was a bar man at the Saldhana Yacht Club and aspirational sailor who convinced Mark to let him help on the project. Mike project manages in Dubai and Peter sails a Muira in Simon's Town. A quiet spoken man with a big grey bushy beard, a standard 5 education and a degree from the University of Gifted Hands and Creative Minds. They call him "Papa Nuvi", Iranian for Father Christmas. Richard and Sean completed the crew of 8. Some had done this before. Others not but here they were putting their faith in a classic racer with much more pedigree than all of them combined.
The start was great and they were flying along from the Sunday start. A flotilla of motor boats followed the fleet, spinnakers coloring the Table Bay sky until the wind and choppy seas denied them any further. They rounded the mark off Table View and started the mad dash across the pond. Sights set on Rio. On Tuesday, 500 nautical miles (900km) out, everyone was settling in. Coming to terms with the nausea and finding their sea legs. Mark was steering at the helm and felt the wheel go stiff. Not good. Definitely not good. A trip below revealed that the post that connected the steering to the rudder had broken off leaving one of the most important 6 feet of the boat useless. Not only useless but now in a position to sink the boat. Freed from its support, it was now waggling about beneath the boat threatening to rip itself out the bottom leaving a big hole. Holes in boats are not a good thing. Water was coming in and there was nothing that could be done. They were not going to be able to McGyver their way out of this one. "Stay Calm and …. what?
Calls for rescue reveal that when you are more than 500 km from shore rescue is near impossible. Not if you can stump up the R1,000,000 for the recovery vessel that can't guarantee that the boat won't still sink. Rob and Shaun aren't Bill Gates. They may sell his business software in Mauritius but they don't have that kind of bank balance.
Pan pan is the call to let folks know you have a "situation". Almost everyone knows Mayday is when the smelly stuff has reached your chin and you need help fast. But this isn't Adderly Street on a Saturday morning. No quick call to resolve this one. Read on.
January 21st, 2017 by admin
The aftermath of the Mackinac Race wreck of the chartered 1D48 WhoDo shows a heck of a lot more damage than just a mangled rudder post; we don't yet know how much of the blown out bow above and the torn off rudder was part of the sinking, damage from the wave action on the bottom, or salvage damage, but it's nasty!  SA'er 'blunted', sailing aboard the mighty Melges 30 Peerless, said there were 'things available to hit on the field'. "We passed at last one 4-5′ long log, that was 14″ in diameter. That would have had our rudder akimbo had we hit it at the speed we were going at the time."
All involved in the WhoDo mess would've likely wished she sank in the 200 feet of fresh water she sat in when SA'er 'peacefrog' and the crew of the C&C 30 CityGirl made the rescue; as it was, Whodo later drifted in and settled on one of the few shallow spots on a deep stretch of Michigan coast and came to rest with half her mast in the air.  After an airbag lift, she was towed in
to the Michigan shore and now sits in Harbor Springs.
For a very, very rare look at a fresh catch of sailors straight after a rescue, check Russell Madsen's video from City Girl.  Very cool shit and well done to all!
Thanks to SA'er M54Kings for the photo above, with more aftermath shots in the thread here.  Here's a link to some local media on the rescue and more.
July 29th, 2016 by admin
We're extremely pleased to know Alex and Guillermo are safe ashore in Spain after they could presumably no longer keep up with the water ingress on the sinking Hugo Boss after her abandonment of the Transat Jacques Vabre.  The structure on the new Hugo Boss continues to break down while Alex and Guillermo and the shore team are meeting as we speak to figure out if and how a salvage will happen.
While the 6 new VPLP/Verdier boats are the most complicated and technologically advanced ocean racing monos ever created, there are only a couple of really 'new' things about their structure: The foils and cases, which look to have been a major problem with one boat, and the ultra-thin rib-and-skin construction of the hull, which took out another.  It'll be a little bit before we know which problem started Boss down her cascade of failure, but one thing is for sure: With four out of five new boats broken, at least one of them catastrophically, the designers have a lot to answer for – something we look forward to from the typically pretty straightforward folks at both VPLP and Guillaume Verdier Design.  Note that these boats were built at at least three different facilities…
The fact that the fifth of the new foiling boats is streaking away from the rest of the IMOCA fleet at a ridiculous pace doesn't really help; a small turn of fate and instead of being on shore, Alex and Guillermo are adrift in a raft.  Or lost forever.
Designers are finally starting to get around to accepting the fact that keels should not be ejectable.  Their next challenge?  Hulls need to be built to last past the first delivery.
Talk in the thread here, and track what remains of the fleet here.
If you haven't seen our one-hour interview with Alex on the deck of the now-sinking HB, get to it!
October 31st, 2015 by admin
Canadian First Nations members were first on the scene after the 65′ whale watching vessel Leviathan 2 went down on a clear, moderate day off Tofino, BC, with Albert Titian grabbing this shot of the horror show.  Total casualty count is 6, with five dead, one missing, and 21 rescued, and it's not the first time Jamie's Whaling Station has lost whalewatchers, either, if you can believe that.
The cause of the partial sinking remains a mystery: Is it another bit of evidence of a new aggression from a whale population that continues to lose their fear of humans? Deferred maintenance of pumps and stuffing boxes, or a sub strike?  The RCMP is digging, and we'll know more soon.  Story here.
October 26th, 2015 by admin
One of the most popular foreigners in the IMOCA fleet, Swiss sailor Bernard Stamm continues to find himself cursed with the same bad luck that saw him DSQ from the last Vendee Globe and destroying his bow against a cargo ship in an earlier race.  And this time, it nearly killed him.
Stamm and co-skipper Damien Guillou were delivering Stamm's Open 60 Cheminees Poujoulat – a pre-fab metal chimney manufacturer with a creepy black cat as its logo – home from Brazil after the TJV, running ahead of a not-unusual winter storm with winds to around 50 knots and seas of 30 feet, according to the British Coast Guard (it turned out to be the deepest low recorded in the British Isles since the 1880s).  When his JuanK designed boat fell off a wave, the boat literally cracked in half forward of the daggerboard casings, and only by immediately shutting the watertight crash doors did Guillou and Stamm keep the boat afloat long enough to be rescued.
The rescue itself was a super sketchy affair, with two helicopters and a plane attempting to either pull the sailors out of the sea or drop them life rafts – all efforts failed thanks to a lack of light and the huge seas.  One aircraft remained on station, guiding a Norwegian cargo ship to the stricken Open 60 and rescuing the sailors as the boat sank underneath them.  We'll probably never know whether it was a design or construction defect that led to this near-fatal accident, but we do know this:  After Rambler 100, Artemis Racing, and now Cheminees Poujoulat, Juan K might might be either a woeful designer or just unluckier than Bernard Stamm.  And they both might be looking for a new career soon.
Here's an interview we did with Stamm in happier days, before the last Vendee Globe, and get into the thread for more news and information on the rescue.  Photo from Stamm's earlier Velux 5 Oceans-winning 60, mostly to show you the kitty.
December 26th, 2013 by admin