Posts Tagged 'SCOTW'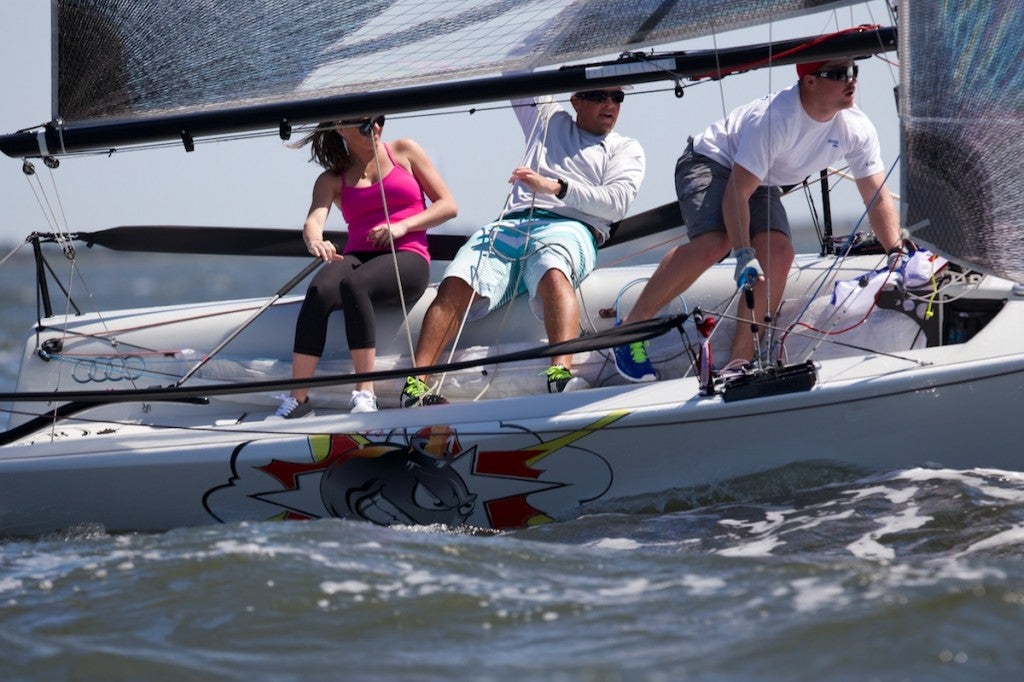 This week's Sailor Chick of the Week was a no-brainer; 23-year old Grace Lucas is smart, sassy, fast as hell, and just helmed her way to fourth place in an extremely competitive Charleston Melges 20 fleet, losing the podium spot she'd held through 6 races after a last-leg charge from Michael Kiss's Bacio.  Grace is finishing her college career this year after 3 years on the CofC sailing team; here's hoping she doesn't get so sucked up in the employment world that she gives up sailing.  Get to know Grace more in two interviews our own Mr. Clean did with the young NJ native, and enjoy tactician and Melges fixture Sam Rogers' new nickname.
April 14th, 2014 by admin
Past Sailor Chick of the Week Stephanie Roble has been busy over the past year, working her way up to the 6th ranked spot in ISAF's Women's Match Racing standings and 54th in the Open list in her run to try to conquer the WIMRS; all this as she finished up a multi-year stint helping to run the Chicago Match Racer.  She's an all-around badass, one of very few pro sailor chicks in the game, and this week, she's sailing with her man Taylor in the St. Thomas International Regatta.  Steph gave us a few minutes of her time – you can give her a few minutes of yours by checking out the Epic Racing newsletter and her team's Facebook Page.
SA: After a season of Grade 1 and 2 match racing, you just rocked up to St. Thomas regatta to sail on a chartered IC-24 boat in a crazy local 1-design class.  What made you do that, and what are your expectations?
SR: I came down here for the free rum, some fun in the sun, to get rid of my tan lines and the dance party (just kidding…though that is definitely a bonus).  Actually it just so happened that my boyfriend and reigning World Match Racing World Champion, chartered an IC 24 and signed me up to sail with him. It was a great excuse for him to come home to roots and see his family [dad Bill Canfield runs the event -ed].  Taylor's been doing a lot of coaching and pro crewing and hasn't really steered since the Monsoon Cup, so he wanted some tiller time – I just wanted to sail! We recruited good friends to join Team Line Honors: Mike Rehe, Matt Clark & Taylor Ladd (see crew positions here).  Basically, it's awesome to sail with good friends, and the regatta and class are major fun on and off the water.
SA: What makes St. Thomas stand out as a racing venue?
SR:  Obviously, being in the islands in the middle of winter isn't bad!  It's 85 degrees everyday and the trade winds are in full force right now. Our forecast for the week is 15-20 knots every day and some possible rain showers. Can you really beat that? Well, St. Thomas does, because in addition to the great sailing, the STYC is just so chill.  You come in from the water to a huge beach covered with palm trees, sponsor flags, and a stage for the band right on the water, the breeze blowing right on the club from the topaz water…have I painted the picture yet? All around, a fantastic vibe.
SA: Lots of folks find racing with their significant otherwise difficult, and knowing both of your personalities, it can't be easy for you two.  How do you guys do it?  Have any tips for other guys and gals to make it fun, and positive?
SR: It's definitely a unique situation; people always ask how we make it happen. We've sailed 3 US Match Race Championships together, he coached me in match racing and we do a lot of pro sailing together. I'm a very competitive person, so when I'm on a boat or team, I treat every person the same. It's definitely easy to get more annoyed or sensitive with someone who is that close to you, but it's important to understand the competitive atmosphere. It's important to leave whatever happens (good or bad) on the water and when you get back to shore you can go back to normal. It's also cool learning from your significant other; I ask questions and become a better sailor because of that, it's definitely a win-win situation. Bottom line is that we both love to have fun and being on the water with our close friends is, well, fun.
SA: You're America's top-ranked women's match racer and 6th in the world, what does that really mean for you?  Where do you go with that now that the MR Olympics are gone?
SR: I fell in love with match racing back in college and it was a bonus that it was in the Olympics. I did a short campaign with Maggie Shea and Darby Smith afterwards, and fell even more in love with the fast paced, tactical and athletic game. It's definitely a bummer that it's not in the Olympics anymore but that hasn't stopped me yet! I was also fortunate enough to have a job at Chicago Match Race Center where I could focus on improving as a skipper and crew.
Now we have a professional women's match race series (WIM Series) that is set up similar to the World Match Race Tour and my team, Epic Racing (follow us on Facebook please!), will sail all 5 Series this year.  The WIMRS is a huge step towards developing women's professional sailing but also giving girls something to look forward to besides the Olympics. As for the ranking, it's really cool to be ranked so high in the women's, but as my college coach, Mitch Brindley, always said, rankings only mean so much. We believe we are the top team at every event, and we will continue working our hardest no matter what the ranking says. We are also proud of our work in the open match race events we have done. Training and racing against the guys has been great for our development as a team.
SA: You're young, super fit, massively competitive and great at marketing yourself; all the things that make a great Olympic competitor.   Why didn't you dive into the Olympic stuff this cycle?
SR: That's a tough call.   I have a lot of friends in the Olympic circuit now and I really admire their drive. I sailed the Nacra 17 a good bit this winter with the US Sailing Team and absolutely loved racing a multihull.  But you have to be honest with yourself, and I honestly want to focus 100% on Epic Racing's match race campaign and developing my skills as a professional sailor.  It is not an easy course; how many female pro sailors do you really see out there on any circuit?   I also want to prove (to myself and other girls) that this is a path you can take. It can definitely be hard but I love sailing so much and this feel like the right path for me right now. I definitely see the Olympics in my future.  I received some great advice lately that it's important to set specific goals and to make sure you focus only on those goals, otherwise if you have too much going on you will only be overwhelmed and exhausted rather than fresh and competitive at your goals.
SA: Now that 6 of the VOR teams are more or less announced, tell us how you see the SCA team faring against the others?  Did you have any interest in being part of the VOR?  What happened?
SR: I think the girls are ready to kick ass! They have been working extremely hard and are the only team right now with a lot of training time under their belts. I may be a little biased, but you guys all know its true. SCA has picked the top sailors in the world who are mentally and physically strong and are going to work the hardest to crush the race and the guys. Again, I could definitely see myself being apart of the VOR but it wasn't the right time. I'm only 24: I have a lot to learn and a lot of time left to set goals like the Olympics and the VOR.
SA: Tell us the format of the STIR IC 24 class racing, and will you send us daily reports?
SR: The racing is going to be Epic!!! There are 16 boats in our class with the top guys from all over the Caribbean. On Friday, we have a distance race to downtown Charlotte Amalie and back to the Club. Saturday & Sunday is all short course W/L bouy racing. Again, the forecast looks fresh the entire time and Team Line Honors is pumped to get on the water. And yes – I will send you daily reports along with color from Bill & Taylor Canfield, and we'll do our best not to have too much rum before we send them out!
March 27th, 2014 by admin
We'd name rocking Swede Emma Aspington as our SCOTW this week but we already did back in Dubai 2010…so we'll give this one to the latest chick to continue the Moth class tradition of super hot sailor chicks jumping into boats in between races (we all remember SA's most-downloaded pic in history, don't we?).
You're looking at college athlete Nikki Medley sailing on 18-year-old Tyson's purple dinosaur…she got it going better than most of the boys today in a light air day at Nationals.  Anthony Kotoun leads by a long way, with the aforementioned Emma taking a win and 8th place overall…plenty more news, pics, and videos on the Class's Facebook Page here.  Meredith Block photos with a gallery here.

March 22nd, 2014 by admin
Texas J/24er James K sends this gem in and wins Sailor Chick of the Week honors for his lovely wife.  We won't say this is her best angle, but it's a damned good one.
I finally talked my wife into buying a second boat that still only has a bucket (ladies like real heads for some unknown reason) and restoring it. Here is my most incredible lady – Linda Kondziela – cleaning the keel sump of our Evelyn 32-2 prior to glassing and installing frames.  
October 29th, 2013 by admin
Known as "Red Lady" in Cruising Anarchy, Jessica is the ideal Sailor Chick of the Week, and exactly the kind of soul this sport needs more of. Far more than just a pretty face on a yacht, she's an owner and liveaboard in the Big City.
She singlehands her boat, races on several other boats in many crew positions, and has a great time doing it.
She splices, does rigging, and can handle nearly every kind of boat maintenance that you can think of. And, she looks great doing it all. More impressively, she's learned it all in just about a year.Keep rockin' it, Jess! We're proud of you!
October 9th, 2013 by admin
Sometimes just getting on the water is enough to stand out, and as the only female Worlds helmsman in a class that's regarded as one of the most traditional of all, College of Charleston senior Laura Beigel does exactly that.  She's lying in 54th position in a tough, light air Star Worlds fleet with dad Read, and we wish her luck.  She's not the only sailor chick at the Worlds either, but she's the only driver and we dig it!  Photo credit Marc Rouiller/StarWorlds2013.
September 4th, 2013 by admin
The top shelf of the infinitesimally small population of female Carbonologists, Marie Dixneuf takes some time to clean up the wing inside Luna Rossa's San Francisco HQ.  If you don't remember her from Clean's Extreme 40 interview in 2011, prepare to fall in love. Absolutely gorgeous work from Carlo Borlenghi, clearly making the best of an event that's lacking in good racing to shoot.  And guess what?  Sailing's number one photographer has gone Facebook.  Bravo!
August 13th, 2013 by admin