Posts Tagged 'SCOTW'
Gothenburg smokeshows Rebecca Netzler and Klara Wester are pretty serious about their Olympic 49er FX campaign, and we're all the beneficiaries of their commitment, thanks to this fun little movie of their ramp misadventures.  Go and give this pair of blondes a like on Facebook.  You'll thank us later!
Tip o' the hat to our pals at the 49er Class.
December 13th, 2016 by admin
SA'er 'Trispirit' thinks his sailor chick deserves the world's admiration.  We agree!  Meet Sailor Chick of the Week Claudia.
I'm not sure I want the sailing anarchy fraternity drooling over my misses, but she's one hell of an inspiration.  We started to do a full refit last year on our old Formula 40 trimaran Spirit (ex-Spirit of England).
This refit was done in the tropics (actually in the Whitsunday Islands) over the hottest period of the year (summer) with temps averaging the low to mid 30's daily.  It took us six months of twelve-hour days seven, days a week, and throughout the whole period Claudia was working just as hard as the guys if not harder. She carried the biggest smile on her face as though she knew the whole time the amount of joy we would get once we were back in the water and cruising again.  After everyday Claudia would then head home and cook for all the boys a big healthy feed, still smiling and loving life!
Look through the photos on the refit gallery –  I dare you to find one photo where she's not smiling.  Claudia ground, sanded, glassed, laid up foam panels, coved, and painted like a pro and all the while, she smiled and made us all feel great.  There is nothing more you could ask for in a women, a sailor,  or a person, for that matter.
Fair winds to all, Trispirit
Before anyone comments on the sanding without a suit.  She's covered in talc, and it's fucking hot!
March 18th, 2016 by admin
Linda "Gadget Girl" Wright has shown her adventuring and sailing chops by becoming the first woman to finish the quirky but beastly Everglades Challenge on a Weta trimaran.  Nice work, Linda, and apologies to fans of the SCOTW awards for slacking these past few months.  Got a female sailor you find inspiring?  Let us know.
More Everglades Challenge news and info here.
March 14th, 2016 by admin
The Clipper Round the World Race may be a travel agency dressed up as a yacht race, so you can forgive us (and the rest of the racing world) for not paying much attention to a round-the-world 'race' that's always had its share of unqualified skippers, useless crew, and now fatal accidents.
Until now, there just wasn't much to watch outside the occasional crash or capsize, but all that's changed with the addition of former Miss Universe Great Britain winner Amy Willerton to the crew of the Garmin boat for the final, cold and nasty homecoming leg from New York to London. We're not sure how much Sir Robin paid the blonde smokeshow best known for her stunning resemblance to Cindy Crawford in her heyday (see her Miss Universe pic here) but we're certainly paying attention now – as is the rest of the world.  Regardless of who is actually winning the race (and no, we're not going to look it up), we know which boat we'll be following, and we salute this latest chick for getting out of her comfort zone for a trip with the potential for some real nastiness.  Maybe, just maybe, she'll get the bug and become a real racer.  Fingers crossed, and thread here.
November 23rd, 2015 by admin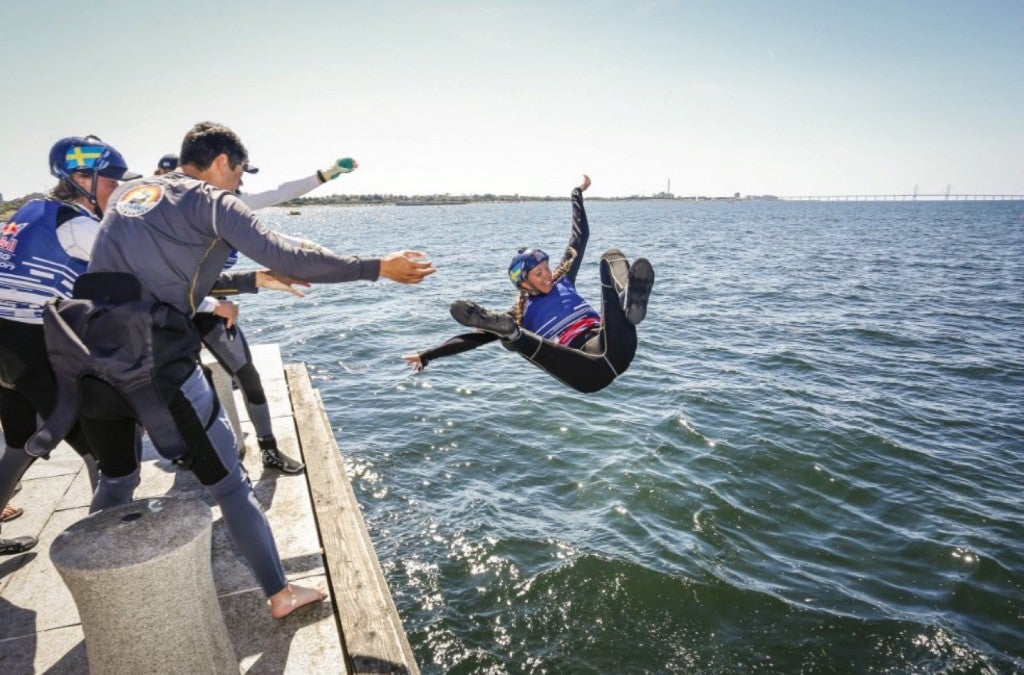 SCOTW
Catamaran crew Celina Burlin became the first chick in history (we think) to win a foiling regatta this weekend, and we salute her as the Sailor Chick of the Week, and we applaud the Red Bull Foiling Generation event that's putting Flying Phantom foilers into the hands of 16-20 year olds to find out if any of them have a future in flight.  We haven't paid much attention to a Red Bull series that seems like more of a carnage hunt or PR stunt than real racing,  but with sailors like Celine in the mix, we just might start.
Congrats to her and skipper Oscar Bengtson on their Malmö victory, and thanks to Mario and the RB boys for the note and Richard Ström for the shot.
August 10th, 2015 by admin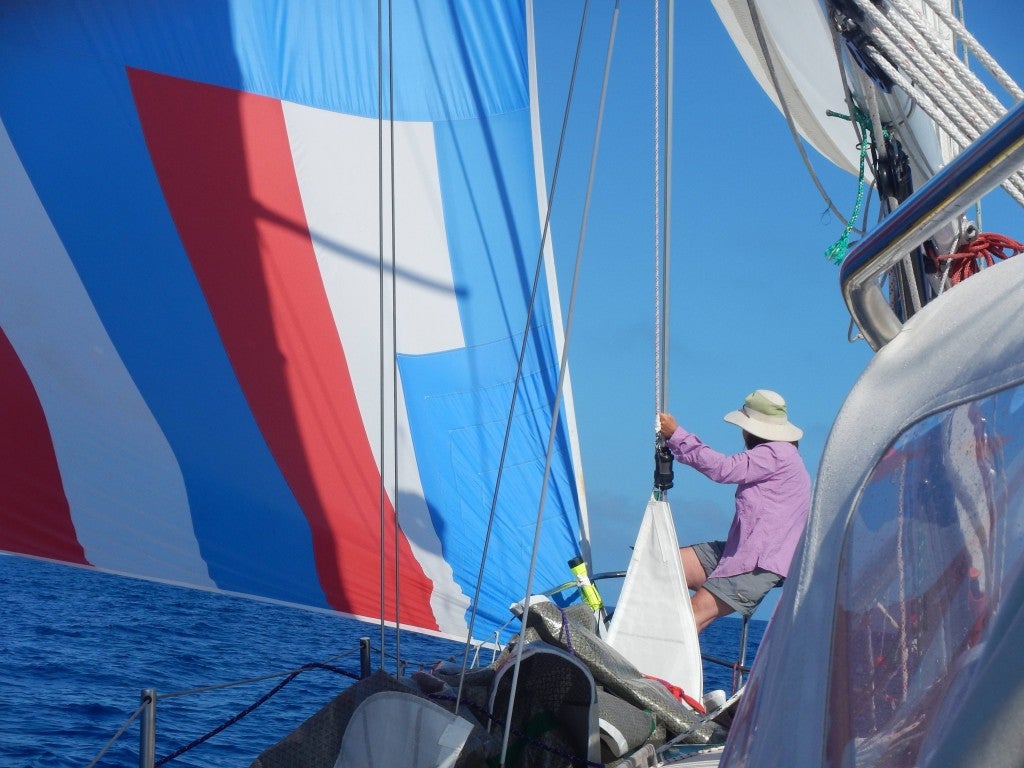 Annapolis SA'er 'just a skosh' reminds us that Sailor Chick of the Week ain't necessarily about winning at the top end (or having nice bottom end); female sailing's top honor is also about every women who marches to her own beat, shatters stereotypes, and powers through obstacles with her passion for the sport. 
With Team SCA winning the penultimate leg of the VOR, everyone has been praising them and saying what a big win it was for women in offshore sailing.  I think it's great that they won, and maintaining the intensity required to win this leg despite poor showings in the previous legs is a remarkable accomplishment.
While the women of team SCA may be inspirations to girls who want to be offshore sailors, I personally know at least one female sailor who deserves just as much praise as Dee, Sam, and everyone else on board the pink boat.
Lauren Anthone is the Annapolis based owner of a Nordic 34, Rover, and one of the best sailors I've ever had the privilege of knowing.  Lauren didn't grow up on sailboats, but she started sailing fairly early in her adult life, and caught the bug hard.  She's got thousands of miles of offshore experience, and bought her first boat, a Cape Dory 28, 11 years ago.
She is probably the most hands-on owner I've ever sailed with.  She knows every system on her boat forwards and backwards, and has done major repairs or replaced just about everything on the boat, by herself.  Easter 2015 we were motoring out of Back Creek when the engine temp alarm started going off when we had just cleared the creek mouth.  We very calmly turned the boat into the wind, hoisted the main, shut off the engine, and went sailing while she tore apart the raw water system.  Turns out the intake was clogged so we sailed all the way up the creek till we were just to windward of her dock, then she had my wife pump water by hand from a bucket into the strainer so we could moor up.
Last year Lauren sailed in the Annapolis-Bermuda race.  She had never done an offshore race before, and had only sailed in cruising class distance races in the Bay.  She spent the winter of 2013-2014 prepping the boat, including putting on a new coat of bottom paint, splicing new Dyneema lifelines, and doing the 101 other things needed to prep a boat that had never gone seriously offshore ready for that kind of a race.  She had a lot of help from her friends in the Annapolis sailing community, but she also did a ton of the work by herself.
During the race, we had a rash of systems that had issues.  From the tricolor flickering on and off during the first two nights to the head clogging, Lauren was always the first one opening hatches, access panels, and diagnosing the problems.  Out of our crew, I was the only one who had sailed an offshore race before, and in fact 3 out of the six had never even been offshore period.  Lauren's calm, assertive leadership style kept us focused throughout, and helped prevent any conflicts between us.  Like most boat owners I know, Lauren thinks she knows the best way to do things on her boat, but unlike a lot of people, she is more than willing to listen to other ideas and try them out.
We made it to Bermuda safely, and quickly, finishing 2nd in class, and 4th overall.  Not bad for an owner's first offshore race.  Since then I've sailed with Lauren on a few distance races in Annapolis, and have been absolutely impressed with her focus on the helm.  When she's driving, that's all she's doing.  She relies on her crew to trim and call tactics, and only interrupts if she is concerned for safety, which is rare.  This has translated to success on the race course, where she hasn't finished outside the top 5 in a while.  And this is with a 30+ year old boat that hasn't had a new sail bought for it in over 5 years.
I think it's great that there's an all-womens team in the VOR.  They provide a fantastic inspiration to young girls across the world, but it's just as important for female sailors to see someone like Lauren, a regular woman with a regular job, who maintains and sails her boat to an extremely high level, while maintaining a great attitude and being a fantastic friend.
Also, for all you lonely sailors out there, Lauren is a very eligible bachelorette.  If you've always wanted a significant other who loved sailing, look no further, but be warned that she'll probably be way better at it than you.
June 11th, 2015 by admin
At a scarily beautiful 18 years old, Lauren Gineo was one of the earliest Sailor Chicks of the Week.  And now, nearly a decade later, the URI college racer, windsurfer, and longtime Gunboat crew is now our first-ever Sailor Mom of the Week.  She's sailing aboard the G55 Toccata with husband Adam this week, but she took the time to begin indoctrinating the next generation of high-performance sailor aboard the G4.  Meet 8-month old helmsmen Ben, who will likely be Gunboat racing on Friday in Antigua, and almost definitely racing foiling boats in about 18 years.
April 30th, 2015 by admin
We're always stoked when accomplished young women reveal they are SA fans; here's a note we got this morning from delicious UK pro kiteboarder and model Hannah Whiteley.  As, ummm, visual beings, we think the best place to follow Hannah is over on Instagram.
Hi, Mr. Clean! I love checking out your website, always something interesting on there. 😉
I thought your readers might like to check out my new video 'Extreme High Heel Kitesurfing'
I love trying different things and having fun with kiting, but I can promise you that kiting in high heels was a lot harder than I thought it would be! I still had a great time working on this project and trying something new, and showing that you don't have to be a guy or a boyish girl to kitesurf!  Kiting is for everyone and a beautiful passion. Try something new today and don't be afraid to have fun and be different.
Thanks to videographer Andre Magarao and sponsors Best Kiteboarding, Chiemsee, Volkswagen Commercial Vehicles & Prolimit. Song: Barking by Wally Gagel, Xandy Barry.
-Hannah
January 14th, 2015 by admin
We don't hear much from the Caribbean's 'deep south', but this pic piqued our curiosity about Grenada Sailing Week.  One of the earliest Caribbean regattas, GSW has great racing in a reasonably priced and beautiful setting, is as laid back as you like, and has chicks-to-dicks ratio hire than anything on the winter circuit.  Check it out here, and thanks to Derek Pickell and the Hot Stuff chicks for the great look from early 2014.
November 24th, 2014 by admin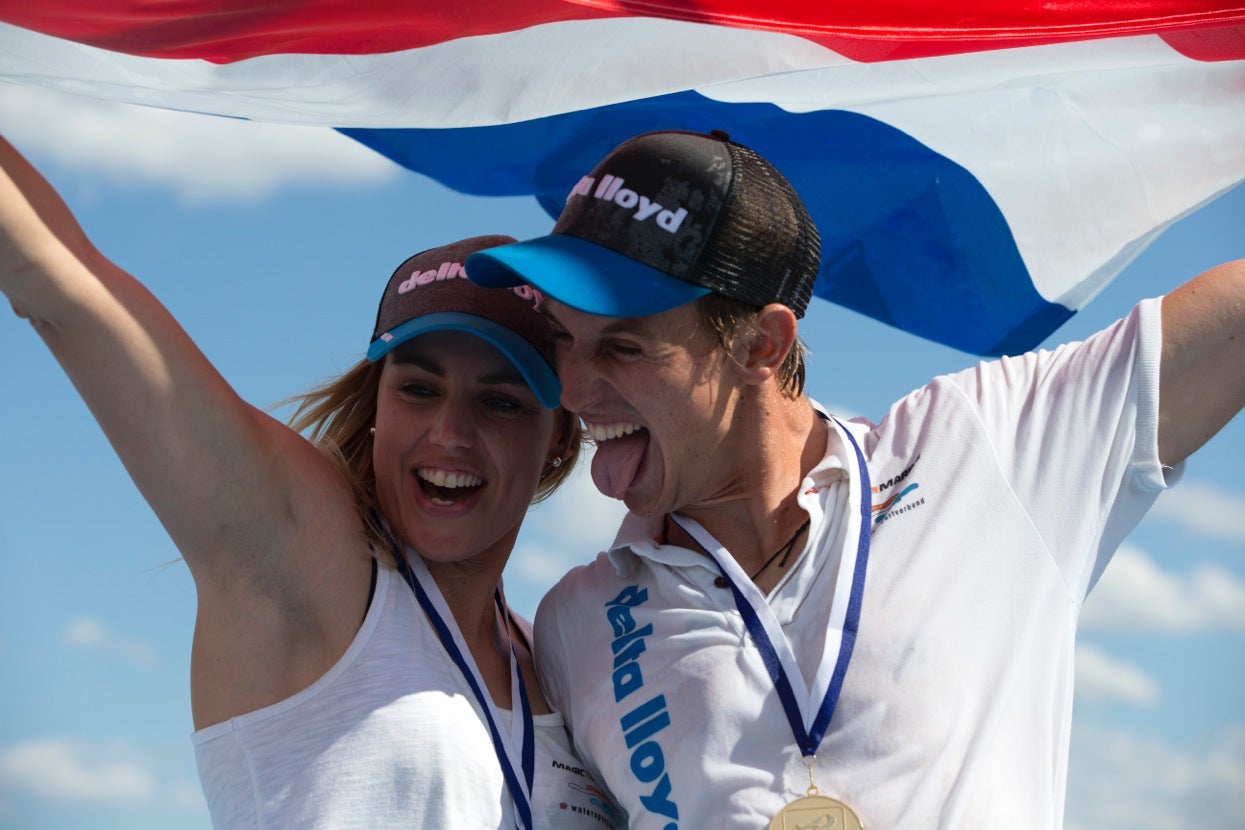 Holland hit well above its weight at the Santander World Cup Champs with former SCOTW Merit B taking gold in Laser Radial and Nicholas Heiner doing the same in full rig.  No medals (again) for the US team, though solid top tens in 4 classes and some awesome racing from another past SCOTW – Erika Reineke – bode well for the future.  We hope.  Beautiful work from R&R at Ocean Images, and title inspiration goes to a truly badass song from one of the punk-chick greats.
September 22nd, 2014 by admin