Posts Tagged 'SCOTW'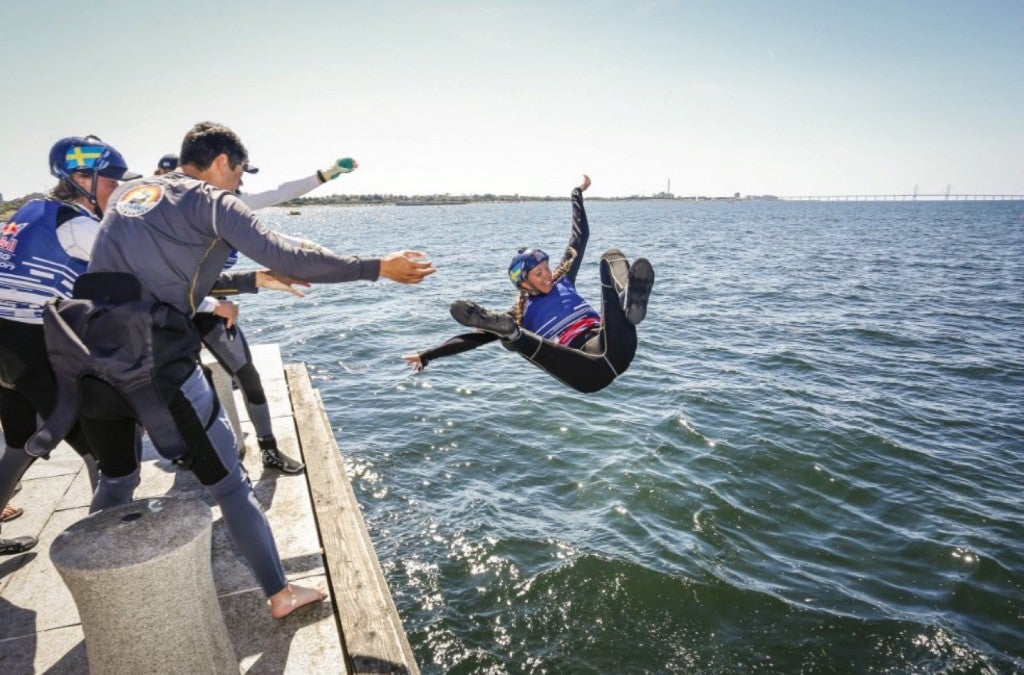 SCOTW
Catamaran crew Celina Burlin became the first chick in history (we think) to win a foiling regatta this weekend, and we salute her as the Sailor Chick of the Week, and we applaud the Red Bull Foiling Generation event that's putting Flying Phantom foilers into the hands of 16-20 year olds to find out if any of them have a future in flight.  We haven't paid much attention to a Red Bull series that seems like more of a carnage hunt or PR stunt than real racing,  but with sailors like Celine in the mix, we just might start.
Congrats to her and skipper Oscar Bengtson on their Malmö victory, and thanks to Mario and the RB boys for the note and Richard Ström for the shot.
August 10th, 2015 by admin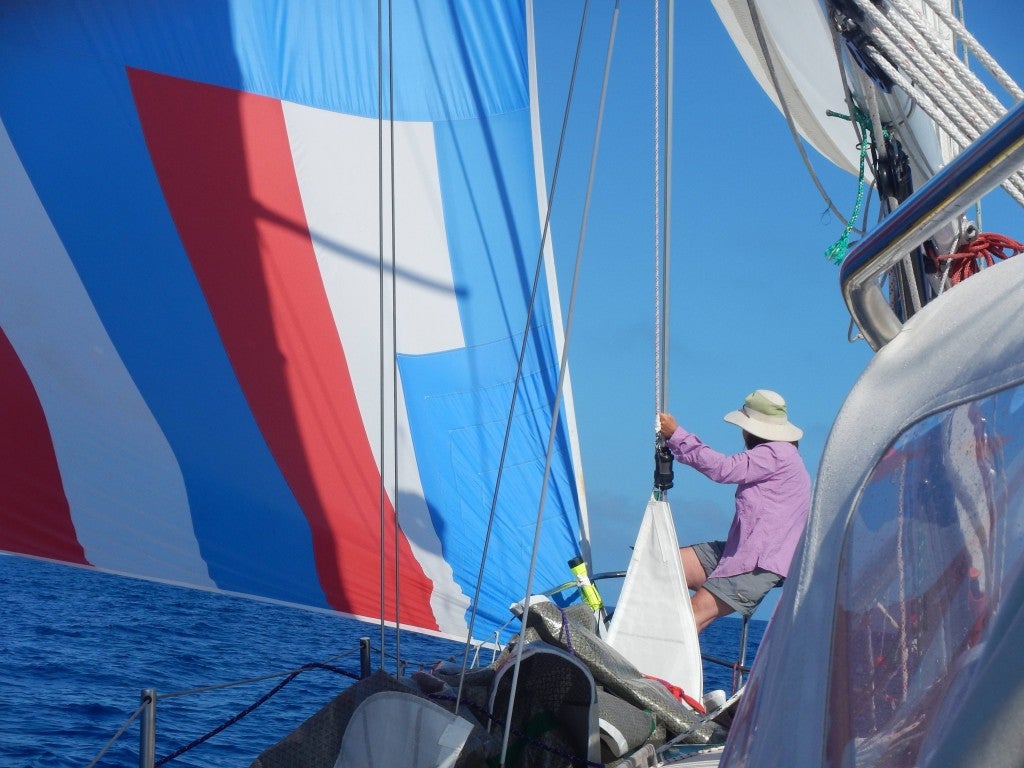 Annapolis SA'er 'just a skosh' reminds us that Sailor Chick of the Week ain't necessarily about winning at the top end (or having nice bottom end); female sailing's top honor is also about every women who marches to her own beat, shatters stereotypes, and powers through obstacles with her passion for the sport. 
With Team SCA winning the penultimate leg of the VOR, everyone has been praising them and saying what a big win it was for women in offshore sailing.  I think it's great that they won, and maintaining the intensity required to win this leg despite poor showings in the previous legs is a remarkable accomplishment.
While the women of team SCA may be inspirations to girls who want to be offshore sailors, I personally know at least one female sailor who deserves just as much praise as Dee, Sam, and everyone else on board the pink boat.
Lauren Anthone is the Annapolis based owner of a Nordic 34, Rover, and one of the best sailors I've ever had the privilege of knowing.  Lauren didn't grow up on sailboats, but she started sailing fairly early in her adult life, and caught the bug hard.  She's got thousands of miles of offshore experience, and bought her first boat, a Cape Dory 28, 11 years ago.
She is probably the most hands-on owner I've ever sailed with.  She knows every system on her boat forwards and backwards, and has done major repairs or replaced just about everything on the boat, by herself.  Easter 2015 we were motoring out of Back Creek when the engine temp alarm started going off when we had just cleared the creek mouth.  We very calmly turned the boat into the wind, hoisted the main, shut off the engine, and went sailing while she tore apart the raw water system.  Turns out the intake was clogged so we sailed all the way up the creek till we were just to windward of her dock, then she had my wife pump water by hand from a bucket into the strainer so we could moor up.
Last year Lauren sailed in the Annapolis-Bermuda race.  She had never done an offshore race before, and had only sailed in cruising class distance races in the Bay.  She spent the winter of 2013-2014 prepping the boat, including putting on a new coat of bottom paint, splicing new Dyneema lifelines, and doing the 101 other things needed to prep a boat that had never gone seriously offshore ready for that kind of a race.  She had a lot of help from her friends in the Annapolis sailing community, but she also did a ton of the work by herself.
During the race, we had a rash of systems that had issues.  From the tricolor flickering on and off during the first two nights to the head clogging, Lauren was always the first one opening hatches, access panels, and diagnosing the problems.  Out of our crew, I was the only one who had sailed an offshore race before, and in fact 3 out of the six had never even been offshore period.  Lauren's calm, assertive leadership style kept us focused throughout, and helped prevent any conflicts between us.  Like most boat owners I know, Lauren thinks she knows the best way to do things on her boat, but unlike a lot of people, she is more than willing to listen to other ideas and try them out.
We made it to Bermuda safely, and quickly, finishing 2nd in class, and 4th overall.  Not bad for an owner's first offshore race.  Since then I've sailed with Lauren on a few distance races in Annapolis, and have been absolutely impressed with her focus on the helm.  When she's driving, that's all she's doing.  She relies on her crew to trim and call tactics, and only interrupts if she is concerned for safety, which is rare.  This has translated to success on the race course, where she hasn't finished outside the top 5 in a while.  And this is with a 30+ year old boat that hasn't had a new sail bought for it in over 5 years.
I think it's great that there's an all-womens team in the VOR.  They provide a fantastic inspiration to young girls across the world, but it's just as important for female sailors to see someone like Lauren, a regular woman with a regular job, who maintains and sails her boat to an extremely high level, while maintaining a great attitude and being a fantastic friend.
Also, for all you lonely sailors out there, Lauren is a very eligible bachelorette.  If you've always wanted a significant other who loved sailing, look no further, but be warned that she'll probably be way better at it than you.
June 11th, 2015 by admin
At a scarily beautiful 18 years old, Lauren Gineo was one of the earliest Sailor Chicks of the Week.  And now, nearly a decade later, the URI college racer, windsurfer, and longtime Gunboat crew is now our first-ever Sailor Mom of the Week.  She's sailing aboard the G55 Toccata with husband Adam this week, but she took the time to begin indoctrinating the next generation of high-performance sailor aboard the G4.  Meet 8-month old helmsmen Ben, who will likely be Gunboat racing on Friday in Antigua, and almost definitely racing foiling boats in about 18 years.
April 30th, 2015 by admin
We're always stoked when accomplished young women reveal they are SA fans; here's a note we got this morning from delicious UK pro kiteboarder and model Hannah Whiteley.  As, ummm, visual beings, we think the best place to follow Hannah is over on Instagram.
Hi, Mr. Clean! I love checking out your website, always something interesting on there.
I thought your readers might like to check out my new video 'Extreme High Heel Kitesurfing'
I love trying different things and having fun with kiting, but I can promise you that kiting in high heels was a lot harder than I thought it would be! I still had a great time working on this project and trying something new, and showing that you don't have to be a guy or a boyish girl to kitesurf!  Kiting is for everyone and a beautiful passion. Try something new today and don't be afraid to have fun and be different.
Thanks to videographer Andre Magarao and sponsors Best Kiteboarding, Chiemsee, Volkswagen Commercial Vehicles & Prolimit. Song: Barking by Wally Gagel, Xandy Barry.
-Hannah
January 14th, 2015 by admin
We don't hear much from the Caribbean's 'deep south', but this pic piqued our curiosity about Grenada Sailing Week.  One of the earliest Caribbean regattas, GSW has great racing in a reasonably priced and beautiful setting, is as laid back as you like, and has chicks-to-dicks ratio hire than anything on the winter circuit.  Check it out here, and thanks to Derek Pickell and the Hot Stuff chicks for the great look from early 2014.
November 24th, 2014 by admin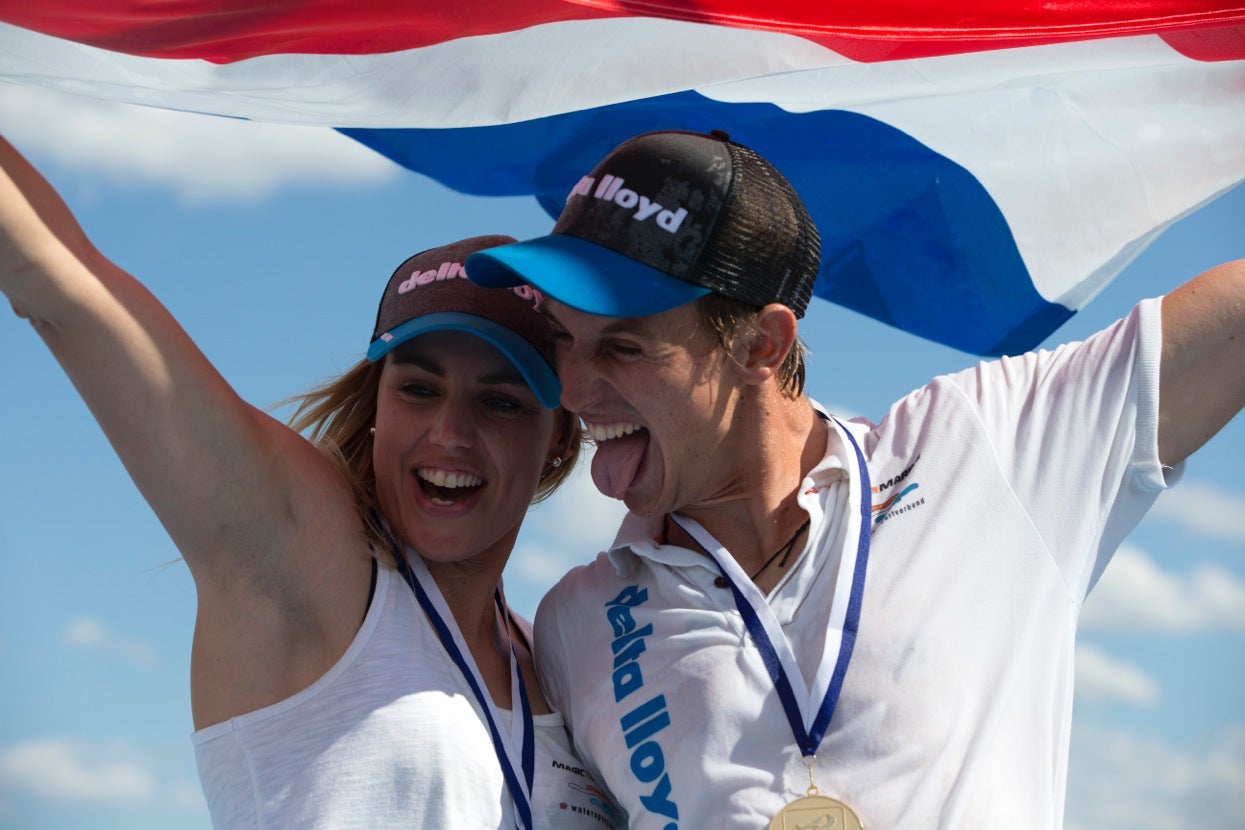 Holland hit well above its weight at the Santander World Cup Champs with former SCOTW Merit B taking gold in Laser Radial and Nicholas Heiner doing the same in full rig.  No medals (again) for the US team, though solid top tens in 4 classes and some awesome racing from another past SCOTW – Erika Reineke – bode well for the future.  We hope.  Beautiful work from R&R at Ocean Images, and title inspiration goes to a truly badass song from one of the punk-chick greats.
September 22nd, 2014 by admin
Our resident Scowbilly sailor and media maker Peter Crawford checks in with another deserving Sailor Chick of the Week. White Bear Lake's Kate Cox and crew Izzi Boo sailed their way to a 12-point victory over the rest of the 34-boat fleet and won the 2014 ILYA Senior Fleet X Championship in a commanding fashion. Kate won race 5 by well over a minute to capture the title that had previously eluded her as she finished second last year. With that bullet, Kate and Izzi did didn't need to sail in the final race of the 8 race series.  Flashback to 2009 – the last time Gull Lake hosted this regatta – Kate's brother Eddie sailed a great regatta only to lose by a single point in the final race. With Eddie coaching her this time around, Kate wasn't about to let that happen to her, and took matters into her own hands; the entire Cox family let out an emotional sigh of relief when Kate crossed the finish line with the championship secured.
I was filming in 2009 and remember being really bummed for Eddie and how things ended up for him, so it was especially cool to see Kate totally crush this event. Filming mom and dad motoring by our photo boat holding back the tears, and Eddie hopping on his little sisters boat to give her a huge hug even got me a little caught up in the emotions of it all. It's really good to see lifelong friends and catch up; it's even better to see them celebrating their children's victories. We'll have video for you soon.
-Petey Crawford, Penalty Box Productions
July 30th, 2014 by admin
ROBLE : noun \rō-blā\:
 1. Spanish - A non-standardized Spanish labeling term in the Spanish 'hierarchy' of wines, indicating that a wine has been aged in oaken barrels for a shorter time than required for the Crianzaa designation; Spanish wines commonly considered to be younger, fruitier, and spicier than the norm with a bit of added interest from the wood.
2. US -  A non-standardized American woman, and one of the only true full-time professional female racers in the hemisphere, if not the world (excluding olympic hopefuls and a boat prep/administrator 'pros'); Indicating a beautiful bouquet of brains, power, and talent that is considered younger, fruitier, and spicier than the norm.
3. US –  STEPHANIE ROBLE – Skipper of 2014 US Women's Match Racing Champion Epic Racing, crowned Sunday in Long Island Sound on her fifth attempt at the USWMR title.
Wanna help more women get into the sport while winning?  Then hire America's top female sailor and show your family, crew, and friends that you think girls can be pro sailors too. Trust us, there are so many reasons you want Steph sailing with your team; and top teams have noticed –  after more than a year at the top of the US Women's Match rankings (and 3rd worldwide) and lots of success in classes like the Melges 20 and J/70, Roble's calendar is getting seriously full a year or so into her decision to become a full-time race pro.  Get in touch with her via Epic Racing or chat with Stephanie at the 80-boat J/70 NAs starting on Thursday, and here's her report from the event (with photo from Larry Kennedy and a massive gallery here).
Epic Racing was crowned the U.S. Women's Match Racing National Champion this weekend at Oakcliff Sailing Center. It was a challenging weekend bringing a broad range of conditions in heavy, 40 foot boats called SM 40s. Our team of 6 girls did an amazing job working hard to make the boat go fast at all times, which is not an easy task. We are proud to be at the top of the 8 teams who competed, as each team gave us a run for our money! 

The first day was relatively light, shifty and very hot in the harbor right next to Oyster Bay. The focus was just to keep speed on and never let the boat stall on the foils or sails. This is much easier said than done while match racing and trying to take out your opponent! We finished the first day 5-0 and learned a lot about tactics and strategy (especially in the pre-start) that are specific to these big boats. 

We started day two excited about our momentum from the previous day, but knew we had our two hardest races of the first round robin left. Chantal Hearst, who has a lot of experience in these boats, beat us after we were over at the start and had some traffic issues on the course with some boats in other races. We then raced the next top ranked skipper, Nicole Breault, who had a great team onboard. We earned a penalty in the pre-start and managed to lead around the course. We set up perfectly to execute a penalty play at the windward mark but misjudged our layline back to the finish and killed the penalty too early, giving her an opportunity to pass us on the last run. We ended Round Robin one 5-2. 

As the day went on, the breeze built to a beautiful sea breeze and because of this, we felt much more comfortable in the boats. We were also hungry for more wins after our 2 silly losses in round robin 1. We ultimately finished round robin two 6-1. This meant that we won the double round robin and received honors of first pick for the semis.We chose the 4th place team, Sandy Hayes, and won the series 2-0. 

We started the finals on Sunday in 12-15 knots with jibs (instead of genoas) against Nicole Breault. We knew our boathandling and pre-starts would be our strengths but she was much faster. In race 1 we were in control most of the pre-start until the most important final 30 seconds when we stalled out after being head to wind. We trailed her off the line and around the course until the final run. From two boat lengths back, we matched her gybe to starboard, hit her breeze, gybed back to port, hit her breeze again, and gybed back to starboard right behind her. At this point we were holding her out from finishing but were restricted by rule 17, which means you have to sail your proper course (to the finish). We perfectly executed a double gybe later on so that we could continue to hold her out from the finish. It was a very exciting comeback and amped us up for race 2. 

Race 2, she had us tangled up in the dial up but after we broke free, we rallied for a "wide right" start in the breeze. This is very powerful as we were able to hold on her hip most of the beat until layline. We led downwind, but she passed us by getting to the right of us on the second upwind beat. On the last run, we were all set up to match her gybe to starboard and roll her to the finish. The girls perfectly executed the gybe and we had a very close, photo finish to take the series. 

It was an incredible weekend of sailing. Women's match racing in booming in the States right now and that was proved by the level of sailing at this event. Our boathandling was INCREDIBLE and the attitude was right on par. The girls worked so hard and gave it their all whether we were ahead or behind. A huge shout out to Janel Zarkowsky (main/tactics), Maggie Shea (trim), Holly Poole (pit/trim assist), Liz Shaw (mast/bow) and Martha Pitt (bow). They crushed it! 

A huge thank you to our only fan for the weekend, Mary Lou Scott for coming down to cheer us on. Thank you to Oakcliff, US Sailing and Darcy Cook for running an excellent event. Thank you to all of our fans and supporters who help us make these events happen. And last, thank you to Helly Hansen for our team swag and making us look good! 
July 15th, 2014 by admin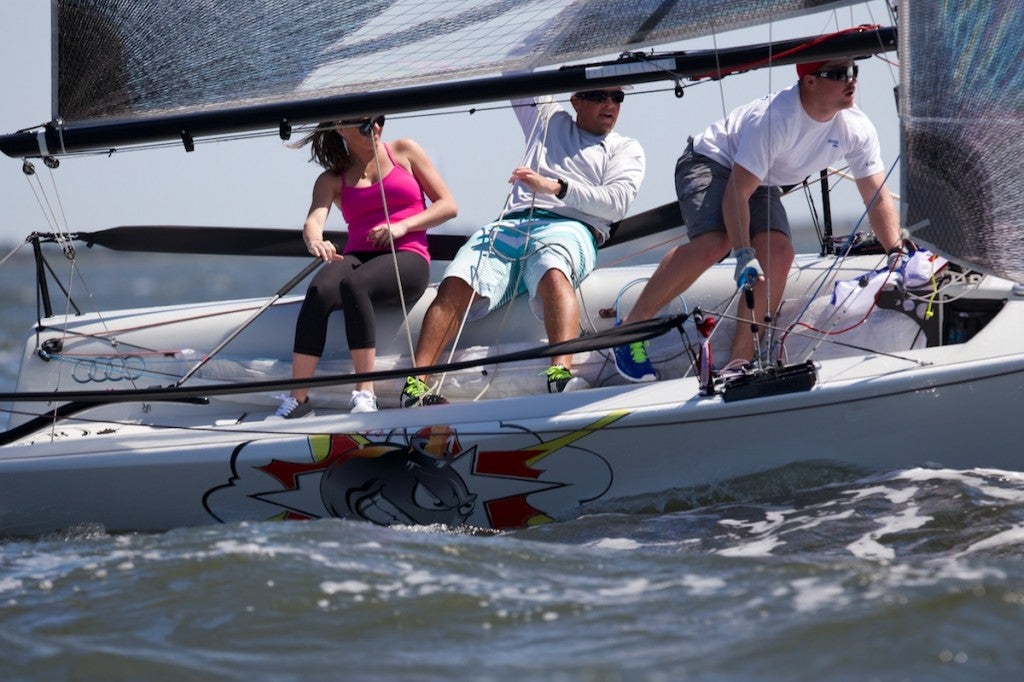 This week's Sailor Chick of the Week was a no-brainer; 23-year old Grace Lucas is smart, sassy, fast as hell, and just helmed her way to fourth place in an extremely competitive Charleston Melges 20 fleet, losing the podium spot she'd held through 6 races after a last-leg charge from Michael Kiss's Bacio.  Grace is finishing her college career this year after 3 years on the CofC sailing team; here's hoping she doesn't get so sucked up in the employment world that she gives up sailing.  Get to know Grace more in two interviews our own Mr. Clean did with the young NJ native, and enjoy tactician and Melges fixture Sam Rogers' new nickname.
April 14th, 2014 by admin
Past Sailor Chick of the Week Stephanie Roble has been busy over the past year, working her way up to the 6th ranked spot in ISAF's Women's Match Racing standings and 54th in the Open list in her run to try to conquer the WIMRS; all this as she finished up a multi-year stint helping to run the Chicago Match Racer.  She's an all-around badass, one of very few pro sailor chicks in the game, and this week, she's sailing with her man Taylor in the St. Thomas International Regatta.  Steph gave us a few minutes of her time – you can give her a few minutes of yours by checking out the Epic Racing newsletter and her team's Facebook Page.
SA: After a season of Grade 1 and 2 match racing, you just rocked up to St. Thomas regatta to sail on a chartered IC-24 boat in a crazy local 1-design class.  What made you do that, and what are your expectations?
SR: I came down here for the free rum, some fun in the sun, to get rid of my tan lines and the dance party (just kidding…though that is definitely a bonus).  Actually it just so happened that my boyfriend and reigning World Match Racing World Champion, chartered an IC 24 and signed me up to sail with him. It was a great excuse for him to come home to roots and see his family [dad Bill Canfield runs the event -ed].  Taylor's been doing a lot of coaching and pro crewing and hasn't really steered since the Monsoon Cup, so he wanted some tiller time – I just wanted to sail! We recruited good friends to join Team Line Honors: Mike Rehe, Matt Clark & Taylor Ladd (see crew positions here).  Basically, it's awesome to sail with good friends, and the regatta and class are major fun on and off the water.
SA: What makes St. Thomas stand out as a racing venue?
SR:  Obviously, being in the islands in the middle of winter isn't bad!  It's 85 degrees everyday and the trade winds are in full force right now. Our forecast for the week is 15-20 knots every day and some possible rain showers. Can you really beat that? Well, St. Thomas does, because in addition to the great sailing, the STYC is just so chill.  You come in from the water to a huge beach covered with palm trees, sponsor flags, and a stage for the band right on the water, the breeze blowing right on the club from the topaz water…have I painted the picture yet? All around, a fantastic vibe.
SA: Lots of folks find racing with their significant otherwise difficult, and knowing both of your personalities, it can't be easy for you two.  How do you guys do it?  Have any tips for other guys and gals to make it fun, and positive?
SR: It's definitely a unique situation; people always ask how we make it happen. We've sailed 3 US Match Race Championships together, he coached me in match racing and we do a lot of pro sailing together. I'm a very competitive person, so when I'm on a boat or team, I treat every person the same. It's definitely easy to get more annoyed or sensitive with someone who is that close to you, but it's important to understand the competitive atmosphere. It's important to leave whatever happens (good or bad) on the water and when you get back to shore you can go back to normal. It's also cool learning from your significant other; I ask questions and become a better sailor because of that, it's definitely a win-win situation. Bottom line is that we both love to have fun and being on the water with our close friends is, well, fun.
SA: You're America's top-ranked women's match racer and 6th in the world, what does that really mean for you?  Where do you go with that now that the MR Olympics are gone?
SR: I fell in love with match racing back in college and it was a bonus that it was in the Olympics. I did a short campaign with Maggie Shea and Darby Smith afterwards, and fell even more in love with the fast paced, tactical and athletic game. It's definitely a bummer that it's not in the Olympics anymore but that hasn't stopped me yet! I was also fortunate enough to have a job at Chicago Match Race Center where I could focus on improving as a skipper and crew.
Now we have a professional women's match race series (WIM Series) that is set up similar to the World Match Race Tour and my team, Epic Racing (follow us on Facebook please!), will sail all 5 Series this year.  The WIMRS is a huge step towards developing women's professional sailing but also giving girls something to look forward to besides the Olympics. As for the ranking, it's really cool to be ranked so high in the women's, but as my college coach, Mitch Brindley, always said, rankings only mean so much. We believe we are the top team at every event, and we will continue working our hardest no matter what the ranking says. We are also proud of our work in the open match race events we have done. Training and racing against the guys has been great for our development as a team.
SA: You're young, super fit, massively competitive and great at marketing yourself; all the things that make a great Olympic competitor.   Why didn't you dive into the Olympic stuff this cycle?
SR: That's a tough call.   I have a lot of friends in the Olympic circuit now and I really admire their drive. I sailed the Nacra 17 a good bit this winter with the US Sailing Team and absolutely loved racing a multihull.  But you have to be honest with yourself, and I honestly want to focus 100% on Epic Racing's match race campaign and developing my skills as a professional sailor.  It is not an easy course; how many female pro sailors do you really see out there on any circuit?   I also want to prove (to myself and other girls) that this is a path you can take. It can definitely be hard but I love sailing so much and this feel like the right path for me right now. I definitely see the Olympics in my future.  I received some great advice lately that it's important to set specific goals and to make sure you focus only on those goals, otherwise if you have too much going on you will only be overwhelmed and exhausted rather than fresh and competitive at your goals.
SA: Now that 6 of the VOR teams are more or less announced, tell us how you see the SCA team faring against the others?  Did you have any interest in being part of the VOR?  What happened?
SR: I think the girls are ready to kick ass! They have been working extremely hard and are the only team right now with a lot of training time under their belts. I may be a little biased, but you guys all know its true. SCA has picked the top sailors in the world who are mentally and physically strong and are going to work the hardest to crush the race and the guys. Again, I could definitely see myself being apart of the VOR but it wasn't the right time. I'm only 24: I have a lot to learn and a lot of time left to set goals like the Olympics and the VOR.
SA: Tell us the format of the STIR IC 24 class racing, and will you send us daily reports?
SR: The racing is going to be Epic!!! There are 16 boats in our class with the top guys from all over the Caribbean. On Friday, we have a distance race to downtown Charlotte Amalie and back to the Club. Saturday & Sunday is all short course W/L bouy racing. Again, the forecast looks fresh the entire time and Team Line Honors is pumped to get on the water. And yes – I will send you daily reports along with color from Bill & Taylor Canfield, and we'll do our best not to have too much rum before we send them out!
March 27th, 2014 by admin