Posts Tagged 'sarasota'
Whatever your body type, one of the new sporty solos are sure to fit you, and if they all look as good as the Melges 14 fleet above, everyone is a winner.  Look at the excellent video of the 25-boat M-14 fleet in Sarasota last week and tell us with a straight face that you can't wait to get in your Laser…we're waiting…
Results are here in a regatta that saw age ranges from 13-74, with everything from weekend sailors to past Olympians.  Head to Melges on Facebook for more vids and info about the M14, and join the 'Catch On' thread for varied and mostly civil discussions about the M14/Dzero/Aero and the future of solo dinghy racing.
March 28th, 2017 by admin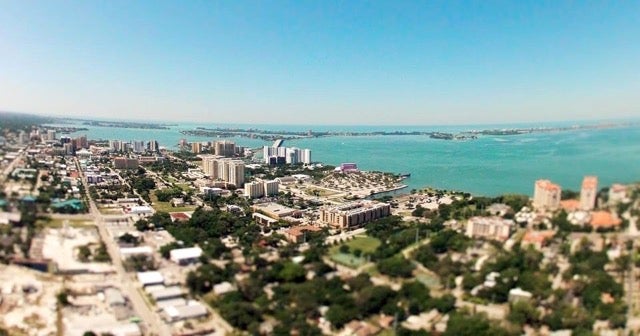 Bucking the upward trends of most regattas over the past couple years, Key West Race Week continues the slide it began a decade ago, with just 121 boats entered as of Friday's entry deadline and some meager-looking class numbers.  So where has everyone gone?  One answer is Florida's West side, which is raging with sportboat regattas up and down the length of the Gulf Coast.  Davis Island Yacht Club's 3-regatta J/70 series is oversold, while we turn to a newcomer in the sporty world for more info on a great sailing venue that's making the effort to get more people on the water.
The Sarasota Sailing Squadron has quietly been stacking the schedule for this winter sailing season. In just the last three weekends, SSS has hosted the kickoff event for the three stop VX One Winter Series, which saw three days of off-the-hook sailing with 21 VX's on the line. This was followed by the 84 boat Laser District 13 Championships that included the Norwegian National Team. This past weekend was the kick off of the three event ActionQuest Sarasota Viper Winter Series with 13 Vipers on the line, in a series that now has 18 boats registered (and growing) for the upcoming two events in Jan/Feb. Phil and Wendy Lotz, with Luke Lawrence, were on fire as they managed to outpace North American Champion Brad Boston who was followed by Henry and Barb Amthor sailing with the always fast Ethan Bixby.
Considering that not more then 50 miles north of Sarasota Sailing Squadron, at Davis Island Yacht Club, there are 48 J/70s battling it out in the Quantum J/70 Winter Series, and with the news that the 2016 Melges 24 Worlds is likely moving somewhere in the vicinity, t has to be said that the West Coast of Florida is THE hot place to be sailing sportboats!
-Travis Yates
December 22nd, 2014 by admin
Videokid Sam Greenfield continues to bring a fresh look to the classic 'regatta report', and today's installment from the F-18 Championship of the Americas highlights the next generation of high-performance sailing talent coming from its incubator; the Sarasota Sailing Squadron youth sailing program.  Results after 12 races: The Dutch are crushing!  There are Kattack tracks here as well.
October 25th, 2013 by admin