Posts Tagged 'San Francisco'
2-time America's Cup winner and Oracle Team USA principal Larry Ellison ranks as the most punchable CEO in America based on criteria such as  scope of influence, public image, annual income, and general physical appearance, according to one of the most reliable sources of fake news in human history…read on.
April 3rd, 2014 by admin
Former underground journalist and now travel writer/shooter Tina Fitzgerald grabbed this reminder of just how gorgeous San Francisco is in the winter.  Maybe this whole Summer/Winter thing for the America's Cup needs to be revisited?  More beauty on her Facebook page here, and her blog here.  Title shout to the Violent Femmes.
February 12th, 2014 by admin
While IMOCA figures out what to do with its future, some of its most legendary skippers are moving in another direction.  As first reported here on SA almost half a year ago, Franck Cammas is moving forward with his usual laser-beam focus on a French America's Cup bid, and an announcement at the Paris "Nautic" boat show may be the first indicator that he could succeed where Les Freres Peyron couldn't.
Picking up his second-annual French Sailor of the Year award last night, today Cammas pulled together a true 'who's who' in French racing history for this morning's announcement.  Michel Desjoyeaux will lead the technical team and Franck the sailing team, while Olivier de Kersauson and Stephane Kandler will handle the less exciting parts of the effort.
The team's "founding members" — in other words, the guys that have funded the initial sponsorship hunt and tried to open some boardroom doors — include big biz bosses Bruno Bich (Bic), Bertrand Méheut (Canal +), Thierry Martel (Groupama), Bruno Luisetti (formerly Kraft Jacobs Suchard) and Erik Maris (Messier Maris & Associés), but crucially no major sponsors were announced.  In other words, there's enough money to go looking for more, but not enough to start spending.  We also hear from les anarchistes in Paris that some of the veteran grinders are being asked to keep their schedules open for late 2014 and 2015's AC45 World Series, but no contacts have been signed…
The newly opened Team France thread is bound to be a big one; check it out over here.
Kiwi Kontinuity
While France throws its hat into the ring, Grant Dalton yesterday told 3News NZ that he was back in as well despite earlier question marks from the public and Dalts himself, and the bitter taste of a crushing defeat.  It's great news for AC35, as Team NZ continues to prove, year in and year out, that it's the most credible of challengers.  We're guessing he won't be on the boat this time, though Glenn Ashby has already re-upped and Dean Barker is a lifer.  Meanwhile, Dalts continues his publicly lukewarm face on the VOR, claiming the $30M he estimates necessary to win might be impossible to find in the current economic climate.  Then again, Dalts might just be pulling the old 'negotiation by media' option with VOR CEO Knut Frostad…
Pauly (on the) Shore 
Doing it's beat to leave the Paul Cayard-led disaster that was Artemis' AC 34 effort, the team  just announced that Nathan Outteridge and Iain "Goobs" Jensen are continuing with the team, which is currently preparing its bid for the 35th America's Cup. More. no word which teams are beating down the door to pay way too much for Cayard's incredible leadership skills.
World Series of Poke Her
The Bay Area Economic Council reported their final America's Cup economic benefit analysis on Monday, with around $364 million in total economic impact landing in the area over the roughly 3 month period of the event.  This is less than 30% of the original (and insane) $1.4B projection, and less than 40% of the revised $902M projection from March 2013 (and hopefully the City will tell ACEA to get fucked when they tote the same incompetent financial consultants to the table when negotiating the 2017 deal).  With this crap news and the embarrassing ratings for the entire "Summer Of Sailing" and even the incredible AC final (outside of NZ), Coutts is already hedging against big expectations for AC35 in recent softball interviews.
"We're considering having each of the teams host a World Series event", Coutts told AC33 and 34 PR staffer Peter Rusch, who's apparently playing reporter with Yachting World until his AC35 contract comes in.  Coutts says this "would be great in terms of generating excitement in their home countries," but let's be serious:  After dropping half the US military budget on incredible ACWS events, Russell is very clearly telling potential teams that they will be responsible for their own regattas in the future.  It's a shame, because the ACWS is the one part of the AC34 plan that provided awesome racing from beginning to end, and if OTUSA has the kind of massive advantage over AC35 challengers that we would have seen had they not had the big capsize, it might be the only exciting racing of the next Cup – especially if, as we have been hoping, the AC45s race as one-design platforms with unrestricted foils.
Thankfully Coutts cited a coming nationality rule, a welcome change to anyone (like us) who thinks patriotism and sport make great bedfellows.  But he's already preparing us for a small fleet, presumably because Ellison is shooting to keep the AC72 Class for AC35.  "I think we are better to aim at quality rather than quantity," he said, despite claiming that new cost reduction measures should cut overall team budgets by around a third.  Call us cynical, but there's no way in hell another AC72 program will magically cost 25-35 million less than the last time around, even if some one-design elements come into play and there is a joint logistics package.  If there's one thing that Russell Coutts has proved over and over again, it's that he always wins, and it always costs a lot more than he says it will.
Legal Beagle
In our final bit of Cupdate news, longtime Kiwi Cup lawyer (and architect of Alinghi's doomed CNEV challenge) Hamish Ross hit the news today after claiming in a piece in the NZ Law Journal last month that the New York Courts should have no place in deciding how the America's Cup is run.  Claiming that foreign litigants can't get a fair shake in the US courts (mostly because he personally can't seem to win one) Ross says that the Cup should be administered by ISAF instead.  Because of course ISAF is so very impartial, and of course unmotivated by greed or the millions if fees they seek from the AC.  Ross argues that the Deed of Gift and AC Trust are not even valid, and that they could perhaps be overturned by the Court if a strong plaintiff sued the current Trustee; it's been Ross's pet argument for a decade, and it's quite persuasive, until you realize Ross's theory rests on two centuries of hearsay, dicta, footnotes, quotes from irrelevant politicians, and courts of another country.  It's no wonder Ross can't win a case in the US – even after all this time, he still doesn't understand how precedent works here.
There's a thread to discuss the legal stuff, and you can download the full NZLJ piece here.
December 11th, 2013 by admin
Frequent visitors to this front page know we're pretty infatuated with unmanned sailboats, and we've followed the cool HarborWing project for years.  But while Harborwing seems focuses on finding coastal tasks for its unmanned, winged platform, the SailDrone is off doing its own Transpac – and it's almost there.
That's right – according to the SailDrone Tracker, this 15-foot unmanned trimaran has averaged almost 5 knots through its first 1745 NM from San Francisco to Hawaii, with just 447 to go.  It's controlled via its own navigation package combined with instructions via satellite link and a smartphone. The coolest part?  The SailDrone isn't just for science, though it's already being tested for three big scientific missions; it's also a cargo carrier!  Can you imagine thousands of these things, each carrying 100 KG of cargo around the world?  Autonomous, hive-based transport via wind power seems like a pretty cool solution to all sorts of shipping problems, and a boat designed to be submerged and rolled and keep on sailing…what an awesome way to send a birthday present to your sailing pal.  Never mind the Colombian cartels; a little camo paint and a production line for these things and you've got a very nice way to millions worth of drugs. Not that we would ever, ever suggest that such a thing would be good. Nope, not us.
More discussion here and a pretty awesome video of the SailDrone rounding the Farallones Islands here.
October 28th, 2013 by admin
Jimmy Spithill (or "James" as he seems known as lately) hasn't rested much since his historical, incredible come-from-behind victory for the America's Cup.  He spit champagne on Jay Leno last week, hung out with the Howard Stern crew in NY, delivered a hilarious interview to Stephen Colbert, and even dropped in for the Facebook Generation on an interactive Deadspin chat.
But now it's time for some real questions from some real sailors, and we all know what that means:  A Mr. Clean Skype Innerview with Anarchist-sourced grilling!
So if you want to know what Spithill eats for breakfast or where he poops when racing, don't go here.  If, however, you want to ask some great questions of the Aussie superstar, hit the thread.  Best two questions get a new Sailing Anarchy hat or belt.
October 9th, 2013 by admin
We're still a few days (and a transpacific flight or two) away from the comprehensive SA "Report Card" on the 34th America's Cup.  It will perhaps not surprise or amaze you, but it will lay out the reality behind the event, without qualifications or a worry that somehow Sailing Anarchy will be excluded from future Cups for being honest in front of a massive audience.  In the meantime, Pierre over at Vsail continues to be run one of the few sailing publications unafraid to tell it like it really is, and here's a portion of his own solid analysis of what went right and what went wrong in San Francisco.
Does Larry Ellison really want an America's Cup with many challengers?
Despite Larry Ellison's own statements as back as February 2010 and Russell Coutts' frequent claims, the 34th America's Cup wasn't conceived and implemented in order to attract a great number of competing teams. We will not go once again into the details of the high costs, enormous complexity and mind-boggling logistical needs of the AC72 boats, these aspects have been exhaustively covered by this and many other sailing and mainstream media. If Ellison truly wanted to have 12 challengers and 3 defenders, he could have easily done it in the three and a half years since his victory in Valencia in February 2010. The end result was that only three challengers were able to afford the necessary costs to mount a credible challenge and one of them, Artemis Racing, had no interest whatsoever in the commercial and media return of the event since they were entirely privately funded.
Having just two challengers with serious commercial interests makes it much easier for any defender, in general, and Larry Ellison in particular. He's only goal was and is to retain the America's Cup, not to organize a challenger selection series with 12 teams, avoiding a great deal of headaches that come with that. The less, the merrier. We can't see why it will be different this time.
The question is of course whether it really matters if there are 2 or 12 challengers. The America's Cup was never meant to be a a "big" TP52 circuit. Each one has its own place in the sport of sailing and the America's Cup isn't meant to be for everybody, even if they can afford it! Take for example Niklas Zennström, the founder of Skype. He's an avid sailor, his fortune could eventually allow him to fund a Cup campaign and he spends a lot of money in his TP52 and Mini-Maxi 72 campaigns, nearly 7 million euros per year! Yet he's not interested in the America's Cup because he wants to helm his boat, not write checks and watch her from the dock. Other, equally wealthy businessmen, prefer to race in the RC44 class.
Bob and Sandy Oatley, the father and son billionaires from Australia and Challenger of Record, stated a couple of days ago they would like to see a significant reduction in costs so that more teams can enter but then again it's up to Larry Ellison to decide the future. Vincenzo Onorato, Challenger of Record for the 34th America's Cup, agreed with Ellison's protocol because he thought Ellison would also fund his campaign. When he saw that he wouldn't get a single euro from the American billionaire he withdrew since he was unable to find the necessary funding for Mascalzone Latino. This shows that the Challenger of Record doesn't have a say in shaping the event and Larry Ellison doesn't seem to bother if the challenger he chose withdraws…
However, one thing that Larry Ellison's organization should refrain from doing again this time is to embark on a PR campaign preaching their desire to have "multiple" challengers while at the same time doing everything possible in order not to have more than a handful.
October 9th, 2013 by admin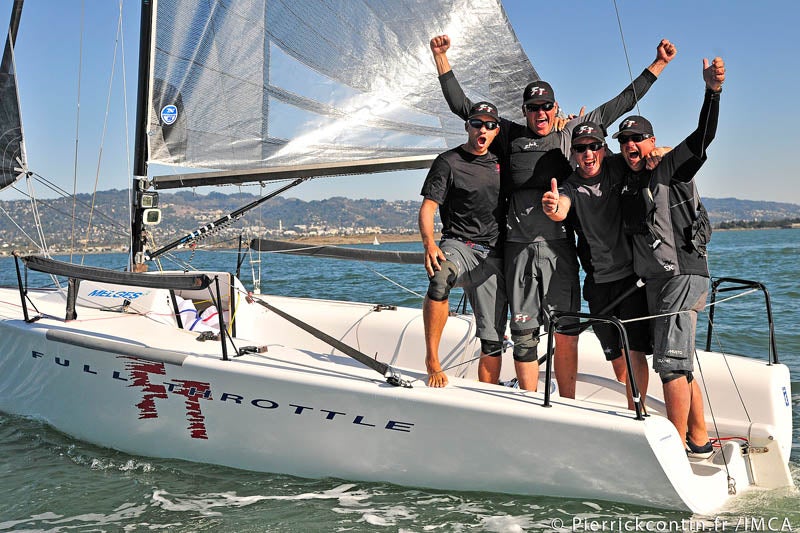 Brian Porter is the first Cat 1 helmsman to win the Melges 24 Worlds in exactly a decade, and along with crew Matt Woodworth, Andy Burdick, and Federico Michetti, he edged out Flavio Favini by just 3 points to take the title last week in San Francisco.  In a fleet of somewhat agro, type A tiller handlers, Brian is one of the kindest, gentlest guys you could ever meet, and he sat down for Sailing Anarchy's classic "Innerview" to answer some of Mr. Clean's questions after winning the title that's eluded him for more than 15 years.   Go here to see who Porter beat, and enjoy this Pierrick Contin photo with full gallery here, and go here and here for a couple of great highlight reels from the event from Vibrant Films.
SA: You've been trying to win the Melges 24 Worlds since they first began before the turn of the century.  How does it feel to finally pull something like this off that's been motivating you for almost two decades?
BP: It feels really good to win. I have worked hard at this sport my whole life. I got the monkey off my back, finally! The greatest moments in my life were the births of my four children. I don't think anything compares to seeing a healthy baby come into the world. But I am definitely walking in the clouds.
SA: You are a trader on the CBOT (is that right?), a seriously high pressure job.  Is racing M24s at this level still a relaxation, a break from that job, or is it just as pressurized as work?
BP: I find racing extremely relaxing. The pressure is nothing like trading. It has always been a haven for me to relieve life's pressures.
SA: You are the first non-pro driver to win the M24 Worlds since Shark Kahn did it, though he was part of a three-boat team spending literally millions per year on the M24 program.  What special prep did you put into this thing?
BP: We spent 12 days total out there for the worlds. We had one day of practice and then 4 days of the big boat series. We also did short practices on the two days in  between. The last time I raced the boat was Key West. However, I did crew for my son RJ on Lake Geneva all summer where we have a 12 boat fleet. That was actually helpful to give me a chance to really look at sails and rig while not driving. I spent time talking to Vince, Andy, and Federico about sail selection. We kept it pretty simple all in all. We made our sail selection the day before the worlds.
SA: In Santa Cruz you were leading with one race left, and a last-leg broach ended your run, giving you your third or fourth runner-up spot at a Worlds. Was it easier being one point behind Flavio going into the last race?
BP: Actually in Santa Cruz we were one point back as well. For me it doesn't make a big difference if you have to beat the other guy anyway. Having that tack line cleat blow on the kite and the resulting broach was tough but I think that was one of the best races I ever sailed so I didn't feel that bad.
SA: Freddy Michetti, president of Melges Europe, continues to show that no one in the world has a 'Silver Bullet" like he does when it comes to winning major Melges titles. He replaced Sam Rogers who was busy increasing the Midwest's population…This was your first major regatta with Freddy – can you tell us the secret ingredient that Fred brings to the table that has allowed him to own an unbelievable 5 M24 World Titles, including 4 of the last 6?
BP: It was one of the single greatest privileges of my life to sail with Federico. He spent an incredible amount of time loving my boat. He made it perfect. His feel for the small adjustments is uncanny. His greatest attribute by far is his attitude. He carries himself so well in all situations. Very positive. We had many difficult moments during the worlds and the demeanor on our boat never changed.
SA: We were surprised to see Harry Melges back behind the helm, and we know all about your friendship and rivalry with him going back to the invention of the automobile.  Is it more special to take a Worlds knowing your old friend and longtime rival and crewmate alike is driving around somewhere in your wake.
BP: Harry Melges III has been a great friend of mine for many years. I have sailed with and against many of the best sailors in the world. Harry is the best I have sailed with hands down. After all the regattas that he has dragged me around with him I hated not to have him on the boat. The same goes for my brother John. Those two were with me for all those seconds. Fortunately I was able to invite them up on the podium to share our victory. So, I was glad they were there to be part of it.
SA: After a few quiet years the M24 seems to be reinventing itself.  A new Rules proposal is likely to make the boats a bit more like the smaller sportboats flooding the market, and the top pros, many of them now making a living in the M20/J70/M32 fleets, are coming back to the 24 as, perhaps, still the best cross-training platform in the world.  T Hutch, Madro, Harry, Bora, Rast, Nath W – is this a temporary thing, or are we seeing a sustainable rebirth of the M24 as the "superior" sport boat?
BP: I sure hope it keeps coming back. We really need to take care of the hiking and weight rules to make the boat a little friendlier. I love these boats because they are high performance yet easy to sail. My favorite thing about them is that they create such a challenge to achieve maximum performance, and when you reach it, it's just so incredibly rewarding.
SA: You certainly do your share of Scow sailing in the summers, but with your biggest albatross now free of your neck, Will we see a Full Throttle trying its hand at another major class?
BP: I will sail scows and 24′s as long as I can. I would love to try some other major classes but it is difficult to do the sailing I do now. If I had my way I would probably sail every day. So, you never know!
October 9th, 2013 by admin
St. Francis's Rolex Big Boat Series continues to cling desperately to a name that becomes less and less accurate each year; just half the fleet at last month's event – billed as the 'climax to the summer of sailing' – fit the 49-year old definition of the event's namesake craft, with just two modern racing monohulls over 50 feet entered in the regatta.
That's not a bad thing – well, not unless you're a title sponsor whose image depends on the exclusivity of big yachts, anyway – and it's a good sign that San Francisco's most prominent annual regatta is adjusting to the new American reality of sailboat racing.  Everyone we spoke to loved the action on the mixed course.  "It's just such an amazing place to race, and practicing with the Cup going on made it even better," said one J/boat sailor.  "We had a MOD buzz us, we traded gybes with a big cat, and all in the middle of a tight one-design fleet – what a blast," said another.  There's no doubt that the new formula works, even if the old courses and the old way of thinking doesn't.
But an incident between Melges 24 Rock n Roll and J/120 Chance and the resulting injuries raises an important question for this new reality:  How do you best insure that comparatively potato-chip sized boats don't get run down by big lumps of lead and fiberglass?
The crash happened along the city front during a race where the bigger boats sailed to a mark a mile or two downwind of the leeward mark for the Melges 24 fleet.  While the fleet of J/120s was coming upwind along the SF shore, the Melgi were planing downwind, three abreast, on final approach to their bottom mark.
While a passel of starboard-gybe Melgi doused their kites as they reached into the mark, the J/120 Chance was rolling upwind on starboard tack.  According to several eyewitnesses, and despite the fact that the 120 had room to pinch up and let the battle by, Chance never altered course as the cruiser/racer blasted through the port quarter of longtime Etchells and Melges 24 helmsman Argyle Campbell's Rock n Roll.
"It was maybe the most violent collision I've ever seen on a race course," said one witness.  "It was like a pit bull lunging through a chihuaua," said another.  Campbell was thrown to the deck, splitting his chin open to the tune of 11 stitches, with the bowman landing on top of him.  Tactician Charlie Enright, one of America's most promising young pro racers, suffered injuries to his back, and faces a month or two of recovery.
The J/120 went on to finish their race after untangling themselves from the Melges' sheets, finishing their class in 5th.  We're told they then requested redress for their score, and were thankfully denied.  There was no protest against Chance despite having done nothing at all to avoid a collision – because they never saw it coming.  Rock n Roll would have been DSQ for a W/L foul against the J/120 had they been able to finish their race, but with half the crew headed to the hospital that wasn't really an option.
Other than for Enright (and Charlie, our thoughts go out to you bro), the story has a mostly happy ending; Jeremy "Troll" Wilmot flew in as a last-second sub for Enright.  Boat captain Bill Wiggins and a pile of well-meaning Melges folks rebuilt the boat. Trimmer and Bowchick Charlie and Danielle are still getting married.  And Campbell went on to finish a solid 11th at the Worlds.  But it could have been much, much worse, in a place where "much worse" has happened way too often over the past few years.
Unsafe At Any Size
We're not sure if there's some kind of 'acceptable' threshold, but too many people have died while racing sailboats lately, and if some more careful course management and a little foresight can eliminate the potential for this kind of incident, then that's what needs to happen.  By the same token, both little boat and big boat skippers/tacticians must do a better job preparing for potential boat-on-boat issues when courses and start times are set up in a way that guarantees inter-fleet contact.  Better yet, if you see potential incidents when courses are announced, say something to your RO; they will probably appreciate the chance to make conditions safer for your fleet.  And remember: Failure to keep a proper lookout is a violation of Rule 14 as well as being a violation of COLREGS; if you crash into a boat you didn't see, regardless of ROW, you should be DSQ from the race and may even be partially liable for damages.
If you remember the Melges 32s vs the Optimists this summer in Lake Garda, you'll remember why it was so egregious; not because of the actual danger level, which was quite low.  The outrage came from the potential danger of a locomotive striking a potato chip which just happened to have a little kid hanging off it.  Port/starboard and windward/leeward concerns become a lot less important than common sense and seamanship when this kind of disparate destructive power is on a collision course, and organizers that fail to understand that will, sooner or later, have to send a funeral wreath instead of a 'get well soon' flowers.
Defenders of the St.FYC are already on the attack…Do you think we are we out of line?  Talk about it here.
October 7th, 2013 by admin
UPDATE: Thanks to the artificially low wind limits put in place due to the disaster that was the Paul Cayard-led Artemis AC program, today's racing is in delay, and likely not to happen at all…
It would appear that we just don't know what is going to happen in the AC today, but one thing we do know is that the end is near and roughly 75% of every television in NZ is watching.  Splits won't do for Oracle, only sweeps, and they will need three consecutive days of sweeps just to get even. Not gonna happen, but then again, if not for a little divine provenance we might still see ETNZ's second boat being prepped for racing today…
What will happen? If you have NBCSN, you can watch it happen at 1:15 PM, West Coast, and for Proxy Server congoscenti and non-US or Kiwis, here's the Youtube link.  In the meantime, you can watch the media going apeshit with last-second mostly-manufactured controversy here (Oracle Tries To Raise Wind Limits), here (GGYC Vice Commodore Calls ETNZ Cheats), here (Russell Coutts is the new Dennis Conner), here (AC Protests Cancelled Out Of Pity For Ellison) and here (Nationality Rules For AC35).
And above, you can get a little Clean while you're at it, from this morning's Radio NZ drive time show.
September 17th, 2013 by admin
Update: Oracle absolutely dominated race number one today – they owned the start, were faster on every point of sail, and flawless in execution, if you didn't know better, you would think they switched boats! And yet just as soon as Oracle seemed to begin to establish supremacy in race #9, ETNZ snatched it right back with a come from ahead and then behind victory on the final run to once again take control of the AC, 7-1. A split simply won't do for Oracle, they need to win every pair from here on out….
Will the hand of god (or an inverted wing) save the Kiwis from their own errors today?  Will Oracle finally have their first 2-0 day, or will Dalts and the boys re-assert their downunder dominance and get just one race from a silver-studded flight home to Orkland.  Watch it above NOW, if you happen to be in a country that allows it.  If not, just hit the Proxy Server thread and take 60 seconds to work around it.  If you have NBCSN on your cable account, just go online to watch.  Talk about it as it unfolds or ask questions in the R8/9 thread.
September 15th, 2013 by admin
ACEA's live coverage of the America's Cup is pretty damned amazing, and we've now tested it on a big enough group of non-sailors to know that they like it too.  In fact it's hard to fault the combined Coutts/Ellison/Honey vision of what the Cup should look like on a jumbotron – except for the awful commentators, the geo-restrictions, the shit ratings, onsite turnout way below expectations, NBC's total lack of interest, ESPN's total lack of promotion, NBC Sports Network's total lack of being a real network…maybe it's not actually hard to find fault?
This video shows our pals at Bangin' The Corner giving the world a good look at ACEA's brilliant on-the-ground announcing team of Tugger Thompson and Andy Green.
September 14th, 2013 by admin
We hate to say 'we told you so', but we did.
When the AC34 protocol came out, we applauded the America's Cup's first move to modernity in 15 years.  We were massively excited at the thought of 40-knot runs along the SF cityfront, and we said so.  In fact our enthusiasm for mega-multihull racing led to much of our disappointment in the execution of ElliCoutts' vision over the past year, but now that the main event is before us, here's a hearty 'Thank You" to everyone that made it happen.  And here's Senior Editor Mr. Clean with a 9-minute update with drive time Kiwi talker D'arcy Waldegrave that aired on Radiosport NZ this morning.
September 9th, 2013 by admin
Based on what we saw yesterday, Russell Coutts won't need to search too far to see where the wheels came off the bus.  It wasn't ruddergate.  It wasn't the cheating or the penalties (though Russell Coutts is taking a hell of a bollocking on his Facebook Page). It wasn't too much or too little partying, or bad designers, or bad outfits, or having an old boat.  It had nothing to do with safety, or with Bart.  And it certainly wasn't a pre-start no call by the umps.
Nope – Oracle Team USA lost the 34th America's Cup almost a year ago; October 16th, 2012 to be exact, when Jimmy sent the boat down the mine and got blown out to sea.  And it wasn't the capsize itself; had Fresh and Tugboat and the other great seaman on Oracle properly planned for capsize and righted the boat without destroying her only wing, Oracle would almost certainly be on top now.  Or tied at zero, at least.  But in a competition where time is the single most important commodity, that cold day in October changed everything.  It stole months of training, modding, developing, and sailing from Spithill and his team just as ETNZ was learning how to sail above the water.
ETNZ are winning not with a major design advantage; they are winning it with practice, hard work, and time in the boat.  Have a look at the detailed data (Race 1 Race 2); Oracle are a second or two behind on the legs they sail well, with major errors costing 20 or 30 seconds.  The Kiwis are quicker to accelerate, quicker to gybe, and significantly faster at getting up to speed after tacks – that's opening up their starts and making their tactics a lot simpler, and as long as Ray Davies keeps sailing perfectly, and if the wind stays strong, by next Sunday the Cup will be sitting in First Class on its way to the land of the long white cloud.
NOW YOU SEE ME
Meanwhile, the live TV feed from Race 1 was perhaps the single most exciting sailboat race we've ever seen on any screen.  For all their problems, the AC72 is simply awe-inspiring at speed on a big flat screen.  When they're changing leads with every tack, coming within inches of each other through the spray and the noise, and it's all caught by amazing cameras and the brilliant LiveLine system, it's easy to cheer for Larry Ellison even as his team fades.  Could the commentating be a lot better? Sure.  Do we wish the NBC feed had no commercials?  Of course.  But from the graphics to the intros to the shots to the action, Race 1 was as good as any Super Bowl or Tour De France we've ever seen.
Furthermore, someone seems to have pulled all the Youtube geo-restrictions down for this America's Cup, letting anyone, anywhere watch the action live.  We've been asking for it for months, and it's great to see someone at ACEA decide to focus on maximum audience, rather than maximum TV audience.  Nice going, all – especially Ken Read.  The full replay (unfortunately, without Ken Read) is here, the Virtual Eye animated replay is here, and it's worth checking out the 22-minute press conference here.
HAIL MARY
Is it time for fans of Oracle Team USA to slit their wrists?  Not quite yet, though Spithill and Kostecki's look and sound at the post-race presser wasn't inspiring.  If the wind stays below 15 or 16, a good start may win the race.  Under 10, Oracle may be a a lot quicker – no one yet knows.  The data say that NZ sails faster on all points of sail, even if they have to sail extra distance to do so.  Kostecki and Coutts and Spithill spent all night learning what it means, and Sunday's racing should be something special.  We'll have it right here on the front page.  Martin-Raget and Cameron photos.
September 8th, 2013 by admin
For all their fuckups, we repeat what we've said for the better part of a year now; the best thing to come out of this America's Cup is a new standard of live video coverage.  Stan's e-wizadry, millions spent on TV buys and helicams, and excellent commentary from Ken Read  (and to a lesser extent) Nath Outteridge; these things overshadow all the missteps and bad decisions we've had from the AC's media delivery program.
We encourage you to check it out on NBC here in the states or Youtube overseas – if you can't get it, head to the ServusTV site for worldwide streaming in German; if you can't stand the language you can hack your own system; one window with the video and another with the audio from the Cup site.  You can also watch it on the go (if you live in the right area) with the NBC Sports app (IOS  Android) or Youtube.
On The Ground
For the thousands of Anarchists on the ground in SF or for those of you looking for more info on the atmosphere of the place, head over to the On-Scene thread to find out where everyone's going for drinks and much, much more.  There are apparently tons of hotel vacancies for those of you looking for a last-minute trip, and from the thread, here's local sailor 'finnfart' on where to watch the racing:
1)  AC pier 27:  Nice close viewing of the finish and not much else.  Video for the rest.   Can't even see the boats for most of the race.
2)  Up on the hill:  In a very nice appt of a mates behind Ghirardelli/Fishermans wharf/pier 39:   Too far back.   You can make out what is going on, but barely.  Lose the sense of how cool the machines are.
3) Boat on the bay:   Worst option.  Can barely see anything.   Unless you have a fearless friend who will drive around and 'elbow in', you will see next to nothing as the bigger boats take the front and block your view.
4) Marina Green:   Best IMO.  You can walk around and see a screen if you want, but can go find a good view point, and make yourself a way to the shore where you can really see.   Even here, you just get them as they pass the 3/4 mark up or down.  Wildcard is not sure how many people will be there
5) Alcatraz:  If you don't already have tickets, you are probably screwed anyway.  But it isn't easy to get the city side view from there… and I would expect that the spectator fleet is going to block the view pretty well.  Can't say as I haven't seen it with the crowd and the fleet, but not hopeful.
6) Best II)  Crissy field north or SFYC.   You get the start and the turning mark.   I think that this place is likely to be the least packed, and offer the most interesting sailing views.  No big screens or concessions, but that's fine by me.
September 7th, 2013 by admin
Nonstop action, real national teams, elation and disappointment, energy and emotion, and a Kiwi vs. US battle for the trophy?  Sign us up and watch above.  Two more days of great racing remain and if the LVC is anything to judge by, get it all in now; you might not ever see AC(ish) catamarans racing this closely again!
September 2nd, 2013 by admin
Like everyone else in the entire world, we're amazed at just how pathetic the Louis Vuitton Cup 'racing' has been.  And with Ainslie's rudder snapping clean off in Defender trials, the home team is no better than the visitors.  Listen above to hear Mr. Clean sum it up well, as recorded live this morning with D'arcy Waldegrave on Radio Sports NZ.
Meanwhile, remember we told you Oracle was threatening to protest Luna Rossa and ETNZ for 'trespass'?  As much as it sounds like it, we weren't joking.
As a final sum-up for the 'summer of racing' thus far, here's a good look at the what, the why, and the how of the AC72 debacle including an interview with a rapidly aging Russell Coutts, from our friends at the good ship Outside Mag.  Thanks to Kahlessa for the find, and don't forget to spend a few hours with the America's Cup Anarchy forums if you're looking for the best Cup discussion on the web.
August 20th, 2013 by admin