Posts Tagged 'san diego'
Yep, that's your faithfull ed in red out on the Extreme 32 "Lupe Tortilla" before the start of today's Extreme Sailing Series in San Diego today. Cracking wise and thoroughly digging the ride, Ed was nearly at a loss for words. (Right).
Hooked up by Andrew "Macca" McPherson, the ed and his beautiful fiancee Mary Hardy enjoyed a rare breezy dago day.
"Having never foiled before, it was amazing to watch this thing effortlessly elevate on the foils. I think we hit just over 26 knots and it was nothing short of awe inspiring. What I really enjoyed the most was watching the team of only five sail this thing very close to its maximum ability. The communication was fascinating – almost a different language as the boat is seemingly from a different planet than 'normal' boats."
The team didn't fare too well in the racing, but the experience of sailing on these boats will blow away whatever you thought you knew.
October 21st, 2017 by admin
Who knew Dennis Conner had a podcast? Love him or hate him, we're glad to see his voice out there in public.
Listen to him beat up on Bermuda, Russell Coutts, nationality rules, and kids on his lawn in this half hour episode of whatever the hell he's calling it.
August 7th, 2017 by admin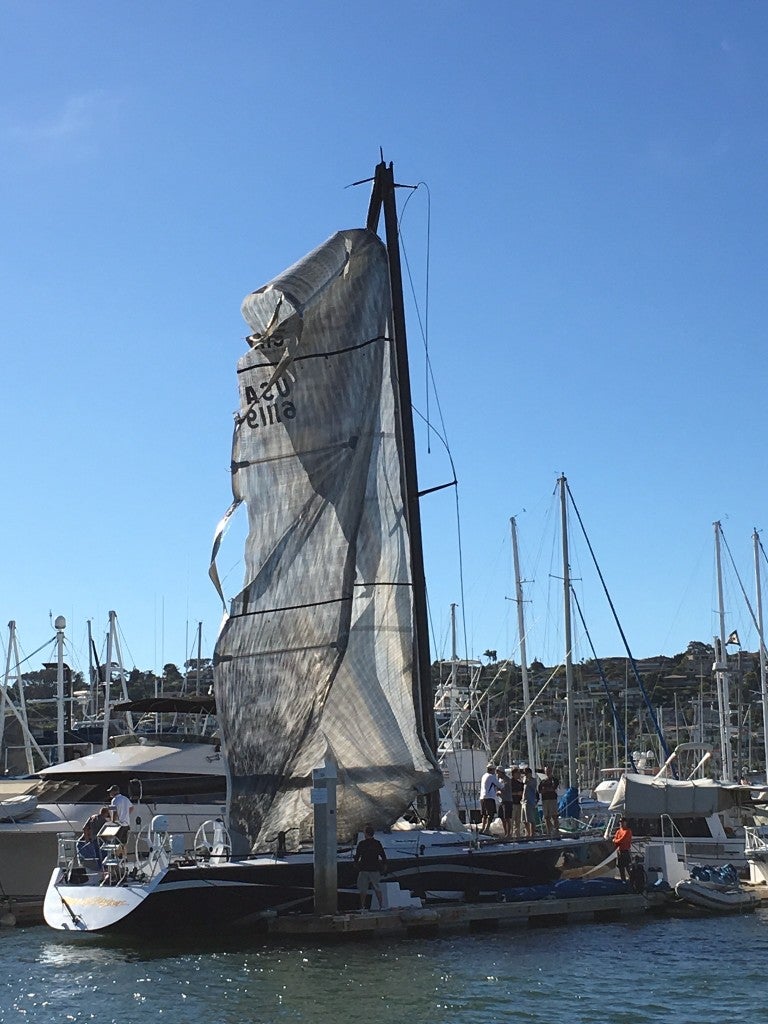 DC was dismasted today in San Diego's Hot Rum race; early reports suggest they were flying a masthead A-sail in a good breeze (12-15) on a close reach on the first leg when the tip broke off at the hounds.
UPDATE: We sent Dennis a note asking how it went down.  Here's his response:
Not sure as the top of the mast is suspended 40 feet above the deck,  We suspect the ball fitting on the end of the fitting attached to the D-3 at the top of the mast failed,  It will be difficult to know until we see it on the ground,  In any event it will be costly and time consuming to put back in a racing mode,  It could be spliced but would not be the same.    Possible it is the end of her career as a race boat,   Maybe best served as  a "head boat " doing whale watching! 
cheers dc
November 8th, 2015 by admin
Alright, Class: Raise your hands if you would entrust your life and the lives of your crew to a SPOT tracker.
Those of you with your hands up:  Grab a pair of scissors and give yourself a vasectomy.
There is good news for you, though – the widow of Aegean skipper Theo Mavromatis (or more likely, blood-sucking lawyers at her husband's insurance company) is fighting for your right to be stupid, too.
You'll likely remember the Hunter 37 Aegean as the cruising boat that allegedly crashed into one of the Coronado Islands off of San Diego during a 'fun race' down the coast.  Long-running investigations determined the problem to be one of, let's say, software – the crew likely failed to zoom in far enough on a chart plotter to see the islands, and compounded their navigational error by not keeping a lookout as they motored through the night on autopilot.  All hands perished after the wreck, and multiple lawsuits have been filed against Mavromatis' estate by families and insurance companies representing his crew – just as you'd see in any accident.  But now, there's something new;  Ms. Mavromatis and her three children are now plaintiffs against SPOT LLC and Amazon.com, and in a lawsuit filed last week, they contend that it was SPOT's failure to make sure emergency services got to the Aegean that was at least partially at fault for Mavromatis' loss.
The family is suing for wrongful death, negligence, and breach of warranty, seeking unspecified damages and burial costs, and probably seeks millions.  Assuming (and hoping) that Mavromatis, an aerospace engineer, had decent insurance coverage for his boat and life, this all smells like an insurance company casting a net for deep pockets to help defray the millions they have already paid out in this case, and they may just succeed.
Why?  Because, as you can see by the screen grab above and at SPOT's page here, the company really is advertising "911/SOS Member Rescue Benefit" for just $17.95 per year.  And according to the lawsuit and several investigators, the crew of Aegean pressed the SPOT rescue button at some point in the calamity, yet it took a day for anyone to come check on them.  Is this some serious bullshit advertising that should absolutely be curtailed or even punished? Absolutely.  Is it negligence, and did it contribute more to the death of the Aegean skipper than the fact that he ran into an island?  Umm…no.  Add to that the fact that SPOT requires you read and sign a dozen paragraphs on why SPOT is not really a rescue device before you sign up, and we don't think this one passes the smell test.
We're also pretty sure that Mavromatis, a longtime sailor and telecommunications/electronics consultant for Raytheon, knew the difference between a SPOT and an EPIRB, but then again, we'd be pretty sure a guy like that would know how to work a chart plotter.  In the meantime, it's yet more litigation that will result in increased insurance premiums and more lawsuits down the road.
There's a thread on Aegean litigation here if you want to stay on top of it.
March 28th, 2014 by admin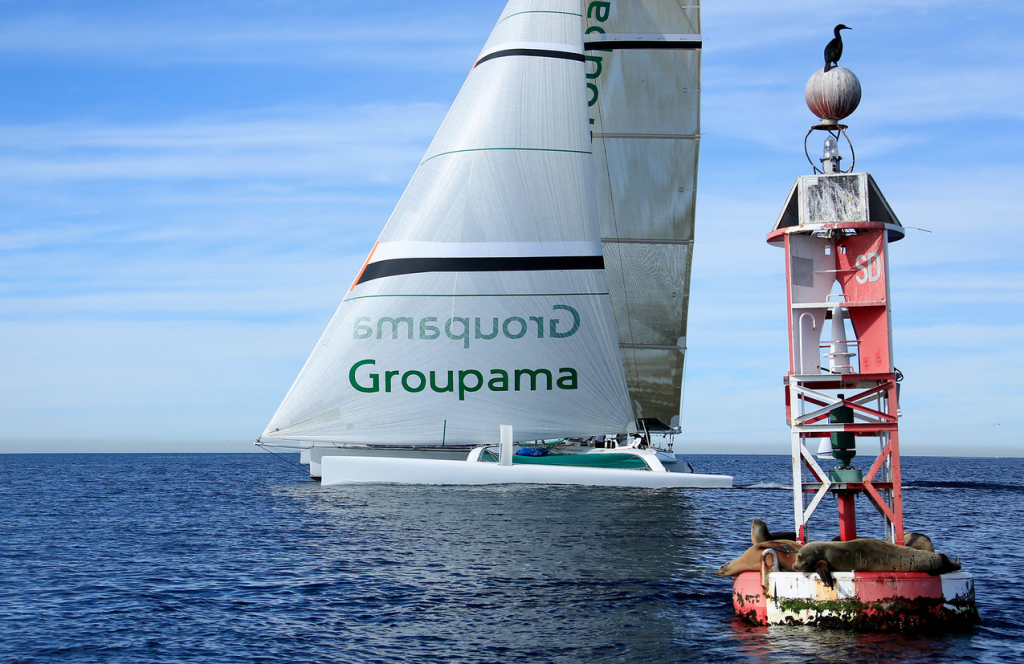 When Franck Cammas and VPLP put together the ORMA 60 Groupama 2 in 2004, the Class was already on its way to extinction.  But Franck's square-dimensioned, canting rig, lifting-foiled trimaran was so much faster, more innovative, and more expensive than the rest of the fleet that her launch pretty much ended the ORMA class right then and there.  The history is more detailed of course (and you can learn almost everything about the ORMA class here) but suffice to say, G2 is the fastest 60 foot pickle fork ever built.  And until the AC72s came around, she was still probably the world's fastest seagoing multihull in light air.
Now that G2 is long past her 'sell by' date, the former BMW/Oracle trainer has made her way to San Diego, where she'll be replacing the ex-Waterworld ORMA of Loe Enloe, who has gotten everything he can out of the ex-Waterworld boat.  That one's on the market for peanuts (pony up, SoCal sailors!), and we can now expect Enloe to crush and smash every West Coast record there is…provided she stays right side up.  Great shot thanks to Dal at Bayshots – plenty more of his excellent San Diego work here.
And hit this link to see just how fast the G2 goes in a moderate breeze.
December 19th, 2013 by admin
Sometimes just getting on the water is enough to stand out, and as the only female Worlds helmsman in a class that's regarded as one of the most traditional of all, College of Charleston senior Laura Beigel does exactly that.  She's lying in 54th position in a tough, light air Star Worlds fleet with dad Read, and we wish her luck.  She's not the only sailor chick at the Worlds either, but she's the only driver and we dig it!  Photo credit Marc Rouiller/StarWorlds2013.
September 4th, 2013 by admin